This shop has been compensated by Collective Bias, Inc. and its advertiser, MARS Incorporated. All opinions are mine alone. #BakeInTheFun #CollectiveBias
M&M'S® Brownie Mix Cookies – made from a box mix of brownie mix. Gooey on the inside, crispy on the edges. Just 5 ingredients and 20 minutes!
Every Christmas my sister and I bake a bunch of treats to give out to our friends and neighbors. We listen to Christmas music and drink mimosas as we bake away.
We usually make these gooey chocolate chip toffee bars, which are amazing, but it is definitely a labor of love getting all those ingredients and making each layer. You never realize how many friends and neighbors you have until you start baking for them.
This year I want to keep things simple, and make a tasty and easy baked treat. Which is why these M&M'S® brownie mix cookies are exactly what we'll be baking up and delivering this year. They are SO GOOD! You know how the best parts of a brownie are the crispy edges and gooey center? And you have to fight to get the good corner piece that has the most crispy edges? This brownie cookie has all crispy edges! And the gooey, fudgy center.
Plus, these couldn't be easier to whip up. You just need your favorite brownie box mix, 2 eggs, 1/4 oil, 1/4 flour and 1 cup M&M'S®. That's it! Mix everything together, bake for 9 minutes, and the cookies are ready to go. Minimal clean up, which means maximum sister fun baking time. Our friends and neighbors are really going to love us this year.
I love using the festive red and green M&M'S® during the holidays. The perfect holiday addition to these brownie mix cookies.
Through 12/25, every time you buy M&M'S® at Walmart, fresh nutrient-rich milk will be donated to kids and families who may otherwise go without. (Visit www.MyConfectionCorner.com for more information.) So before making this brownie mix cookies, head to Walmart and buy M&M'S® so a donation will be made to The Great American Milk Drive. A great way to support giving back this holiday season.
The Great American Milk Drive, a joint effort between Feeding America, America's dairy farmers and milk companies, turns online donations into gallons of milk for needy families. This season, The Great American Milk Drive will deliver its 1 millionth gallon to Feeding America and its nationwide food bank network. You can learn more about The Great American Milk Drive and and how you can give back to kids in need this holiday, by visiting www.milklife.com/give.
M&M'S® Brownie Mix Cookies
Ingredients
¼ cup vegetable oil
2 eggs
18.25-oz box of your favorite brownie mix
¼ cup all purpose flour
¾ cup M&M'S® Brand Holiday Milk Chocolate Candies
Instructions
Preheat your oven to 375 degrees. Line 2 cookie baking sheets with parchment paper.
In a medium size mixing bowl, beat together the eggs and oil. Add in the dry brownie mix and flour. Use a wooden spoon or strong rubber spatula to combine. The batter will be thick. Add in the M&M'S® and fold until combined.
Use a large cookie scoop (3 tablespoons), and scoop the dough onto the parchment lined baking sheets. I do 3 rows of 2 cookies, so 6 cookies per sheet.
Bake the cookies for 9-10 minutes, rotating the sheets half way through baking. You want the cookies have crispy edges, but still look a little soft in the center.
Cool for a few minutes on the baking sheet, then transfer to a wire rack to continue cooling.
Serve warm or room temperature with Great Value® 2% Milk. Will keep in an airtight container for 1 week. Can be frozen for 6 months.
More Holiday Treats
Gooey Chocolate Chip Toffee Bars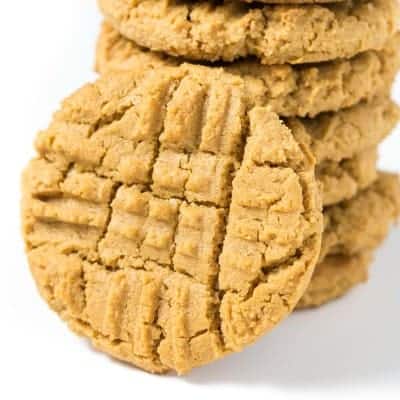 Dairy Free Peanut Butter Cookies
Sweet & Spicy Rosemary Roasted Mixed Nuts
Where to find M&M'S® Brand Holiday Milk Chocolate Candies and Great Value® 2% Milk at Walmart: