Chai Spice Biscotti
Chai spice biscotti recipe with a chai tea glaze drizzle – a delicious tea time treat that is dairy free and packed with warm chai spice flavors.
Josh is an absolute perfect sleeper at night time. He wakes up just 1 or 2 times in the night now to eat. He eats, I change his diaper, and he falls fast asleep instantly. My perfect night time angel.
Nap time was a different story.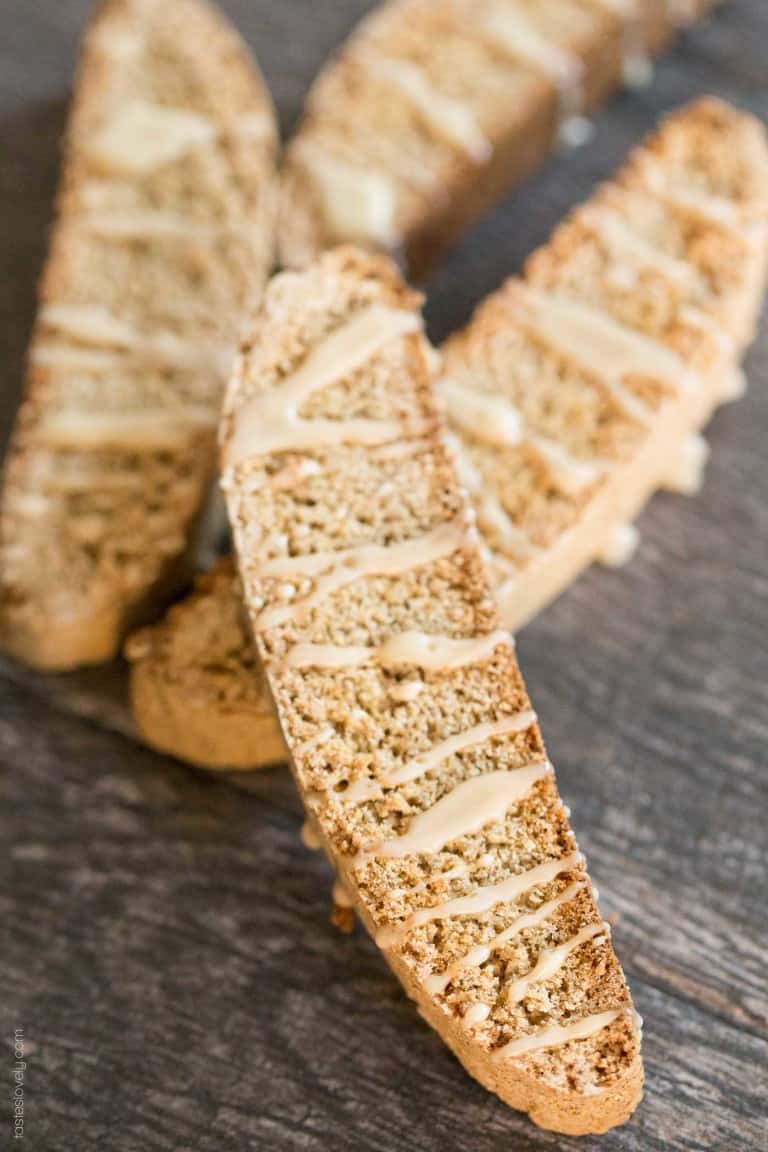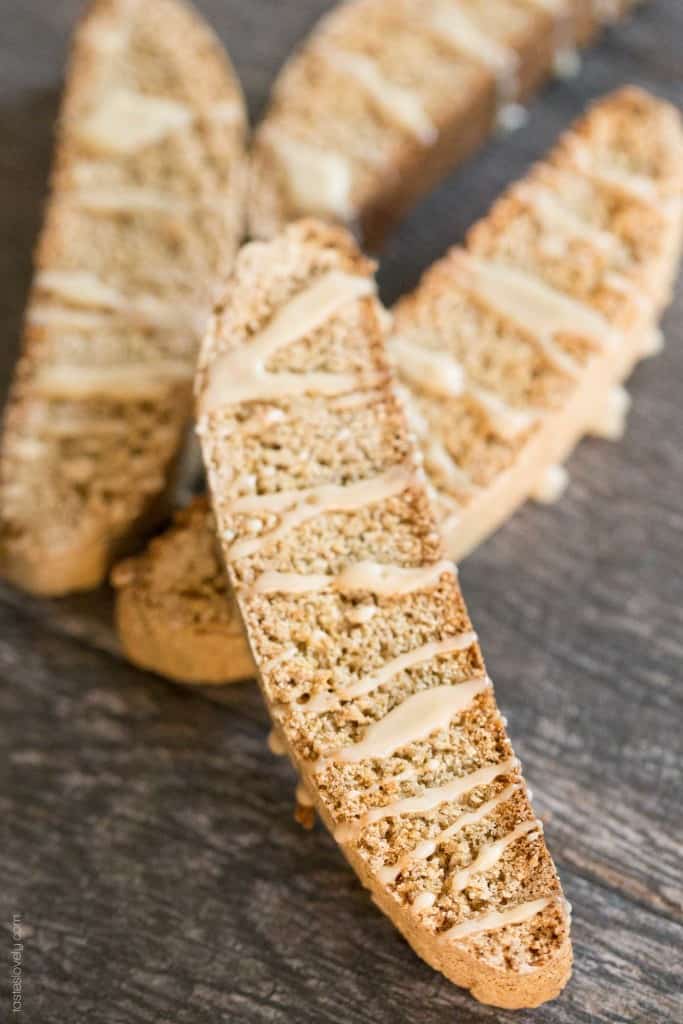 He was fighting naps. And when he fell asleep, he would wake up within 30 minutes on the nose. I'd have to go in and sing to him for a few minutes to get him back to sleep.
He naps like a champion if I'm holding him the whole time. Which I was for almost every nap. He's just so dang cute, and I love holding him while he's sleeping. I could stare at him all day.
But sometimes I want to be able to do something for myself in the middle of the day. Like eat lunch. Or clean my house. Or maybe, just maybe, take a shower?
So I spent the last week nap training Josh. I researched all over the internet, and bought 2 books to find the key to getting him to sleep well.
I went to great lengths to create the perfect sleep environment for him by covering the bedroom windows with aluminum foil so he can sleep in the pitch dark. I turn white noise on really loud so the super loud roosters won't wake him up. And I put a small heating pad on the lowest setting on top of his blanket to keep him warm, and so he thinks I'm near by giving off body heat.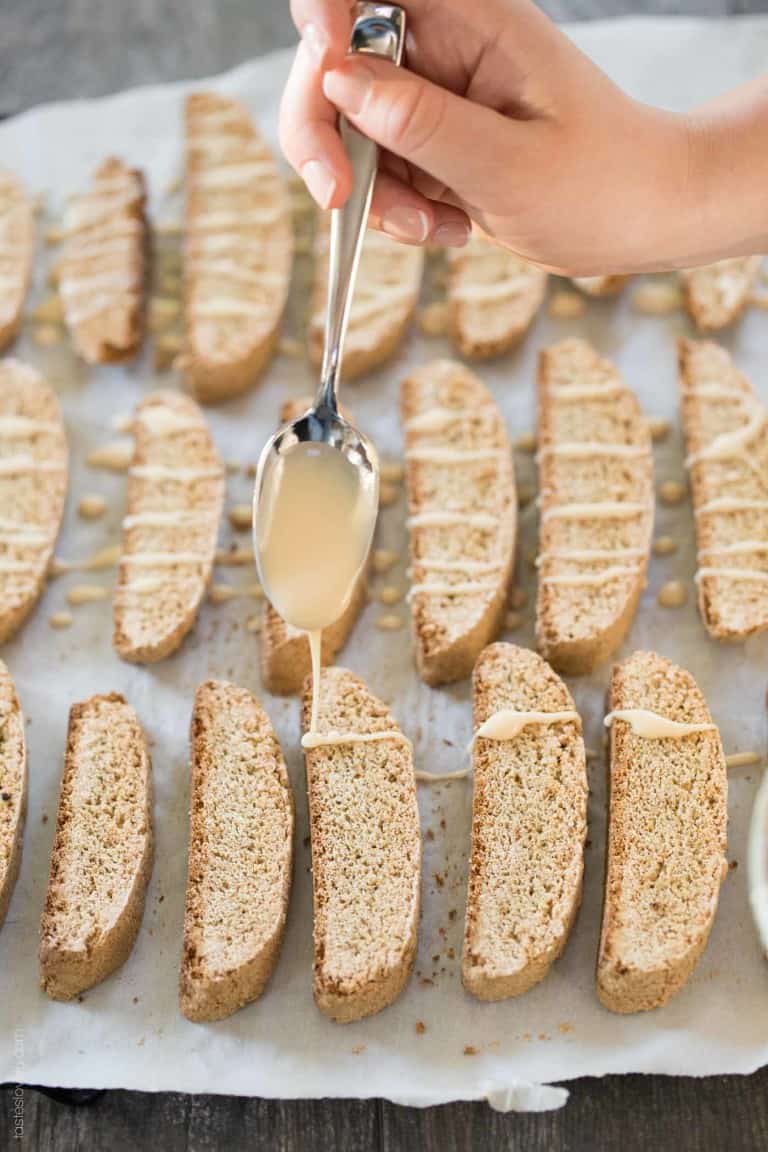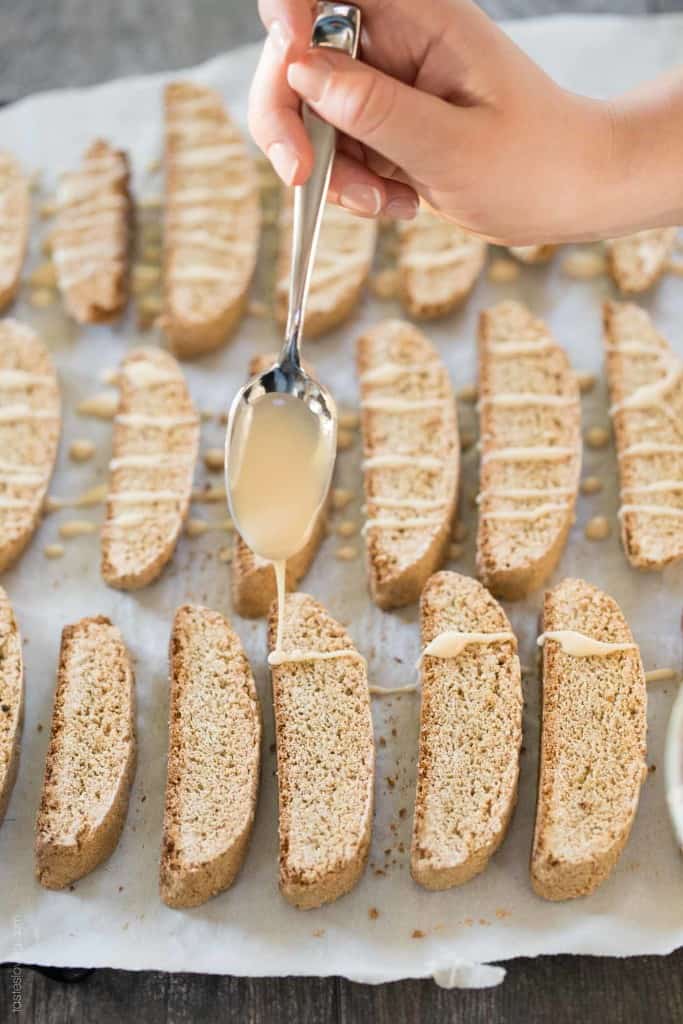 It all paid off, because Josh now naps like a pro! He takes three 1.5-2 hour naps everyday, all on his own. It's like a miracle!
The first time he slept longer than 30 minutes during nap time, I was so excited. I had done it! But then, I started to miss him. I would tip toe into the room and lay next to him. Haha!
But it sure is nice to have time to get things done during the day. My house is so clean. I can eat lunch everyday, at lunch time. And I not only have time to shower, but I can get dressed and put on makeup too. He's a happier baby for getting lots of sleep, and I'm a happier momma because I can cross things off my to do list.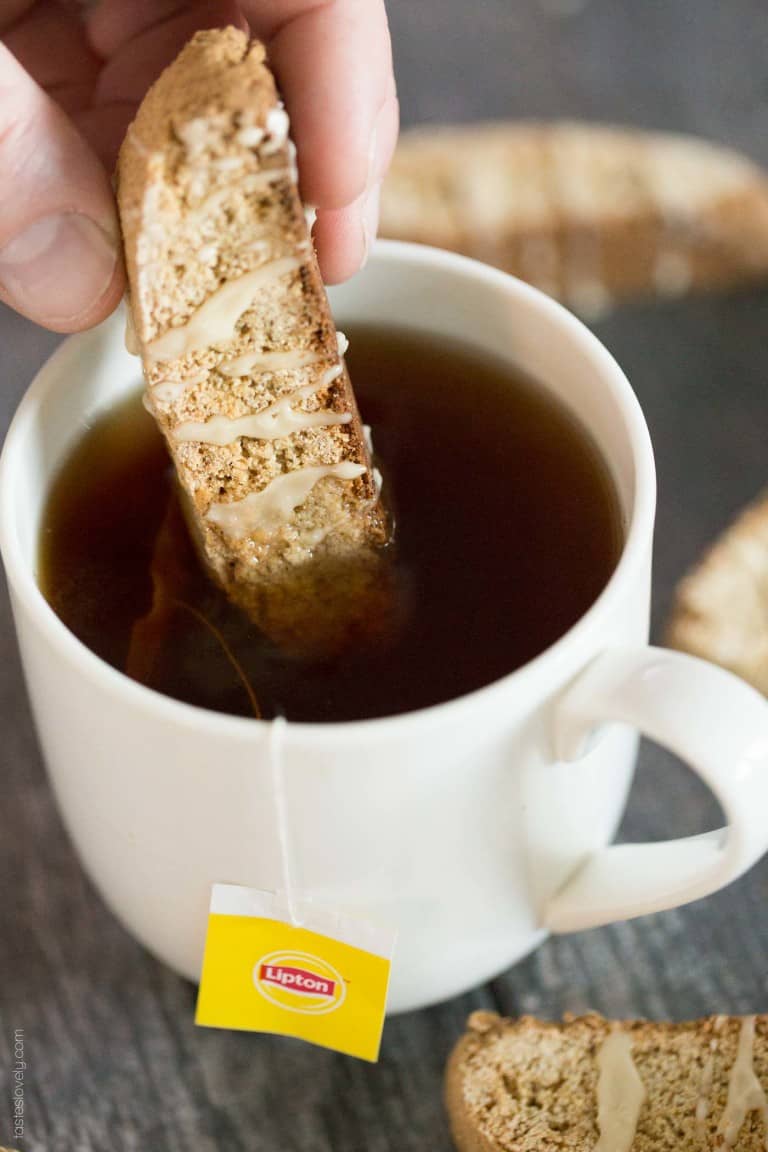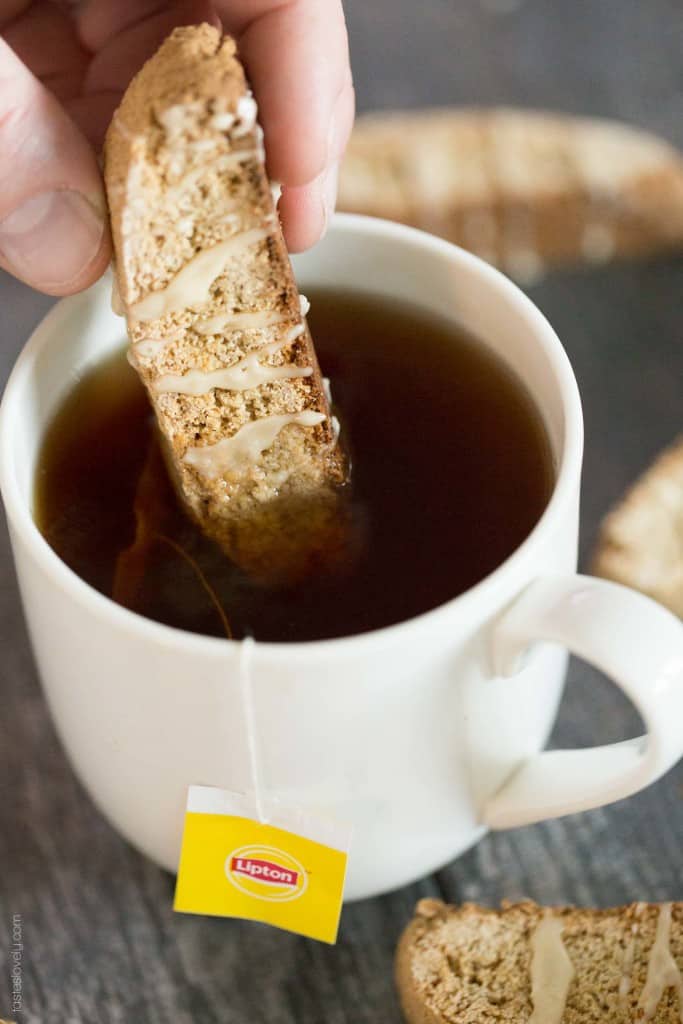 During his late afternoon nap, I love making myself a cup of tea. I sip it and appreciate the quiet, clean house while Josh gets some much needed rest. And I love the tiny bit of caffeine boost I get.
I am a chai tea girl. I love the warm and bold flavors. Lipton's Enticing Chai black tea is really hitting the spot lately.
Lipton's new black and herbal varieties and improved green teas refresh the tea experience with bold and stimulating flavors, such as Enticing Chai, Pure Green, Orange Passionfruit Jasmine and Peach Mango. The multi-sensory teas refresh standard tea time, creating an exciting and unique tea-drinking experience.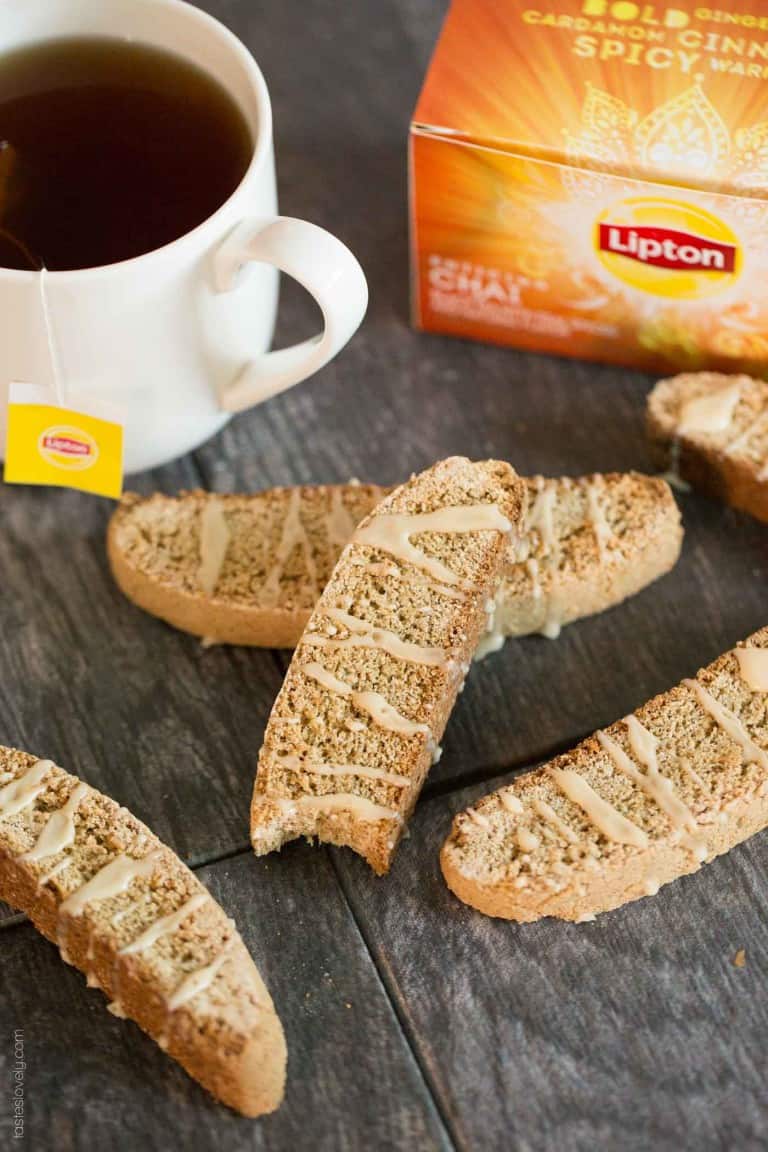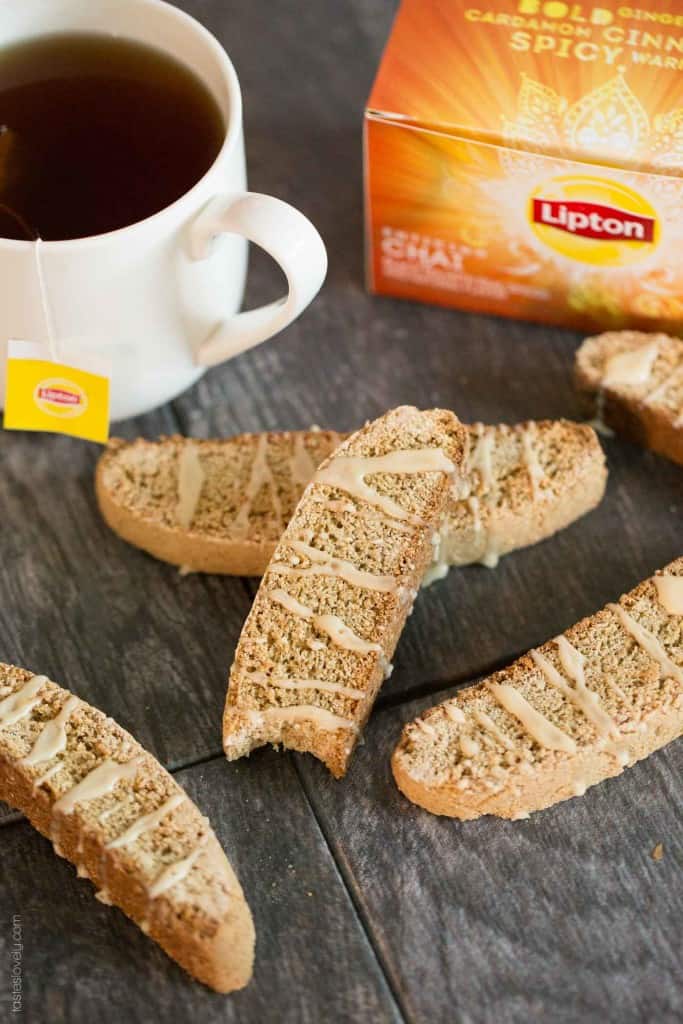 To make my afternoon tea even more enjoyable, I treat myself to 2 of these chai spice biscotti's while drinking my tea. They are delicious! Made with warm chai spices like cardamom, clove and cinnamon. My house smells amazing while these are baking away.
These chai spice biscotti's are wonderful because they're actually tender! Not like eating hard rocks like some biscotti's I have had. But they're still strong enough to stay together when dunked in tea. Because that really is the best part of biscotti's, the dunking.
I drizzle the chai spice biscotti's with a chai tea glaze to give them a little extra sweetness. And it makes them even prettier.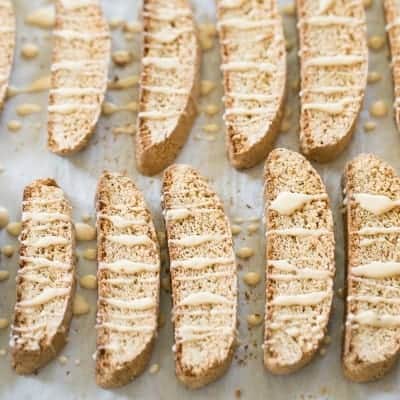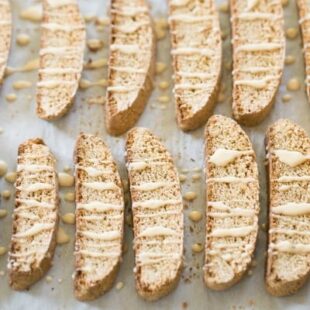 Chai Tea Spice Biscotti
This chai spice biscotti recipe with a chai tea glaze drizzle is a delicious tea time treat that is dairy free and packed with warm chai spice flavors.
Ingredients
Chai Tea Spice Biscotti
2-1/4

cup

all purpose flour

1

teaspoon

baking powder

1/2

teaspoon

baking soda

1/2

teaspoon

ground cardamom

1/2

teaspoon

ground clove

1/2

teaspoon

ground cinnamon

1/4

teaspoon

ground ginger

1/4

teaspoon

ground star anise

1/4

teaspoon

white pepper

1/4

teaspoon

salt

1

cup

granulated sugar

2

large eggs + 2 large egg yolks

1/2

teaspoon

vanilla extract
Chai Tea Glaze
1/2

cup

powdered sugar

1

tablespoon

strong brewed Lipton Enticing Chai Black Tea
Instructions
Chai Tea Spice Biscotti
Preheat oven to 350 degrees with the oven rack in the middle. Line a baking sheet with parchment paper.

In a medium size mixing bowl, whisk to combine the flour, baking powder, baking soda, cardamom, clove, cinnamon, ginger, star anise, white pepper and salt. Set aside.

In a separate medium size mixing bowl, whisk to combine the 2 eggs + 2 egg yolks and sugar until well combined, about 1 minute. Add the vanilla extract and whisk to combine.

Add the dry ingredients to the egg mixture, fold until just combined. Will look dry.

Divide the dough in half. Use your hands to press the dough into 2 separate 9" x 3" loaves. Pat down until they are about 1/2" thick.

Bake for 35 minutes, turning the cookie sheet half way thru baking. Remove and allow the loaves to cool for 10 minutes.

Lower the oven temperature to 325 degrees.

Once the loaves are cool enough to handle, use a serrated knife to cut 1/2" thick slices. Bake the slices another 15 minutes, turning each slice half way thru baking. Remove from the oven and allow to cool completely.
Chai Tea Glaze
In a small mixing bowl, combine the powdered sugar and strong brewed Lipton Enticing Chai Black Tea. Drizzle on the cut side of the cooled chai tea spice biscottis.
Serving
Serve at room temperature. Best served with a warm mug of strong brewed Lipton Enticing Chai Black Tea. Will keep in an airtight container for 2 weeks.
Nutrition
Calories:
116
Total Carbs:
25.4
g
Protein:
2.3
g
Fat:
0.6
g
Fiber:
0.5
g
Net Carbs:
25
g
Nutrition facts are calculated as a courtesy and not guaranteed.
Did You Make This Recipe?
Please leave a comment and give this recipe a rating!

More Baked Treats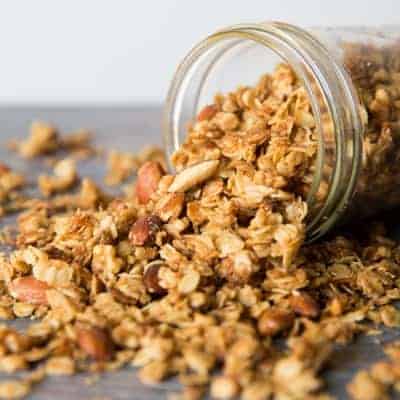 My Favorite Homemade Nutty Granola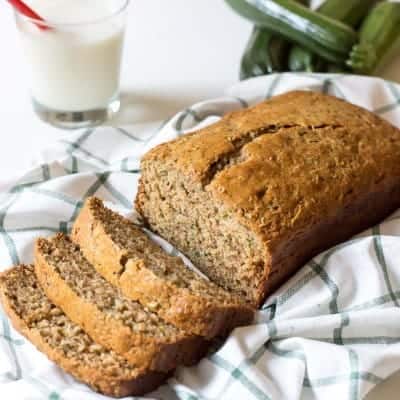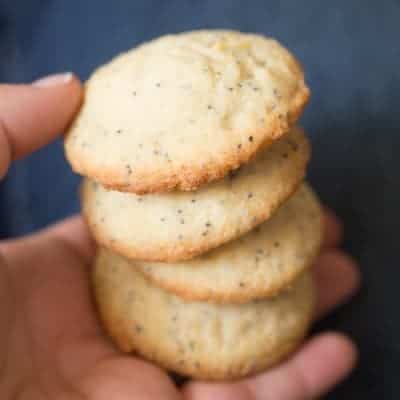 This post is sponsored by Lipton Tea. All opinions are my own. Thanks for supporting the brands that support me!