Grilled Zucchini Caprese Sandwich
I live within 5 minutes of my parents, my sister and her husband. To say it is awesome would be a major understatement. We get together at least once a week for a family dinner. Usually Friday's for what we lovingly call "Friday Parties". We'll play cornhole, listen to music, have a cocktail, talk and talk and talk, and of course, eat.
But finding a meal that everyone can eat can be a tad tricky. I, of course, eat just about everything. But my mom is vegan and my sister doesn't eat meat. Our guys love meat, but they're fine having meatless dinners. We do a lot of burgers (sub in veggie for mom and sis), pizzas (veggie for sis, veggie and no cheese for mom) or tacos (lots of grilled veggies for mom and sis), etc. So anytime I find a meal that everyone in my family loves, I feel like I just won the lottery.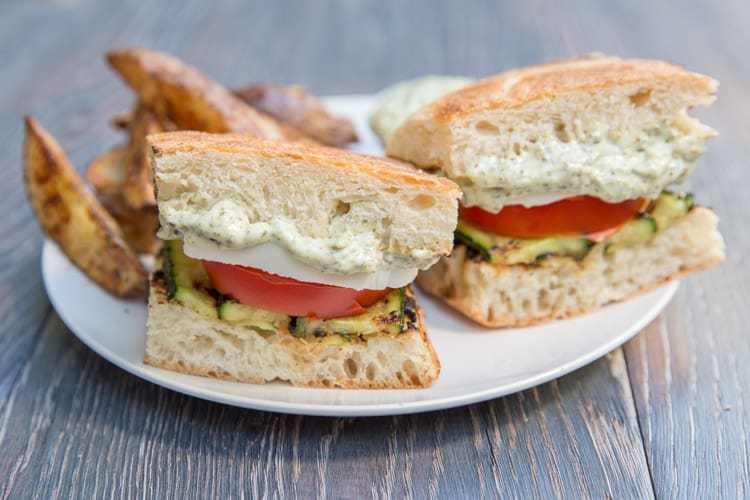 This grilled zucchini caprese sandwich has something for everyone. The grilled zucchini gives the sandwich a great meaty feeling, you won't even miss the meat. It's then layered with thick slices of tomato and mozzarella cheese. My mom will leave the cheese off, and adds in mashed avocado instead. More cheese for the rest of us!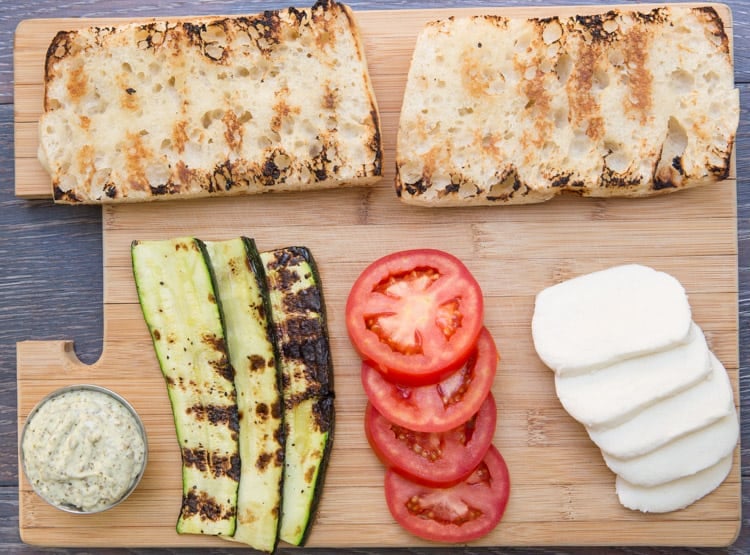 Use your favorite sandwich roll bread to make this grilled zucchini caprese sandwich. I love the rustica one from Trader Joe's. It is just like foccacia bread, but without herbs. (It's always right next to the foccacia bread if you want to use the same). Give the sliced bread a quick drizzle of olive oil and grill it. The charred marks are beautiful, and it gives the bread great flavor.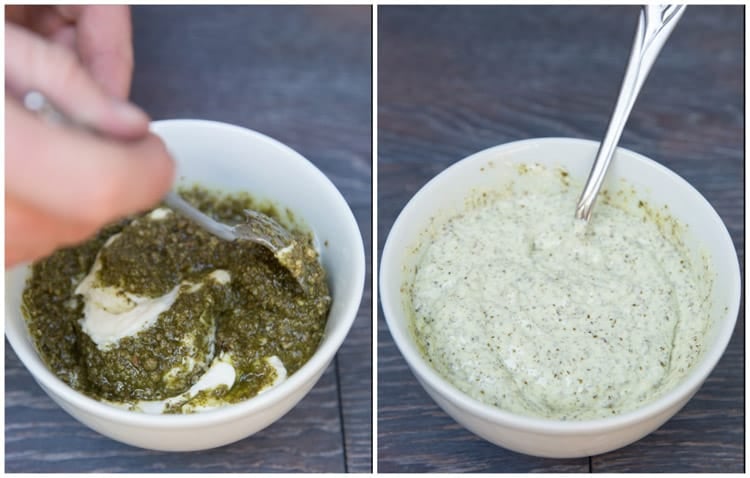 The best part of this grilled zucchini caprese sandwich is hands down the pesto mayo. Oh my, it is de-lic-ious. Go ahead and slather it on your sandwich, the more the better. I always double or triple the recipe when I'm making it, and leave the extra in the fridge to top on other sandwiches, burgers, or even as a dip.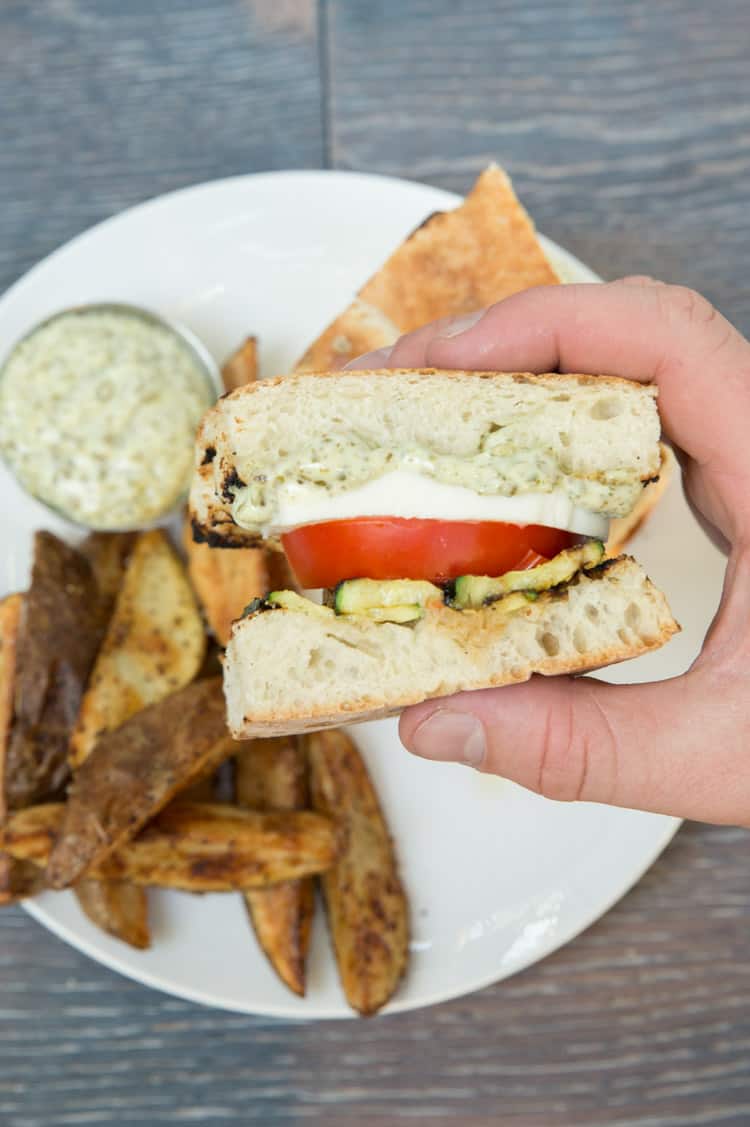 The best side to this grilled zucchini caprese sandwich is my potato wedges, which are honestly the best wedges I've ever had. Crispy on the outside, tender on the inside, and baked instead of fried. Everyone I make them for loves them. Dip the wedges in the pesto mayo and your meal is complete.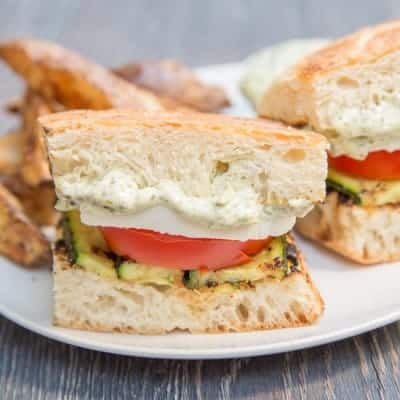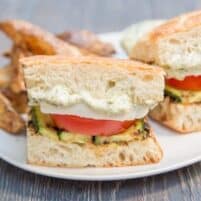 Grilled Zucchini Caprese Sandwich
This vegetarian sandwich has grilled zucchini slices served with tomato and fresh mozzarella. I love this with grilled focaccia bread smothered in a pesto mayonnaise. You won't even miss the meat!
Ingredients
4

zucchinis

,

sliced lengthwise 1/4" thick

4 to

matoes

,

slices 1/4" thick

2

pounds

mozzarella cheese

,

my trader joe's have 1 pound cheese logs that are pre sliced!

6

sandwich rolls

,

cut in half

olive oil

salt & pepper

1/2

cup

mayonnaise

1/2

cup

pesto
Instructions
In a small mixing bowl, make the pesto mayonnaise by combining the mayonnaise and pesto. Stir to combine, cover with saran wrap, and keep in the fridge until ready to use. Will keep for 1 week.

Preheat your grill (or indoor grill pan) over medium heat. Drizzle the cut side of the sliced bread with olive oil, and grill cut side down for about 2 minutes, until they are lightly toasted with grill marks. Remove from heat and set on a plate.

In a medium size mixing bowl, toss the sliced zucchini with 2 tablespoons olive oil until they are evenly coated. Sprinkle with salt and pepper. Cook the zucchini 1-2 minutes per side, until just crisp tender. Remove from heat and set on a plate.

Assemble the sandwiches by spreading the pesto mayo on both sides of the bread, then topping with 3-4 slices of zucchini, 3-4 tomatoes and 3-4 slices of mozzarella.
Notes
These sandwiches are great as a melt too! If you want to make this into a melt sandwich, turn your broiler on high and melt the mozzarella cheese onto the dry top half of the sandwich bread for 2-3 minutes. Assemble the rest of the sandwich per directions.
If I'm serving these with fries, I'll double the pesto mayo and serve extra on the side as a dipping sauce for the potato wedges
Calories:
585
,
Total Carbs:
32
g
,
Protein:
54.6
g
,
Fat:
26.7
g
,
Fiber:
4.9
g
,
Net Carbs:
27
g
Did you make this recipe?
Please Leave a comment and give this recipe a rating!