Healthier, Dairy Free Belgian Waffles
Healthier, dairy free Belgian waffle recipe. These waffles are made with almond milk and coconut oil, making them lower in calories, but just as delicious as regular Belgian waffles!
I've decided that having a baby is as close to feeling like a celebrity as I'm ever going to get.
Everywhere I go, Josh and I are noticed. There is no blending in.
At the grocery store, perfect strangers walk up to chat, ask how old he is and to tell me he's a real cutie. When we go on walks, heads turn to catch a glimpse of the baby. At restaurants, the neighboring tables all stare and watch all the cute things Josh does, which is mostly just playing with his hands and looking around. Ha!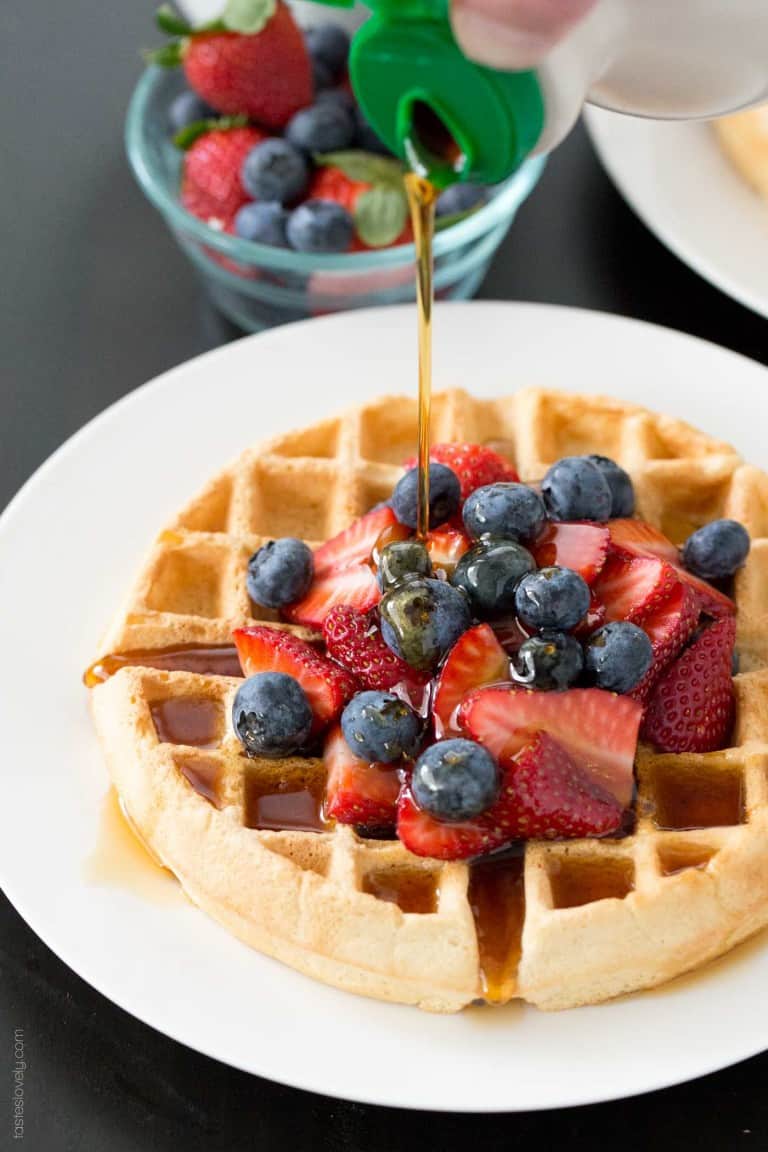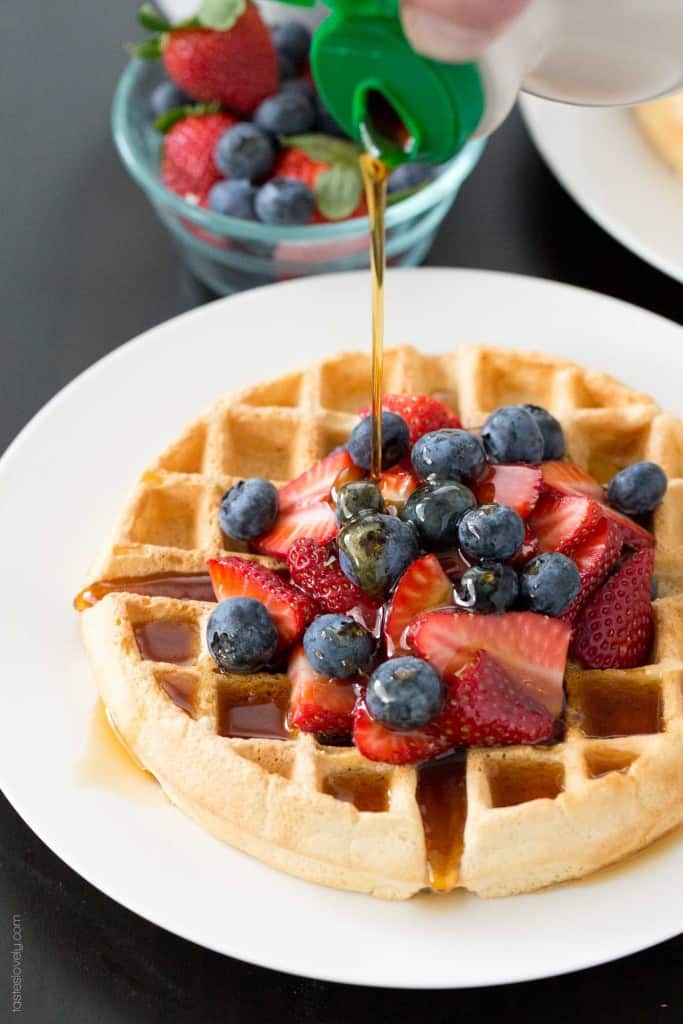 The best is when we go to family gatherings. Everyone wants to hold him and get pictures of him.
On Sunday we went to Shawn's aunt's house for a Palm Sunday brunch. She gave Josh the cutest bunny rabbit beanie. Shawn put it on him and took him out to show everyone, and it was like the paparazzi getting pictures of celebrities on the red carpet. You have to look at the cute picture of it on instagram.
Our boy sure is loved by all!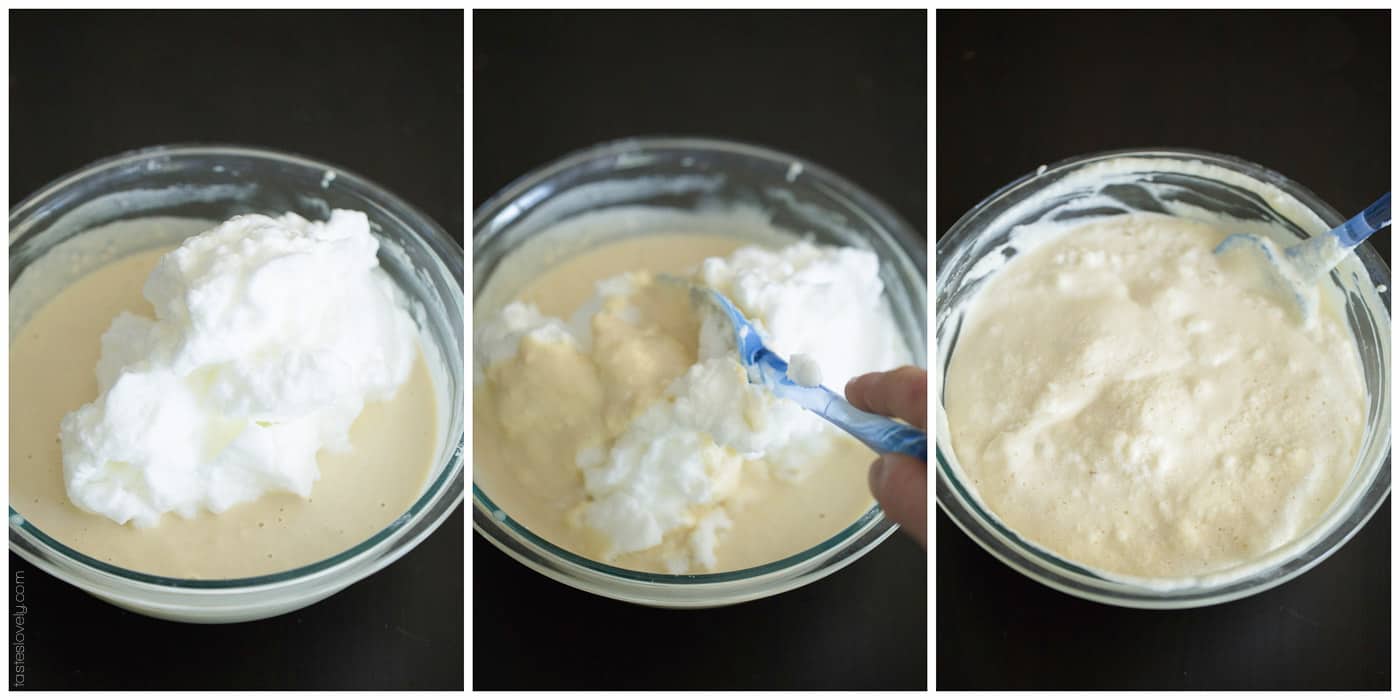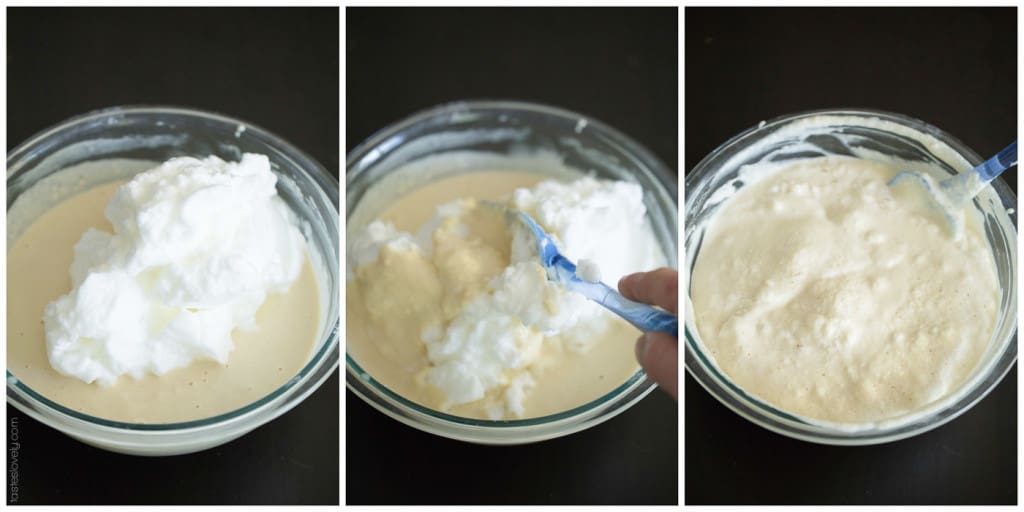 And this healthier, dairy free Belgian waffle is about to be even more loved by all.
You guys, this is seriously the best waffle I've ever had. Even better than what I can get at my favorite breakfast diner. You know that heavy, sick feeling you get after eating a whole Belgian waffle? Not with these lightened up ones. They are light and fluffy as a cloud inside, and ultra crisp on the outside.
Just look at all those air bubbles in the waffle. That is exactly what you want to see in a Beligan waffle.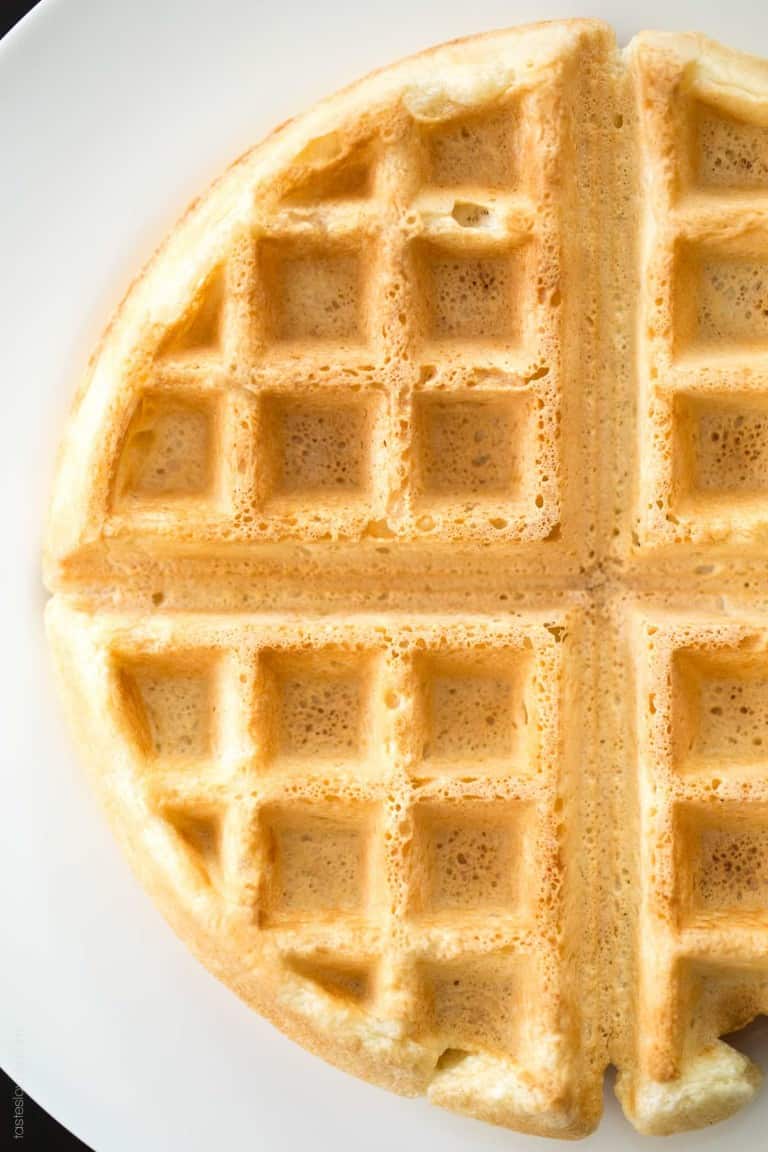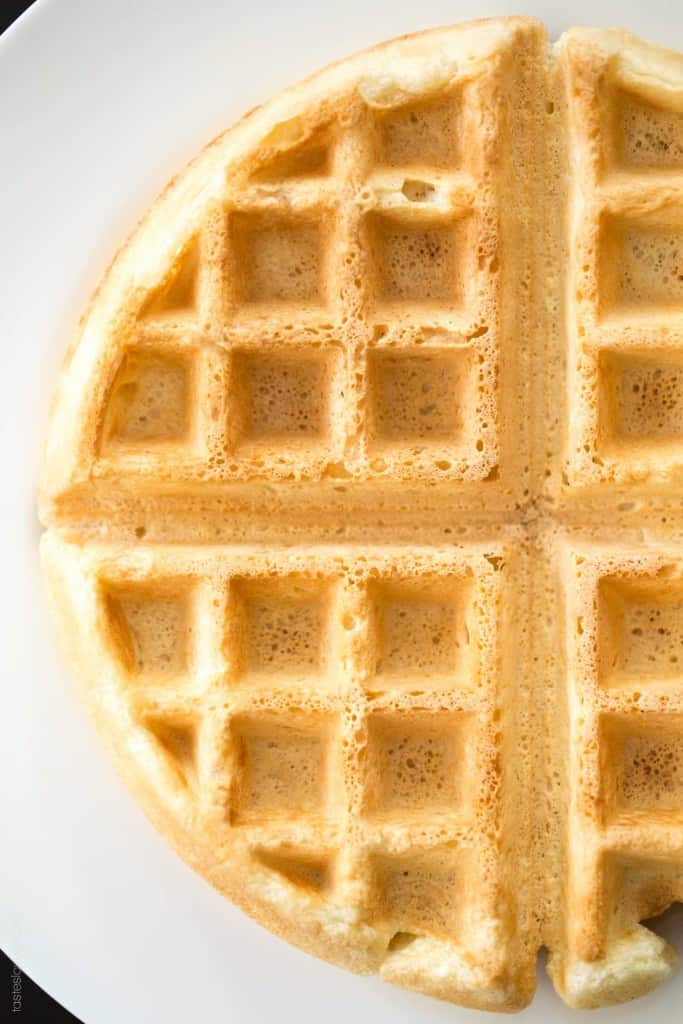 Every Easter I host a waffle brunch for my family. Shawn and I got the most deluxe Belgian waffle maker as a wedding gift, and I love any excuse to bust it out and use it.
But since I'm not able to have any dairy since it makes Josh sick, I've been tweaking my usual go to Belgian waffle recipe to make it dairy free. Rather than using the whole milk and melted butter it calls for, I swapped them out for unsweetened almond milk and coconut oil. Much lighter in calories, and taste just as great!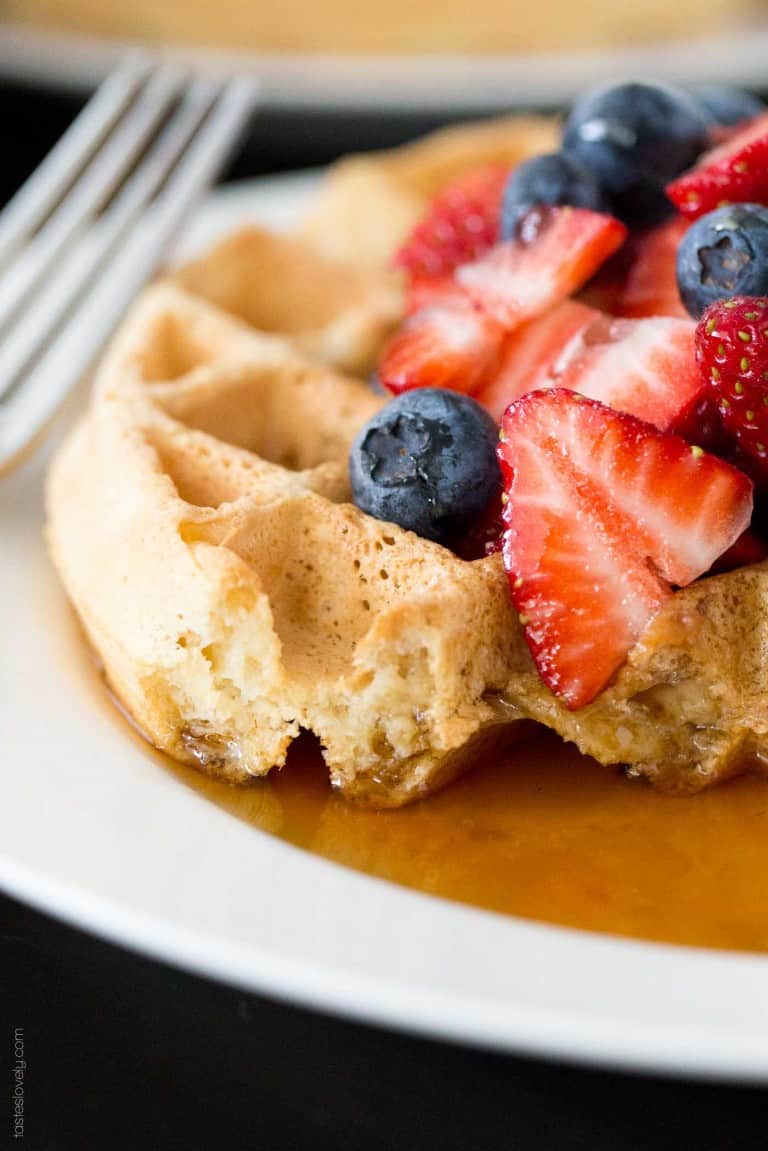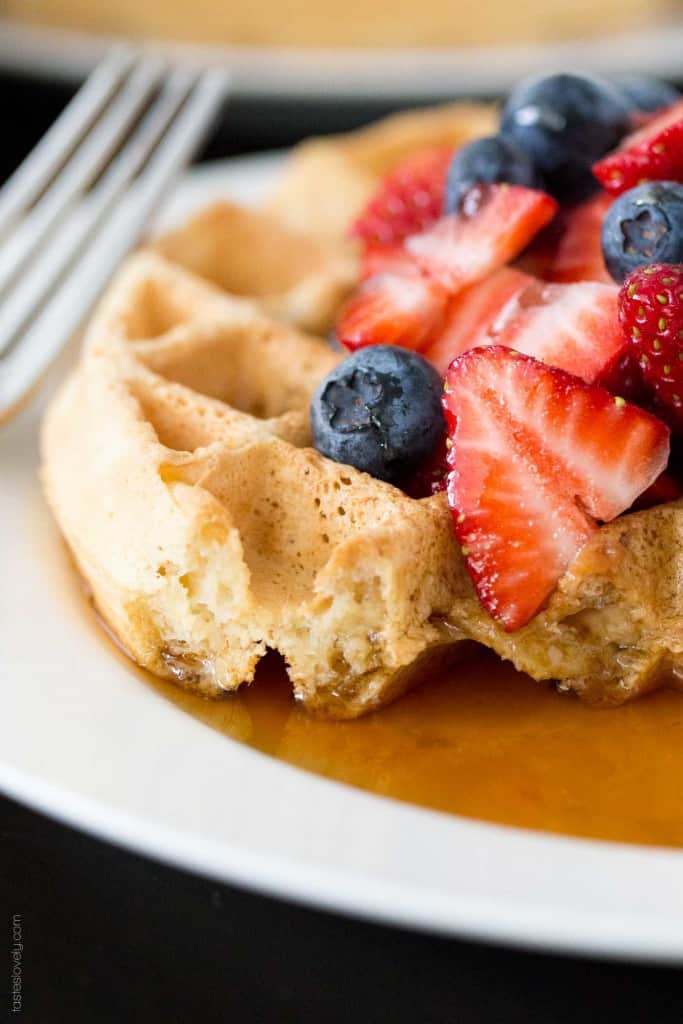 To keep these extra warm and crispy while all the waffles are cooking, put the cooked waffles on a rimmed baking sheet in a 200 degree oven. By putting them on a rimmed baking sheet instead of straight on the baking sheet, it prevents the bottoms from getting soggy by trapped steam. Very important! Nothing worse than soggy waffles. They can stay warm in the oven for an hour, so you can have them all cooked and ready to go before guests come over if you're serving a crowd.
I like these dairy free Belgian waffles topped with fresh berries and pure maple syrup. But feel free to do whatever toppings you like. Peanut butter, powdered sugar, coconut whipped cream, or jelly. I set out all the different toppings for our Easter brunch so everyone can customize their own.
Print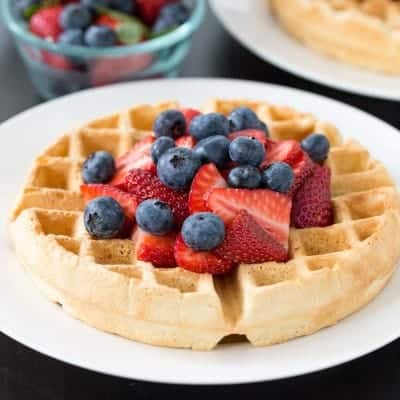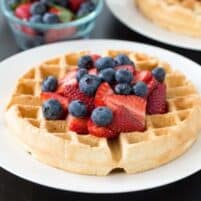 Healthier, Dairy Free Belgian Waffles
---
Author:

Prep Time:

15 mins

Cook Time:

15 mins

Total Time:

30 mins

Yield:

6

Waffles

1

x
2 cups

all purpose flour

2 teaspoons

baking powder

1/2 teaspoon

salt

4

large eggs, whites and yolks separated

2 tablespoons

granulated sugar

2 cups

unsweetened almond milk

1/4 cup

coconut oil, melted and cooled to room temperature

1/2 teaspoon

vanilla
more melted coconut oil for the waffle iron
desired toppings, such as berries, pure maple syrup, peanut butter, coconut whipped cream, powdered sugar or jelly.
---
Instructions
Preheat your waffle iron according to manufacturers directions. Preheat oven to 200 degrees. Set a wire rack in a rimmed baking sheet.
In a medium size mixing bowl, combine the flour, baking powder and salt. Whisk to combine. Set aside.
In a stand mixer with a whisk attachment (or in a medium size mixing bowl with a hand blender), beat the 4 egg whites over medium speed for 3-5 minutes until soft peaks form. Then, turn the speed to high for 1 minute until stiff peaks form. Set aside.
While the egg whites are beating, combine the wet ingredients. In a different medium size mixing bowl, add the 4 egg yolks and sugar. Whisk by hand for 30 seconds until combined. Add the almond milk, coconut oil and vanilla. Whisk to combine.
Add the wet ingredients to the dry ingredients. Whisk to combine. A few lumps are ok.
Lastly, add the beaten egg whites to the waffle batter. Very, VERY gently fold the egg whites into the batter until just combined. You want to keep the egg whites as fluffy as possible. This will keep the batter light, give you lots of bubbles in the batter, which will make the waffles light and crispy.
Use a heat proof silicon brush to brush melted coconut oil onto your waffle iron. Add enough batter to cover the griddle, and cook according to manufacturers instructions to desired crispiness.
When waffles are done cooking, transfer the cooked waffles to the rimmed baking sheet, and keep warm in the oven.
Serve warm topped with fresh berries and maple syrup.
Any leftovers can be frozen in a freezer safe ziploc bag for 3 months. You can reheat them in a toaster (if they fit), or bake them on a wire rack rimmed baking sheet at 350 degrees for 10ish minutes until crispy again.
Notes
-I use this belgian waffle maker, and it is the BEST! Cooks 2 waffles at once, and they're nice and deep and turn out perfect every time.
-My waffle maker makes waffles that are 1″ deep and 6-3/4″ across. If your waffle maker is smaller, this recipe will make more than 6 waffles.

More Breakfast Recipes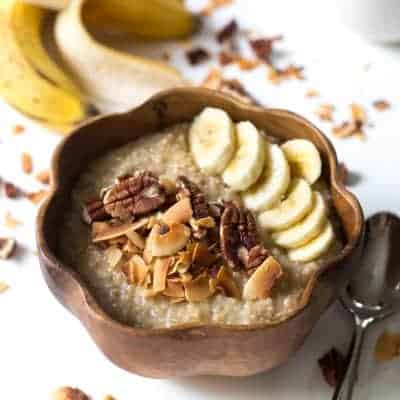 Coconut Banana Steel Cut Oatmeal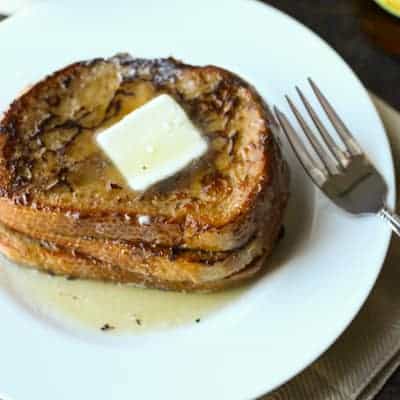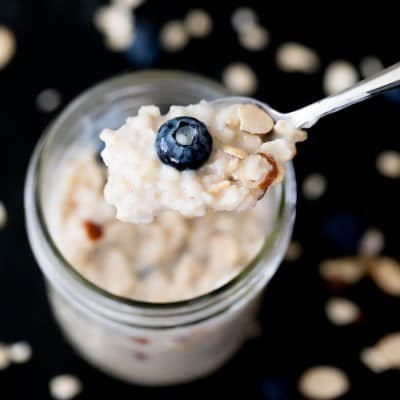 Vanilla Almond Overnight Oatmeal with Blueberries
{this post contains affiliate links, thanks for the love!}