Homemade Kettle Corn
When I was in college, I worked nights at a restaurant as a server and bartender. I was lucky to have almost all weekends off. But a few times a year, an art festival would be in town for the weekend and bring crowds of people. I would volunteer to work lunch shifts during the art festivals because I knew I would make a ton of money. But those shifts were brutal! I would have a minimum of 12 tables at any given time. 12! On a normal shift I would have at most 5 or 6. Plus, there was no busser and no bartender. You had to bus your tables and make your drinks yourself.
If you've ever been a server, you probably just had a mini heart attack reading that.
For about 5 hours I would be at almost a dead sprint, trying to not appear to sweaty, balancing 5 different plates of food, running around making my drinks and clearing off my tables. Those shifts would wipe me out. It's been years, but I still have nightmares about those days. Real, actual nightmares where I'll have forgotten a tables appetizers and they're yelling at me.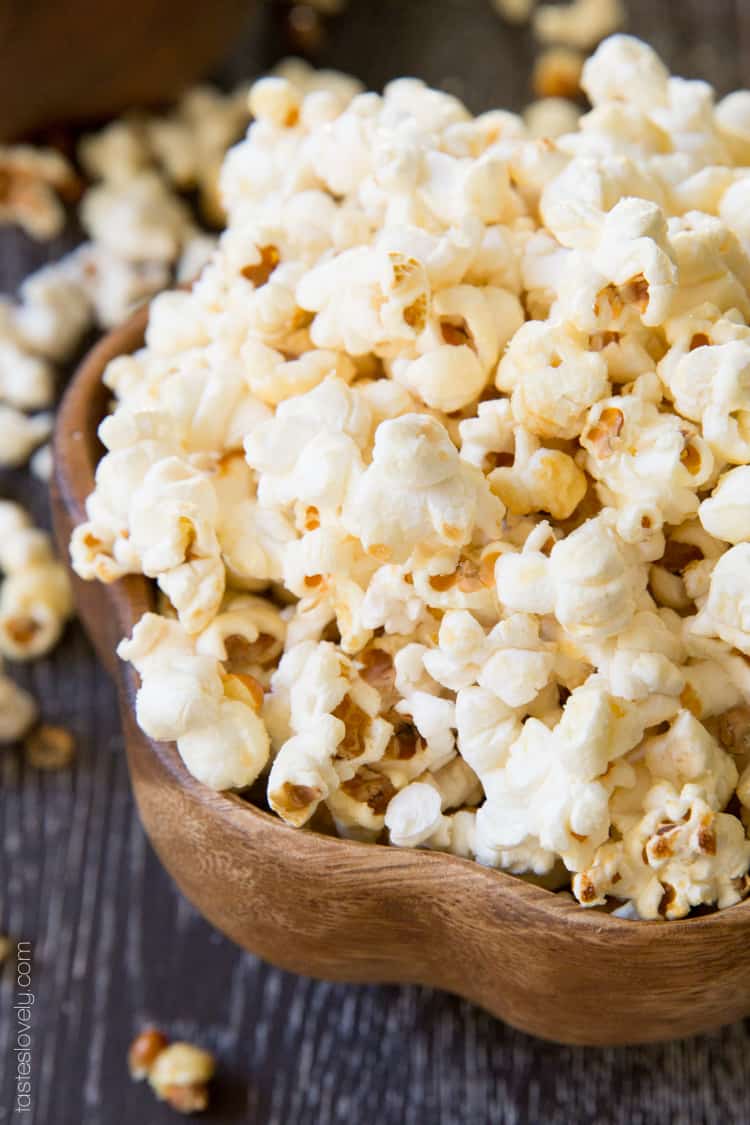 There were only 2 positive aspects to these shifts.
1. I would make almost $400 in a weekend.
2. At the art festival, there would always be a booth set up that was making and selling fresh kettle corn popcorn. At the end of my shift, I would walk across the street and buy the biggest bag of kettle corn they sold, and eat it for dinner.
Back then, when fresh kettle corn wasn't readily available, and getting a bag of it at the end of the day made the whole shift worth it. But now, I've discovered the secret for delicious, homemade kettle corn I can make in my own kitchen. All you need is 4 ingredients and a big pot with a lid.
I love kettle corn. Actually, I LOVE kettle corn. Bold and in all caps. I love kettle corn so much, that if we're going to see a movie I will beg Shawn to drive to the movie theater that is an extra 20 minutes away just because they sell kettle corn there. Nothing can beat that salty and sweet combination.
It's actually a little dangerous that I know how to make kettle corn at home, because now at any given time I'm only 10 minutes away from a freshly made batch. I make it a ton. And after making it so many times, I've come up with a few tricks to make sure it turns out perfect, and clean up is a breeze.
Biggest tip is to drop in a few corn kernels to the oil as soon as you turn on the heat. As soon as those kernels pop, you know the oil is at the right temperature. Then it's time to add all the kernels and the sugar. Shake the pan constantly, and as soon as the popping noises slow down, it's time to take it off the heat.
To avoid a pain-in-the-butt clean up of all the caramelized sugar, use a non stick pot, and put a piece of parchment paper between the opening and the lid. Trust me, you'll be thanking me big time when you're not having to scrape all the sugar off the lid.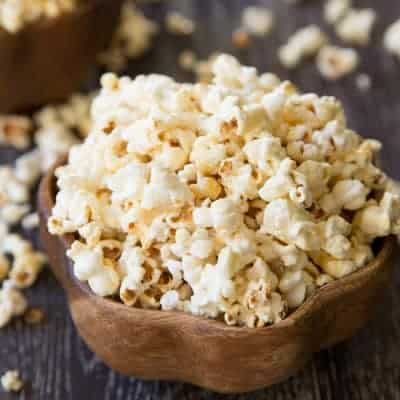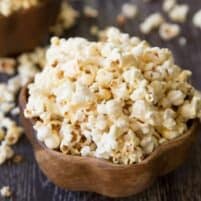 Homemade Kettle Corn
How to make homemade kettle corn on your stove top with just 3 ingredients!
Ingredients
1/4

vegetable

,

canola or coconut oil

1/3

cup

granulated sugar

1/2

cup

popcorn kernels

1

or 2 teaspoons salt
Instructions
Line your counter or a baking sheet with parchment paper. This is where you'll lay the popcorn to cool after it is done cooking. Also set aside a piece of parchment paper to fit between the opening of the pot and the lid. This will keep your lid clean while the popcorn is cooking for easy clean up.

Add the oil to a large, non stick pot with a lid. Add in a few popcorn kernels, and turn the heat to medium high. As soon as the first kernels pop, you know the oil is hot enough.

Add in the popcorn kernels and sugar. Put the lid on the pot, with a piece of parchment paper in between. Every 10 seconds, pick up the pot and shake it really hard for 3 seconds, then return it to the heat for another 10 seconds. Repeat this over and over until the popping noises slow. Remove the pot from the heat and pour the popcorn on the parchment paper. The whole cooking time is about 3 minutes.

Sprinkle the warm popcorn with salt and allow to cool for a few minutes. Leftovers will keep in an airtight container or ziploc bag for several days.
Calories:
75
,
Total Carbs:
7
g
,
Protein:
0
g
,
Fat:
5.6
g
,
Fiber:
0.1
g
,
Net Carbs:
7
g
Did you make this recipe?
Please Leave a comment and give this recipe a rating!