Lemon Pepper Chicken Caesar Salad with Creamy Dressing
Introducing the lemon pepper chicken caesar salad, with a creamy homemade greek yogurt caesar dressing and parmesan frico "croutons".
Healthy has never tasted so good.
So, I've been going to the gym a lot lately. Maybe you've seen me there?
You know that girl with the super trendy Lulu Lemon workout outfit? With a full face of makeup, including eyelashes? And a perfectly curled pony tail? Doing 1 legged squats while balancing on a medicine ball?
Ya, I'm the girl right behind her.
The one wearing Costco brand workout pants. And Shawn's oversized white t-shirt. Doing lunges holding little 5 pound weights. Making pained faces as if I'm being tortured. Oh, and sweating.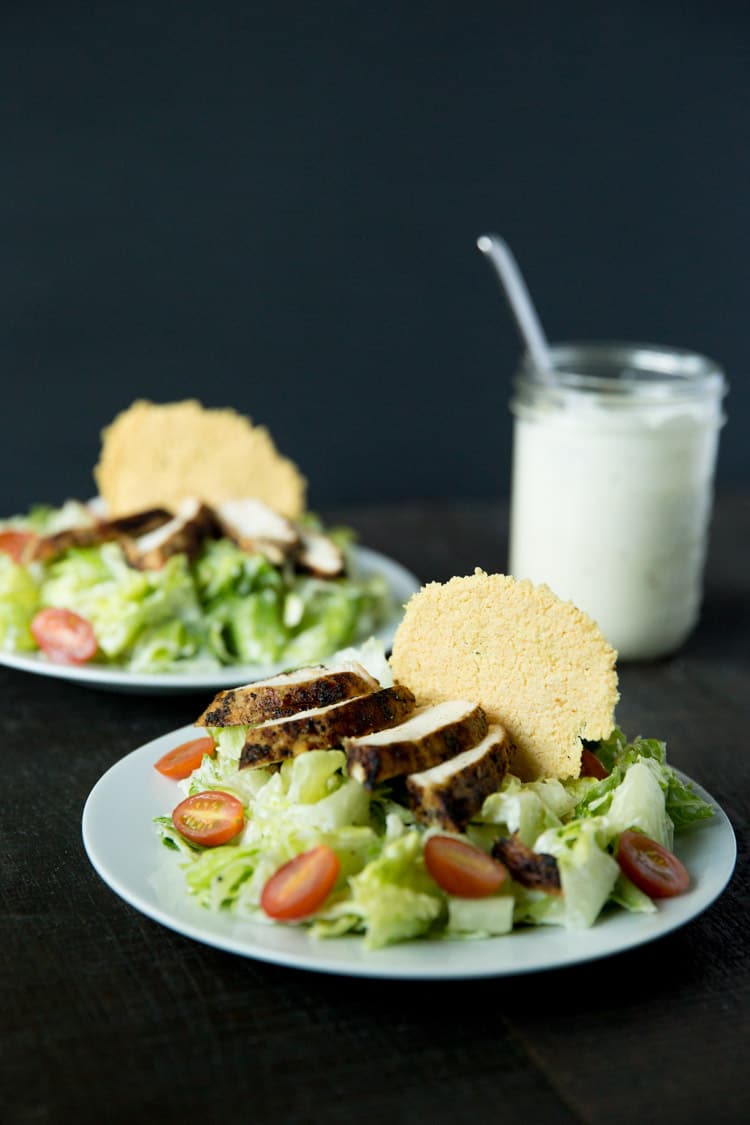 Then I hop on the elliptical and flip between the Food Network and Seinfeld re-runs. And glare at the timer and will time to somehow SPEED UP. How has it only been 15 minutes? I swear I've been on here an hour.
You know that workout-high people tout? I don't think it comes from being at the gym. I think it comes from leaving the gym. When I leave and the nice receptionist says "Bye, hope you had a great work out!" I smile, but in my head I'm thinking, "Eff you gym, I'm outta here! I don't want to be here another second! I gave you an hour. Now I'm done!"
Then I climb in my car and I've never been happier to sit on hot leather seats.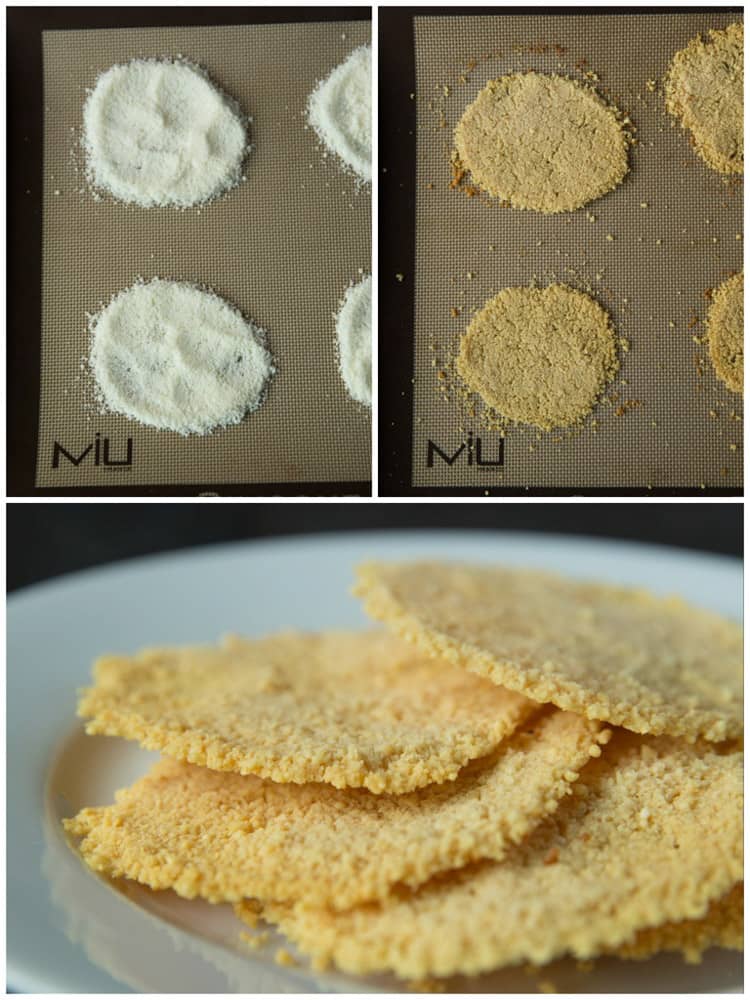 On days when I work out, I'm not going to pig out on pasta and desserts. That would pretty much cancel out all those squats and sit ups I did. If I'm working out, I'm going to make it count. And this lemon pepper chicken caesar salad is a great, filling salad high on protein and flavor and low on carbs.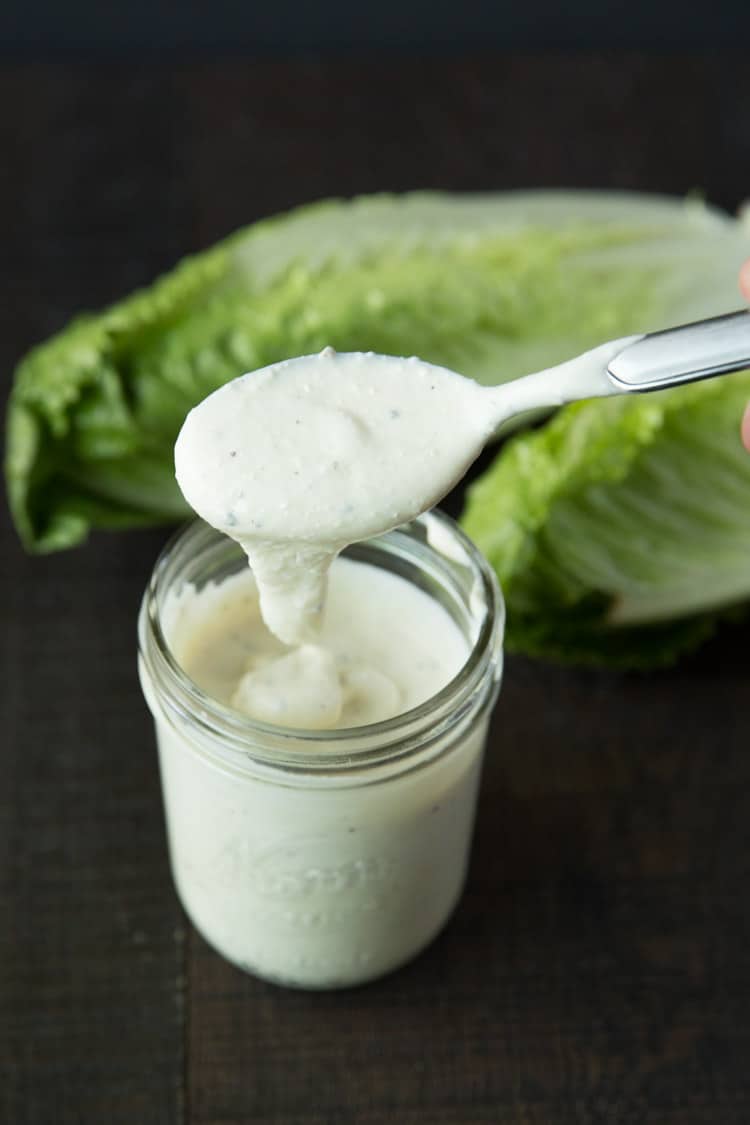 I love the flavor the lemon pepper gives the grilled chicken. Bright and citrusy, perfect for a chicken caesar salad.
The cold romaine lettuce is tossed with this amazing, creamy caesar salad dressing. It's made with greek yogurt, which you may have noticed I like putting in things like chicken salad wraps and blueberry muffins. It's so good I could just eat it with a spoon! My new favorite creamy caesar salad dressing.
And just because you're not eating carbs doesn't mean your salad can't have a great crunch. Rather than using croutons, I mix in these frico parmesan cheese "croutons". It's parmesan cheese that's crisped up in the oven to form it into thin little parmesan crispies. Hurray for crispy cheese!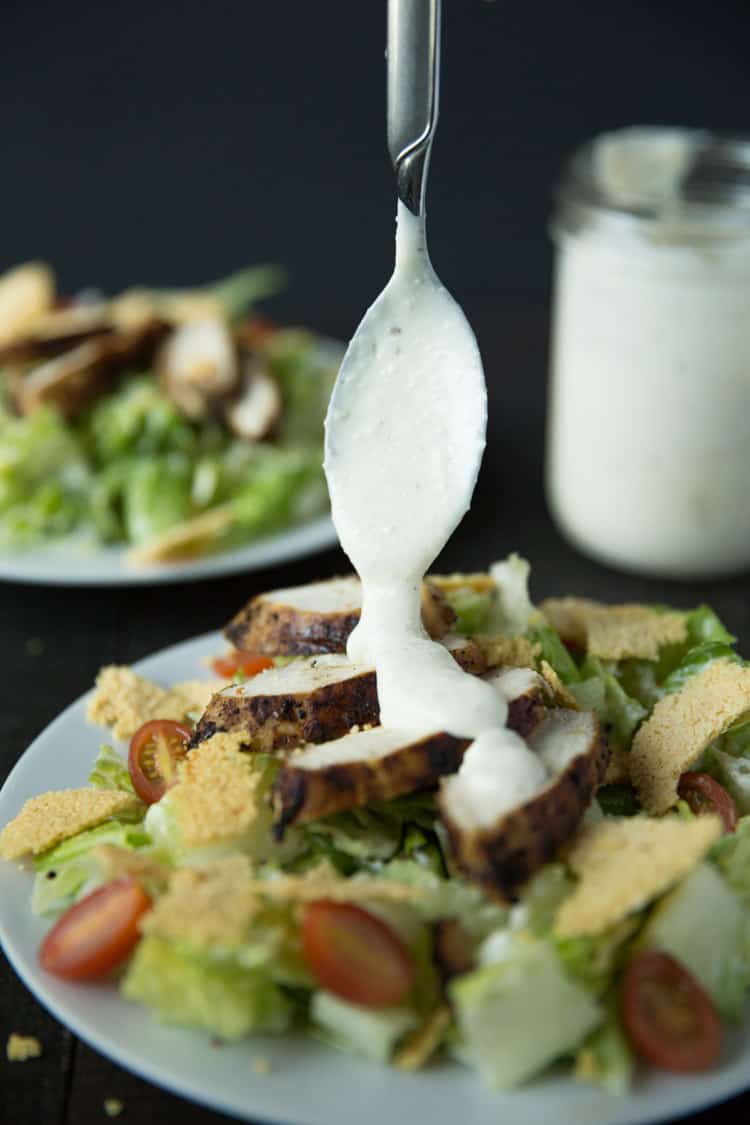 I eat this lemon pepper chicken caesar salad 5 days a week for lunch at work. I just grill up a couple chicken breasts in the beginning of the week, and make a big batch of this dressing. I'm going on about week 4 of this for lunch, and I haven't gotten sick of it yet.
It's that good.
Print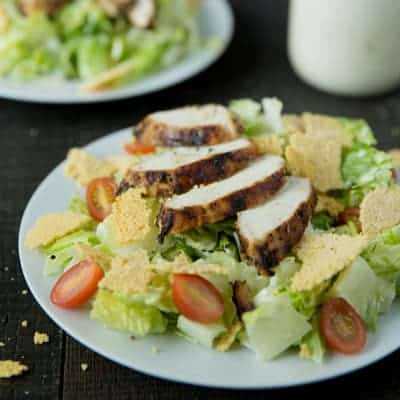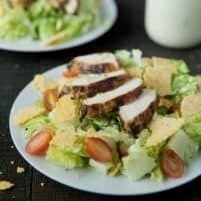 Lemon Pepper Chicken Caesar Salad with Creamy Dressing
---
Author:

Total Time:

25 mins

Yield:

2

people

1

x
Salad
2

4

–

ounce

boneless, skinless chicken breasts (I get my chicken from ButcherBox, which I highly recommend)

2 tablespoons

lemon pepper
2 heads of romaine lettuce, chopped, about

4

cups

1/2

cup

cherry tomatoes, sliced in half
Frico Parmesan Croutons
4 tablespoons

parmesan cheese, grated
Creamy Caesar Dressing
---
Instructions
Frico Parmesan Croutons: Preheat your oven to 350 degrees. On a parchment or silpat lined baking sheet, spoon 4 heaping tablespoons of grated parmesan cheese and smooth out to be an evenly layered circle with a 4 inch diameter. Heat until the parmesan is melted and just starting to turn barely golden, about 20 minutes. Remove from oven and allow to cool completely before lifting. The frico parmesan croutons will keep refrigerated in an airtight container for 10 days.
Lemon Pepper Chicken: Heat your grill or indoor grill pan over medium high and rub with olive oil. Season your chicken breasts with the lemon pepper on both sides. Grill the chicken about 15 minutes or until fully cooked, flipping halfway thru. Let it rest for 5 minutes before slicing.
Creamy Caesar Dressing: In a food processor, combine the anchovies, garlic, greek yogurt, parmesan cheese, dijon mustard, lemon juice, salt and pepper and blend until combined. Add in the olive oil and blend until emulsified. The dressing will keep refrigerated in an airtight container for 10 days.
Salad: Toss the romaine lettuce with the creamy caesar dressing. Top with sliced tomatoes, sliced chicken, and crumbled frico parmesan croutons.
Notes
If you don't like anchovies, I've left them out and the dressing is still tasty. It may need a tad more salt. Taste and adjust if necessary.
Prep Time:

5 mins

Cook Time:

20 mins
Nutrition
Serving Size:

1/2 salad & 1/6 the dressing

Calories:

362

Sugar:

4g

Fat:

18g

Saturated Fat:

5g

Carbohydrates:

8g

Fiber:

2g

Protein:

38g
Caesar dressing adapted from How Sweet It Is.
This post contains affiliate links, thanks for the love!