Mixed Bean and Ham Hock Soup
Cooking this soup makes me feel like my life is very "together".
You see, this ham hock soup is insanely easy to make. But, you have to soak the dried beans overnight. And any time I know what dinner is going to be the day before, I feel like a rock star.
I do not meal plan. At all. Dinner is usually thought up around lunch time, or worse yet on my way home from work. Which means I go to the grocery store about every single day.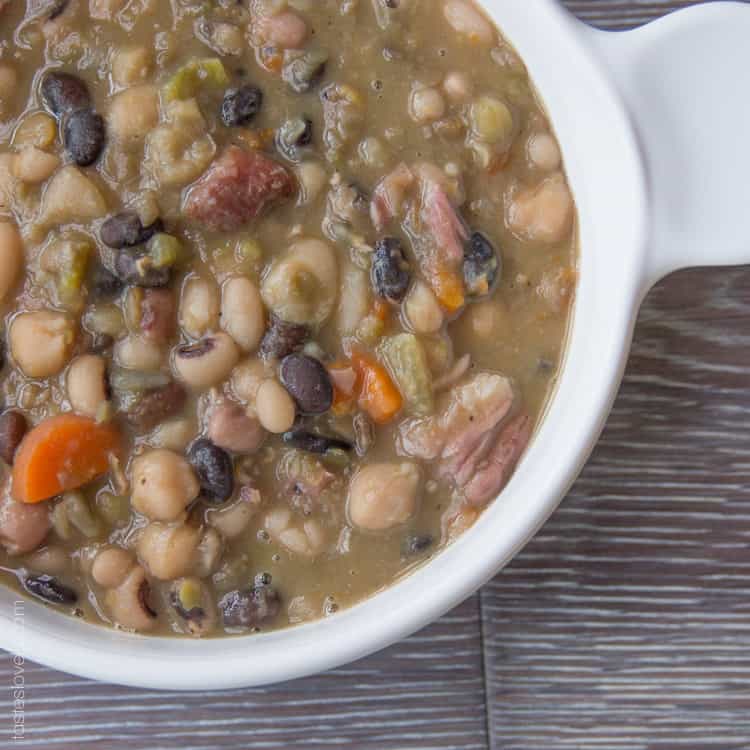 Unless my husband is my hero and offers to go for me, to which I quickly text back, "OhmygoshyesPLEASE!", followed by most well organized grocery list where I list out all the ingredients in order of aisle in the store so he won't have to run around too much. But mostly so I know he won't forget anything.
I wonder if he knows I do that? He will now, since I signed his email up to subscribe to my blog, so every time I post something new it goes straight to his inbox. I make life so easy for him. (Hi Shawn!)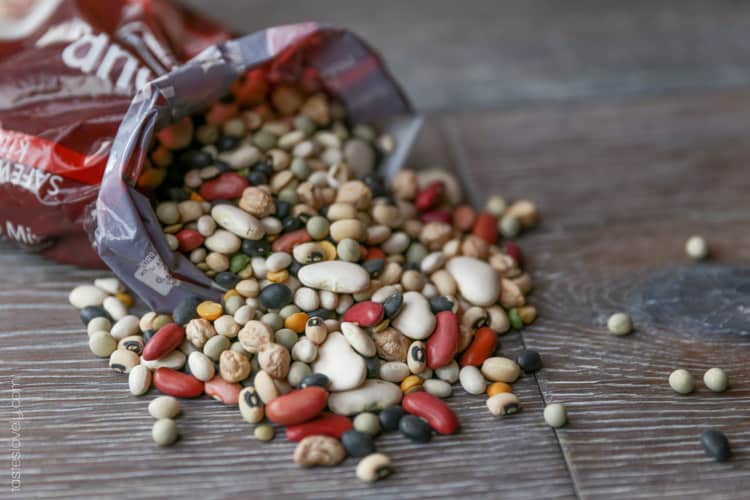 I love this soup because it requires so little active prep work. You just soak the beans in water overnight (I usually do it for about 24 hours), chop up a few veggies, add all the ingredients to the pot, and let it cook for a few hours and make your house smell delicious. You can even make it in your slow cooker. And hello affordable meal! This ham bone soup can easily feed 6 people and costs less than $10.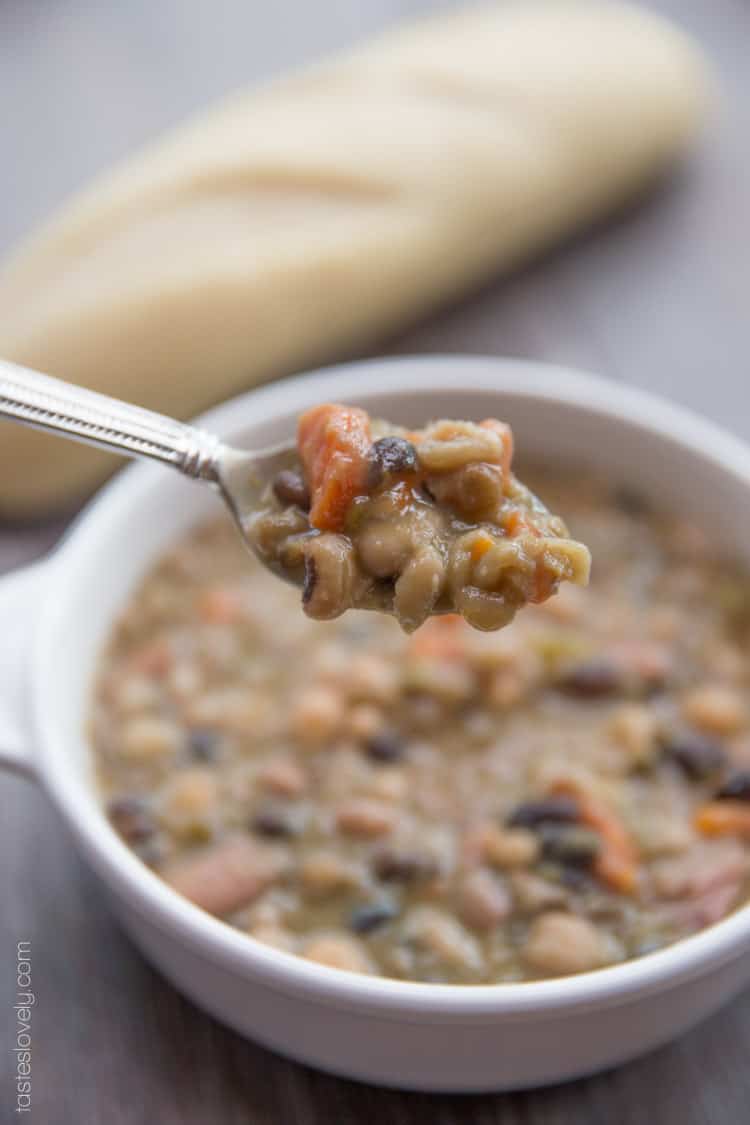 When I eat this soup, it makes me feel like I'm in The Little House on the Prairie, eating a soup that was cooked all day in a large kettle over the fire with the scrap meat. I should be eating it out of a tin bowl and huge oversize spoon, just for effect.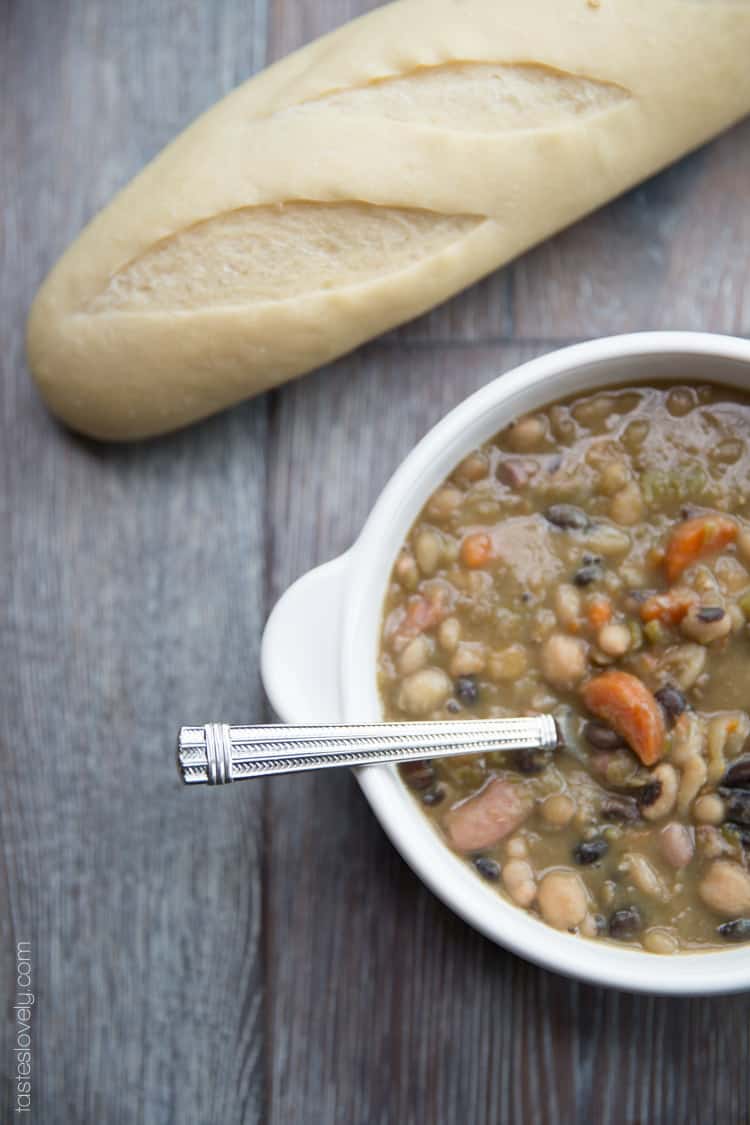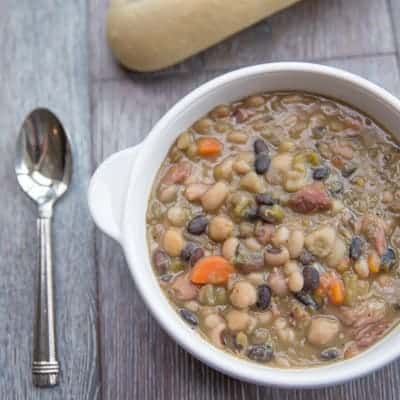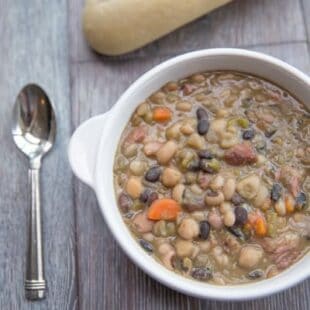 Mixed Bean and Ham Hock Soup
This mixed bean and ham hock soup is incredibly easy to make, and so warm and comforting especially on cold nights!
Ingredients
20

ounce

bag mixed dried beans

1

tablespoon

olive oil

2

carrots

chopped into 1/4" thick half moons, about 1.5 cups

3

celery stalks

chopped into 1/4" thick half moons, about 1.5 cups

1

yellow onion

chopped medium, about 1.5 cups

2

cloves

of garlic

minced

8

cups

chicken stock

2

smoked ham hocks

salt and pepper
Instructions
In a large bowl, soak the dried beans in cold water for at least 12 hours, removing any debris that floats to the top. I usually soak mine for 24 hours.

Heat a large pot over medium heat. Add in the olive oil and cook the carrots, celery and onion with just a pinch of salt until they begin to soften, about 5 minutes. Add in the garlic, cooking until fragrant for another minute, then add in the chicken stock and ham hocks. Strain the beans from the water and add to the soup. Do not add in any more salt since the beans absorb the salt and can get too salty. Season with salt at the end of cooking.

If you are cooking in a crock pot, add all the ingredients to your slow cooker and cook on low for 8 hours or high for 4 hours. If you are cooking on the stove, reduce heat to low and cook uncovered for 3 hours.

After the soup is done cooking, skim any fat from the top of the soup. Remove the ham hocks, and shred any ham meat. Add the ham meat back to the soup, discard the skin, bone and any fat. Taste and season for salt and pepper.

Serve warm immediately. Will keep an an airtight container for 1 week.
Recipe Notes
If you don't have time to soak your beans overnight, you can do a "quick soak" by cooking the beans in unsalted boiling water for 5 minutes, then covering, turning off the heat, and allowing to sit for 1-2 hours.
Nutrition
Calories:
432
Total Carbs:
85
g
Protein:
19.2
g
Fat:
10.6
g
Fiber:
42.3
g
Net Carbs:
43
g
Nutrition facts are calculated as a courtesy and not guaranteed.
Did You Make This Recipe?
Please leave a comment and give this recipe a rating!