Moroccan Braised Short Ribs
Slow cooker Moroccan braised short ribs, cooked in an orange cinnamon sauce, served over a baked sweet potato. Paleo, Whole30, gluten free, low carb, dairy free and more delicious than words can describe!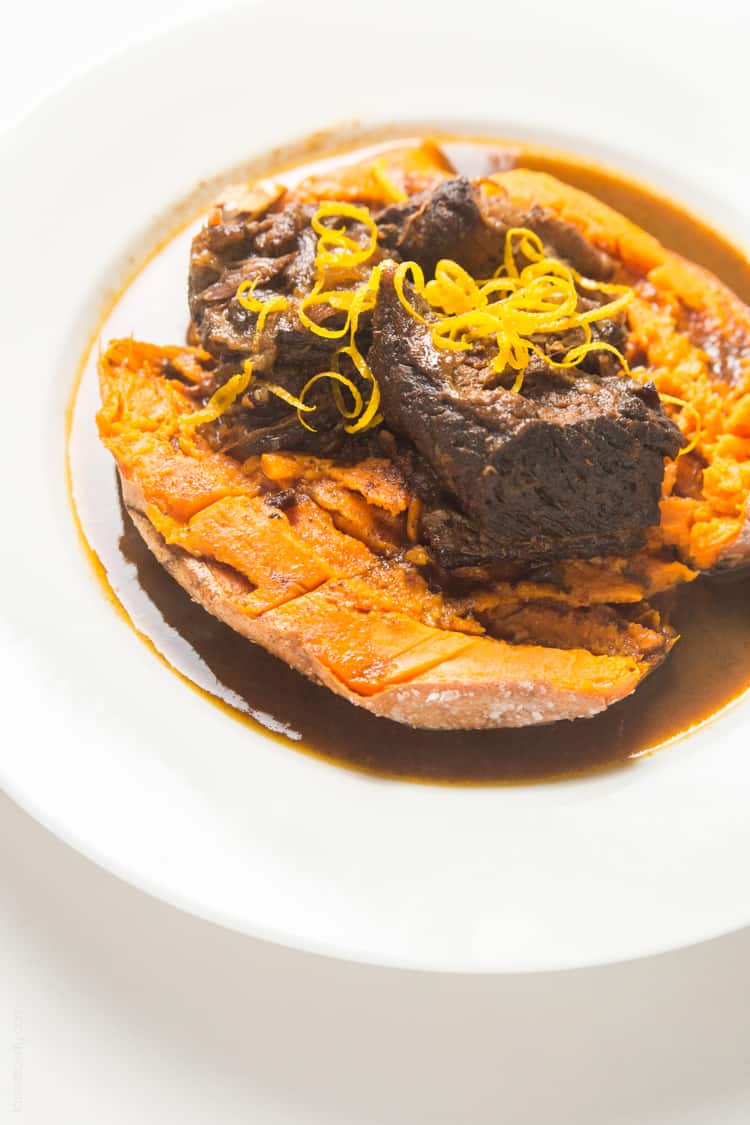 This. This is my favorite thing I have ever cooked. I wish you could smell this.
But since you can't smell it, allow me to describe it to you. The most tender, flavorful short ribs. Braised in a slow cooker in a Moroccan inspired sauce with orange zest, orange juice, cinnamon, balsamic vinegar, mirepoix, and chicken stock. Served over a baked sweet potato.
Warm. Beefy. Citrusy. Sweet. Amazing.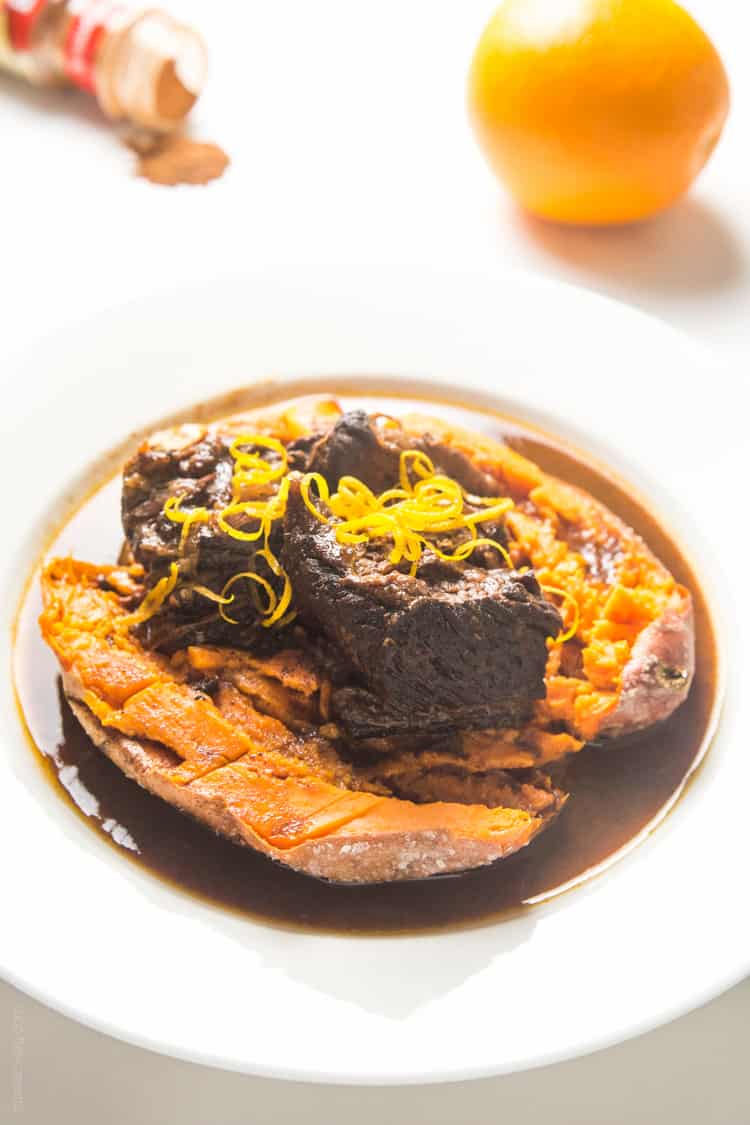 I recently watched the movie The Hundred Foot Journey, which I *loved*, and it really inspired me to try cooking with different flavors and spices. Soon, these Moroccan Braised Short Ribs were born. It was exciting to play around with exotic flavor combinations I wouldn't normally use. But these put my normal red wine braised short ribs to shame.
The flavor is so wonderful, you would never guess that this recipe is also very healthy! It's made with only whole ingredients. It's paleo, Whole30, gluten free, low carb and dairy free. Good for the taste buds, and good for your health.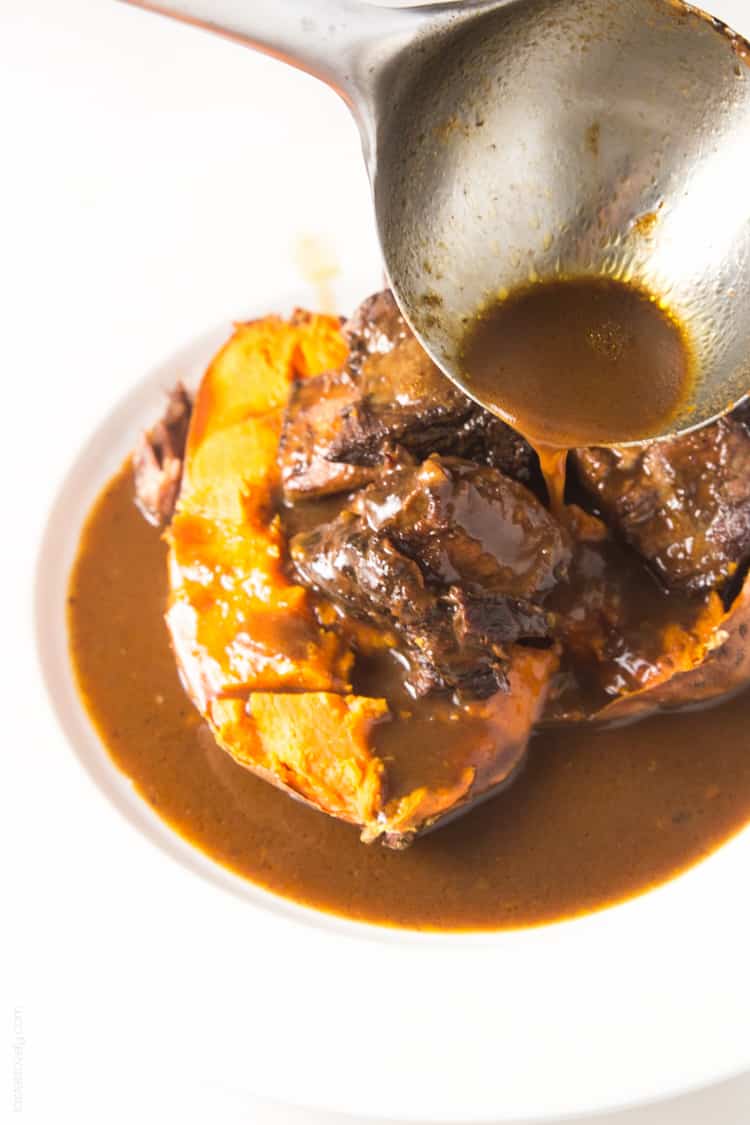 I've always been a big fan of short ribs. They have such a deep, tender flavor, and make the most delicious sauce. Short ribs are also one of my favorite meals to cook for a dinner party. You can start cooking them earlier in the day, and get all of the prep work done long before your guests arrive. These can even be made up to 3 days in advance (see Notes in the recipe below).
When it comes time to serve them up, just scoop them out of the slow cooker and they're ready to go. No need to slave away in the kitchen leading up to dinner. This recipe will allow you to enjoy your whole dinner party. Plus, your home will be filled with the most amazing aroma that will have your friends weak in the knees.
This is definitely the longest recipe video and recipe I have posted to date. But don't be intimidated! It is really quite simple. Just a few simple steps in the beginning, then it cooks away all day long.
There are a few kitchen essentials I used in the recipe video that will make this recipe a breeze. I love my slow cooker. Easy to understand and program. Also, the perfect size for this recipe.
To brown the meat and soften the veggies I use my beloved 6 qt. dutch oven. The heavy cast iron will make browning a breeze. I can yet justify paying hundreds of dollars for the Le Crueset brand, and am very happy with my Lodge brand. Great product for the price. I use it for all the soups and stews I cook, and to brown meats I braise.
To get all of the fat out of the sauce, you must get this fat separator. It makes it so easy! I use this fat separator for all braised meat sauces, and to make pan sauce or gravy when I roast a chicken or turkey. Much easier than the old spoon-off-the-top method.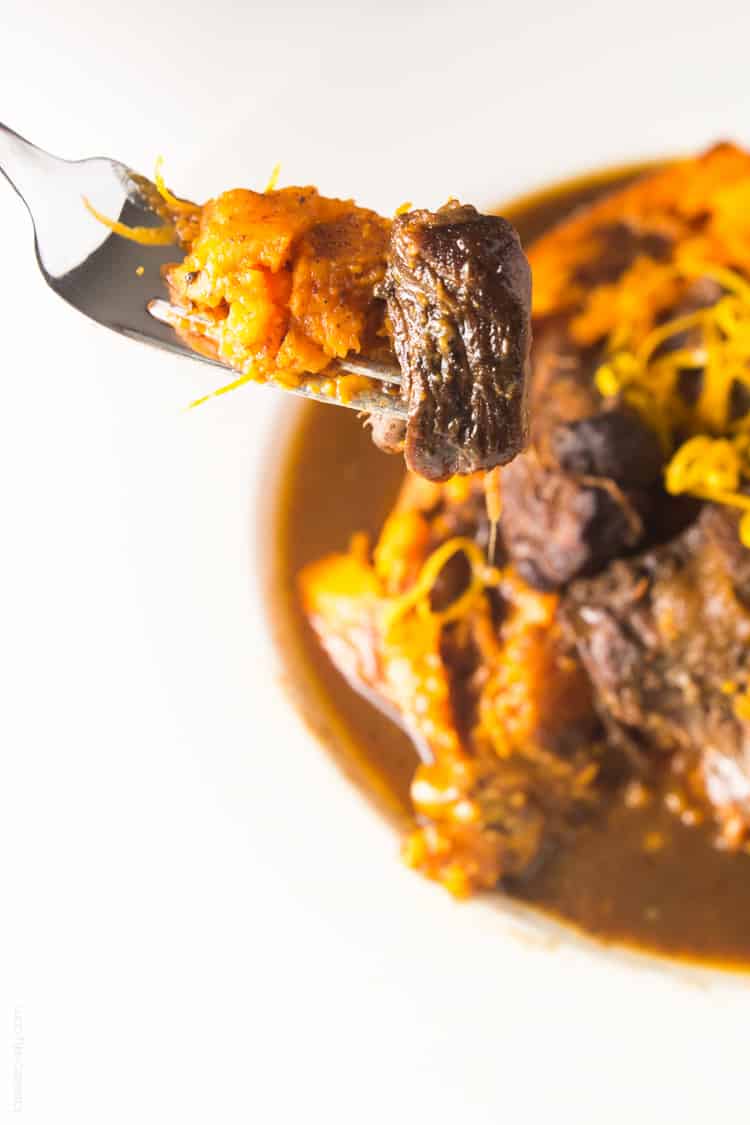 This is the dinner I will be making for Shawn this Valentine's Day. Nothing says "I Love You" more than tender braised meat that has been cooking all day. It is the way to your mans heart. You should make this for your sweetie too.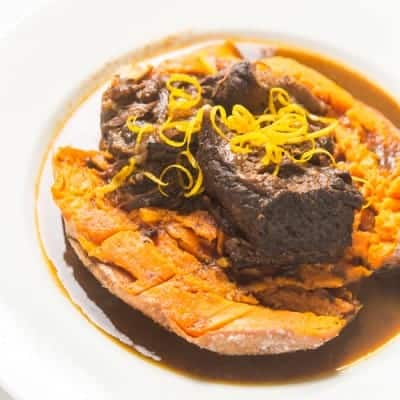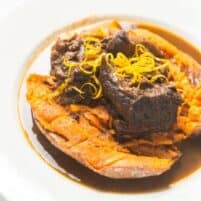 Moroccan Braised Short Ribs
Slow cooker Moroccan braised short ribs, cooked in an orange cinnamon sauce, served over a baked sweet potato.
Ingredients
Short Ribs
4

large

beef short ribs

,

about 2 pounds

1

tablespoon

olive oil

2

medium carrots

,

sliced 1/2" thick

3

ribs of celery

,

sliced 1/2" thick

1

medium onion

,

chopped

3

cloves

of garlic

,

whole

1

tablespoon

tomato paste

zest of 1 large orange

juice of 1 large orange

4

cups

32 oz chicken stock

1/4

cup

balsamic vinegar

1

tablespoon

cinnamon

1

bay leaf

salt and pepper
Baked Sweet Potatoes
2

medium size sweet potatoes

,

washed, scrubbed and dried

1

tablespoon

olive oil
Instructions
Heat a dutch oven (or large soup pot) over medium high heat for 2 minutes. While it is heating up, salt the short ribs generously on all sides. Add the olive oil, and cook the short ribs 3 minutes per side on all sides until golden brown. Do not overcrowd the pan. If necessary, cook the short ribs in batches. Transfer short ribs to the slow cooker after browned, with the meat side down, bone side up.

In the same dutch oven in the remaining oil/fat, add the vegetables and cook for 5-8 minutes, until they begin to soften. Add the tomato paste, cook for 1 more minute. Add the orange zest and orange juice. Scrape the bottom of the pan until there are no more brown bits. Add the chicken stock, balsamic vinegar, cinnamon and bay leaf. Stir to combine. Transfer cooking liquid to the slow cooker. Gently move the short ribs to make sure the cooking liquid gets under the short ribs. Cover and cook on low for at least 8 hours, or high for at least 4 hours.

After the short ribs have cooked, reduce the cooking sauce. Gently remove the short ribs from the slow cooker. They will be very tender, and may fall off the bone. This is OK. I also like to pinch off any large pieces of fat that didn't render off the short ribs using tongs. Discard any fat.

Once all the short ribs are removed, strain the sauce to remove all the vegetables. Discard the cooked vegetables. Transfer the cooking liquid to a fat separator, and allow to sit for 5 minutes. You should have about 4 cups of sauce. Transfer the short ribs back to the slow cooker and cover.

Once the cooking liquid has settled, pour the sauce into a large pot. Discard the fat. (If you don't have a fat separator, transfer the cooking liquid to a large bowl, allow to sit for 5 minutes, then spoon the fat off the top once it has settled.)

Boil the sauce for about 8 minutes, until it has reduced by half, to about 2 cups. Pour the reduced sauce back in the stock pot over the short ribs. Continue to cook over low until ready to serve, about 1 hour.

One hour before serving, bake the sweet potatoes. Preheat your oven to 350 degrees with the rack in the middle. Rub the sweet potatoes with olive oil, and salt the skin generously. Bake on a baking sheet for 1 hour, until very soft.

To serve, split the sweet potatoes in half, and sprinkle the inside with a pinch of salt. Divide the short ribs on top of the sweet potatoes, drizzle with sauce, and garnish with orange zest.
Notes
This recipe can very easily be doubled or tripled. I serve 2 short ribs per person.
This recipe can be made ahead of time, up to 3 days in advance. After step 4, instead of transferring the short ribs back to the slow cooker, transfer them to an airtight container and refrigerate. Transfer all of the cooking liquid to a separate airtight container and refrigerate. When ready to reheat, scrape all the fat from the top of the cold cooking liquid, then continue with step 6. Reheat the short ribs in a slow cooker with the reduced sauce for 1 hour on high, or 2 hours on low.
Calories:
535
,
Total Carbs:
71.6
g
,
Protein:
28.5
g
,
Fat:
17.1
g
,
Fiber:
8.5
g
,
Net Carbs:
63
g
Did you make this recipe?
Please Leave a comment and give this recipe a rating!
This post contains affiliate links, thanks for the love!