Oven Roasted Vegetable Fajitas
Oven Roasted Vegetable Fajita Tacos. Fresh vegetables tossed with Mexican spices then roasted in the oven. A quick and healthy 30 minute vegetarian (can be made vegan too!) dinner. Let the oven do all of the work for you!
We have air conditioning!
I cannot tell you how happy I am to have air conditioning in our little house. Last summer we melted away on hot days. Melted! We would sit on the couch chugging water, and taking turns spraying each other with water to cool off. Before going to bed we would take cold showers, then have all our windows open all night with a ton of fans blowing air.
It gets pretty cool in the canyon once the sun starts to set, so it's only really bad from 1pm – 7pm. Which are the hours we are home. And the hours we eat dinner. Which means on hot days we would only eat cold salads or cold sandwiches. No way I would risk turning on the stove or oven to heat up the house any more.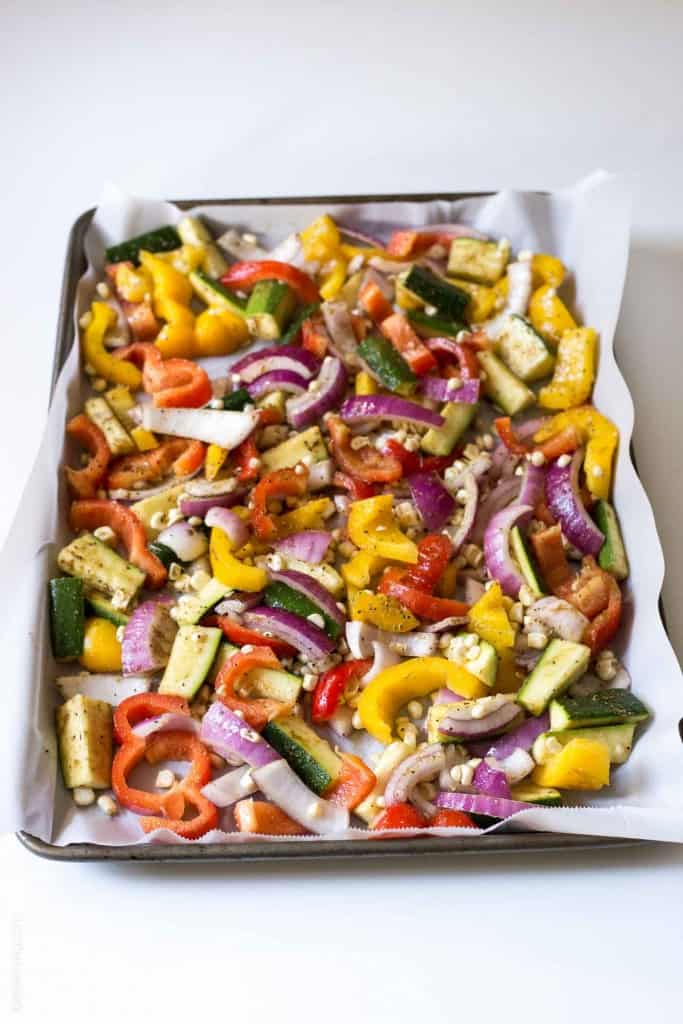 Just last week it was almost 100 degrees, a dangerously hot temperature for pre air conditioning days. But with our ice cold AC, I was able to make these sizzling hot oven roasted vegetable fajitas without breaking a sweat. It's a summer miracle! We can have hot meals and not die of heat stroke!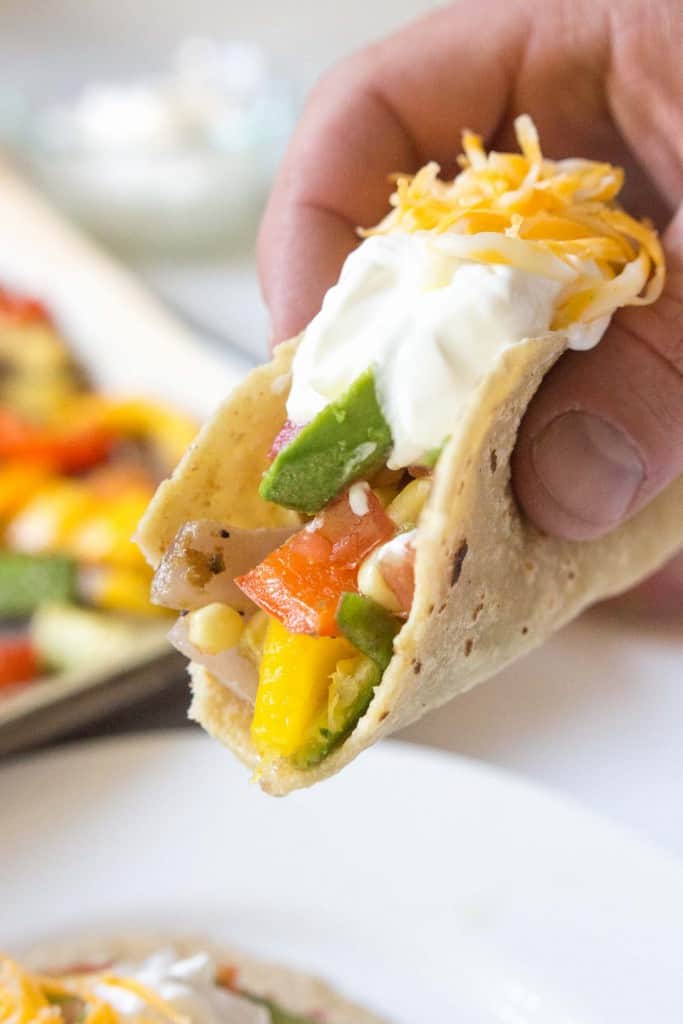 I love these oven roasted vegetable fajitas. I've talked before about how my mom is vegan and my sister is vegetarian, so it can be tricky to make a dinner that the whole family can get excited about. These veggie fajitas are one of the recipes that works for everyone. The vegetables and toppings have so much flavor, you don't even miss the meat. And my mom just leaves off the cheese and sour cream, and they're vegan.
I used to make these by sautéing all of the vegetables in a pan. There were so many vegetables I would have to cook them in batches, so it would take for-ev-er. And I would get hot standing over the stove for so long. I had an epiphany one day that I could just throw all of the vegetables on a sheet pan and let the oven do all of the work for me. It is easier, faster, and the vegetables tasted even better. Plus, it gave me time to hang out with everyone rather than cooking away in the kitchen. Win win!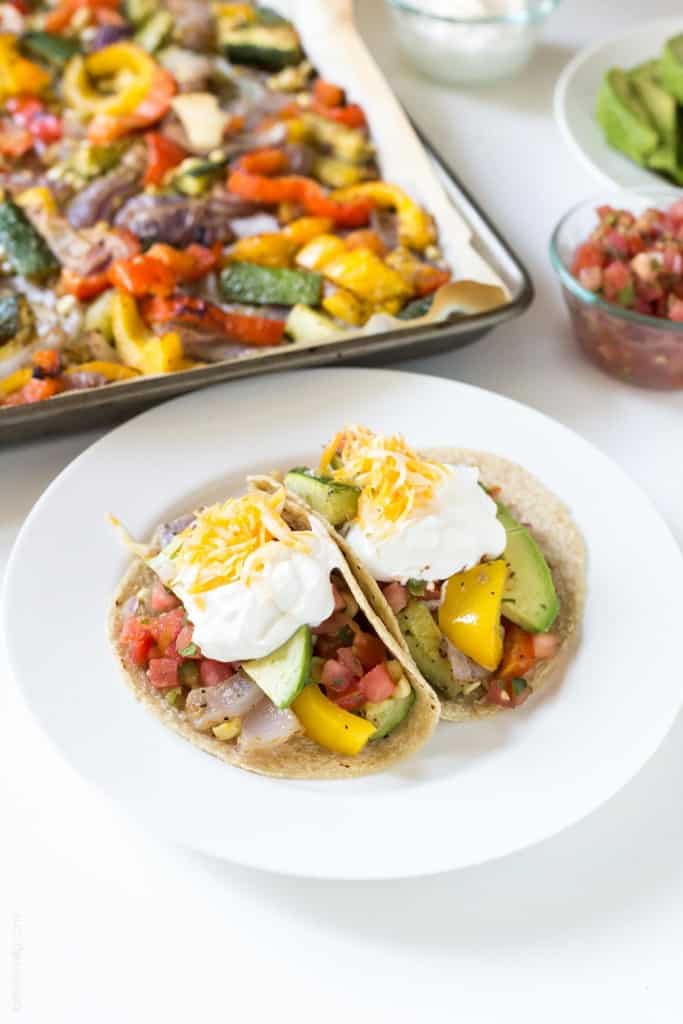 I make these oven roasted vegetables fajitas most often with the vegetables I listed in the recipe. But feel free to switch up the veggies you use with what's in your fridge. I've made these with broccoli, cauliflower, mushrooms, even carrots thrown in before. Just make sure all of the vegetables are cut to an equal size so they'll roast at the same speed.
I'll heat up some vegetarian refried beans, make a box of Mexican rice, and put out some chips. Then everyone grabs a plate and assembles their fajita taco with the toppings they like. Such an easy peasy dinner.
Leftovers make a great lunch the next day over a big bed of lettuce.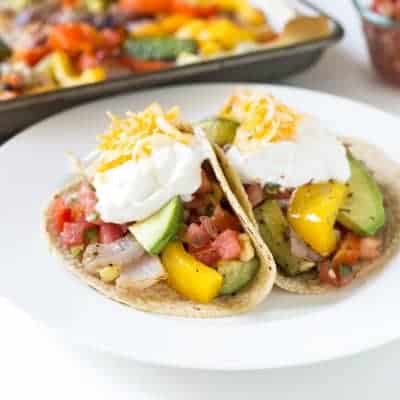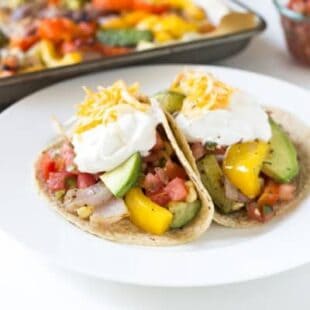 Oven Roasted Vegetable Fajitas
These oven Roasted Vegetable Fajita Tacos are tossed with Mexican spices then roasted in the oven. A quick and healthy 30 minute vegetarian (can be made vegan too!) dinner. Let the oven do all of the work for you!
Ingredients
Roasted Vegetables
1

medium red bell pepper

ribs and seeds removed, sliced 1/2" thick

1

medium yellow bell pepper

ribs and seeds removed, sliced 1/2" thick

1

large red onion

sliced 1/2" thick

2

medium zucchini

sliced in to 1/2" thick wedges

1

ear of corn

kernels sliced from cob

2

tablespoons

olive oil

1

tablespoon

cumin

2

teaspoon

salt

2

teaspoon

pepper
Fajita Toppings
12

taco sized tortillas

1

avocado

sliced

shredded cheese

pico de gallo

or favorite store bought salsa

sour cream

wedges of lime
Instructions
Roasted Vegetables
Preheat oven to 500 degrees, with the rack in the upper third. Line a large baking sheet with parchment paper.

In a large mixing bowl, toss the sliced vegetables with olive oil. Then add cumin, salt and pepper, toss to combine.

Spread the vegetables in an even layer on the baking sheet. Roast for about 20 minutes, or until the vegetables are soft and starting to char on the edges.
Fajita's
Assemble the tacos with the roasted vegetables and desired toppings. And leftover roasted vegetables will keep in an airtight container for 1 week.
Recipe Notes
Feel free to mix up the veggies you use! My go to vegetables are the ones I listed in the recipe. But I've also added in broccoli or cauliflower or carrots or mushrooms. Whatever you have in your fridge will work just great.
Nutrition
Calories:
436
Total Carbs:
60.7
g
Protein:
9.7
g
Fat:
20.3
g
Fiber:
12.9
g
Net Carbs:
48
g
Nutrition facts are calculated as a courtesy and not guaranteed.
Did You Make This Recipe?
Please leave a comment and give this recipe a rating!

More Taco Recipes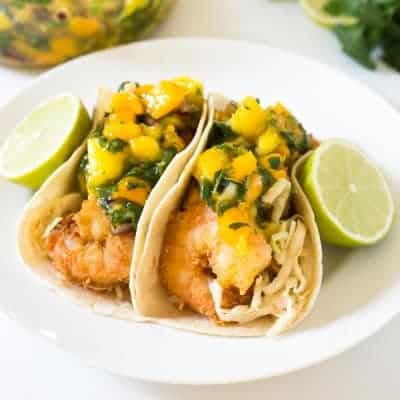 Tropical Coconut Shrimp Tacos with Mango Papaya Salsa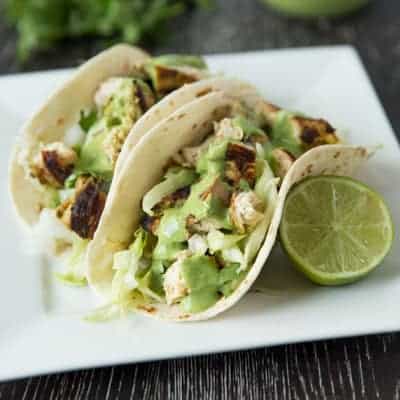 Chicken Tacos with Cilantro Lime Ranch Dressing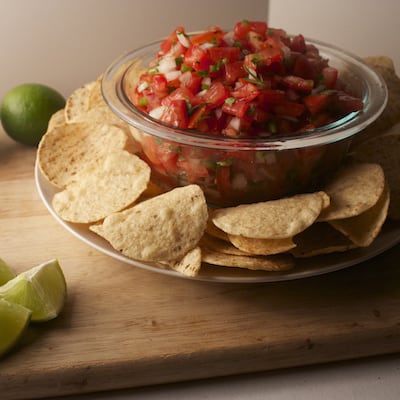 Pico de Gallo Salsa (<- my first ever recipe post!)