Paleo Lemon Basil Chicken Salad
Paleo Lemon Basil Chicken Salad lettuce wraps with apples, celery, red onion, cashews and a homemade paleo mayonnaise. A light and flavorful lunch or dinner that is paleo, Whole30 and gluten free.
Lately lunch time has been excessively stressful.
I get home from Pilates, and have 5 minutes to make lunch for Shawn and I before he has to get back to work. I used to do a lot of turkey sandwiches and chips, but Shawn and I are trying to be gluten free and dairy free so sandwiches are out.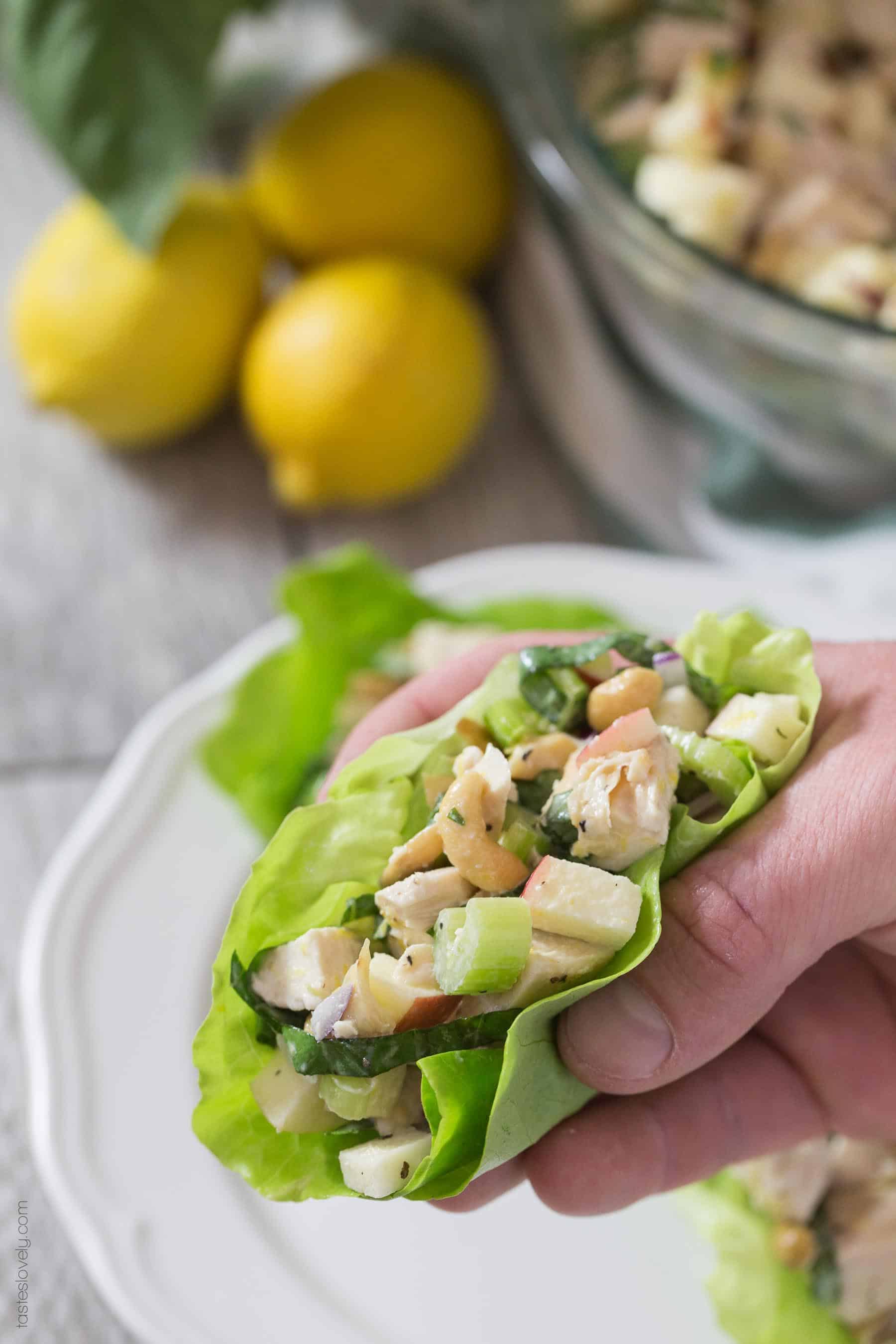 But just because sandwiches are out, doesn't mean I can't enjoy my favorite sandwich fillings. I've been making us lots of chicken salads to eat as lettuce wraps, and it has been wonderful! I can make a big batch that will last us for 3 or 4 days, which means I can actually have our lunch ready in 5 minutes. It's a wonderful thing. The best part is the longer this lemon basil chicken salad sits, the better the flavors are.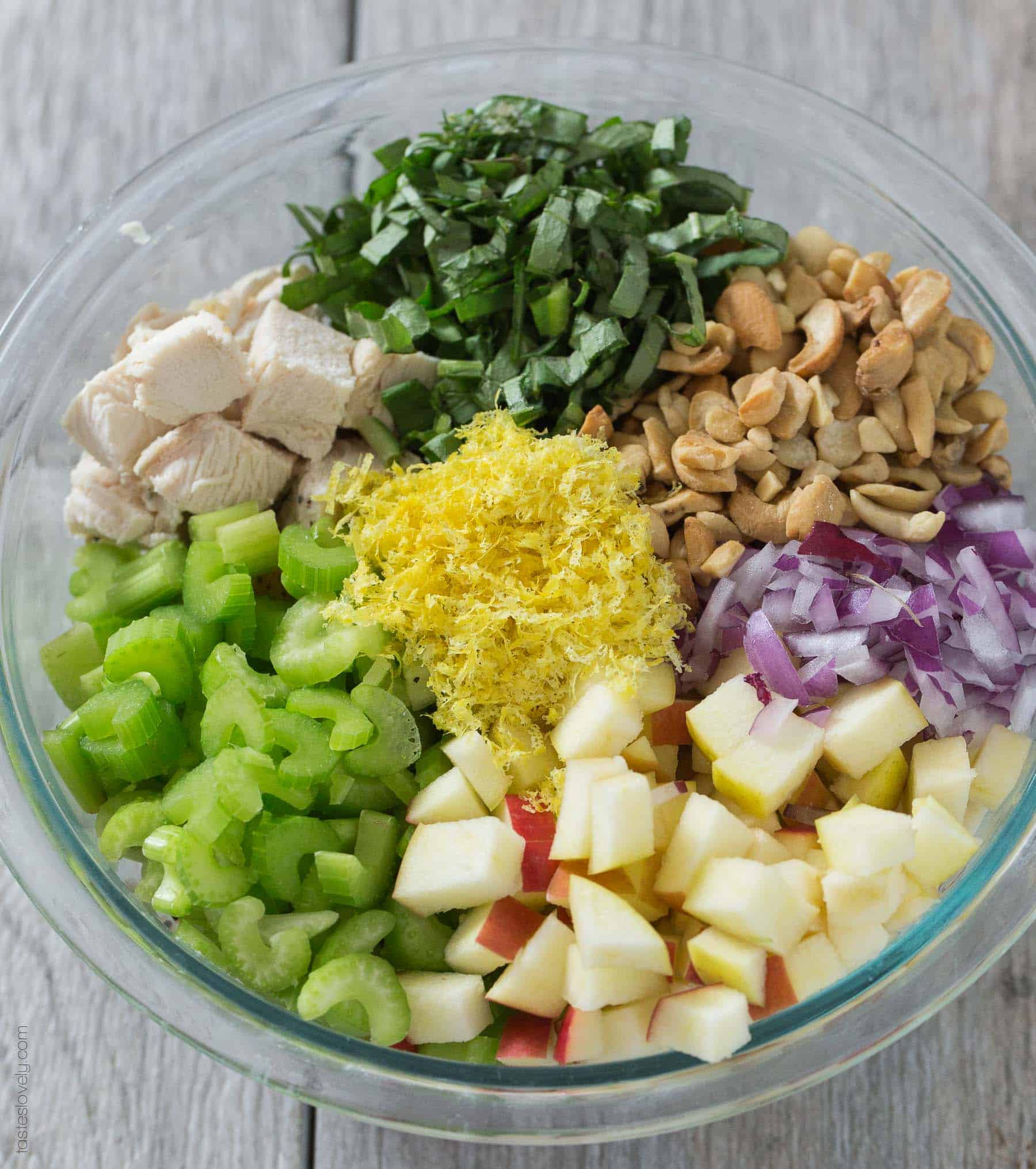 This paleo lemon basil chicken salad has been a big favorite lately. The farmers market has such gorgeous bunches of basil, I can't resist buying it every week. The brightness of the lemon and basil mixed with the apples, celery, red onions and cashews is delicious. I use my homemade paleo mayo (which I am obsessed with! So easy to make, so healthy, and tastes even better than store bought) to keep it paleo.
I use butter lettuce for the paleo lemon basil chicken salad lettuce wraps, but you could use romaine lettuce, or even serve it on top of baby greens as a salad.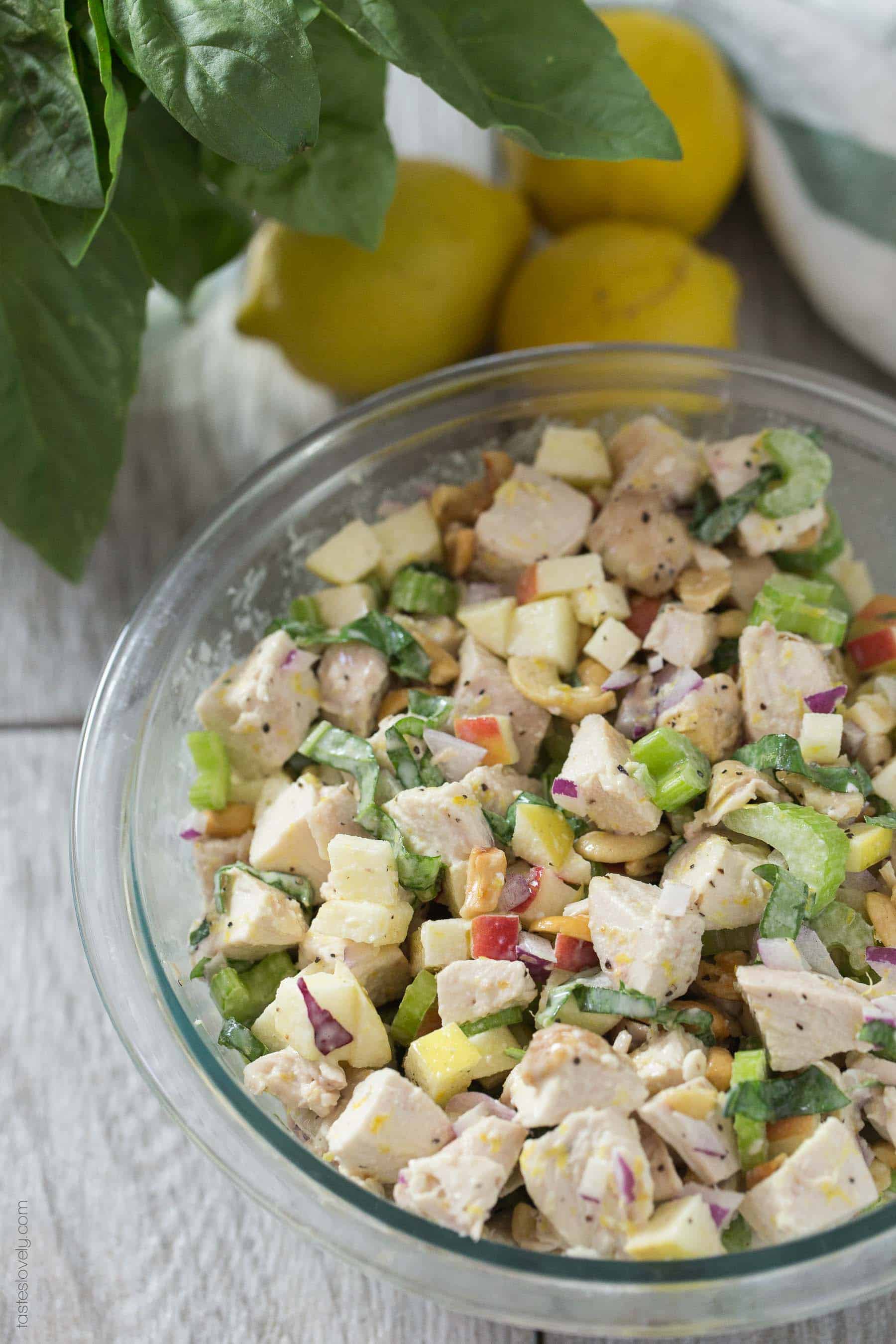 I've shared it before, but the secret to good chicken salad is roasting the chicken breasts. Most recipes call for you to poach the chicken breasts in water. Don't! All the chicken flavor seeps out into the poaching liquid, and the resulting chicken is bland and watery. Think about it, that's exactly how you make flavorful stock, by poaching chicken in water.
Instead, by roasting bone in, skin on chicken breasts in the oven all the chicken flavors intensify and you're left with juicy, ultra flavorful chicken.
Print
Lemon Basil Chicken Salad
---
Author:

Prep Time:

15 mins

Cook Time:

45 mins

Total Time:

1 hour

Yield:

roughly

8 cups

1

x
2

pounds

bone-in skin-on chicken breasts

(I get my chicken from ButcherBox, which I highly recommend)

1 tablespoon

olive oil

1 teaspoon

salt

1 teaspoon

pepper
1 medium

apple, skin on

, chopped into 1/4 cubes, about

1.5

cups

4

ribs of celery, chopped, about

1/2 cup

1/2

cup

roasted

cashews

1/4

red onion

, finely chopped, about 1/4

cup

6-

8 basil leaves

, chopped, about

1/4

cup

zest from lemons, about 2 tablespoons
juice from

1

lemon, about

2

–

3

tablespoons

1/4

cup

homemade paleo mayonnaise
salt and pepper to taste
Butter lettuce leaves for serving
---
Instructions
Roasted Chicken
Preheat oven to 425 degrees with the oven rack in the middle. Line a baking sheet with parchment paper.
Place the chicken breasts on the baking sheet, drizzle with olive oil, salt and pepper. Roast the chicken until an instant read thermometer reads an internal temperature of 165 degrees, about 30-45 minutes depending on the thickness of the chicken.
Remove from the oven and allow to cool for 20-30 minutes until it's cool enough to handle.
Lemon Basil Chicken Salad
Once the chicken is cooled, remove the bones and chop the chicken into 1/2″ cubes. (I personally like the skin so I leave it, but remove it if desired.) Will be about 5 cups of cooked chicken.
In a large mixing bowl, combine the cooked chicken, apple, celery, cashews, red onion, basil leaves, lemon zest, lemon juice and mayonnaise. Stir to combine. Season with salt and pepper to taste.
Serve on butter lettuce. You can serve it room temperature once it's ready, or refrigerate it covered for up to 5 days and serve it cold.
Notes
-You can also serve this on top of baby greens and eat it as a salad, or on bread to make a sandwich

This post contains affiliate links, thanks for the love!