Paleo Pot Roast with Gravy
Whole30 and Paleo Pot Roast with Gravy, cooked in the oven low and slow in a dutch oven with carrots and onions. The most flavorful, tender, fall apart meat you don't even need a knife to cut! Paleo, gluten free, dairy free, Whole30, low carb.
This is my absolute favorite part of winter.
Juicy, tender pot roast cooked low and slow all day long in my oven on a Sunday, while we have a cozy family day and smell the delicious dinner cooking away.
It is such an easy dinner to throw together, and one of the most flavorful and mouthwatering dinners I make.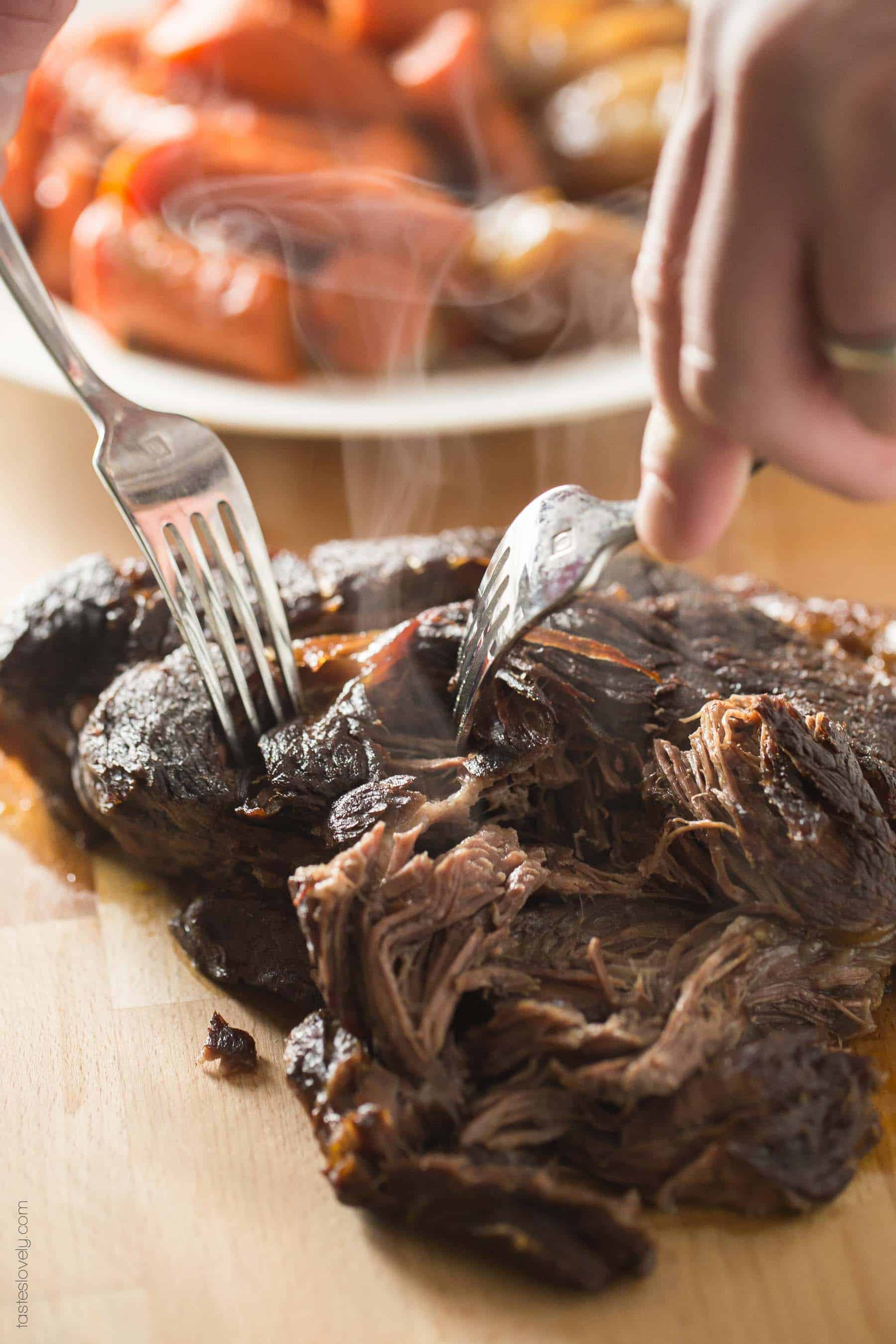 My birthday is in February, and I would often request my moms famous pot roast as my birthday dinner. Served with her buttery mashed potatoes and thick gravy.
I've tweaked the recipe just a tad, and now it is completely diet friendly! Paleo, Whole30, gluten free, dairy free and low carb. But just as delicious as ever. All you taste is succulent beef cooked in carrots, onions, beef broth and fresh herbs low and slow for 5 hours.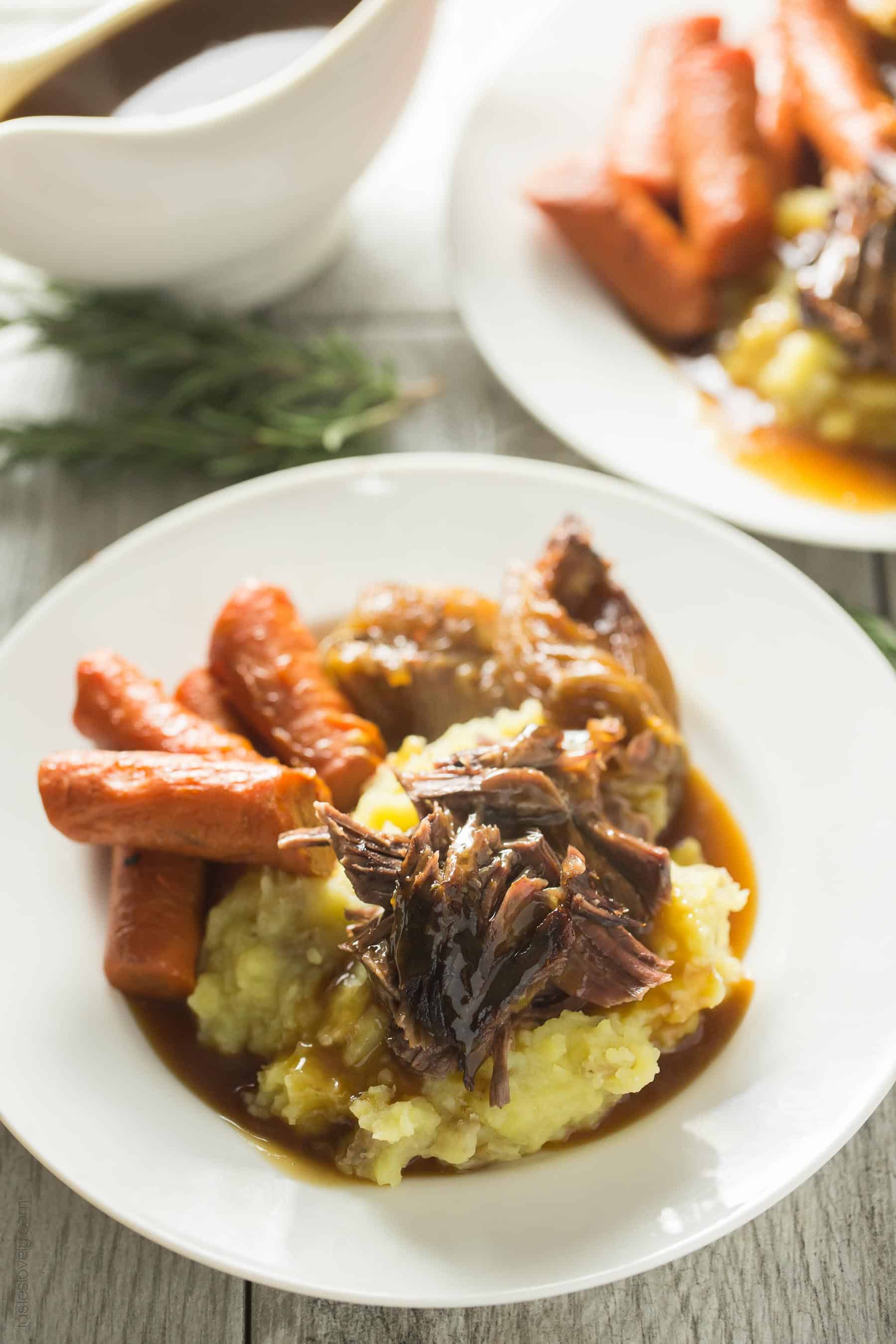 There are a few tips I have found that really make a huge difference in the perfect paleo pot roast.
First, you want to pick out a chuck roast that is well marbled with fat. You don't want just one, huge fat line down the center and the rest is just straight meat. Try and find one that has a lot of spidered off fat lines throughout the meat. This meat will turn out more juicy and flavorful after cooking.
I like to brown my pot roast really well so it gets a nice golden brown crust. Then when I add in the beef stock braising liquid, I stop pouring it in to leave the top 1/2″ of the pot roast out. This way, the top of the pot roast keeps it's crust and doesn't get completely "mushy". The resulting pot roast is almost completely tender, with the top of it still crusty and seared off. The best texture combination.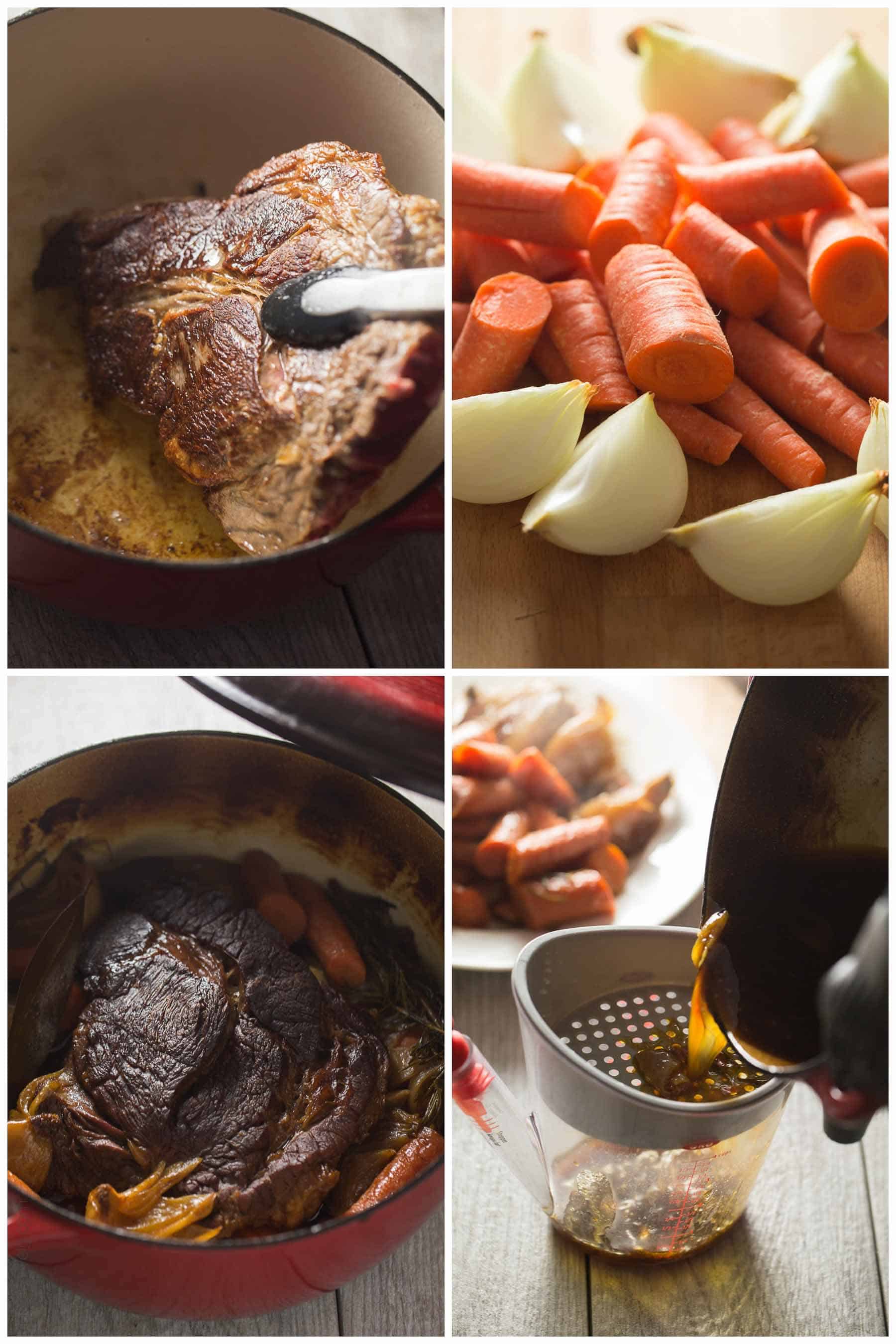 I've tried making this pot roast in a slow cooker, but I don't like it as much. It tastes much better cooked in the oven in my dutch oven. I think the dutch oven holds the heat much better, and the meat comes out more structured. When I make it in the slow cooker I find it is just a tad more "mushy", as if it has been steamed more than braised. It's still good in the slow cooker, but I really prefer it in the dutch oven. Plus, I use my dutch oven to sear it off anyway, so I might as well cook the whole thing in it!
A lot of pot roast recipes call for you to cook it for 4 hours, but I like cooking mine for 5 hours. I find that extra hour makes the pot roast even more tender, but not so tender it is falling apart. When I've cooked it for 4 hours, it still has a little more chew to it than I would like. But after 5 hours, the meat is so wonderfully tender I don't even need a knife to cut it. It just melts in my mouth.
If your oven tends to run really hot, keep an eye on it starting at hour 4. If too much of the braising liquid has cooked away, add in another cup. By the time I have taken mine out at 5 hours, I usually am left with just about an inch or two of braising liquid, just 1.5 cups.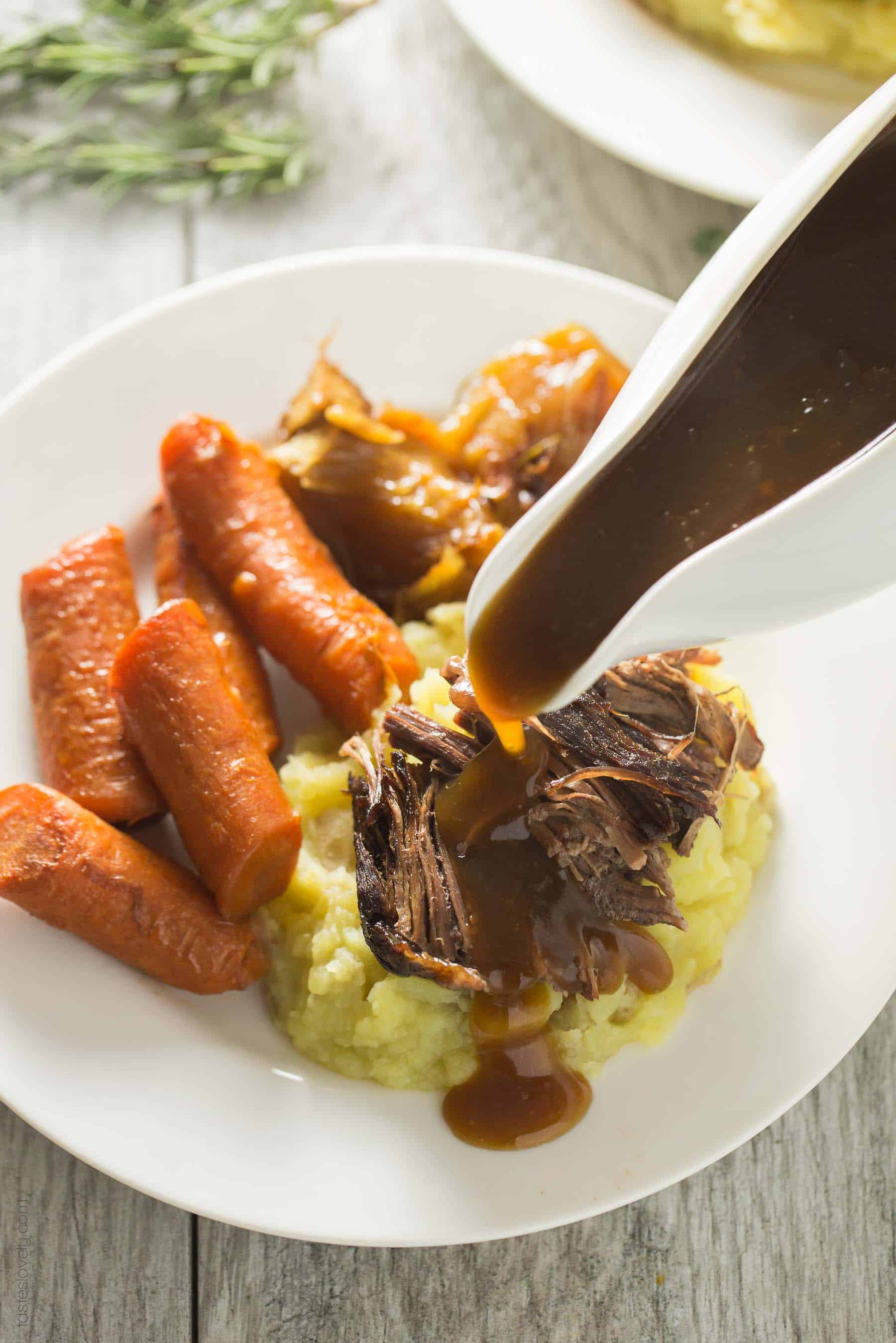 To add more depth of flavor to the beef and the resulting braising liquid, I add in 1 tablespoon of tomato paste. It makes all the difference! Between the garlic, tomato paste, fresh herbs, carrots and onions – the beef and the gravy made from its braising liquid is mouth watering.
And yes, you absolutely must make the gravy! I'm sure you recognized this pot roast from the Whole30 and Paleo Gravy post I just shared. After finally perfecting that gravy, I knew I could fully enjoy pot roast while eating Whole30 / Paleo. Because what good is pot roast without the gravy?
I serve the pot roast with the carrots and onions that cooked with it (the onions are my FAVORITE PART!), along with my paleo and Whole30 friendly dairy free mashed potatoes, all topped with the paleo gravy. It is the perfect healthy comfort meal for winter.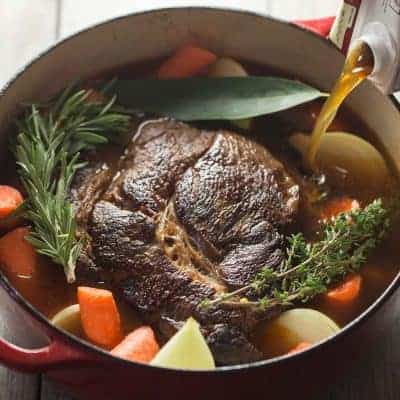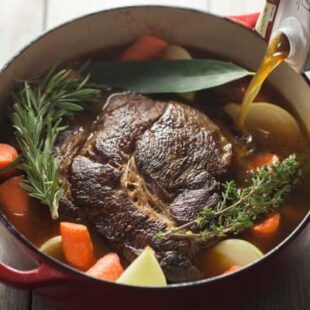 Paleo Pot Roast with Gravy
This Whole30 and Paleo Pot Roast with Gravy is cooked in the oven low and slow in a dutch oven with carrots and onions. The most flavorful, tender, fall apart meat you don't even need a knife to cut!
Ingredients
Paleo Pot Roast
1

boneless 4 pound chuck roast

well marbled with fat (I get my beef from ButcherBox, which I highly recommend)

2

tablespoons

olive oil

1

tablespoon

salt

2

whole onions

skins removed, cut in quarters

8

medium carrots

scrubbed, cut in 2" slices

4

whole cloves of garlic

1

tablespoon

tomato paste

1

teaspoon

pepper

4

or 5 cups beef broth

plus more may be needed for gravy

2

sprigs of fresh rosemary

2

sprigs of fresh thyme

1

bay leaf
Paleo Gravy
2

tablespoons

ghee

or high quality grass fed butter if diet allows

2

tablespoons

tapioca flour

also called tapioca starch

2

cups

of the pot roast braising liquid

fat removed (add more beef broth to make it to cups if necessary)

salt and pepper to taste
Instructions
Paleo Pot Roast
Preheat oven to 325 degrees with the oven rack in the bottom third. Heat a

dutch oven

over medium high heat.

Pat the pot roast dry with a paper towel, then season all sides with salt. (I don't season the meat with pepper because I find that browning it at this high heat gives the pepper a bitter taste.)

Add the olive oil to the dutch oven, then brown the meat on all sides until it is golden brown, about 4 minutes per side.

Remove the meat from the dutch oven and transfer to a plate. Add in half the carrots, the garlic, the tomato paste, pepper, and 1 cup of the beef broth. Scrape up all the brown bits from the bottom of the dutch oven. Add the meat back on top of the carrots, nestle the onion, remaining carrots, rosemary, thyme and bay leaf around the pot roast. Pour in enough beef broth to come up 1/2" from the way up to the meat, 4 or 5 cups.

Cover the dutch oven with its lid, and cook in the oven for 5 hours.

Remove from the oven. With a large spatula, lift the pot roast out from the dutch oven and transfer to a cutting board to rest. Careful! It's super tender and falls apart easily! With a slotted spoon, transfer the carrots and onions to a serving platter and tent with foil to keep warm.

Strain the pot roast braising liquid in to a

fat separator

, discard any solids and the herbs. After the fat settles, separate the beef braising liquid from the fat. If there are not 2 cups, add more beef broth to make it 2 cups. (I'm usually left with about 1.5 cups)
Paleo Gravy
Heat a medium size sauce pan over medium heat.

Melt the ghee. Add in the tapioca flour and whisk vigorously until combined and there are no lumps. Cook for 30 seconds.

While whisking constantly, slowly pour in the beef braising liquid. Cook for 1-2 minutes until thickened, whisking every few seconds.

Season with salt and pepper to taste.
Serving
Shred the pot roast with 2 forks in to large chunks.

Leftovers will keep refrigerated in an airtight container for 5 days.
Recipe Notes
Slow Cooker Instructions: After step 4, transfer all of the ingredients to your slow cooker. Cook on LOW for 8 hours, or HIGH for 4 hours. Follow the rest of the recipe as described.
Nutrition
Calories:
539
Total Carbs:
15.4
g
Protein:
62.9
g
Fat:
24.2
g
Fiber:
3.8
g
Net Carbs:
12
g
Nutrition facts are calculated as a courtesy and not guaranteed.
Did You Make This Recipe?
Please leave a comment and give this recipe a rating!
More Paleo Beef Dinners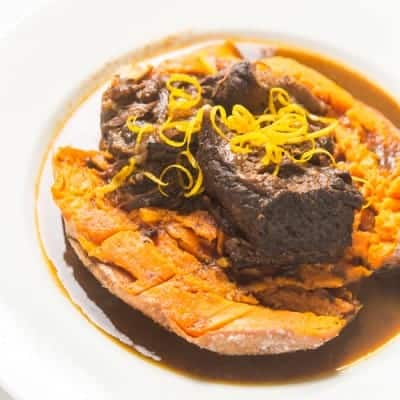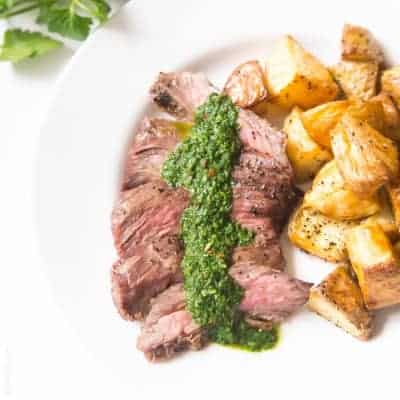 Skirt Steak with Chimichurri Sauce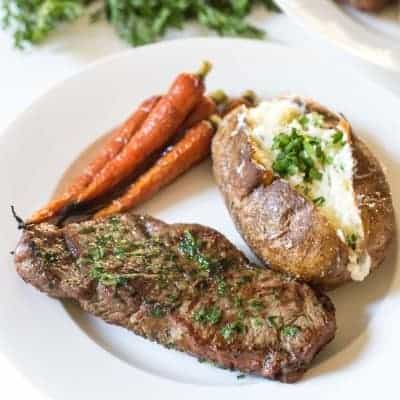 New York Steak with Cilantro Onion Dredge