Ramen Noodle Chinese Chicken Salad
Crunchy ramen noodle Chinese chicken salad. An oriental salad made with ramen noodles that is so good it will ruin all other Chinese chicken salads for you.
Before I got married I had a very easy last name. Parks. Everyone could spell it, and everyone knew how to pronounce it. I completely took this for granted, until I got married.
Now I have a hard last name. Gruendl. It's pronounced Grundle, rhymes with "bundle". So very German sounding, right?
When you get married, there's a spot on the marriage license application for Brides New Last Name and Grooms New Last Name. I half jokingly asked Shawn if we could just change the spelling to Grundle, that way everyone would know how to pronounce it. He actually thought about if for a few seconds, but then said no. So Gruendl it is.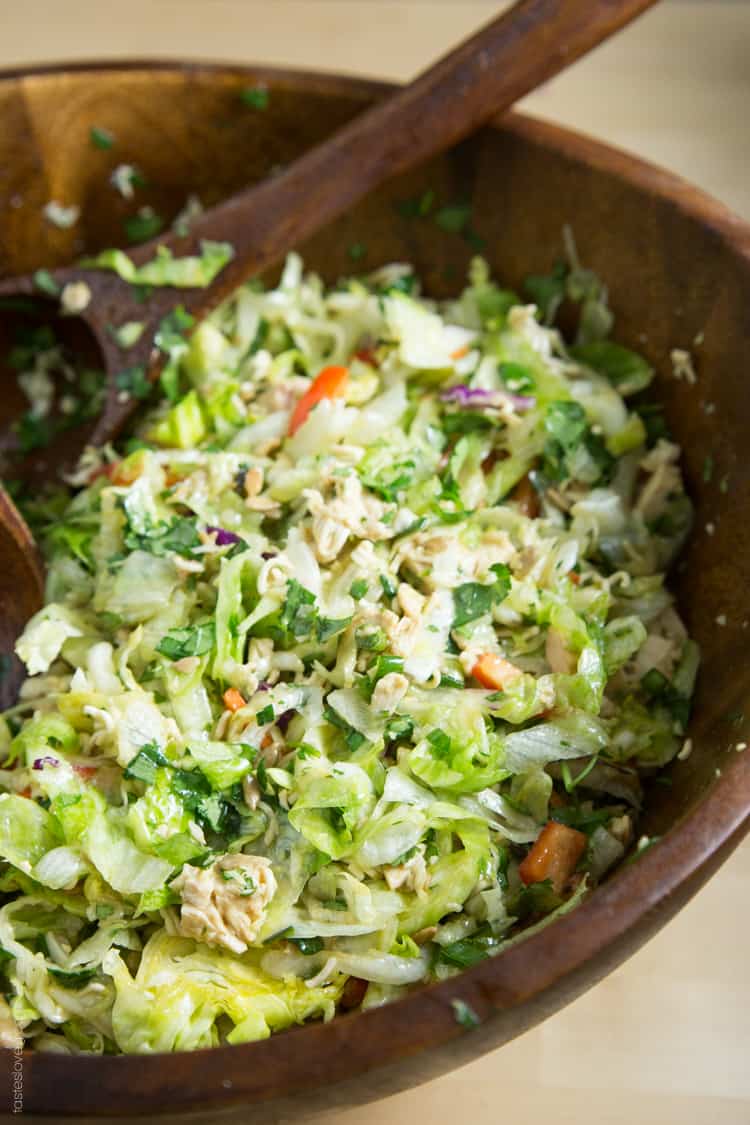 I have never heard anyone pronounce it right the first time. I get a lot of "Groo-en-dulls" or "Grundie" if they think the L on the end is an I. But yesterday, for the first time ever, someone got it right on the first try! A solicitor called, and asked if I was Natalie Gruendl, but actually said Gruendl right.
"Yes! You said my last name right! Wow! No one has ever done that!"
Quite the historic day for me.
Today is also a historic day for you, because you are currently looking at the GREATEST ramen noodle Chinese chicken salad. It may just change your life. I can't order Chinese chicken salads in restaurants anymore, because none can compare to this one.
I first had this salad when Shawn's mom made it for me. When I saw it had raw, uncooked ramen noodles in it, I'll admit I was skeptical. But after eating it I was in love. The ramen noodles give it an amazing crunch, and they stay crispy for a long time. This salad has now become a staple at our house and is dinner at least once a month. Shawn loves it served with some pan fried pot stickers. I buy that big bag at Costco. It is the perfect pairing.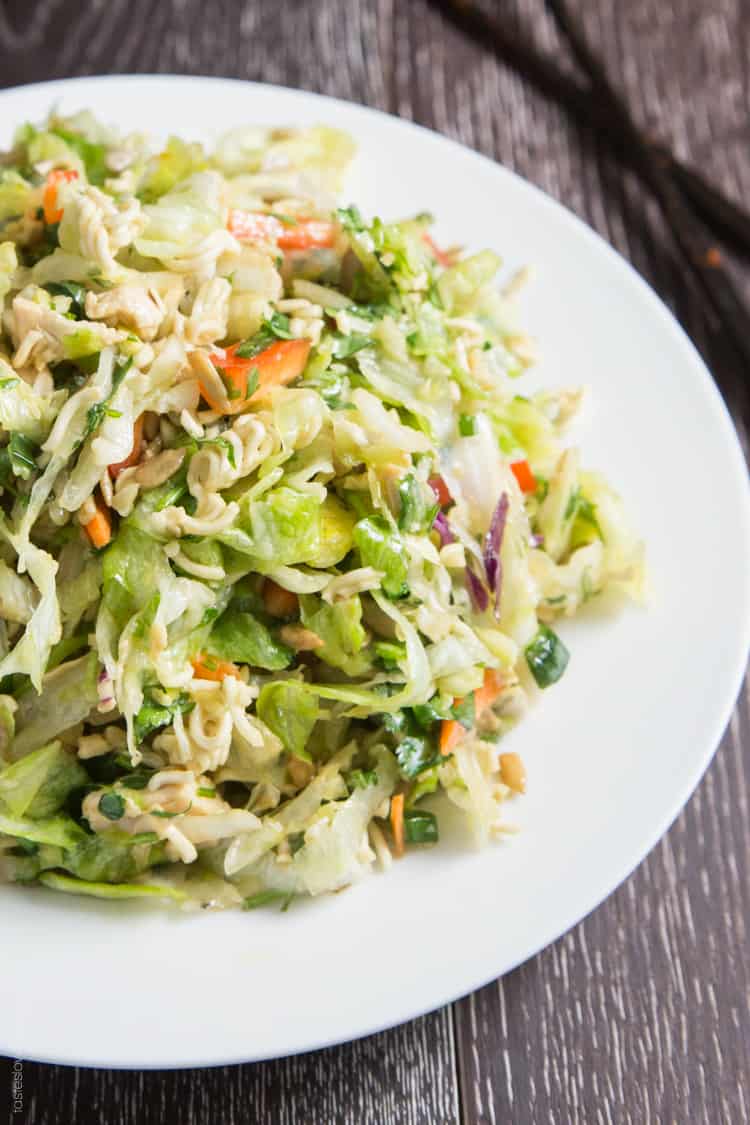 Along with the ramen noodles, this Chinese chicken salad is packed with healthy goodies like shredded cabbage, cilantro, green onions, red bell pepper, and chicken. But the chicken is completely optional. If I happen to have leftover chicken, or a rotisserie chicken I'll add it in. If not, the salad is still amazing without it.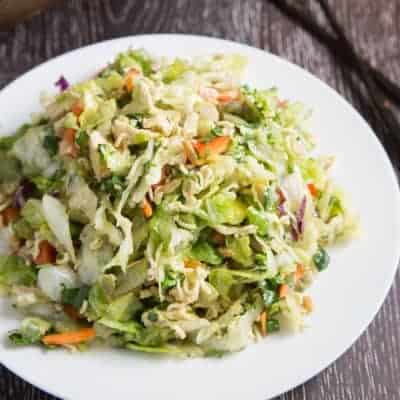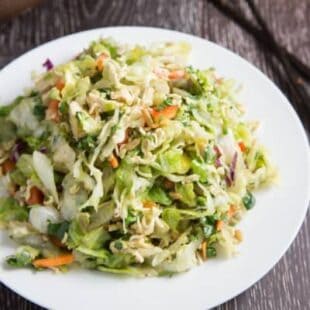 Ramen Noodle Chinese Chicken Salad
Crunchy ramen noodle Chinese chicken salad. An oriental salad made with ramen noodles that is so good it will ruin all other Chinese chicken salads for you.
Ingredients
Salad
2

chicken breasts

1

tablespoon

olive oil

1/2

teaspoon

salt

1/2

teaspoon

pepper

1

large head iceberg lettuce

sliced

14

ounce

bag of shredded coleslaw mix

1

bunch of cilantro

chopped

1

bunch of green onions

chopped

1

red bell pepper

chopped

8

ounces

cooked chicken

chopped (optional)

1/2

cup

sliced almonds

1

package ramen noodles

seasoning packet removed, crushed
Dressing
1/3

cup

avocado oil

1/4

cup

rice wine vinegar

3

tablespoons

soy sauce

1

teaspoon

sesame seed oil

1

tablespoon

honey
Instructions
Preheat oven to 350ºF. Line a rimmed baking sheet with parchment paper. Lay the chicken breasts on the parchment paper, drizzle with olive oil and season with salt and pepper. Roast in the oven until the chicken has an internal temperature of 165ºF, about 20 minutes. Remove from heat, rest for 10 minutes, then chop the chicken into bite sized pieces.

In a small mixing bowl, make the dressing by combining all the ingredients and whisking. Taste for flavor. Feel free to add more of any of the ingredients to suit your taste, such as more honey or more vinegar or more sesame seed oil. Set aside.

In your largest salad bowl, combine all the salad ingredients. Top with the desired amount of dressing, toss to combine.
Recipe Notes
This salad is amazing served with crispy pan fried pot stickers
If you don't have rice wine vinegar, white vinegar works also
I get my chicken from ButcherBox, which
I highly recommend
Nutrition
Calories:
408
Total Carbs:
24
g
Protein:
8.7
g
Fat:
33.1
g
Fiber:
6
g
Net Carbs:
18
g
Nutrition facts are calculated as a courtesy and not guaranteed.
Did You Make This Recipe?
Please leave a comment and give this recipe a rating!
More of my salad recipes you'll love: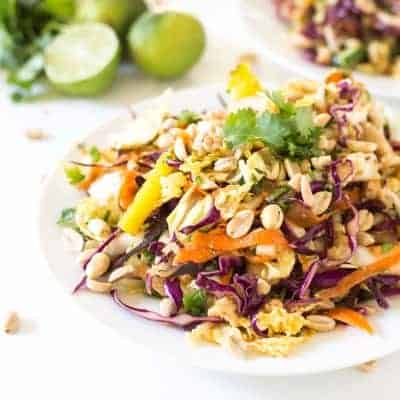 Rainbow Chopped Thai Chicken Salad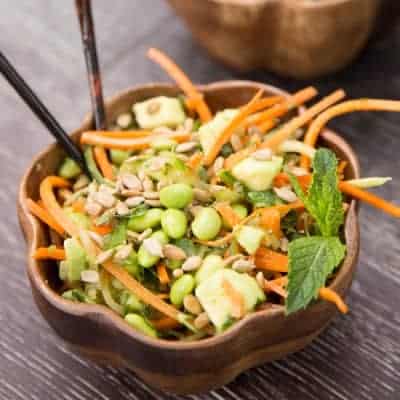 Cucumber & Carrot Noodle Thai Salad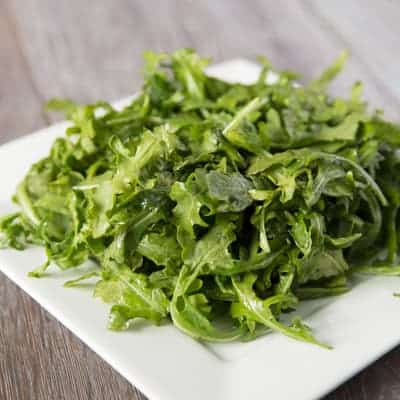 Simple Arugula Salad with my favorite Balsamic Vinaigrette
This post contains affiliate links, thanks for the love!