Sausage & Sweet Potato Soup with Kale
Easy and healthy Italian sausage and sweet potato soup with kale. Packed with flavor, and ready in 40 minutes! Paleo, gluten free, dairy free and Whole30.
The winter we aren't able to go skiing at the drop of a hat, we are having the best snow in years.
In 2012 we got season passes to Heavenly in Lake Tahoe, which is just about 4 hours from our house. That was a great snow year. Tons of fresh powder every weekend. Shawn, my sister, her husband (then fiance) and I would drive up at least 2 weekends every month.
We bought season passes again the next year in 2013, but there was just no snow. It was awful. I think we got 1 good ski day that whole season. That didn't stop us from going up to Tahoe and enjoying the casinos though!
2014 was even worse. Barely any snow at all.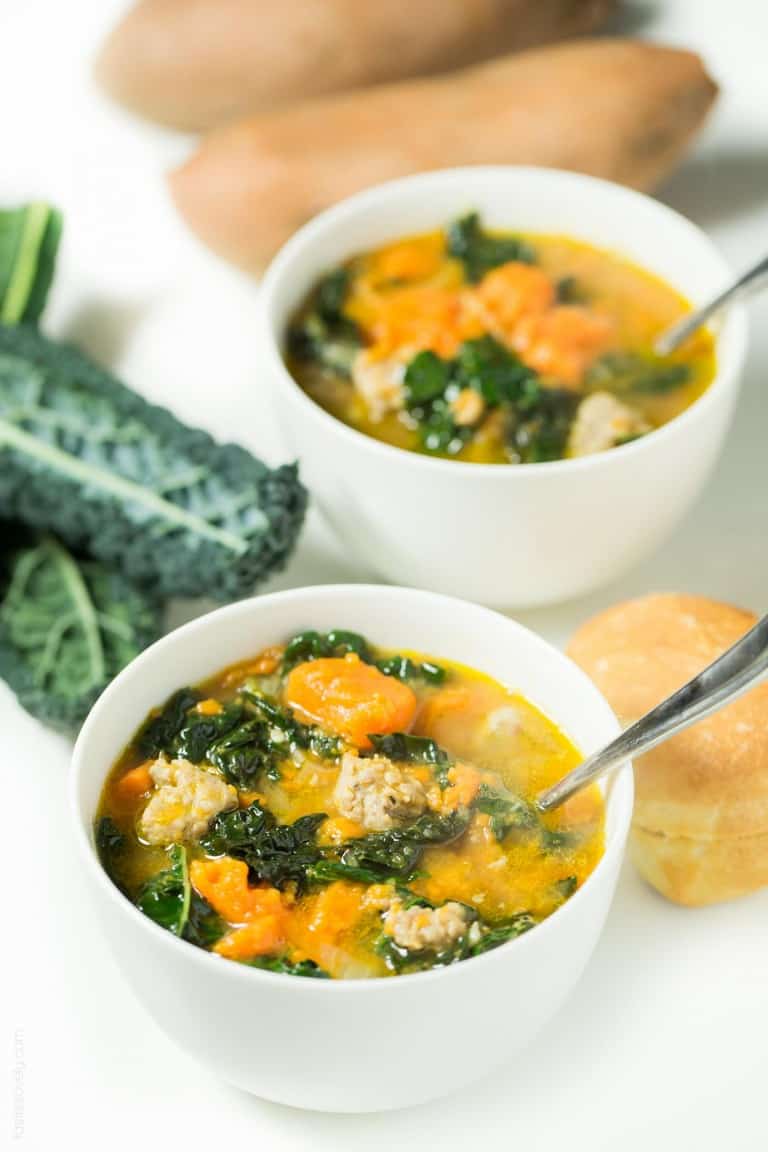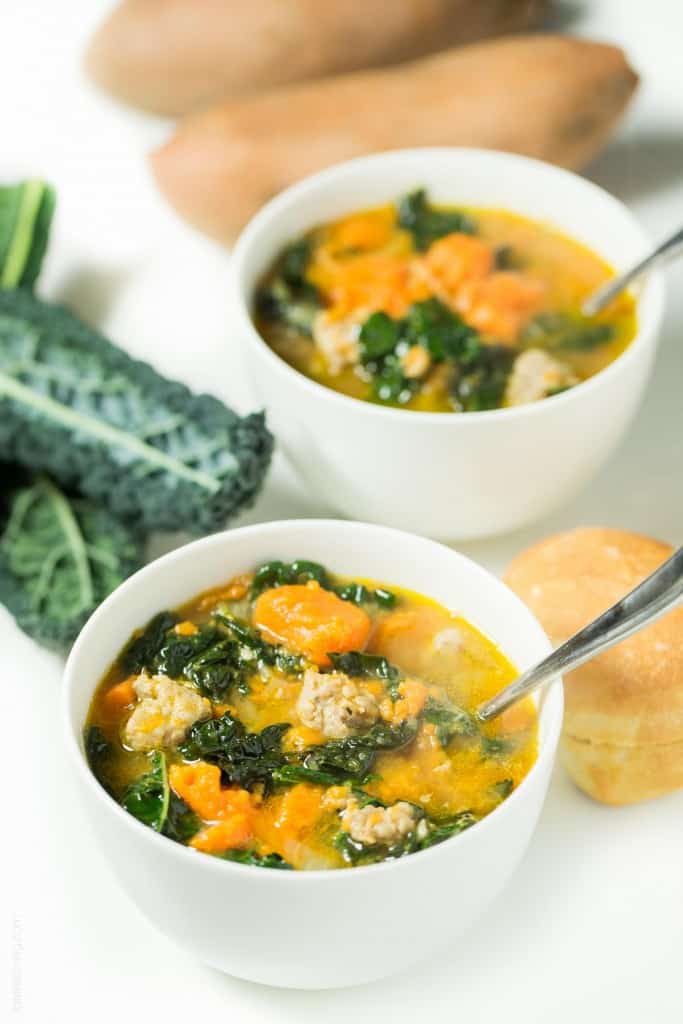 And now we have our beautiful baby boy here with us, El Nino is in full swing, and Lake Tahoe is covered in blankets of snow. I have dreams of being able to go up for a ski day this winter, but am not sure I could be away from Josh for more than 3 hours yet. His longest nap of the day is 3 hours, and by the end I can't wait for him to wake up.
Shawn joked that we could bring him with us on the slopes. I could strap Josh to my back like the eskimo's do, and just be really careful not to fall and crush him. Ha!
He obviously forgets that I have at least 3 good wipe outs when I ski.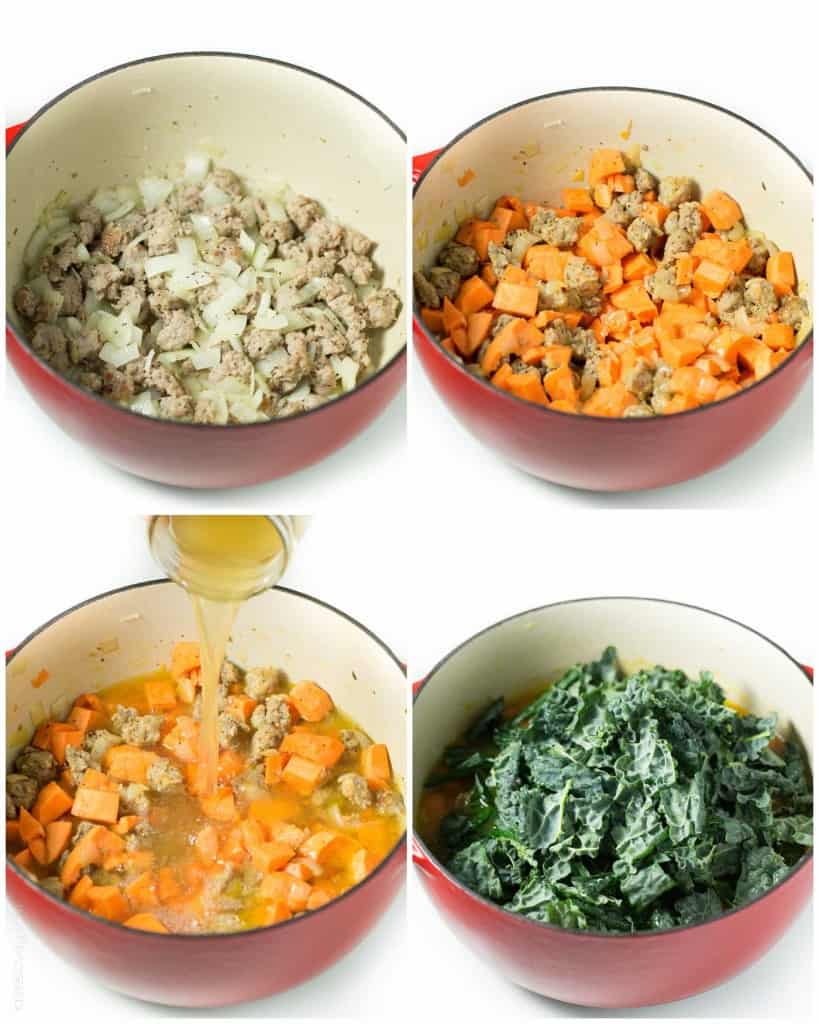 While I may not be enjoying the snow this year, I am loving all the rain! Nothing like being bundled up inside, with the rain pouring outside, and little baby Josh asleep on my chest. It's heaven. Ski days have nothing on this.
Rainy weather = soup weather, and I've been making lots of soups for dinner. I love them because I can make the soup while Josh is taking a nap, and then it can just simmer away the rest of the day, ready to be eaten as soon as Shawn gets home. I've already made this sausage and sweet potato soup with kale for dinner 3 times since Thanksgiving. It's a new favorite.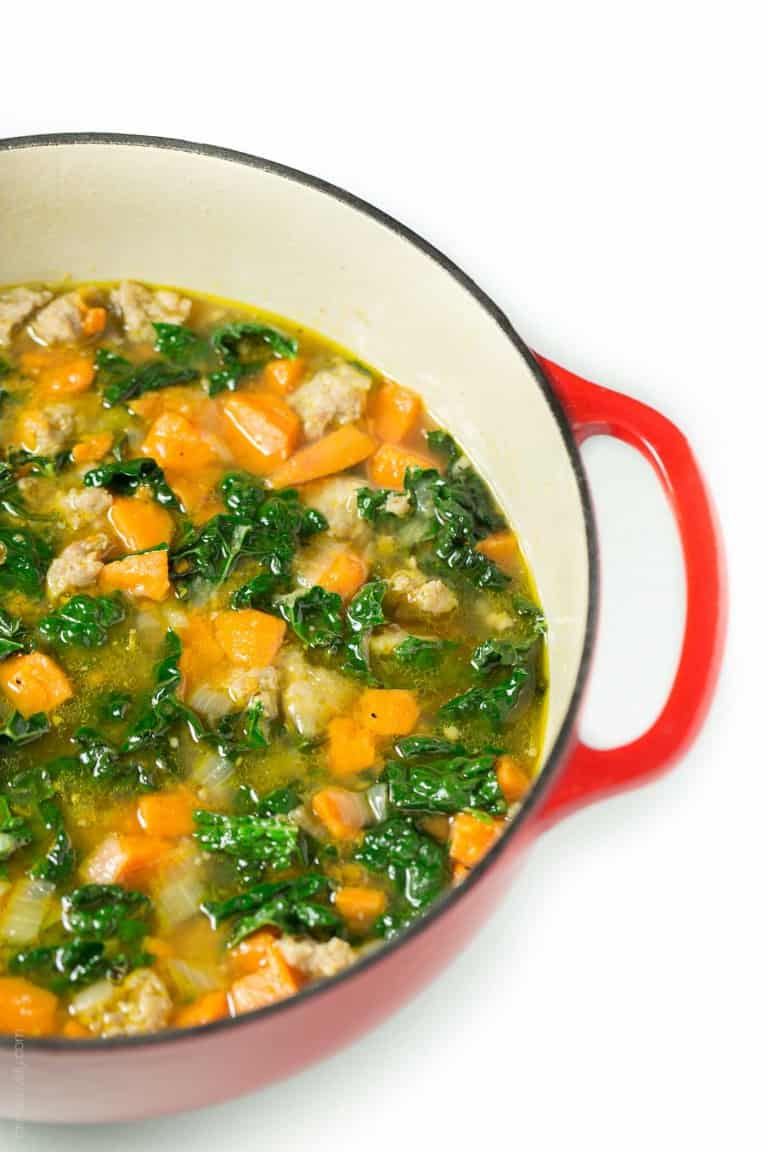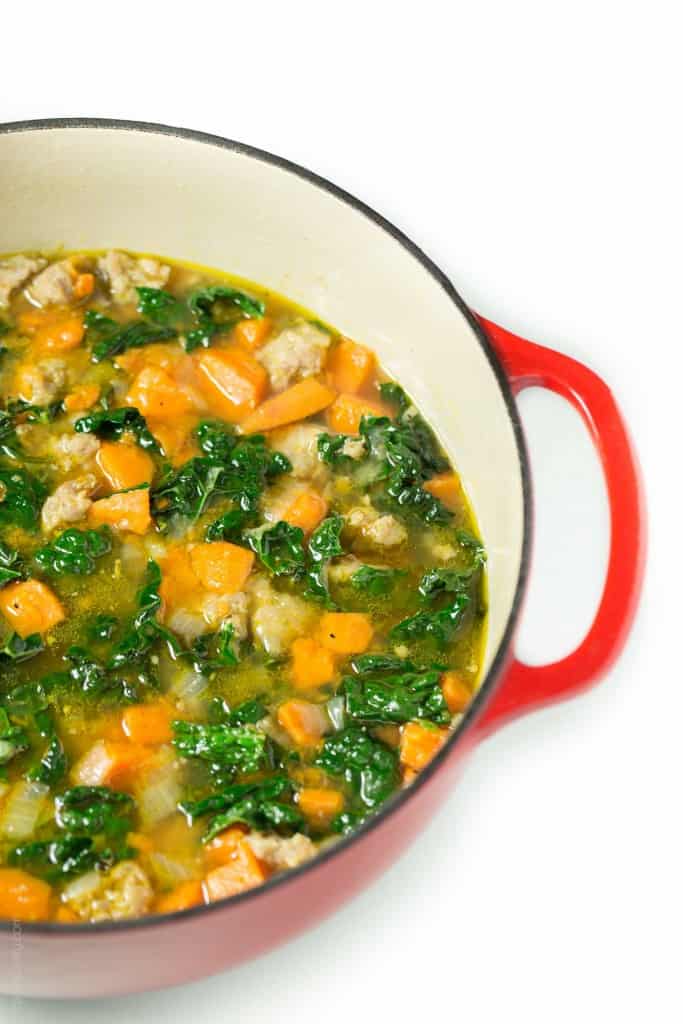 This sausage and sweet potato soup has such amazing flavor, but couldn't be easier to throw together. I love the bold seasoning of italian sausage paired with the sweet and velvety texture of the sweet potato. I added in some kale for extra health benefits, and for some more color. Kale is perfect for soups, it stays tender and doesn't wilt too much as it cooks.
This sausage and sweet potato soup with kale is filling, yet light. It doesn't leave you feeling heavy and weighted down like you would after eating a heavy stew. Perfect dinner to add in to the rotation to help you stick to your healthier New Years resolutions. It's paleo, gluten free, dairy free and Whole30!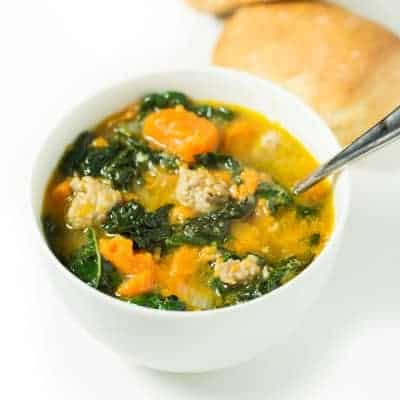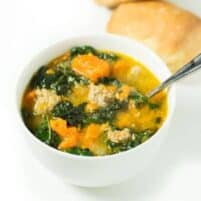 Sausage & Sweet Potato Soup with Kale
This is an easy and healthy Italian sausage and sweet potato soup with kale. Packed with flavor, and ready in 40 minutes!
Ingredients
1

pound

sweet Italian sausage

,

casings removed

1

tablespoon

olive oil

1

large yellow onion

,

chopped

1

teaspoon

salt

1/2

teaspoon

pepper

4

garlic cloves

,

grated or finely minced

2

large sweet potatoes

,

peeled and chopped into 1/2" cubes, about 3 cups

4

cups

chicken stock

1

bay leaf

1

bunch kale

,

stems removed and chopped
Instructions
Heat a large pot over medium high heat. Cook the sausage in the olive oil, breaking it up with the back of a wooden spoon until almost cooked thru, about 5 minutes. Add in the onion, salt and pepper, and cook until turning translucent, another 5 minutes, stirring occasionally. Add in the garlic and cook until fragrant, 30 seconds. Add in the sweet potatoes, chicken stock and bay leaf. Cook partially covered over medium heat until the sweet potatoes are tender, 20 minutes.

Remove the bay leaf, and add in the kale. Continue to cook over medium heat for 5 minutes until the kale is tender. Turn off heat, taste for salt and pepper, add more if necessary. Serve warm.
Calories:
588
,
Total Carbs:
28
g
,
Protein:
24
g
,
Fat:
41.9
g
,
Fiber:
3
g
,
Net Carbs:
25
g
Did you make this recipe?
Please Leave a comment and give this recipe a rating!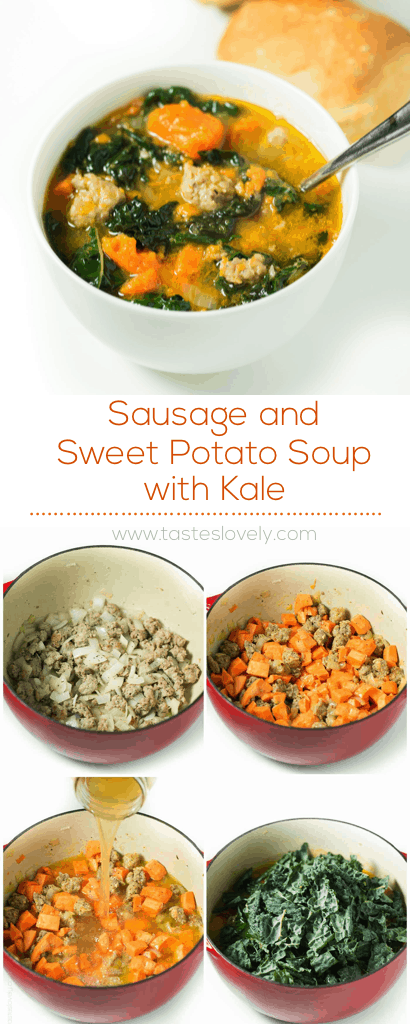 More Soup Recipes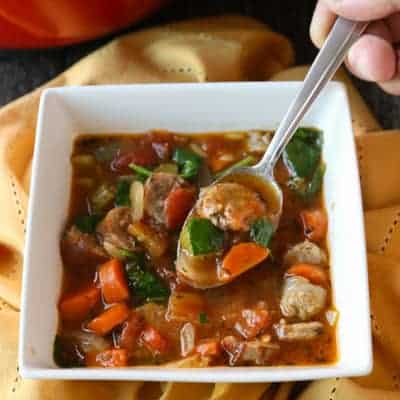 Italian Sausage and Vegetable Soup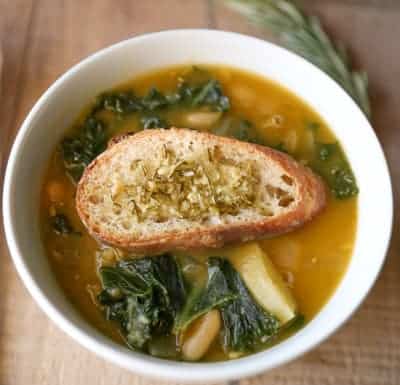 Potato, White Bean & Kale Soup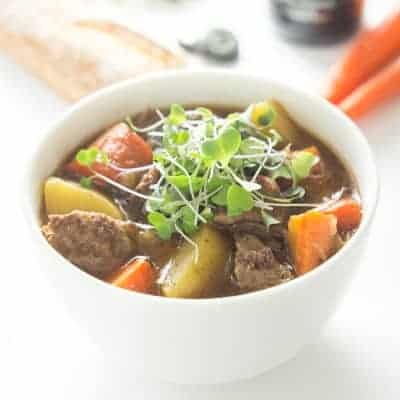 Slow Cooker Irish Guinness Beef Stew
If you're wanting even more healthy meal inspiration to start your 2016 off right, my friend Caitlin at Teaspoon Living is offering a Real Food First Program – 28 days of real food meals, online group support, and a healthy habits challenge to help you kick dieting to the curb and start living a healthy lifestyle with ease and grace. Use the coupon code "lovely10" to get $10 off!