Spaghetti Squash and Meatballs
Spaghetti Squash and Meatballs – an easy, healthy spaghetti made with spaghetti squash noodles and Italian sausage meatballs. Paleo, gluten free, low carb, dairy free and Whole30 too!
My family all went out of town together over the 3 day weekend and rented a vacation home in gold country. I volunteered to come up with the menus for the dinners. I must have been feeling very brave.
My mom is vegan. My sister is vegetarian. As much as possible lately, Shawn and I try to eat Paleo. Do you know hard is to cook a meal that is appealing for everyone? Basically the only thing we all share is fruits, nuts and vegetables. So when I find a recipe that can very easily be altered to suit everyone's taste, it is a very big deal.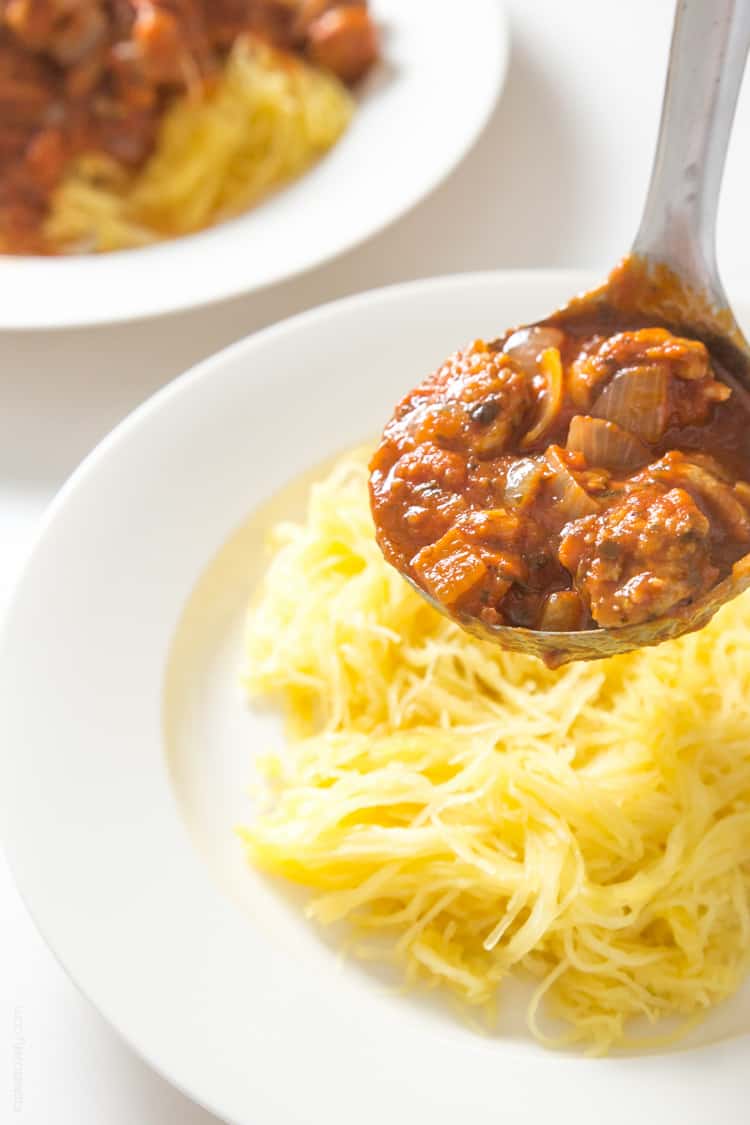 One of the first recipes that came to mind was spaghetti and meatballs. I have been cooking this spaghetti squash and meatballs recipe for dinner for Shawn and I quite frequently and I knew I could easily adapt it so it could work for everyone. A spaghetti squash roasted in the oven for me and Shawn, regular spaghetti noodles boiled for everyone else, a veggie based marinara sauce that everyone can enjoy, and meatballs cooked in the oven and served on the side for the meat eaters.
And it was a hit! Was just a few extra steps than usual, but worth it to have a dinner than everyone can eat together.
I just love spaghetti squash. It is my favorite vegetable based noodle. I still haven't found a way to cook
zucchini noodles
so they aren't overly watery when cooked, and I can't get Shawn on board to eat them raw (even though I like them raw!). Spaghetti squash is very close to real spaghetti – al dente with a bit of crunch and mild in flavor.
Have you tried roasting your spaghetti squash whole? It is by far my new favorite way to cook spaghetti squash. Those things are BIG and HARD. Like trying to cut a pumpkin in half. Every time I would try and cut it in half I would be sending up silent prayers that the knife wouldn't slip and cut off my finger. Now I roast the entire thing whole for 45-60 minutes, let it cool, then easily cut threw the softened squash. It's a thing of beauty.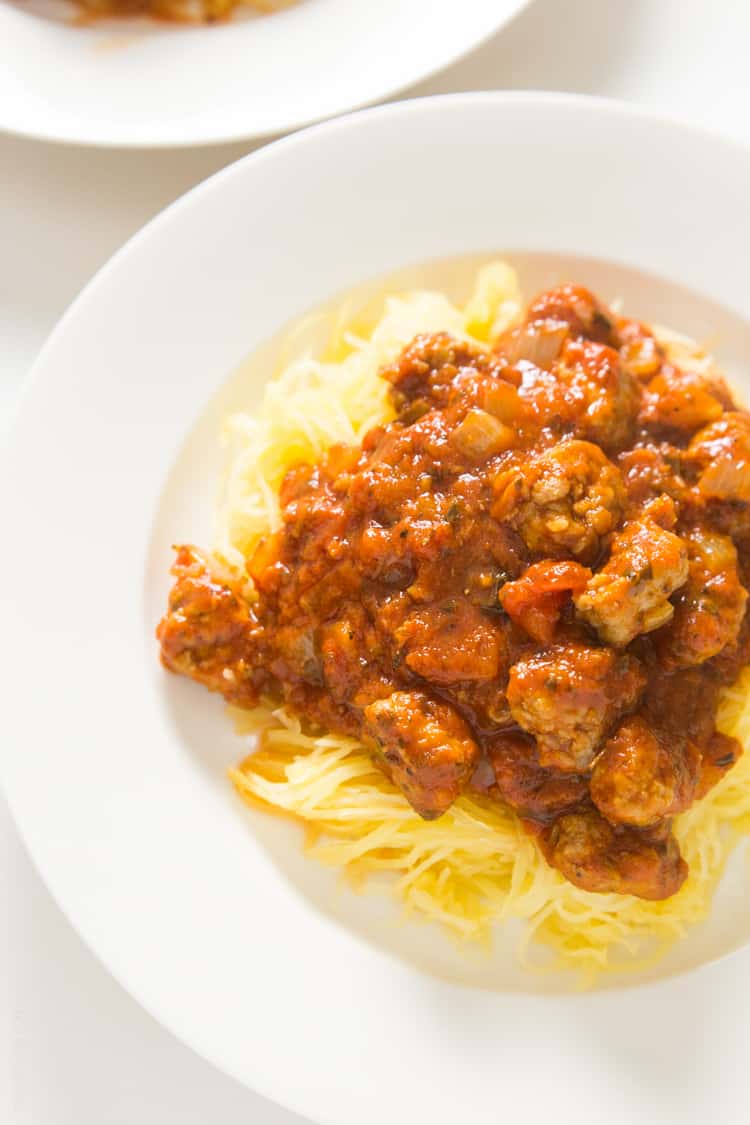 To keep this a super simple weeknight dinner, I make Italian sausage meatballs. I just cut the casings off of sweet Italian sausages (or spicy if that's your thing!), break off 1″ pieces and roll them into balls. A great meatball shortcut that is fast and full of flavor. I also use my favorite marinara sauce rather than making homemade. Trader Joe's Organic Tomato Basil Marinara Sauce is my favorite! No need to transfer canned tomatoes to the blender. The less clean up the better, right?
Even though this recipe technically takes 1 hour 20 minutes, an hour of that is the spaghetti squash roasting away in the oven. I'll come home from work, throw the spaghetti squash in, and go about my business. An hour later, I'll take out the spaghetti squash to cool, and cook up the meatballs and marinara sauce in about 20 minutes.
Can't beat a delicious, nutritious and healthy (paleo, gluten free, low carb, dairy free and Whole30 too!) 20 minute dinner.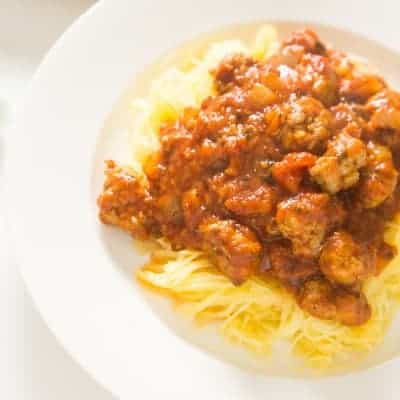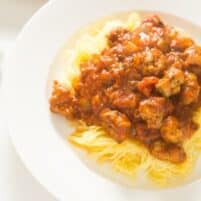 Spaghetti Squash and Meatballs
This Spaghetti Squash and Meatballs recipe is an easy, healthy spaghetti made with spaghetti squash noodles and Italian sausage meatballs.
Ingredients
1

medium size spaghetti squash

1

tablespoon

olive oil

1

pound

mild Italian sausage

,

casings removed and rolled into 1" balls

1

medium yellow onion

,

chopped

2

medium zucchini

,

chopped

2

cloves

of garlic

,

grated or finely chopped

1

jar of your favorite marinara sauce

salt and pepper
Instructions
Preheat your oven to 350 degrees with the rack in the middle position. On a parchment lined baking sheet, roast the spaghetti squash whole for 45 minutes-1 hour, until soft when squeezed. Rotate the spaghetti squash half way thru baking. Remove the squash from the oven and allow to cool for 20 minutes.

While the spaghetti squash is cooling, preheat a large skillet over medium high heat. Add the olive oil and cook the sausage meatballs until golden brown, about 8 minutes, stirring occasionally. Add in the onion and zucchini to the meatballs, season with salt and pepper, and continue to cook until the vegetables soften, about 5-8 minutes. Add the garlic and cook for 1 more minute. Add in the marinara sauce, and reduce the heat to low. Simmer for a 5 minutes minutes.

While the sauce is simmering, using a very large knife cut the spaghetti squash in half lengthwise. Scoop out the seeds and discard. Using a fork, scrape out the spaghetti squash noodles and transfer to a plate. Season with just a pinch of salt and pepper. Top the spaghetti squash noodles with the meatballs and marina sauce. Serve warm.
Calories:
465
,
Total Carbs:
9.4
g
,
Protein:
17.5
g
,
Fat:
39.7
g
,
Fiber:
1.8
g
,
Net Carbs:
8
g
Did you make this recipe?
Please Leave a comment and give this recipe a rating!

More of my Italian Recipes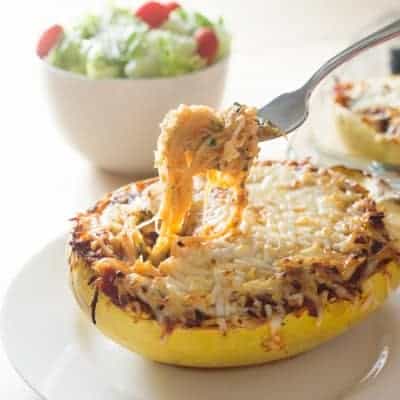 Spaghetti Squash Lasagna Boats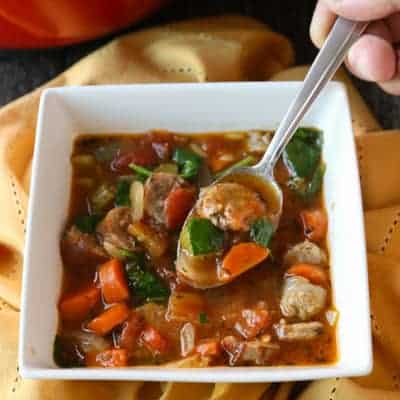 Italian Sausage and Vegetable Soup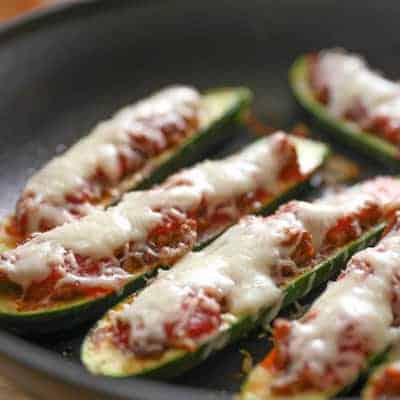 Italian Sausage Stuffed Zucchini Boats
Even More Italian Recipes from my Blogging Friends
Homemade Meatballs and Marinara Sauce by Fashionable Foods
Creamy Chipotle and Italian Sausage Lasagna by The Recipe Rebel
Slow Cooker Sausage Pasta Sauce by Savory Nothings