How to Style the Perfect Holiday Keto Cheese Board
This holiday-inspired cheese board is the perfect low-carb keto appetizer, packed with a combination of the best cheeses, meats, fruit, and nuts. Effortlessly recreate this cheese board with my how-to video, featuring ideas & hacks for slicing & styling it perfectly!
Holiday Gathering + the Perfect Keto Appetizer!
Have a fall dinner party or holiday party coming up? Or are you in charge of the appetizers for Thanksgiving? This beautiful low carb cheese board will wow all of your guests! It features the perfect mix of meats, cheeses, fruit, and nuts for any Fall gathering.  I love making a cheese board because it is friendly for so many diets and especially great for keto! It's also gluten-free, grain-free, and if you're plant based you can enjoy the fruit, nuts, and olives! Something for everyone, the perfect appetizer! Also, to easily recreate this Fall cheese board for the winter holidays, I give some easy swaps below!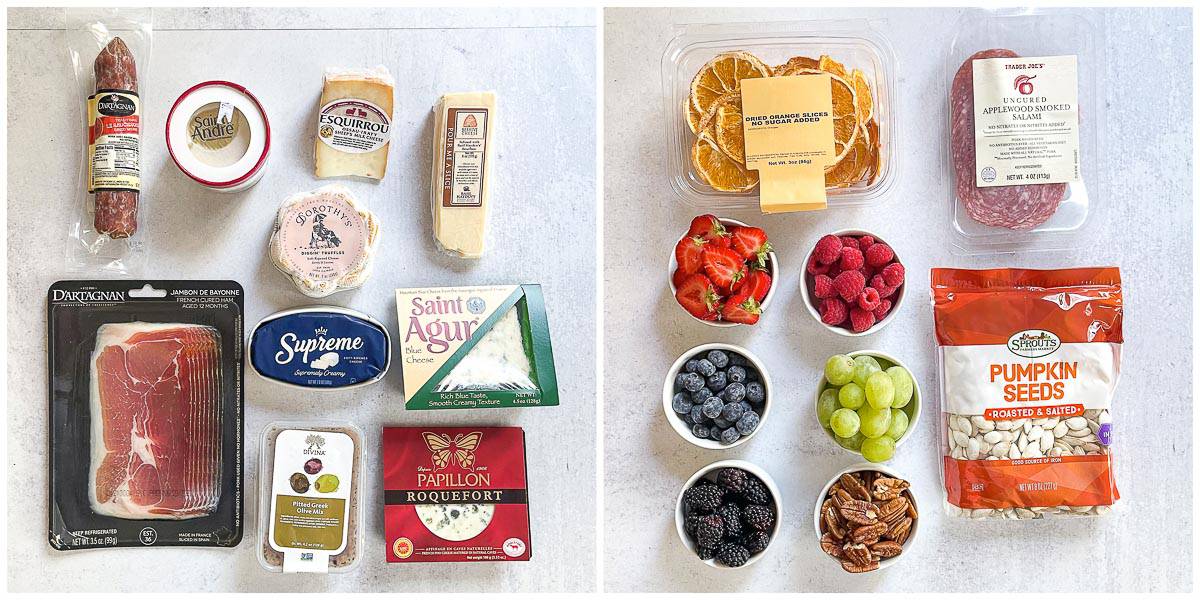 The Best Ingredients (that are also Keto!)
To make this easy for you to replicate, I've partnered up with The Cheese Lover Shop so you can conveniently buy all of the cheeses and meats you see in the photo above on the left! All of them have been taste-tested and hand-selected by me! This was such a fun thing for me to do, and I truly think you will love my choices!  The combination of each of these together is the perfect variety of cheeses for an exceptional holiday cheese board!
You can purchase all of these items in the photo on the left directly from the Cheese Lover Shop. Here's what I've chosen:
D'artagnan Saucisson Sec
Saint André Heavenly Triple Crème
Esquirrou P.D.O Ossau-Iraty Wedge
Beehive Pour Me a Slice
Dorothy's Diggin' Truffles
D'artagnan French Cured Ham
Supreme Brie
Saint Agur Blue Cheese Wedge
Divina Pitted Greek Olive Mix
Papillon Pérail
In the photo on the right, I've put together my Fall-favorite fresh produce items, nuts, and fresh salami (all keto & low carb-friendly!) that I highly recommend to round out your cheese board.
dried orange slices (I got these at Sprouts in the bulk section by the nuts and dried fruit. I believe Trader Joe's and Whole Food have them as well.).
salami (our favorite is this applewood smoked salami from Trader Joe's which is nitrate and nitrite free. But any fresh salami would work, use what you love.).
strawberries (I love slicing them in half with the green still on, it looks so so so pretty!)
raspberries
blueberries
grapes
blackberries
roasted whole pecans
pumpkin seeds
fresh herbs: (not pictured above) sprigs of rosemary, thyme, and sage to garnish the cheese board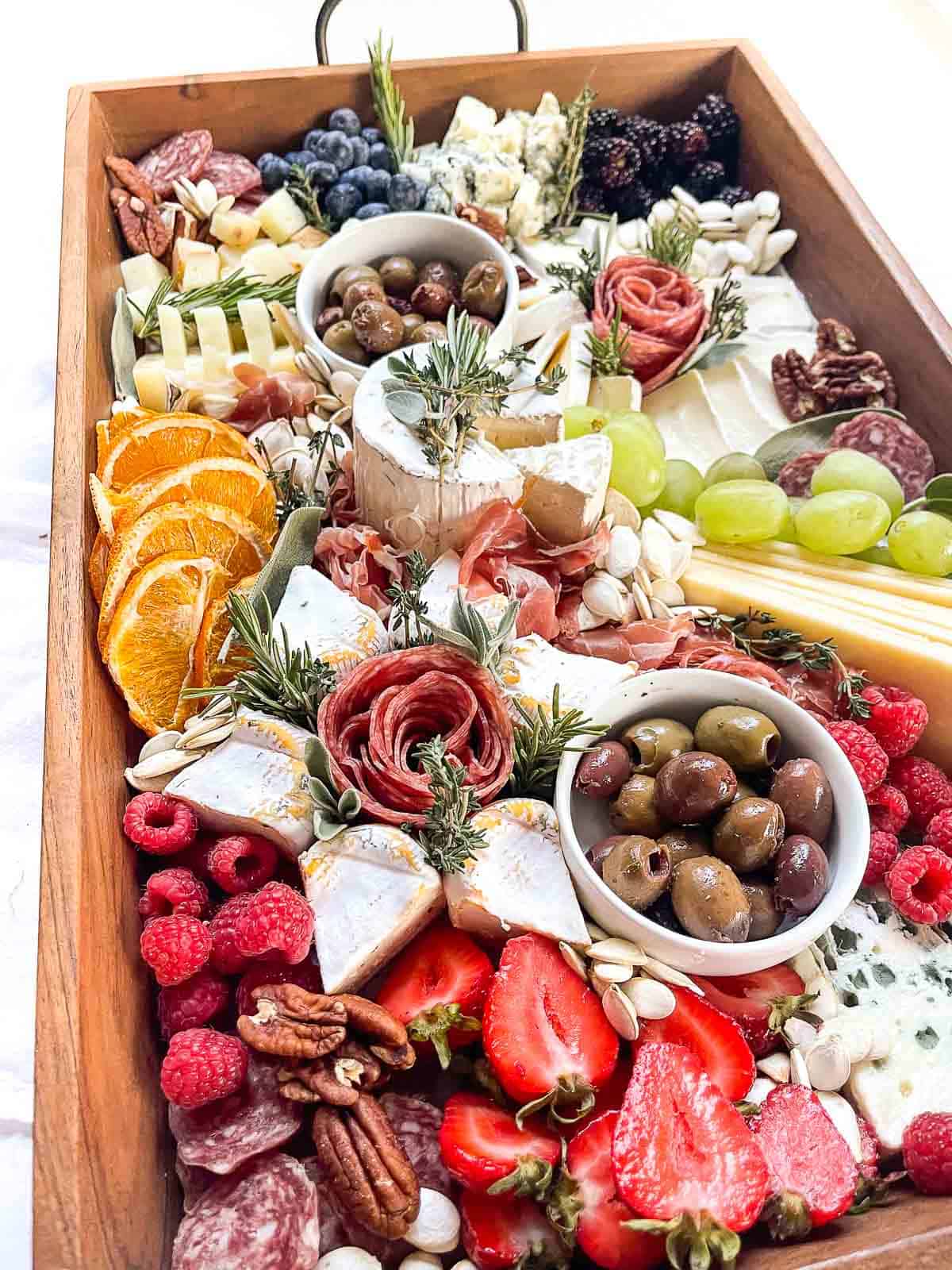 Ingredient Swaps for Winter Holidays
My Fall-inspired keto cheese board above is easily made into a winter cheese board with just a few swaps! To make this Winter themed:
Take Out
dried orange slices
strawberries
raspberries
blackberries
Add-In
dried cranberries
pomegranate seeds
dried or fresh figs
dried apricots
Cheese Board Tips & Tricks
Recommended Wooden Cheese Board: I am using this serving tray from Target as my cheese board, which I really love because it has handles, making it easy to carry in the room. Plus, it has raised sides so you can really PILE ON all the cheeses and not worry about them falling off, ha! I do recommend putting down a layer of parchment paper so the cheese doesn't sit directly on the wood. Just to make cleanup a little easier.
Making Ahead: You can assemble this cheeseboard 1 day ahead of time! 2 important tips for assembling ahead:
Don't add any of the "crunchy" items to your cheeseboard until just before serving. For this cheese board, I would NOT add the pecans, pumpkin seeds, or the dried orange slices until I'm setting it out to serve. The crunchy items will absorb the moisture from the fruit and cheese and get soft/soggy in the refrigerator overnight.
After assembling, cover the cheese board completely with plastic wrap for optimum freshness.
Bring To Room Temperature Before Serving: One of my biggest cheese board tips is to let all of these cheeses, meats + fruits get to room temperature *before* serving! Don't serve them all cold out of the fridge. You can appreciate the subtle flavors of the cheeses, meats, and fruits so much more when they're all room temperature. I like to cut all the items when they're cold, assemble the cheese board, then set the tray out for about 30-60 minutes before I plan on serving. This will give them time to come to room temperature at have maximum flavor.
Watch How To Style Your Cheese Board | My Favorite Ideas & Hacks!