Weeknight dinner meal plan and shopping list for the week of April 27 – May 1, 2015.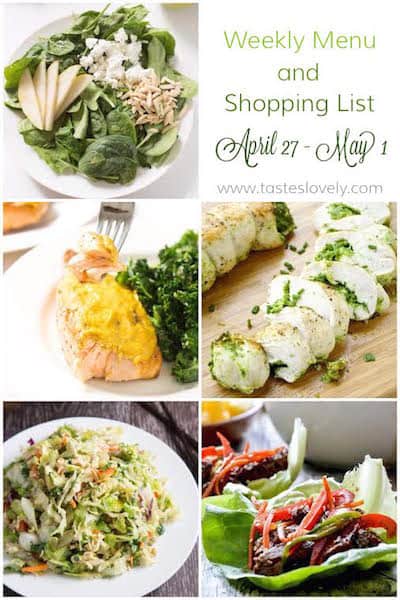 The meals and grocery shopping list is for a family of 4 (or family of 2 who likes leftovers!). Sunday Prep has tips on prep work you can do in advance to make these weeknight meals even faster to prepare. Click all of the meal links below for the printable recipe, and at the end of the post is a printable shopping list.
Here is what is on the menu for this week:
Monday (meatless)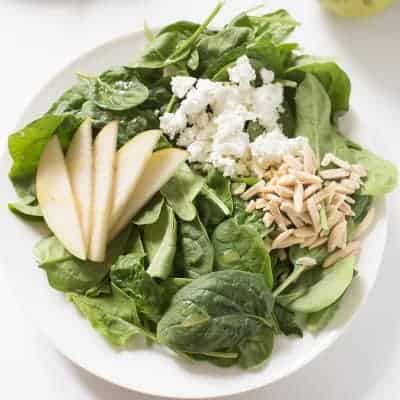 Pear and Goat Cheese Spinach Salad and warm crusty bread // A light yet filling spinach salad topped with sweet pears, creamy goat cheese, crunch almonds and tossed in a champagne vinaigrette. Serve it with warm crusty bread and butter for a complete meal.
Tuesday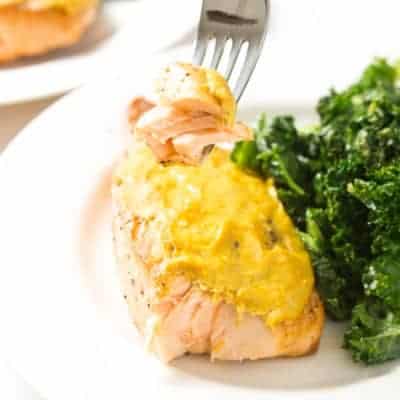 Orange mustard salmon, steamed brown rice and garlicky green beans // Crispy salmon is topped with an orange zest and dijon mustard mixture and cooked in the oven. Served with simple steamed brown rice (no recipe, just cook according to your brands instructions) and my favorite garlicky green beans.
Wednesday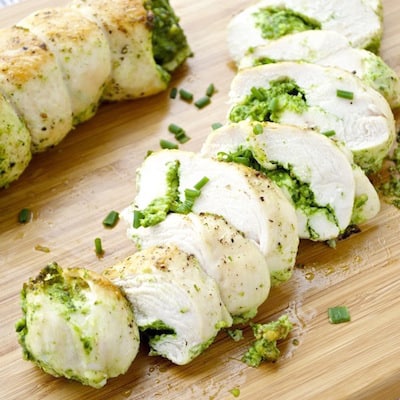 Pesto stuffed chicken breasts with sauteed kale and baked potatoes // Light and healthy chicken breasts stuffed with a homemade spinach and arugula pesto, served with sauteed kale (no recipe, just chop and sautee kale in olive oil over medium heat until cooked, season with salt and pepper) and steakhouse style baked potatoes.
Thursday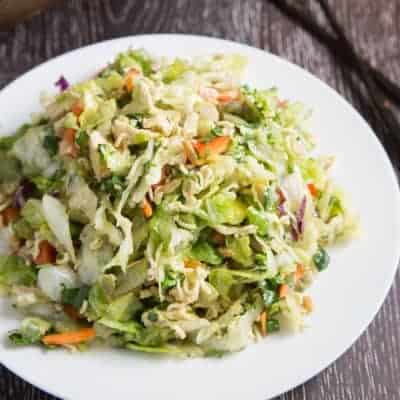 Ramen noodle Chinese chicken salad and pan fried potstickers // The very best Chinese chicken salad that get's it's crunch from dried, crushed ramen noodles. Served with pan fried potstickers (no recipe, just cook according to brands instructions).
Friday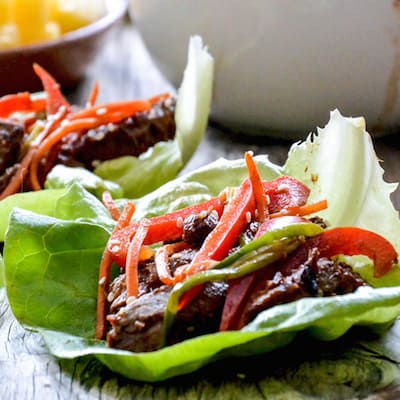 Spicy pineapple beef lettuce wraps // Tender and flavorful beef that is marinated in a sweet and spicy pineapple marinade, topped with sauteed vegetables and wrapped in butter lettuce. You can start the beef marinating the night before to make it faster to prepare the following day.
Sunday Prep
Shopping List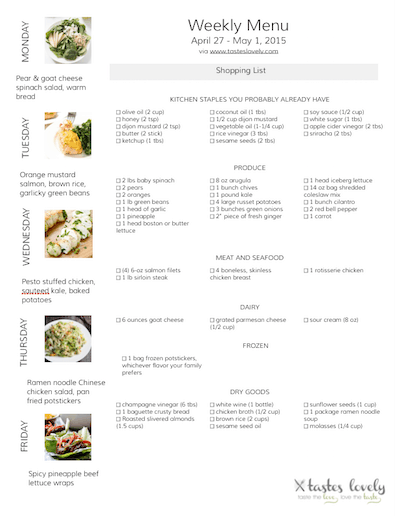 Click here for a printable version of the weekly menu and shopping list.
Never Miss a Recipe!
Get new posts delivered straight to your inbox! For free!