Weeknight dinner meal plan and shopping list for the week of April 4 – May 8, 2015.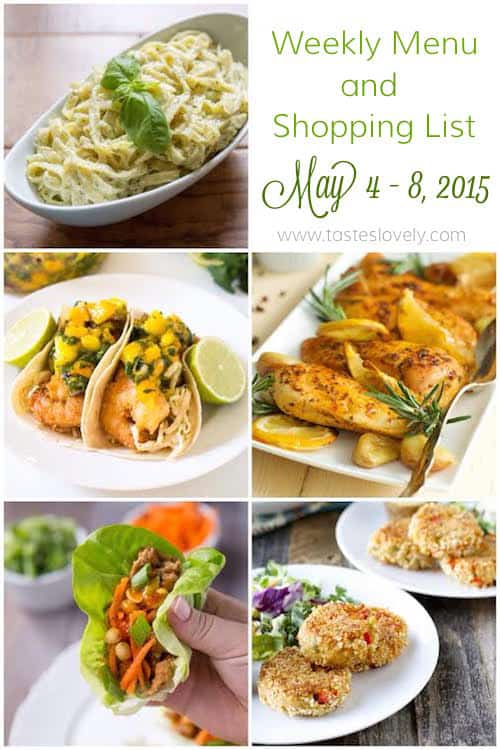 The meals and grocery shopping list is for a family of 4 (or family of 2 who likes leftovers!). Sunday Prep has tips on prep work you can do in advance to make these weeknight meals even faster to prepare. Click all of the meal links below for the printable recipe, and at the end of the post is a printable shopping list.
Here is what is on the menu for this week:
Monday (meatless)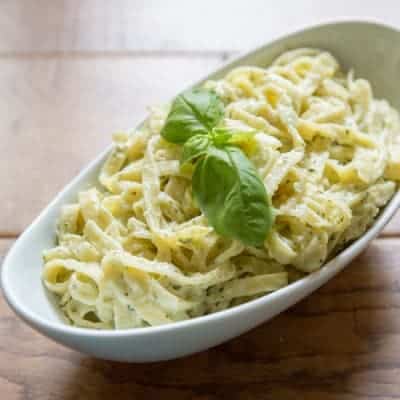 15 Minute Creamy Pesto Pasta and crusty bread // This pasta is a breeze to whip up. Perfect Monday dinner. I use store bought pesto to make this even faster. Serve with some warm crusty bread.
Tuesday (Cinco de Mayo!)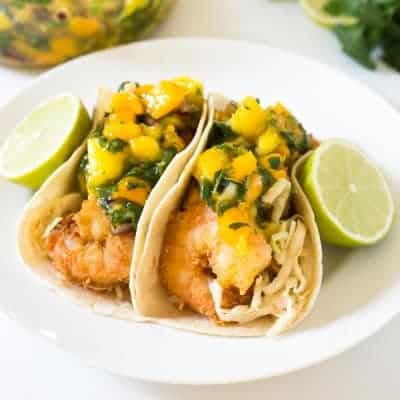 Tropical Coconut Shrimp Tacos served with tortilla chips and salsa // It's Cinco de Mayo! Your family is going to love these crispy coconut shrimp tacos. Served with a chili lime coleslaw and mango papaya salsa. Serve with your favorite bags of tortilla chips to scoop up the extra mango papaya fruit salsa.
Wednesday

Rosemary Lemon Roasted Chicken Breasts served with roasted potatoes and roasted carrots// Healthy and flavorful chicken breasts that are marinated and full of lemon and rosemary flavor. Don't forget to start the marinade the night before so it can marinate for 1 day! Served with roasted potatoes and roasted carrots (no recipe for the roasted carrots, just cook them in the same method as the roasted potatoes). Use any leftover rosemary to sprinkle on the potatoes and carrots before roasting!
Thursday

Healthy Asian Turkey Lettuce Wraps // These turkey lettuce wraps have all the pretty colors of spring. The ground turkey is flavored with onion, ginger and soy sauce. Then topped with shredded carrots, green onions, peanuts and a peanut asian dressing.
Friday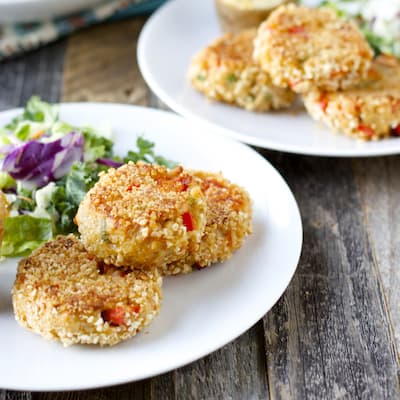 Caesar Salmon Patties served with caesar salad // Crispy and crunchy salmon patties that are flavored with caesar dressing, bell pepper and green onions, coated in bread crumbs and baked in the oven. Serve with a big bowl of caesar salad (no recipe, just chop up romaine lettuce, toss with desired amount of caesar dressing, top with desired amount of dressing, parmesan cheese and cherry tomatoes. Toss to combine).
Sunday Prep
Shopping List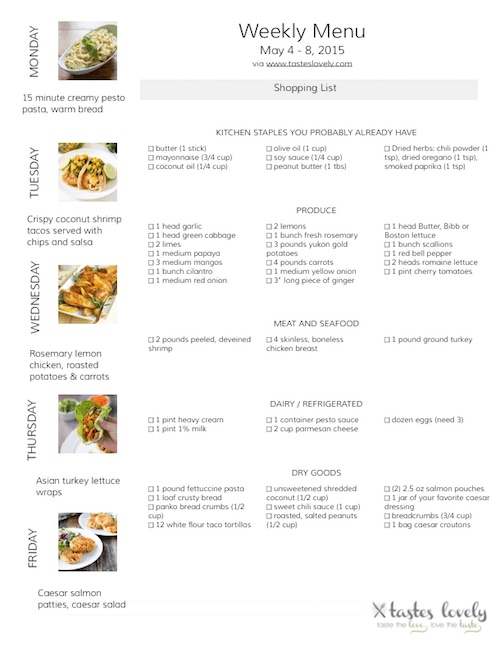 Click here for a printable version of the weekly menu and shopping list.
Never Miss a Recipe!
Get new posts delivered straight to your inbox! For free!