Weeknight dinner meal plan and grocery shopping list for the week of July 6-10, 2015.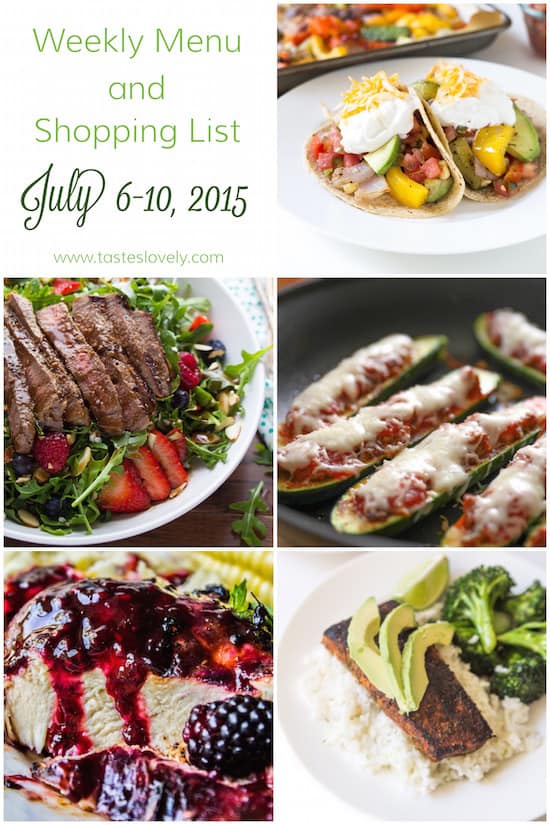 The meals and grocery shopping list is for a family of 4 (or family of 2 who likes leftovers!). Sunday Prep has tips on prep work you can do in advance to make these weeknight meals even faster to prepare. Click all of the meal links below for the printable recipe, and at the end of the post is a printable shopping list. Here is what is on the menu for this week:
Monday (meatless)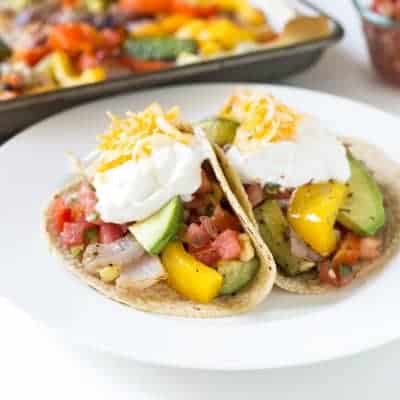 Oven Roasted Vegetable Fajitas // Fresh vegetables tossed with Mexican spices then roasted in the oven. Let the oven do all the work for you! Set up a quick taco bar with salsa, avocado slices, sour cream and cheese and dinner is ready.
Tuesday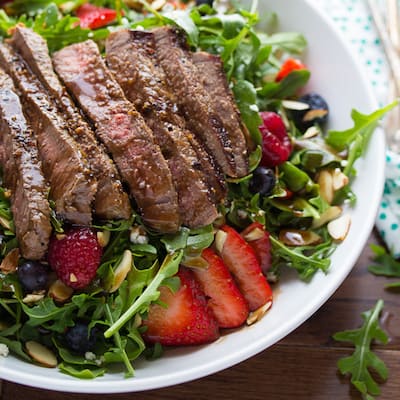 Balsamic Steak, Berry & Arugula Salad // Fresh berries, almonds, feta and arugula, topped with seared steak, and drizzled with a balsamic vinaigrette. (Recipe via Denise at Sweet Peas & Saffron)
Wednesday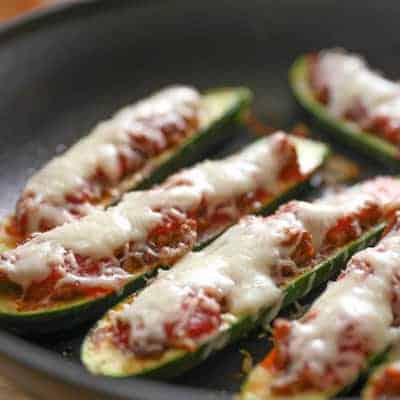 Sausage Stuffed Zucchini Boats and caesar salad // Zucchini stuffed with cooked Italian sausage, topped with marinara sauce and cheese. Great way to use up the fresh zucchini in my garden! Serve it with caesar salad (no recipe, just combine chopped romaine lettuce, parmesan cheese, grape tomatoes and caesar dressing. Top with croutons.)
Thursday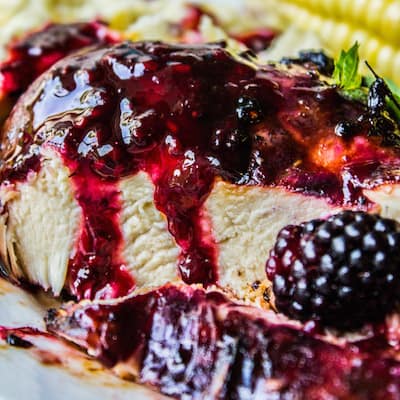 Blackberry Balsamic Glazed Chicken served with rosemary roasted sweet potatoes // Tender chicken is marinated, grilled, and then topped with a delicious Blackberry-Balsamic Glaze. Served with roasted sweet potatoes. (Recipe via Karen at The Food Charlatan)
Friday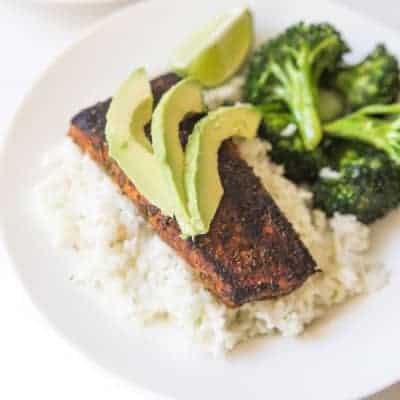 Blackened Cajun Mahi Mahi served with roasted broccoli & coconut lime rice // Crispy fish that is coated with mildly spicy cajun seasonings and served topped with avocado and lime wedges. Served with coconut lime rice and roasted broccoli (no recipe for the broccoli, just drizzle with olive oil, salt and pepper, roast at 425 degrees for 25 minutes.)
Sunday Prep
Make the blackberry balsamic marinade for Thursday. Refrigerate in an airtight container.
Make the spice mix for Friday. Store in an airtight container.
Make the coconut lime rice for Friday. Refrigerate in an airtight container. Microwave for 5 minutes and fluff with a fork before serving.
Shopping List

Click here for a printable version of the weekly menu and grocery shopping list.
Check out all my weekly menu and grocery shopping lists for more menu planning inspiration.
Never Miss a Recipe!
Get new posts delivered straight to your inbox! For free!