Weeknight dinner meal plan and grocery shopping list for the week of June 1-5, 2015.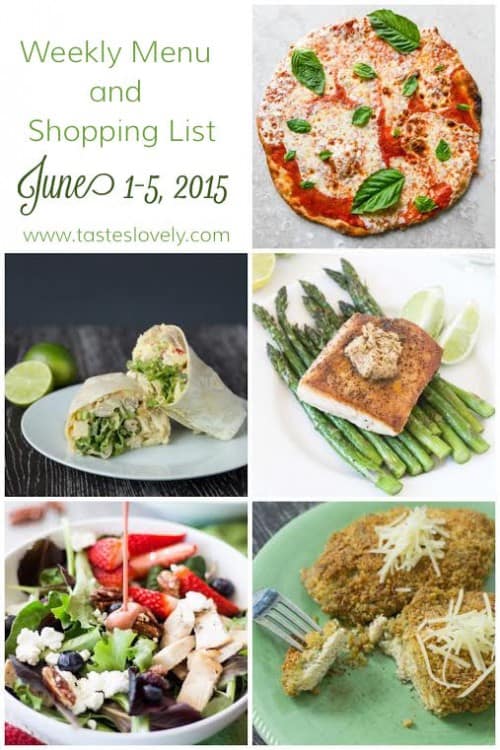 The meals and grocery shopping list is for a family of 4 (or family of 2 who likes leftovers!). Sunday Prep has tips on prep work you can do in advance to make these weeknight meals even faster to prepare. Click all of the meal links below for the printable recipe, and at the end of the post is a printable shopping list.
Here is what is on the menu for this week:
Monday (meatless)

No Rise Thin Crust Margarita Pizza and caesar salad // A thin and crispy crust margarita pizza with a homemade pizza crust that doesn't need to rise! Double the recipe to have 2 medium size pizzas. Serve it with a big bowl of caesar salad (chopped romaine lettuce, chopped tomatoes, grated parmesan cheese, croutons and your favorite caesar dressing).
Tuesday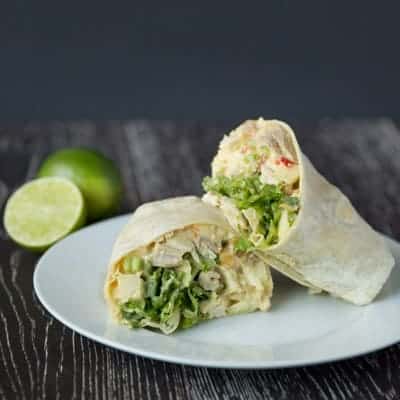 Curried Apple and Chicken Salad Wraps served with baked potato wedges // Creamy and tangy curried apple and chicken salad with romaine lettuce wrapped in a tortilla. Save time by using a store bought rotisserie chicken. Served with oven baked potato wedges.
Wednesday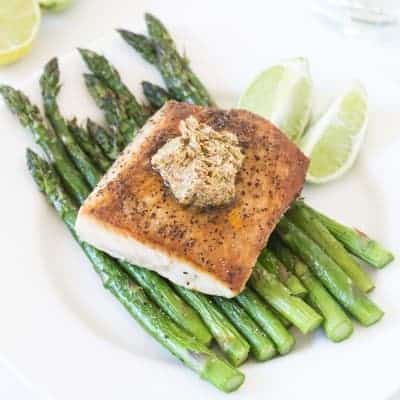 Mahi Mahi with Chili Lime Butter served with roasted asparagus and coconut lime rice // A healthy and delicious pan seared mahi mahi topped with a chili lime butter compound. Served with coconut lime rice and roasted asparagus (toss trimmed asparagus with olive oil, salt and pepper, roast at 400 degrees about 15 minutes).
Thursday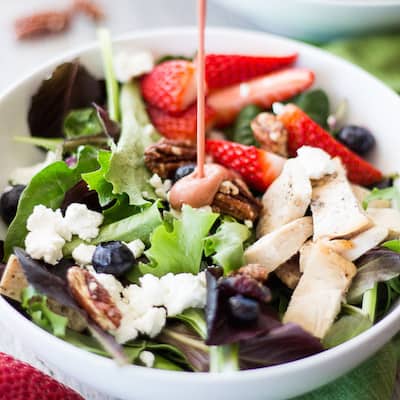 Sweet Strawberry Chicken Salad served with warm, crusty bread // A chicken and berry filled salad tossed with a sweet strawberry balsamic dressing and topped with goat cheese. Serve it with warm, crusty bread.
Friday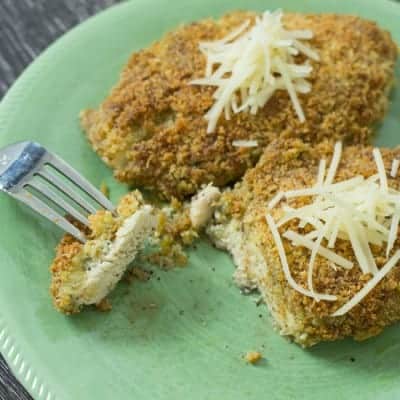 Crispy Baked Pesto Chicken Parmesan served with creamy pesto pasta // A pesto version of chicken parmesan. Crispy baked pesto chicken breasts served with a creamy pesto pasta.
Sunday Prep
Shopping List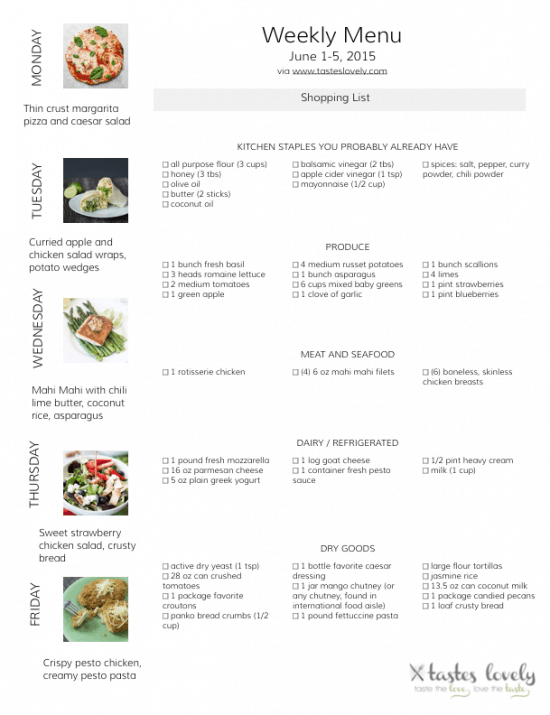 Click here for a printable version of the weekly menu and grocery shopping list.
Never Miss a Recipe!
Get new posts delivered straight to your inbox! For free!