Weeknight dinner meal plan and grocery shopping list for the week of June 15-19, 2015.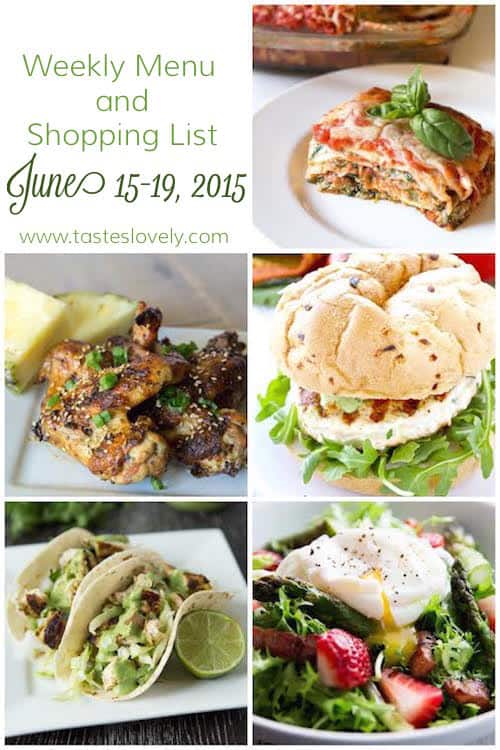 The meals and grocery shopping list is for a family of 4 (or family of 2 who likes leftovers!). Sunday Prep has tips on prep work you can do in advance to make these weeknight meals even faster to prepare. Click all of the meal links below for the printable recipe, and at the end of the post is a printable shopping list.
Here is what is on the menu for this week:
Monday (meatless)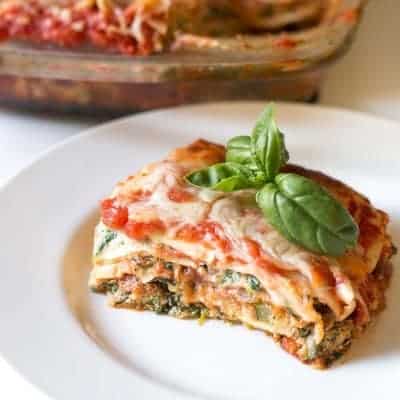 Garden Vegetable Lasagna and caesar salad // Delicious layers of spinach ricotta, sautéed zucchini & onion, noodles, marinara sauce and mozzarella cheese. This makes enough for 8 people, so you'll have some great leftovers for lunches. Serve with a simple caesar salad (chopped romaine lettuce, parmesan cheese, and your favorite caesar dressing).
Tuesday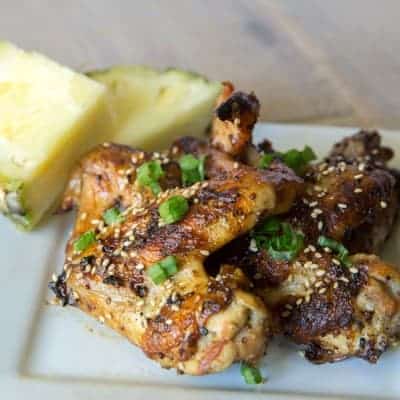 Mustard Grilled Pineapple Chicken Wings and potato salad // Crispy grilled chicken wings that are marinated and coated in a mustard pineapple sauce. Served with a simple 4 ingredient potato salad.
Wednesday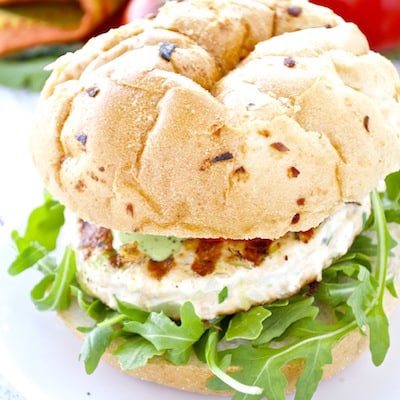 Salmon Burgers with Green Goddess Dressing served with crispy oven baked potato wedges // (This recipe comes from my blogging friend Keri at Fashionable Foods!) A light and healthy salmon burger topped with an herby green goddess dressing. Served with my favorite crispy baked potato wedges. Dip the potato wedges in any leftover green goddess dressing!
Thursday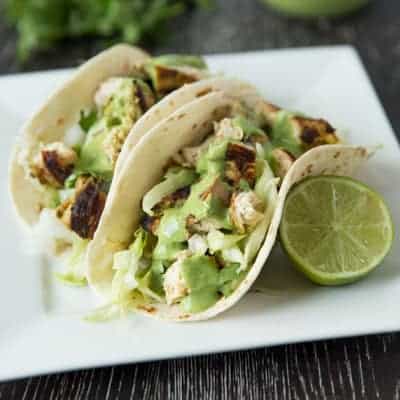 Chicken Tacos with Cilantro Lime Ranch Dressing served with chips and salsa // Chicken tacos topped with a cool and zesty cilatro lime ranch dressing. Serve it with your favorite tortilla chips and store bought salsa.
Friday
Asparagus, Bacon and Strawberry Salad with Poached Eggs served with crusty bread //(This recipe comes from my blogging friend Nora at Savory Nothings!) A sweet and savory salad topped with sautéed asparagus, crispy bacon, sweet strawberries and topped with a poached egg. Serve it with some crusty bread to soak up all the left over dressing.
Sunday Prep
Make the lasanga, then cover in foil and refrigerate until ready to bake on Monday.
Make the pineapple glaze for the chicken wings, cover and refrigerate.
Make the potato salad, cover and refrigerate.
Make the salmon patties for the salmon burgers. Cover and refrigerate.
Make the green goddess dressing for the salmon burgers. Cover and refrigerate.
Make the cilantro lime ranch dressing for the chicken tacos. Cover and refrigerate.
Make the salad dressing for the asparagus, bacon and strawberry salad. Cover and refrigerate.
Shopping List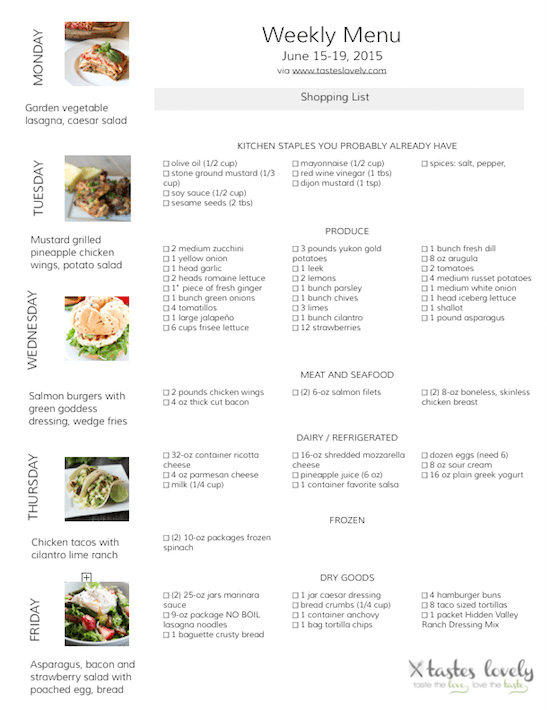 Click here for a printable version of the weekly menu and grocery shopping list.
Check out all my weekly menu and grocery shopping lists for more menu planning inspiration.
Never Miss a Recipe!
Get new posts delivered straight to your inbox! For free!