Weeknight dinner meal plan and grocery shopping list for the week of June 29-July 3, 2015.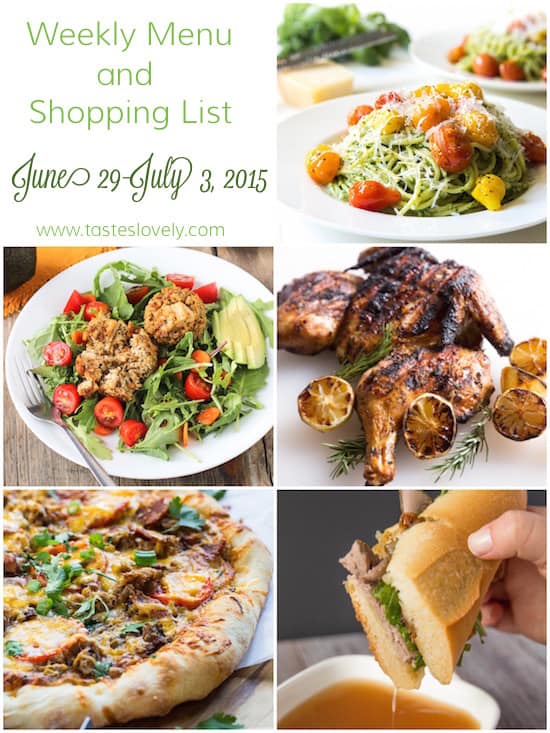 The meals and grocery shopping list is for a family of 4 (or family of 2 who likes leftovers!). Sunday Prep has tips on prep work you can do in advance to make these weeknight meals even faster to prepare. Click all of the meal links below for the printable recipe, and at the end of the post is a printable shopping list.
Here is what is on the menu for this week:
Monday (meatless)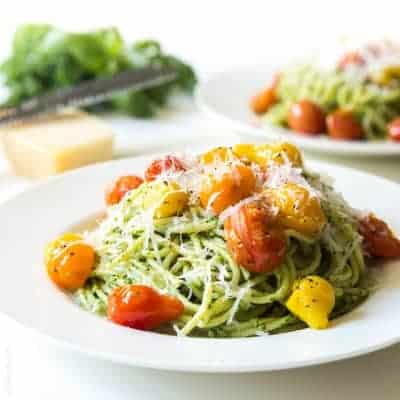 Kale Walnut Pesto & Blistered Tomato Pasta // A twist on the traditional pesto with lots of added kale and walnuts. Topped with blistered tomato and parmesan cheese. Tastes garden fresh!
Tuesday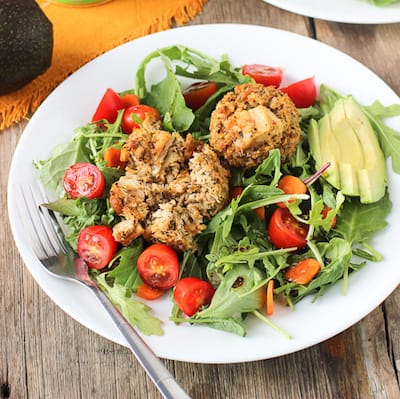 Spicy Tuna Cake Salad with Orange Balsamic Vinaigrette //Spicy tuna cakes made with jalapeno & olive oil tuna. Served over a salad with an orange balsamic vinaigrette. (Recipe via Alyssa at My Sequined Life!)
Wednesday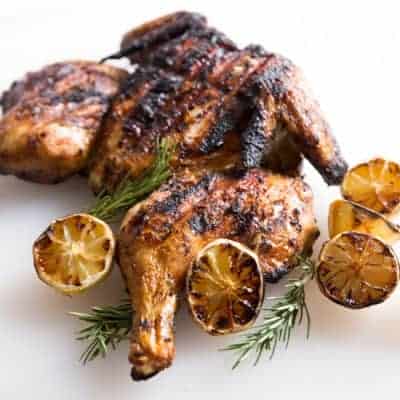 Grilled Lemon & Rosemary Flattened Chicken served with steamed artichokes // A flattened chicken marinated in olive oil, lemon zest and rosemary. Grilled on the BBQ so it has extra crispy skin. Served with steamed artichokes with a lemon garlic aioli.
Thursday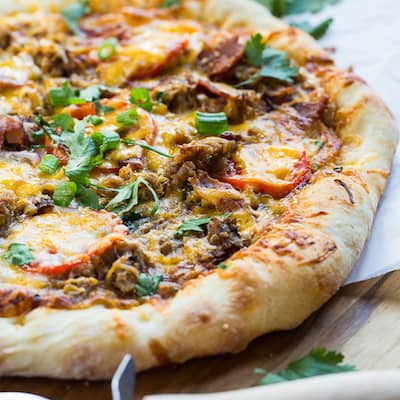 BBQ Pizza with Pulled Pork // Sweet and savory pizza with bbq sauce and pulled pork. Double the recipe to serve 4. Save time by buying pre cooked pulled pork! (recipe via Christin at Spicy Southern Kitchen!)
Friday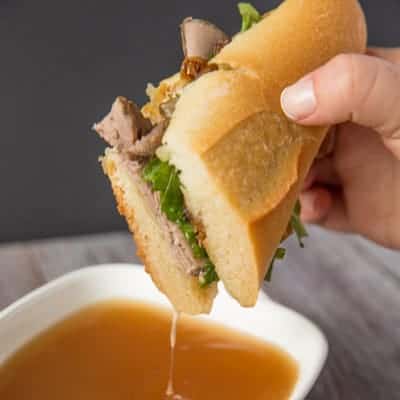 Beef Dip Sandwich with Gruyere & Grilled Onions served with oven baked potato wedges //  Warm beef sandwich with sweet grilled onions and melted gruyere cheese and a beef au jus dipping sauce. Served with my favorite oven baked potato wedges.
Sunday Prep
Make the kale walnut pesto for Monday. Refrigerate in an airtight container
Prep the chicken and marinate it in a large baking dish or ziploc bag for Wednesday. Refrigerate, and remove 2 hours before cooking so it can reach room temperature.
Shopping List

Click here for a printable version of the weekly menu and grocery shopping list.
Check out all my weekly menu and grocery shopping lists for more menu planning inspiration.
Never Miss a Recipe!
Get new posts delivered straight to your inbox! For free!