Weeknight dinner meal plan and grocery shopping list for the week of June 8-12, 2015.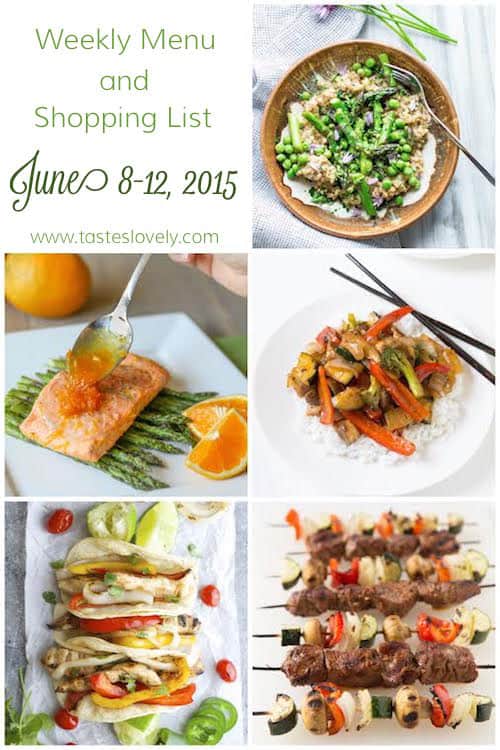 The meals and grocery shopping list is for a family of 4 (or family of 2 who likes leftovers!). Sunday Prep has tips on prep work you can do in advance to make these weeknight meals even faster to prepare. Click all of the meal links below for the printable recipe, and at the end of the post is a printable shopping list.
Here is what is on the menu for this week:
Monday (meatless)

Creamy Farro with Pesto Asparagus and Peas // A creamy farro with all the best produce of spring. Ready in 35 minutes!
Tuesday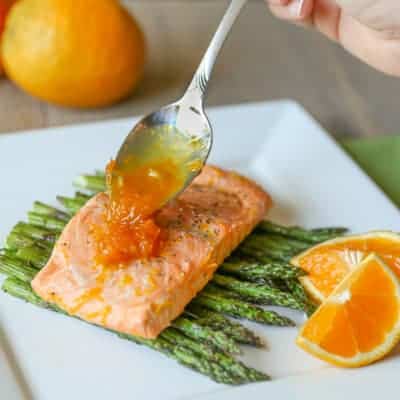 Grilled Salmon with Orange Maple Glaze served with simple grilled asparagus // Now that the weather is warm, it's time to heat up that grill! This salmon is marinated in an orange maple sauce, then grilled in a foil packet on the grill. Cook the sauce down while the salmon cooks and use it to top the salmon. (Be sure to double the recipe to serve 4 people.)
Wednesday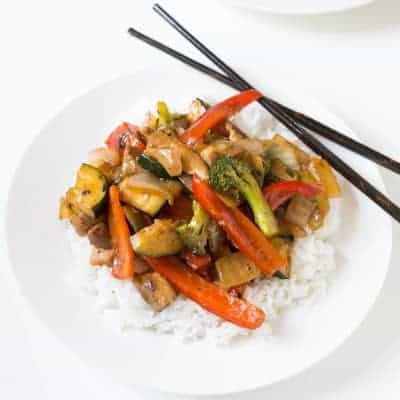 Broccoli and Bell Pepper Chicken Stir Fry served with white rice // A healthy and delicious vegetable and chicken stir fry, made using the best homemade ginger garlic stir fry sauce.
Thursday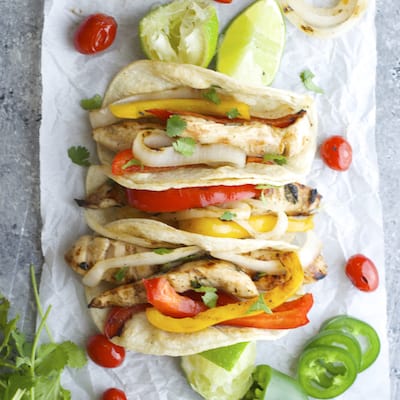 Jalapeno Lime Chicken Fajitas // Flavorful jalapeno lime marinated chicken and grilled vegetable fajitas. Remember to prep the chicken marinade the night before, and allow it to marinate in the fridge overnight.
Friday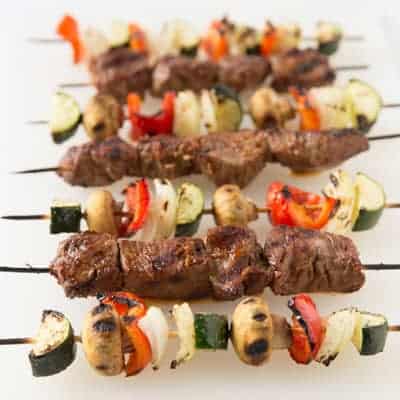 Grilled steak and vegetable kabobs served with steakhouse style baked potatoes // The steak is marinated in a delicious asian style marinade. Served with grilled vegetable kabobs, and the best steakhouse style baked potatoes. Remember to make the marinade the day before and marinate the meat overnight. Double the recipe to serve 4 people.
Sunday Prep
Make the orange maple marinade for the salmon, marinate the salmon in plastic bag until ready to cook on Tuesday.
Make the stir fry sauce. Refrigerate in an airtight container.
Make the white rice for the stir fry. Refrigerate in an airtight container. Microwave for 5 minutes then fluff with a fork when ready to serve.
Shopping List

Click here for a printable version of the weekly menu and grocery shopping list.
Never Miss a Recipe!
Get new posts delivered straight to your inbox! For free!