Whole30 + Keto Grilled Steak Kabobs
Whole30 + Keto Grilled Steak Kabobs Recipe + Video – low carb steak and vegetable shish kabob skewers and marinade! Paleo, gluten free, grain free, dairy free, sugar free, clean eating, real food.
Post Sponsored by Sprouts
It's finally summer here in California. Which means it's time for some grilled dinners!
One of my favorites is this Whole30 + Keto Grilled Steak Kabobs. Absolute steak shish kabob skewer perfection!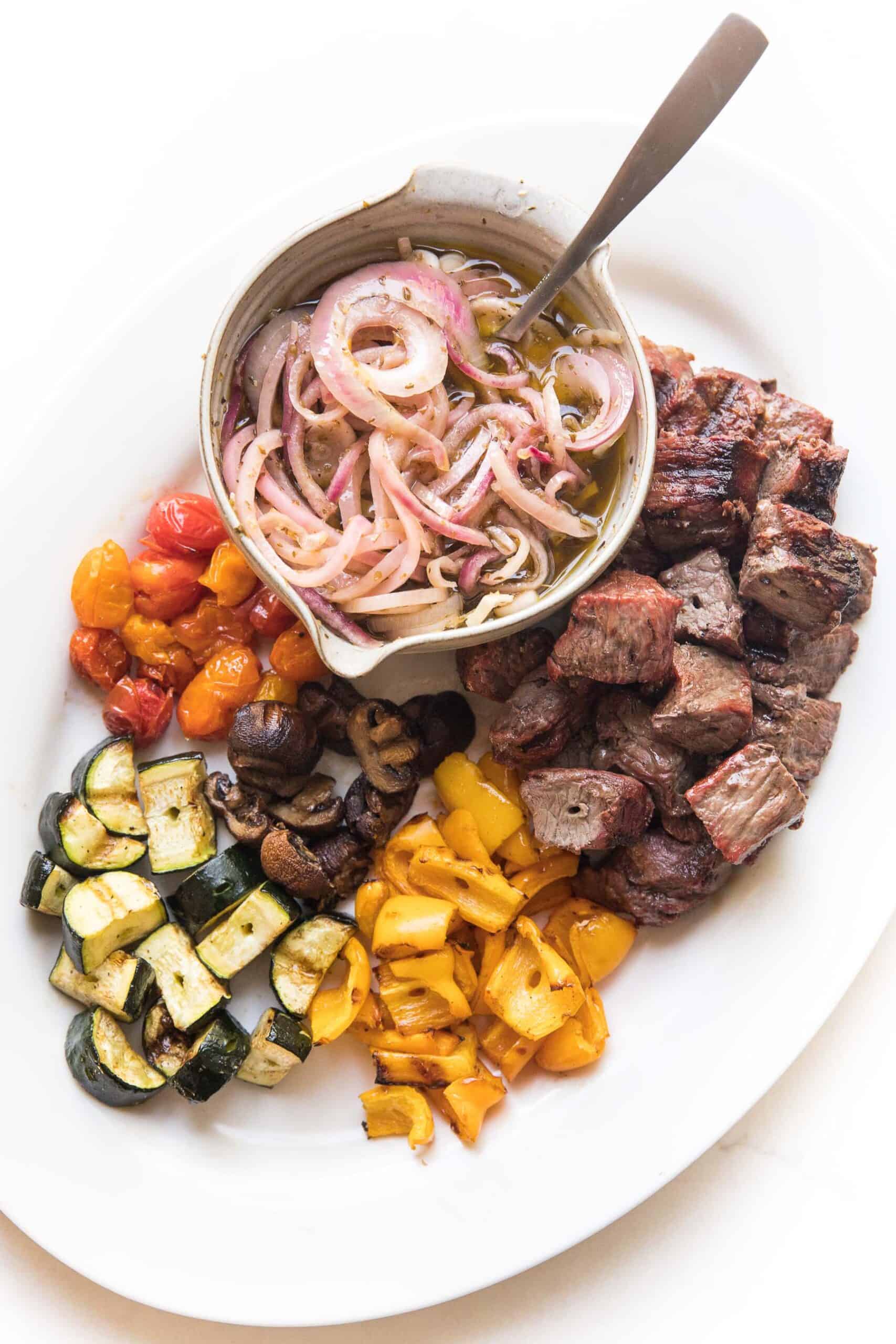 Secret To Steak + Vegetable Kabobs
I have a big secret to share with you about how to get the perfect steak + vegetable kabobs. Even though it is pretty, DO NOT put the steak and vegetables on the same skewer. The meat cooking time is different than the vegetable cooking time.
To have both perfectly cooked steak AND vegetables, skewer them on their own kabobs. This way, you can pull of the steak and each vegetable when it is cooked properly.
After they're done grilling, I love pulling all the steak and vegetables off the skewer and serving it all on a big platter with a batch of marinated onions. It's so pretty, and everyone can help themselves to what they like most.
Best Steak For Steak Kabobs
My favorite steak to use for steak kabobs is hands down top sirloin. It has well marbled fat that keeps the steak juicy and flavorful. It grills perfectly!
I got some gorgeous 100% grass-fed top sirloin at Sprouts. You know how much I love the wide selection of fresh produce at Sprouts, but I also love their high quality meat selection! I've been so impressed with how well stocked the meat has been at Sprouts these past few weeks. Sprouts sources from smaller suppliers and family ranchers, so they continue to keep high-quality products in stock during this time.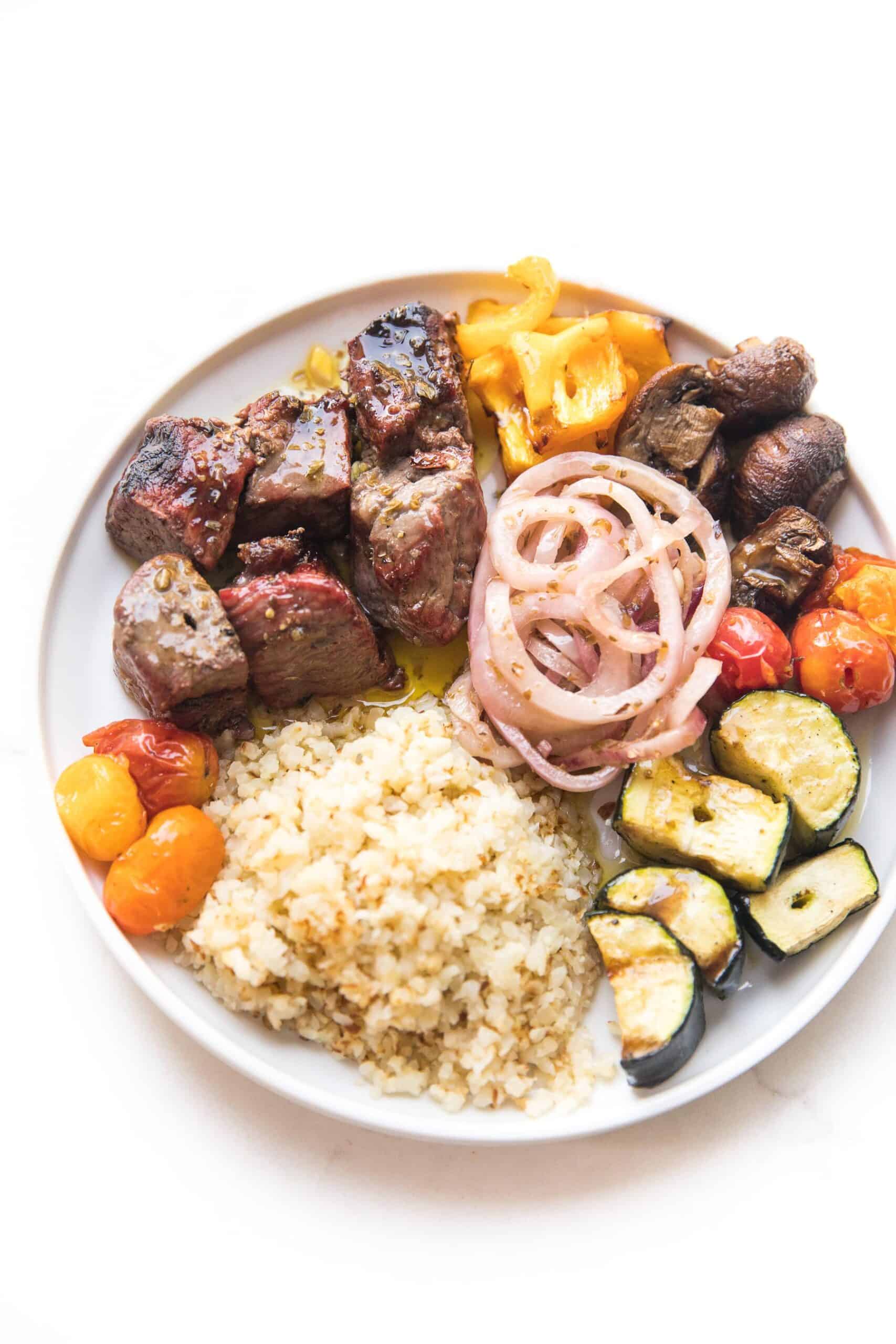 Serving Whole30 + Keto Grilled Steak Kabobs
Rather than doing a marinade before grilling, I love drizzling the cooked steak and vegetable kabobs in my marinated onion oil. It is so bright and amazing! And of course serving them with tons of marinated onions on the side.
You could also serve it with my chimichurri sauce, that would be equally delicious!
If you make these yummy Steak Kabobs be sure to leave a comment and give this recipe a rating! I love to hear from you all and always do my best to respond to each and every comment. And of course, if you do make this recipe, don't forget to share and tag me on Instagram! Looking through the photos of recipes you all have made is my favorite!
Watch Steak Kabob Recipe Demo (5:12 minutes)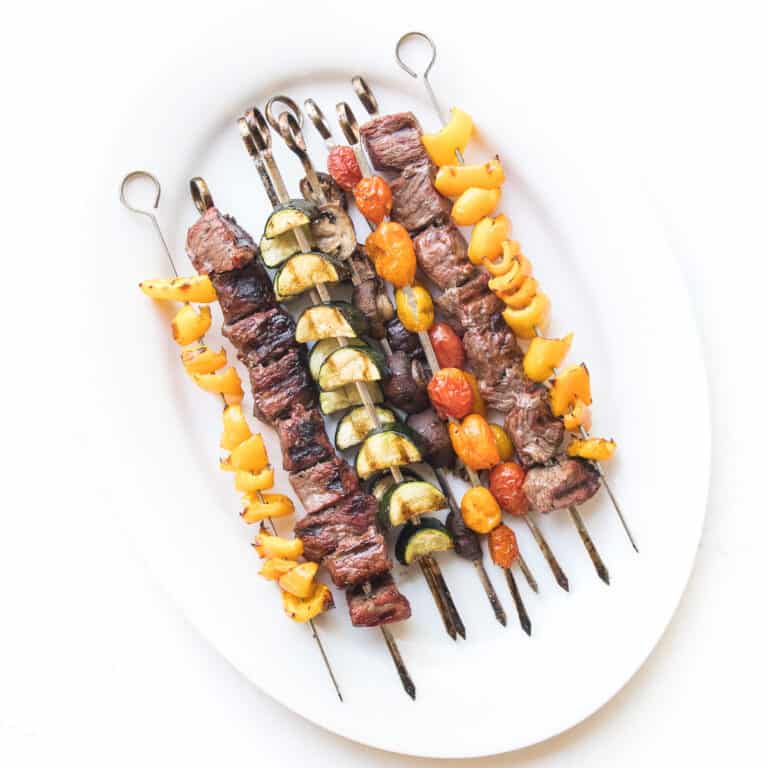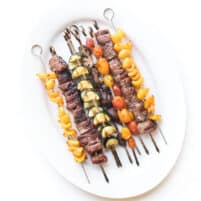 Whole30 + Keto Grilled Steak Kabobs
This Whole30 + Keto Grilled Steak Kabobs Recipe is a low carb steak and vegetable shish kabob skewers and marinade!
Ingredients
1.5

pounds

100% grass-fed top sirloin steak

,

I get mine at Sprouts!

2

medium zucchini

,

cut into 1/2" thick half moons

2

yellow bell peppers

,

cut into 1" squares

1

pint

grape tomatoes

8

ounces

cremini mushrooms

,

cut in half

olive oil

salt + pepper

1

batch marinated onions
Instructions
Preheat your grill and clean your grill grates. We have a Traeger grill, and I set it to 375ºF.

Get out your

skewers

. I love these

metal skewers

. If you're using wood skewers make sure you soak them in water beforehand so they won't catch on fire.

Skewer your vegetables and steak. I like putting all the steak on its own skewer, and each vegetable on its own skewer. They all cook at slightly different time frames, this way you can pull off the meat and vegetable when each is cooked perfectly.

Rub the steak and vegetable skewers generously with olive oil, and season with salt and pepper on both sides.

Grill the steak and vegetable skewers, turning once. The steak will take about 12-15 minutes until it has an internal temperature of 125ºF for medium rare. The vegetables will take about 15-20 minutes, until soft with char marks.

Serve warm, drizzled with the marinated onion oil. When I serve them, I remove all the meat and vegetables from the skewers and serve it all on a big serving platter. Then everyone can help themselves! I love serving mine with cauliflower rice and plenty of marinated onions. So good!

Leftovers will keep in an airtight container for at least 5 days refrigerated.
Notes
You can use other cuts of steak in a pinch, but top sirloin is the best I've found for steak kabobs.
You can really use any vegetables for the skewers! Zucchini, mushroom, bell pepper + tomato are my favorite.
If you aren't able to grill them, just place all the skewers on a rimmed baking sheet. Roast at 425ºF for roughly the same time as you would grill them.
Calories:
384
,
Total Carbs:
9
g
,
Protein:
41.1
g
,
Fat:
20.6
g
,
Fiber:
2.8
g
,
Net Carbs:
6
g
Did you make this recipe?
Please Leave a comment and give this recipe a rating!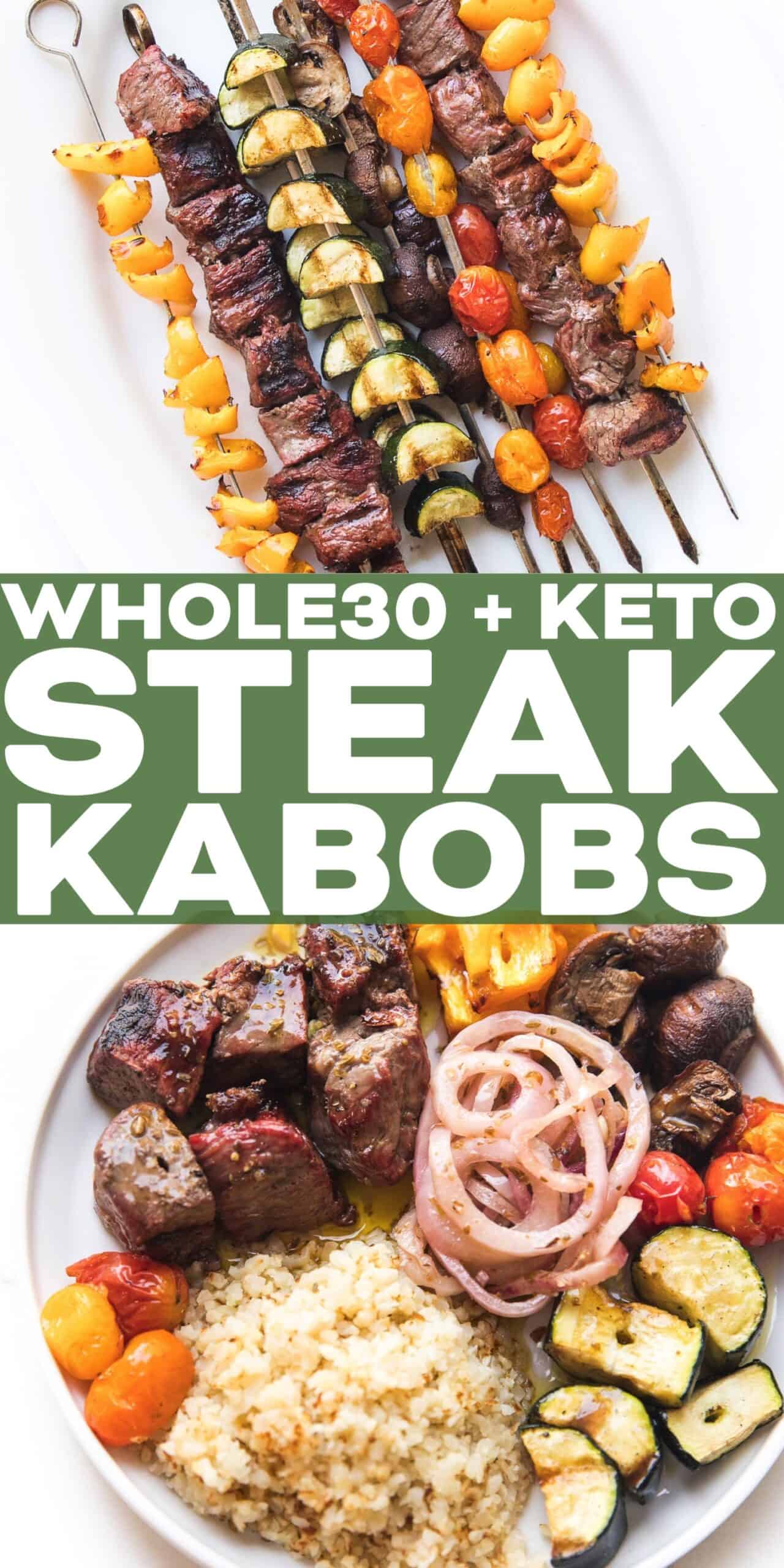 Thank you Sprouts for sponsoring this post! This post contains affiliate links, thanks for the love!