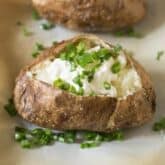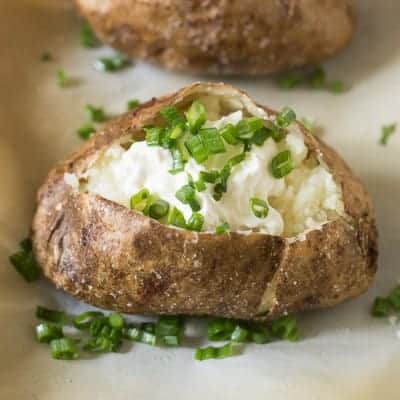 Print Recipe
Steakhouse Style Baked Potato
This is the very best steakhouse style baked potato you will ever have! The skin of the baked potatoes are coated with olive oil and salt for a crispy and flavorful skin and baked in the oven until it is creamy and fluffy.
Servings:
2
baked potatoes
Toppings
Butter

Sour Cream

green onions

chopped (or chives)

Salt and pepper
Preheat your oven to 425 degrees with the oven rack in the middle. Line a baking sheet with parchment paper.

Rub the potato with olive oil until it is well coated and sprinkle with salt and transfer to the parchment lined baking sheet. Roast the potato whole (don't poke any holes in it) until it is soft when you squeeze it with your hand. The baking time will depend on the size of your potato, but usually 45 minutes - 1 hour.

When you take the baked potato out of the oven, drop it onto a plate or cutting board from 10" up. By dropping it, you loosen the inside of the potato so it is light and fluffy inside when you cut into it.

Cut a slit down the length of the baked potato, pinch the edges together to make the opening bigger, and fill the baked potato with desired amount of the fillings.
Calories:
413
|
Total Carbs:
39.5
g
|
Protein:
5.5
g
|
Fat:
27.4
g
|
Fiber:
2.8
g
|
Net Carbs:
37
g