Bacon and White Bean Stew
Bacon and White Bean Stew – a silky smooth soup full of bacon flavor with cannellini beans and swiss chard.
Shawn and I live in a very tiny house.
Not one of those freakishly tiny houses you see on HGTV, that are only 100 square feet trailers. Just a small, quaint little 700 square foot house.
And I absolutely love it.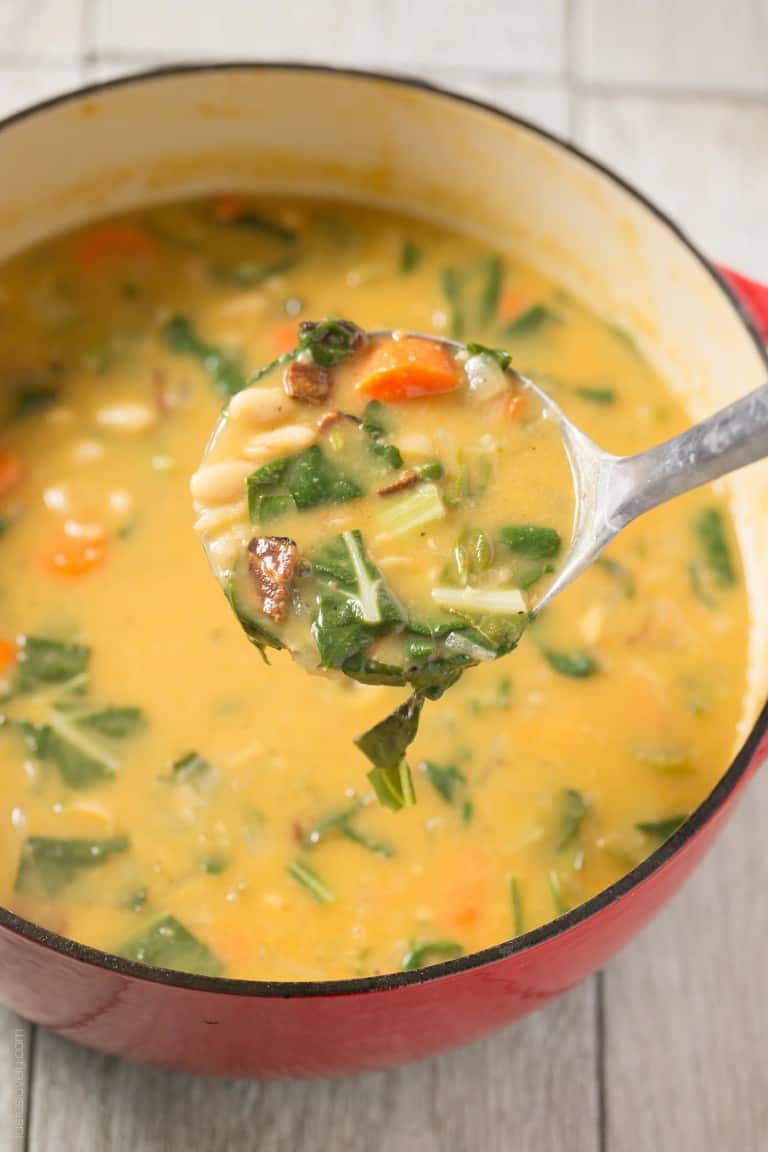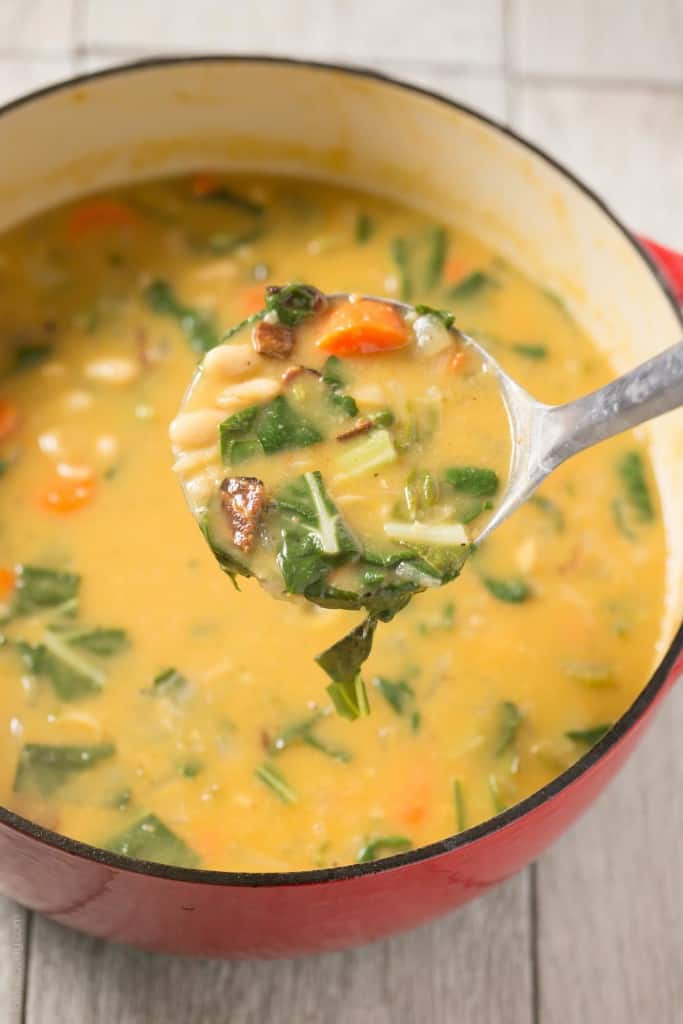 I can vacuum my whole house and never have to unplug my vacuum, I can reach all the rooms from one outlet. I can unload my dishwasher and barely have to take a step, I can reach all the cabinets from 1 standing position. Shawn and I can have a conversation at a normal volume, even though we're standing on opposite ends of the house.
Every room gets used. It's all the space we need.
It's cozy. It's comfy. It's us.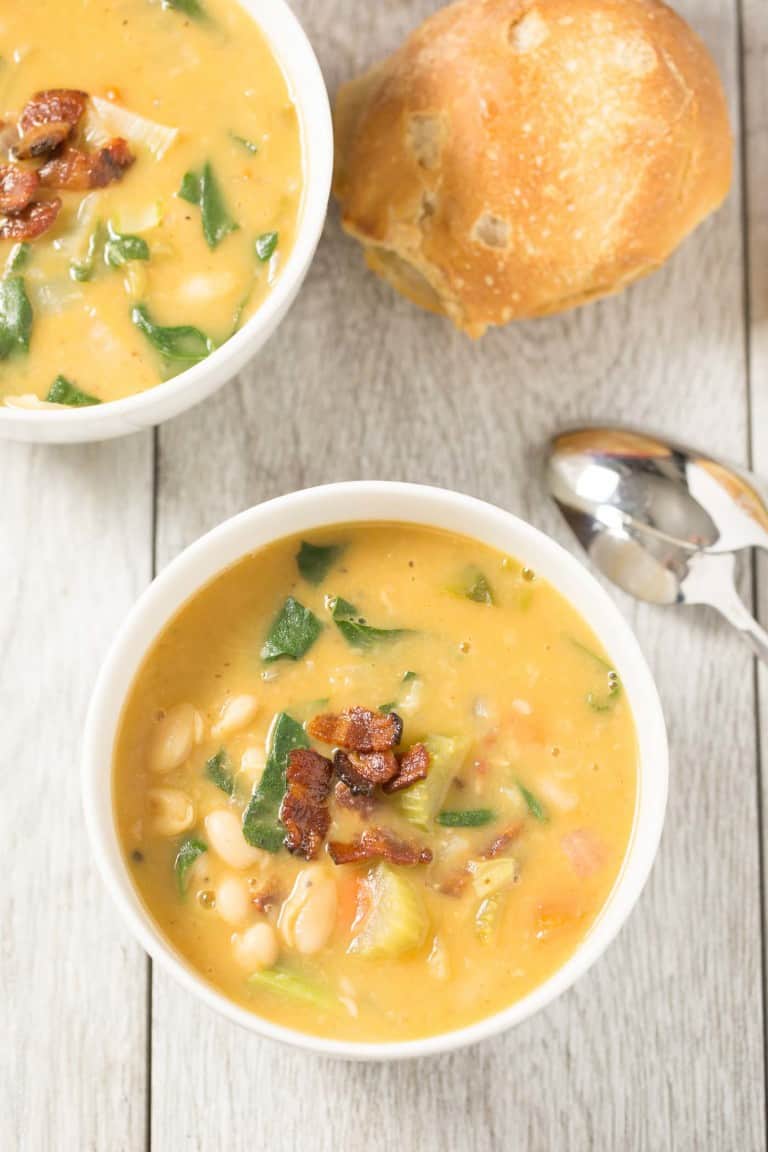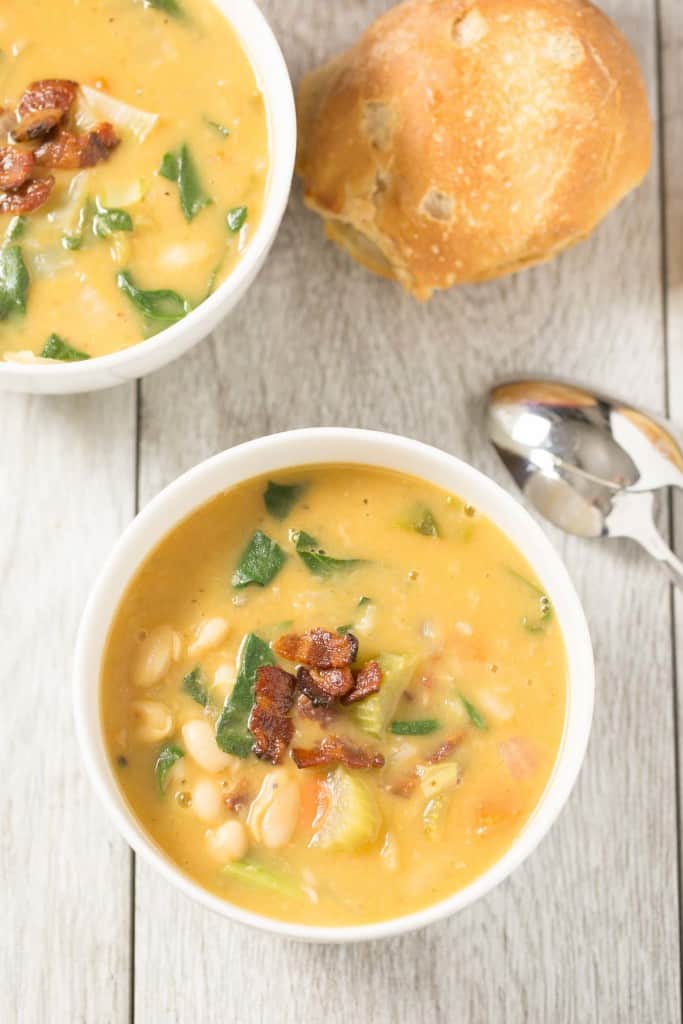 The only downside is we have virtually no storage space.
Do you know what requires a lot of space and storage? Baby stuff. Holy smokes, our teeny house was overtaken by baby stuff! Mamaroo. A swing. A Rock and Play. A bumbo. A jumparoo. A Pak and Play. An activity mat.
And that's just the start.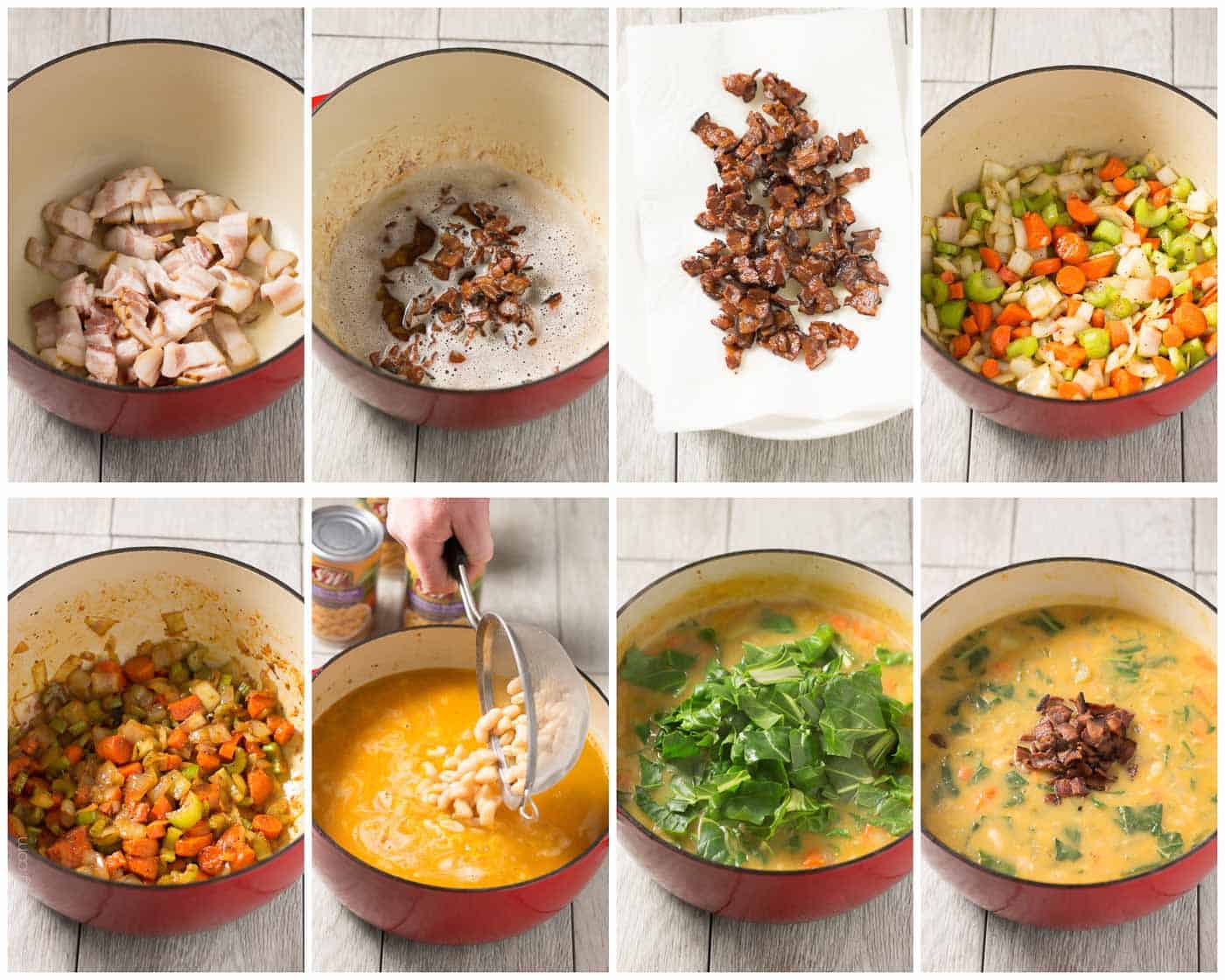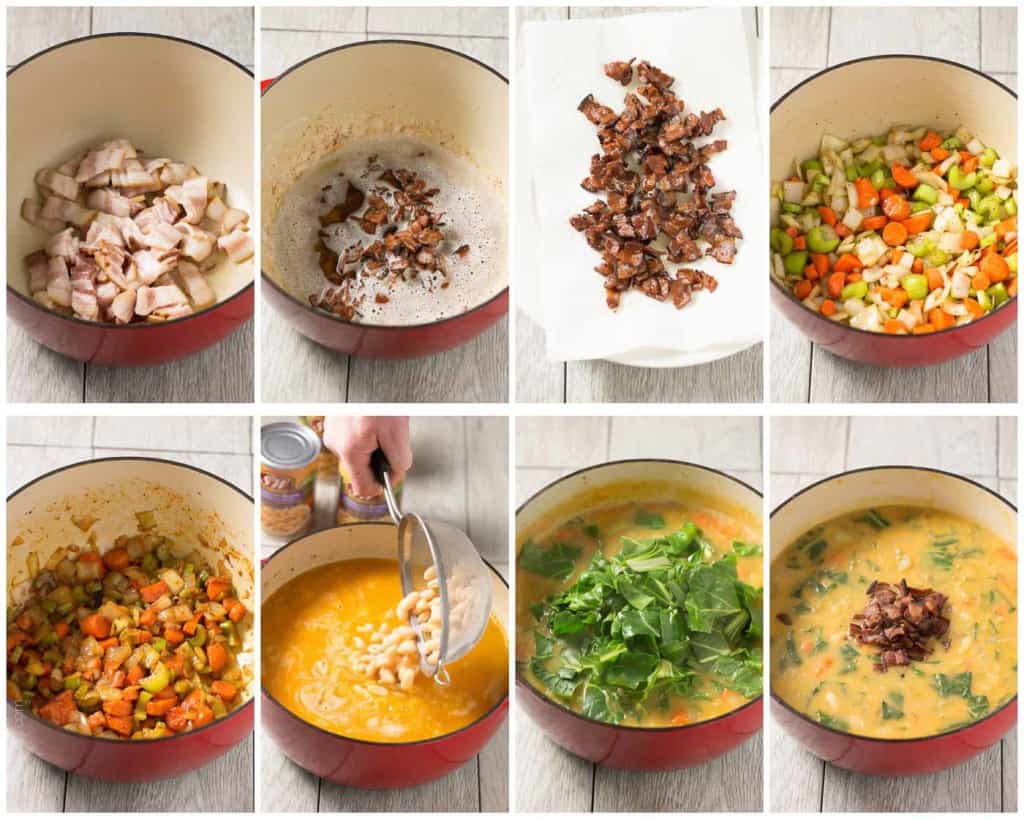 Thank goodness Shawn and my dad are builders. They built us the most epic shed. It is really like another small house. It's bigger than a garage, and the whole inside is lined with rows of shelves. It is an organizer's dream! Now there's plenty of room for our bikes, our Christmas decorations, our camping stuff, and most importantly alllllll of our baby gear.
But the best part? I now have SO much room to stock up on pantry essentials! It looks like an itty bitty grocery store of all the food we love. Tons of peanut butter, crackers and chips, mayo, pickles, chicken stock, oatmeal, and of course canned goods.
I finally have a "cantry!"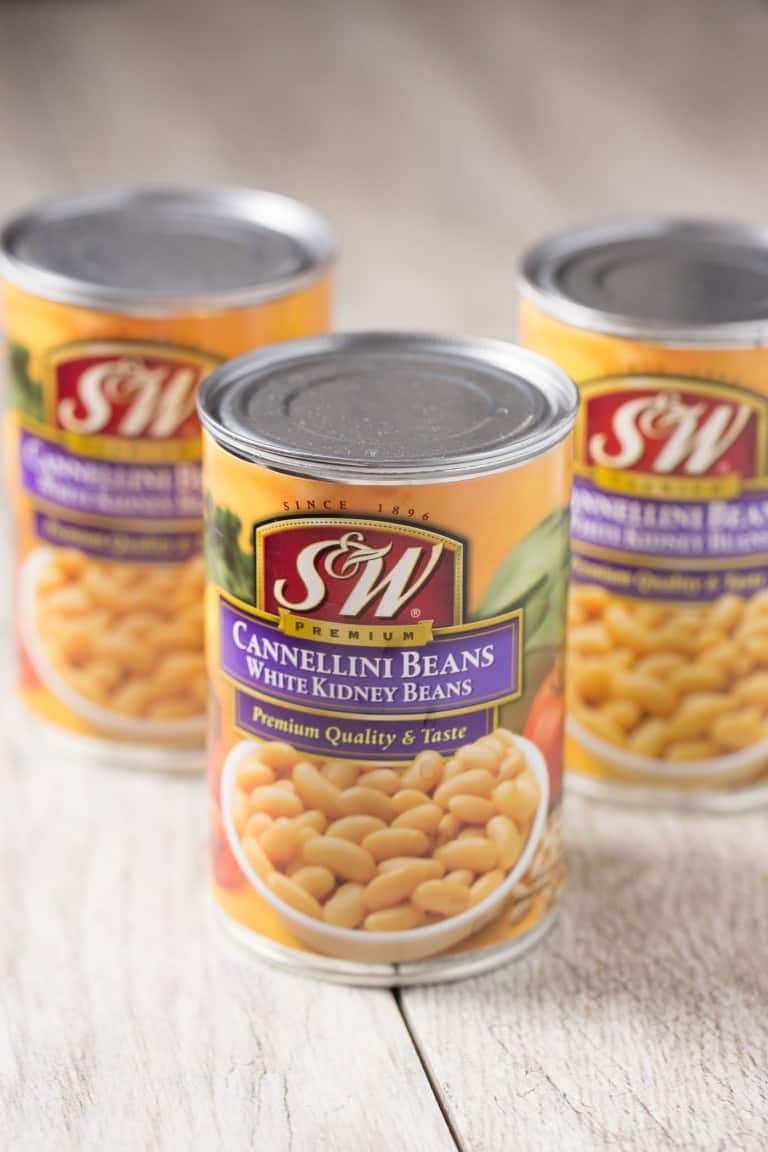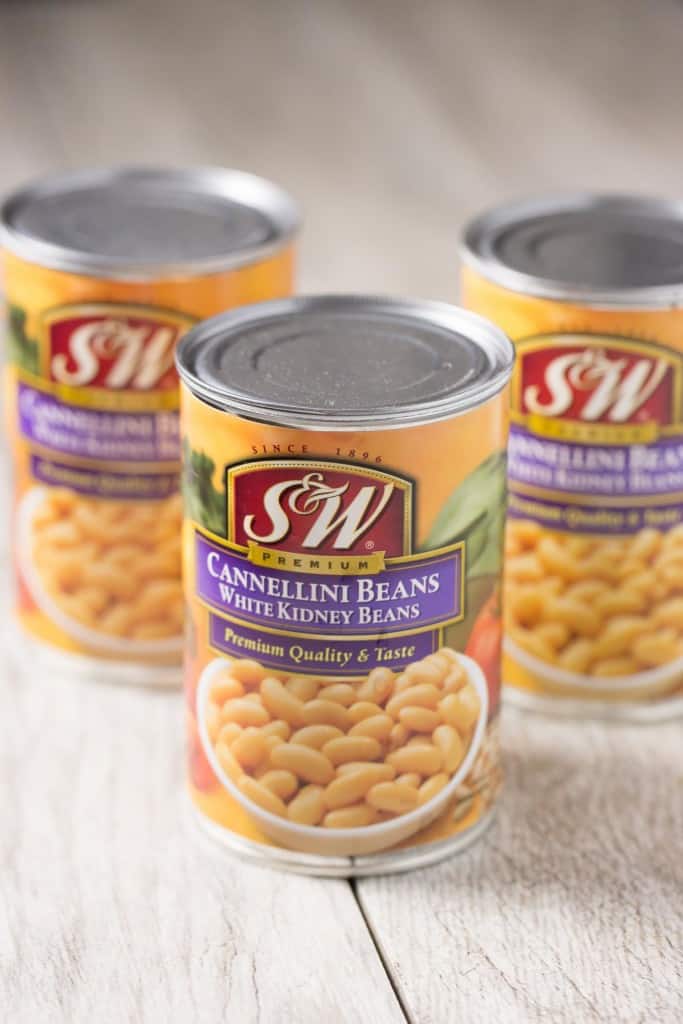 By having a well stocked "cantry", I can throw together this delicious bacon and white bean stew in a snap.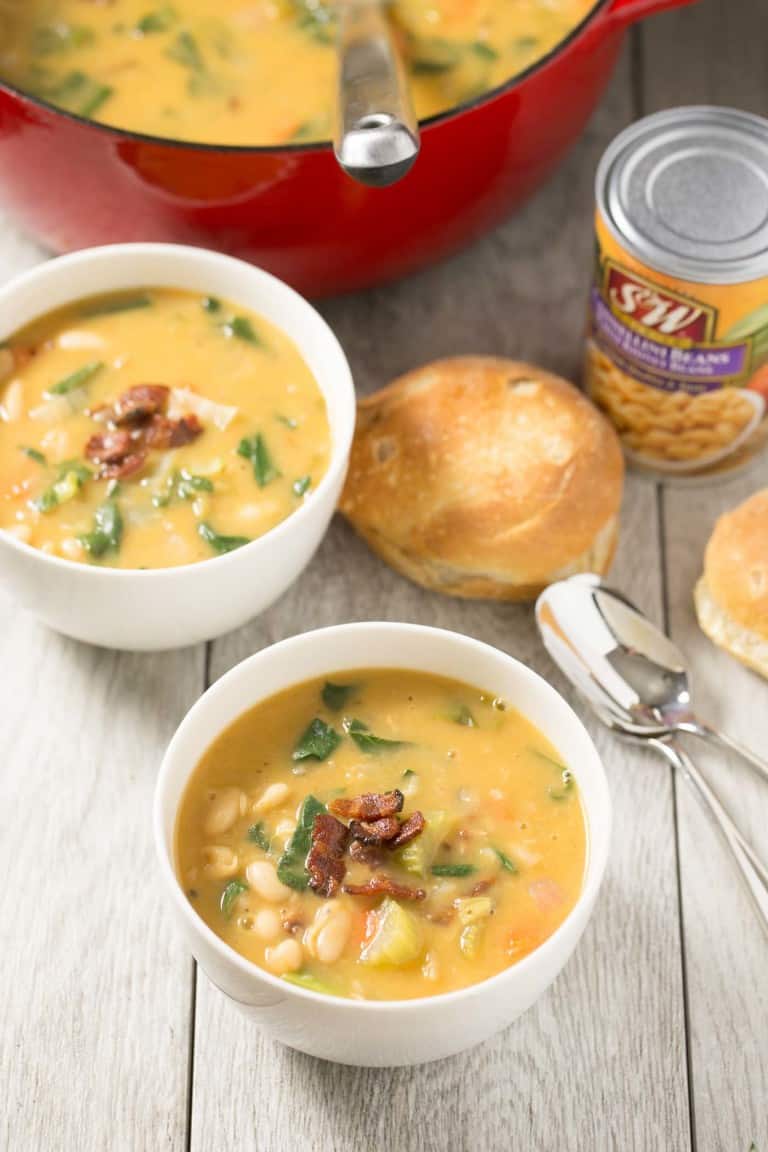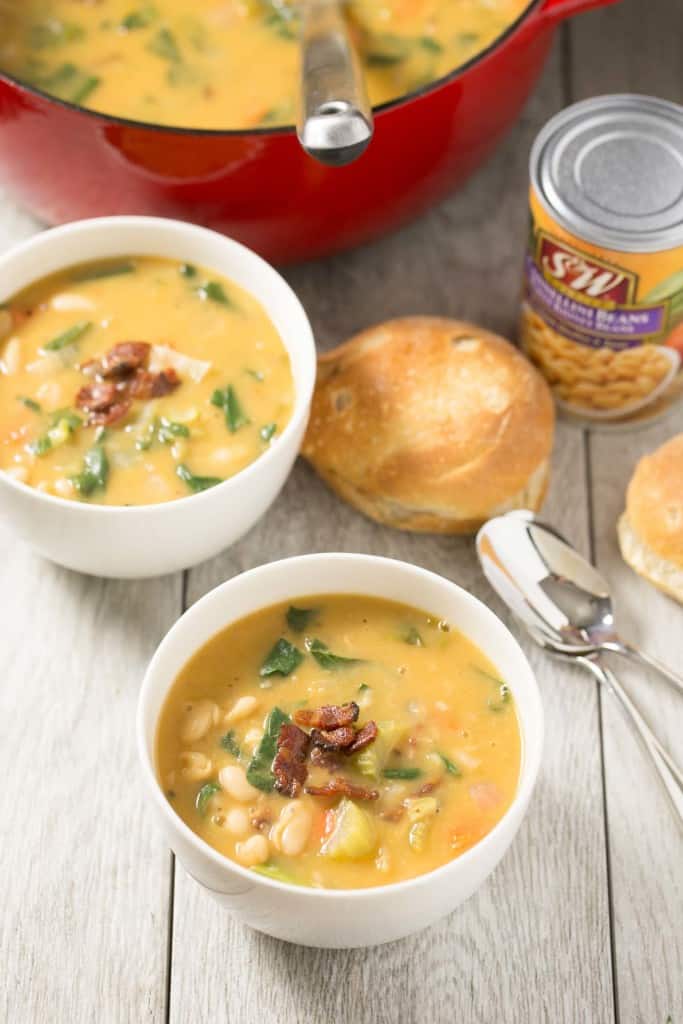 Friends. This bacon and white bean stew is my FAVORITE dinner I have made all winter. I've made it once a week since December. I can't handle how tasty it is.
First of all Bacon. Is there anything bacon doesn't make better? I cook the bacon first, take it out, and don't add it back in until the very end. This keeps the bacon nice and crunchy when serving the soup. Nothing worse than soggy bacon.
I thicken the stew with some flour, which gives it a little bit of a thicker texture that is silky and smooth. By using canned cannellini beans I can have this soup ready in 45 minutes. No waiting for the dried beans to soak overnight. I love using swiss chard for some bright and fresh flavor. Perfect balance.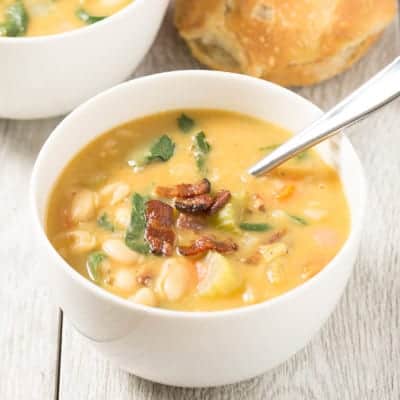 Bacon and White Bean Stew
This Bacon and White Bean Stew is a silky smooth soup full of bacon flavor with cannellini beans and swiss chard.
Ingredients
1

pound

bacon

,

sliced into 1/2" slices

1

onion

,

chopped, about 1 cup

3

large carrots

,

chopped, about 1 cup

3

stalks of celery

,

chopped, about 1 cup

1/2

teaspoon

salt

1/2

teaspoon

pepper

5

cloves

of garlic

,

grated or finely minced

2

tablespoons

tomato paste

1/2

cup

white all purpose flour

8

cups

chicken stock,

or chicken broth

3 15-oz cans cannellini beans, drained and rinsed

1

bay leaf

1

bunch swiss chard

,

chopped, about 4 cups
Instructions
In a dutch oven or large soup pot, cook the bacon over medium low heat. Stir occasionally, until the bacon is crispy. About 10 minutes. Remove the bacon and drain the grease on a paper towel lined plate. Set the bacon aside.

Remove all but 2 tablespoons of the bacon fat from the dutch oven. Increase the heat to medium high. In the bacon fat, cook the chopped onion, carrots and celery. Season with salt and pepper. Cook until the vegetables are softened, about 8-10 minutes. Add the garlic and tomato paste, cook for another minute until the garlic is fragrant. Add the flour. Stir and cook the flour for 1 minute. Slowly pour in 1-2 cups of the chicken stock while stirring the flour covered vegetables constantly. This will prevent any lumps. It will look like a thick gravy. Add the remainder of the chicken stock, the cannellini beans and the bay leaf. Bring the soup to a boil, and cook for another 10 minutes. Remove the bay leaf, add the swiss chard, stir to combine it to the soup, and turn off the heat. Allow the soup to cool for about 5 minutes. Right before serving, stir in the cooked bacon bits. By adding the bacon at the end the bacon stays crispier. Taste for salt and pepper, add more if necessary. Remember, bacon is salty!

Serve warm. Leftovers will keep in an airtight container for 5 days in the fridge.
Calories:
574
,
Total Carbs:
74.8
g
,
Protein:
29.2
g
,
Fat:
17.9
g
,
Fiber:
11.5
g
,
Net Carbs:
63
g
Did you make this recipe?
Please Leave a comment and give this recipe a rating!