California Turkey Club Wrap with turkey, bacon, avocado, tomato and lettuce. A very delicious and balanced lunch!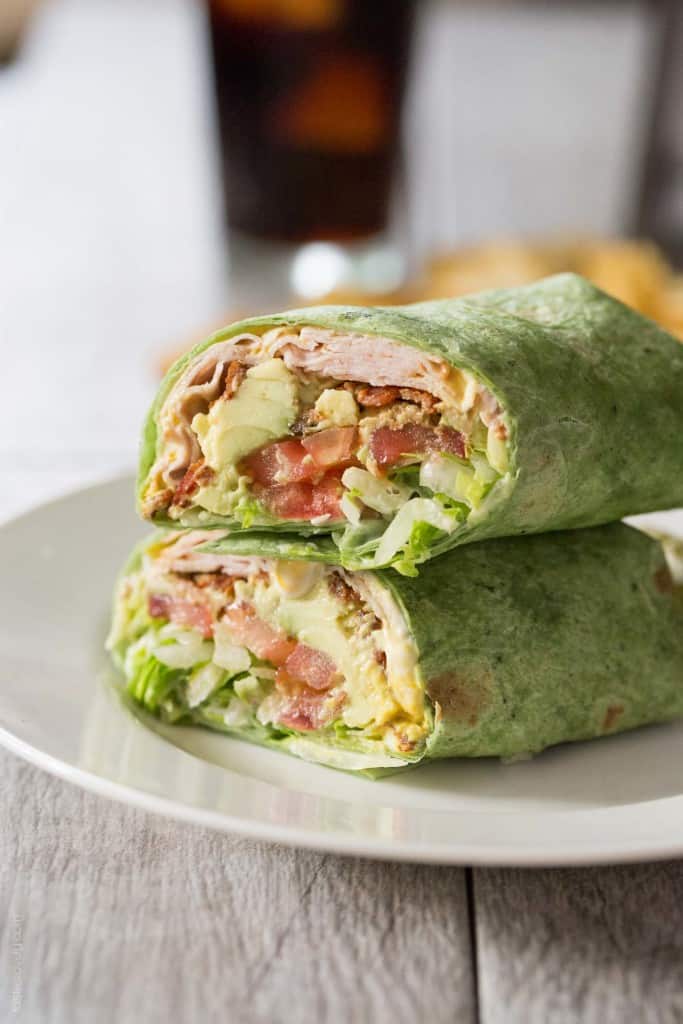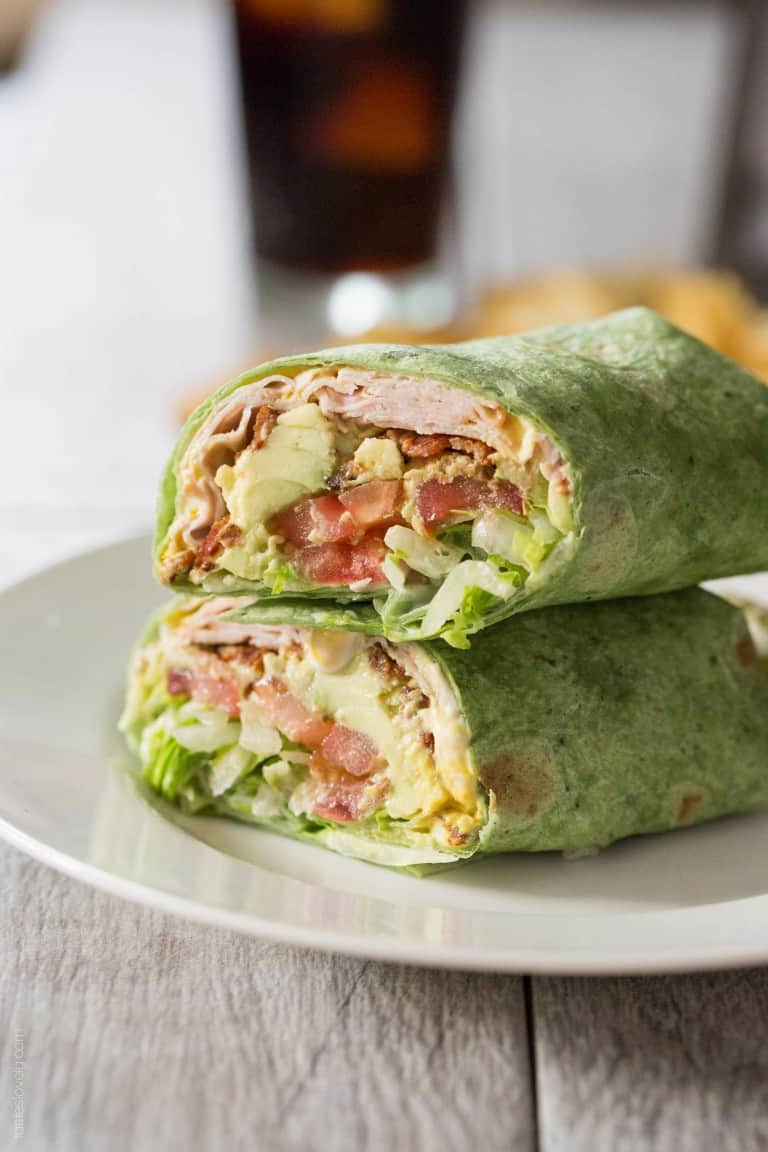 Did you know there is such a thing as "dream feeding" a newborn. Because I didn't. Until my pediatrician told me about it. And it has saved me so much sleep at night!
Dream feeding is when you feed the baby while they're asleep, so they'll sleep longer into the night and you can get more hours of sleep. I was skeptical when my pediatrician told me this. No way Josh will stay asleep AND eat. It sounded too good to be true.
It's not.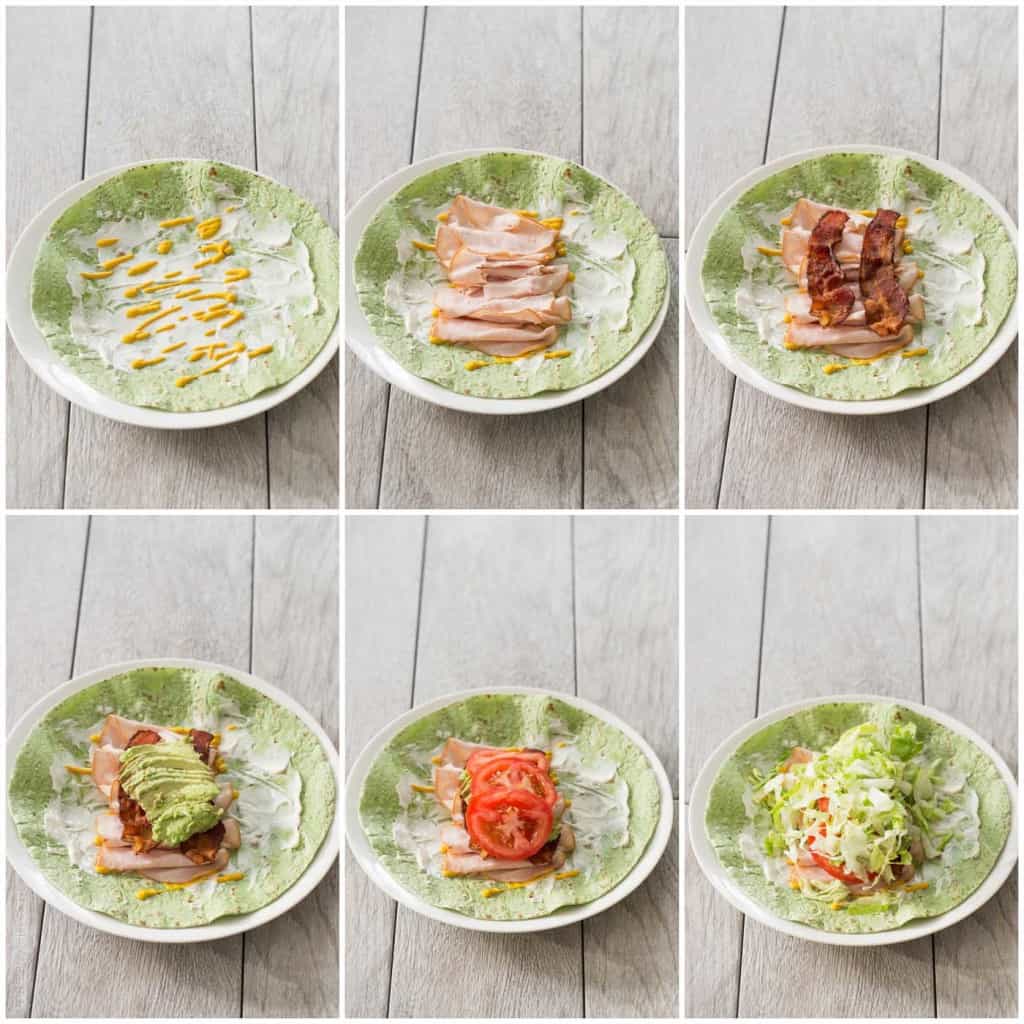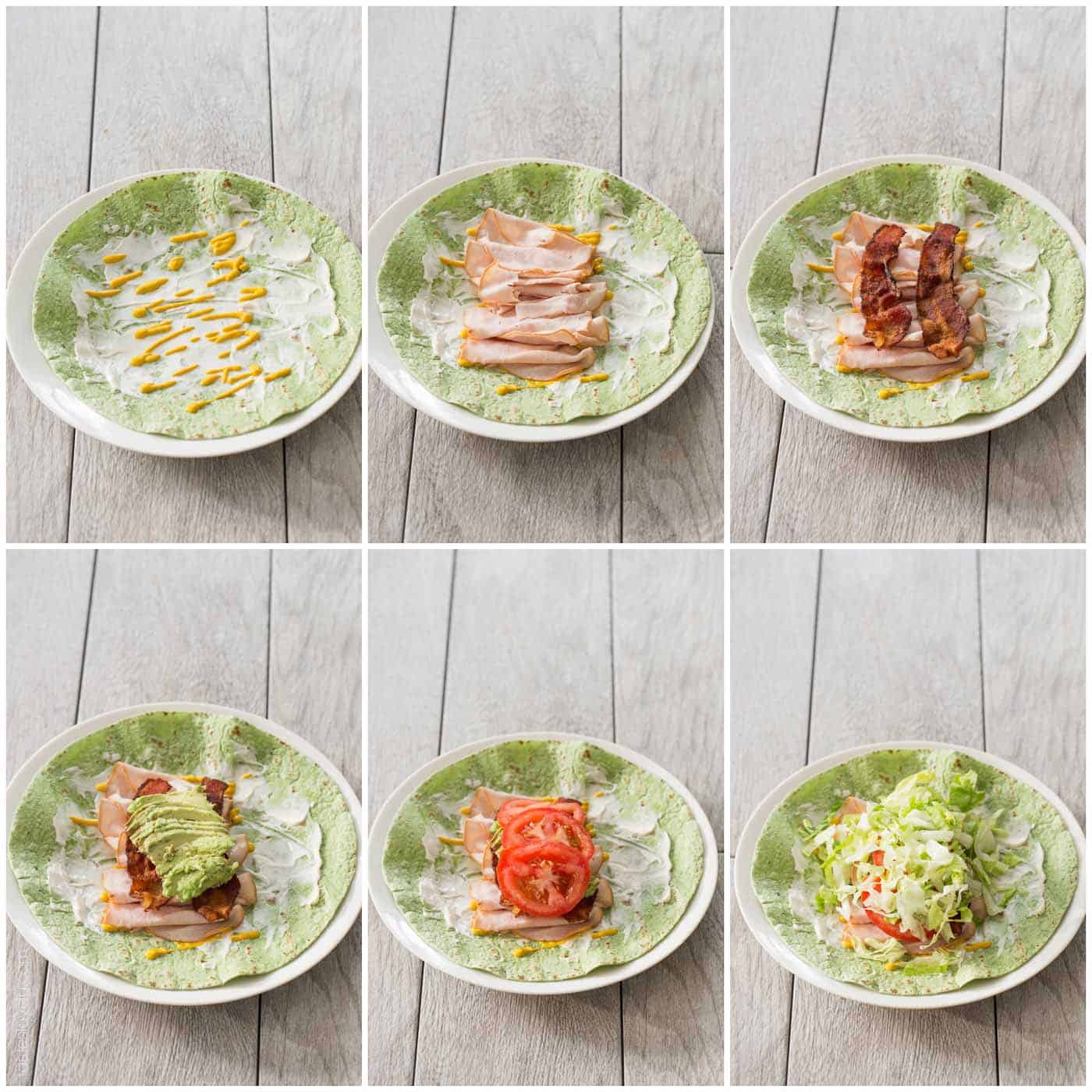 Before Josh would go to bed around 7 or 8. I would go to bed around 10:30, and wait for him to wake up to eat, which was usually around 12:30am.
But now!
I pump a bottle right before I go to bed, pick up my perfect sleeping angel, and gently wedge the bottle into his mouth. And he eats! While sleeping! It is the cutest thing you've ever seen. And the greatest. Because then he'll continue sleeping until around 3 or 4am. Which means I get to sleep from 11pm-4am. 5 glorious hours in a row, and less waking up in the night for me.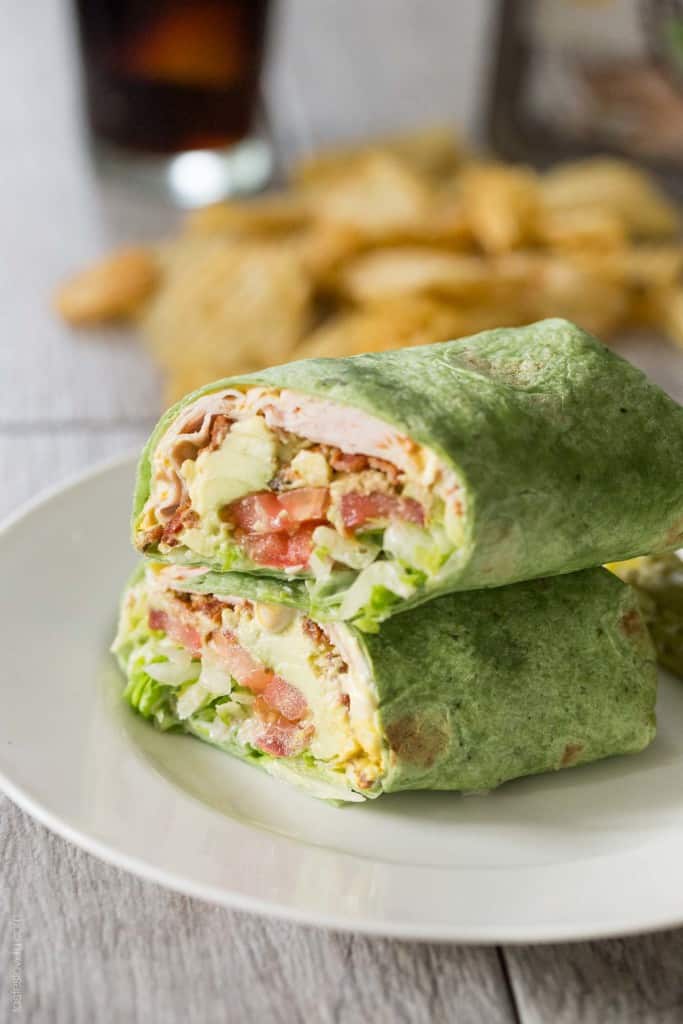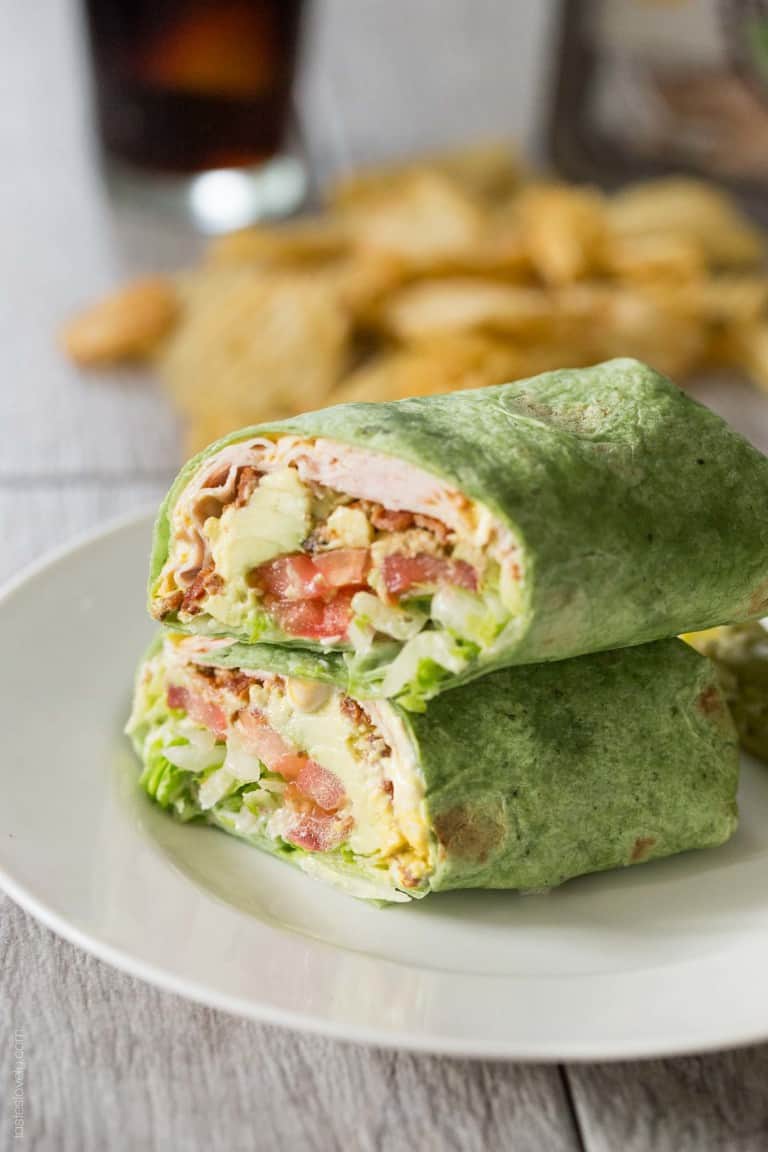 Can you imagine being so sleepy that you don't even wake up while someone is feeding you? If anyone ever did that to me, I hope it's with this California turkey club wrap. I would not mind waking up to chewing this.
I am really loving fun lunches lately. And this wrap is fun and tasty. Everything I love on a sandwich: turkey, bacon, avocado, tomato, and shredded crunchy lettuce.
Do you shred your lettuce? It's the only way to have it on your sandwich. Then you can get a perfect layer of lettuce. You must try it.
And I love having it in a wrap. I'll make 3 wraps at a time, eat one and then cover and refrigerate the other 2. Wraps don't get soggy when refrigerated like bread does. Then lunch is ready and waiting for me the next 2 days.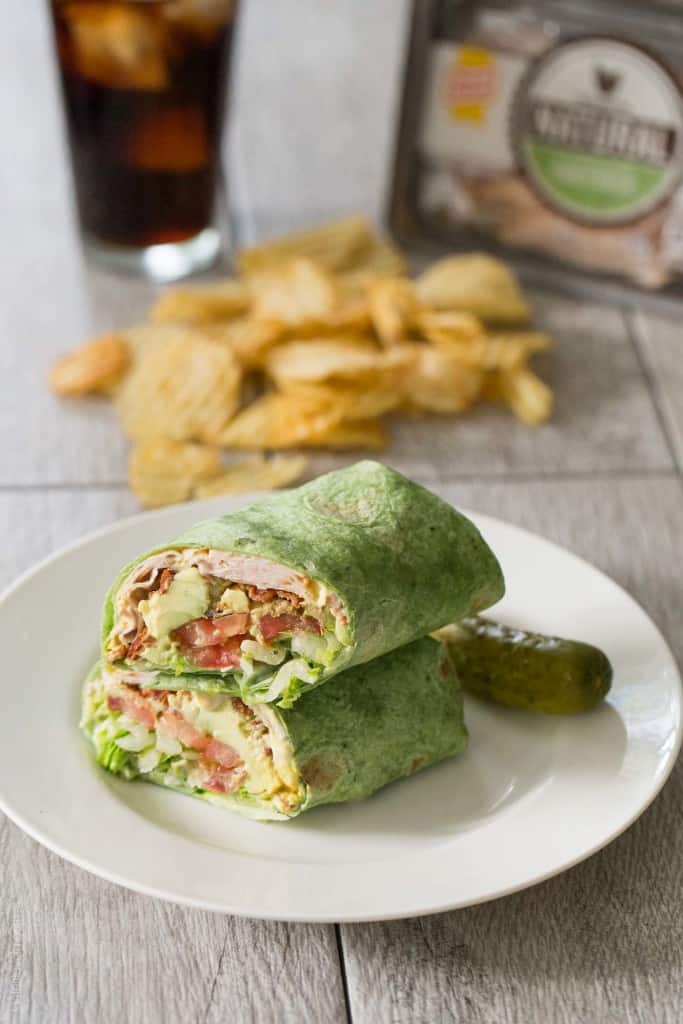 The real star of this California turkey club wrap is definitely the turkey. It's made with my very favorite lunch meat, Oscar Mayer Selects Natural.
While dream feeding may seem too good to be true, with no artificial ingredients and real quality taste, you can rely on Oscar Mayer Selects Natural to be one thing that's not too good to be true. With Oscar Mayer Selects Natural, you don't need to give up the good stuff to enjoy the quality cold cuts your family deserves.
Oscar Mayer Selects Natural is available in five flavorful varieties including Slow Roasted Turkey, Applewood Smoked Turkey, Rotisserie Seasoned Chicken, Applewood Smoked Ham and Slow Roasted Roast Beef. Slow Roasted Turkey is my favorite. I always have it in my fridge so a delicious deli sandwich or wrap is just a few minutes away.
Print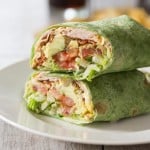 California Turkey Club Wrap
---
Author:

Prep Time:

5 mins

Total Time:

5 mins

Yield:

1 wrap
Ingredients
1 spinach tortilla wrap
mustard
2 ounces Oscar Mayer Selects Natural Slow Roasted Turkey Breast
2 slices of cooked bacon
2 ounces avocado, sliced
2 slices of tomato
1 cup of shredded iceberg lettuce
---
Instructions
Assemble the turkey wrap by layering in the order the ingredients are listed. Wrap, cut, and serve.
Will keep wrapped in saran wrap for 3 days if you are making it in advance for lunch for the week.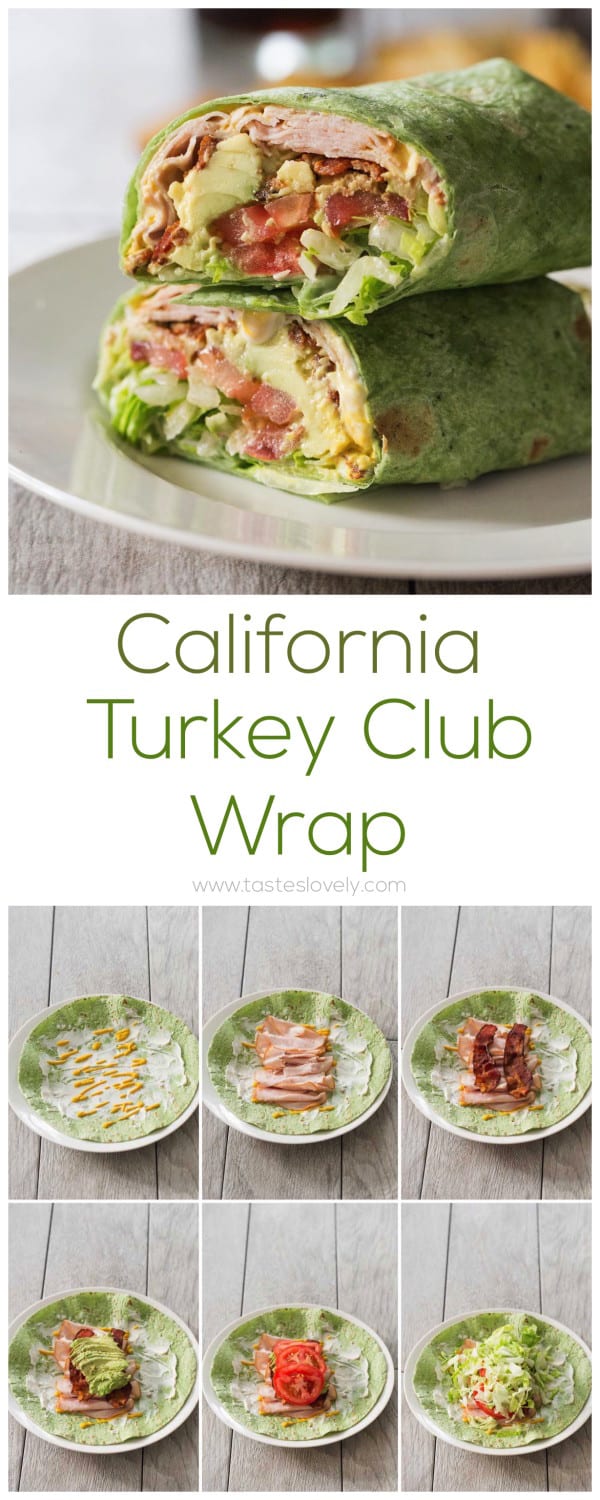 More Lunch Favorites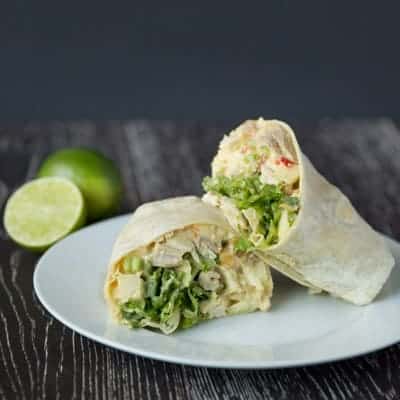 Curried Chicken Salad and Apple Wraps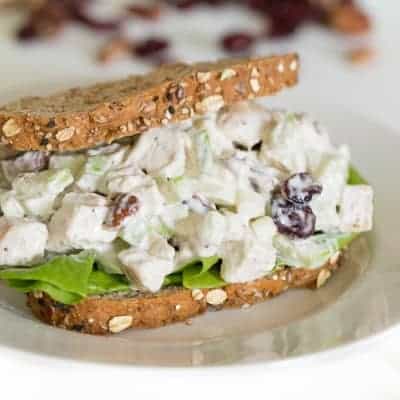 Fall Chicken Salad with Apples, Cranberries and Pecans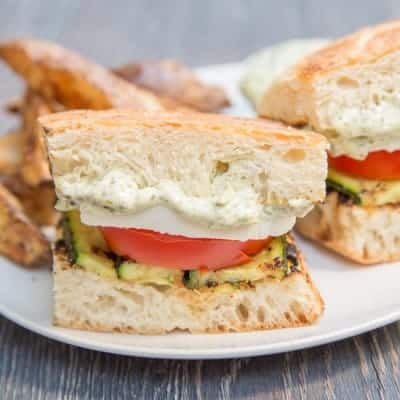 Grilled Zucchini Caprese Sandwiches with Pesto Mayo
This post is sponsored by Oscar Mayer. All opinions are my own. Thanks for supporting the brands that support me!
Never Miss a Recipe!
Get new posts delivered straight to your inbox! For free!