The BEST Stir Fry Sauce
This stir fry sauce is easy, versatile, & perfect for any stir fry recipe! It's quick & easy, and ready in under 10 minutes. Pour this homemade sauce over your favorite stir-fried meat & veggies and you'll never think about store-bought or takeout stir-fry sauce again!
What Makes This Recipe Great
Stir fry is a quick, easy, kid-friendly meal that is full of protein, veggies, and a delicious sauce. Allow me to introduce you to a recipe for the BEST stir fry sauce ever!
I love a great stir fry packed with veggies and meat, but let's be honest, the most important part is an amazing sauce! This recipe will blow your mind. It is homemade, has simple ingredients, and is ready in under 10 minutes! Did I mention it's better than takeout?!
Use this sauce for all kinds of stir fry! Beef stir fry, chicken stir fry, keto stir fry, and more! And don't forget to use my cauliflower rice hack to make your stir fry even healthier! The options are truly endless with this delicious sauce.
Watch The Recipe Video
Note: You can also watch this recipe video on YouTube.
Recipe Highlights
Flavorful: Soy sauce, sesame oil, rice vinegar, ginger, and garlic are all whisked together into a versatile, simple, delicious sauce.
Diet-Friendly: This sauce can be adjusted to be vegan or gluten-free without losing any flavor.
Quick & Easy: It's super simple, and the kind of recipe you'll want to make again and again! This recipe pairs perfectly with easy stir fry recipes.
Ingredient Notes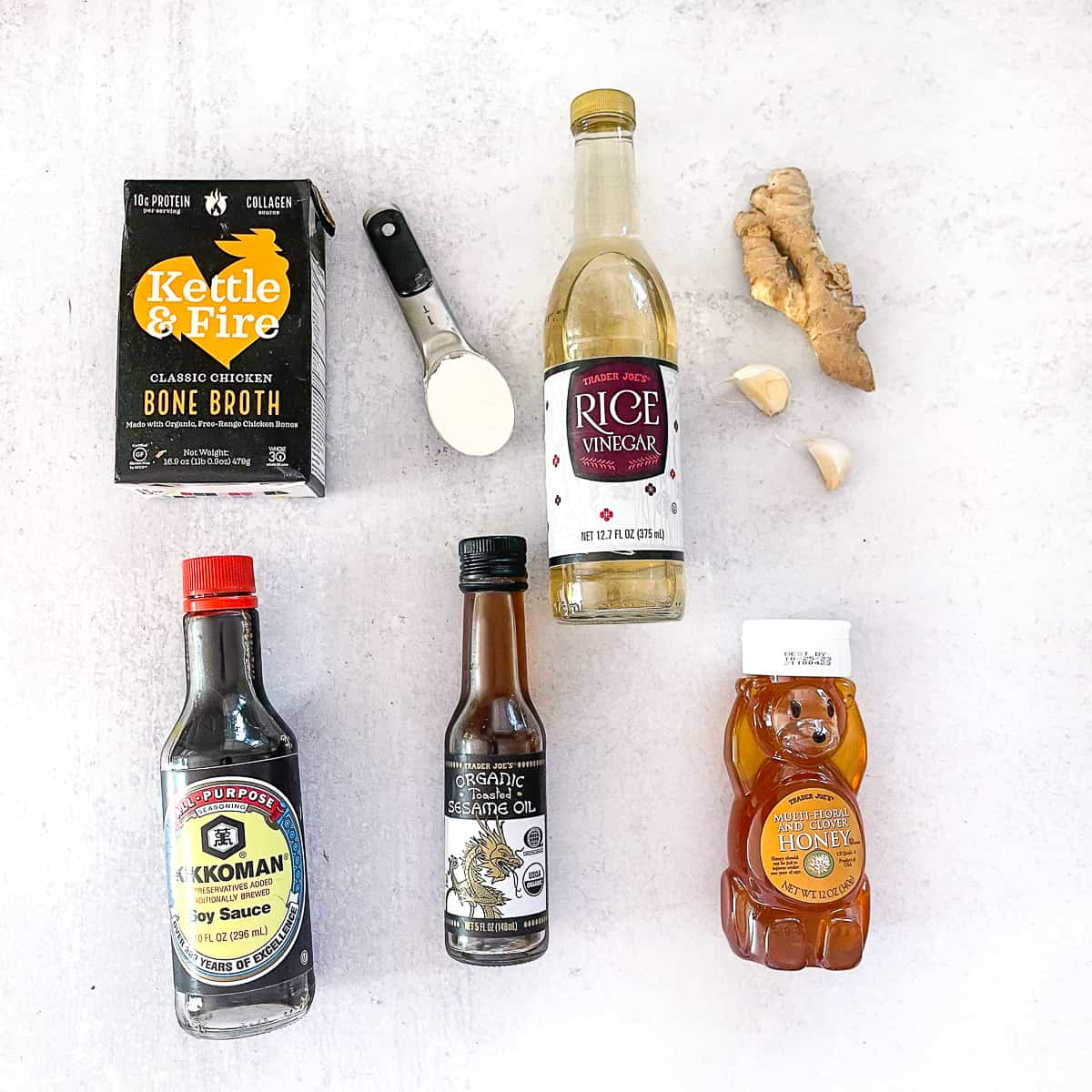 Soy Sauce: I like to use low-sodium soy sauce to make this recipe healthier. If you need it to be gluten-free, swap the soy sauce for Tamari (you seriously can't tell the difference!).
Chicken Stock (or Broth): I use Kettle + Fire organic chicken bone broth (my favorite! Use code TASTESLOVELY for 20% off!) for this recipe, but if you're vegan, use vegetable broth. It's a totally easy substitution that still tastes just as good!
Corn Starch: You can use corn starch, but a healthier swap for corn starch is either Tapioca Flour or Arrowroot powder. These have fewer carbs and are excellent thickeners!
Honey: Instead of brown sugar, I use a healthier swap like honey. If you want a vegan alternative, you can also use maple syrup or agave nectar.
Sesame Oil & Rice Vinegar: These are both pretty easy to find at the grocery store.
Fresh Ginger: You can use grated ginger, minced ginger, ginger paste, or ground ginger for this recipe.
Garlic Cloves: Use either finely grated or minced garlic.
Recipe Step by Step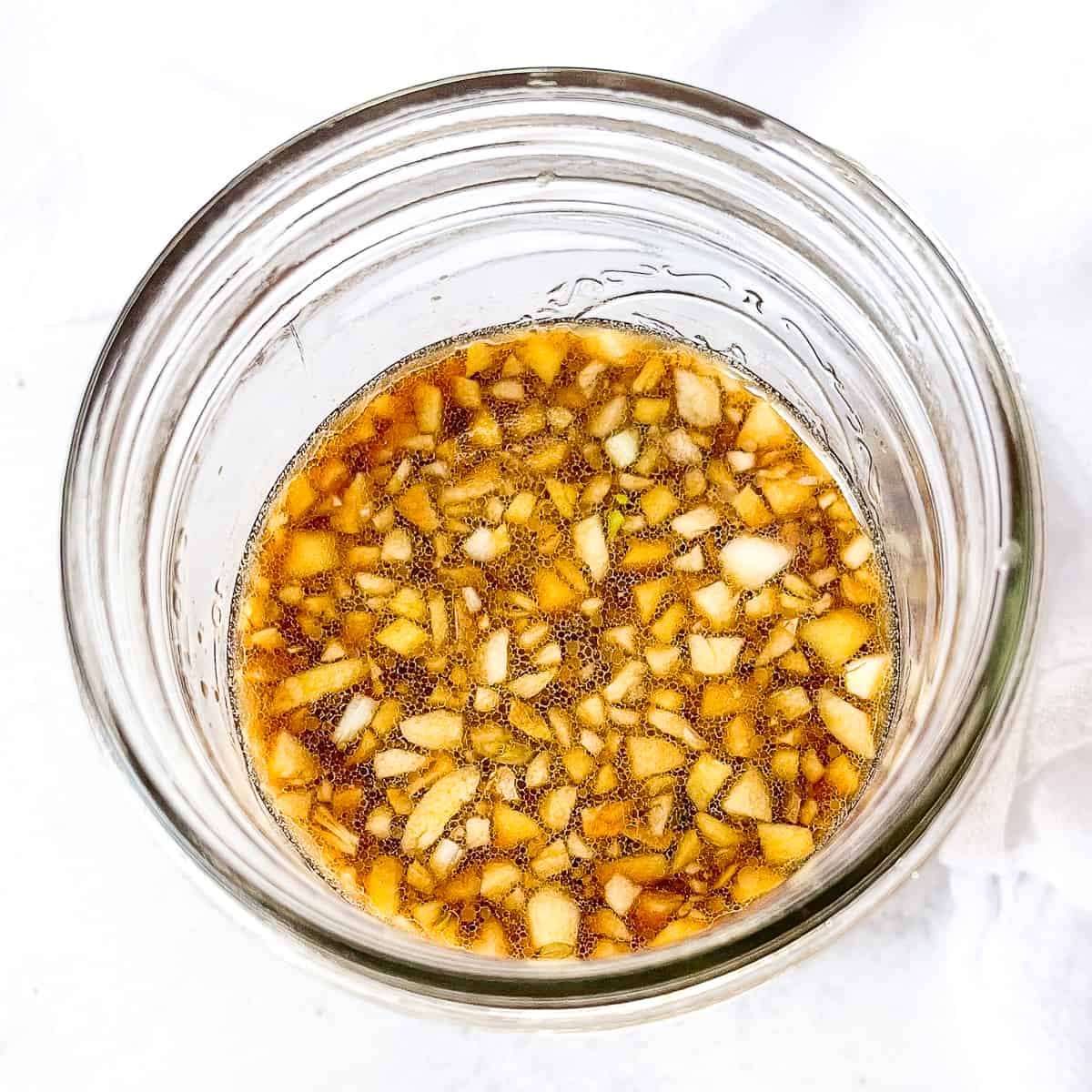 Whisk all ingredients together in a bowl or put all the ingredients in a mason jar (or another container with a tight lid), close the lid, and shake until combined! 
Expert Tips
Servings: This recipe makes 1-1/4 cups of sauce. This is the perfect amount of sauce for a chicken stir fry that serves 4. Use 1lb boneless skinless chicken breasts, cubed, 1 head of broccoli, 2 red bell peppers, 1 yellow onion, and 1 zucchini. Chop all veggies before cooking. Serve with 2 cups of cooked white rice.
Double-Batch: If you want your sauce to serve 8 people, simply double the recipe!
How to use this sauce: When you add this sauce to your stir-fried veggies and protein, add the sauce last. Let it cook for 3 full minutes over medium high heat in the stir fry to give the thickening agent time to thicken.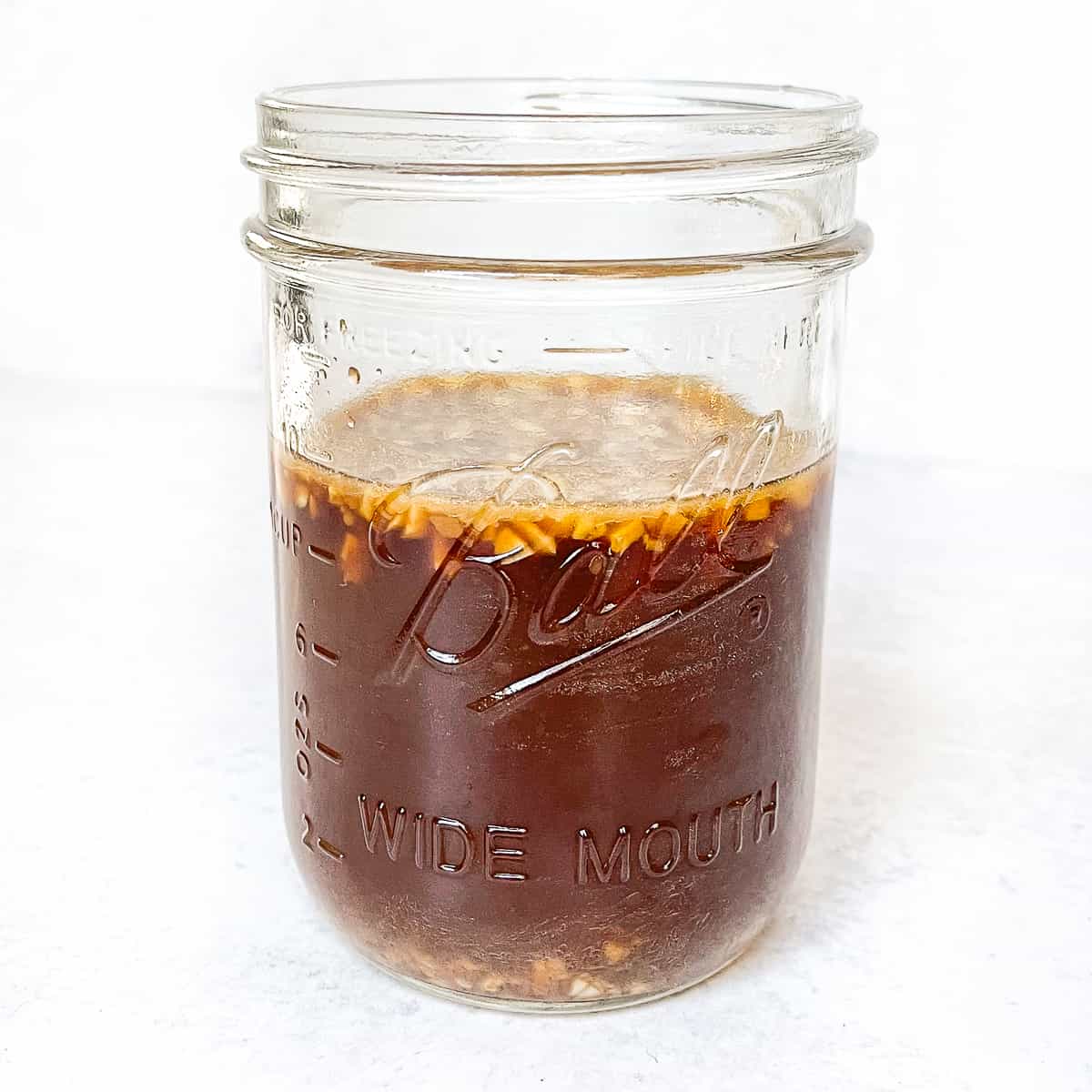 Stir Fry Sauce Variations
With just a few swaps, you can easily make this sauce fit your dietary needs and it will still taste AMAZING!
Vegan: Use vegetable broth and agave nectar!
Spicy: Add red pepper flakes (to taste).
Keto: Swap corn starch for tapioca flour or arrowroot, and monk fruit sweetener, or click here for my Keto Stir Fry Sauce recipe!
Gluten-Free: Use tamari instead of soy sauce.
Vegetarian: Use vegetable broth instead of chicken broth!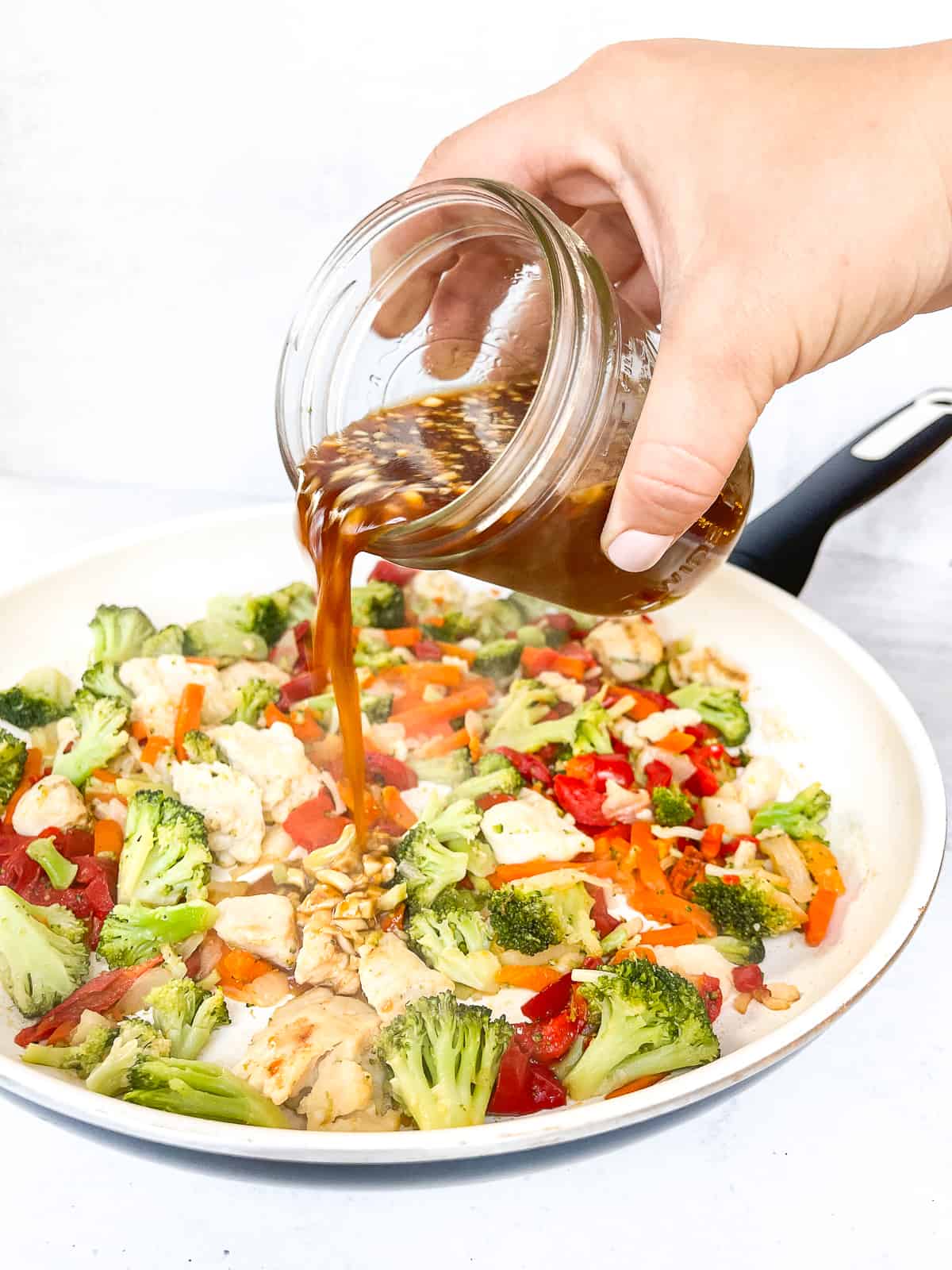 Recipe FAQs
Is this sauce healthy?
Yes! I've listed several swaps to make this stir fry sauce recipe healthier and lifestyle-friendly. It's super versatile and tastes amazing in all the different ways you make it!
How do I store this sauce?
Keep refrigerated in an airtight container for up to 1 week, though you will probably eat it sooner!
Can I freeze this recipe?
If you have leftover sauce, you can freeze it! Freeze in any freezer-safe container for at least 6 months. Thaw, then use in your stir fry.
How much sauce do I need to make stir fry?
This recipe makes 1-1/4 cups of sauce, which is the perfect amount for a stir fry that serves 4 people. However, If you are serving more people, you can increase the number of servings when you print the recipe below!
Is this recipe keto-friendly?
While you can make a few swaps to make this recipe keto, I've already created an even healthier version of this oh-so-popular recipe. Check out this Keto Whole30 stir fry sauce recipe!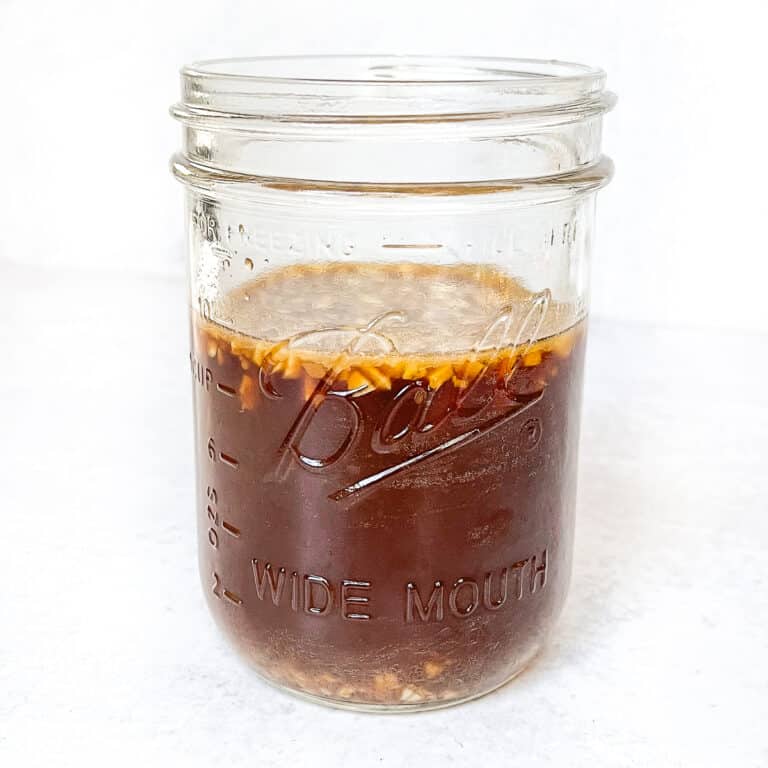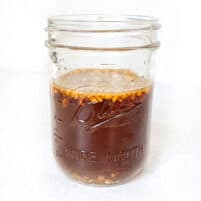 The BEST Stir Fry Sauce
This stir fry sauce is better than store-bought & takeout! It's easy, delicious & ready in under 10 minutes. Smother it over stir-fried meat & veggies!
Ingredients
1/2

cup

low sodium soy sauce

2

tablespoons

fresh chopped ginger

2

cloves

of garlic

,

grated or finely minced

1

tablespoon

corn starch

1

tablespoon

honey

1

teaspoon

sesame seed oil

1

teaspoon

rice vinegar
Instructions
Make The Stir Fry Sauce

In a mason jar (or small bowl), combine all the ingredients. If using a mason jar, I love adding on the lid and shaking to combine. If using a bowl, whisk to combine. Whisk all ingredients together.

Makes 1-1/4 cups. You can use immediately, or keep refrigerated in an airtight container for 1 week.

How To Make A Stir Fry

Heat a large skillet over medium high heat. Add in 2 tablespoons oil, then 1 pound protein of your choice. (Works with chopped or ground chicken, sliced or ground beef, peeled + deveined shrimp, chopped or ground pork, tofu, etc) Cook for 5-7 minutes, stirring occasionally, until the protein is cooked through. Transfer the protein to a plate.

To the same skillet, add in another 2 tablespoons oil and 4 cups of chopped vegetables of your choice. (broccoli, green beans, bell pepper, asparagus, onion, mushrooms, zucchini, etc). Cook 5-7 minutes until the veggies are crisp tender.

Add back in the protein, and pour over all 1-1/4 cups of the sauce. Allow to come to a bubble, which will activate the thickener.

Remove from the heat and serve warm over cooked rice, cauliflower rice or noodles.
Notes
Keto: If you want a keto version of this recipe, I have a whole separate recipe for a Keto Stir Fry sauce that is just as delicious and has a fraction of the carbs!
Freezing: If you have leftovers you can freeze it! Freeze in any freezer-safe container for at least 6 months. Thaw, then use in your stir fry.
Spicy: For a fun kick, add in red pepper flakes, sriracha, or your favorite hot sauce! I like to add in 1 tablespoon of sriracha for mild spice. Add more if you like it spicier!
Soy Sauce Substitution: In place of soy sauce you can use tamari, liquid aminos or coconut aminos. Same quantity for all substitutions. I find coconut aminos to not be as salty, so you may need to season to taste with additional kosher salt.
Chicken Stock Substitution: You could use any stock or broth of your choosing, chicken, beef or veggie would work. You could even use water if that's all you have on hand. Same quantity for all substitutions.
Fresh Ginger Substitution: In place of fresh ginger, you could use 2 teaspoons of powdered ginger. Or leave it out if you don't have it.
Corn Starch Substitution: In place of corn starch you could also use all-purpose flour or tapioca flour (which is gluten-free!). Same quantity for all substitutions.
Honey Substitution: In place of honey you could use maple syrup, agave nectar, white sugar, brown sugar, or coconut sugar. Same quantity for all substitutions.
Rice Vinegar Substitution: In place of rice vinegar you could use white vinegar, or skip it if you don't have it on hand. I love the tang it adds to the sauce to balance out the sweetness.
Serving:
4
g
,
Calories:
74
,
Total Carbs:
12.1
g
,
Protein:
3.3
g
,
Fat:
1.6
g
,
Fiber:
0.2
g
,
Net Carbs:
12
g
Did you make this recipe?
Please Leave a comment and give this recipe a rating!