Rosemary Almond Crusted Chicken
Quick and healthy rosemary almond crusted chicken breasts. Baked in the oven, and full of nutty flavor!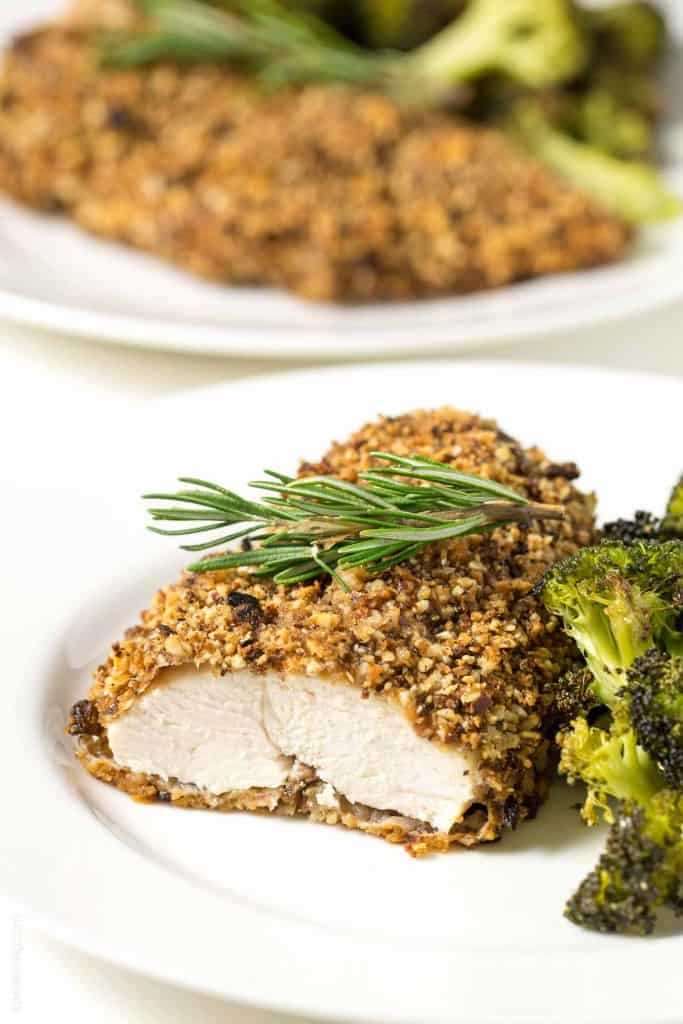 Shawn and I have been going to this child birth class that our hospital offers to expecting couples. Along with being very informative, the biggest takeaway has been the crazy and whacky couples who are also taking the class.
There is the couple where the husband is TERRIFIED about his wife's water breaking. "If it breaks, do I have to clean it up? Oh, and we have a cat. What if my cat licks it up? Is that bad for the cat?" Oh my god mister, yes, you'll probably want to help your laboring wife by cleaning it up. Preferably before your cat pounces on it.
Then there is the couple with the husband who is TERRIFIED of watching his wife give birth. After watching a rather graphic video of a labor (um, the video showed allll of it), the husband raised his hand right away and said, "What if I get freaked out? Am I allowed to leave the room? And it seems like labor is going to take a long time. What if I get hungry?" The wife gave her husband quite the look after he asked that question. I would love to hear the conversation that took place in their car after they left.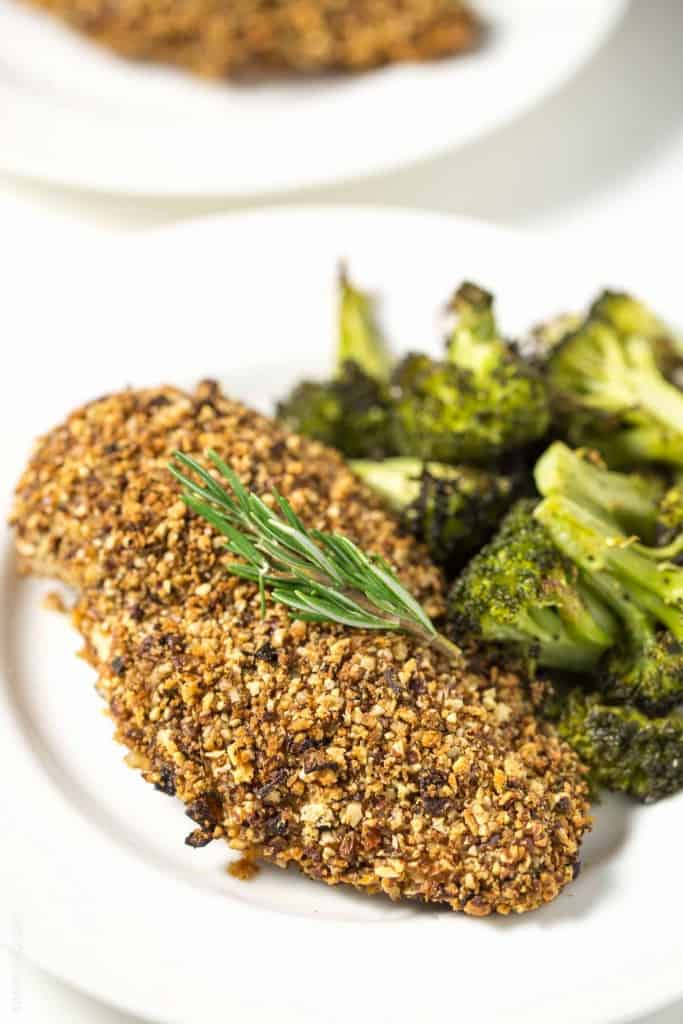 And I can't forget about the ultra rich couple. The instructor was talking about car seat safety, and how the car seat always has to be in the back seat. The husband raised his hand and asked, "I drive a Corvette that doesn't have a backseat. Can I put the baby in the front seat?" Um, no.
Shawn and I looked at each other, and Shawn gave me this look where he barely tilted his head towards the guy and raised his eyebrows. It's his "what's up with this guy?" look that I know so well.
I. could. not. stop. laughing.
I tried to hold it in, which only made my laughing fit worse. Which then made Shawn start laughing, which made me laugh even harder.
Shawn and I are so not car people. If you paid me $1 million cash, I could not tell you the year or model of my car. I'm serious. I just know it's an older Lexus. Could be a 2000? Could be a 2003? I think there's an LX in the model name or something? No clue. And here this guys biggest concern is that he can't drive his newborn around in his Corvette.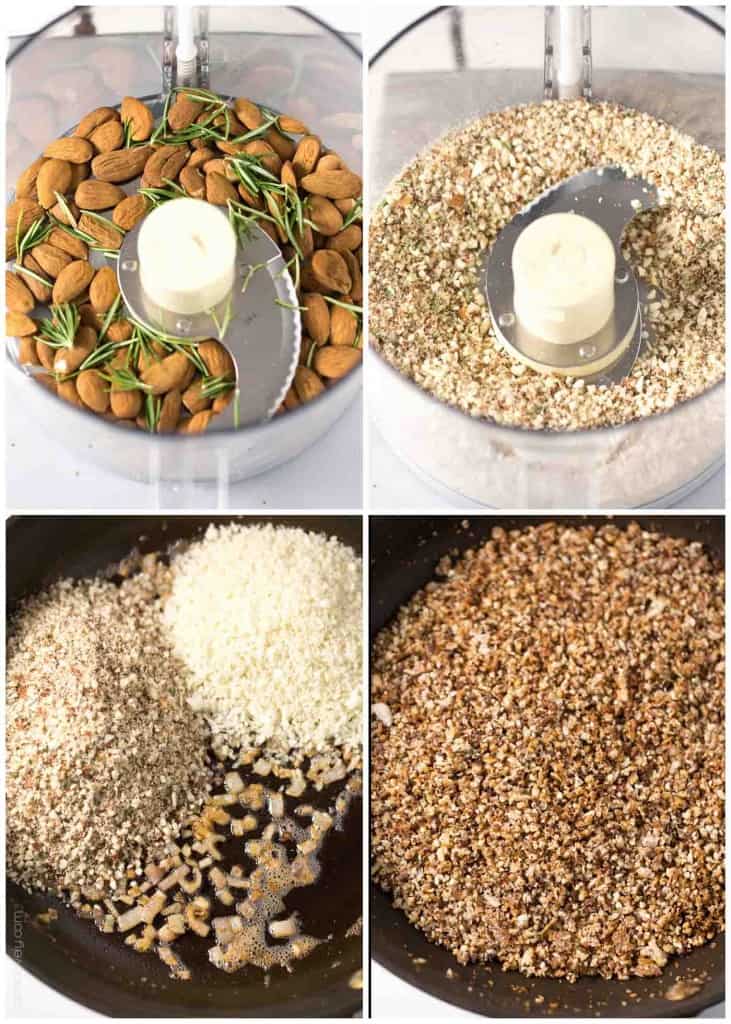 The best part of the class is when the instructor turns down the lights and has the women practice their breathing while the husbands rub their back/shoulders/arms to help us cope thru contractions. After about 10 minutes, Shawn leaned down and whispered in my ear, "You tricked me and brought me to this class so you could get a massage, didn't you?" Then he gave me a sweet little kiss on the forehead. He thinks he's so funny.
And then a woman who was 38 weeks pregnant accidentally farted during breathing exercises, and I had to pinch Shawn's leg to keep him from laughing.
Yes, we're that couple who is laughing at everything. These classes have turned out to be the opposite of boring.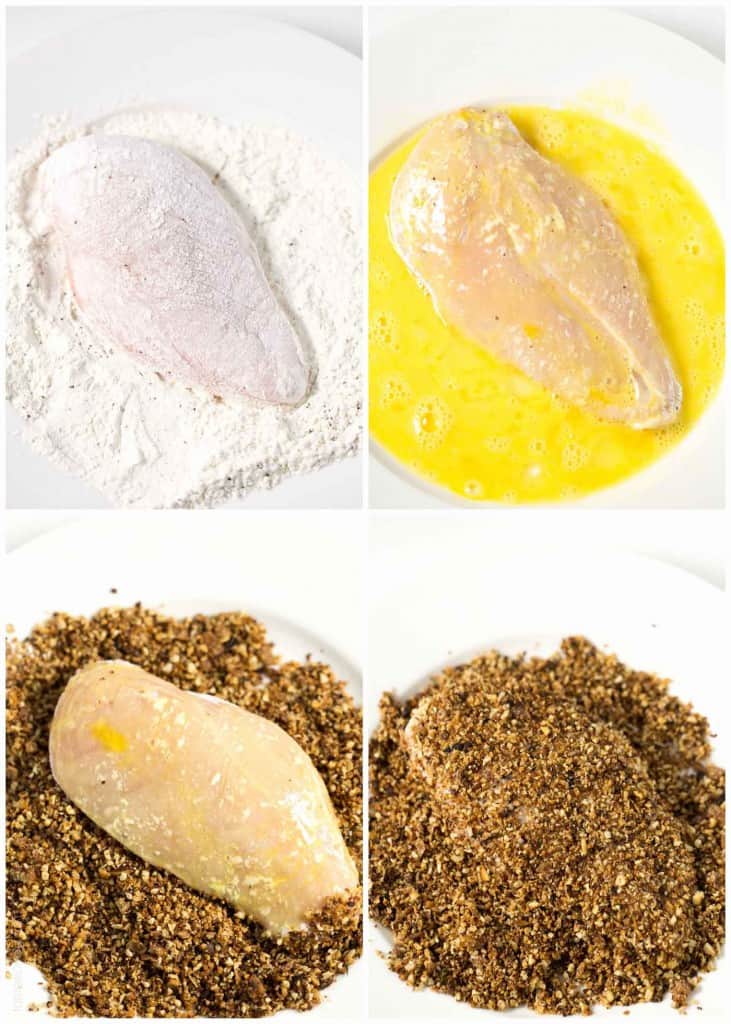 You know what else is the opposite of boring? These rosemary almond crusted chicken breasts. I cook chicken for dinner at least once a week, and I'm constantly trying to find new ways to mix it up. Nothing worse than plain ole chicken!
Past favorites have been this creamy mustard chicken, or my crispy baked pesto chicken parmesan, or the ultra delicious chicken mushroom fricassee.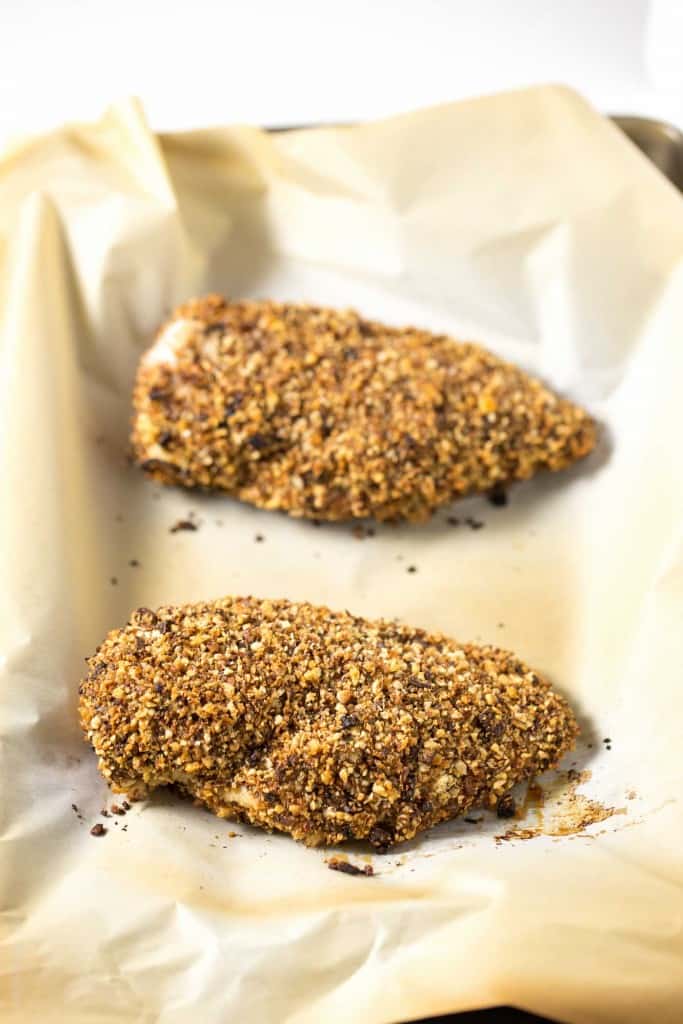 But I think we have a new favorite in our house. This rosemary almond crusted chicken is so delicious, and also so easy to throw together. It gets baked in the oven, which brings out all the nutty goodness from the almonds. It gives the chicken the perfect crunchy coating. And the rosemary gives a bright freshness to the coating.
You could really substitute any nut for almonds. I've made this before with walnuts, pecans, even pistachios! Whatever nut I have on hand. But I must say, almonds are my favorite. Can't beat that crunch!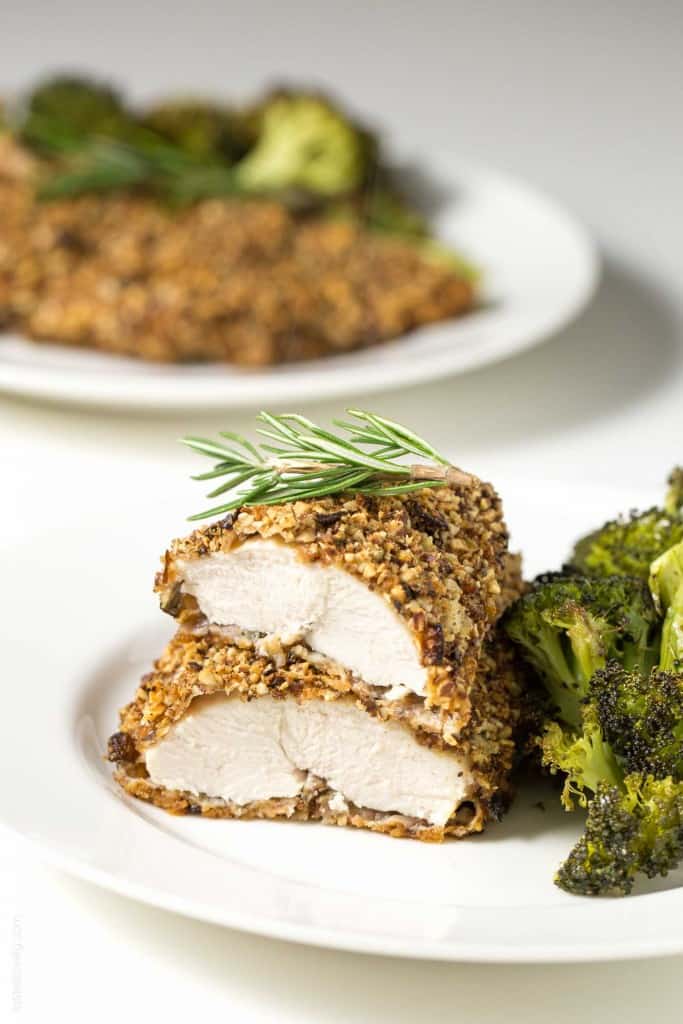 To bring the maximum amount of flavor and crunchiness to the almond coating, it is combined with panko bread crumbs, and then sauteed for a few minutes in a skillet with some butter and shallots. It takes a few more minutes, but this extra step makes all the difference in the chicken coating.
Print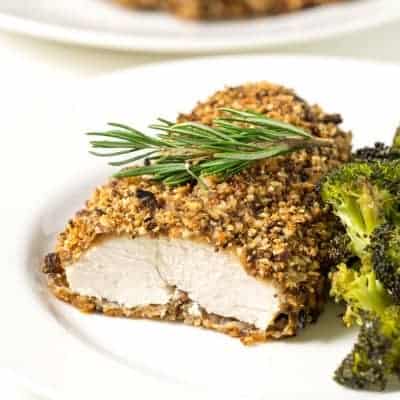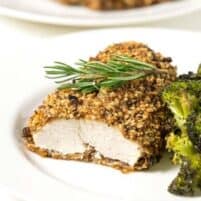 Rosemary Almond Crusted Chicken
---
Author:

Prep Time:

15 mins

Cook Time:

25 mins

Total Time:

40 mins

Yield:

4

1

x
Scale
Ingredients
4

boneless, skinless chicken breasts (I get my chicken from ButcherBox, which I highly recommend)

1 cup

raw almonds

4

sprigs of fresh rosemary, stems removed

4 tablespoon

s butter

1

medium shallot, minced

1 cup

panko bread crumbs

1 teaspoon

salt

1 cup

all purpose flour

3

large eggs, beaten
---
---
Notes
I love this meat thermometer to make sure I am cooking meat to the correct temperature!

More Chicken Recipes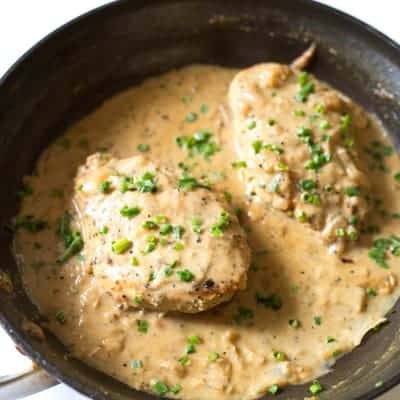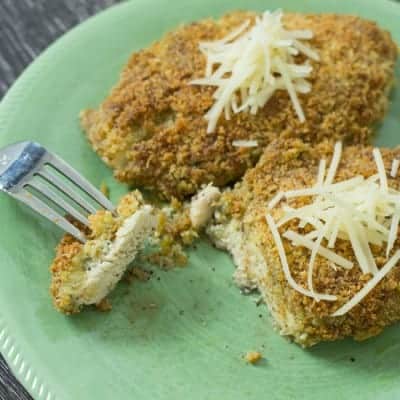 Crispy Baked Pesto Chicken Parmesan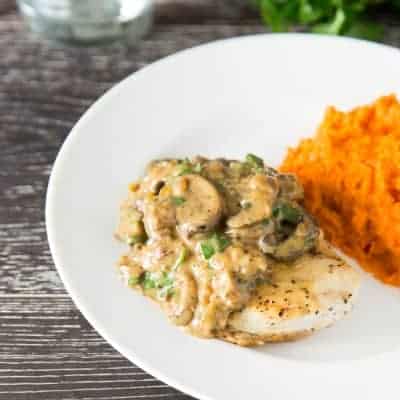 Chicken and Mushroom Fricassee
This post contains affiliate links, thanks for the love!