Keto Ranch Dressing
THE WORLD'S BEST homemade Keto Ranch Dressing Recipe! Made with dried herbs + spices, and ready in 5 minutes. Great for dips, dressing, casseroles, and more. Paleo, Whole30, low carb, gluten free, grain free, dairy free, sugar free, clean eating, real food.
Sorry for yelling at your eyes, but…
THIS IS THE BEST RANCH DRESSING YOU WILL EVER HAVE!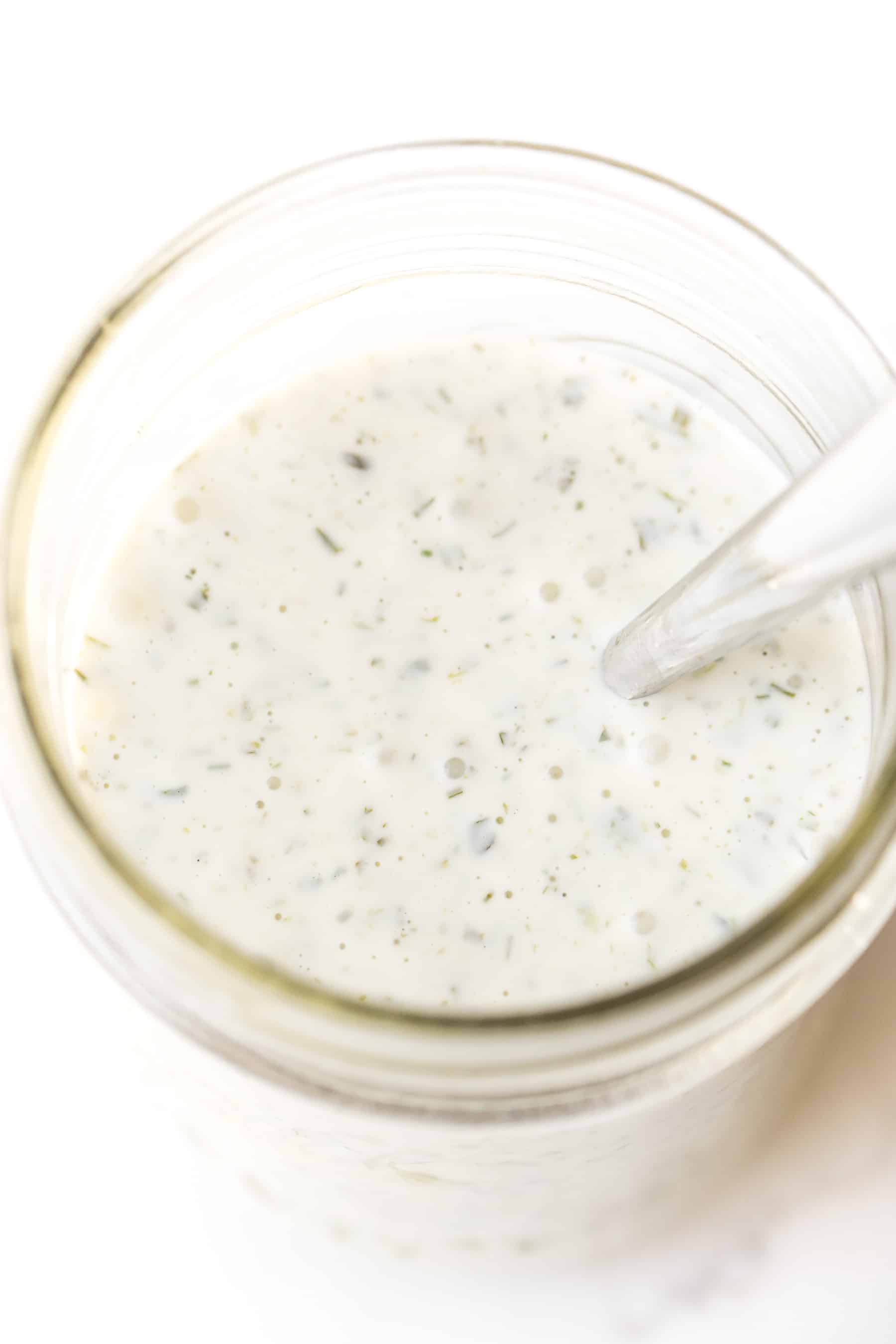 I promise you this is not an exaggeration. Hands down the best ranch dressing ever. This is coming from a total ranch snob.
Bonus? It is so healthy! This ranch is keto, whole30, paleo and dairy free. Happy dance!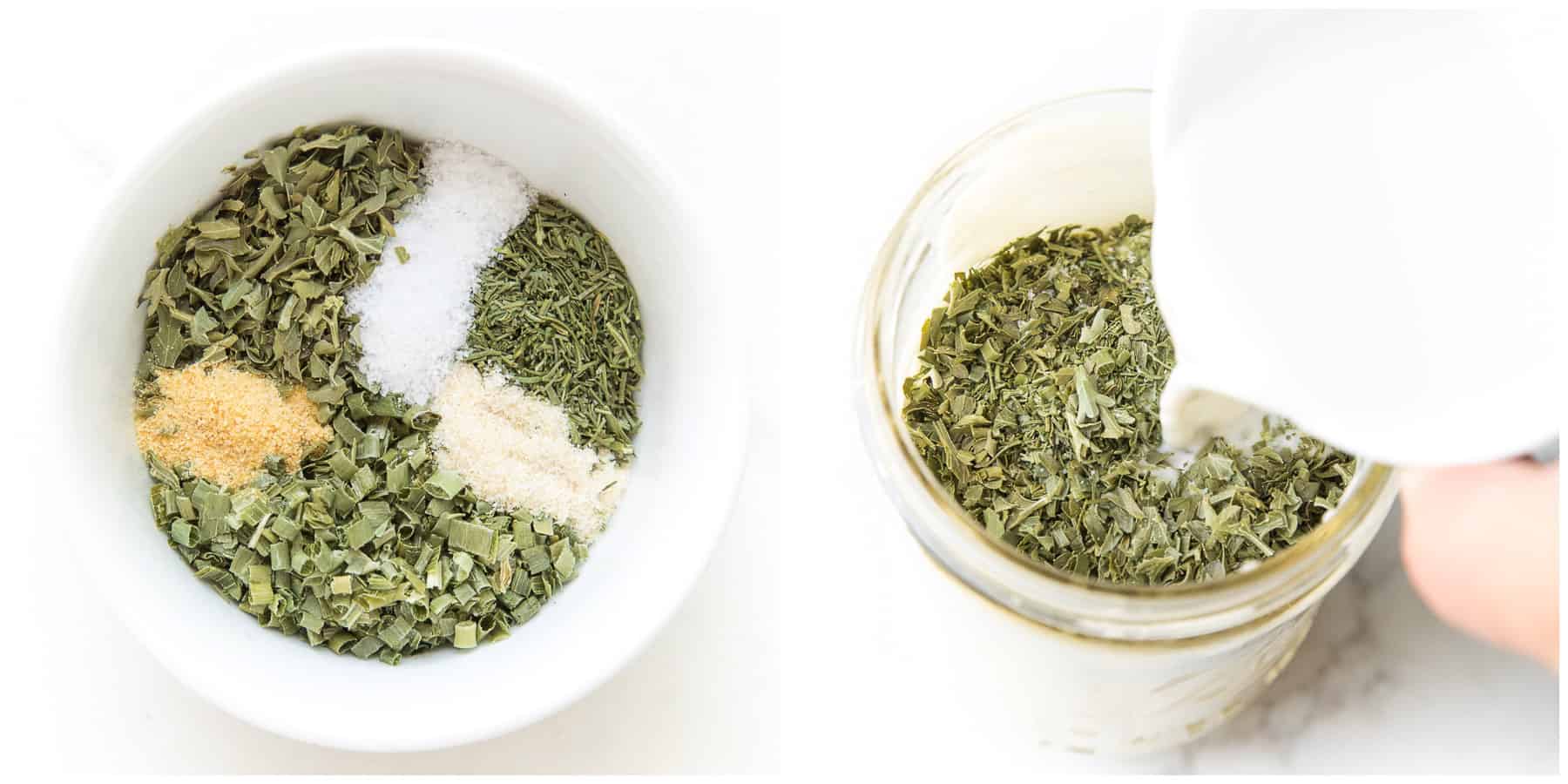 Ingredients in Keto Ranch Dressing
You probably have everything you need in your kitchen right now to make this super simple keto ranch dressing. Mayo (<- link to homemade because it is the best), almond milk (<- another link to homemade because it's the best), lemon juice and 6 dried herbs and spices.
If fresh herbs are your thing, you can of course use fresh herbs instead. In the same quantities. But I prefer using dried herbs because I don't always have all the fresh herbs I need on hand.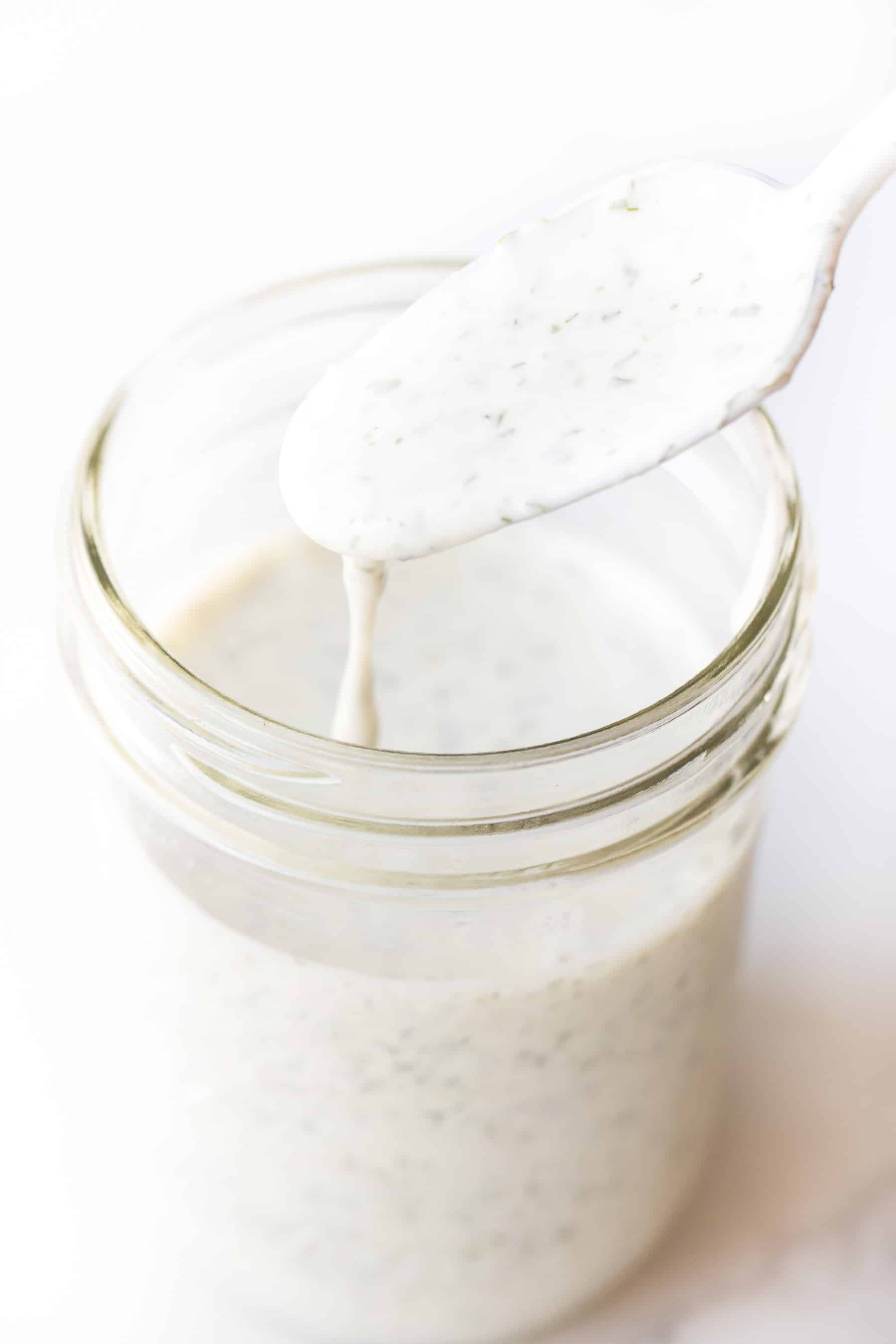 How To Make Homemade Keto Ranch Dressing
My favorite way to make this ranch is in the mason jar. First, I'll make a batch of my homemade mayo which you must make in a mason jar.
While I have out the immersion blender, I add in the spices, lemon juice and almond milk. The whole process takes me less than 5 minutes. Bonus? It's already in the jar I'm going to store it in!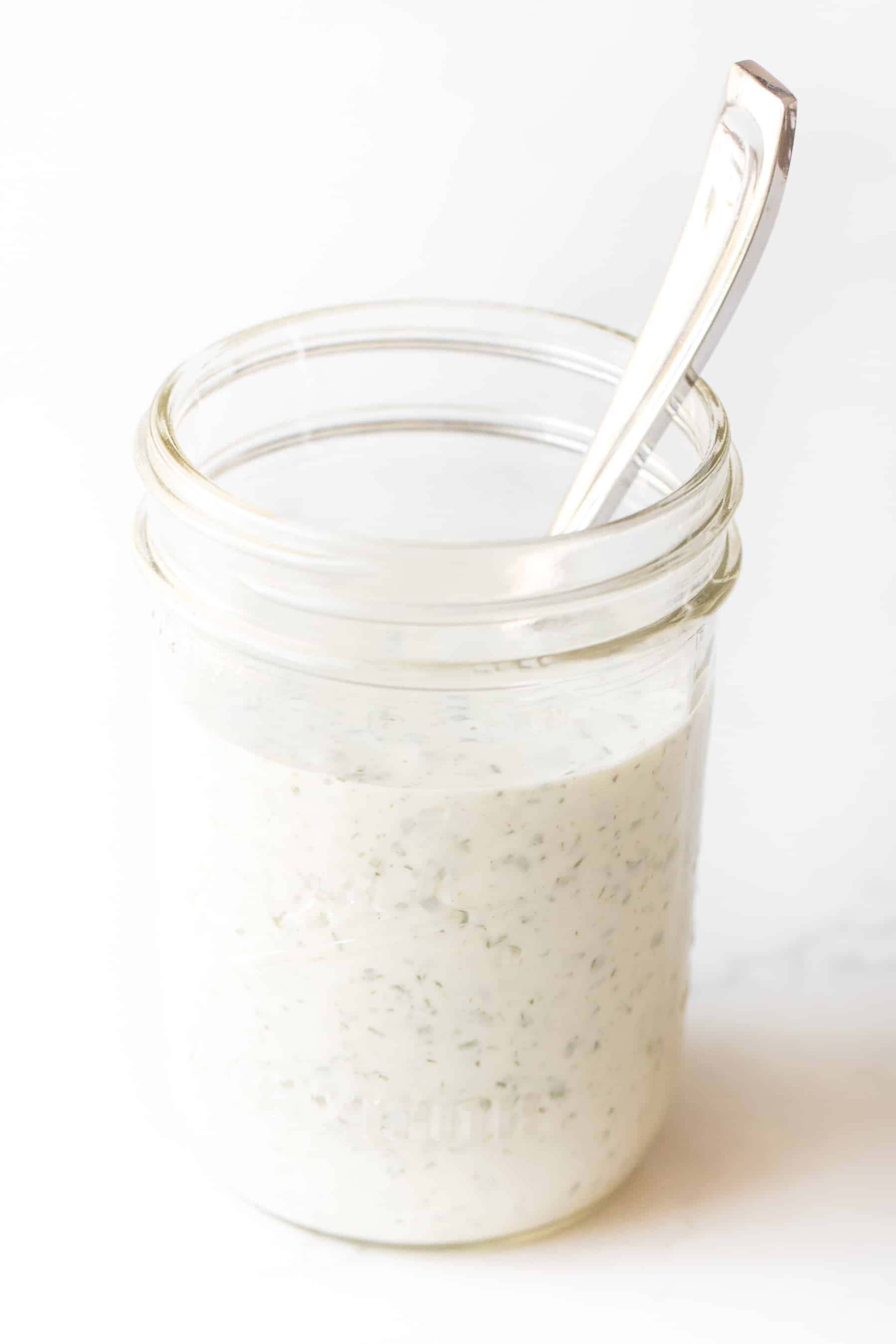 How Long Does Homemade Keto Ranch Dressing Last?
Your homemade ranch dressing will last for at least 2 weeks refrigerated after making it. Just check for spoilage.
But I'm sure you'll finish it all way before then. Because once you try this homemade ranch, you're going to want to put it on ALL THE THINGS!
Watch How To Make Keto Ranch Dressing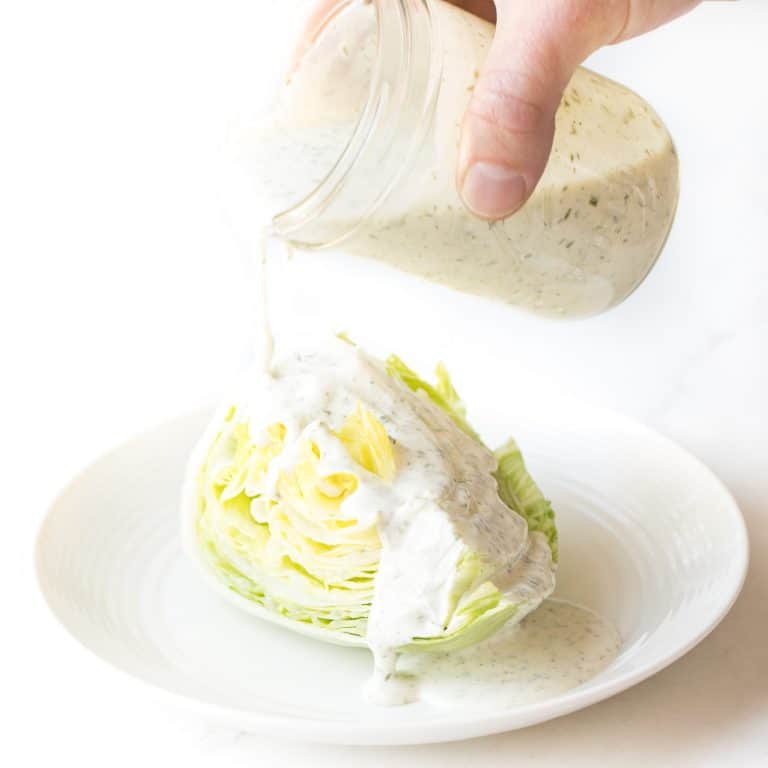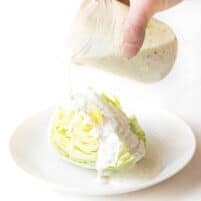 Keto Ranch Dressing
This is THE WORLD'S BEST homemade Keto Ranch Dressing Recipe! Made with dried herbs + spices, and ready in 5 minutes. Great for dips, dressing, casseroles, and more.
Instructions
In a wide mouth pint size mason jar, add the avocado oil, egg, lemon juice, dijon mustard, dried parsley, dried chives, dried dill, kosher salt, garlic powder and onion powder.

Add in your immersion blender, pressing it all the way to the bottom and trapping the egg yolk.

Turn the immersion blender on high speed, and slowly bring it up as the egg and oil emulsify. (You're essentially making a ranch mayonnaise).

Add in 1/4 cup dairy free milk (or more to thin to desired consistency). Stir it in with a spoon, or add the immersion blender back in to mix it.

Best if refrigerated for 1 hour before serving so the ranch has time to marinate all the herb flavors. But I've eaten this right away before and it's still good. Just gets better the longer it's refrigerated!

Will keep in an airtight container for 1 week.

As always, lots of tips, FAQs and substitution info in the Recipe Notes!
Notes
Store Bought Mayo: If you don't have a mason jar and immersion blender, you can make this using store bought mayo. Substitute the avocado oil and egg with 1 cup store bought mayo. But honestly, it tastes so much better making it all fresh.
Fresh Herbs: You can also use fresh herbs if you have them on hand! Use the same measurements for fresh!
Milk: To keep this dairy free and keto friendly, I like using unsweetened almond milk or original flavor nutpods. Coconut milk works, but I find it gives it the slightest coconut taste. If you're ok with dairy, you could use heavy cream.
Eating Raw Egg: It's totally safe, especially with quality eggs. They sell pasteurized (Pasteurized means they cook to the point of killing germs) eggs in stores, or you can pasteurize yourself by simmering at a low temp. But it makes it taste more "eggy".
Calories:
127
,
Total Carbs:
0.3
g
,
Protein:
0.5
g
,
Fat:
14
g
,
Fiber:
0.1
g
,
Net Carbs:
0
g
Did you make this recipe?
Please Leave a comment and give this recipe a rating!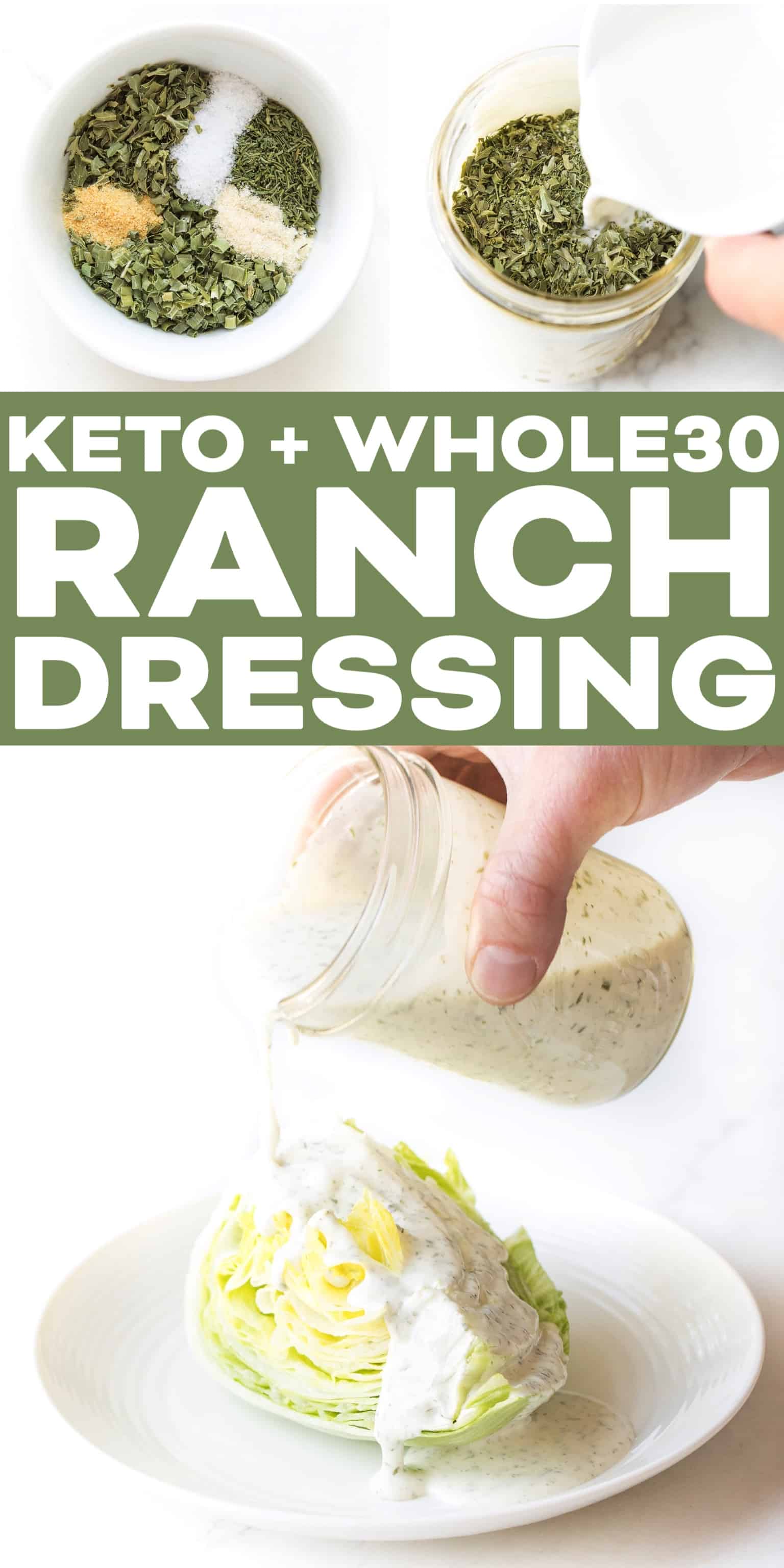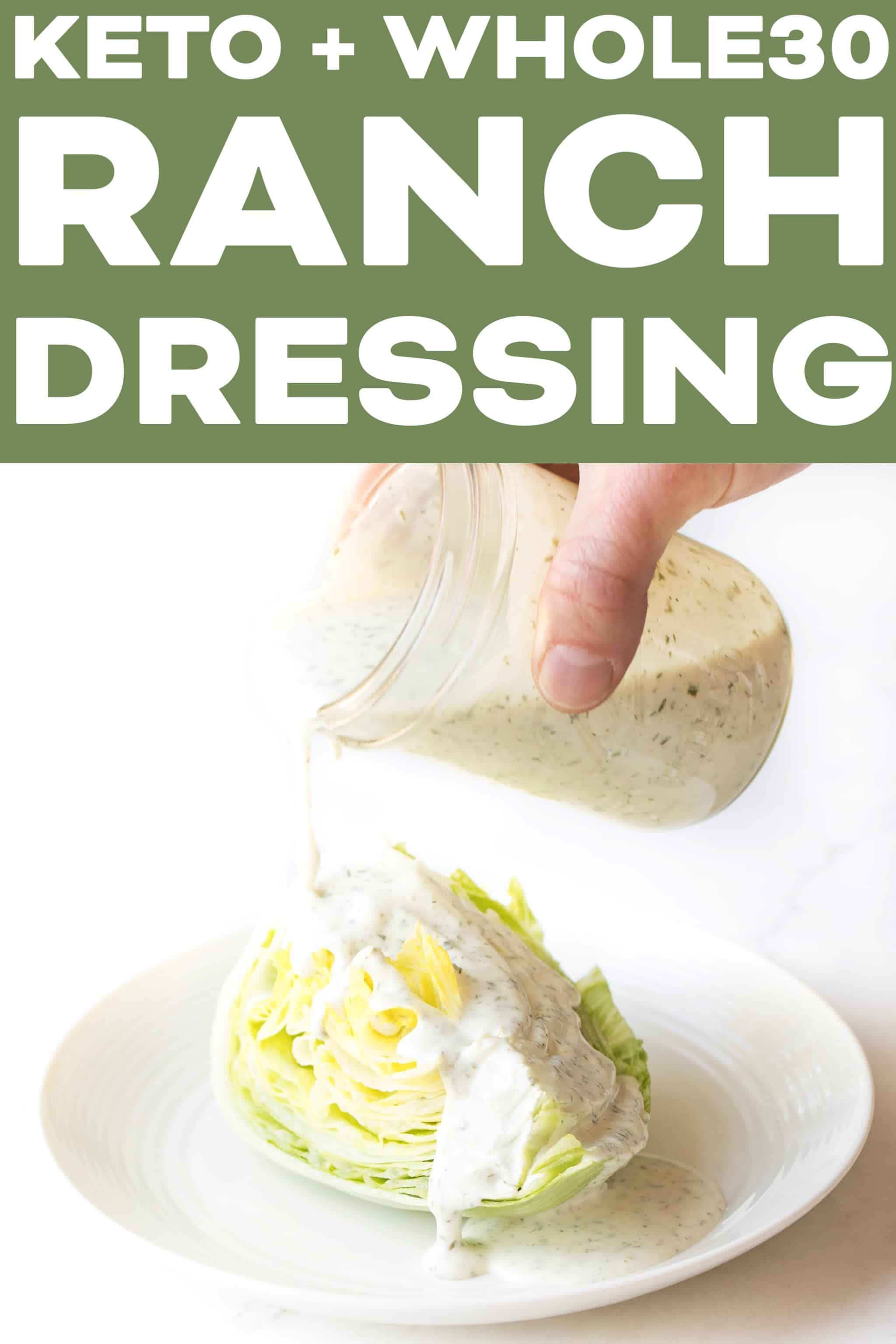 This post contains affiliate links, thanks for the love!