Dairy free pesto that doesn't have any parmesan cheese in it, making it paleo, whole30 and vegan. But still so delicious, you won't even miss the cheese!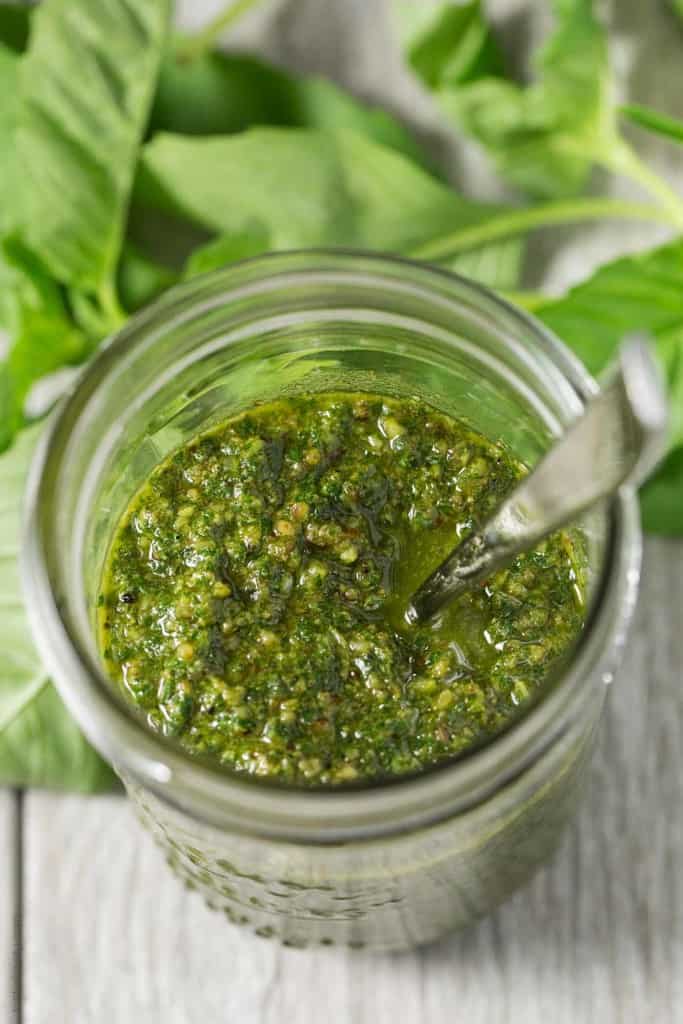 I have a challenge for you.
Go in your closet and get rid of everything you don't like. All the clothes that are too big, or too small, or have that stain on it, or you don't feel cute in.
Get them out of your closet.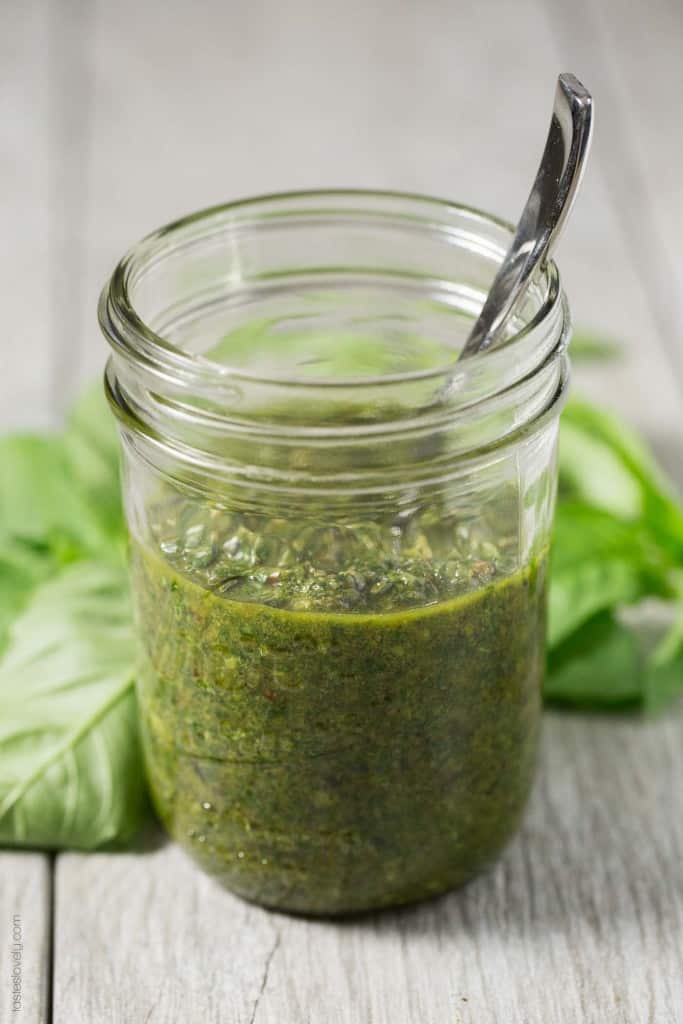 I just did this, and it is the best feeling in the world. 5 garbage bags later, (yes, 5) my closet is now devoid of all those clothes that I constantly skip over when I get dressed. If it was an item that I hesitate even for a second about wearing, it went straight to the donate pile.
Now when I reach in to my closet, anything I touch is something that I will actually wear and feel cute and comfortable in. I could pick out my clothes blindfolded and be happy with what I grabbed.
I don't need any more of those low cut sequined tops that I wore out dancing when I was 21. I don't need those extra low cut jeans that hit me right on my ultra sensitive c-section scar. I don't need those knee high boots where the heel is kind of broken. And I especially don't need that white shirt that I used to love, but has a mustard stain on it after that baseball game.
My closet is now clean and organized, and I don't miss the old stuff one bit.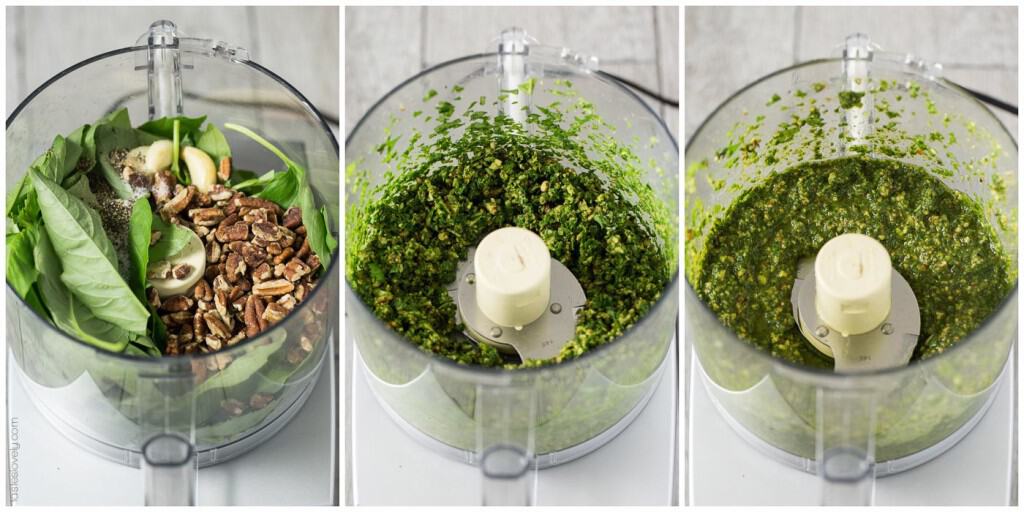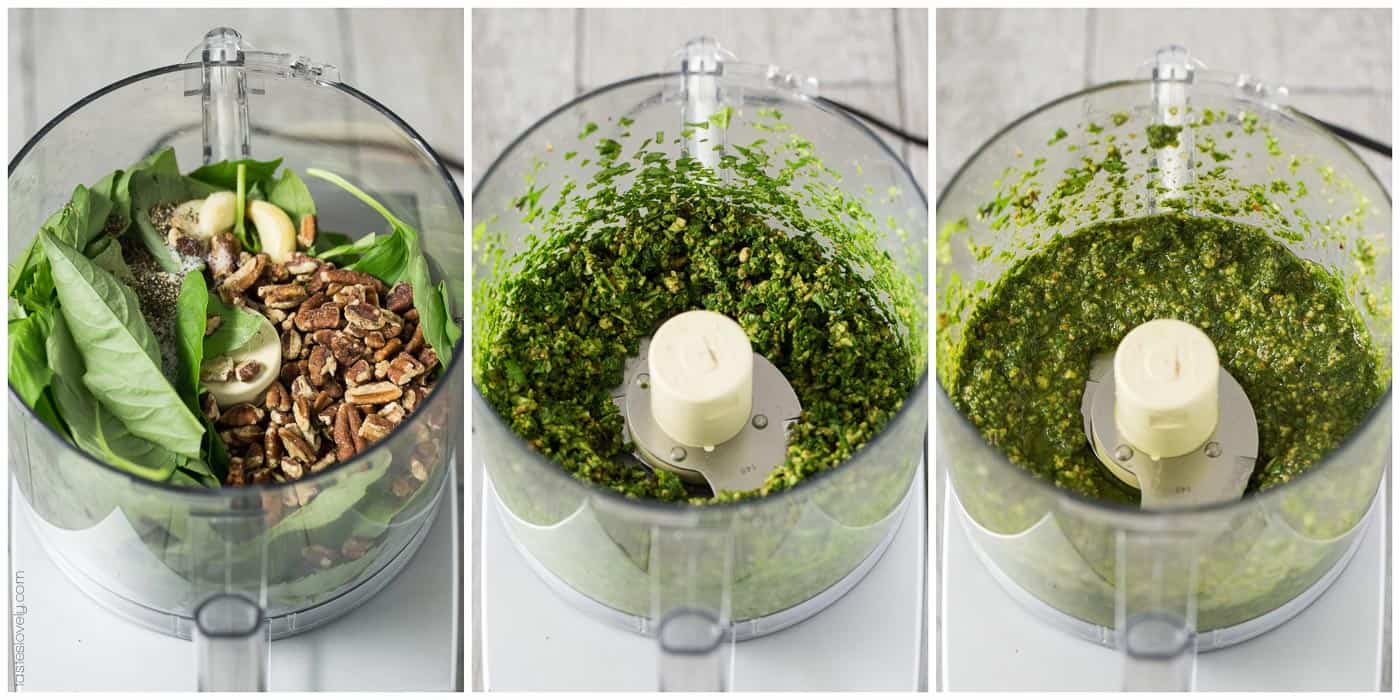 You know what else I don't really miss? Dairy. I haven't had dairy in 5 months (since the baby has a sensitivity to it), and it hasn't really been an issue. Just a few minor adjustments, and for the time being we are a dairy free household.
Take this dairy free pesto for example. I just left the parmesan out of my go-to pesto recipe, and I can't even tell the difference. Now it has fewer calories, and by leaving out the cheese it is paleo, Whole30 and vegan. And most importantly, delicious!
Most dairy free pesto recipes call for nutritional yeast, which I like but I don't love. I've tried this pesto both ways, and I actually prefer it without the nutritional yeast.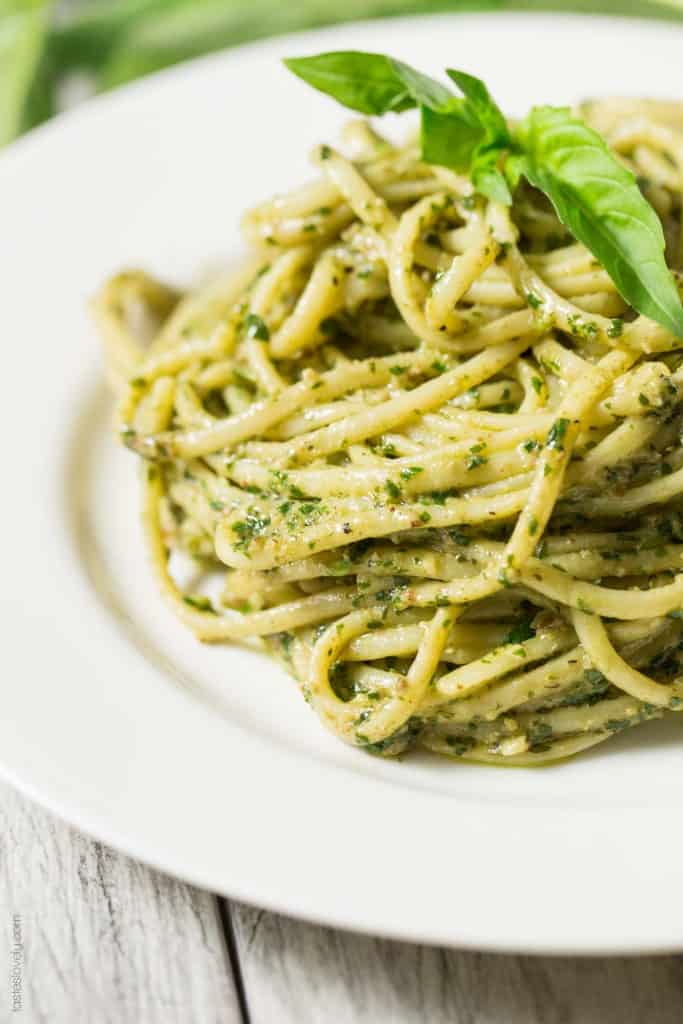 I use toasted pecans in my pesto, because I love the flavor of pecans and they are much more affordable than pine nuts. But you could substitute pine nuts or almonds or even walnuts! Use whichever you have on hand.
I do add in more salt than I would if this pesto did have parmesan, but since it doesn't have parmesan it can use the extra saltiness.
I love this dairy free pesto served on whole grain pasta, zucchini pasta, grilled meats, and vegetables.
Also, this pesto freezes BEAUTIFULLY! I store all my homemade dairy free pesto in wide mouth pint mason jars, which are freezer safe. In the summer when I have an abundance of basil in my garden, I make lots of pesto and freeze it so I can enjoy it all winter long!
Print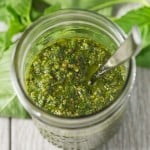 Dairy Free Pesto
---
Author:

Prep Time:

5 mins

Total Time:

5 mins

Yield:

2 cup

s

1

x
Ingredients
2

packed cups basil leaves

1/2 cup

roasted, unsalted pecans (or pinenuts, almonds or walnuts!)

3

cloves of garlic

1/2 teaspoon

salt

1/2 teaspoon

pepper

1/2 cup

olive oil (may need 1 to

2 tablespoon

s more to reach consistency you desire)
---
Instructions
In a food processor, combine the basil, pecans, garlic, salt and pepper. Pulse until all the ingredients are finely chopped. Add in the olive oil, and pulse another 10-15 times until combined. Makes about 2 cups.
Will keep in an airtight container in the refrigerator for 2 weeks, or in the freezer for up to 1 year.
I store my dairy free pesto in wide mouth pint size mason jars since they're freezer friendly!

More Pesto Recipes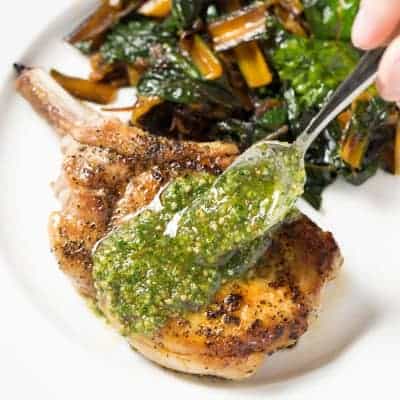 Pork Chops with Orange Pecan Pesto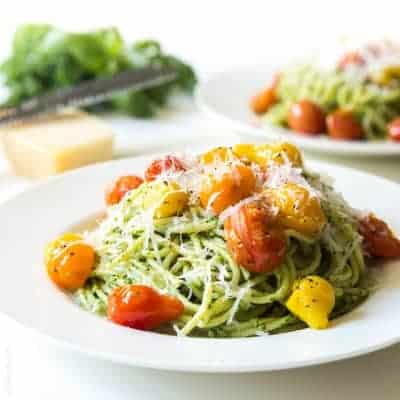 Kale Walnut Pesto with Blistered Tomatoes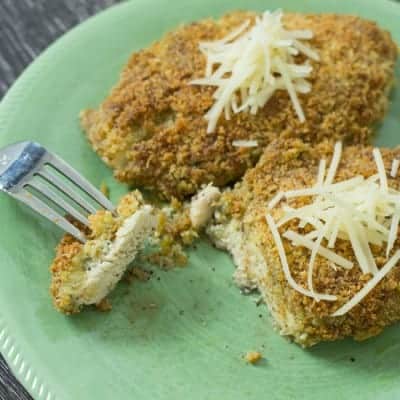 Crispy Baked Pesto Chicken Parmesan
This post contains affiliate links, thanks for the love!
Never Miss a Recipe!
Get new posts delivered straight to your inbox! For free!