Keto Homemade Pickles
These refrigerator pickles don't require any cooking or canning. Just marinate the cucumbers in the 5 ingredient brine in a mason jar in the fridge for 1 day and you have delicious, low carb, homemade pickles!
Once you try these keto homemade pickles, you will never buy pickles at the store again.
Not only are they way more delicious and crunchy, but so much healthier too! No weird ingredients or added sugar. They are ready in 5 minutes!
Watch The Recipe Video
Note: You can also watch this recipe video on YouTube.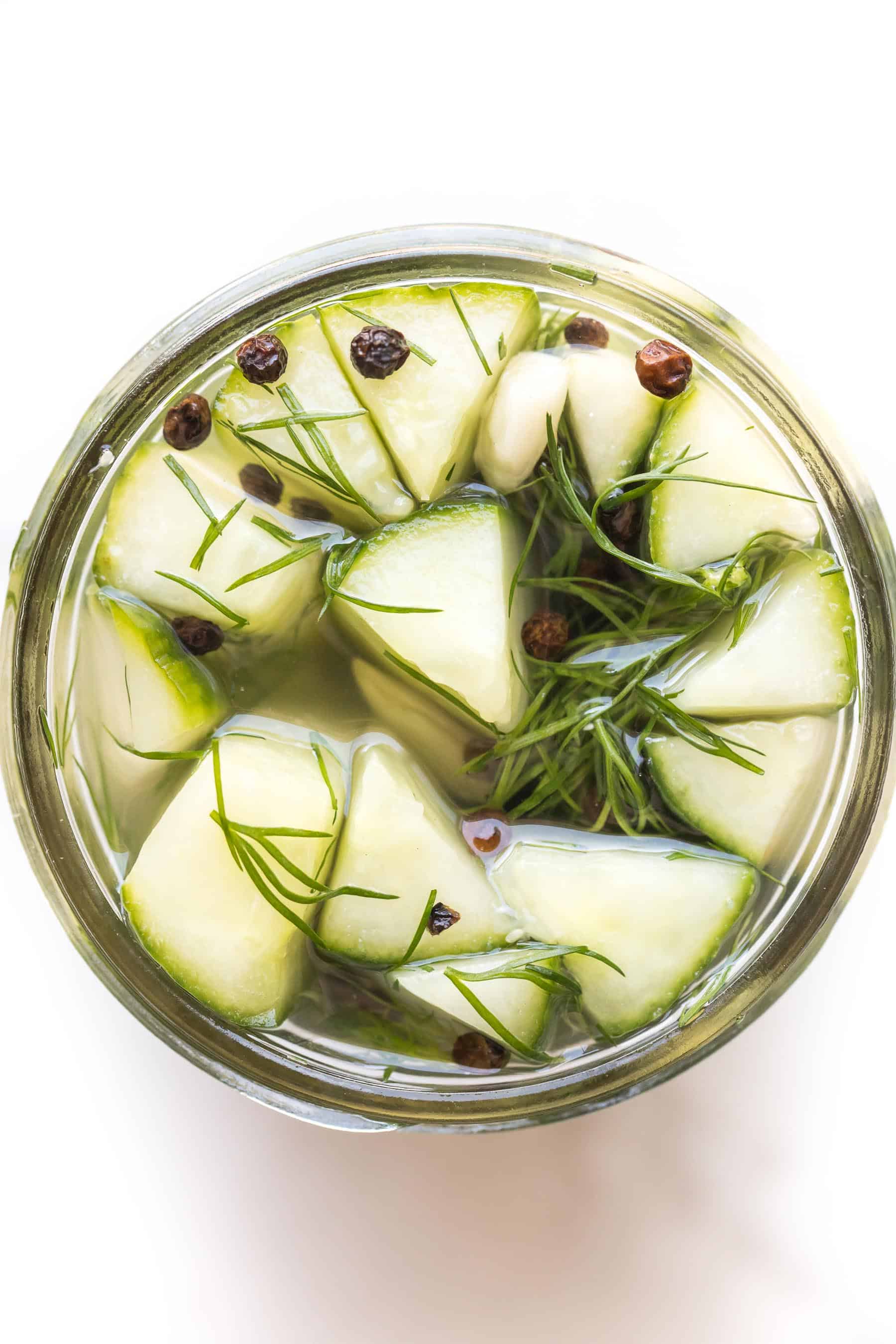 Keto Homemade Pickles
I always assumed making pickles was complicated, needing to boil the brine and can all the jars.
Nope!
Making these pickles couldn't be easier! You combine the few simple ingredients with sliced cucumbers, let them soak in the fridge for 1 day, and you have the best pickles of your life! No boiling or canning needed.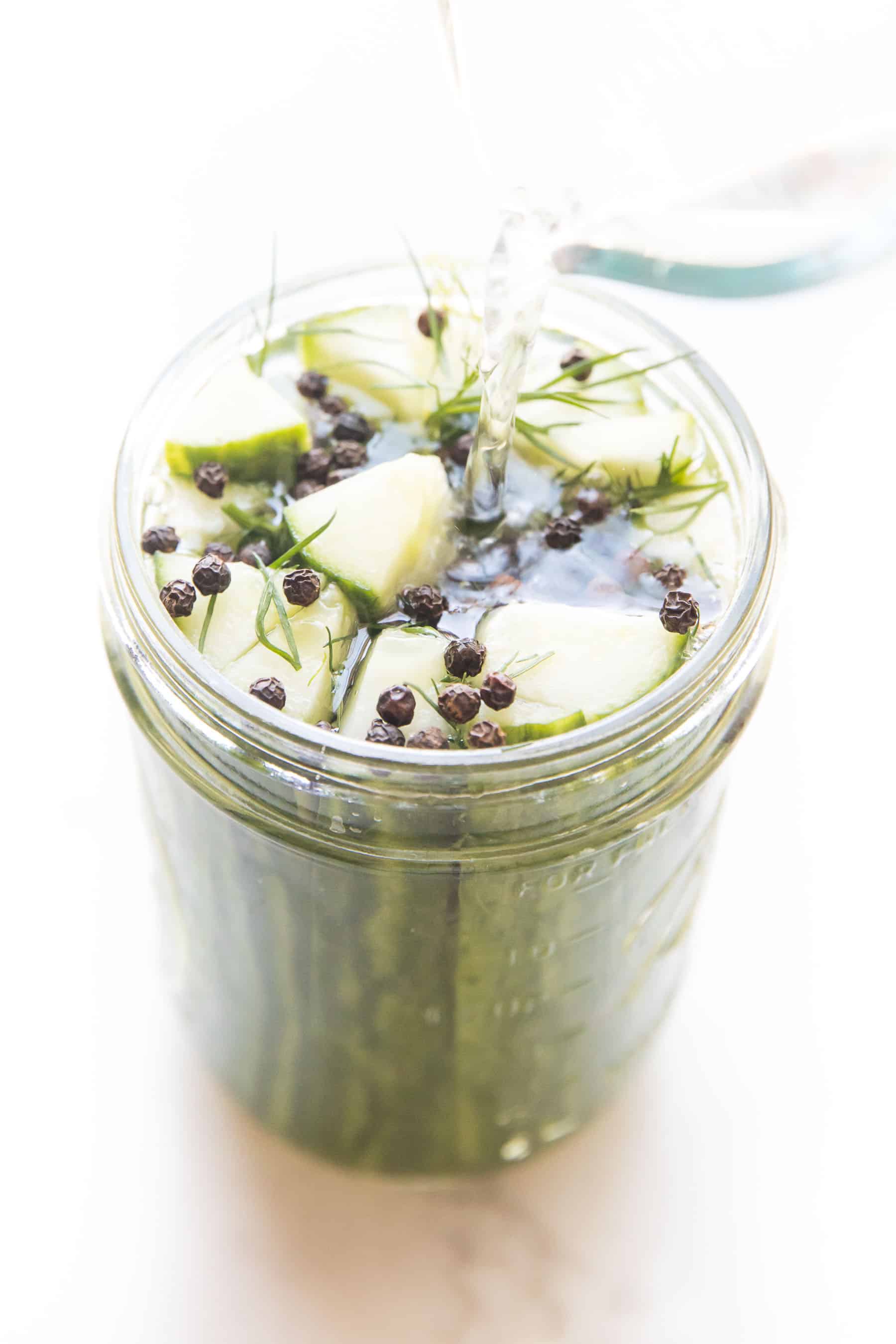 Keto Homemade Pickles Ingredients
I was shocked when reading the labels of store bought pickles. Tons of unpronounceable ingredients, sugar, and citric acid. No thanks.
These homemade pickles just need water, vinegar, salt, peppercorns, garlic + dill. That's it.
Oh, and cucumbers. Cucumbers are on the EWG dirty dozen list, so you want to be sure to buy organic english cucumbers. I prefer english cucumbers since they have such a thin skin.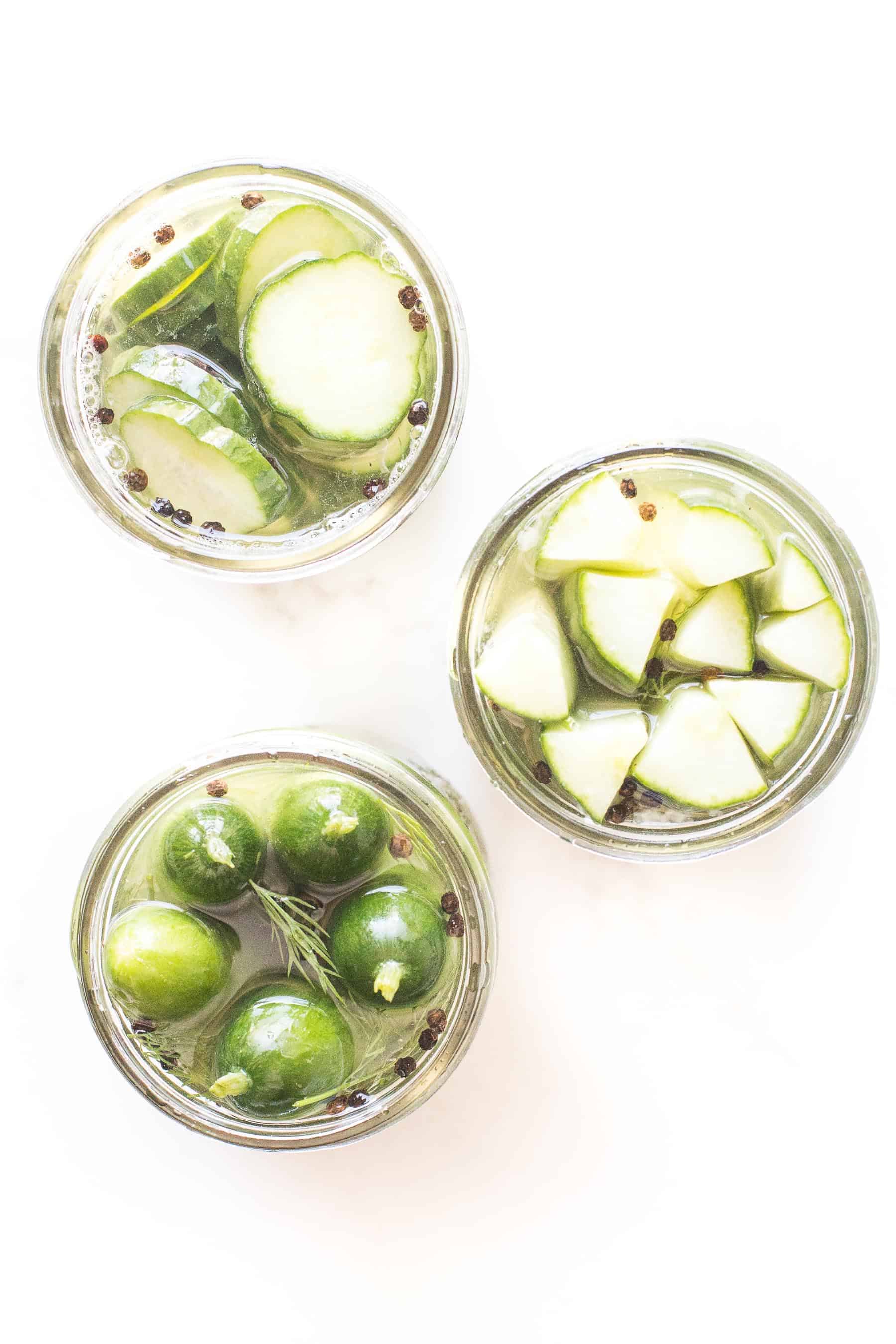 Cuts of Pickles
This refrigerator pickling method works for whichever type of pickle you prefer! You can do pickle spears, pickle stackers, pickle halves, pickle chips and even whole pickles!
Whole pickles are actually becoming my favorite. I get those little cucumbers from Costco and they're perfect! You just pop them right in, no need to cut!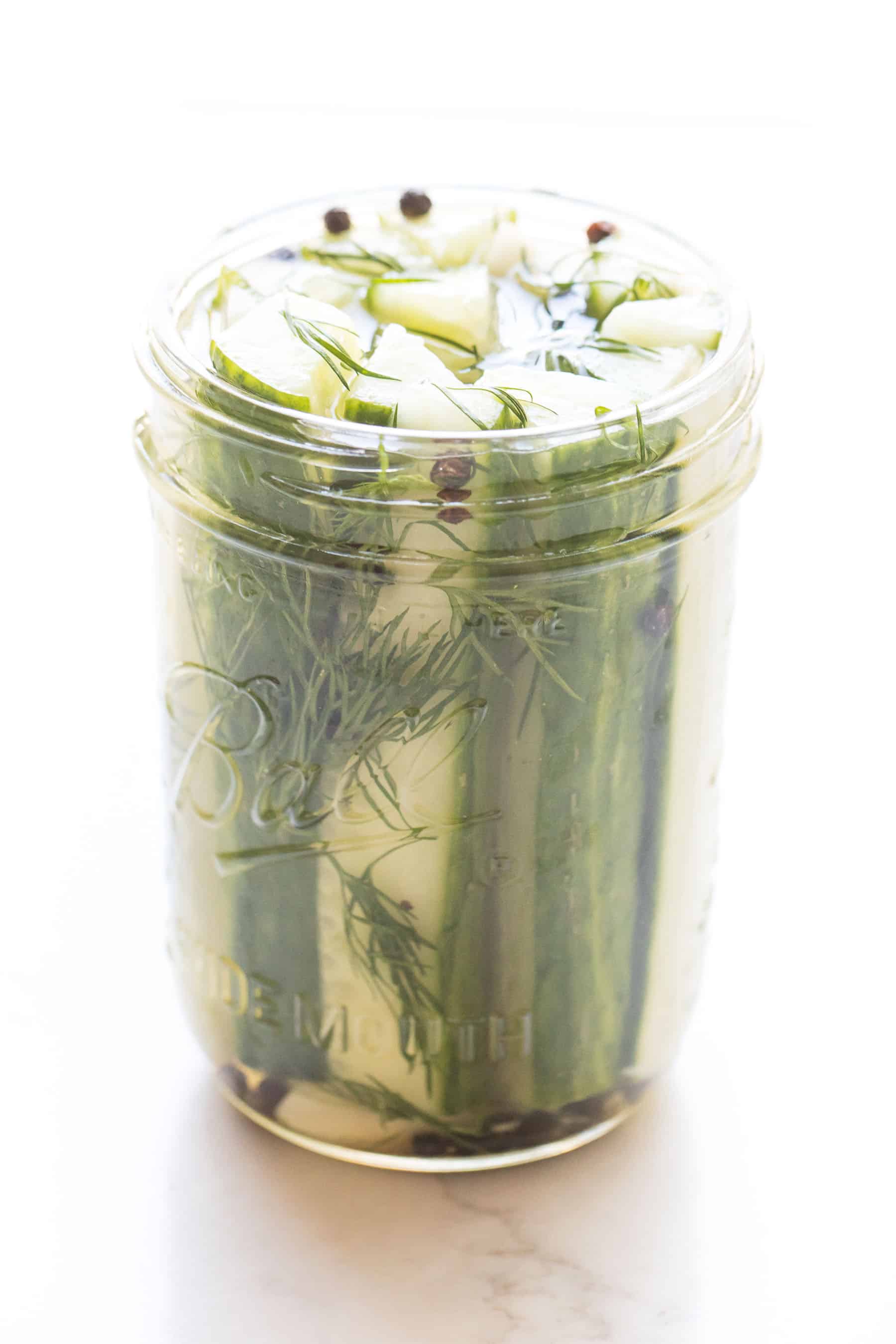 How Long Do Homemade Keto Pickles Last?
These pickles will last at least 1 month in the fridge. They just keep getting better the longer they soak!
After the day of brining in the fridge, your cucumbers are ready! You are going to be blown away by the bright, clean, tangy taste and the intense crunch of the pickle. Unlike store bought pickles, which turn an alien shade of green, these pickles stay light and natural looking. The way pickles should look.
Did you love this recipe? Thank you! Please rate this recipe and leave a review below. I respond to every one! Be sure to follow me on Instagram, Pinterest, TikTok, and Facebook. Tag me if you try a recipe!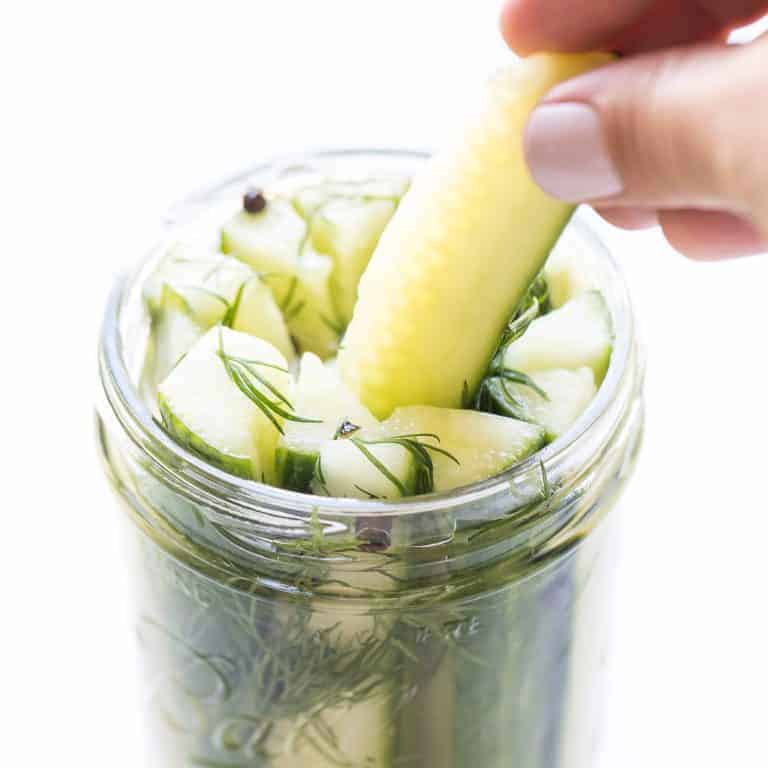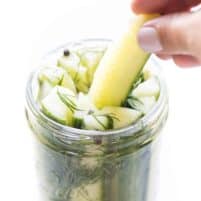 Keto Homemade Pickles
This Keto Homemade Pickles Recipes needs no heat or canning, just marinate in the fridge for 1 day and you have delicious, low carb, homemade pickles!
Ingredients
1

large organic english cucumber

1/2

cup

filtered water

1/2

cup

organic distilled white vinegar

1

tablespoon

kosher salt

3

sprigs fresh dill

,

or 1 tablespoon dried dill

1

clove

of garlic

,

smashed

1

teaspoon

whole peppercorns
Instructions
Cut the ends off the cucumber. For rounds, cut 1/4" thick. For spears, cut in half, then half again, then those halves into quarters. Will make 16 pickle spears.

In the pint mason jar, combine the water, vinegar, salt, dill, garlic + peppercorns.

Add in the cucumbers, cover, and refrigerate for at least 24 hours.

Will keep in the refrigerator for at least 1 month.

See the Recipe Notes below for more tips, FAQs and substitution info!
Notes
Reusing Brine: Once the pickles are done, discard the brine. I've tried reusing it, and the next batch of pickles didn't have as much flavor. Better to make it fresh each time! Shape of Pickle: My family loves spears, but this works with pickle rounds, or even whole little cucumbers! Dill: I prefer fresh dill, but dried dill works too! Only downside is dried dill is like glitter and gets ALL over the pickle spears. Pickling Other Veggies: This works on any veggie! Carrots, onions, beets, zucchini, etc! The harder the veggie, the longer they'll need to soak for maximum flavor, such as carrots. Tip! Cut the carrots thinner so they absorb the pickling brine faster! Salt: The salt you use is SUPER important! I use kosher salt (it's all I cook with). It's not super "salty". If you're using table salt, you may need just 1/2 a tablespoon or so since table salt packs much more of a salty punch. I made the mistake of making this using a full tablespoon of table salt before and they were way too salty!
Serving:
1
pickle
,
Calories:
3
,
Total Carbs:
0.5
g
,
Protein:
0.1
g
,
Fat:
0
g
,
Fiber:
0.1
g
,
Net Carbs:
0
g
Did you make this recipe?
Please Leave a comment and give this recipe a rating!