The easiest triple berry crumble, made with frozen fruit! Frozen blueberries, raspberries and blackberries topped with an oat crumble topping. Since you don't need to thaw the fruit, this fruit crisp is assembled in less than 10 minutes. Enjoy berry desserts all year long.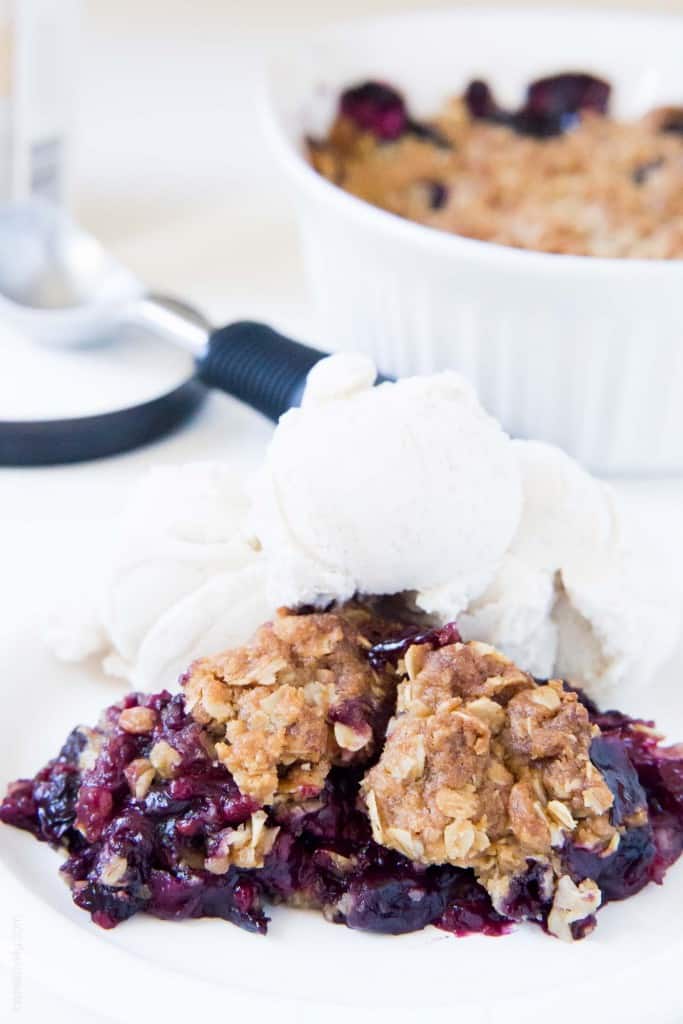 Our littlest dog Max has a real fascination with the chickens. And by fascination, I mean that he desperately wants to break in to their coop and chase them. Possibly even kill them, given the chance.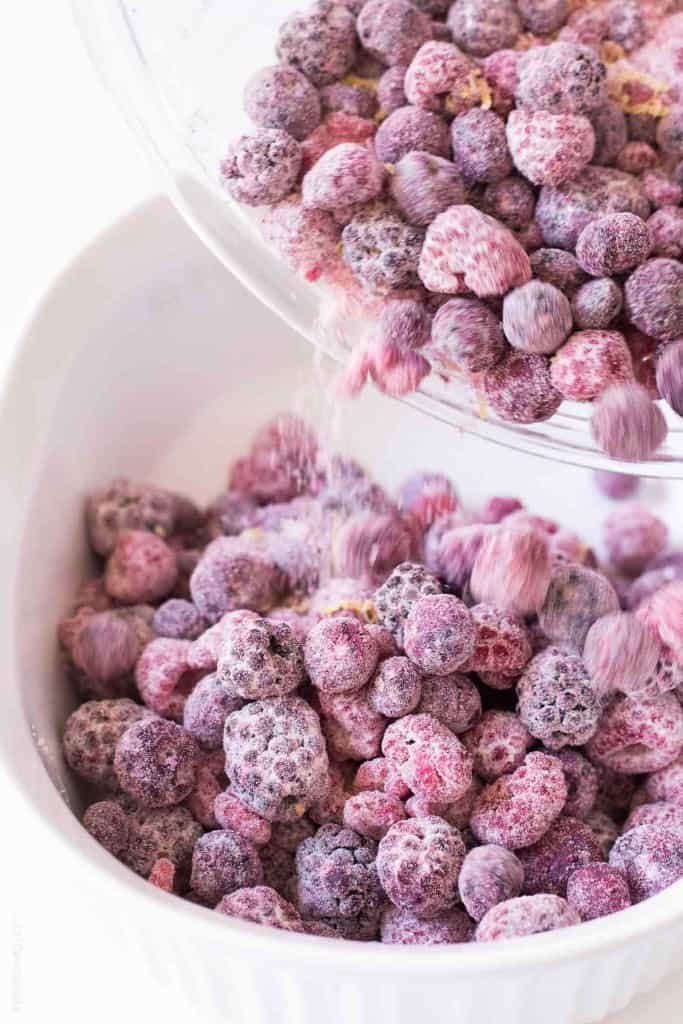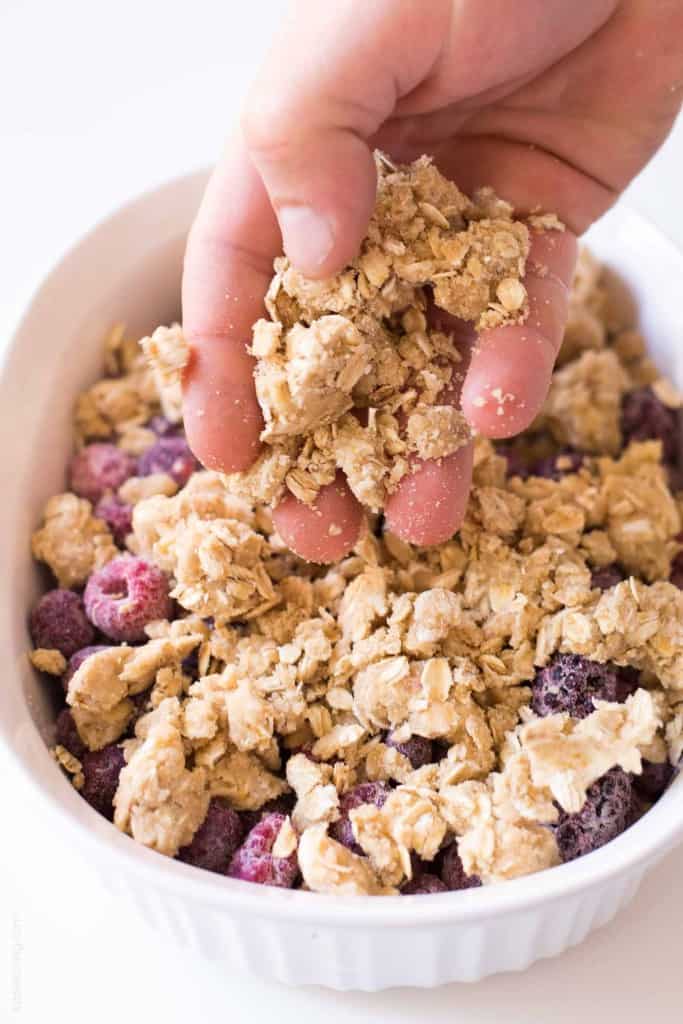 Our other 2 dogs pay barely any attention to the chickens. They're too busy playing around outside to notice those clucking animals in the chicken coop.
But not Max. He will stare them down, and run from one side of the coop to the other for HOURS if I let him. His tiny little nose is the perfect size to *just* fit in the chicken wire. But that's as close as he can get. When Shawn and my dad built the coop, they made it impenetrable to wild animals, which now also includes Max. Trust me, he's tried.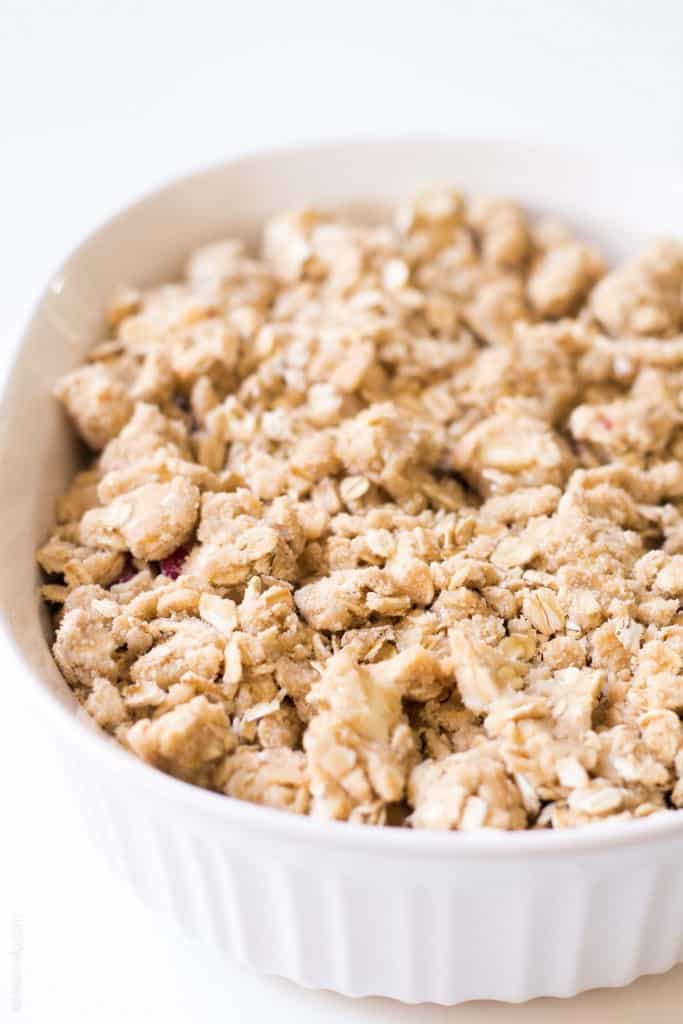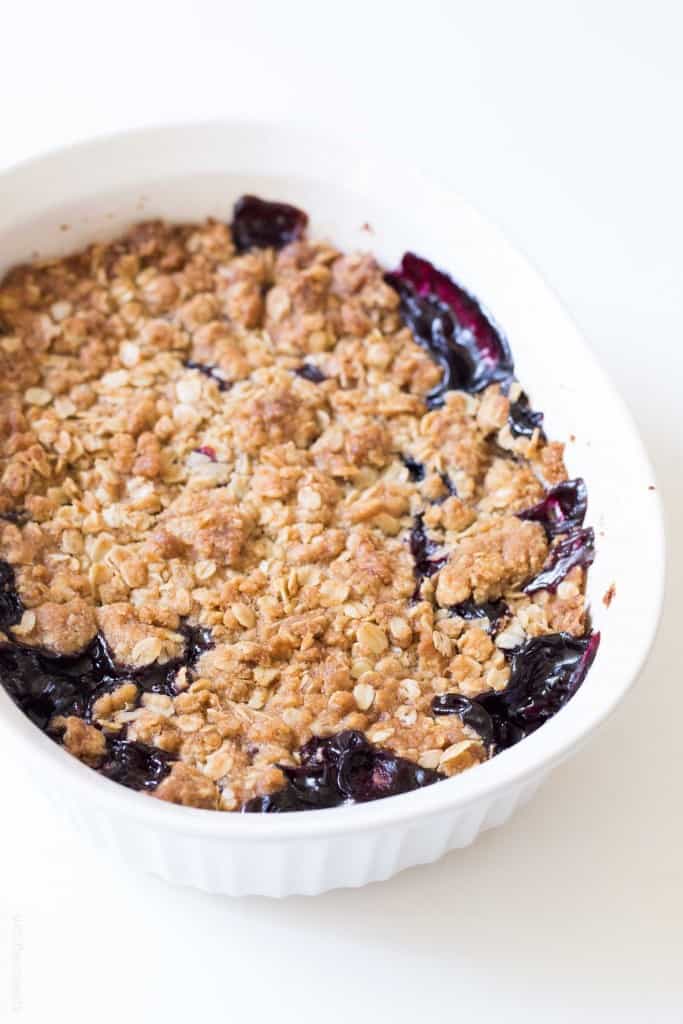 The funniest part is the chickens reactions. Our rooster Marty gets right up front of the coop, and puffs up his wings and his feathers so he looks as big as possible. He stands between all the hens to protect them, and will crow and crow and crow. He's the hens own personal body guard.
Between Max running around, barking and growling at the chickens, and Marty crowing out his protection call, there are a lot of animal noises coming from our backyard. Thank goodness our closest neighbors are over 1/4 mile away. I don't think strangers would enjoy all this extra noise as much as we do.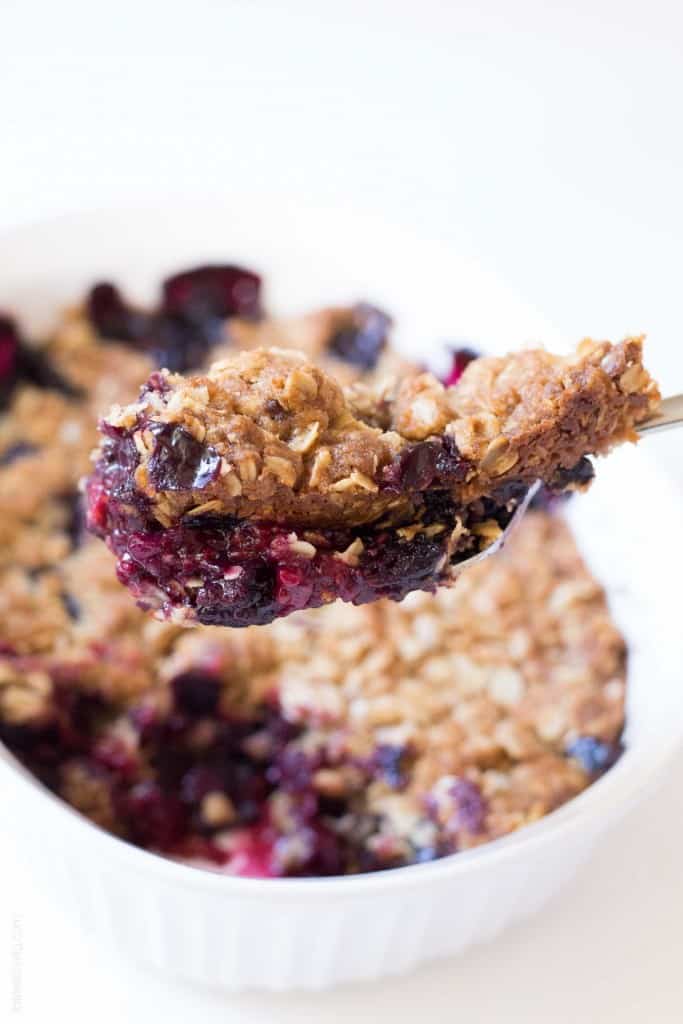 School started this week here in California, which means I am already mentally shifting to fall. But I couldn't let the summer come to end without sharing this triple berry crumble. I've made it so many times this summer, it's become a real staple at our house.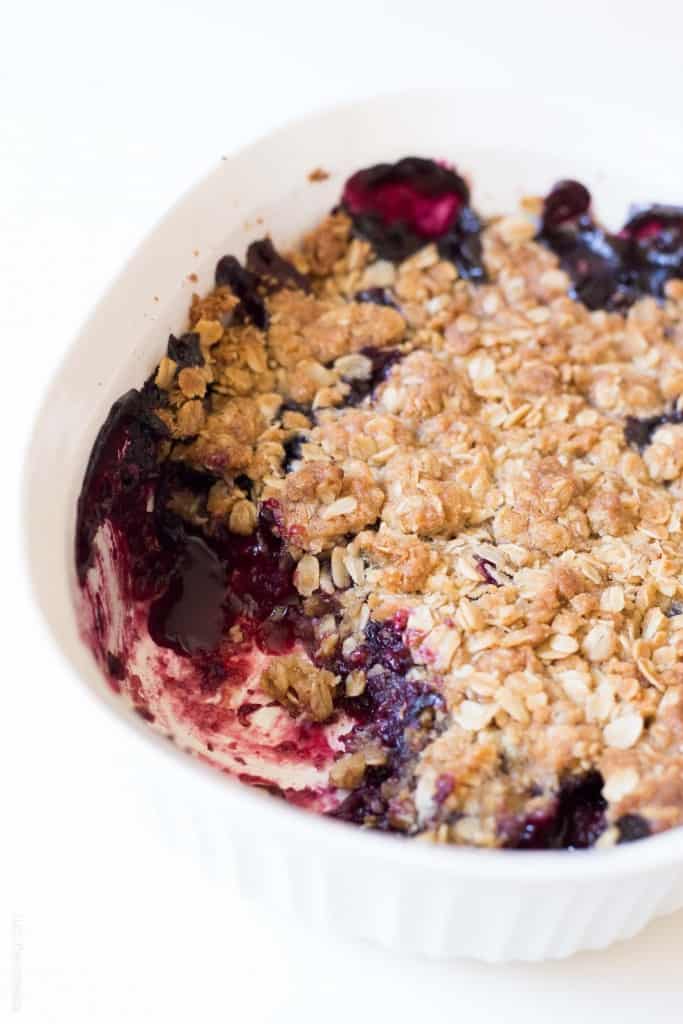 This triple berry crumble is amazing because it is made with frozen fruit! Making it the easiest dessert I make. I've timed myself, and the fastest I've had this in the oven was 6 minutes from start to finish. 6 minutes! No excuse not to have a sweet and crunchy crumble waiting for Shawn to pick at all week. Nothing makes Shawn happier than homemade fruit pie or crumble waiting for him. It's his love language.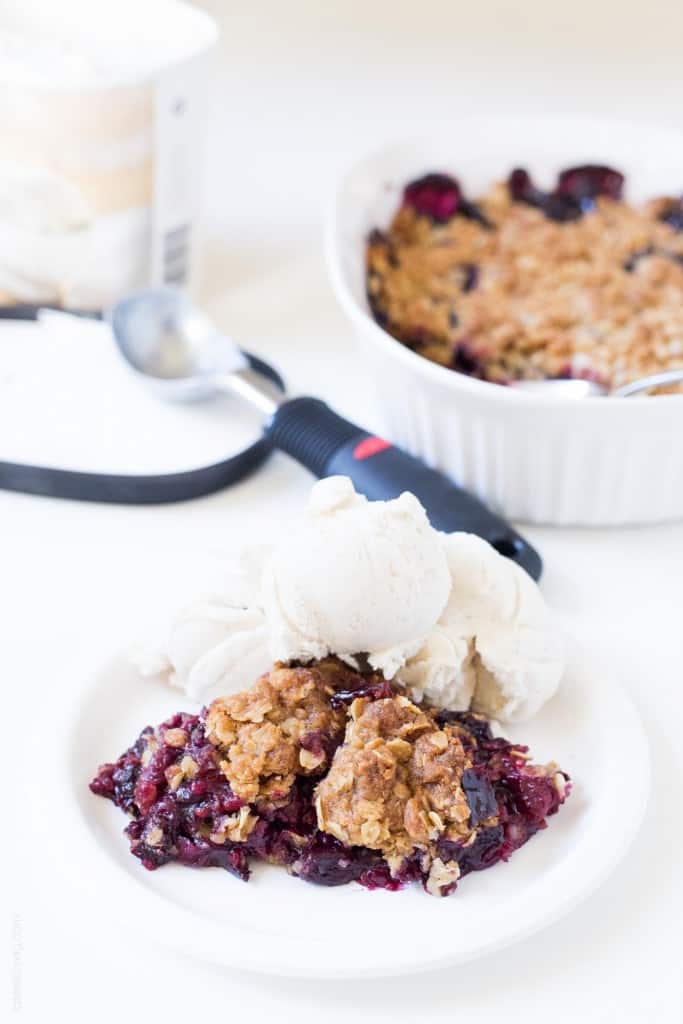 You can make this triple berry crumble with fresh fruit instead of frozen if you have some on hand. But I always have a big bag of frozen organic triple berry mix (raspberries, blueberries and blackberries) that I use for smoothies, so having the frozen on hand in my freezer makes this a super quick berry crisp to whip up in a moments notice. Plus, it means I can keep enjoying berry desserts all year long.
Print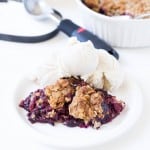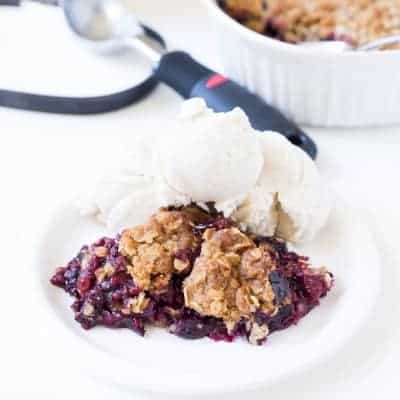 Easiest Triple Berry Crumble (made with frozen fruit!)
---
Author:

Prep Time:

10 mins

Cook Time:

60 mins

Total Time:

1 hour 10 mins

Yield:

6 servings
Ingredients
Berry Filling
4 cups frozen mixed berries*, NOT thawed (about 24 ounces frozen fruit)
3 tablespoons granulated sugar
3 tablespoons all purpose flour
zest from 1 lemon
pinch of salt
Oat Crumble Topping
1 cup old fashioned rolled oats
1/2 cup brown sugar
6 tablespoons all purpose flour
1 stick (1/2 cup) salted butter, cold, cut into small cubes
---
Instructions
Preheat oven to 350 degrees with the oven in the middle position.
In a medium size bowl, make the berry filling by combining all ingredients and tossing to combine. Set aside.
In a separate medium size bowl, make the oat crumble by combining all ingredients, then use your fingers to pinch the butter and incorporate with the dry ingredients. Keep pinching and tossing together with your hands until evenly combined. You will be left with many pea sized pieces of butter mixed in with the oat mixture. Set aside.
Pour the berry filing into a 1-1/2 quart baking dish (or 8×8 pyrex baking dish, a pie baking dish, or even cast iron skillet). Top with the oat crumble topping, and spread to an even layer.
Bake uncovered until the berry filling is bubbling, and the oat crumble is golden brown, about 1 hour. Let cool for 1 hour before serving. Serve room temperature with ice cream. Will keep covered at room temperature for 3 days.
Notes
*My favorite frozen berries to use are a combination of raspberries, blueberries and blackberries. I buy a big bag of this frozen triple berry mix and always have it in my freezer. But you could use just 1 berry, or any combination of other berries. For larger fruit/berries like strawberries, cherries, mango, etc I will pulse the frozen fruit in the food processor a few times so the chunks are more bite size
**This same recipe also works for fresh fruit too!
***You can make this up to step 4, then cover tightly and freeze up to 3 months. Bake it fully frozen until golden and bubbling, about 1 hour also.

More Fruit Desserts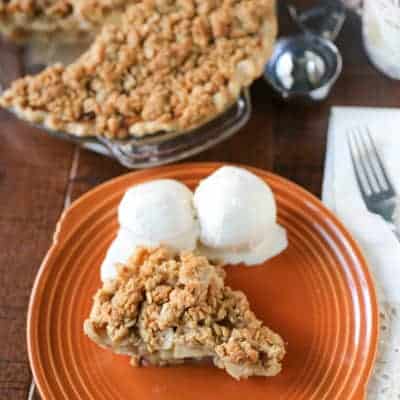 Apple Crumble Pie (I make this pie every Thanksgiving!)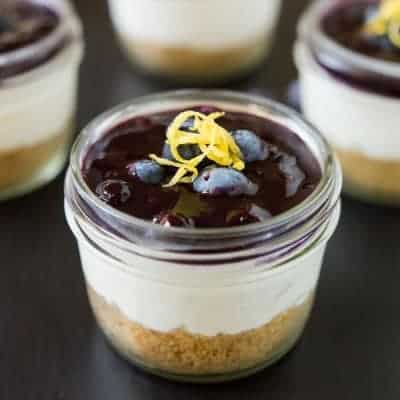 Mini No Bake Cheesecakes with Blueberry Sauce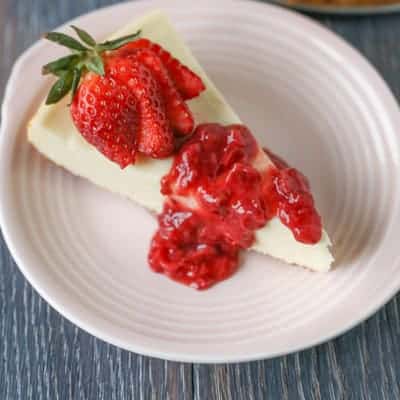 Creamiest Homemade Cheesecake (never cracks when baking!)
Never Miss a Recipe!
Get new posts delivered straight to your inbox! For free!