Paleo Chia Seed Jam with Frozen Berries
Paleo Chia Seed Jam with Frozen Berries – use any frozen berry! Sweetened with coconut sugar and freezer friendly. Gluten free, grain free, dairy free, refined sugar free, vegan, clean eating.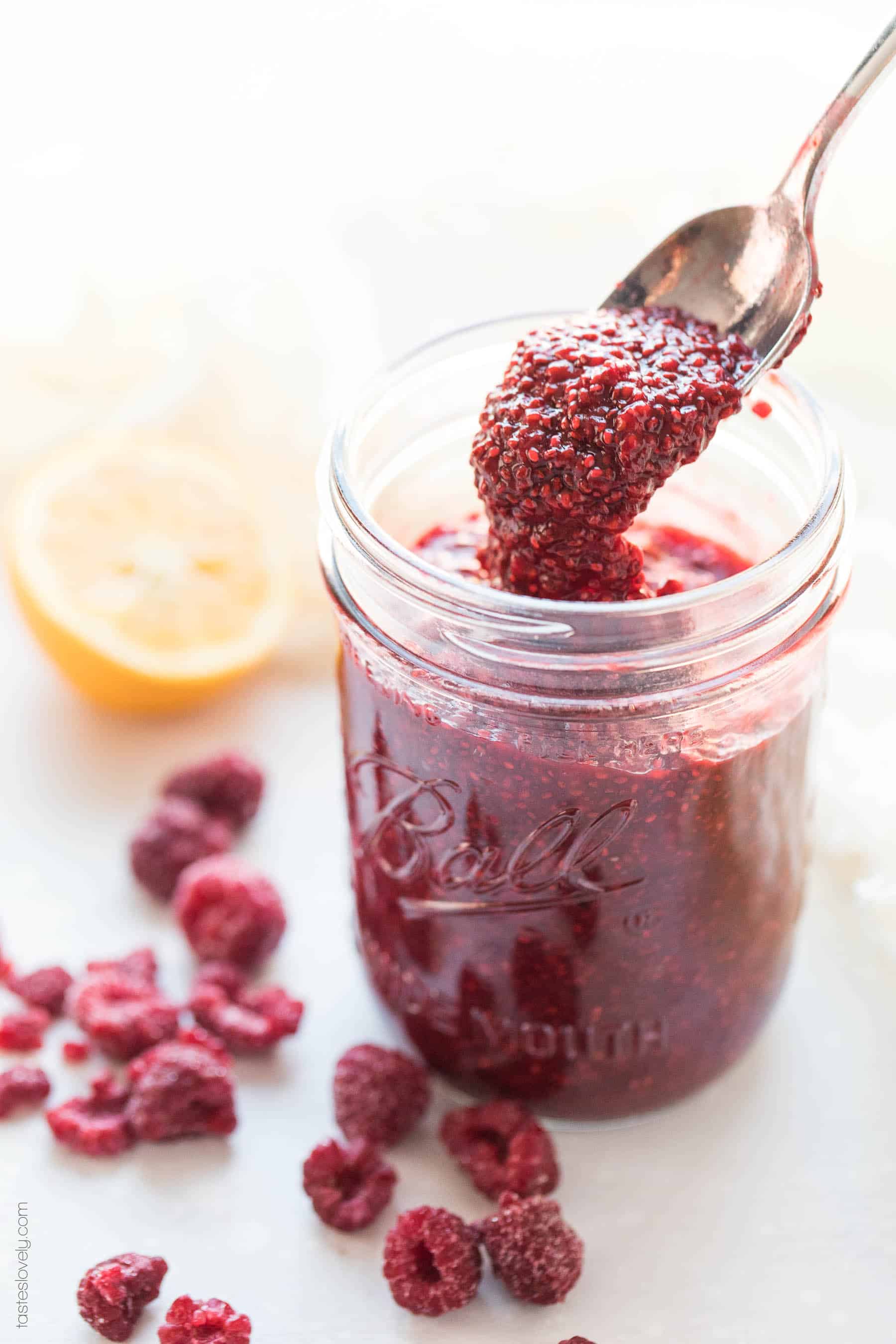 Now that I've made my own paleo chia seed jam, I'll never buy store bought jam or jelly again! It is oh so easy. It is finished and jarred within 15 minutes.
Even better? It has no refined sugar! Have you looked at how much sugar is in store bought jam? Packed with high fructose corn syrup and sugar. Not what I want to be eating or feeding to my 2 year old.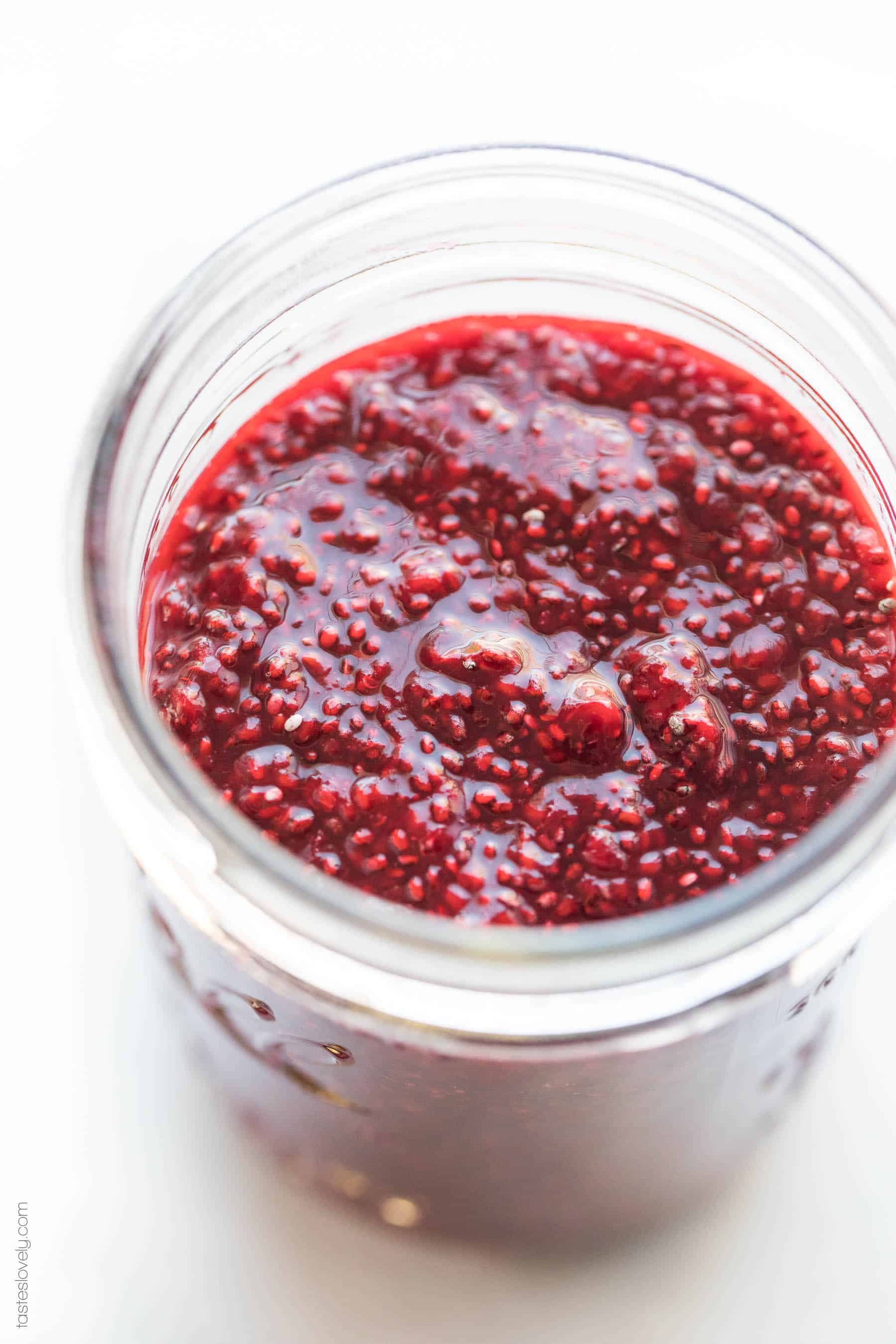 To make this even easier, and able to be made all year long, I almost always make my paleo chia seed jam with frozen berries. Not only are frozen organic berries more affordable than fresh, but they are picked and frozen at the peak of their freshness. Which means extra sweet and delicious berries, so you don't need as much sweetener.
I always have frozen fruit in my freezer, so I have all the ingredients for this chia seed jam at all times. I get the best prices on frozen organic fruit at Costco and Trader Joe's. My favorites to use to make jam are raspberry, blueberry, blackberry, strawberry, or a combination of any of those berries. This also works great with frozen peaches!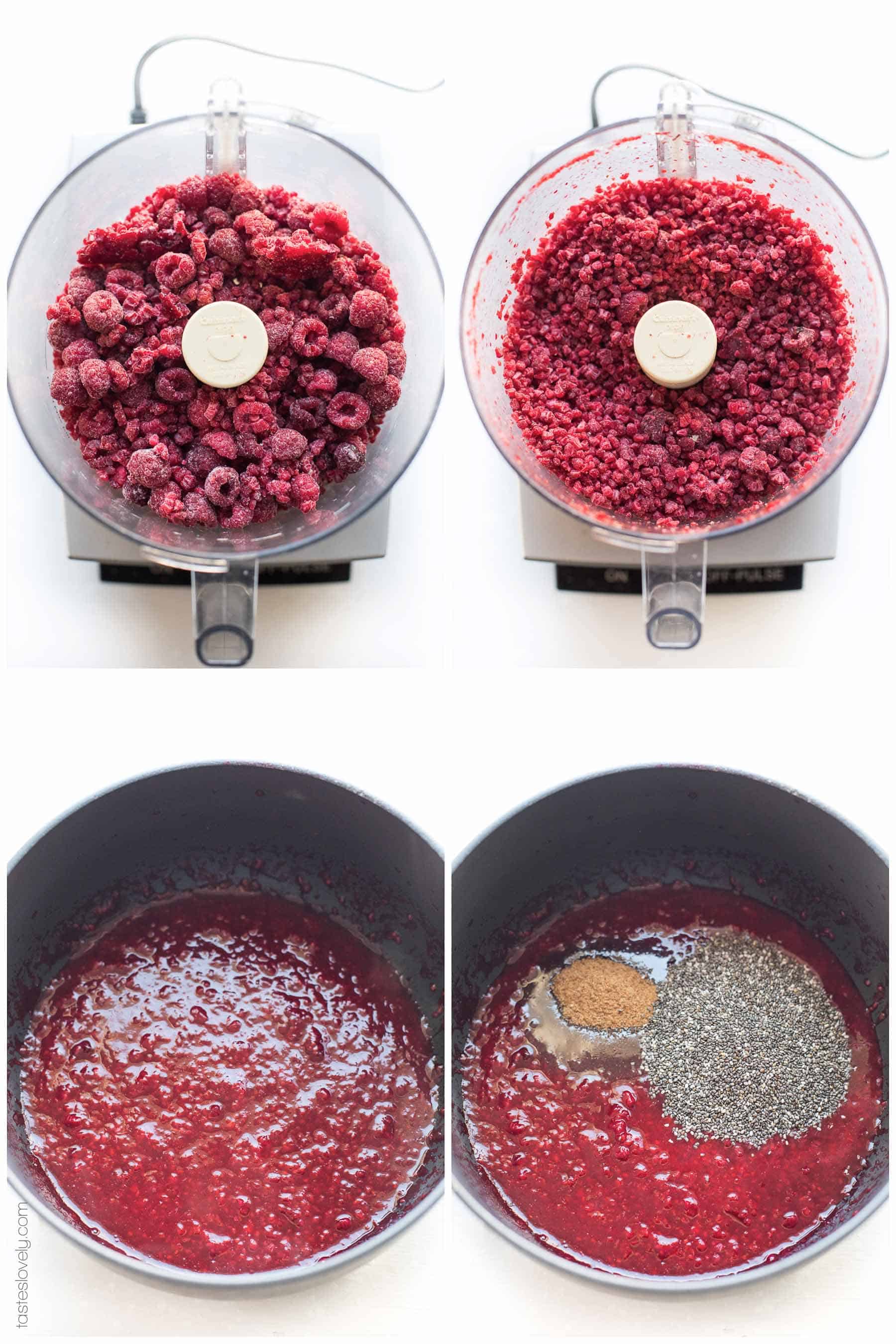 To make the paleo chia seed jam I use my food processor to chop up the berries. This makes them easier to cook down, and they'll cook down faster. Then I put the frozen berries in a sauce pan and cook them over medium heat until they're bubbling. Then I add in chia seeds, coconut sugar and lemon juice.
My favorite sweetener to use for this paleo chia seed jam is coconut sugar. It gives it the taste most similar to the jam I grew up with. But you could also use maple syrup, honey or maple sugar. I've used all 3 of those and they still sweeten the jam, I just prefer coconut sugar.
1/4 cup of chia seeds is the perfect amount to thicken the jam for me. As the chia seeds soak up the juice, they thicken the jam without having to use any pectin. So easy!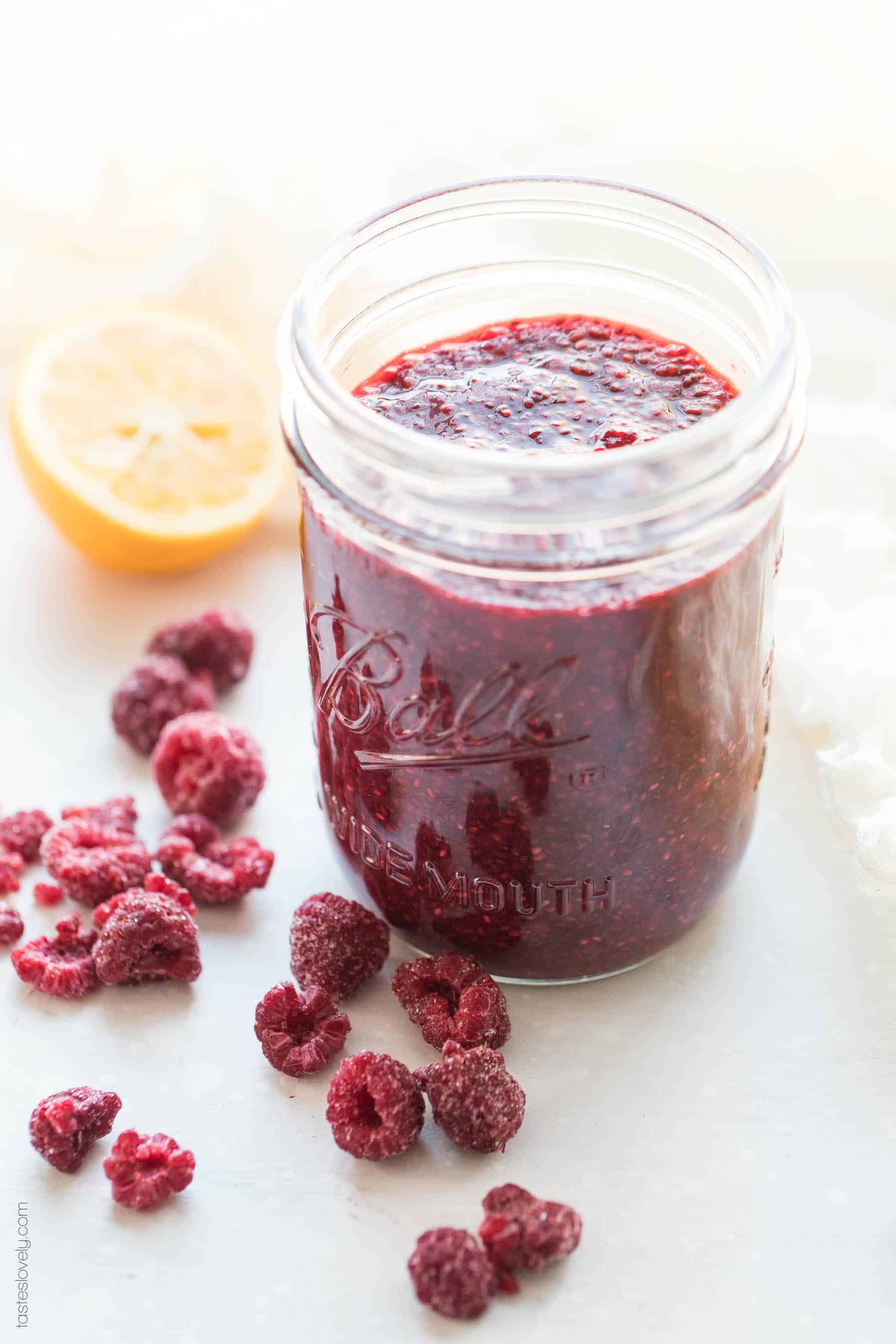 I like to keep my jam in freezer friendly mason jars (I linked to the 3 that I use in the recipe). That way I can store the finished jam in either the fridge or the freezer. The jam will keep in the fridge for 2 weeks, and in the freezer for 6 months.
My 2 year old is loving peanut butter and jelly sandwiches lately, and I feel much better giving him sandwiches made with my homemade paleo chia seed jam. Way less sugar, and all real, healthy ingredients. Plus, it's gluten free, grain free, dairy free, refined sugar free, vegan and clean eating.
Print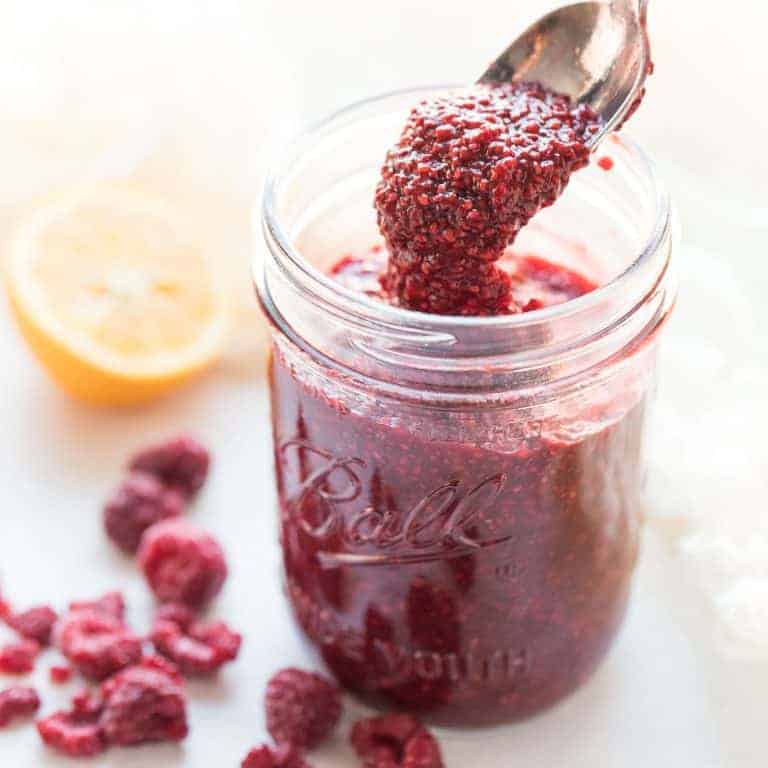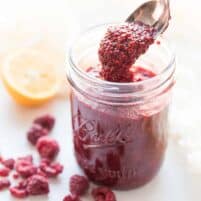 Paleo Chia Seed Jam with Frozen Berries
---
Author:

Prep Time:

5 minutes

Cook Time:

5 minutes

Total Time:

10 minutes

Yield:

2 cups

1

x
12 ounce bag of frozen berry of choice (about 2–1/2 cups)
1/4 cup chia seeds
2 or 3 tablespoons coconut sugar
2 tablespoons lemon juice
Equipment Needed
Food processor with S blade attachment
Medium size sauce pan
wide mouth pint size or half pint size, or 4 oz jam mason jar (all of these are freezer friendly!)
---
Instructions
Add the frozen berries to the food processor, and pulse until the berries are finely chopped.
Transfer the chopped berries to a medium size sauce pan over medium heat. Cook the berries about 5 minutes until bubbling, stirring occasionally.
Remove the pan from the heat then add the chia seeds, coconut sugar and lemon juice. Stir to combine. Taste and add more coconut sugar or lemon juice if desired.
Transfer the chia seed berry jam to a mason jar. Will keep in the fridge for 2 weeks, or in the freezer for 6 months.
Notes
You can use fresh berries also if available!

More Paleo Sweet Dips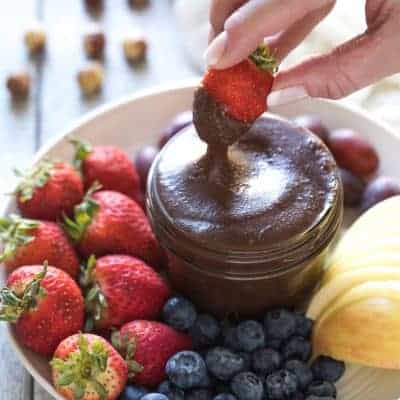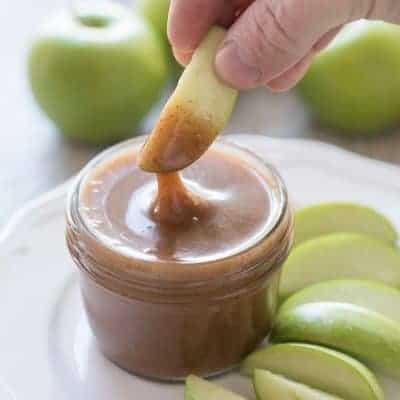 Paleo Salted Caramel Sauce (3 minute recipe!)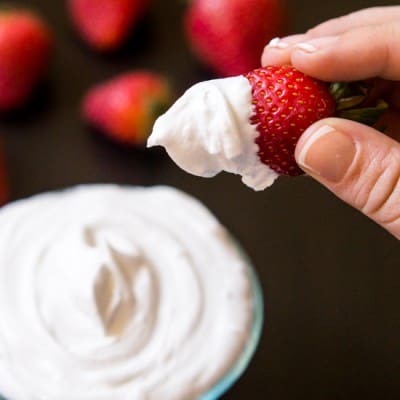 This post contains affiliate links, thanks for the love!
Never Miss a Recipe!
Get new posts delivered straight to your inbox! For free!