How to make paleo coconut whipped cream from a can of coconut milk. A quick and healthy vegan sweet treat to use on desserts or served with fresh fruit. Delicious dairy free whipped topping!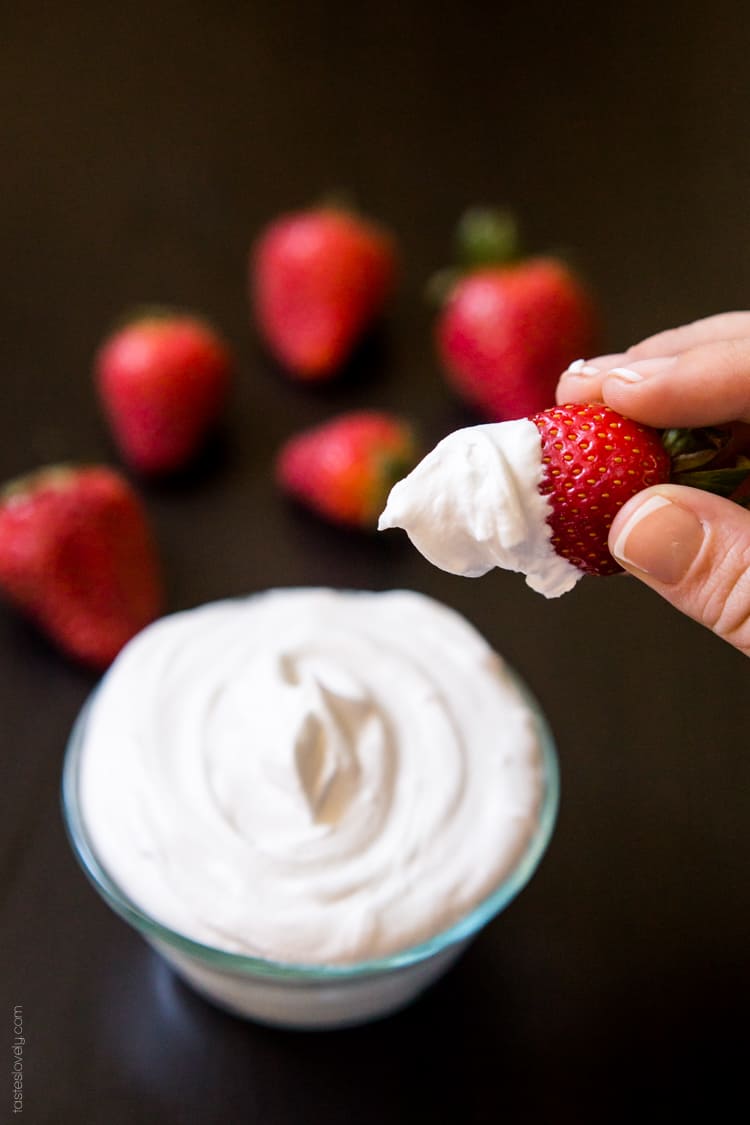 I have 2 modes.
I am either the busiest girl with a jam packed schedule juggling a bunch of things at once. Or I am the laziest girl you have ever met and will lay on the couch all day watching TV.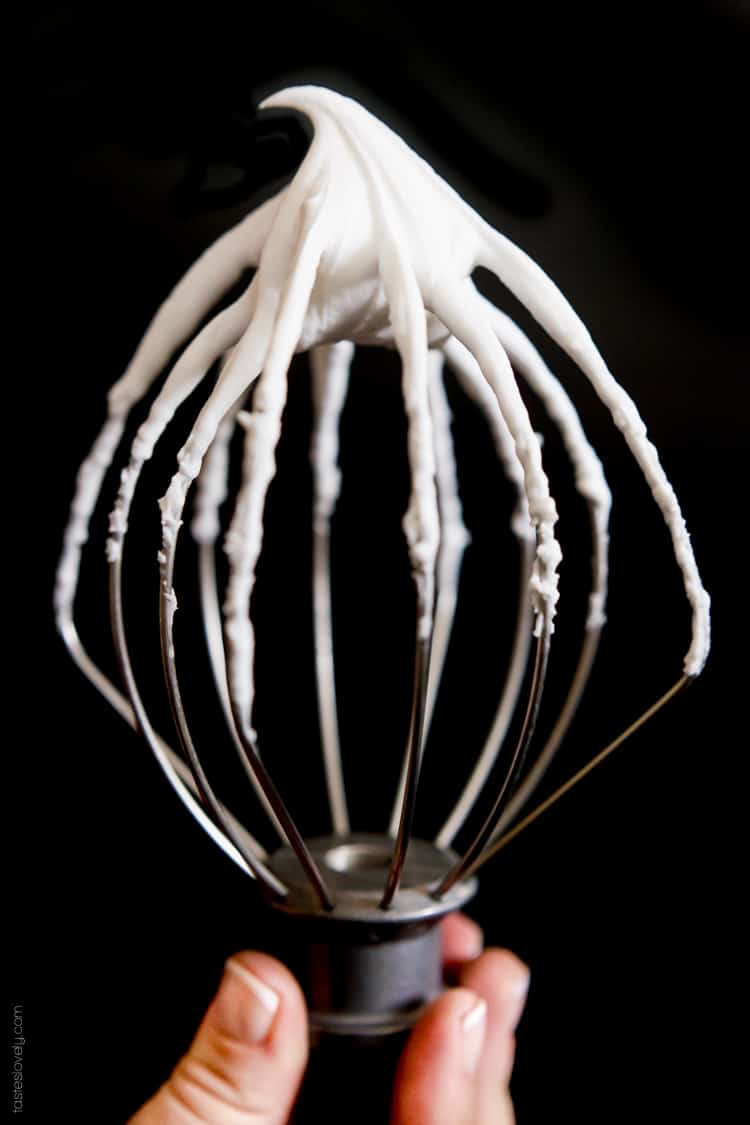 Take this weekend for example.
Saturday was my busy girl day.
I made banana muffins from scratch for breakfast, paid my bills, read and commented on my favorite blogs, did 2 loads of laundry, cleaned the house, emailed with prospective brides for our videography business. Then spent 4 hours outside working on our garden with Shawn, my dad and brother in law building retaining walls for the garden beds that are dug into the hill and building steps. THEN showered and got ready to go out to dinner and bowling with friends that night.
We weren't home until well after midnight.
Sunday was my lazy girl day.
I woke up. Ate a donut for breakfast. Laid on the couch all day watching TV and movies. Not figuratively. I mean literally all day. From 9am until bedtime. I even made Shawn pick up Chipotle for dinner because I couldn't possibly be bothered to get up and cook. I ended the night by crying my eyes out after watching the Girls finale.
I don't even think I brushed my teeth all day.
This paleo coconut whipped cream recipe is the perfect reflection of my modes. There are 2 ways to make it – fancy girl way using a stand mixer, or a lazy girl way using a bowl and a fork. Depending on how ambitious I am that day, there's a whipping method for my mood.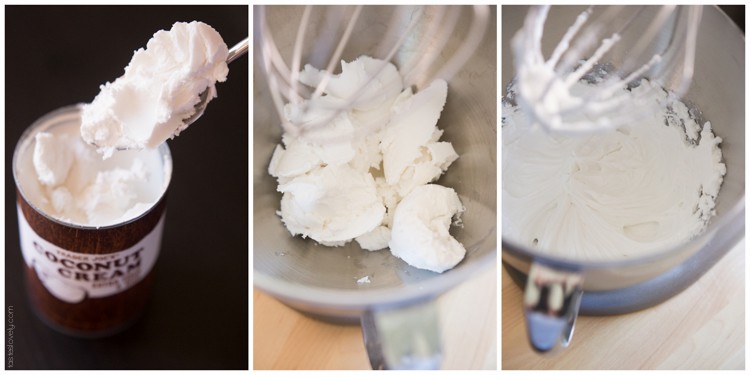 Have you made coconut whipped cream yet? I am absolutely obsessed! I used to have a hard time making it with full fat coconut milk. When you refrigerate full fat coconut milk for a day, the coconut cream rises to the top and separates from the coconut water…most of the time. But there are a few times when it wouldn't separate well, and it just won't turn out. I like to call those dud cans of coconut milk. I don't quite understand why it happens, it just does. And when you get a dud can, it is awful.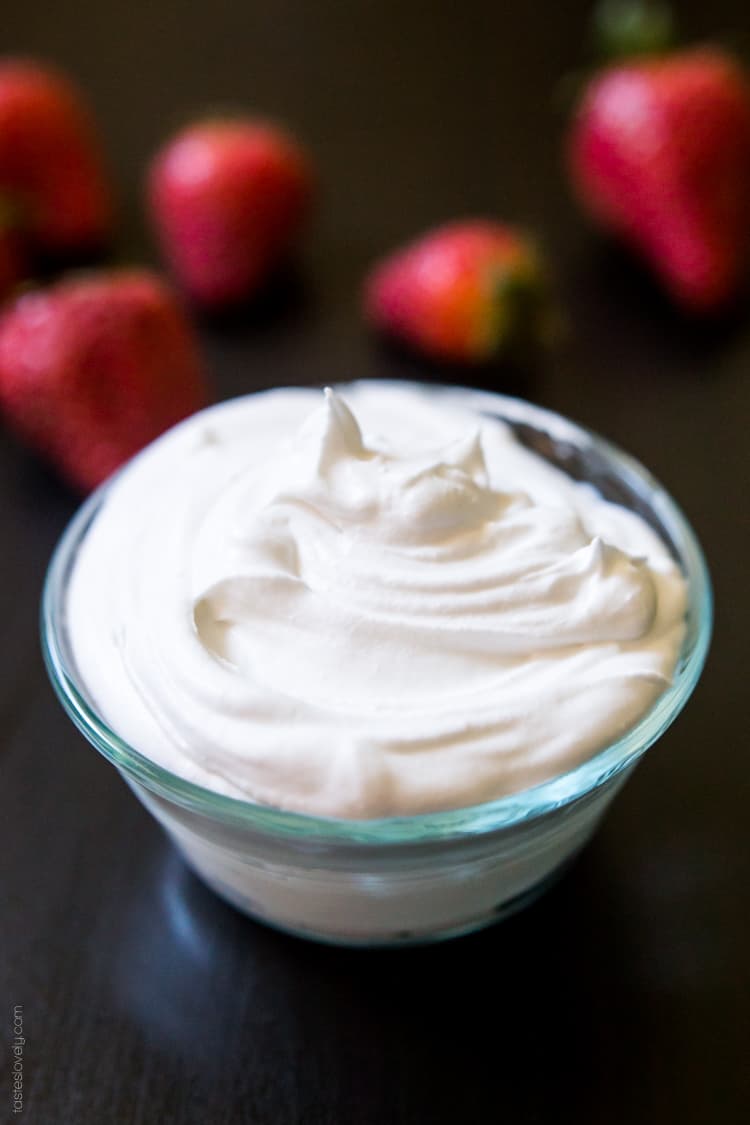 Thank goodness for Trader Joe's. They have coconut cream, which is already separated for you! It's thick and hard straight out of the can. It turns out perfect every time. If you chill it before hand, it is guaranteed to make beautiful soft peaks for you if you make it the fancy girl way in a stand mixer.
But for my lazy girl days, I've made this just as easily using a fork and a bowl and giving it a few good whips. It may not turn out as pretty, but tastes just as good.
If you don't have a Trader Joe's near you, you can still make this with regular canned coconut milk. I have had the best luck with Thai Kitchen coconut milk, the full fat version, not lite. It does the best job of separating in the fridge, and whipping up nice and stiff.
I love serving this whipped coconut cream with fresh fruit for a quick and healthy paleo and vegan sweet treat. If you leave the sweetener out it's Whole30 friendly too. Perfect way to enjoy a whipped topping that is dairy free!
Print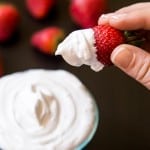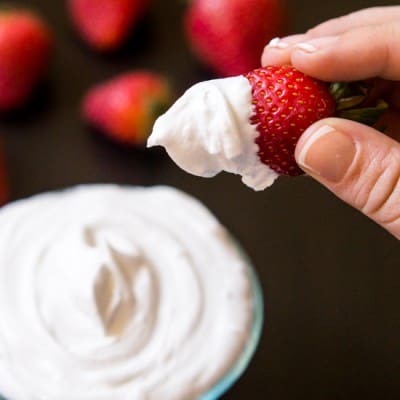 Coconut Whipped Cream (Paleo, Vegan)
---
Author:

Prep Time:

10 mins

Cook Time:

5 mins

Total Time:

15 mins
---
Instructions
Fancy Girl Version
Chill your mixing bowl and whisk attachment in the freezer for 10 minutes before making the coconut whipped cream.
When bowl is chilled, remove the thick and hardened coconut cream from the can and transfer to your mixing bowl, leaving any excess moisture/coconut water in the can. If your can of coconut cream did not harden up, unfortunately you got a dud can of coconut cream and it won't whip into soft peaks. Use this can for cooking or baking instead, and try another can.
Using a whisk attachment, beat on medium high for 2 minutes, until light and fluffy and soft peaks form. Scrape down the bowl. If adding sweetener, add coconut sugar or honey, then continue beating for another 2 minutes. I usually don't add sweetener, since the coconut cream has its own natural sweetness. But if you like it sweeter, feel free to add it.
Lazy Girl Version
Scoop the cold (or even room temperature) coconut cream into a small bowl, leaving any excess moisture/coconut water in the can. Whip it up with a fork for a few seconds until fluffy. It won't be as stiff and pretty, but this takes less than a minute and you don't have to bust out your stand mixer!
Serving
You can serve the whipped coconut cream immediately, or transfer to an airtight container in the fridge for up to 1 week. It will harden up in the fridge. Just whisk for a few seconds before serving again.

Use your coconut whip cream on these tasty desserts: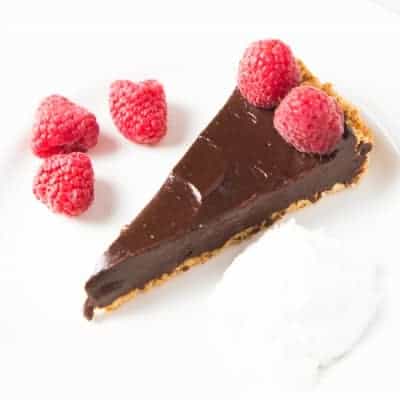 Healthy Chocolate Tart (Paleo, GF, Vegan)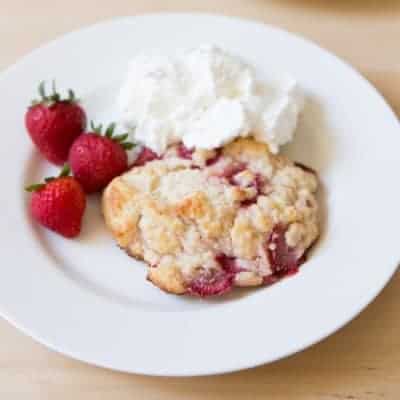 Buttermilk Strawberry Shortcake Biscuits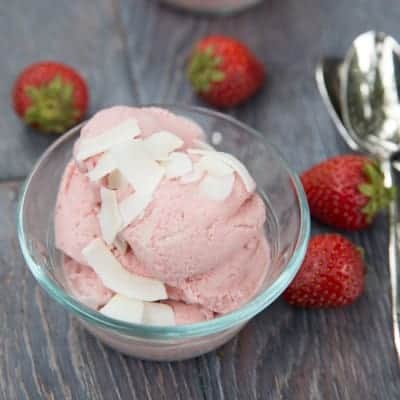 Strawberry Coconut Milk Ice Cream
Never Miss a Recipe!
Get new posts delivered straight to your inbox! For free!