Whole30 + Keto Coconut Whipped Cream
How to make whole30 + keto no sugar added coconut whipped cream from a can of coconut milk. Recipe video! A quick & healthy sweet treat for desserts or fruit. Delicious dairy free whipped topping! Paleo, low carb, gluten free, grain free, dairy free, sugar free, clean eating, real food.
This is my absolute FAVORITE healthy sweet treat!
I make it all the time, and know you're going to fall in love with it too.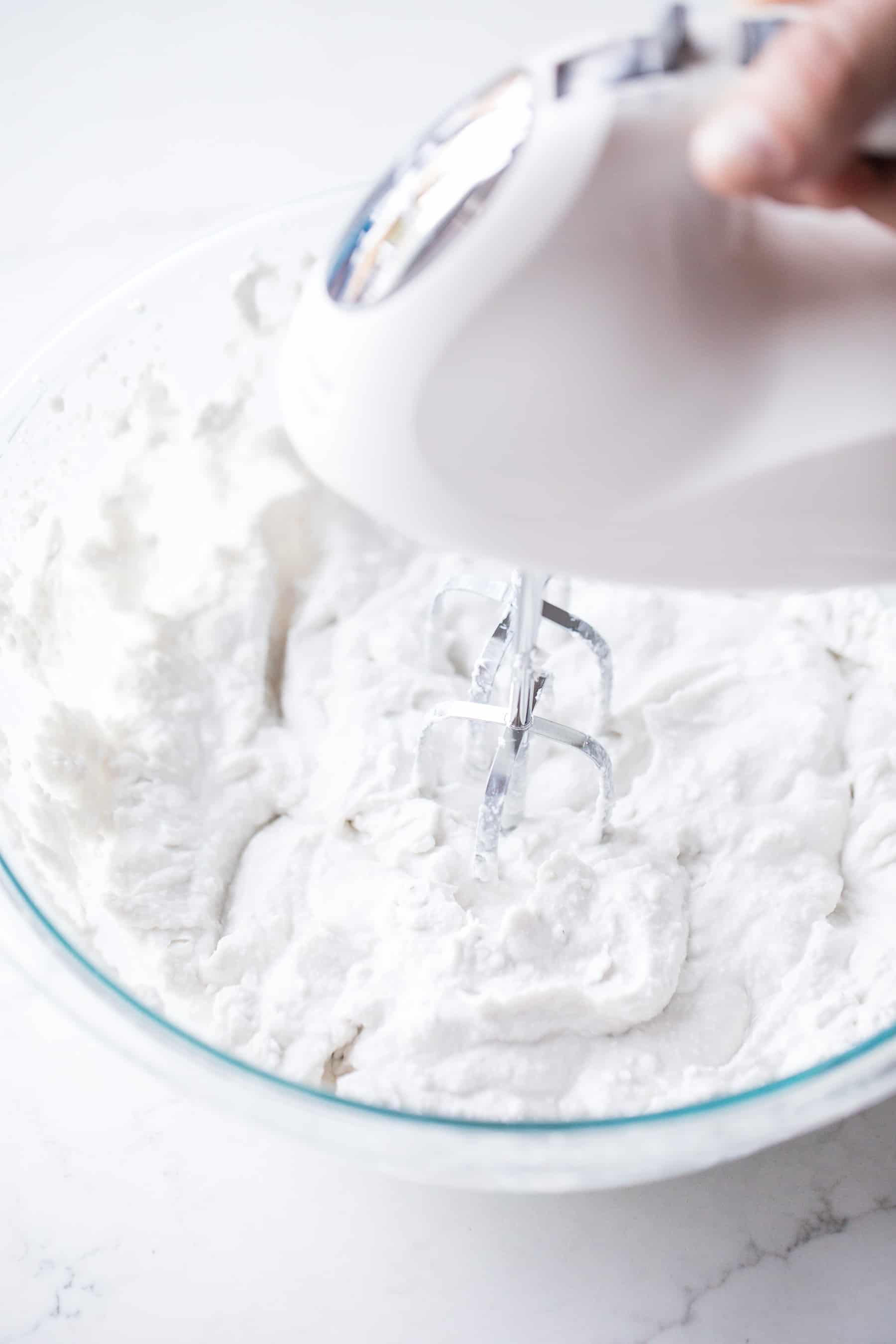 Ingredients in Paleo + Whole30 Coconut Whipped Cream
It's just 1 ingredient. Coconut cream. Whip it up with a hand mixer or stand mixer (or heck, even a fork and a bowl if you're feeling lazy!), and it gets fluffy like a cloud and tastes just like whipped cream. Since it's made with just coconut milk it's paleo, whole30, keto, sugar free and vegan.
The coconut milk is plenty sweet enough for me. Especially since I serve it with fruit that adds its own natural sweetness. If you want it even sweeter, you can add a bit of maple syrup or honey, but it will no longer be whole30 + keto.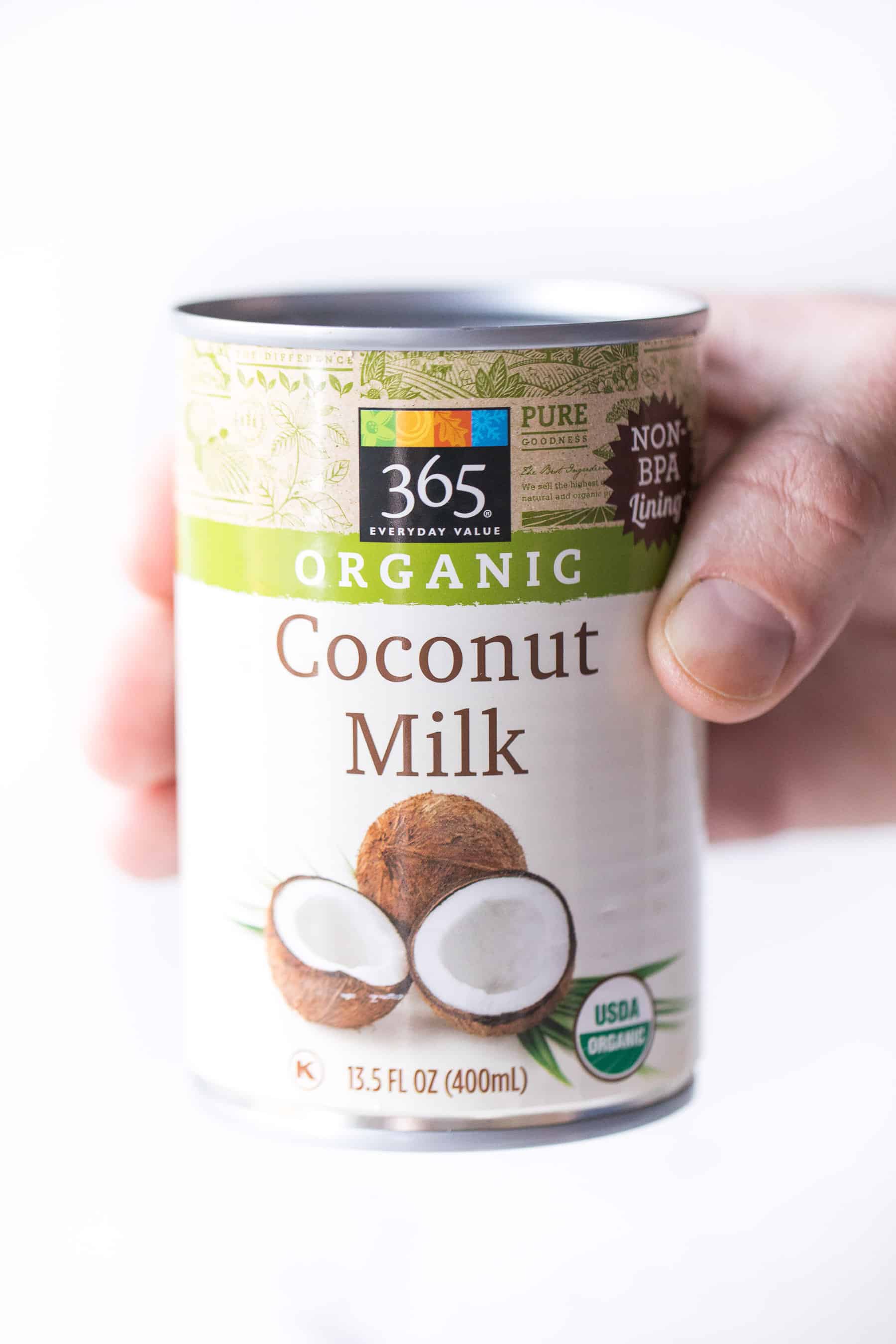 Best Coconut Milk to Make Coconut Whipped Cream
There is only 1 coconut milk that I recommend getting: Whole30 Foods 365 Organic Coconut Milk. It's the only coconut milk that works every single time. This isn't sponsored in any way, just sharing what works best for me!
Sadly, Trader Joe's, Thai Kitchen and Native Forest do not work well to make coconut whipped cream. Save those brands to use in sauces, soups or smoothies.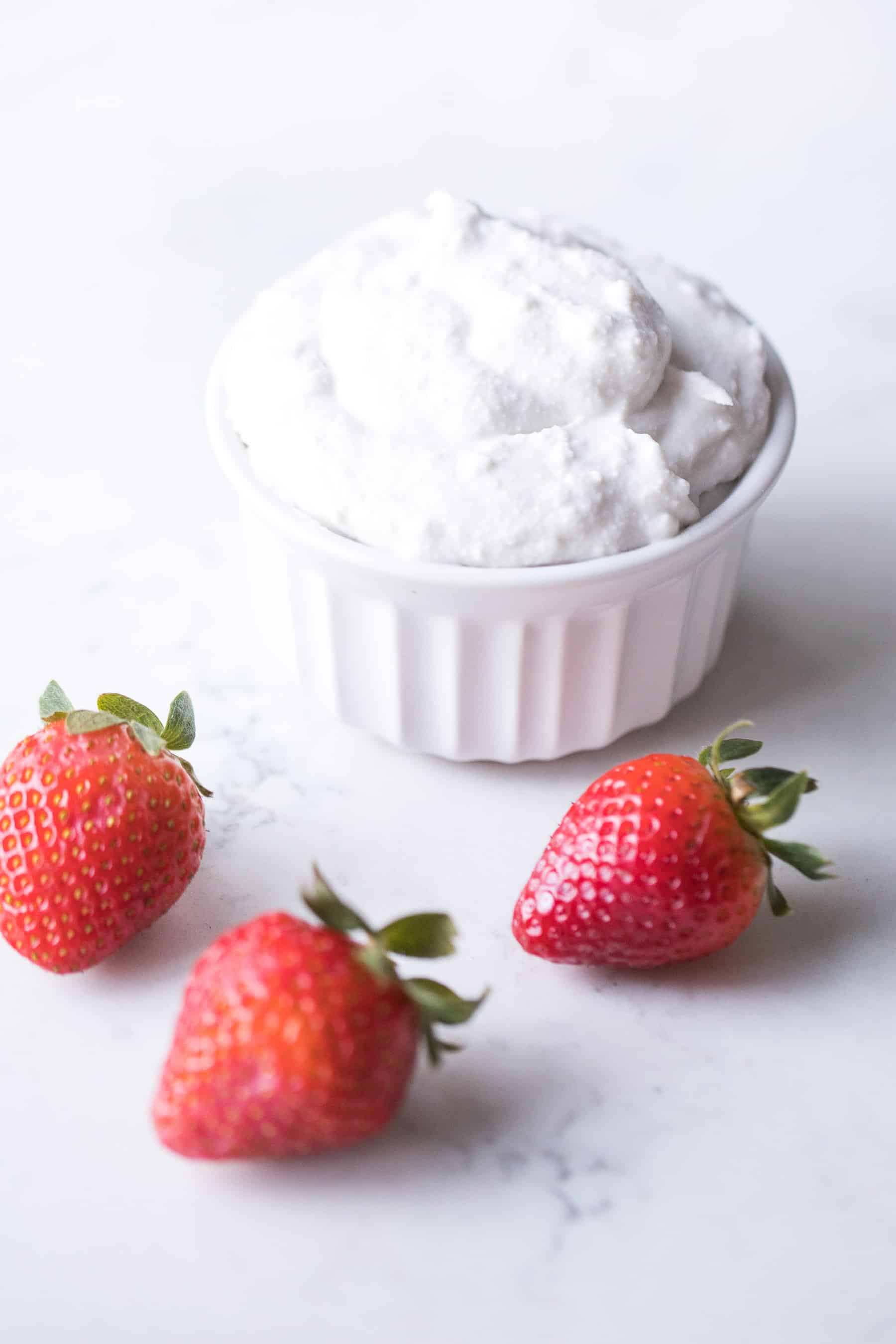 Coconut Whipped Cream Without Chilling The Can
For the best results, chill the coconut cream in the fridge for a few hours, or preferably overnight. This encourages the coconut cream to separate from the coconut water. After opening the can, carefully scoop out all of the hardened coconut cream that rose to the top. You can save the coconut water for smoothies, or just to drink straight!
If you need to have coconut whipped cream now, and didn't chill the coconut milk, it still works pretty good! Doesn't get as light and fluffy, but tastes delicious! I just scoop it into a bowl and whip it with a fork quickly. Great when I'm making a treat just for me!
Watch How To Make Paleo + Whole30 Coconut Whipped Cream Recipe Video
Print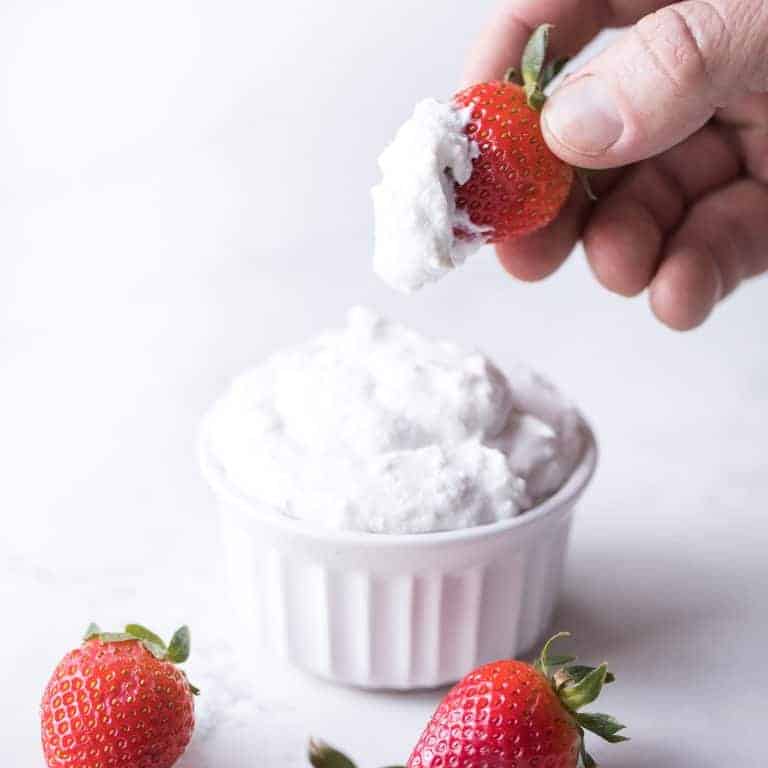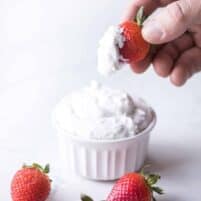 Coconut Whipped Cream (Paleo, Vegan)
---
Author:

Total Time:

15 mins

Yield:

5
---
Instructions
Fancy Version
Remove the thick and hardened coconut cream from the can and transfer to your mixing bowl, leaving any excess moisture/coconut water in the can. If your can of coconut cream did not harden up, unfortunately you got a dud can of coconut cream and it won't whip into soft peaks. Use this can for cooking or baking instead, and try another can.
Use a hand mixer or stand mixer to beat on medium high for 2 minutes, until light and fluffy and soft peaks form. Scrape down the bowl. If adding sweetener, add now and continue beating until mixed. I usually don't add sweetener, since the coconut cream has its own natural sweetness. But if you like it sweeter, feel free to add it.
Serve and enjoy! Leftovers will keep for 5 days refrigerated in an airtight container.
Lazy Version
Scoop the cold (or even room temperature) coconut cream into a small bowl, leaving any excess moisture/coconut water in the can. Whip it up with a fork for a few seconds until fluffy. It won't be as stiff and pretty, but this takes less than a minute and you don't have to bust out your stand mixer or hand mixer!
Serving
You can serve the whipped coconut cream immediately, or transfer to an airtight container in the fridge for up to 1 week. It will harden up in the fridge. Just whisk for a few seconds before serving again.
Notes
If you like it sweeter, you can add some monk fruit for keto (no sweetener for whole30!). Or if you're not following keto or whole30, use maple syrup, honey, coconut sugar, or even white sugar. About 1 tablespoon.
Prep Time:

10 mins

Cook Time:

5 mins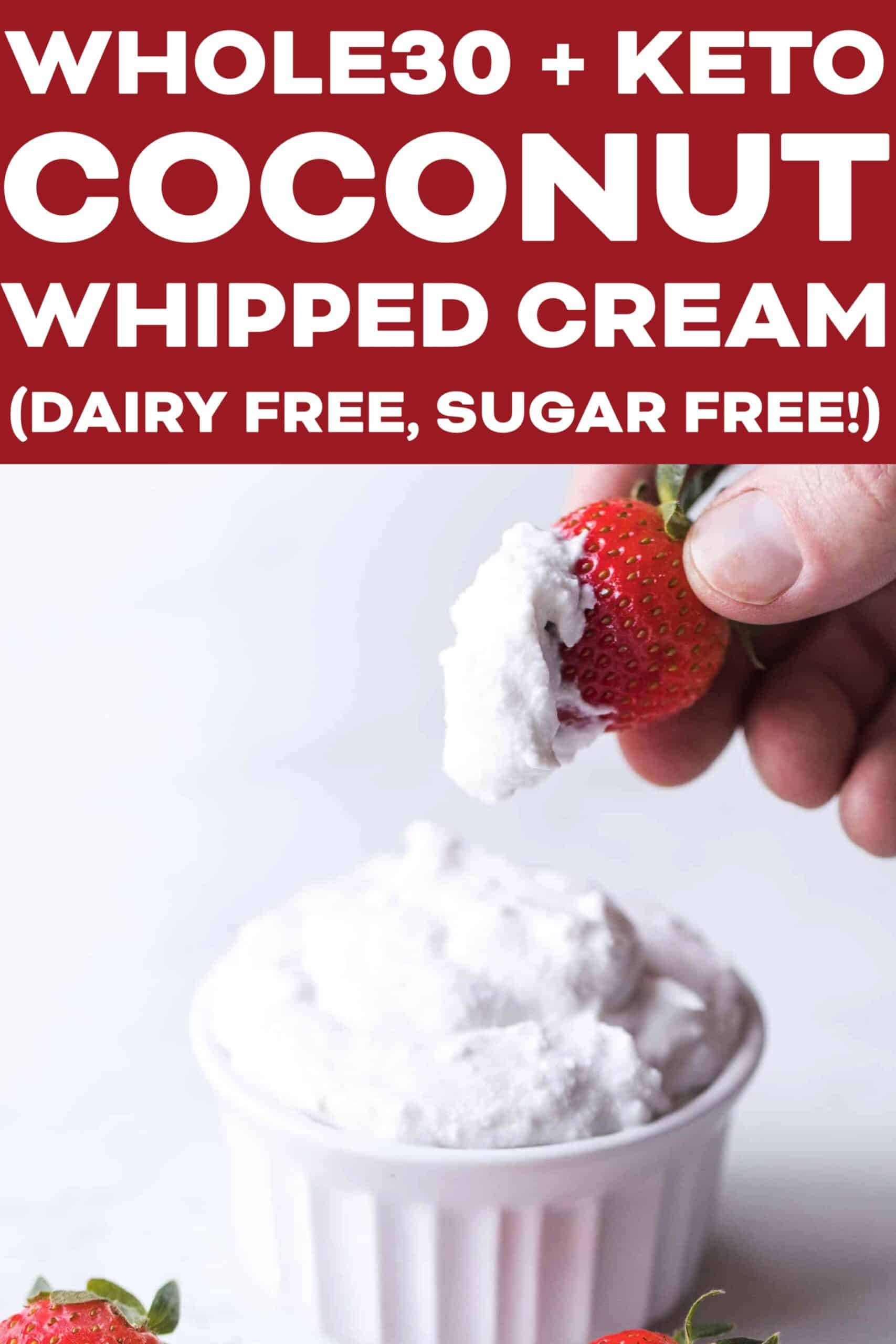 This post contains affiliate links, thanks for the love!