Healthy Chocolate Tart (Paleo, Vegan, GF)
Extremely delicious, yet secretly healthy chocolate tart made with avocados, cocoa powder and sweetened with pure maple syrup. Paleo, vegan and gluten free, but thoroughly enjoyed by everyone.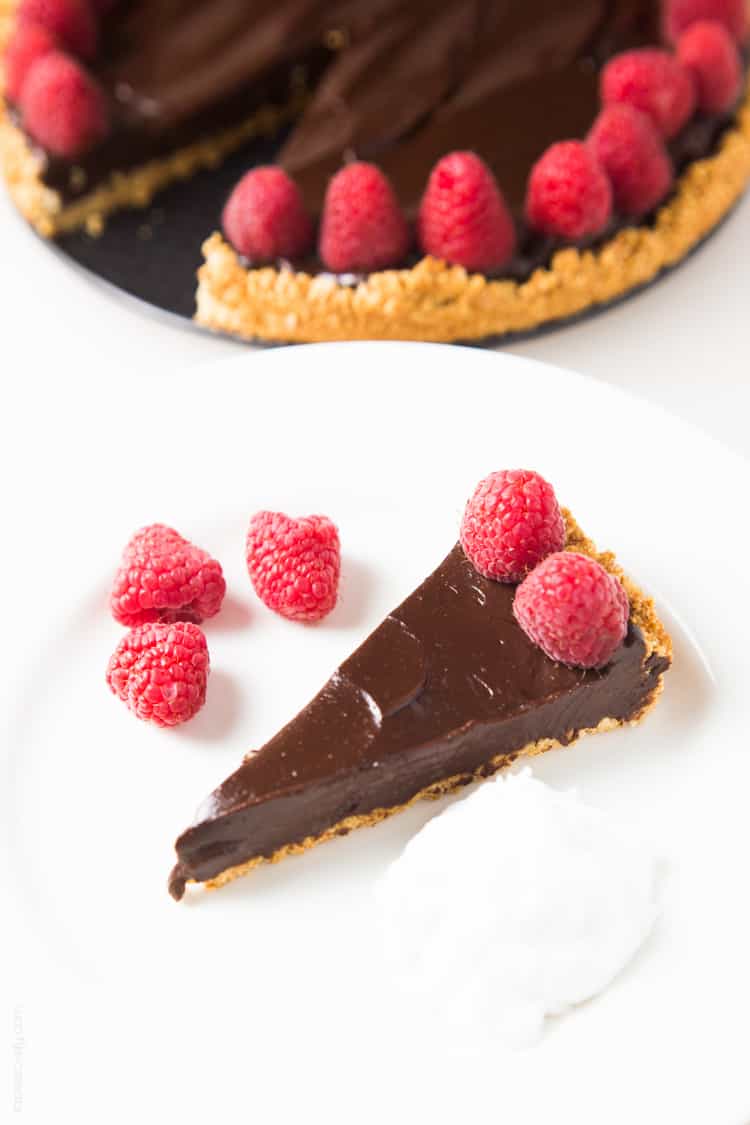 This healthy chocolate tart is kiiind of a big deal.
I don't make a ton of desserts, so when I have one to share on the blog, you know it's good. And this one may be my favorite yet.
Shawn and I are still doing the Whole30, and loving it. But we recently had a dinner party, and I wanted to come up with a great recipe to serve for dessert that was as close to Whole30 as possible. I played around with a few different variations, but once I made this healthy chocolate tart, I knew I had a winner. While it does have maple syrup, which isn't Whole30 approved, it is still refined sugar free, dairy free, paleo, vegan and gluten free. A dessert you can eat completely guilt free!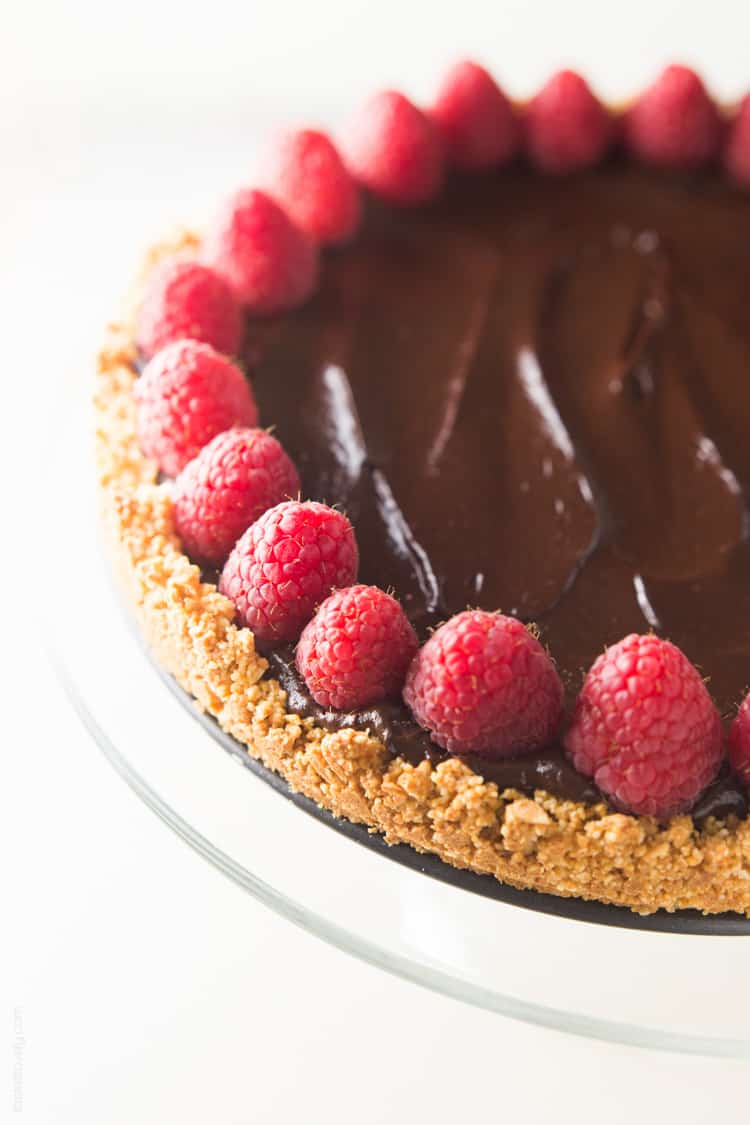 The coconut almond crust is from my wonderful blogging friend Rachel, who is my go to for paleo desserts. The coconut and almond combination sounded delicious, and I knew it would be flavors that everyone would love, not just paleo's or vegans.
For the filling, I wanted to come up with a thick and rich chocolate filling, and then I remembered my lovely blogging friend Kelly had a recipe for chocolate avocado pudding that sounded delicious. I tweaked her recipe a little to get it nice and thick for the tart, and it ended up perfect.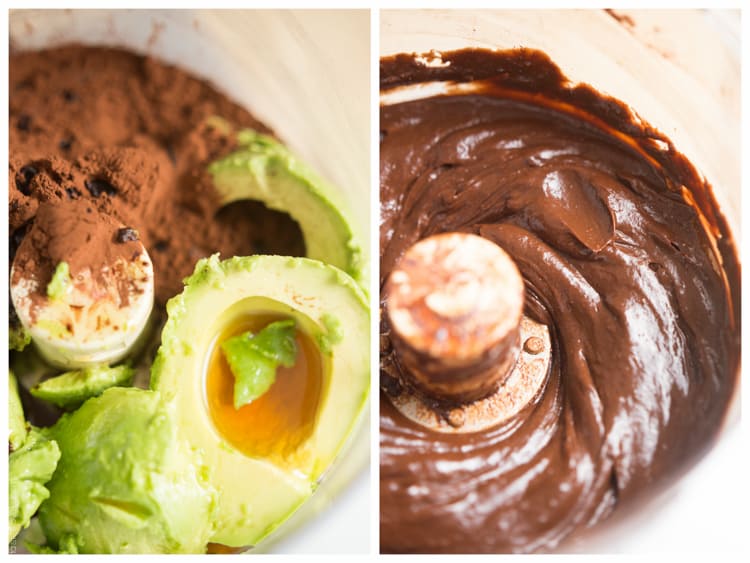 I know what you're thinking. "Avocados and chocolate? Sounds gross." I swear to you, you cannot taste the avocado whatsoever! The secret is to use avocados that are just barely ripe, almost on the hard side. The riper the avocado, the more avocado flavor. Barely ripe avocados have hardly any flavor, just a silky texture, making them perfect for this healthy chocolate tart. You will want to go through every single avocado at the market and find the 2 perfect ones. You want an avocado that has just the tiniest, slightest give when you squeeze it. One that you would normally let ripen for another 3 days before using it to make guacamole.
To make sure the taste was good to everyone and not just me, I ran up to Shawn after I made it with a spoonful of the avocado chocolate filling and told him to taste it. As soon as he tasted it he said "More!" and proceeded to lick the spoon clean. I asked him to guess what was in the filling, and when I told him it was avocado's he was shocked. "There is no way! It tastes just like brownie batter!"
It really does taste like a thick, velvety, smooth brownie batter.
To really make sure this would pass the ultimate taste test, I had my meat and potatoes loving dad give it a taste. I didn't tell him anything about the ingredients. He ate the whole thing, and told me how good it was. He thought I was lying when I told him it was made with avocado's. But it's true!
If I can sneak it past those 2 guys, this recipe can get past anybody.
And, no one at the dinner party could tell this was a "healthy" dessert either. This recipe is like magic!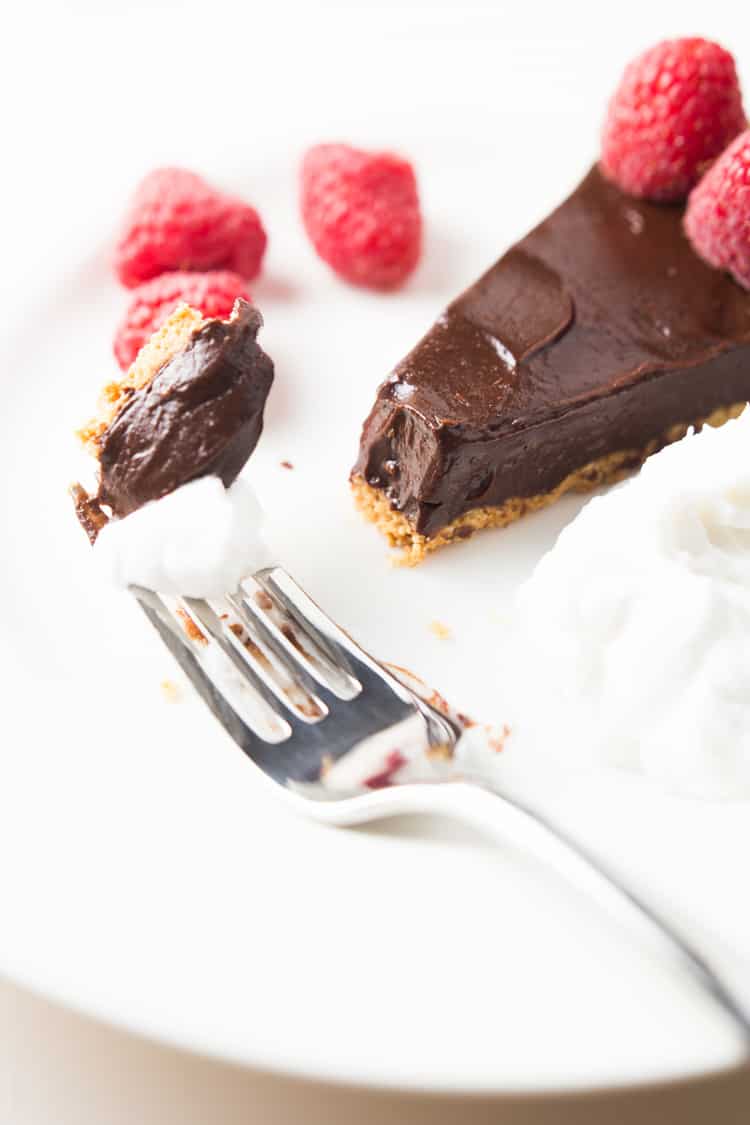 This healthy chocolate tart is the perfect dessert to make for Valentine's day. It will show your sweetie how much you care, but is also kind to your health and will keep you looking great in those skinny jeans.
Print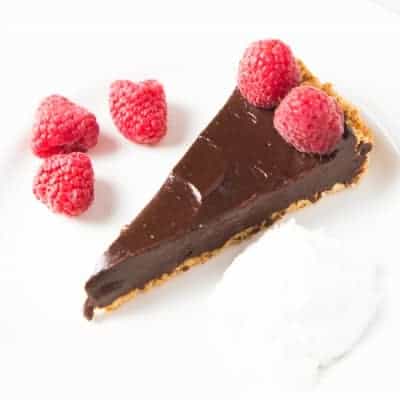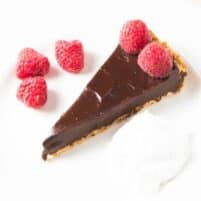 Healthy Chocolate Tart (Paloe, Vegan, GF)
---
Author:

Prep Time:

20 mins

Cook Time:

12 mins

Total Time:

32 mins

Yield:

12

slices

1

x
Scale
Ingredients
Crust
1/2 cup

unsweetened, raw coconut flakes

1

–

1/2

cups almond flour

2 tablespoon

s grade A maple syrup

2 tablespoon

s coconut oil, melted, plus more for brushing the spring pan
pinch of salt
Chocolate filling
2

medium size avocado, just barely ripe, on the firmer side

1/2 cup

unsweetened cocoa powder

3/4 cup

grade A maple syrup

2 tablespoon

s coconut oil, melted

1 teaspoon

vanilla
Garnish
---
Instructions
Preheat oven to 350 degrees, with the oven rack in the center position. Brush a nonstick 9″ spring form pan with melted coconut oil. Set aside.
In a food processor, combine the coconut flakes, almond flour and salt. Pulse until the mixture resembles medium size crumbs, about 30 seconds. Then add the maple syrup and coconut oil. Pulse until the mixture resembles course sand, about 30 seconds.
Dump the coconut almond crust into the spring form pan. Gently spread the crumbs to make an even layer, and to come up the side of the pan about 1/2″. Once the crumbs are even, press the crumbs in with firm pressure using a cup measure. You may need to brush the bottom of the cup measure with coconut oil to make sure the crumb mixture doesn't stick.
Bake the crust for 14 minutes, or until lightly golden brown. Remove the crust, and allow to cool on the counter for a few minutes, then transfer to the freezer for 15 minutes to cool completely.
While the crust is cooling in the freezer, make the chocolate filling. Combine all ingredients in a food processor, and blend until the mixture is smooth without any lumps, about 2 minutes. You will need to scrape down the bowl half way thru.
Pour the chocolate filling onto the cooled crust, and spread into an even layer. Cool the tart in the fridge for at least 1 hour.
Whip the coconut cream in a bowl with a fork until fluffy, about 30 seconds. If getting coconut cream from the bottom of the can, avoid scooping out any of the water. Garnish the cooled tart with raspberries, and serve with a dollop of whipped coconut cream.
This tart is best served the same day, since the crust will be crispiest. If I'm serving it for dessert, I'll make it late in the afternoon that day. But I have made this 1 day before, or had leftovers the up to 3 days after. It still tastes great, and the crust is still firm, but it loses the "crispiness".
---
Notes
If using barely ripe avocados, this tart has no avocado taste whatsoever. Riper avocados have more avocado taste, so don't use ripe or very ripe avocados in this. If they are hard as a rock, they won't blend smooth enough, so don't use extremely under ripe avocados either. The perfect avocado will have just *barely* any give when you squeeze it.
Source: crust via Bakerita, chocolate filling adapted from The Pretty Bee.
Need more sweets? Try out some more of my desserts: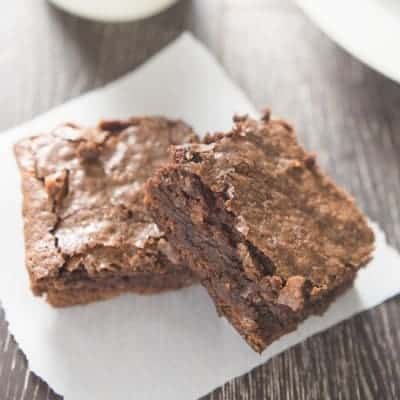 Homemade Fudgy Chewy Brownies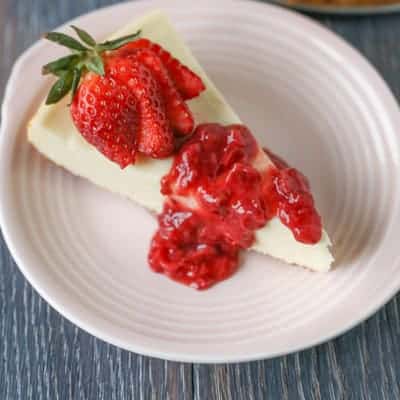 Creamy Homemade Cheesecake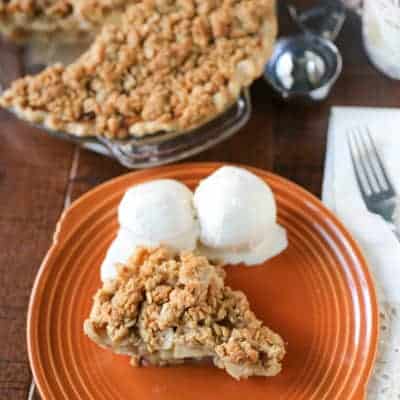 Apple Crumble Pie
For some healthier dessert options, check these sweets out from my blogging friends:
Chocolate Avocado Pudding (Paleo, Vegan, GF) by The Pretty Bee
Chocolate Berry Tart (Paleo, Vegan, GF) by Bakerita
Paleo Chocolate Lava Cake by Food Faith Fitness