Easy Paleo & Whole30 Italian Meatballs Recipe – made with almond flour and served with marinara sauce over zoodles. The most delicious, moist, flavorful meatballs! Gluten free, grain free, dairy free, sugar free, clean eating, freezer friendly.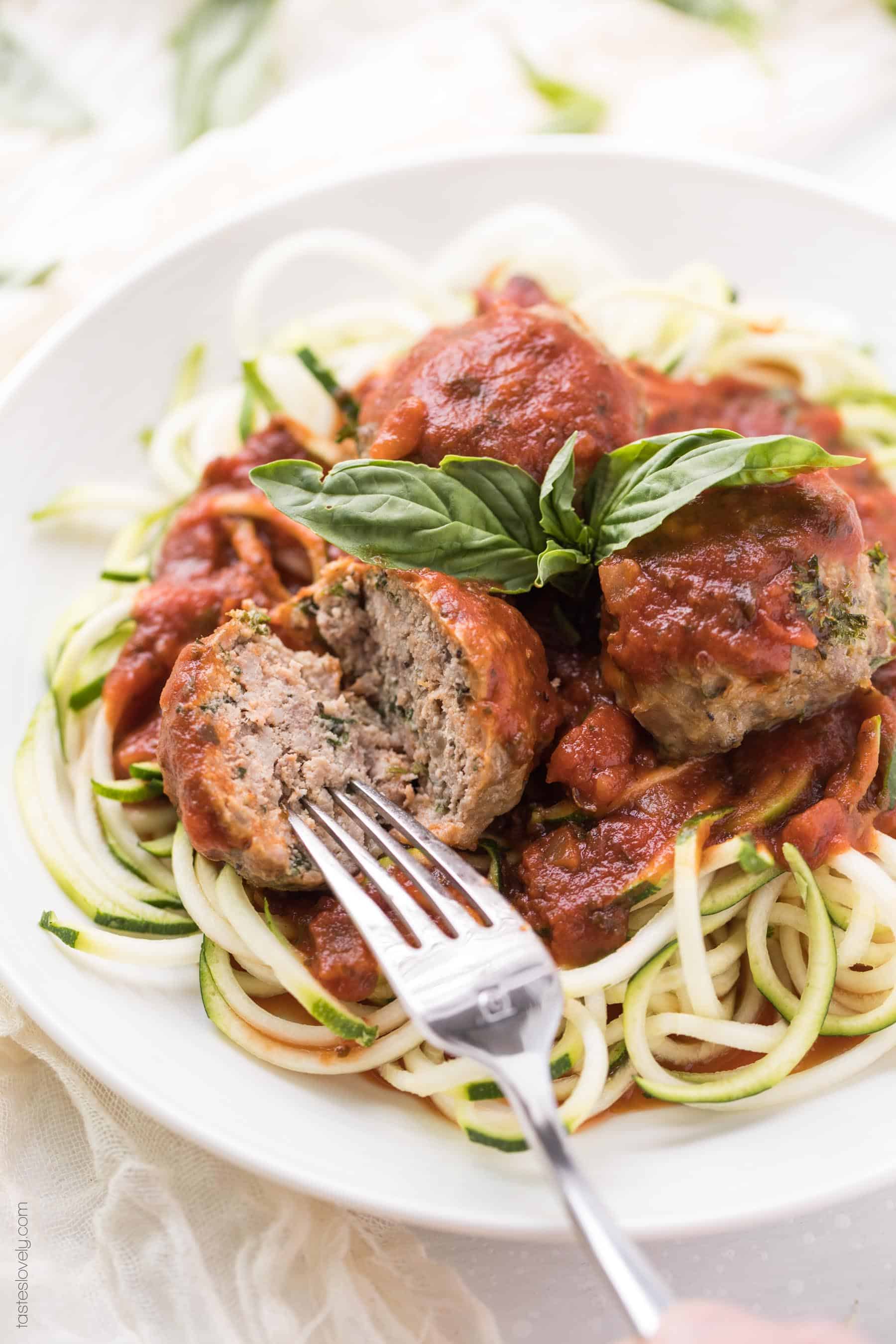 You guys! These are hands down the best meatballs I have EVER HAD! I'm serious. Juicy, flavorful, tender, and packed with tons of Italian flavor.
The best part? They're paleo, whole30, gluten free, grain free, dairy free, sugar free, and 100% clean eating. I tweaked my previous go-to meatball recipe, and made some adjustments to make these completely diet friendly.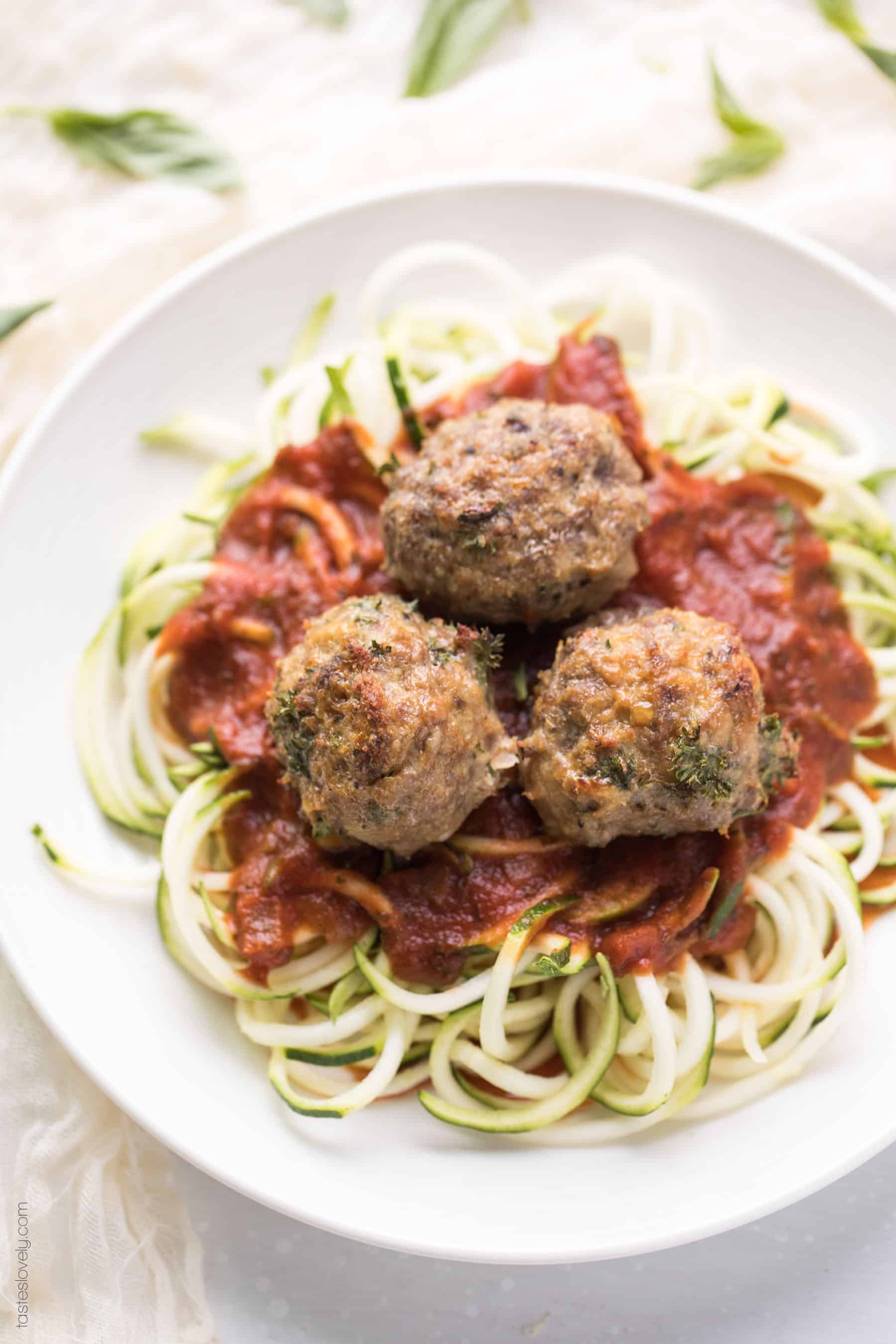 The first key to the meatballs is using both ground beef and ground pork. These adds a lot of flavorful and fat to keep these meatballs flavorful and from getting too dry. I personally prefer 85% lean beef and 80% pork, and always organic.
Rather than using a panade of bread crumbs and milk, I make a panade using almond flour and chicken stock. Works beautifully! I cannot even tell the difference. In fact, I like it even better. The almond flour adds even more protein to the meatballs, and the chicken stock adds a light flavor that doesn't compete with the beef and pork.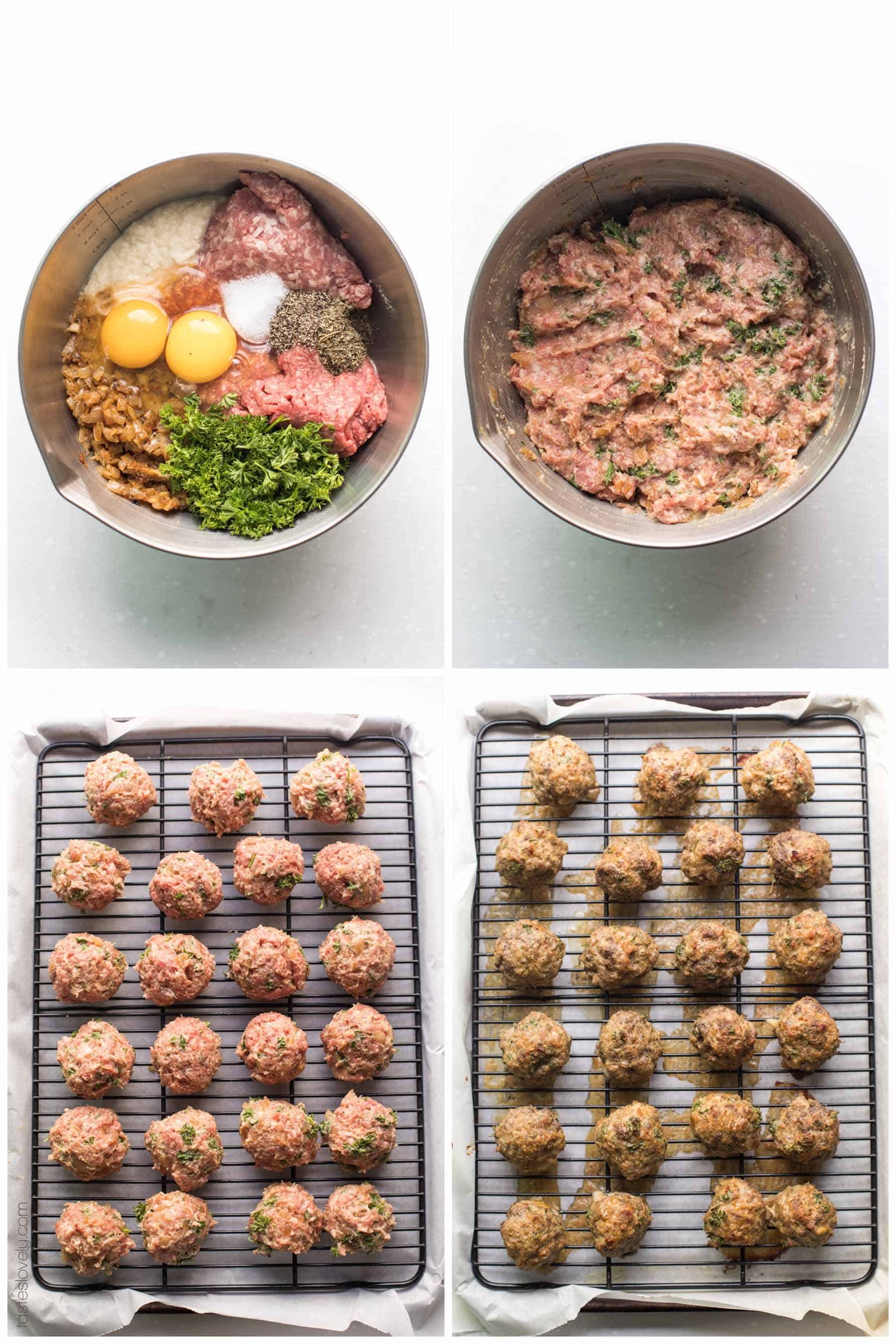 These paleo & whole30 meatballs also have 2 eggs, onions + garlic that have been sauteed until golden, italian seasonings, salt, pepper, and fresh chopped parsley. All simple, real ingredients.
I mix it all together, and use a large cookie scoop to keep the meatballs uniform in size so they bake at the same rate. Plus, it's much easier to scoop them out than doing it all by hand.
I like to roast my paleo & whole30 meatballs on a rimmed baking sheet with a wire rack set in it. By baking them on the wire rack the meatballs don't have to sit in the juice as they bake, and they get crispier and golden brown.
Once they're done baking, they're ready to serve! I like serving mine on zoodles with my favorite marinara sauce. (Trader Joe's makes a delicious Whole30 marinara sauce that has no sugar in it.) These can also be kept warm in a slow cooker with the marinara sauce, and they freeze beautifully! See the recipe and notes for instructions on that.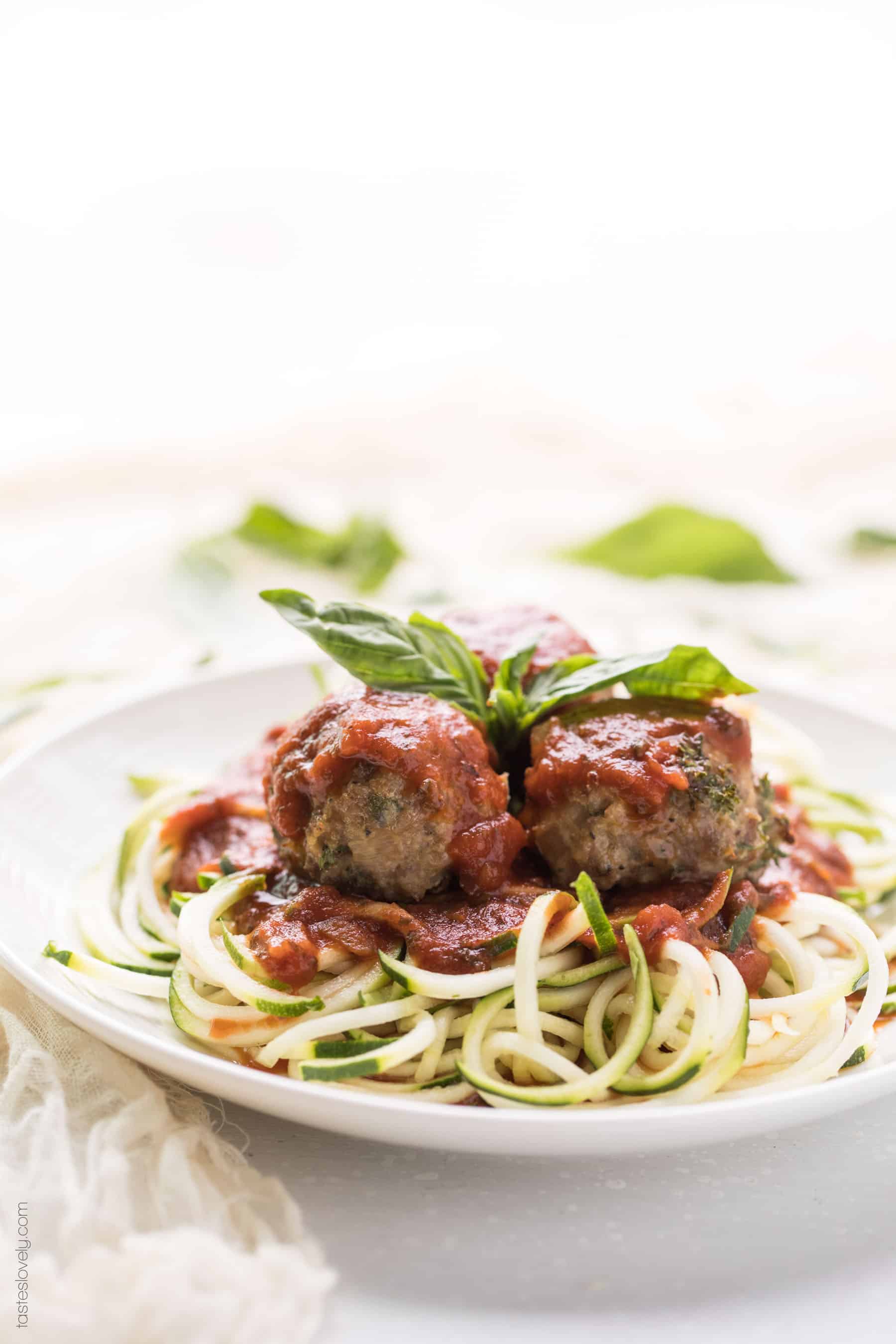 These paleo & whole30 meatballs are also my favorite way to get red meat into my 2 year olds diet. He has a hard time chewing steak, so these meatballs are the perfect way to get him a chewable red meat dinner that is packed with iron, zinc and B12.
Print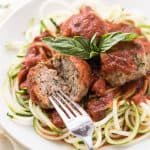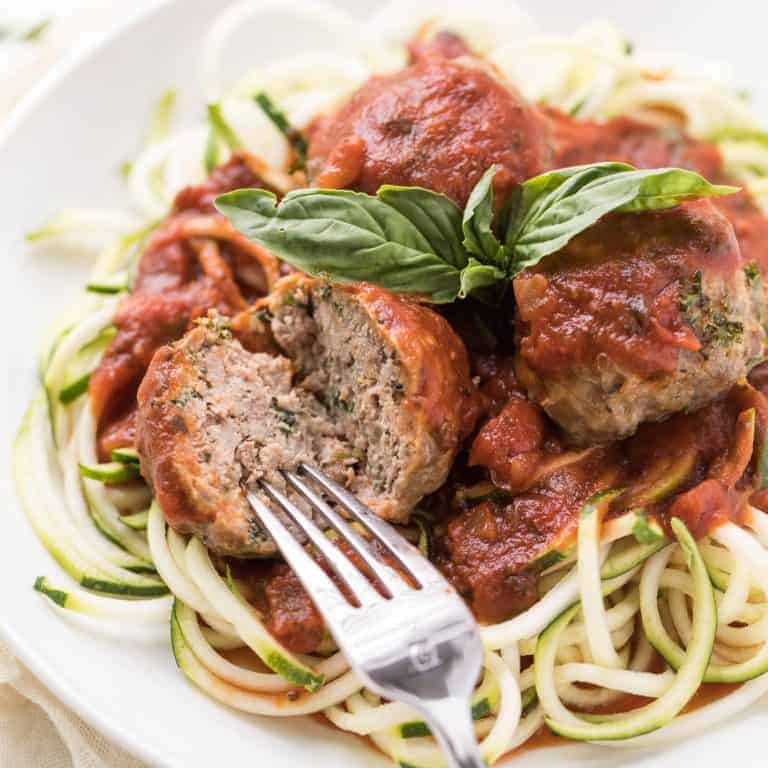 Paleo & Whole30 Italian Meatballs
---
Author:

Prep Time:

15 minutes

Cook Time:

25 minutes

Total Time:

40 minutes

Yield:

24 meatballs
Ingredients
3/4 cup super fine blanched almond flour
1/2 cup chicken stock
1 tablespoon olive oil
1 medium onion, finely chopped
3 cloves of garlic, grated or finely minced
1 pound ground beef (I use 85% lean) (I get my meat from ButcherBox, which I highly recommend)
1 pound ground pork (I use 80% lean)
2 eggs
1/2 cup packed finely chopped fresh parsley (about 1/4 of a bunch of fresh parsley)
2 teaspoons salt
1 teaspoon pepper
1 teaspoon dried Italian herb seasoning
1 jar of your favorite paleo/whole30 marinara sauce
Kitchen Equipment Needed:
Rimmed baking sheet with wire baking rack
Parchment paper or aluminum foil
---
Instructions
Preheat oven to 425ºF. Line a large rimmed baking sheet with parchment paper or foil (for easy clean up), and place in a wire rimmed baking rack.
In a large mixing bowl, combine the almond flour and chicken stock. Stir and set aside while it absorbs the liquid.
Heat a medium size skillet over medium heat. Add olive oil, onions, garlic and a pinch of salt & pepper. Cook, stirring occasionally, until the onions are soft and turning golden brown, about 10-15 minutes.
In the same large mixing bowl that has the almond flour and chicken stock, add the cooked onions & garlic, ground beef, ground pork, 2 eggs, parsley, salt, pepper and Italian seasonings. Use a spatula or hands to mix until completely combined.
Use a large cookie scoop (or measure out 3 tablespoons) to scoop out meatballs, and use hands to roll into balls. Place meatballs on wire baking sheet. Will make 23-24 meatballs.
Bake the meatballs in the oven for 25 minutes, or until golden brown.
Serve immediately while warm, topped with your favorite marinara sauce. Delicious on top of zucchini noodles or roasted spaghetti squash.
Leftovers will keep refrigerated in an airtight container for 1 week.
These meatballs freeze beautifully! After baking, allow the meatballs to cool completely, then freeze the baked meatballs in a freezer ziptop bag for up to 6 months. When ready to reheat, bake the frozen meatballs on a baking sheet in a 350ºF oven for 15-20 minutes until heated through.
Notes
I usually make these meatballs in the afternoon (when the toddler is napping), and put the cooked meatballs in my slow cooker over low heat with whole jar of marinara sauce, then serve them warm at dinner time over zoodles. They turn out even more flavorful and juicy when they simmer in the marinara sauce for a few hours.

More Paleo/Whole30 Italian Dinners: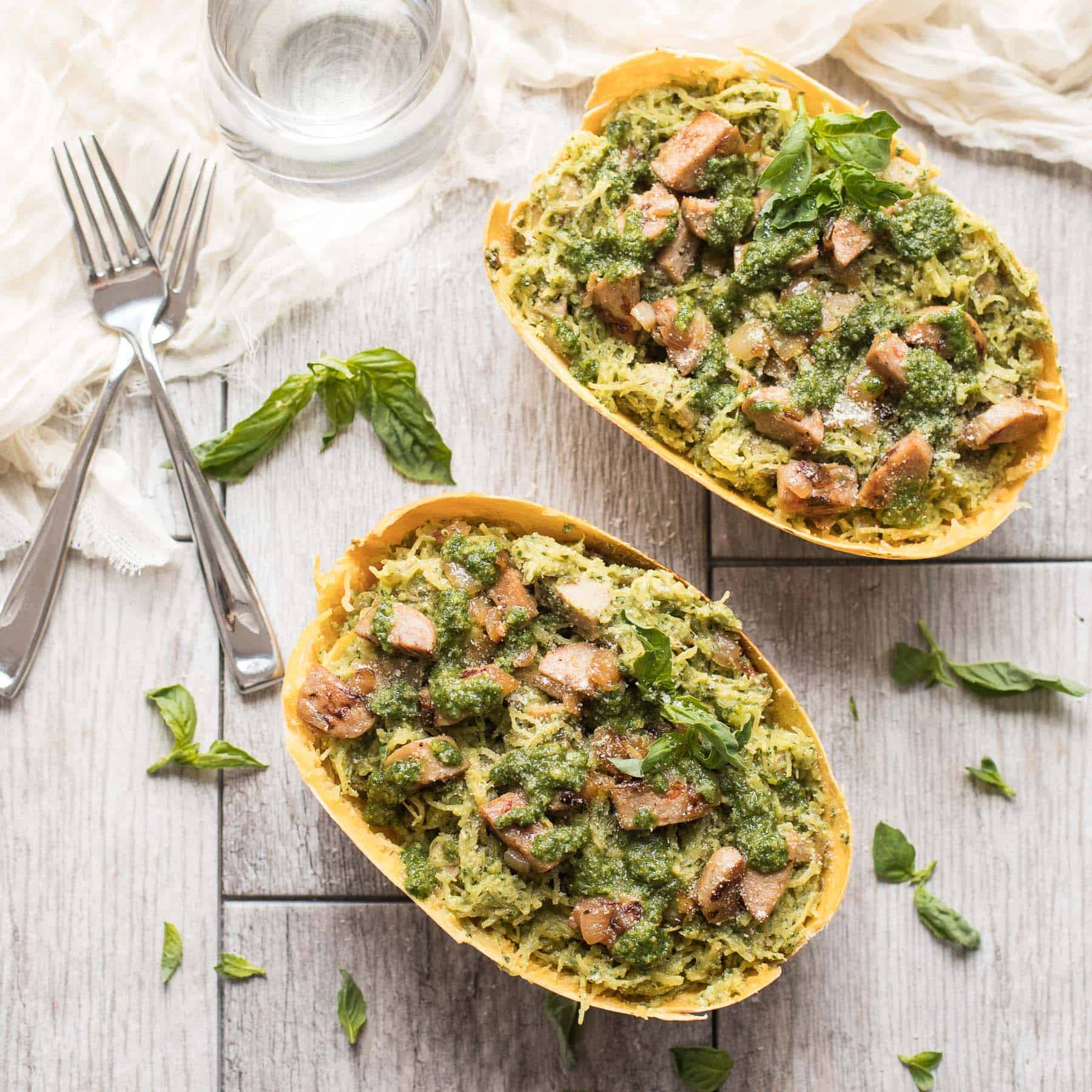 Paleo & Whole30 Spaghetti Squash with Pesto and Sausage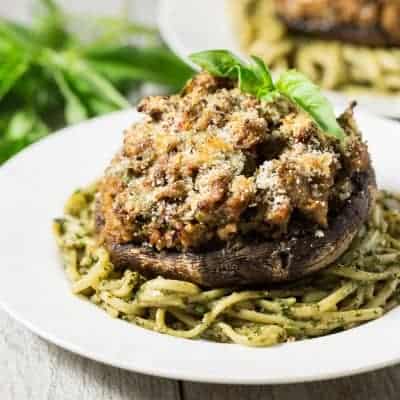 Paleo & Whole30 Sausage Stuffed Portobello Mushroom
Paleo & Whole30 Chicken Piccata
This post contains affiliate links, thanks for the love!
Never Miss a Recipe!
Get new posts delivered straight to your inbox! For free!