Spaghetti Squash with Pesto & Sausage (Paleo, Whole30)
Paleo & Whole30 Spaghetti Squash with Sausage & Pesto – a simple and delicious gluten free pasta recipe that is flavorful and good for you! Dairy free, grain free, sugar free, low carb, clean eating.
One of the things I miss most during Whole30 is pasta. Thank GOODNESS for spaghetti squash, it is my favorite way to enjoy a healthy pasta without the guilt of carbs. I don't even notice that it isn't real pasta. The spaghetti squash tastes like a delicious, al dente pasta with the added bonus of being more nutritious.
This Roasted Spaghetti Squash with Pesto & Sausage could not be more delicious, and it couldn't be easier to make! Just roasted spaghetti squash noodles tossed with sauteed italian sausage, onions, garlic and topped with pesto.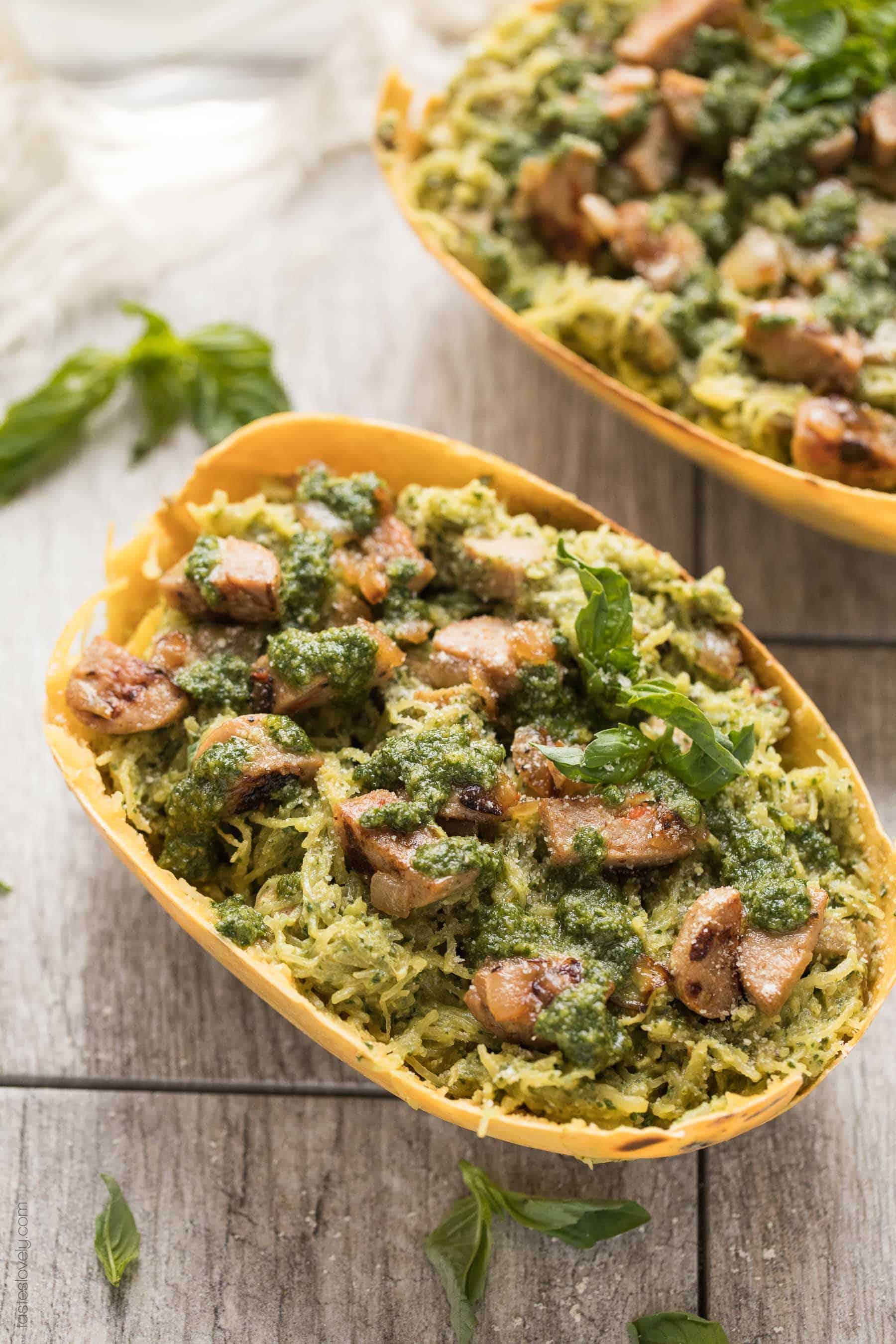 I've shared with you before my very favorite Whole30 & Paleo Pesto (you seriously do not even miss the dairy).
I grow an insane amount of basil in my garden during the summer, and make a ton of batches of the pesto and freeze it in freezer safe mason jars. This way I can enjoy it all winter long. I had 14 cans of it frozen by early October when my basil plants were caput. It's February and I still have 8 jars left. Lucky me! Just hope they can last me until June when my basil plants will be ready to start harvesting from again.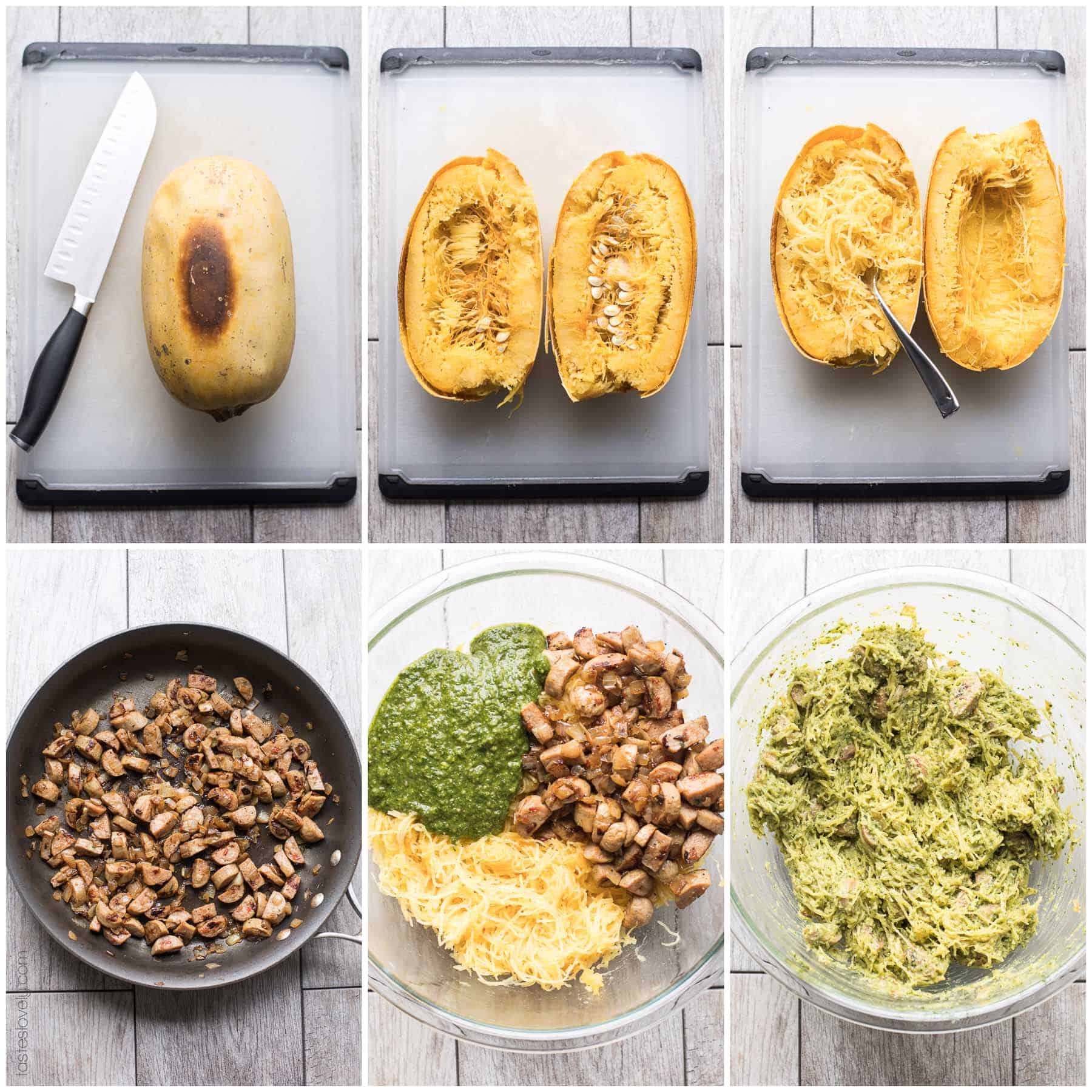 I have the BEST method of cooking spaghetti squash to share with you. Roast it whole!
Yes, that's right. Just put the whole dang thing on a roasting pan and let the oven do all the work for you.
No cutting it, which is a feat for this extremely hard to cut vegetable. No steaming it, which I always found left me with soggy, wet noodles. Yuck.
Instead, when you roast it whole the spaghetti squash softens and it is WAY easier to cut through. Like butter. Then I scoop out and discard the seeds, and use a fork to shred the spaghetti squash noodles out. The noodles come out perfect every time.
Once you cook your spaghetti squash this way, you'll never cook it any other way again. Promise.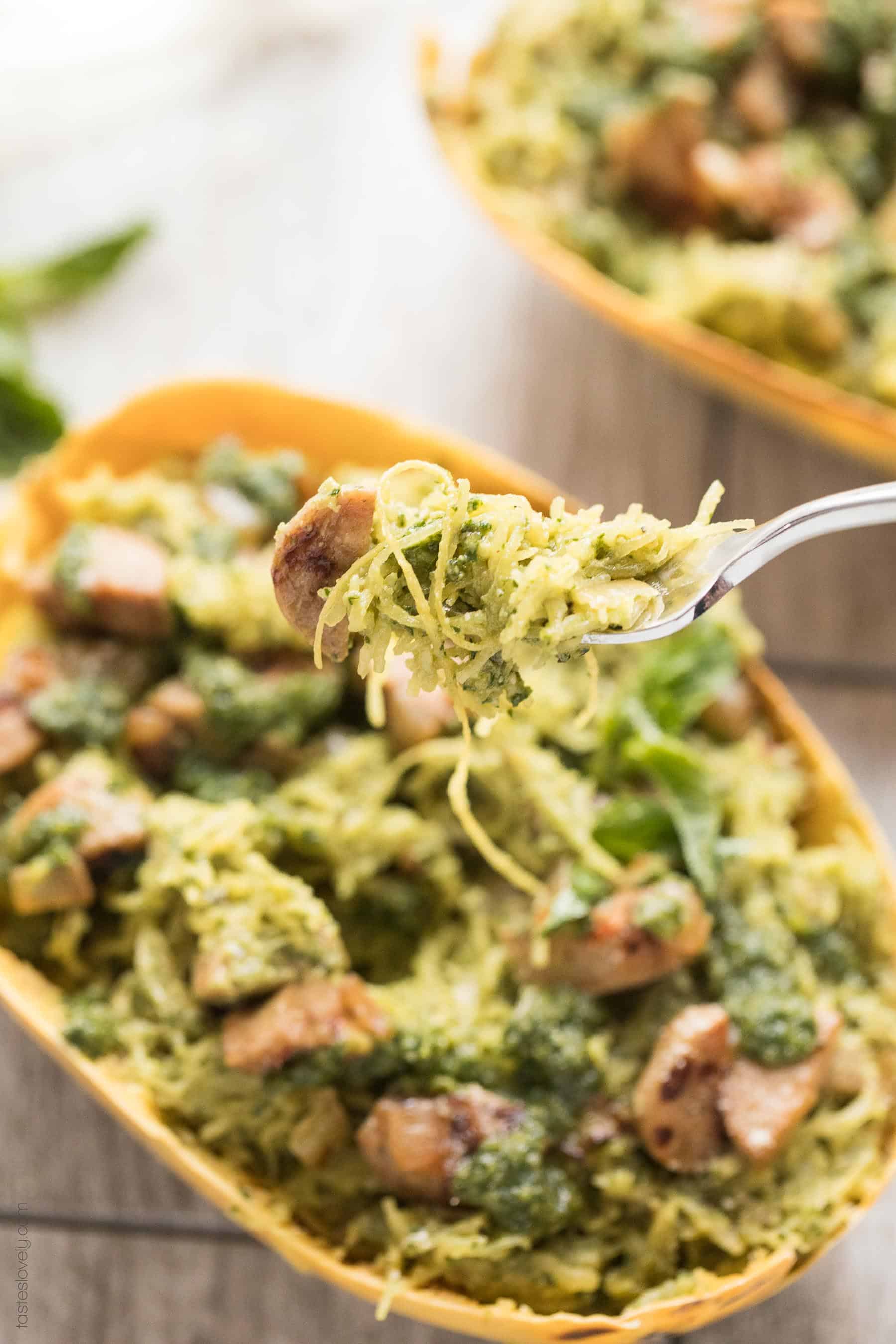 You need to wait for the spaghetti squash to be cool enough to handle before cuttting it in half, about 20 minutes. So while I'm waiting for it to cool I sautee the onions, sausage and garlic. For this recipe I used Sweet Italian Chicken Sausages, but you could use Sweet Italian Pork Sausage or even Hot Italian Pork Sausage. Whatever you're craving.
I tend to stay away from the hot version since me and the 2 year old aren't huge fans of spicy foods, much to my husbands dismay.
Once it's all cooked and ready I toss the spaghetti squash noodles, sausage mixture and pesto in a large bowl and it's ready to serve! You can even save yourself from doing more dishes and serve it right in the spaghetti squash skin if you like.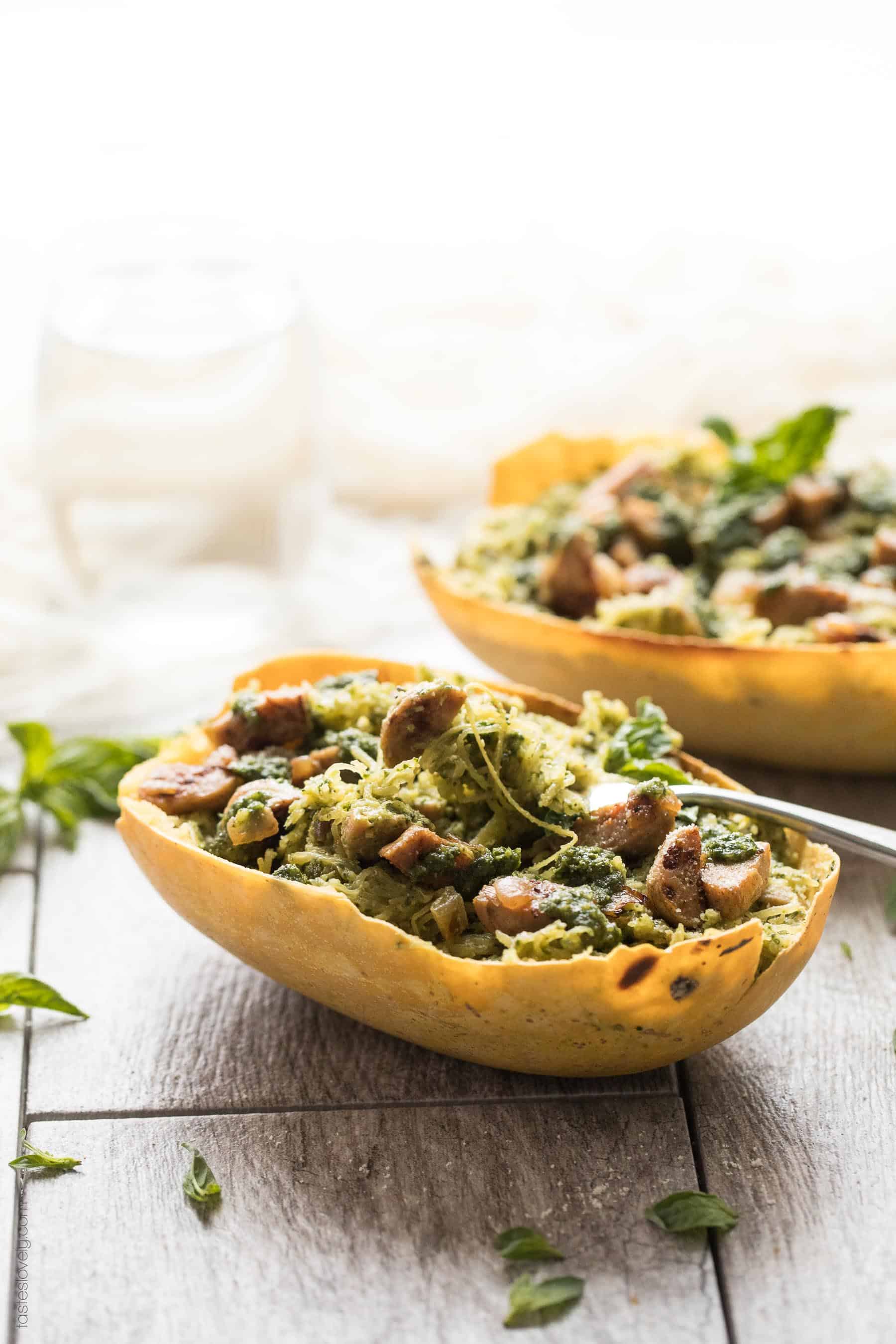 This Roasted Spaghetti Squash with Sausage & Pesto is great for dinner, but I also love to make it to meal prep for lunches for the week. This recipe is plenty for at least 6 lunches. I make it per the directions and store them in my favorite lunch prep glass containers. The spaghetti squash noodles reheat beautifully.
Your whole family is going to love this delicious and healthy dinner (0r lunch prep!). Paleo, Whole30, gluten free, grain free, dairy free, sugar free, low carb and clean eating.
Print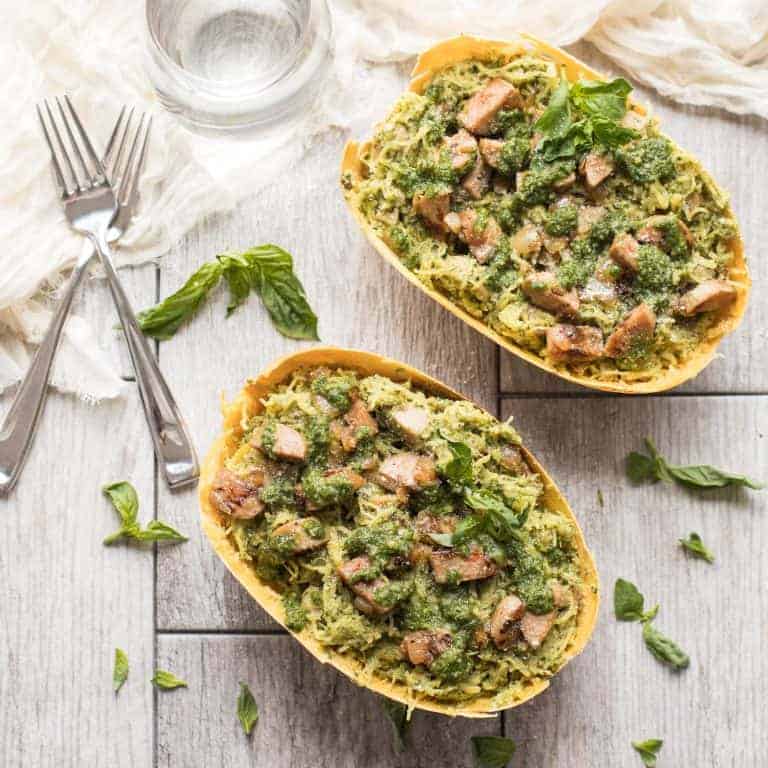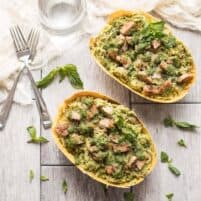 Spaghetti Squash with Pesto & Sausage (Paleo, Whole30)
---
Author:

Prep Time:

10 minutes

Cook Time:

1 hour

Total Time:

1 hour 10 minutes

Yield:

4

1

x
1 medium spaghetti squash
1 tablespoon olive oil
(1) 12-ounce package of chicken Italian sausage, cut into 1/4″ thick half moons
1 medium yellow onion, diced
1/2 teaspoon salt
1/2 teaspoon pepper
1 batch paleo & whole30 pesto
2 teaspoons nutritional yeast
fresh basil for garnish (optional)
---
Instructions
Preheat your oven to 350º with the oven rack in the middle. On a rimmed baking sheet, roast the whole spaghetti squash (just put the entire thing on the baking sheet! No need to cut it or anything) for 1 hour, turning the squash half way through. Allow to cool for 20 minutes until cool enough to handle.
While the spaghetti squash is cooling, heat a large skillet over medium high heat. Add the olive oil, onion, sausage, salt and pepper. Cook for 10-15 minutes until the onions are soft and the sausage gets brown marks.
Using a large knife, cut the spaghetti squash in half. Use a spoon to scoop out the seeds, and throw away. Use a fork to shred the spaghetti squash into a large bowl. Add in the cooked sausage and onion, pesto sauce and nutritional yeast. Toss to combine.
Serve warm topped with fresh basil. I sometimes like to serve mine right in the spaghetti squash skin!
Leftovers will keep refrigerated in an airtight container for 1 week.
Notes
As a fancy garnish I also sprinkle on some almond flour, just so it looks pretty!

More Paleo/Whole30 Pasta Dishes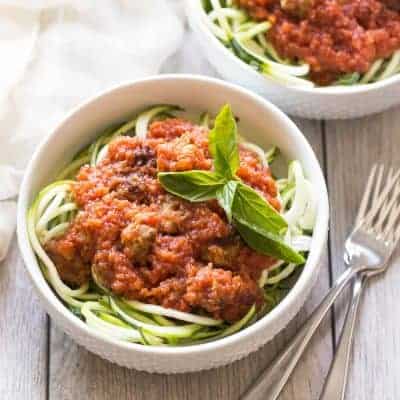 Paleo & Whole30 Marinara Sauce with Sausage and Zoodles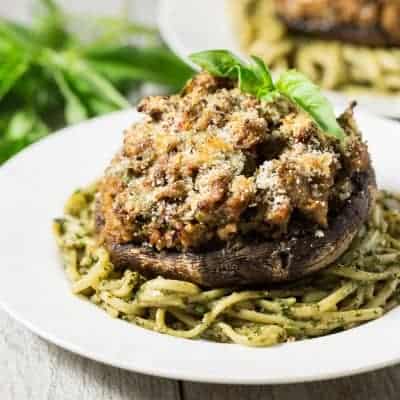 Paleo & Whole30 Sausage Stuffed Portabella Mushrooms with Zoodles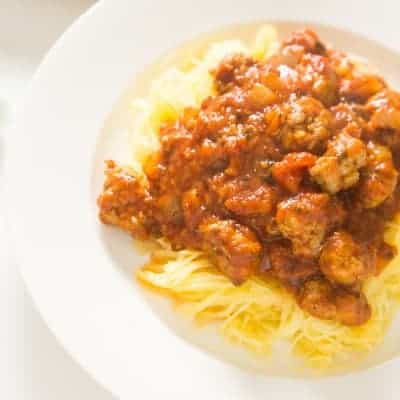 Paleo & Whole30 Spaghetti Squash with Sausage Meatballs
This post contains affiliate links, thanks for the love!
Never Miss a Recipe!
Get new posts delivered straight to your inbox! For free!