Paleo Almond Milk Chai Tea Latte (Dairy Free)
Paleo Almond Milk Chai Tea Latte – a delicious dairy free and refined sugar free chai tea latte that is made in your blender, no fancy coffee equipment needed! Made with dried spices and sweetened with honey and maple syrup.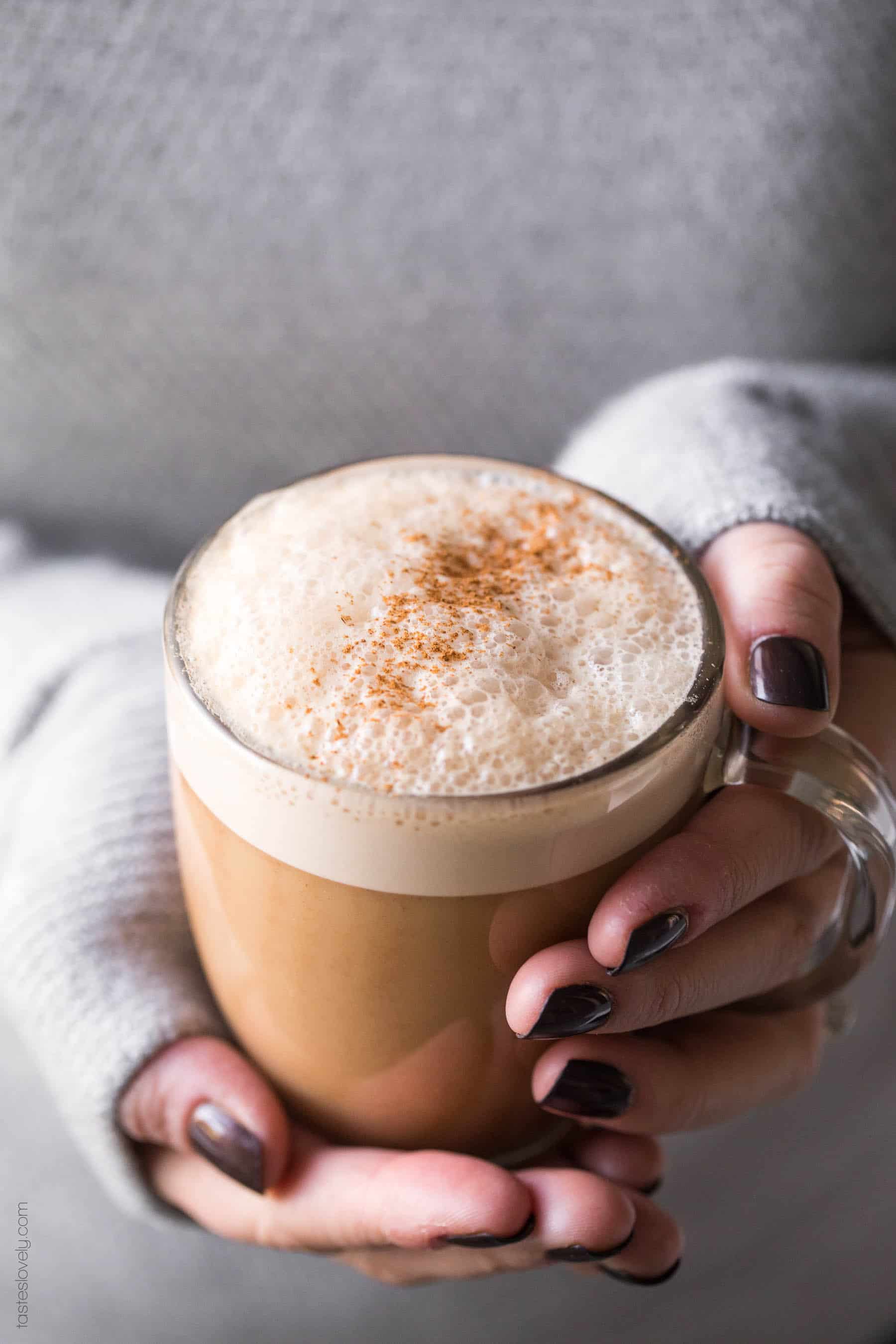 This paleo chai tea latte is not only healthy, but it is also the most delicious chai tea latte I have ever had. Seriously. Way better than a box mix or Starbucks. And it's dairy free and refined sugar free! I am so excited to be sharing this recipe with you! I am a major chai lover, and have been working on this recipe all winter long and have finally perfected it.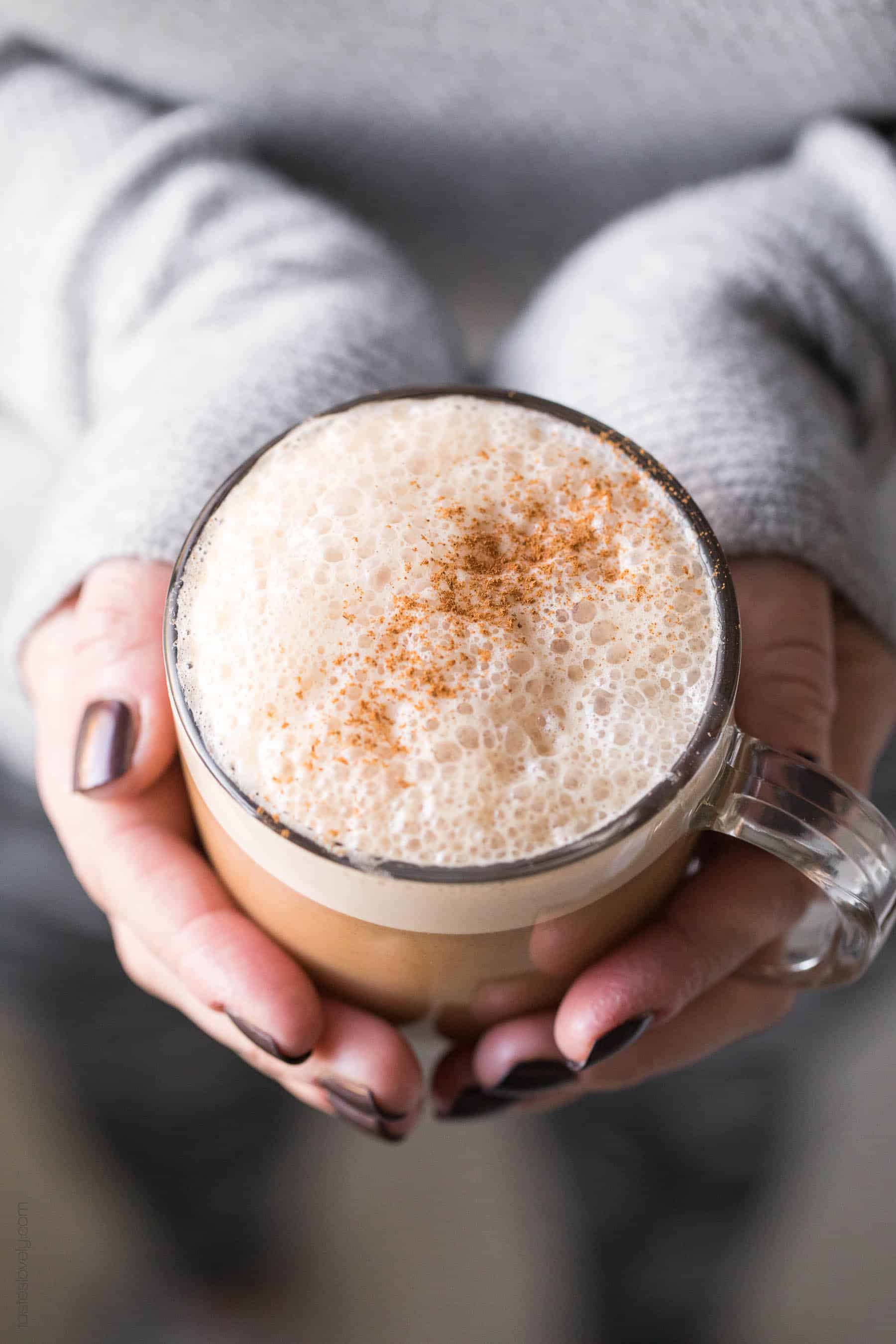 I've shared a few other paleo versions of my favorite coffee drinks with you, like my paleo and whole30 vanilla latte and my paleo and whole30 pumpkin spice latte. You've all been crazy about those, and a few of you emailed me directly asking if I could come up with a healthier chai tea latte. Here it is!
Just like my other paleo lattes, this is made in the blender. No fancy coffee equipment needed! I love my Vitamix, and the high speed blender whips this up at such a high speed that it creates the foam you love in a latte without have to use a milk steamer or frother.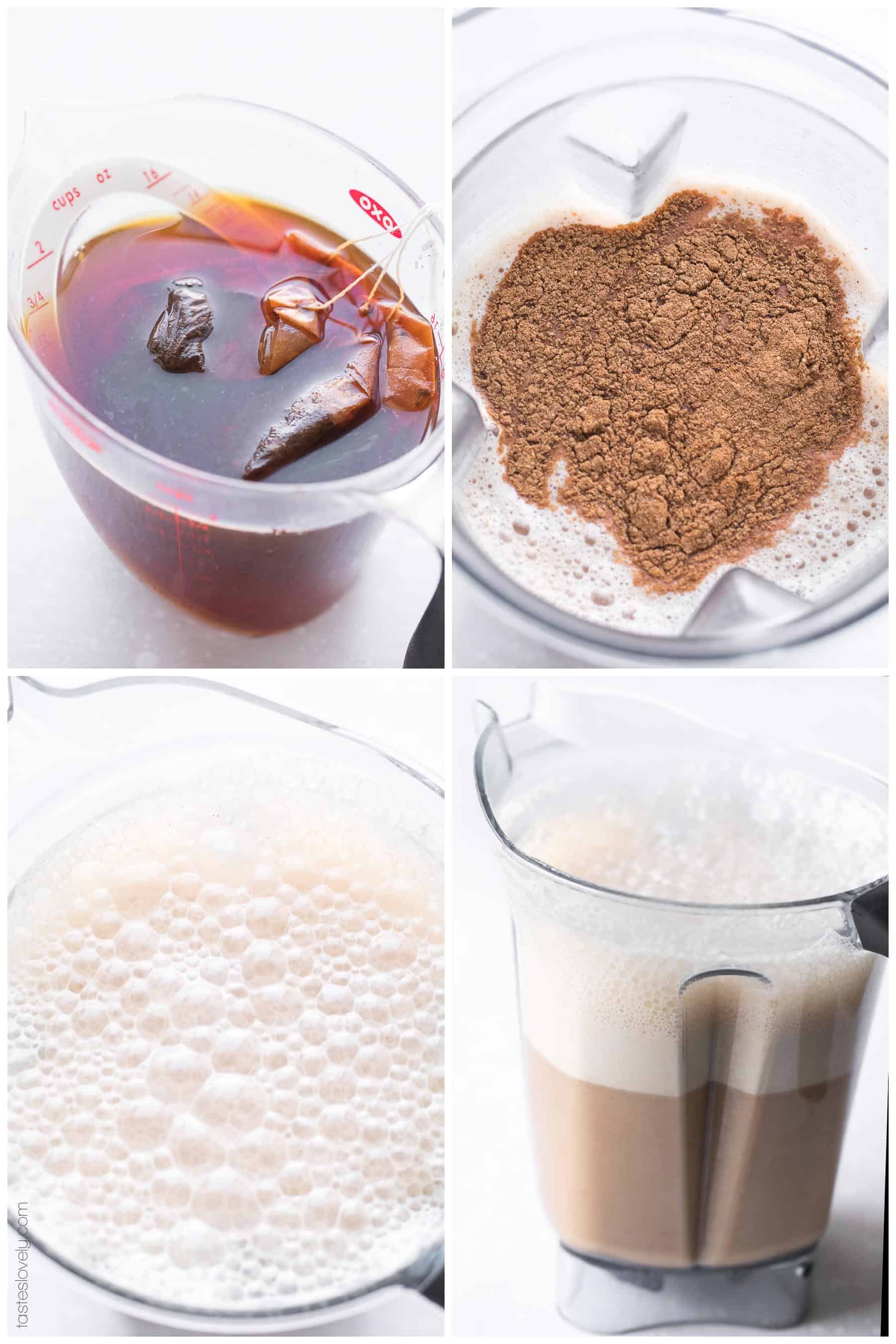 I use black tea bags to make the base of this paleo chai tea latte. I tried using chai spice tea, but I like controlling the exact spices and flavor of the chai tea latte so preferred using a neutral black tea. I personally use Tazo Awake English Breakfast Black Tea Bags, but any black tea will do.
I wanted to keep this simple and use dried, ground spices since those are the most affordable and what most of us already have on hand. This chai tea has ground cinnamon, ginger, cardamom, nutmeg, cloves and star anise. I like my chai tea with a medium amount of spice, not too strong, and I finally perfected the perfect ratio of each of the spices to achieve the best chai tea latte.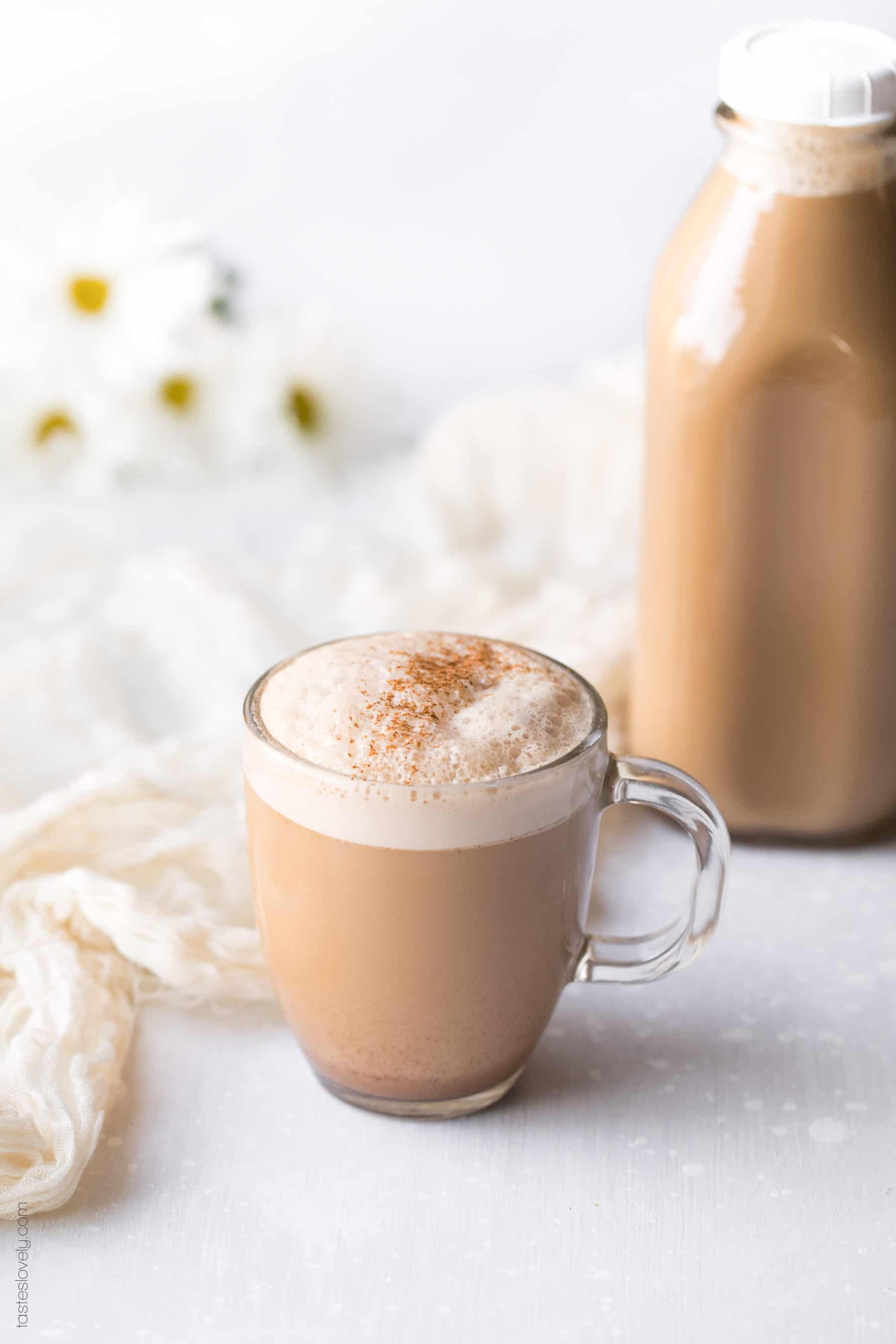 I use my homemade unsweetened almond milk because it is my very favorite. So fresh and way more delicious than store bought. But you can use store bought too! Costco has a great Kirkland Organic Unsweetened Vanilla Almond Milk that I actually really like.
To sweeten the paleo chai tea latte I used both honey and pure maple syrup. Honey is one of the signature flavors of chai tea lattes. It is usually made with honey and white sugar. So I wouldn't swap out all maple syrup. But when I tried to make it with all honey the honey flavor was overpowering. I much preferred it with half honey half maple syrup.
If you want to make this Whole30 compliant, you could leave out the honey and maple syrup and instead use 6-8 pitted dates. It won't have the signature honey flavor, but better than no chai tea latte at all!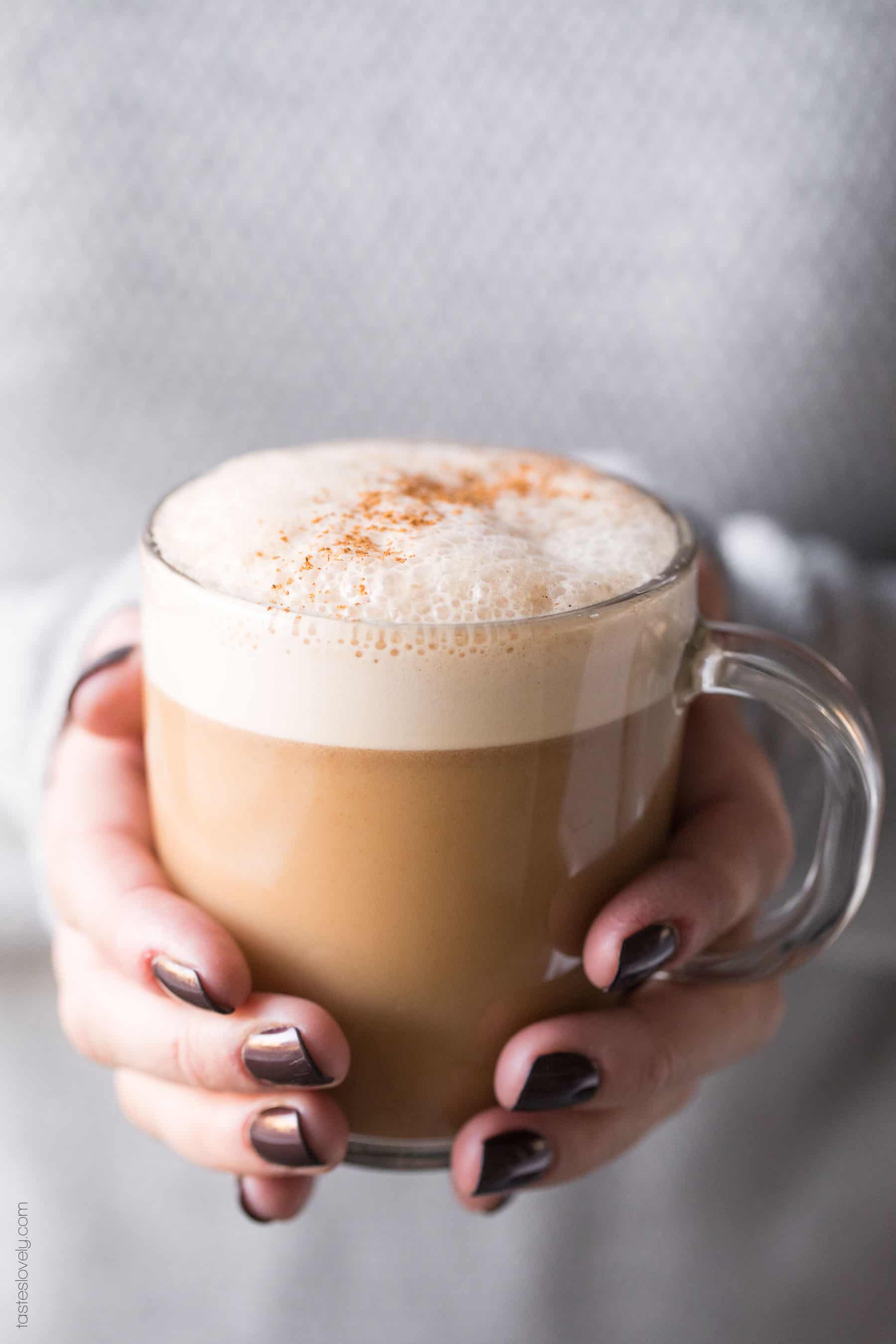 This recipe makes a big batch. Enough for 4 chai tea lattes. I store mine in these cute glass quart milk bottles, but any container will do. Make sure you give it a good shake before pouring since the spices tend to settle at the bottom of the bottle.
The foam will go away once it is stored in the fridge, so when reheating it I put it back in the blender and blend it on high speed for about 1 minute to get the foam back. Or, you can always enjoy this cold and over ice straight from the fridge!
A delicious and easy paleo chai tea latte that is dairy free, refined sugar free and clean eating. Can't beat it!
Print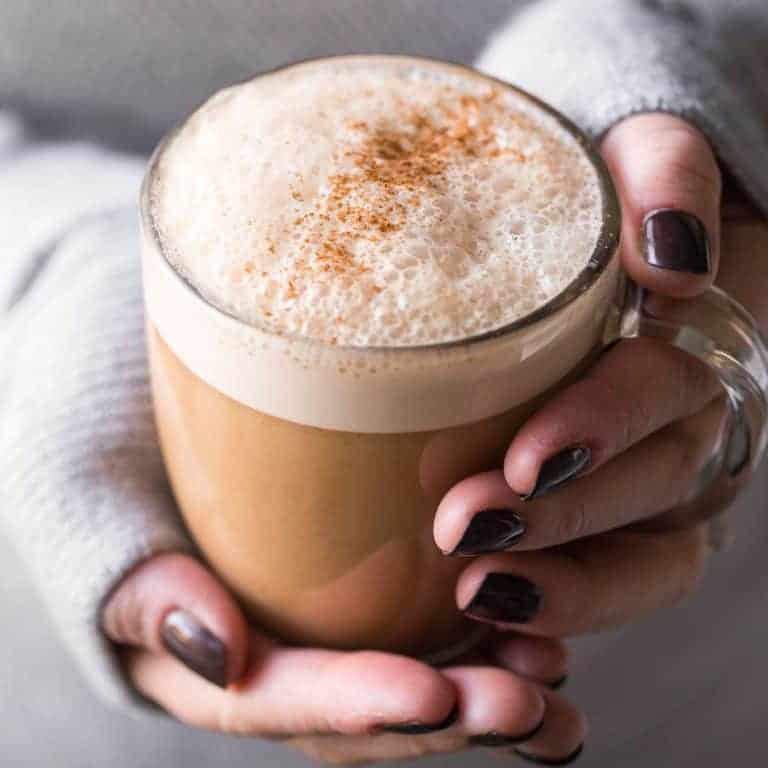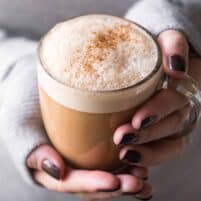 Paleo Almond Milk Chai Tea Latte (Dairy Free)
---
Author:

Prep Time:

10

Cook Time:

2

Total Time:

12 minutes

Yield:

4

1

x
2 cups hot water
4 black tea bags
4 cups unsweetened almond milk, microwaved for 5 minutes
3 tablespoons honey
3 tablespoons pure maple syrup
1 teaspoon cinnamon
1/2 teaspoon ground ginger
1/4 teaspoon ground cardamom
1/4 teaspoon ground nutmeg
1/4 teaspoon ground cloves
1/8 teaspoon teaspoon ground star anise
---
Instructions
Steep the tea bags in the hot water for 5 minutes.
In your high speed blender, combine the steeped tea, almond milk, honey, maple syrup and spices. Blend on high speed for 2 minutes until the latte is combined and the blender has created a lot of foam. Taste and add additional spices or sweetener of choice if desired.
Serve warm or over ice.
This latte will keep in an airtight container for 1 week. To serve the refrigerated latte, reheat and blend again in the blender to create foam. Or serve cold over ice. Be sure to shake the latte mix before serving, the spices tend to settle to the bottom.
Notes
I like my chai tea latte with a medium amount of spice. But feel free to add in another 1/8 or 1/4 teaspoon of each spice if you like yours with a stronger amount of spice.

More Paleo Coffee Drinks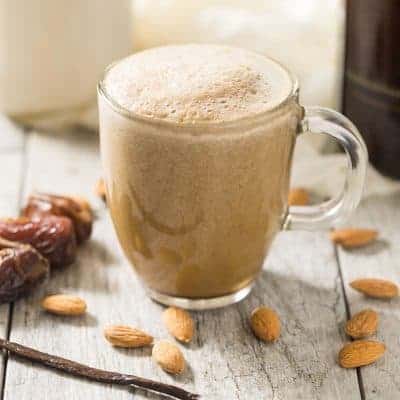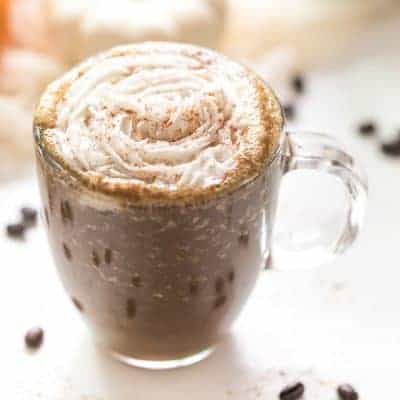 Pumpkin & Whole30 Pumpkin Spice Latte
This post contains affiliate links, thanks for the love!
Never Miss a Recipe!
Get new posts delivered straight to your inbox! For free!