Easy Whole30 BBQ Sauce – a homemade Tessemae's BBQ sauce copycat recipe. Ready in 10 minutes! 7 ingredients, and sweetened naturally with dates, so no sugar! Paleo, gluten free, dairy free, vegan.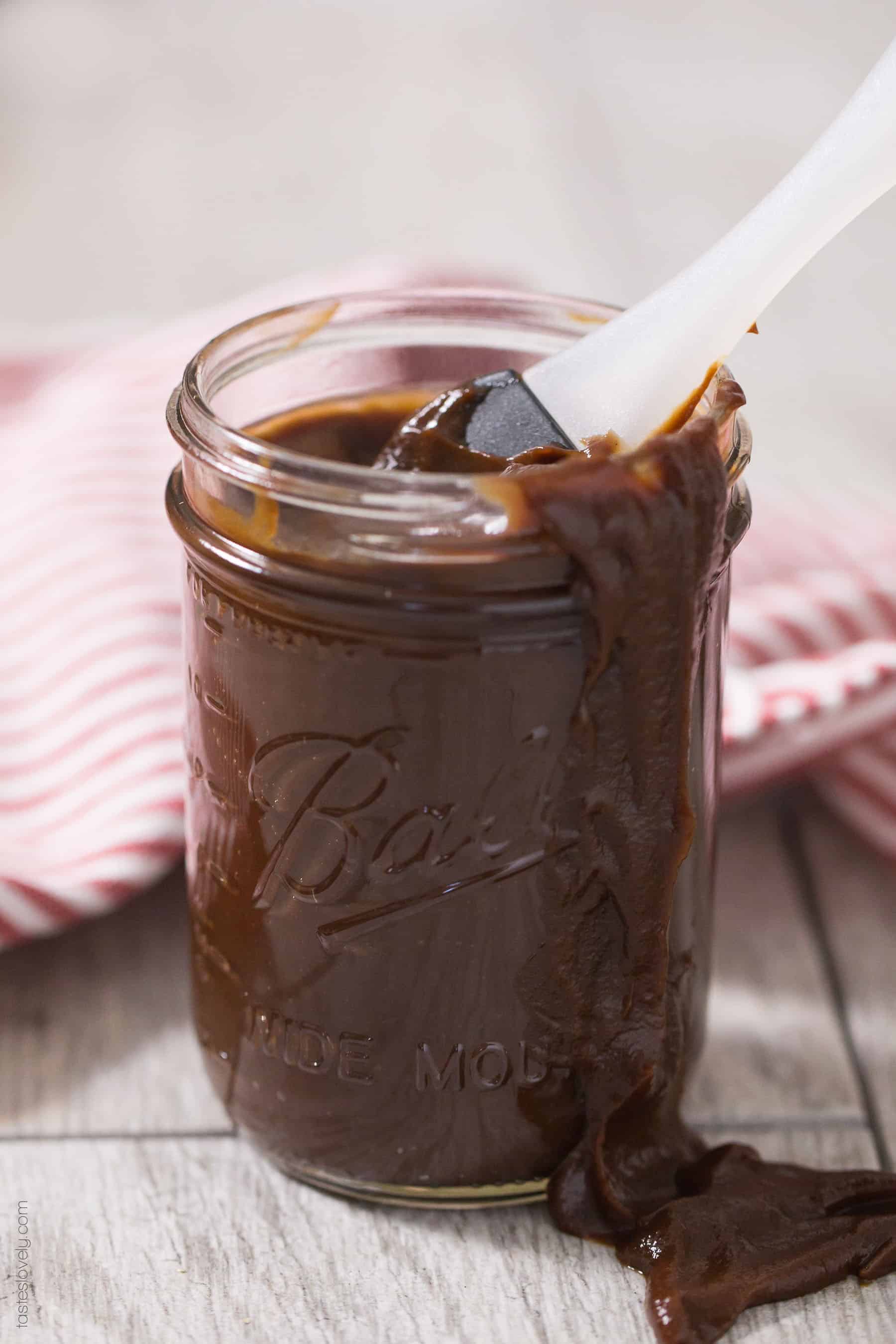 You are going to LOVE how easy this Whole30 BBQ sauce is! It is ready to eat in 10 minutes. I'm serious. Now that I know how easy it is to make a healthy, sugar free BBQ sauce I'm never going to buy store bought again.
It is so healthy, with just 7 easy ingredients you probably already have in your kitchen. Have you read the ingredients on store bought BBQ sauce? PACKED with sugar. Not the healthiest choice. But this easy Whole30 and paleo BBQ sauce is sweetened naturally with dates, so no sugar.
The best part? You can't even tell it is sweetened naturally. Still sweet and thick and tangy, with the added bonus of being much healthier for you. It tastes just like Tessemae's BBQ sauce.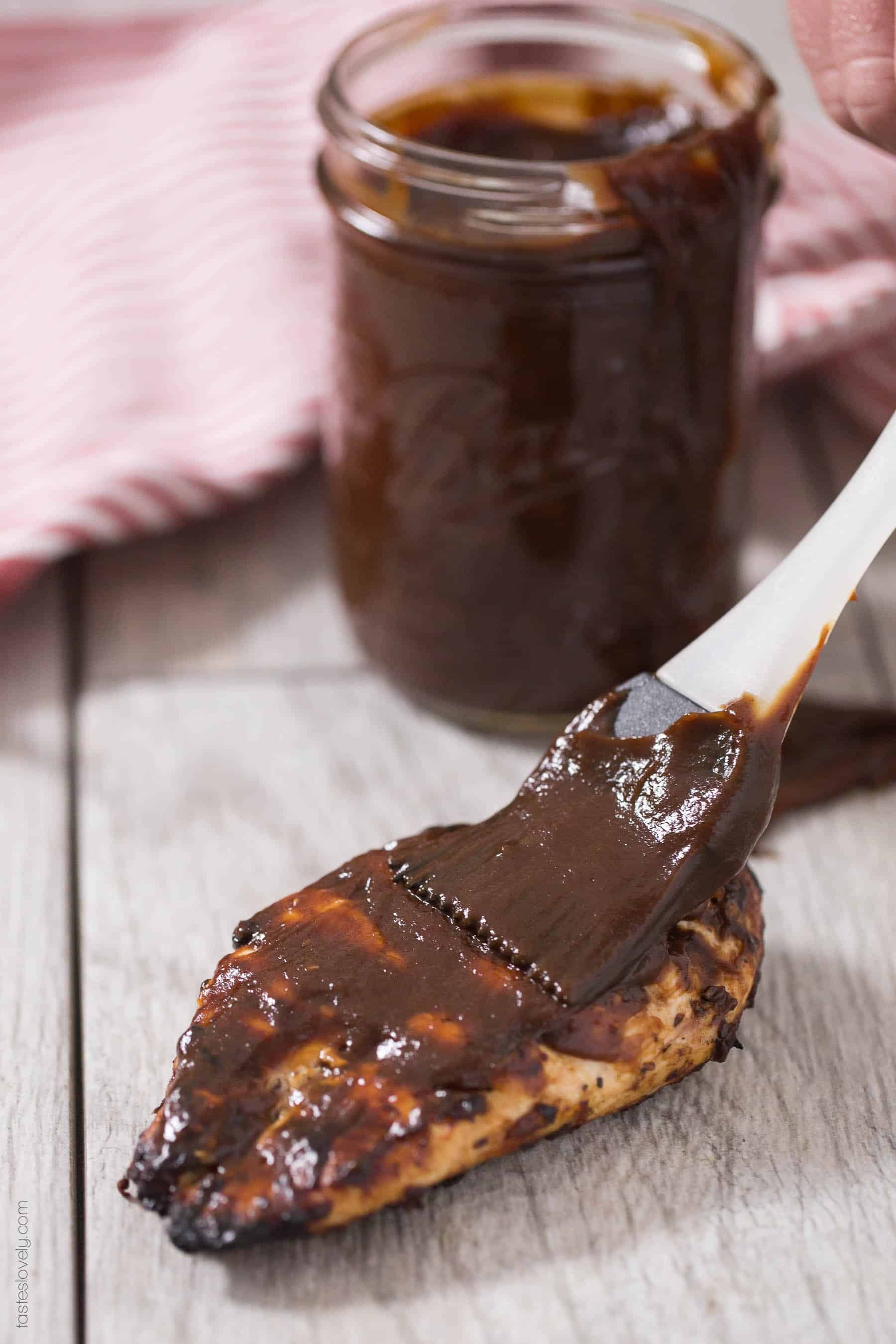 When I first started Whole30, I was so excited to find Tessemae's BBQ sauce. Made for such tasty and delicious dinners! I would throw it on top of grilled chicken breasts or drumsticks or on burger patties.
But this week, when I went to buy it at the store, it was sold out! 😱 I asked the Whole Foods manager, and he said Tessemae's BBQ sauce was out of stock, even on their website and Amazon.
It is July! I need my BBQ sauce!
So I set out to make my own. I read the ingredients on the label of my almost empty Tessemae's bottle, and tried to recreate it at home. After a few tries, I got it right! A perfect Tessemae's BBQ sauce copycat recipe.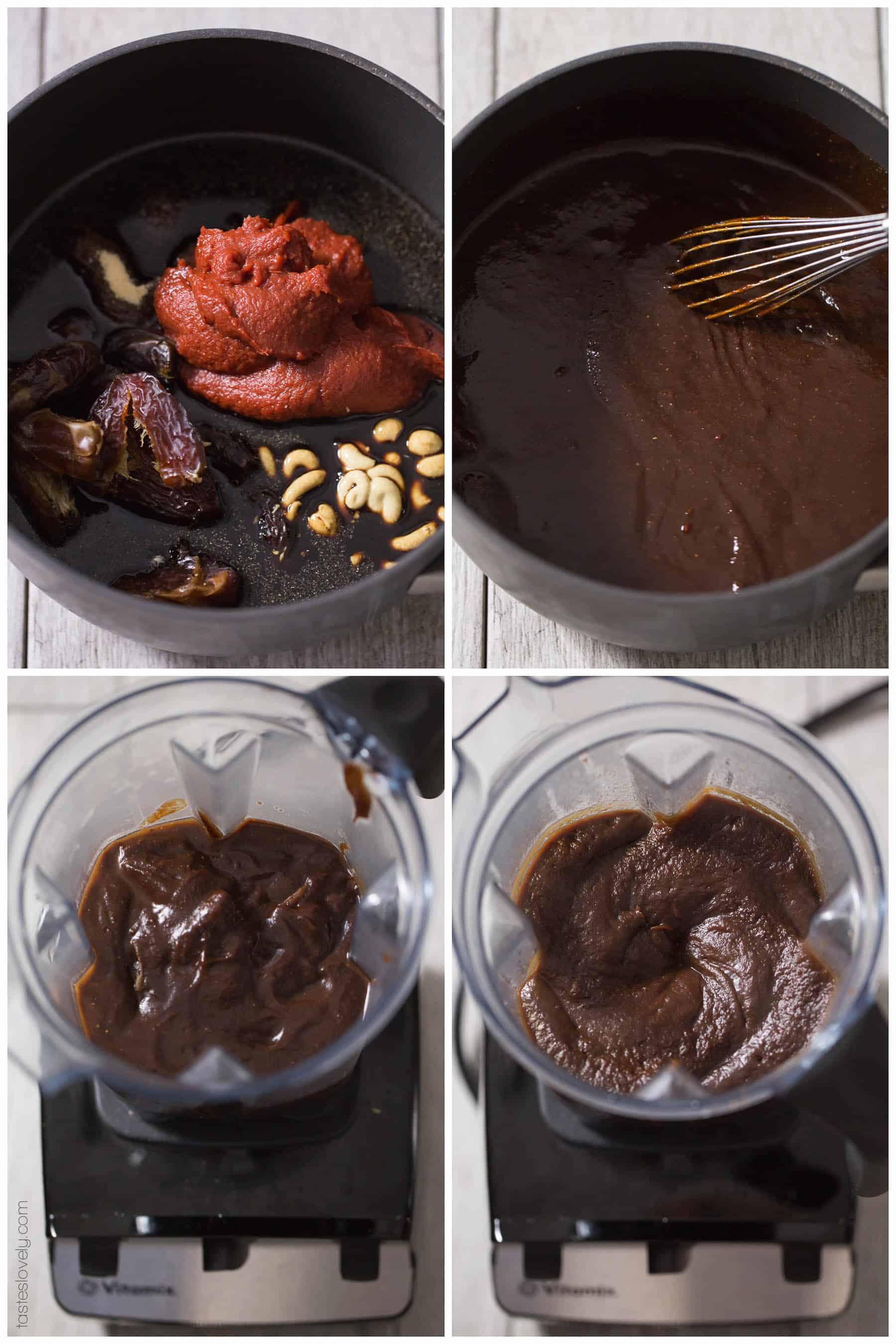 This BBQ sauce is made with balsamic vinegar, tomato paste, pitted dates, dijon mustard, coconut aminos, garlic powder, onion powder, salt and pepper. That's it! All real ingredients that make it a paleo, Whole30 approved, gluten free, dairy free, sugar free and vegan BBQ sauce.
I add all the ingredients to a pan to slowly warm so the flavors can marry, and also to get the pitted dates soft and plump so they blend really well.
After it warms on the stove for 5 minutes, I add all the ingredients to my blender and blend on high for 2 minutes. (Careful when blending hot liquids in a blender, the steam can cause the lid to lift off. I love my Vitamix, and it blends this warm BBQ sauce perfectly without issue!)
When it's done blending, it's ready to start eating. It's that easy.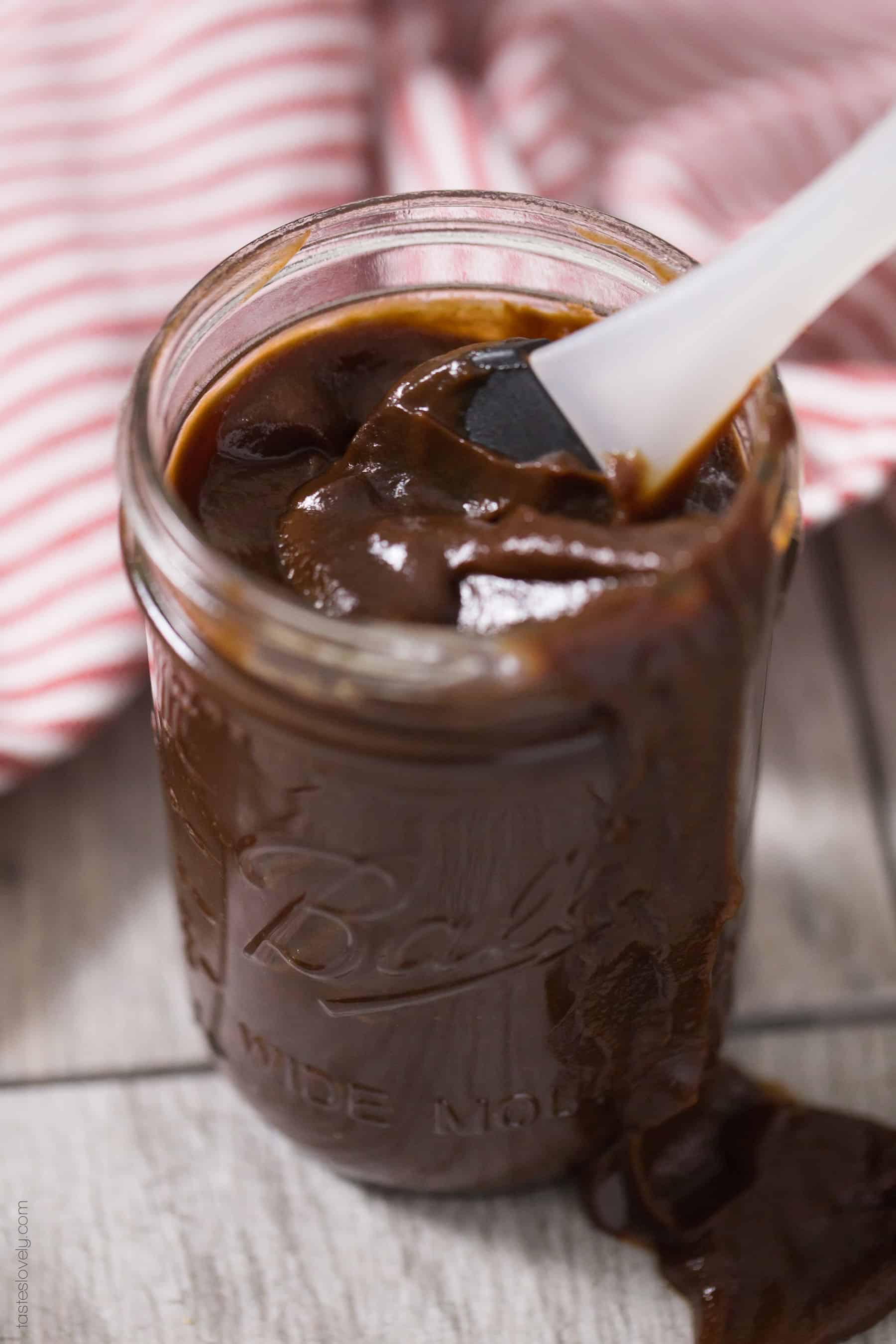 I find that this BBQ sauce is best when it is thick. This Whole30 BBQ sauce is so thick you can stand a spoon up in it, ha! But I like it that way, so when I brush it on meat and grill it, the BBQ sauce really stays on. I hate when it's too runny and drips off. But this is personal preference. If you like your BBQ sauce thinner, just add water and blend again until it reaches the consistency you like.
I store my easy Whole30 BBQ sauce in wide mouth pint size mason jars. This recipes makes about 2-1/2 cups. I usually use 1/2 cup right away on whatever I'm cooking, and the rest fits perfectly in the mason jar.
I also love using those mason jars because they're freezer friendly! I like to make a double batch, freeze 2 pints, and leave the rest in the fridge. It will last at least a year in the freezer, and at least a month in the fridge.
Print
Easy Whole30 BBQ Sauce
---
Author:

Prep Time:

5 mins

Cook Time:

5 mins

Total Time:

10 mins

Yield:

2.5 cups
Ingredients
3/4 cups balsamic vinegar
1/2 cup water
(1) 6-ounce can tomato paste
8 pitted medjool dates
2 tablespoons dijon mustard
2 tablespoons coconut aminos
1/2 teaspoon garlic powder
1/2 teaspoon onion powder
1/2 teaspoon salt
1/2 teaspoon pepper
---
Instructions
Heat a sauce pan over medium low heat. Add all ingredients, stir to combine, and bring to a low simmer for 5 minutes. You don't want it to boil, just get warmed through. Heating will allow the flavors to marry and soften the dates.
Transfer the BBQ sauce to a blender, and blend on high speed for 2 minutes. (Careful blending warm liquids in blenders! I love my Vitamix, it can blend hot liquid without issue.)
I like my bbq sauce thick so it really sticks to the meat I grill. If you like yours thinner, add water and blend until desired consistency is reached.
Transfer to an airtight container. Will keep in the fridge for at least 4 weeks.
You can transfer the sauce to wide mouth pint size mason jars, cool to room temperature, and then freeze for at least a year.

More Whole30 Condiments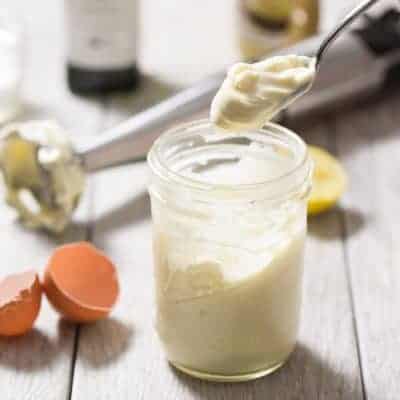 Easiest 3 Minute Whole30 Mayonnaise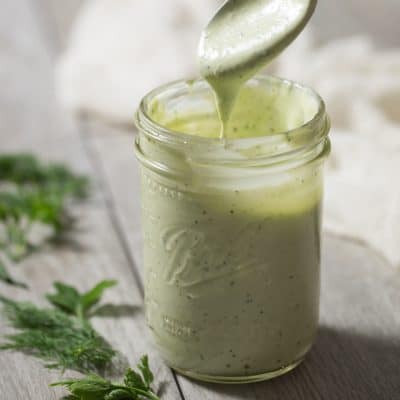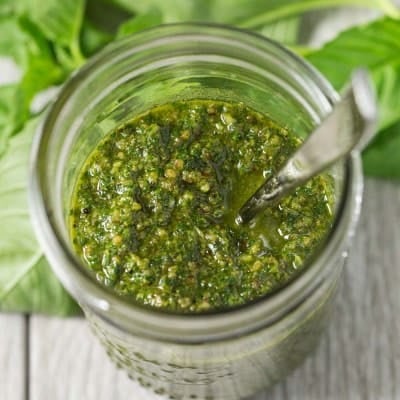 This post contains affiliate links, thanks for the love!
Never Miss a Recipe!
Get new posts delivered straight to your inbox! For free!