Dr Pepper Baby Back Ribs
Tender, fall off the bone Dr Pepper baby back ribs. These pork ribs start with a sweet and savory dry rub, and slow roast in the oven with Dr Pepper. Then finished off on the grill with bbq sauce so they get crispy and charred.
Shawn's youngest brother played football in college, and we made many a trip out to watch his games. The energy and excitement in the stadiums was contagious. The best part of going to a college football game? The tailgate beforehand.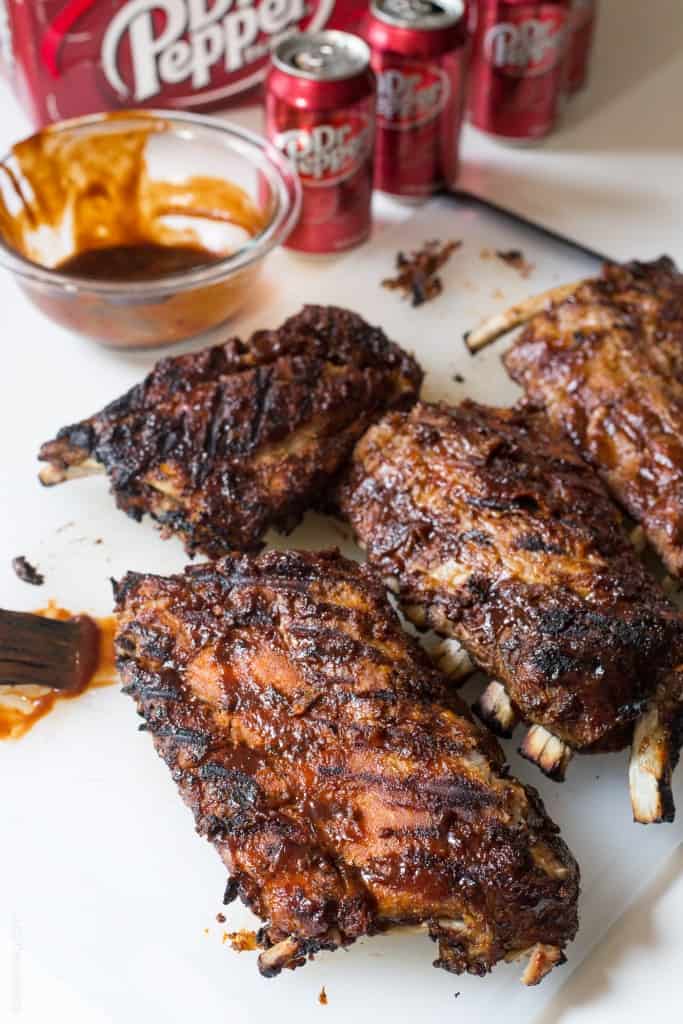 Not only are there tons of fun games set up to play in the parking lot, but the spread of food to enjoy is unreal! It is a food lover's dream. Because only the best kind of food is served at a tailgate. Chips and dips, burgers, hot dogs.
The game before Thanksgiving, they would even go all out and make a full blown Thanksgiving dinner for the tailgate. They would deep fry the turkey right there in the parking lot. And serve pumpkin and apple pie for dessert.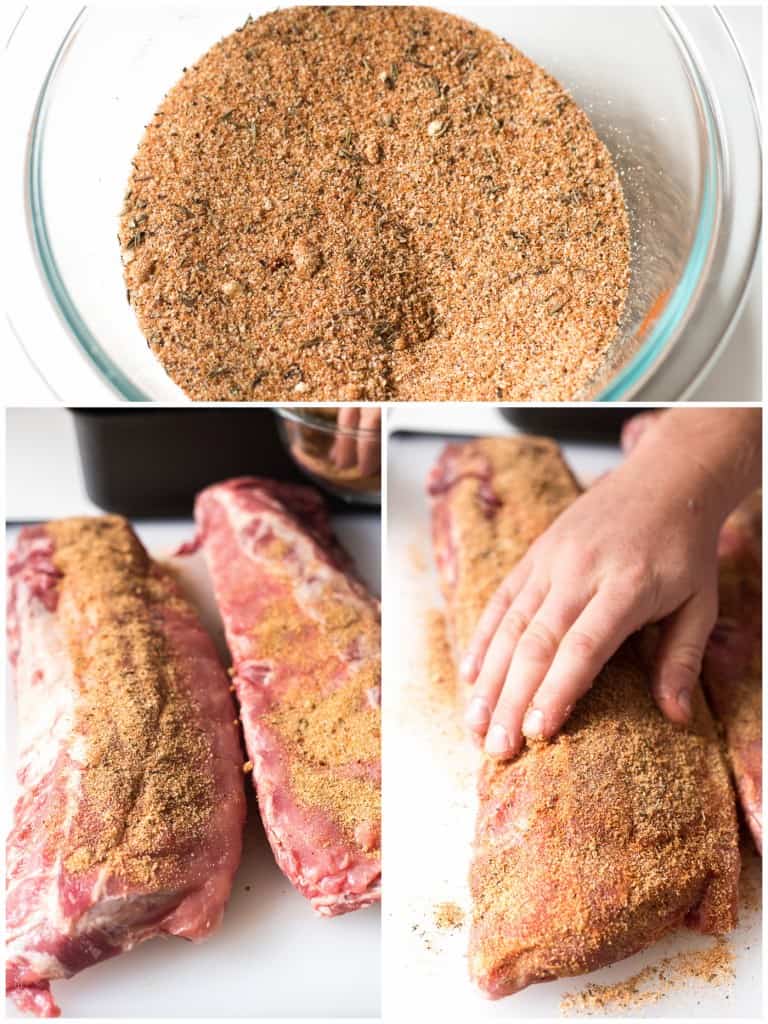 After all the socializing and eating, we would head into the stadium ready to cheer his brother on, decked out in our college sweatshirts and beanies, like true one of a kind fans.
He graduated 2 years ago, and these cold, crisp October days make me miss our game day traditions at his college campus.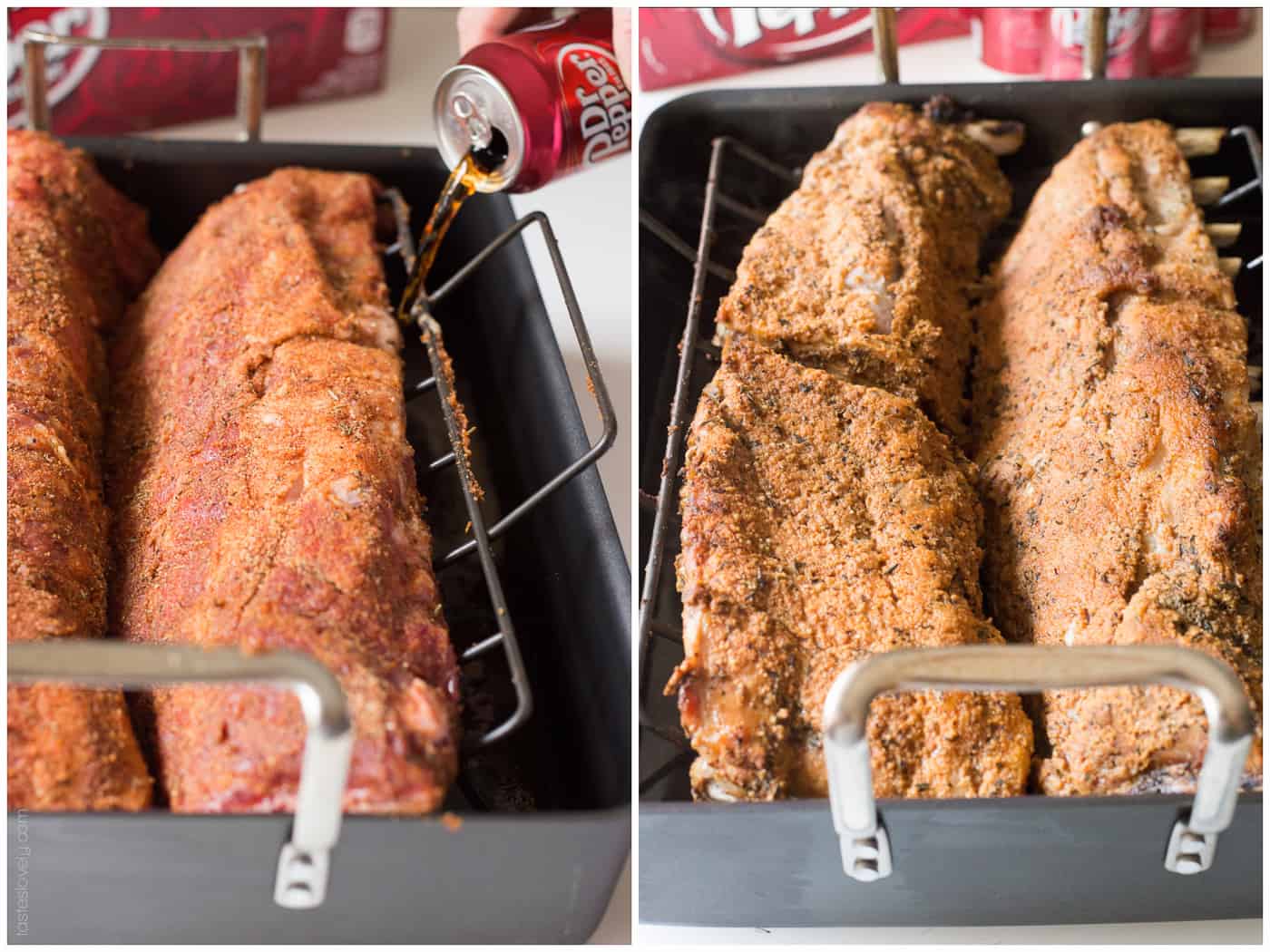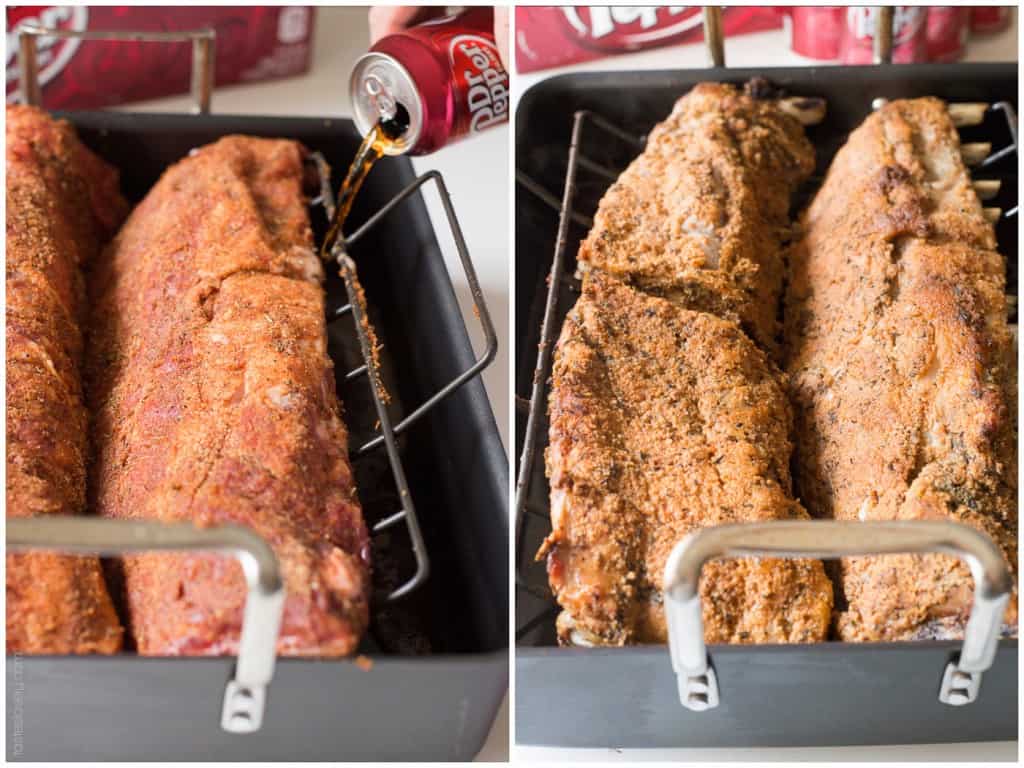 My personal favorite tailgate food is these Dr Pepper ribs that Shawn makes. They are a-ma-zing. Seriously fall off the bone.
These are such a cinch to make because Shawn would slow roast them in Dr Pepper in our oven at home before leaving for the game. Then, when we got there, he would just need to cover them in bbq sauce and reheat and char them up on the grill for 15 minutes. Which meant ribs would be ready much sooner when getting to the tailgate. The car ride up smelling that amazing dry rub and Dr Pepper infused ribs was torture enough. I needed those ribs in my hands ASAP!
Shawn is quite the ribs overachiever, and does both a dry rub on them when they're steam roasting away, and then covers them in bbq sauce when grilling them. Why do one or the other when you can do both? Shawn's favorite soda is Dr Pepper, so of course he uses it in these ribs.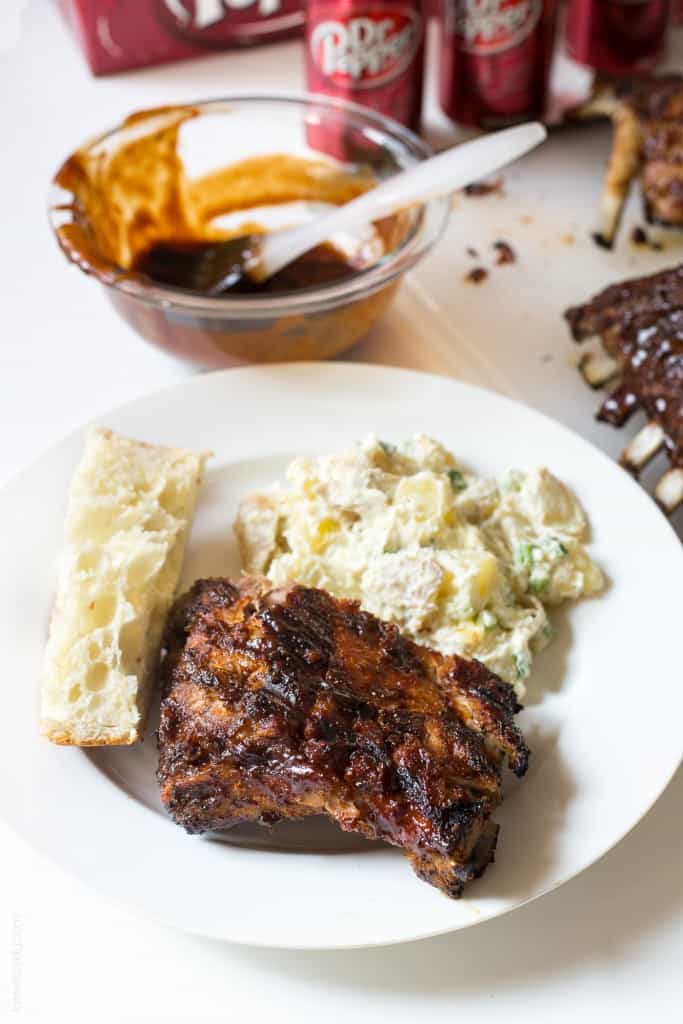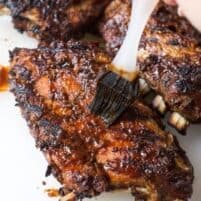 Dr Pepper Baby Back Ribs
These are tender, fall off the bone Dr Pepper baby back ribs. These pork ribs start with a sweet and savory dry rub, and slow roast in the oven with Dr Pepper. Then finished off on the grill with bbq sauce so they get crispy and charred.
Ingredients
Dry Rub
1/4

cup

brown sugar

1/4

cup

garlic powder

2

tablespoons

onion powder

1

tablespoon

salt

1

tablespoon

pepper

1

tablespoon

thyme

1-1/2

tablespoons

paprika
Ribs
2

racks baby back pork ribs

, approx 4 pounds, extra fat trimmed away (I get my ribs from ButcherBox, which I highly recommend)

4 12-oz cans Dr Pepper

3

cups

bbq sauce
Instructions
Make the dry rub by combining all ingredients in a small mixing bowl. Stir to combine.

Preheat oven to 250 degrees with the rack in the lower third.

Cut each rack of ribs in half, so you will now have 4 half racks. This will make them easier to grill later. Pat the ribs dry, and rub evenly with the dry rub mixture. Place the ribs meat side UP in a large roasting pan with rack. (I'll link in the notes to the roasting pan I use). Pour the Dr Pepper to the bottom of the roasting pan. Cover the roasting pan with foil so the Dr Pepper can steam and infuse the ribs. Roast for 4 hours.

When the ribs are done roasting, they will be very tender and will want to fall of the bone. Using 2 tongs, gently remove each half rack from the roasting pan and transfer to a large plate. You can either tent them with foil and refrigerate to grill at a later time, or finish them on the grill right away. Discard the cooking liquid left in the roasting pan.

Preheat grill over high heat. Clean and oil grates. Start the ribs meat side UP, and grill for 4 minutes. Brush the tops of the ribs generously with bbq sauce. Flip, and cook the ribs meat side DOWN for 5-10 more minutes, or until heated thru and the bbq sauce has caramelized. Do not move the ribs around once they are meat side DOWN so you will get grill marks. Brush the bone side of the ribs with bbq sauce. Using 2 tongs, or tongs and a large spatula, gently flip the ribs to be MEAT side up. Grill for 2 more minutes. Transfer to a large platter. Cut the ribs if desired. Served warm with additional bbq sauce.

Leftovers will keep in an airtight container for 3 days.
Calories:
654
,
Total Carbs:
75.7
g
,
Protein:
34.6
g
,
Fat:
24.5
g
,
Fiber:
2.1
g
,
Net Carbs:
74
g
Did you make this recipe?
Please Leave a comment and give this recipe a rating!

More Tailgating Recipes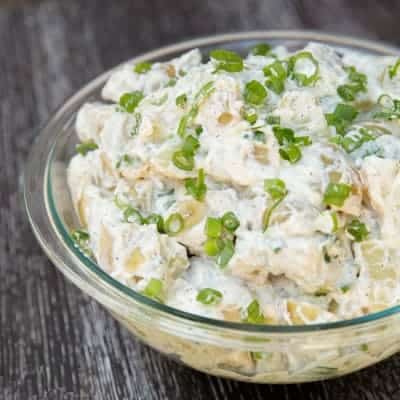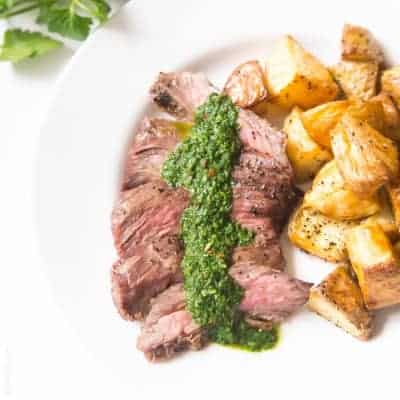 Skirt Steak with Chimichurri Sauce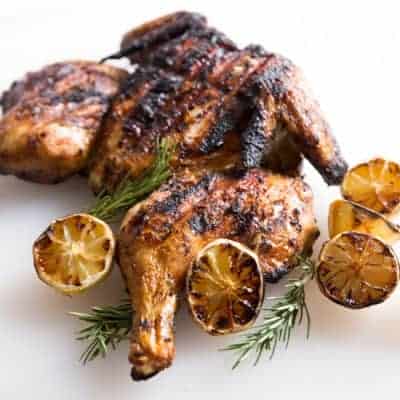 Grilled Lemon and Rosemary Flattened Chicken
 This post is sponsored by Dr Pepper. All opinions are my own. Thank you for supporting the brands that support me!
This post contains affiliate links, thanks for the love!