Keto Homemade Mayonnaise
The easiest Keto homemade mayonnaise recipe, made in a mason jar with a hand immersion blender. This mayo is guaranteed to turn out perfect every time, it will not break. It tastes amazing, and is so much healthier than store bought! Paleo, Whole30, low carb, gluten free, grain free, dairy free, sugar free, clean eating, real food.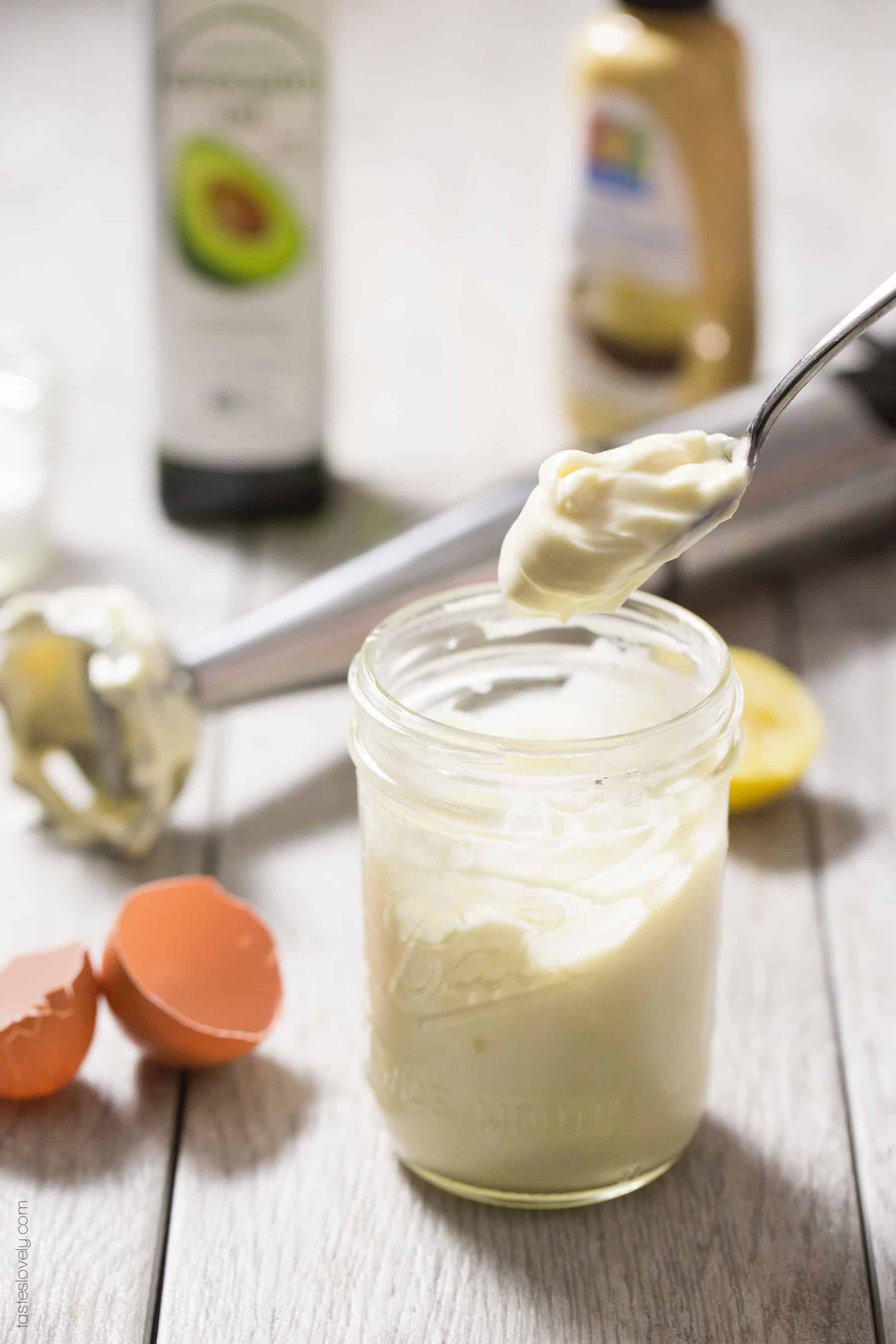 Now that I have made this homemade Keto Homemade mayonnaise, I will never buy mayonnaise at the store again. This is so much easy! I can honestly make it in 3 minutes.
You just need 5 ingredients you already have in your kitchen, a hand immersion blender and a wide mouth pint size mason jar.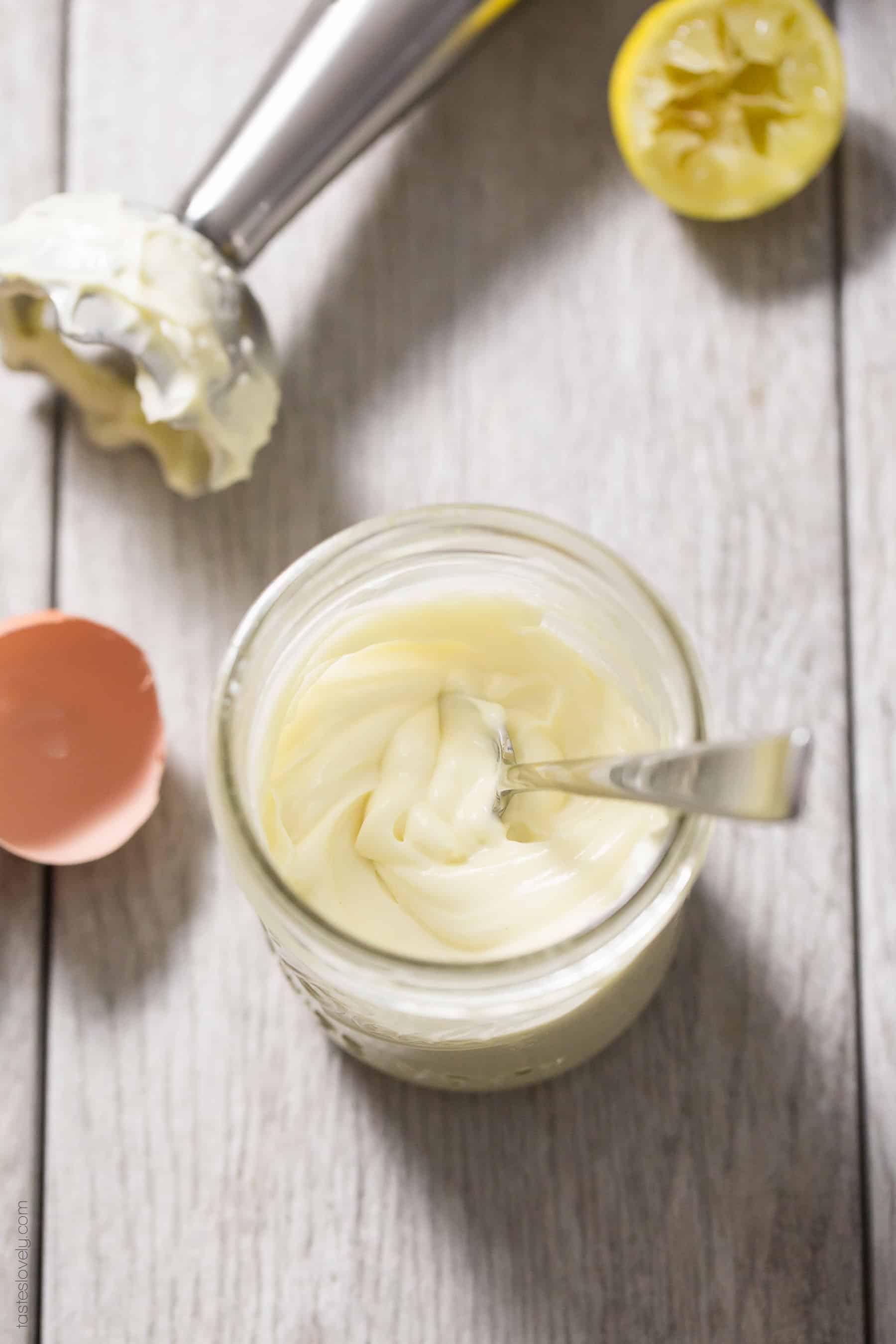 How To Make Mayonnaise In A Mason Jar
The key to this mayonnaise is the wide mouth pint size mason jar and immersion blender. This won't work with a regular mouth size mason jar because the opening is too narrow for the immersion blender to fit in.
You put all the ingredients in the mason jar, then insert the hand immersion blender. When you turn on the immersion blender, the container is perfectly sized to allow the ingredients to move around just enough to get super whipped and emulsified.
You leave the immersion blender on at the bottom of the jar for a good 20-30 seconds before moving it. You'll see the egg and oil emulsifying and turning white. Then you slowly lift up the immersion blender to continue emulsifying, and within a minute or 2 you have a jar of fresh, delicious and ultra healthy Keto mayonnaise!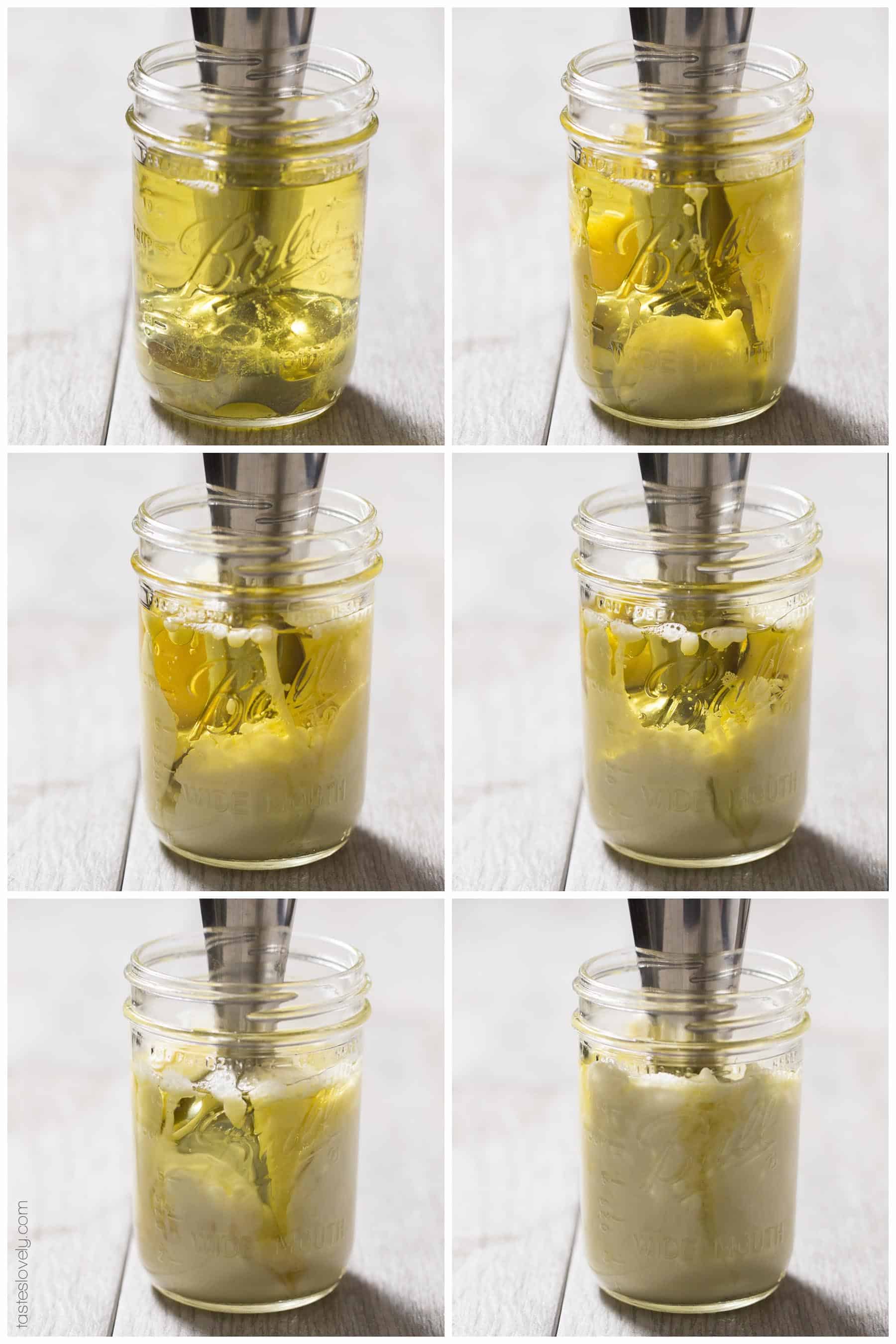 And the best part? You store the mayonnaise in the jar you just made it in! Which means virtually no clean up. I just have to clean off my immersion blender.
I've tried making this in my high speed blender before (love my Vitamix!), and it does work. But it is such a pain to scrape all the mayo out from the blender. It ends up getting all over my hand, and I feel like I can't get all of it out. I hate wasting all this tasty mayonnaise. The mason jar and immersion blender is definitely the way to go.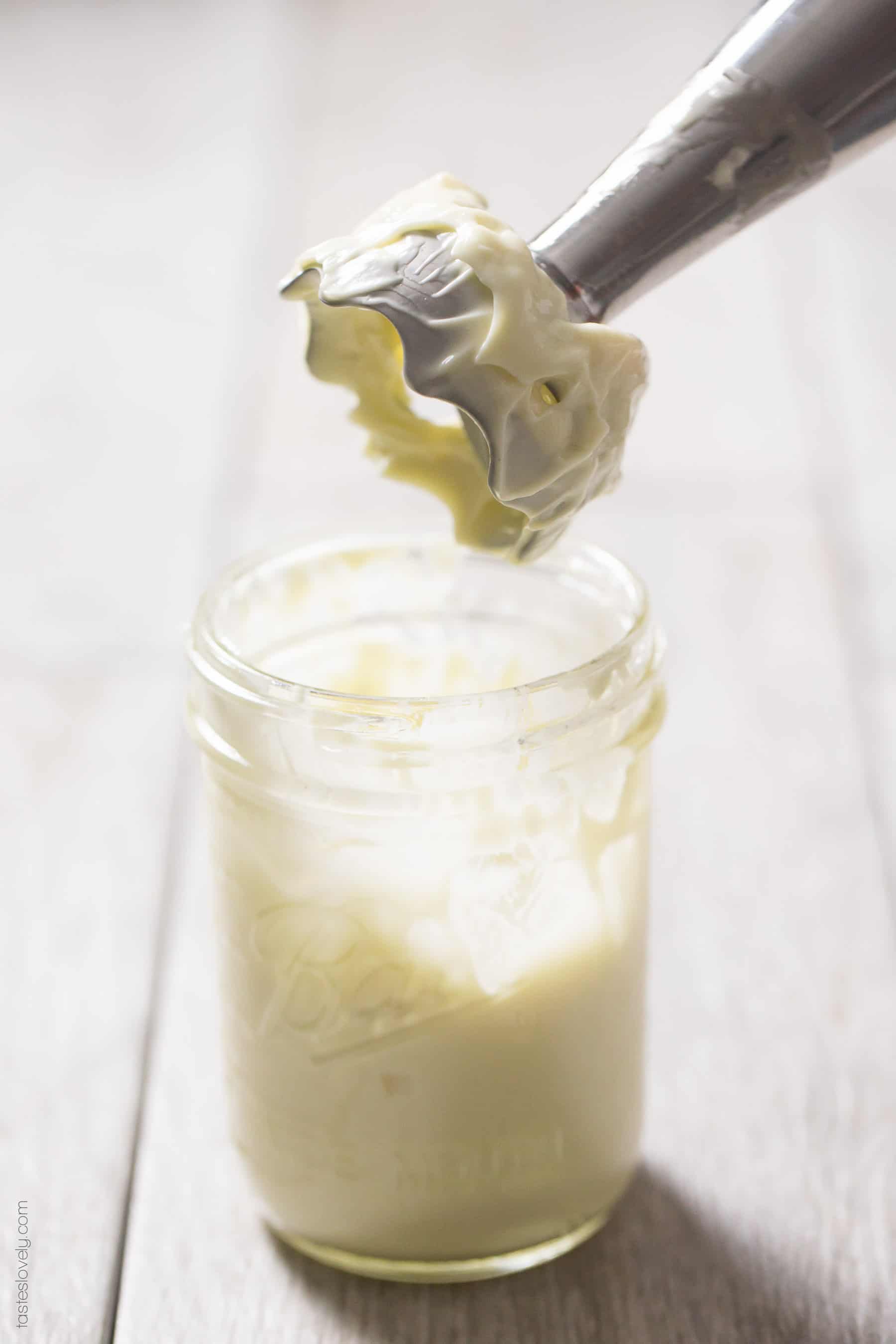 Does Homemade Mayonnaise Taste Good?
I promise you, this mayonnaise tastes just like what you are used to. Don't be suspicious of it because it is healthy. Want to know how I know? I swapped out the mayonnaise in our house for this homemade mayonnaise and my husband has never noticed. (Until he reads this! Haha!)
We're both picky about our mayonnaise. Before, I only bought Best Foods. When I've tried to save money by buying the generic brand, he could always tell, and refuse to eat it. But his homemade Keto mayonnaise? He couldn't tell and ate his whole sandwich. And this was a chicken salad sandwich where mayonnaise is crucial!
If it passes the husband taste test, you know it's good.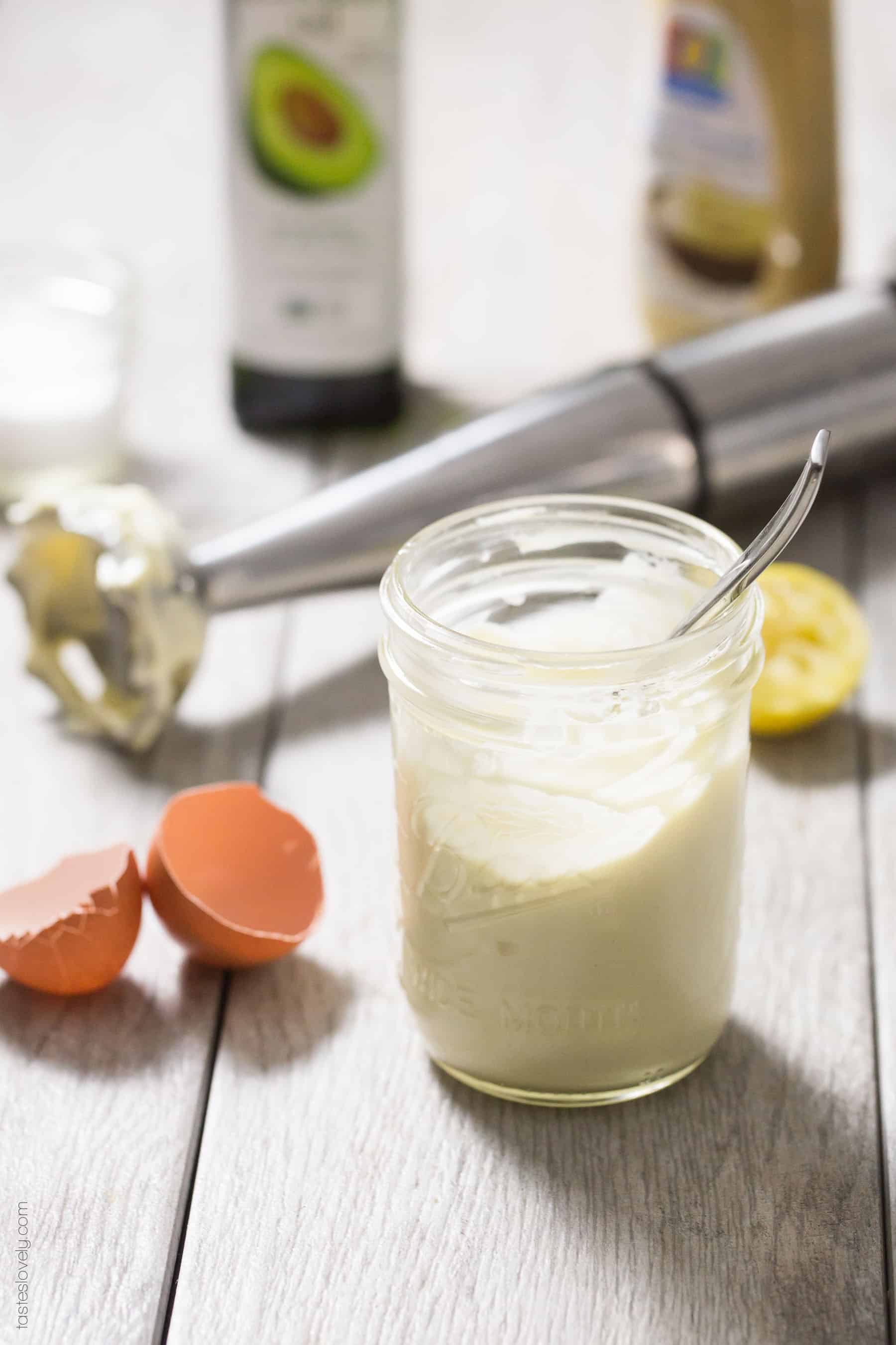 Best Oil To Use In Homemade Mayonnaise
I've updated this recipe from my original posting from January 2015 because I now have a preferred oil I like to use in this homemade mayonnaise, avocado oil! Avocado oil is very light and neutral tasting, so it keeps it a mild tasting mayonnaise, which is just how I like it. It is much closer to soybean oil, which is what a majority of store bought mayonnaise's use. I buy my avocado oil in bulk at Costco so it's really affordable!
Before, I used extra light tasting olive oil when making this mayonnaise. While it was good, it wasn't…great. Even though the extra light tasting olive oil was milder tasting than regular olive oil, it still gave too much of an olive oil taste to the mayonnaise. If you like a stronger tasting mayonnaise, give the extra light tasting olive oil a try!
Watch How To Make Keto Mayonnaise Recipe Video:
Eggs to Use In Homemade Mayonnaise
Be sure to use organic eggs when making this homemade mayonnaise. The fresher the egg you use, the better this mayonnaise will be.
I like my mayonnaise on the thicker side. That is what I'm used to from store bought. If you like yours a little thinner, use 1-1/4 cup avocado oil. And if you have extra large eggs instead of large eggs, you may need to use 1-1/4 cup avocado oil as well.
If you're unsure, just start with the 1 cup avocado oil. If when it is done emulsifying, it is thicker than you prefer, you can add in an additional oil and use the immersion blender to blend it in.
Print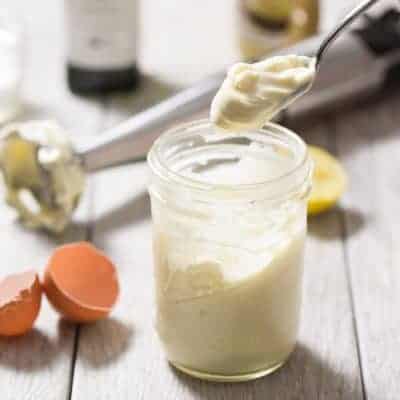 Keto Homemade Mayonnaise
---
Author:

Prep Time:

1 min

Cook Time:

2 mins

Total Time:

3 mins

Yield:

1.5 cups

1

x
1 cup

avocado oil

1

large egg (organic, and as fresh as possible)

1 teaspoon

lemon juice

1/2 teaspoon

dijon mustard

1/4 teaspoon

salt (or more to taste)
---
Notes
Avocado Oil: I like avocado oil the best, but have used light tasting olive oil in the past. I find the light tasting olive oil to still have too much olive oil flavor. Avocado oil is very neutral tasting.
Eggs: Use as fresh of eggs as possible. If you have chickens, that's great! If your chickens lay medium size eggs, use 2 eggs and just 3/4 cup avocado oil. If they lay large eggs, follow the recipe as is. Famers markets are a great source for fresh eggs. I've made this with store bought eggs as well, no problem. It is perfectly safe to consume this, even though it is made with raw eggs. If you have a compromised immune system, you can google ways to pasteurize your egg first.
Nutrition Facts: The nutritional information is calculated based on the exact ingredients and quantities listed in the ingredients above. It is provided as a courtesy only and should be construed as an estimate rather than a guarantee. Ingredients can vary, especially if you make recipe substitutions. Always best to go off your own calculations based on the ingredients and measurements you use.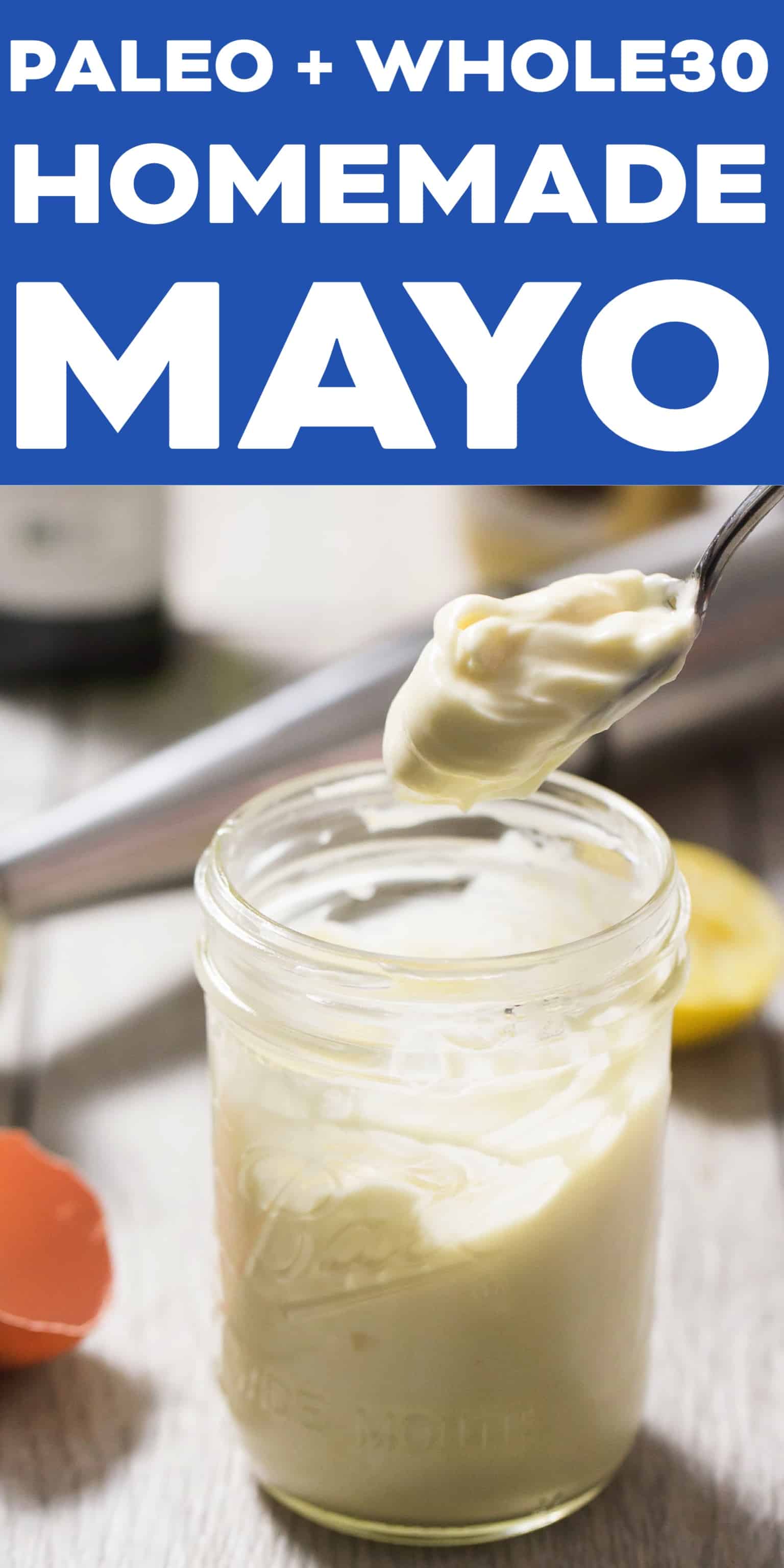 Original Photo from January 2015, just for fun :-)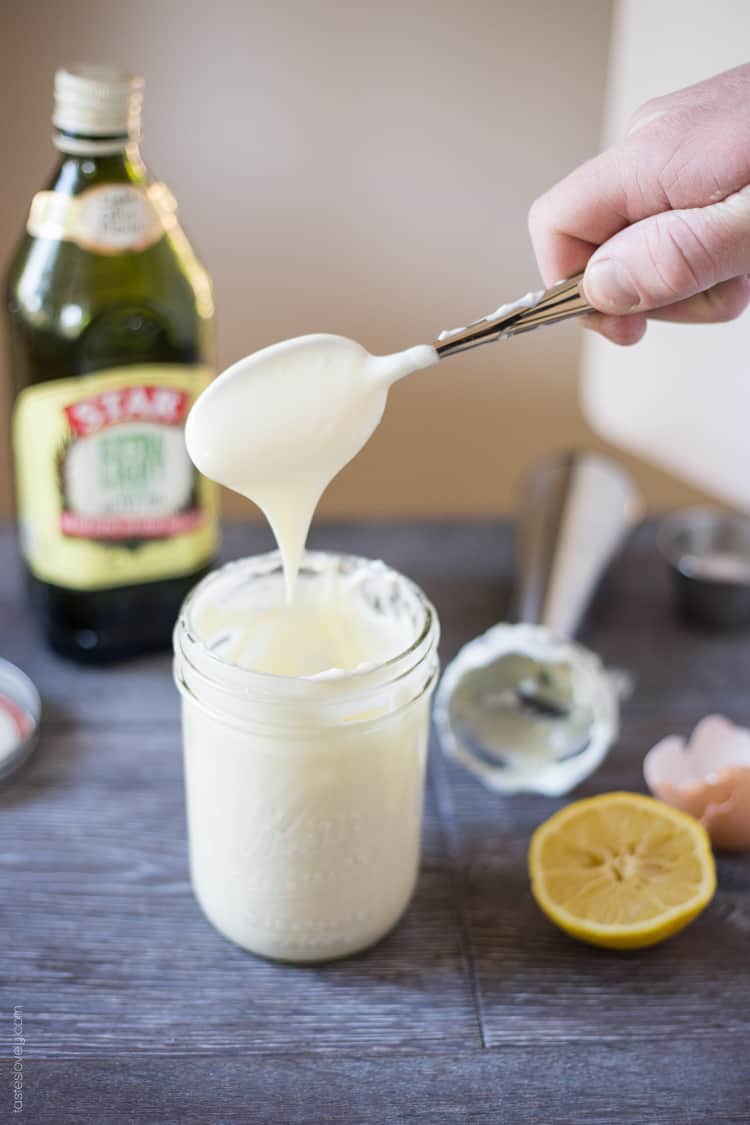 This post contains affiliate links, thanks for the love!
Never Miss a Recipe!
Get new posts delivered straight to your inbox! For free!