The Ultimate Trader Joe's Shopping List for Whole30
An extensive Whole30 shopping list with photos of Whole30 compliant grocery items, pantry staples, meats, produce, & healthy snacks at Trader Joe's. Updated as of January 2022.
Whole30 at Trader Joe's!
Trader Joe's is my absolute favorite grocery store. It's so much more than a market-It's fun! Their hand-drawn pricing tags? The organic lollipops they give my 3 year old as we shop? The super friendly workers who honestly feel like my friends, and we stop and chat and catch up when I shop because I'm there so often.
The thing I love most is that they're always thinking of new, healthy snacks at Trader Joe's that are innovative and somehow exactly what I need! Why yes, I would love some teeny avocados, how did you know Trader Joe's? Frozen coconut chunks? Didn't even know that was I thing but if you carry it I must need it!
The Ultimate Whole30 Shopping List
Whole30 at Trader Joe's has never been easier, but if you're just starting out, it can be super overwhelming to read every single label and know what is compliant and what is not. So, I've compiled the ultimate Whole30 shopping list for you, complete with photos of every item to make your shopping experience as easy as possible!
And by ultimate, I mean *ultimate*. I spent almost 4 hours reading the labels of every. single. item. at Trader Joe's so you won't have to.
Getting Started with Whole30
Before we start, a little information. If you're new to Whole30, I have a Whole30 beginners guide to give you an overview of the program, as well as what foods and ingredients are compliant.
Keep in mind, products at Trader Joe's vary season to season. For example, in the summer you'll find peaches in stock, in the winter you'll find spaghetti squash. I did this shopping guide in January 2022 at my Trader Joe's in Danville, California. I will update this guide frequently to keep it up to date.
Also, this is not sponsored in any way! I just genuinely like Trader Joe's. More like love Trader Joe's. And you will too with the wide variety of fresh produce, prepped produce, frozen vegetables, pantry staples, nuts, and healthy snacks at Trader Joe's.
Trader Joe's Shopping List for Whole30: Fresh Produce
Any fruit or vegetable! (Except corn, peas & lima beans) Organic is always best. I did take a picture of every single fruit and vegetable, but decided that was overkill to include all of those, ha!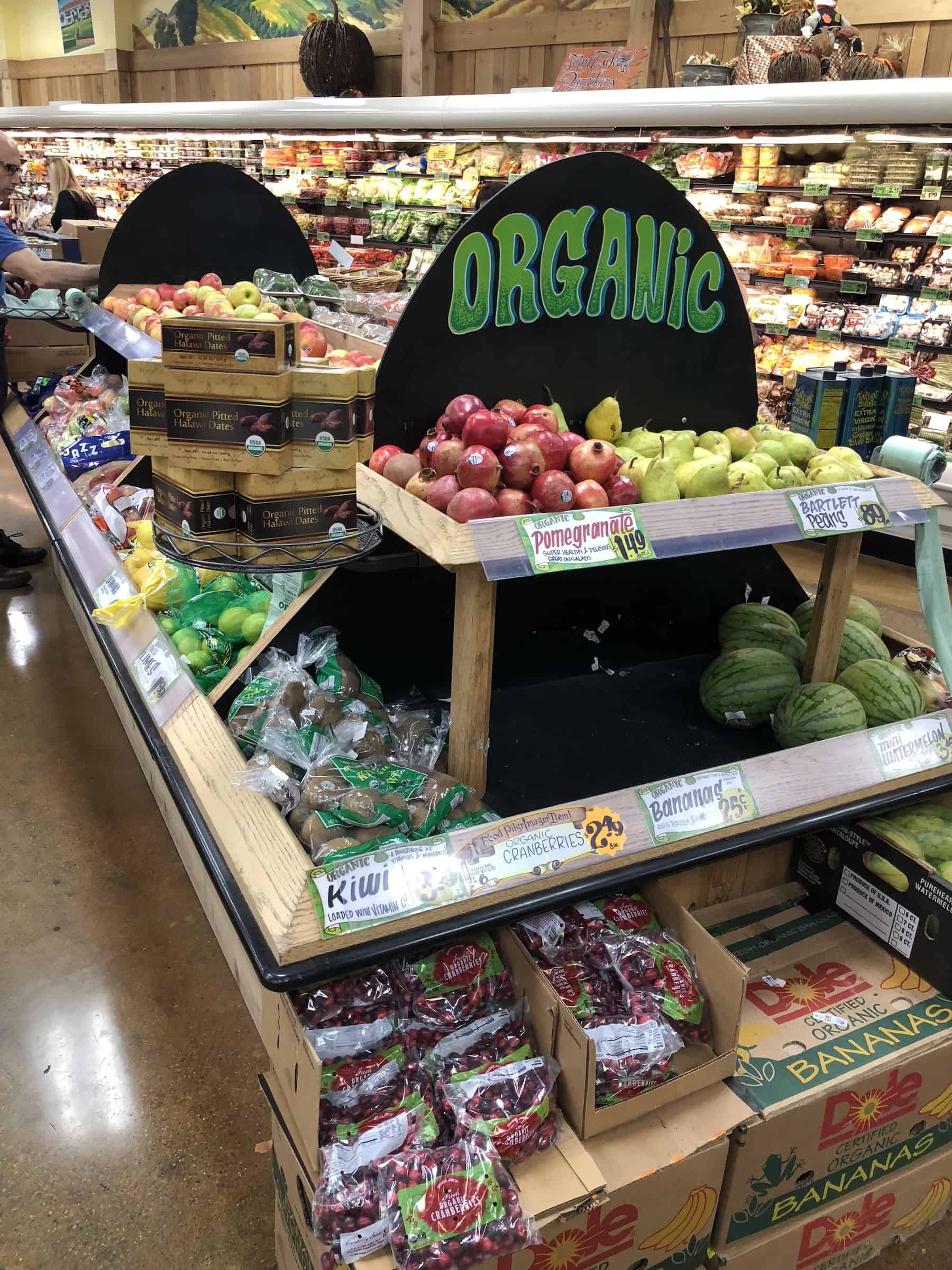 Trader Joe's Whole30: Fresh Herbs
I got oh so excited when Trader Joe's started carrying big bunches of parsley and cilantro in 2018!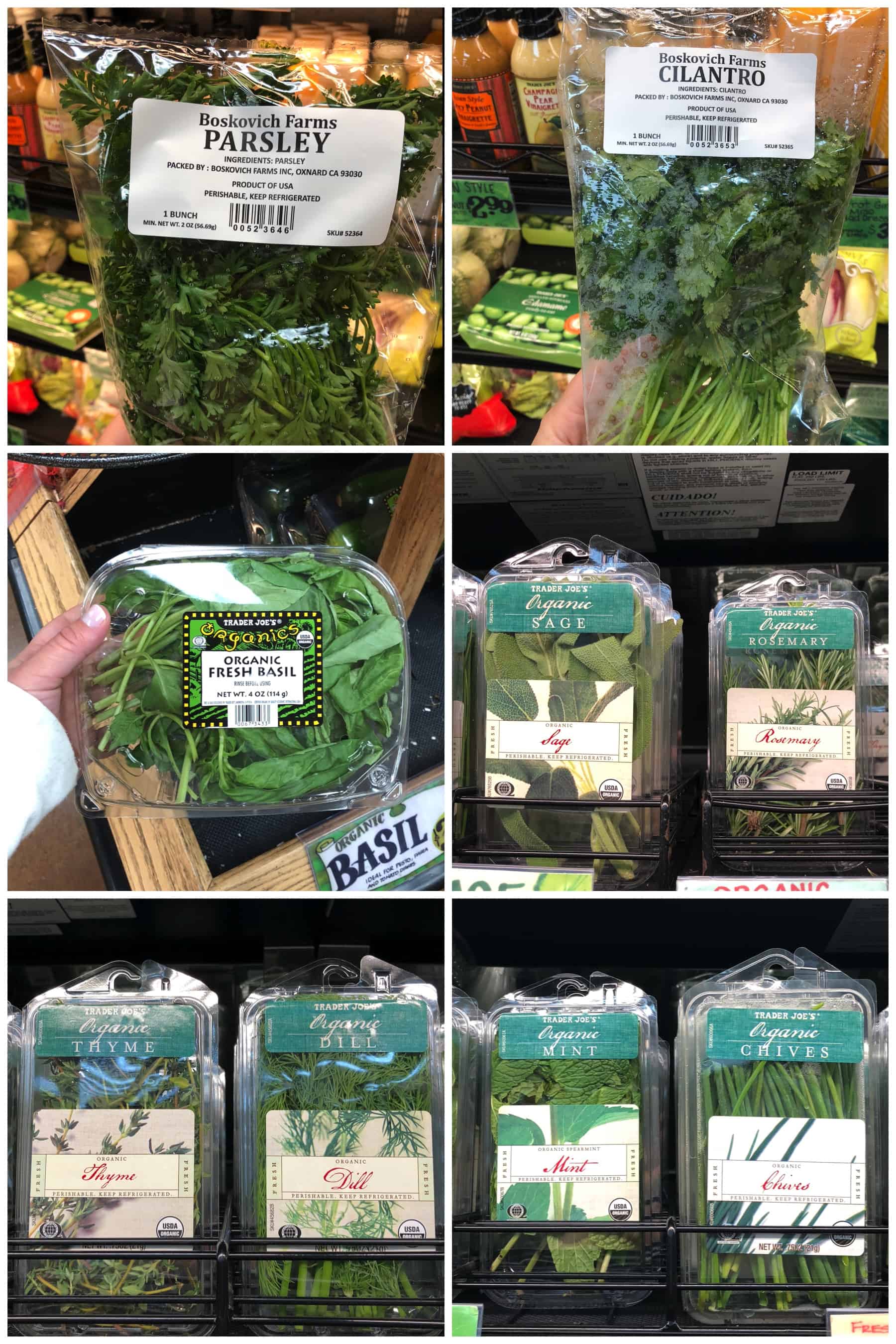 Parsley
Cilantro
Basil
Sage + rosemary
Thyme + dill
Mint + cilantro
Trader Joe's Whole30: Convenience Produce
Trader Joe's has tons of prepped vegetables and fruit to save you time on meal prepping and dinner preparation. Here are all the prepped fruits and vegetables that are Whole30 compliant at Trader Joe's.
Broccoli slaw
Organic shredded coleslaw mix
Shredded carrots
Organic chestnuts (seasonal)
Steamed + peeled baby beets
Pomegranate seeds (seasonal)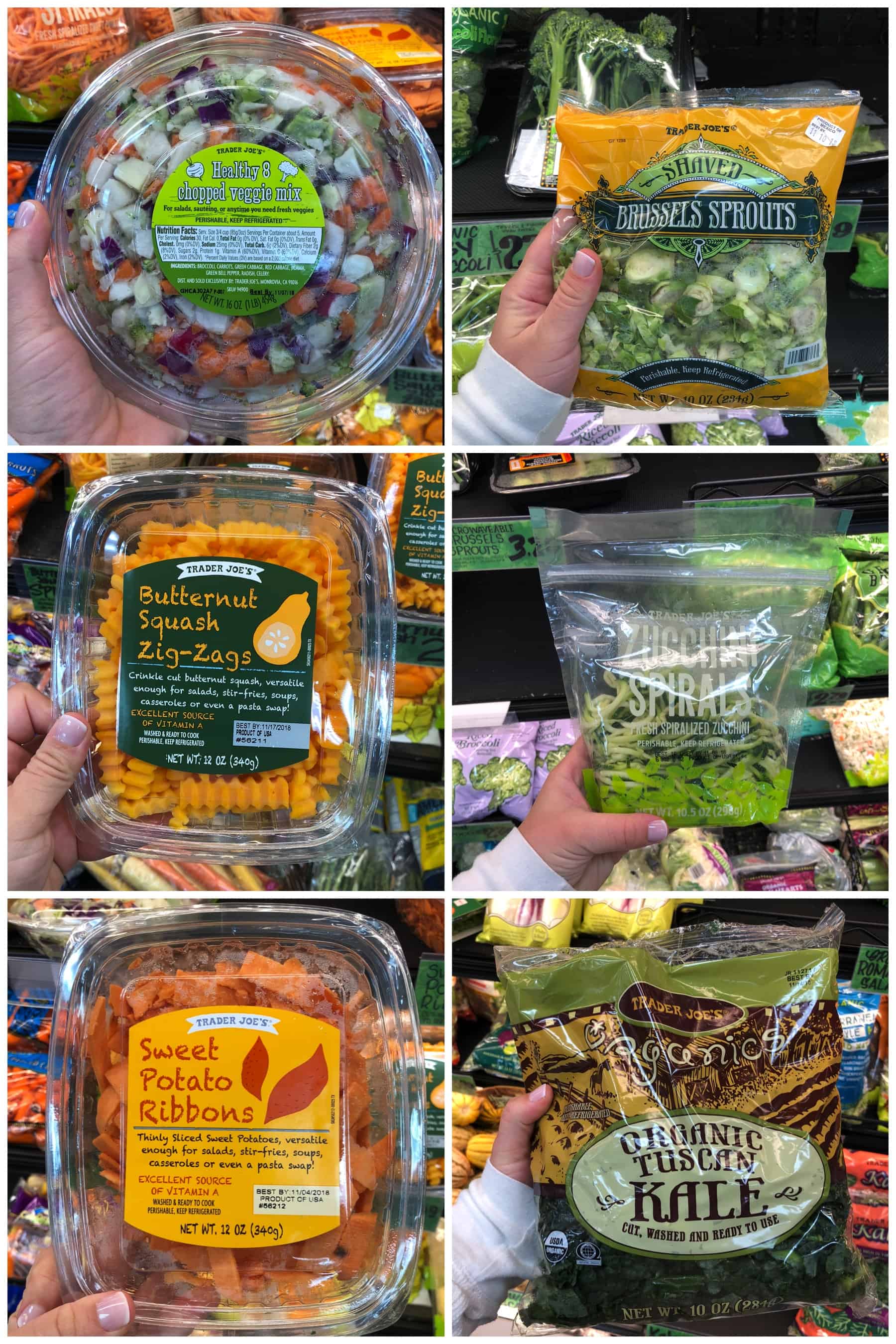 Healthy 8 chopped veggie mix
Butternut squash zig zags
Zucchini spirals
Sweet potato ribbons
Cut and washed organic tuscan kale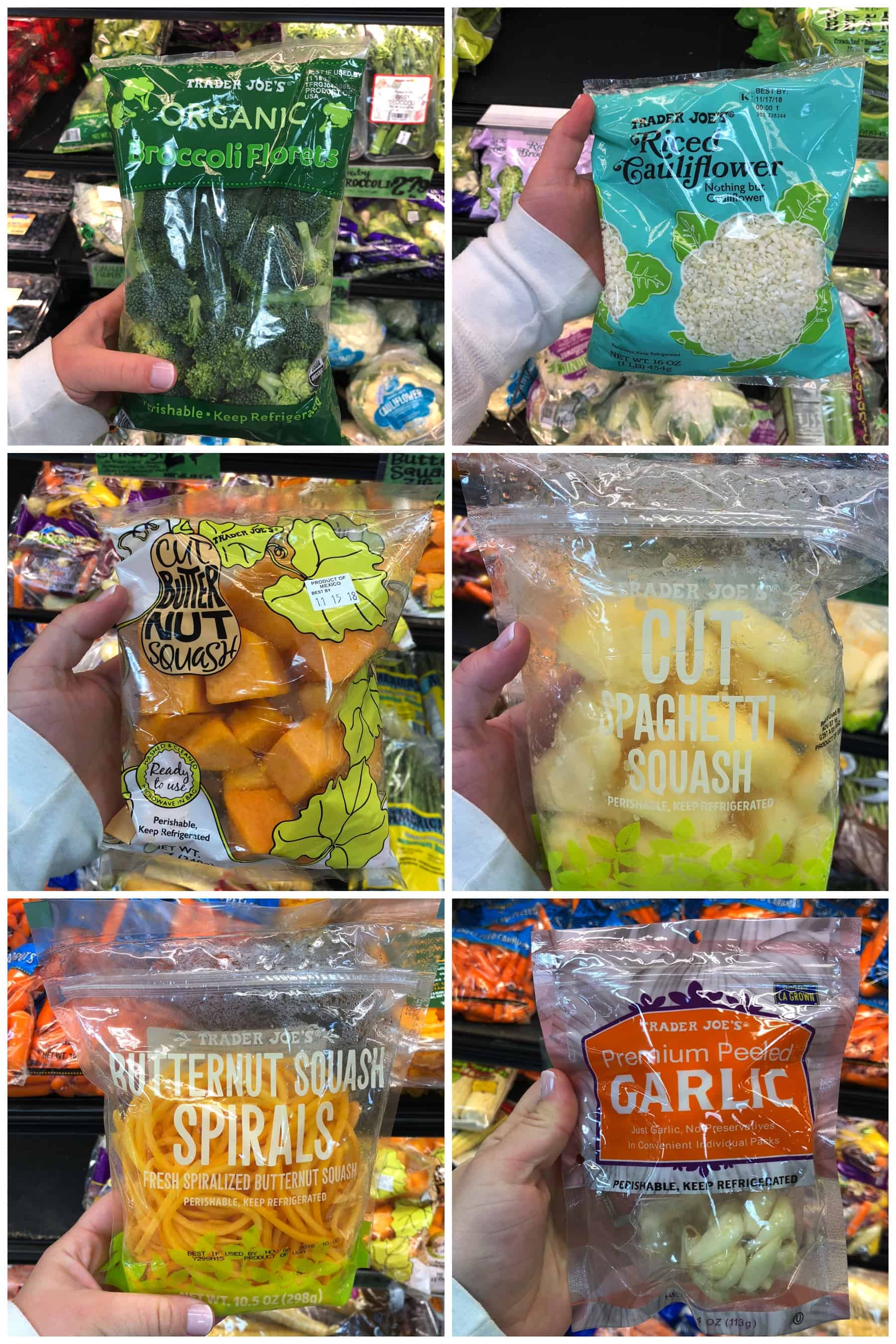 Organic broccoli florets
Riced cauliflower
Cut butternut squash
Cut spaghetti squash
Butternut squash spirals
Peeled garlic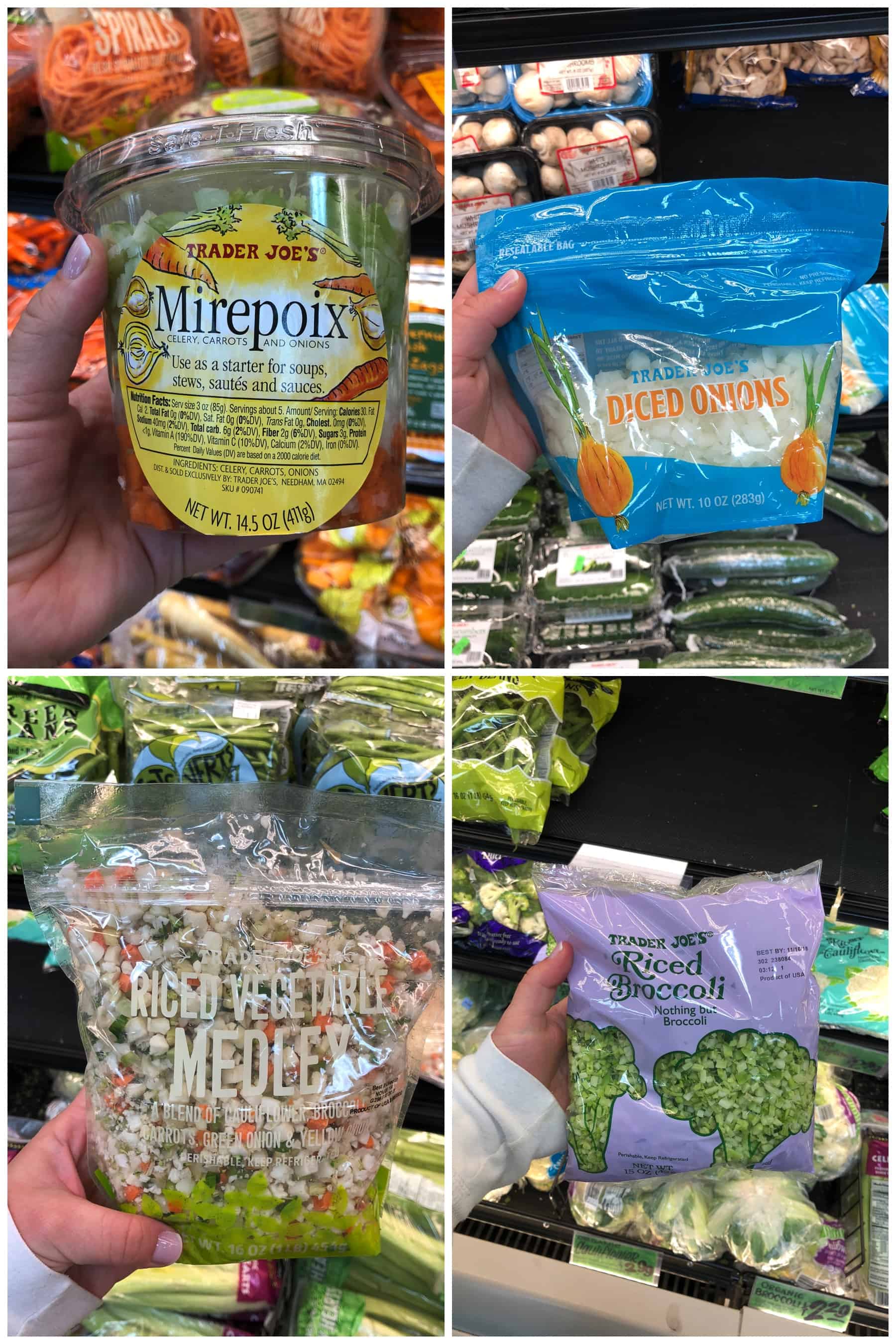 Mirepoix
Diced onions
Riced vegetable medley
Riced broccoli
Trader Joe's Whole30 Shopping List: Dips, Sauces + Dressing
A great way to add more excitement to cooked meat and vegetables!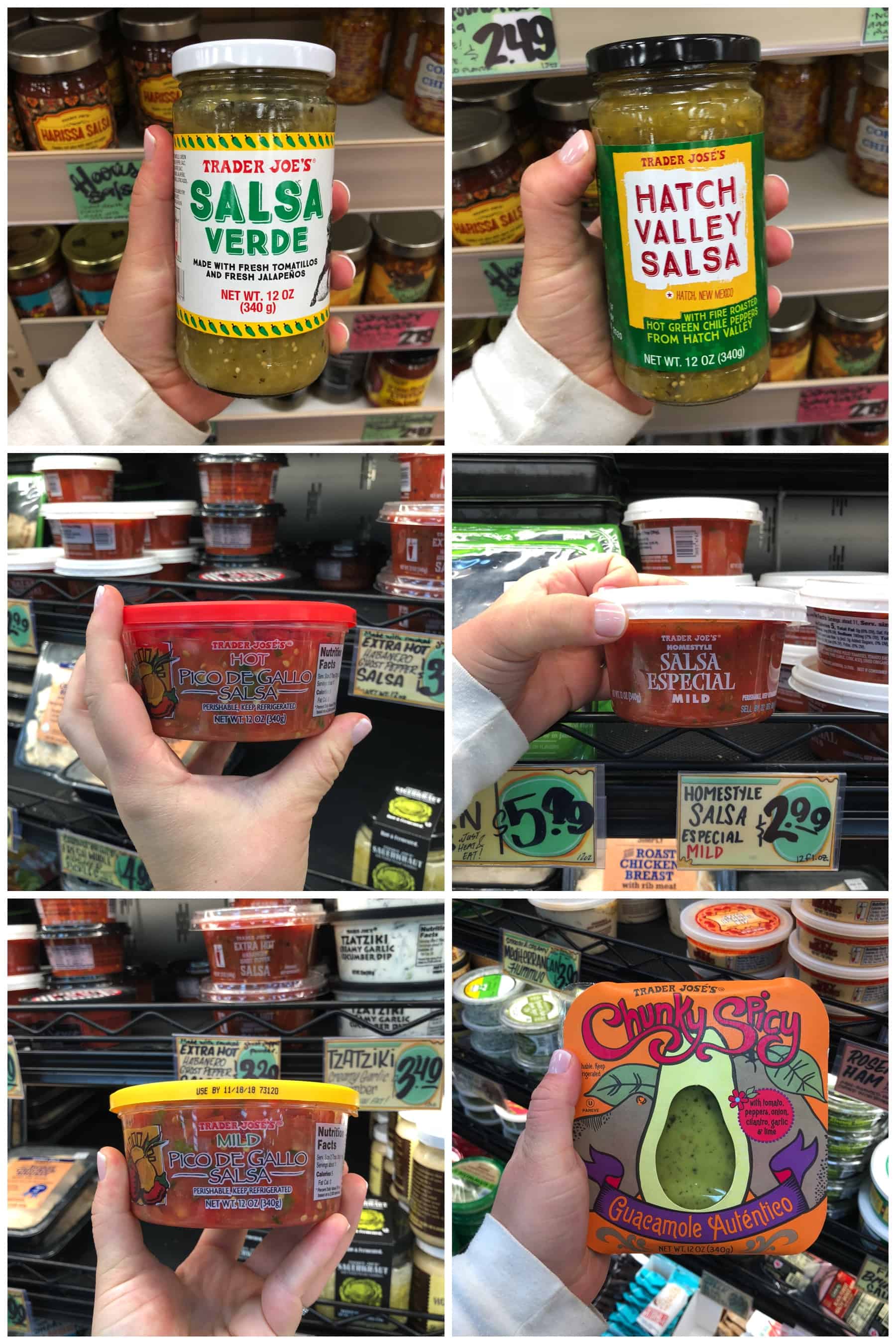 Salsa verde
Hatch valley salsa
Hot pico de gallo salsa
Mild Homestyle salsa especial (my personal favorite)
Mild pico de gallo
Chunky spicy guacamole authentico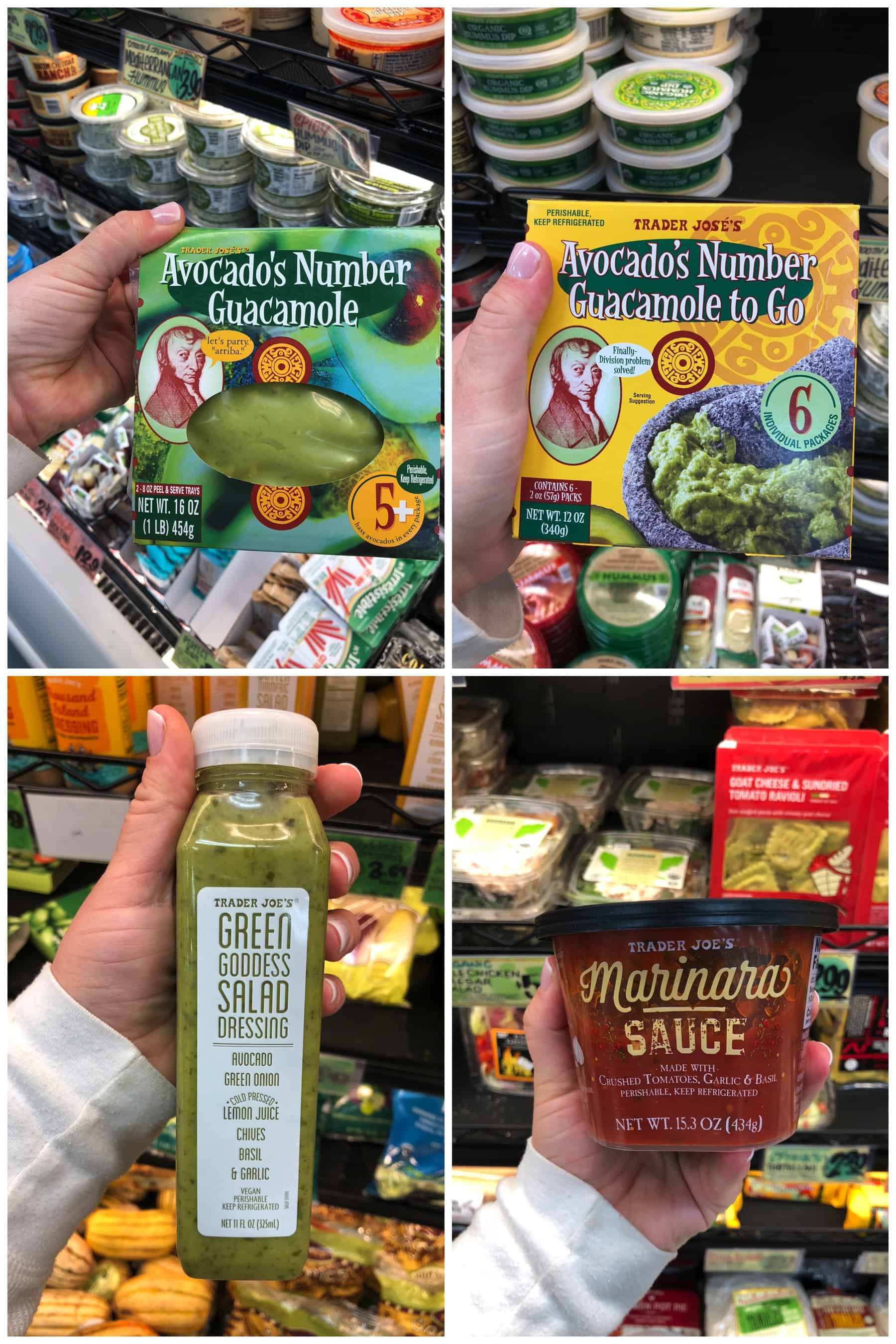 Avocado's number guacamole
Avocado's number guacamole to go
Green goddess salad dressing (the only Whole30 compliant salad dressing at Trader Joe's, in the fridge section)
Marinara Sauce (the only Whole30 compliant marinara sauce at Trader Joe's, in the fridge section)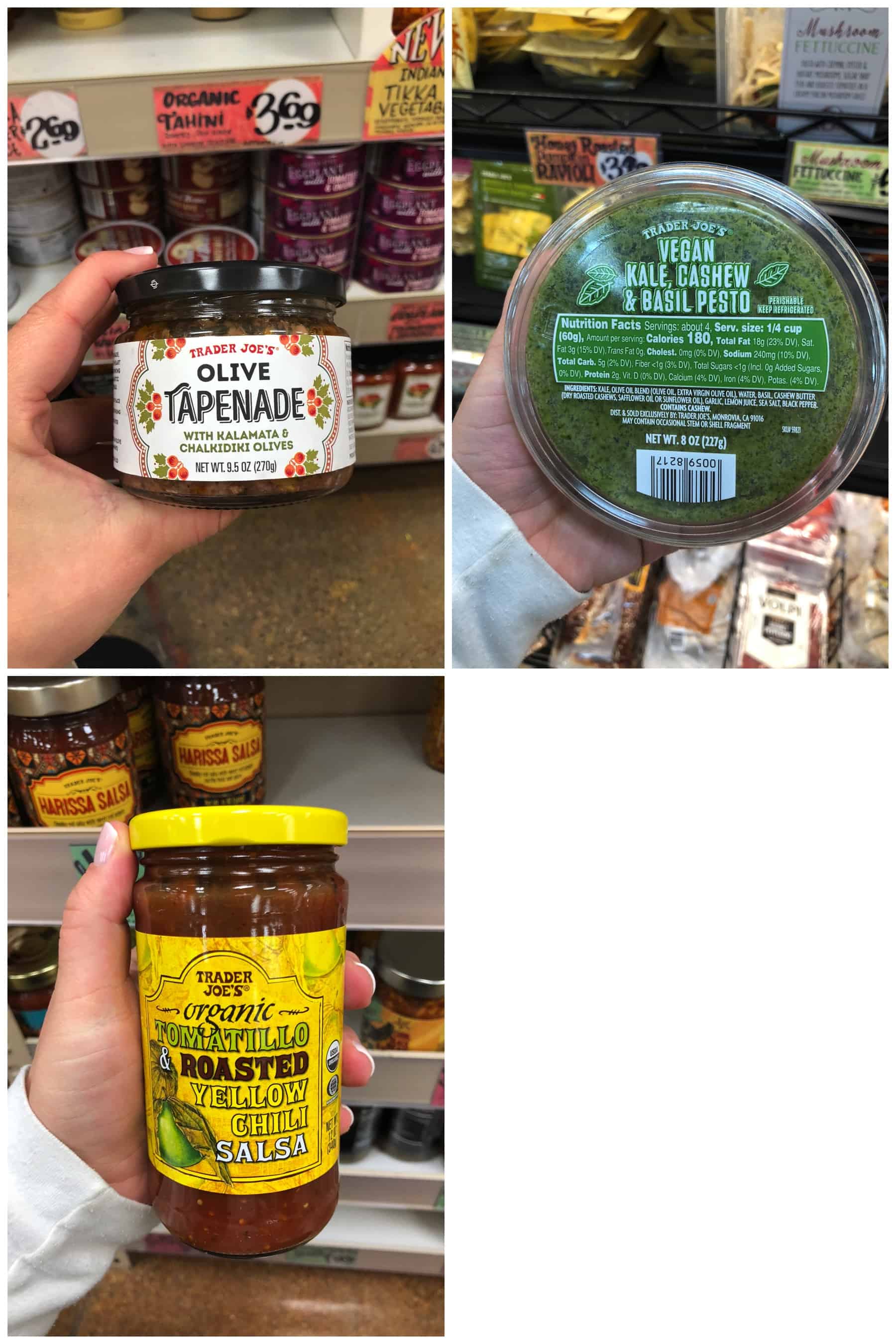 Olive tapenade
Vegan kale cashew + basil pesto
Organic tomatillo + roasted yellow chili salsa
Trader Joe's Whole30: Refrigerated Meat + Eggs
I get my meat from ButcherBox, which is the highest quality and the best match for the Whole30 program. (Here's why I highly recommend it.) But Trader Joe's sells organic meats as well that would be my next best choice. As well as sausage and lunch meat that ButcherBox doesn't carry.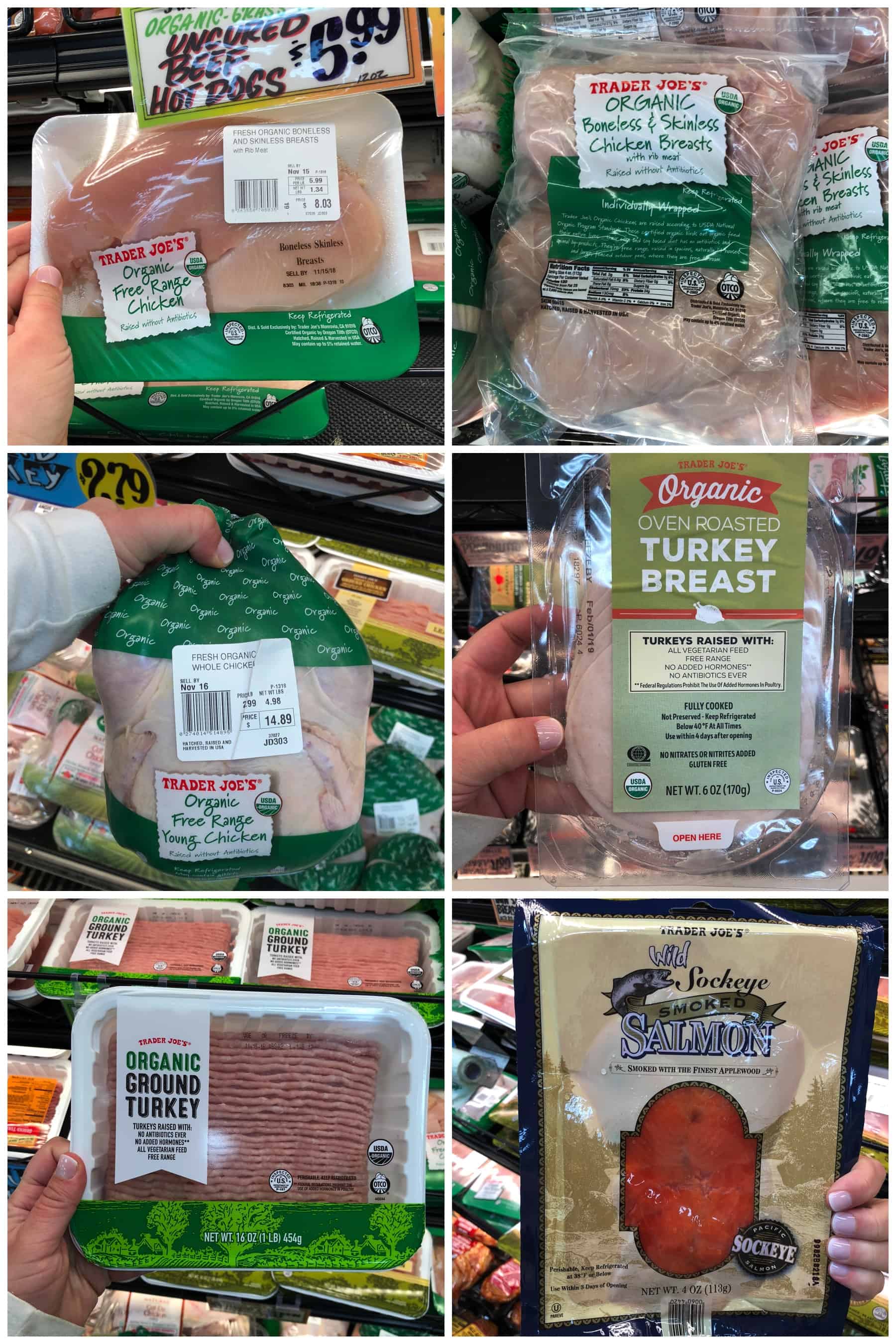 Organic chicken breasts
Organic chicken breasts, big pack
Organic whole chicken
Organic oven-roasted turkey breast lunch meat
Organic ground turkey
Wild sockeye smoked salmon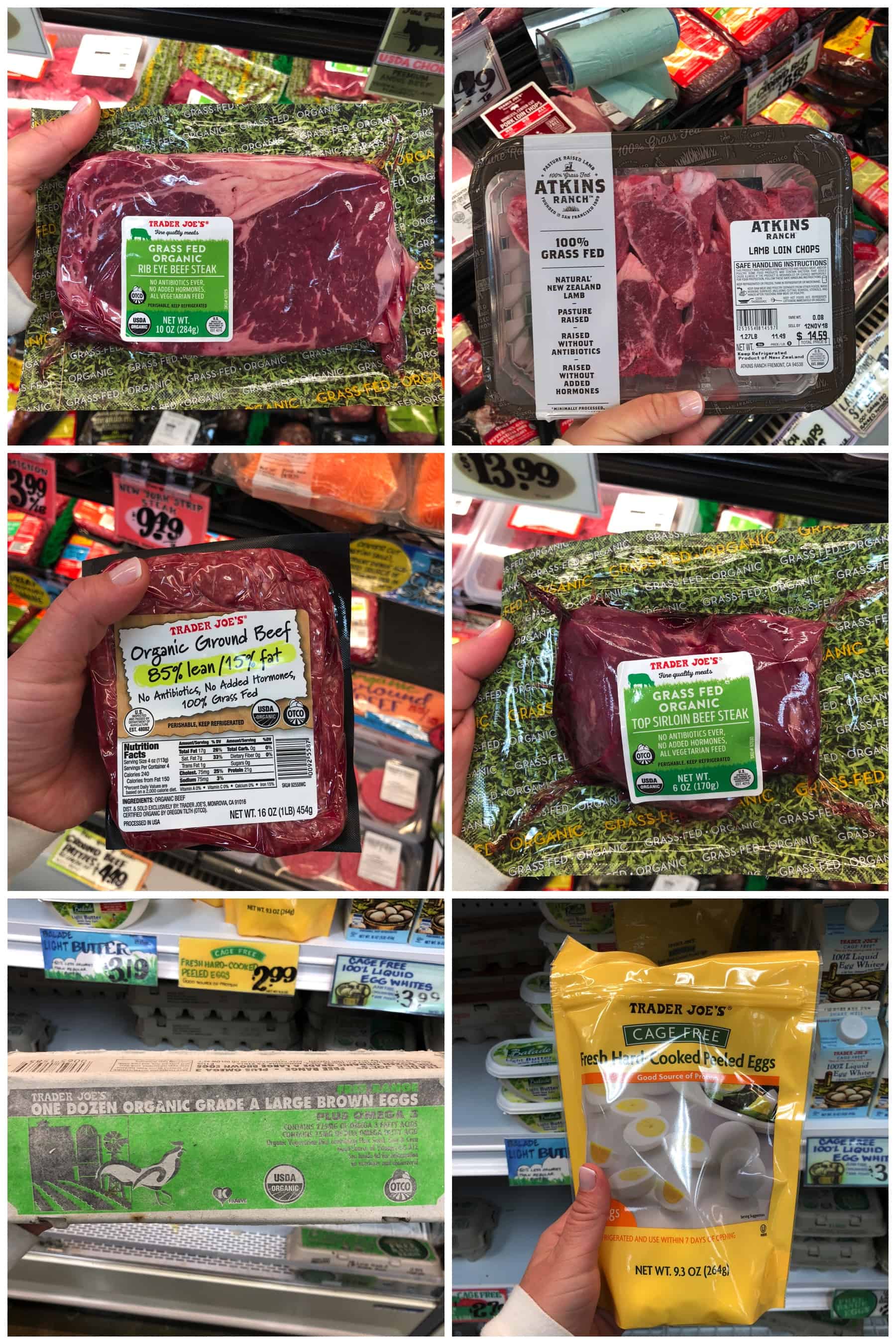 Organic ribeye steak
Lamb loin chops
Organic ground beef
Organic top sirloin steak
Organic eggs
Hard-boiled peeled eggs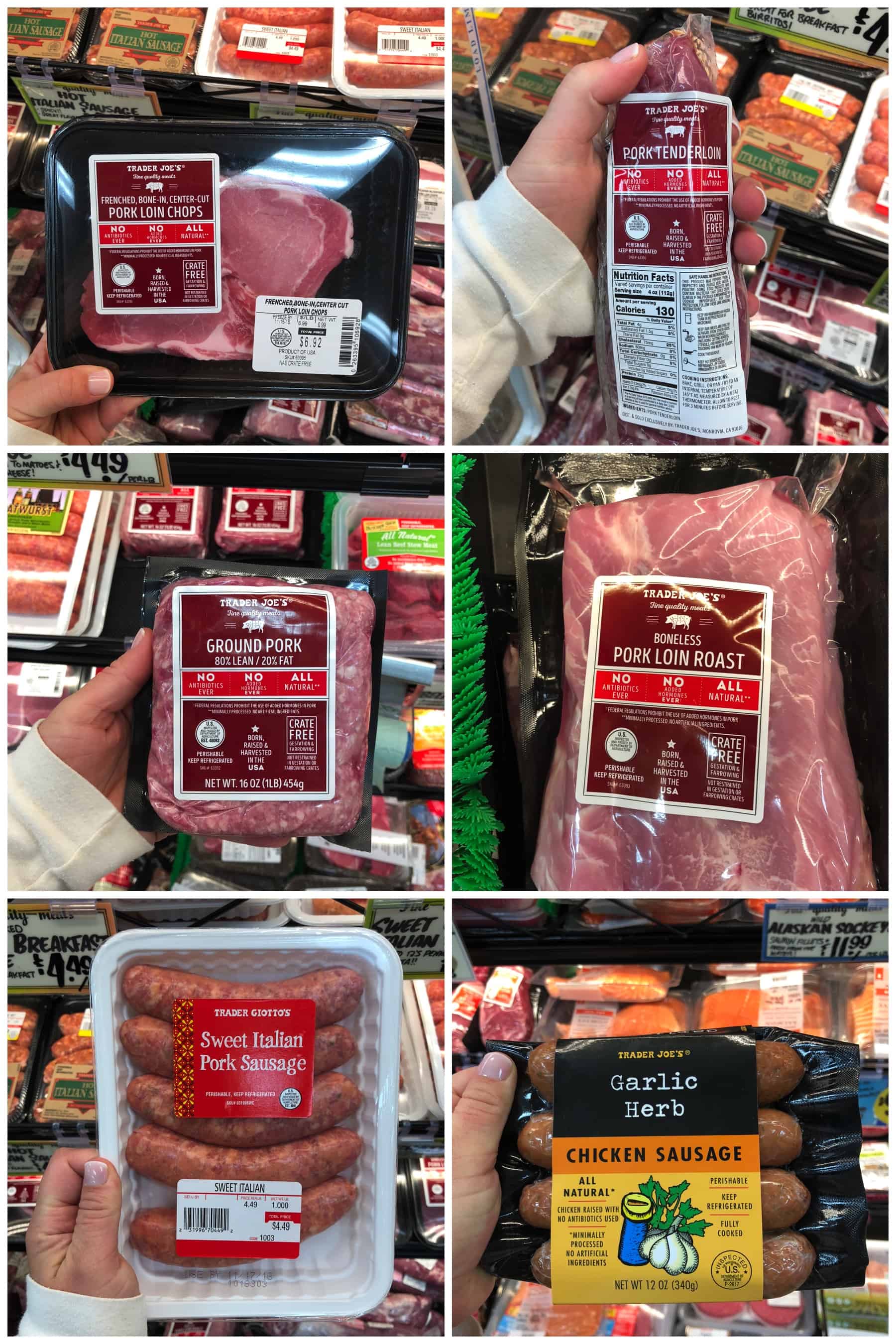 Pork loin chop
Pork tenderloin
Ground pork
Pork loin roast
Sweet italian sausage
Garlic herb chicken sausage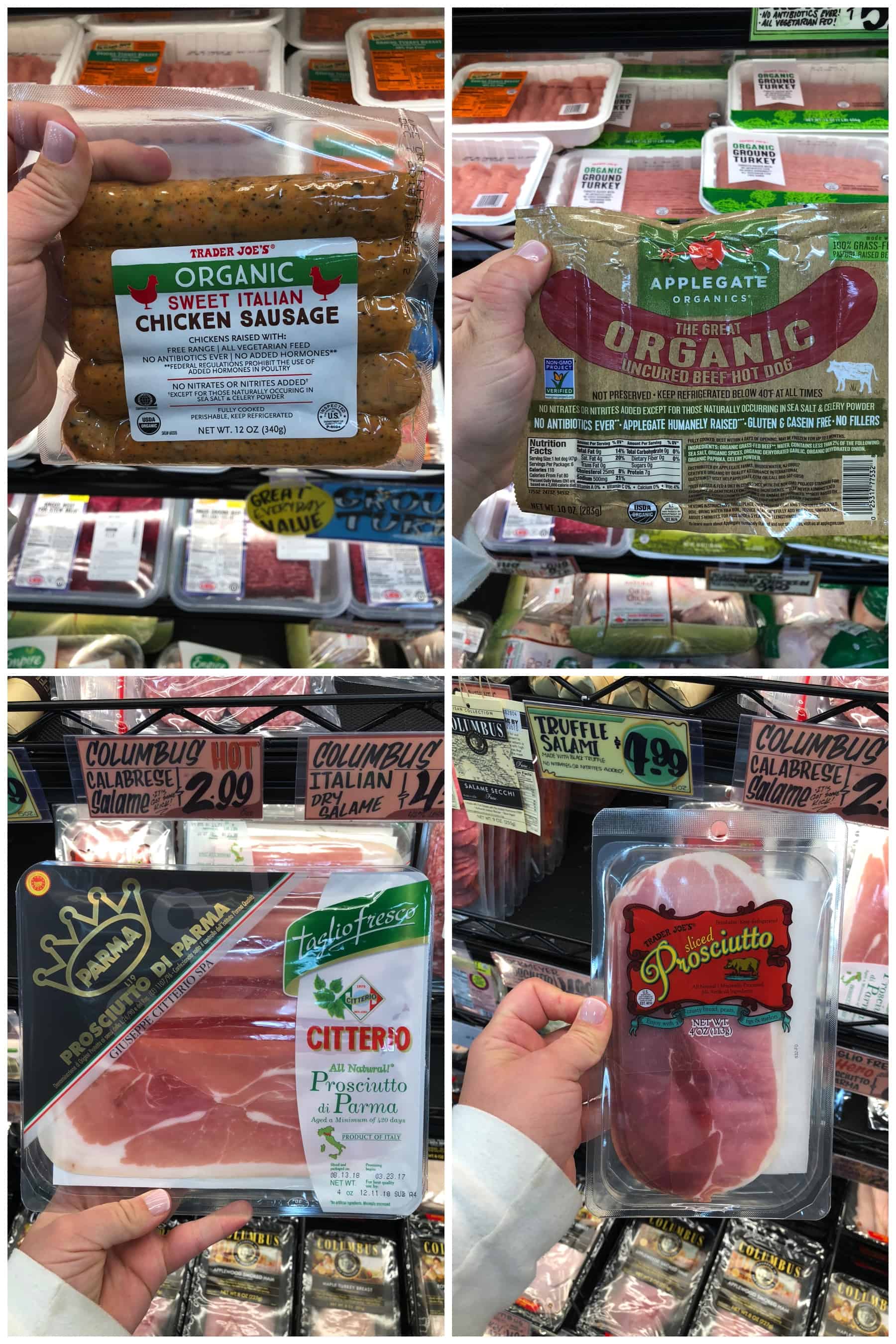 Organic sweet Italian sausage
Applegate organic hot dogs
Prosciutto di parma
Sliced prosciutto
Trader Joe's Whole30: Convenience Meats
Homemade is always best, but sometimes there are those busy nights when you need a quick and convenient protein.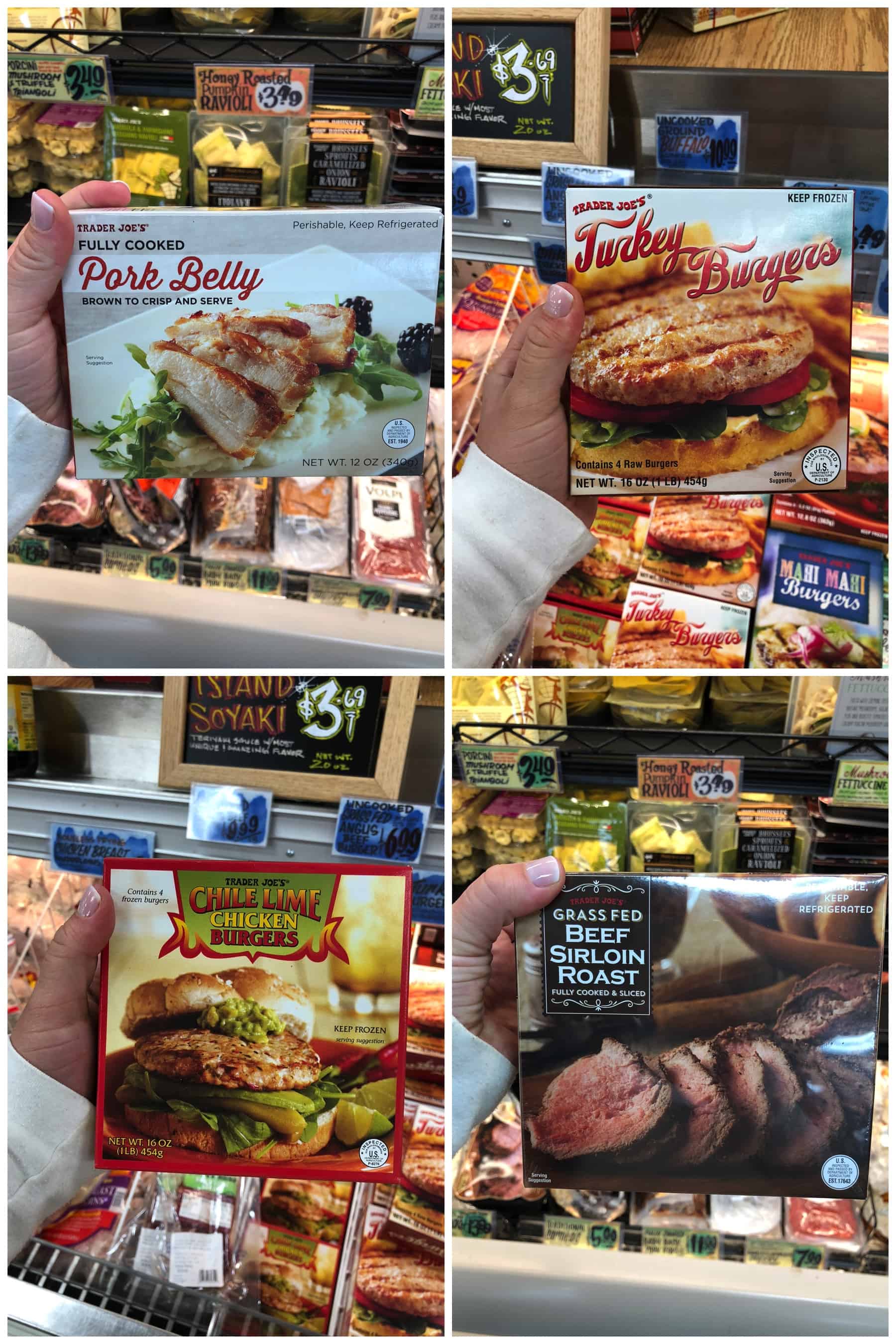 Fully cooked pork belly
Turkey burgers
Chile Lime Chicken Burgers
Beef Sirloin Roast
Trader Joe's Whole30: Canned Meats
Great on top of salads!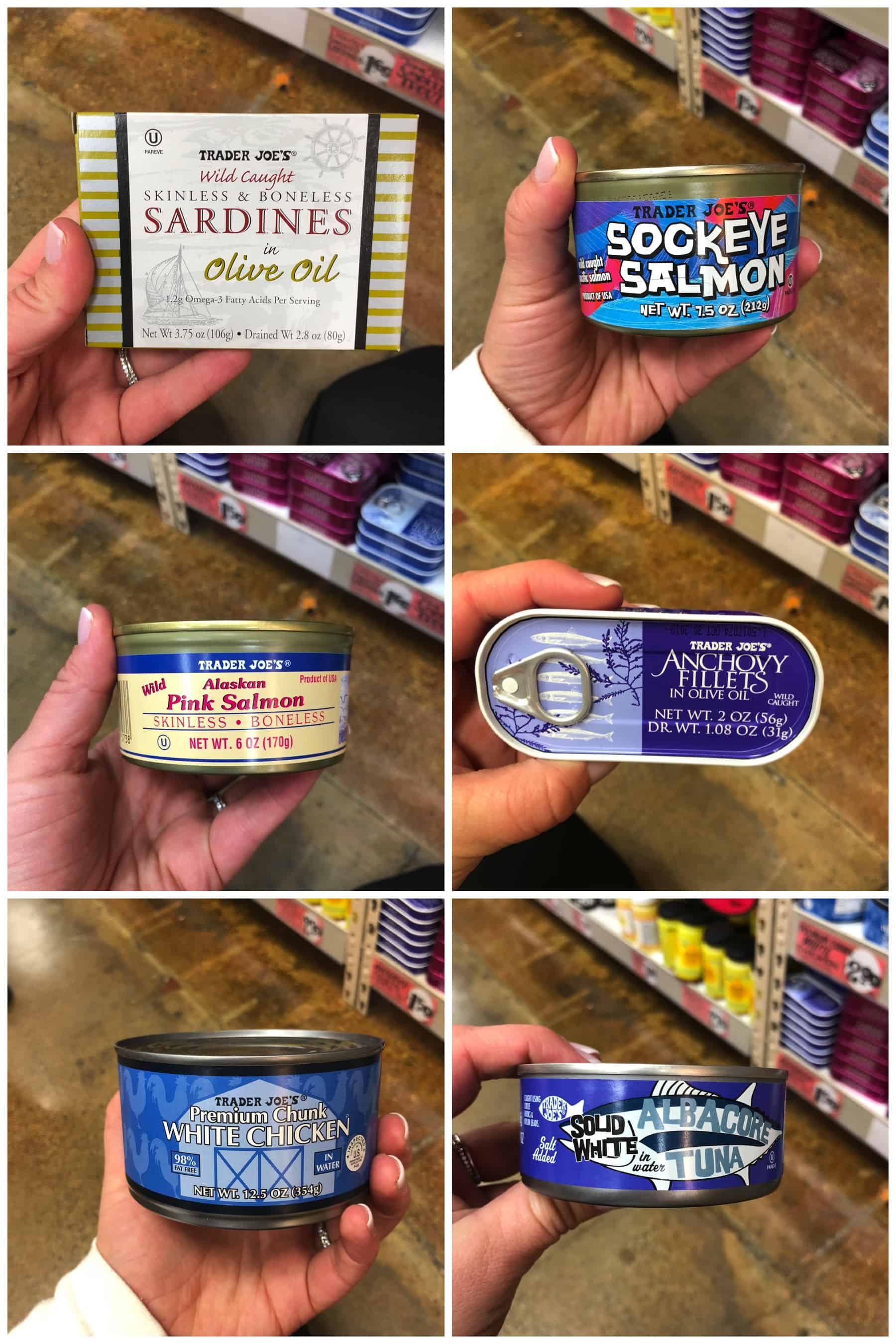 Wild-caught sardines in olive oil
Wild-caught sockeye salmon
Wild Alaskan pink salmon
Wild-caught anchovy filets in olive oil
Premium chunk white chicken
Solid white albacore tuna
Trader Joe's Shopping List for Whole30: Frozen Meat + Seafood
I get my meat from ButcherBox, which is the highest quality and the best match for the Whole30 program. (Here's why I highly recommend it.) But Trader Joe's sells organic meats as well that would be my second best choice. As well as frozen seafood that ButcherBox doesn't carry.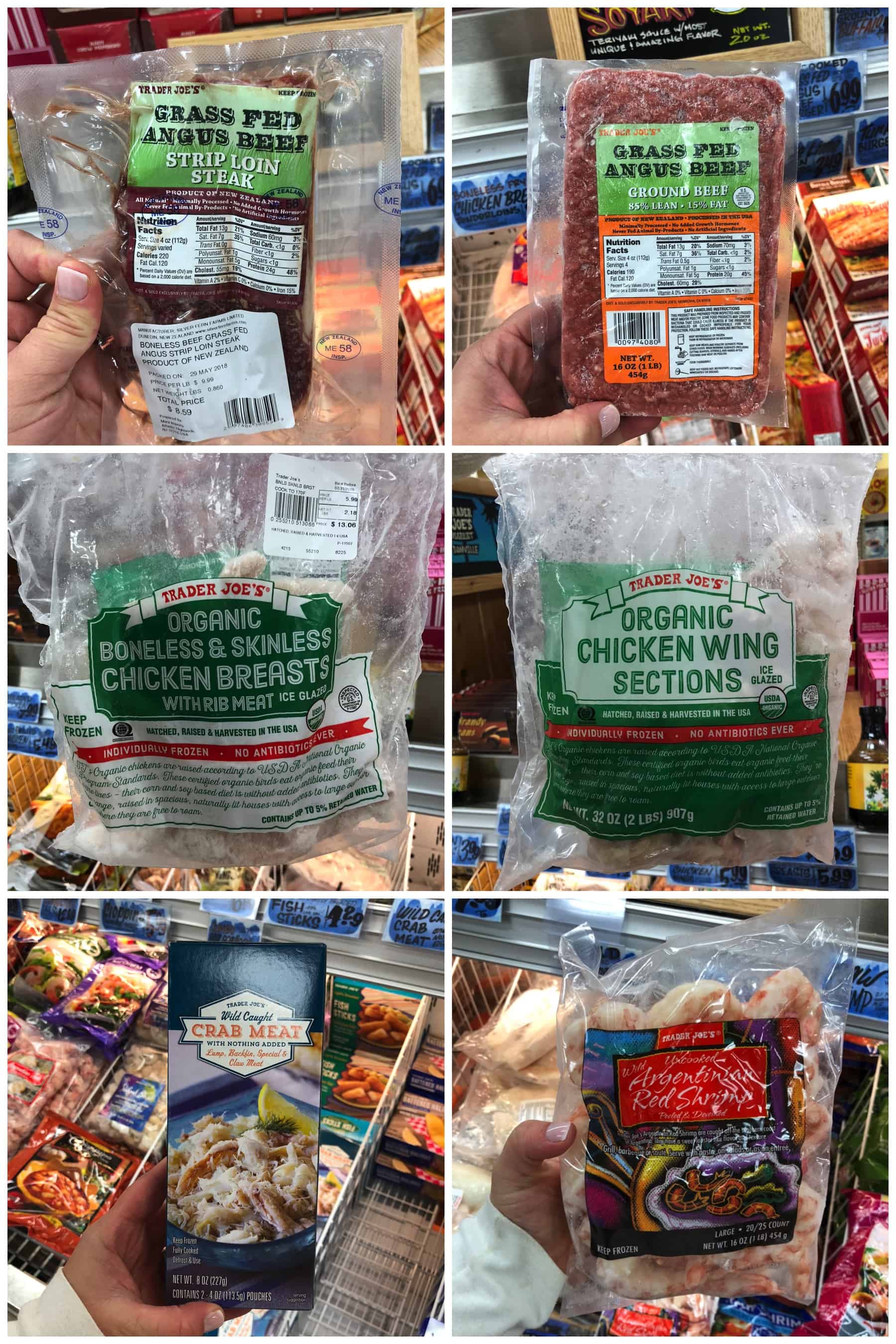 Strip loin steak
Ground beef
Chicken breasts
Chicken wings
Wild-caught crab meat
Wild-caught red shrimp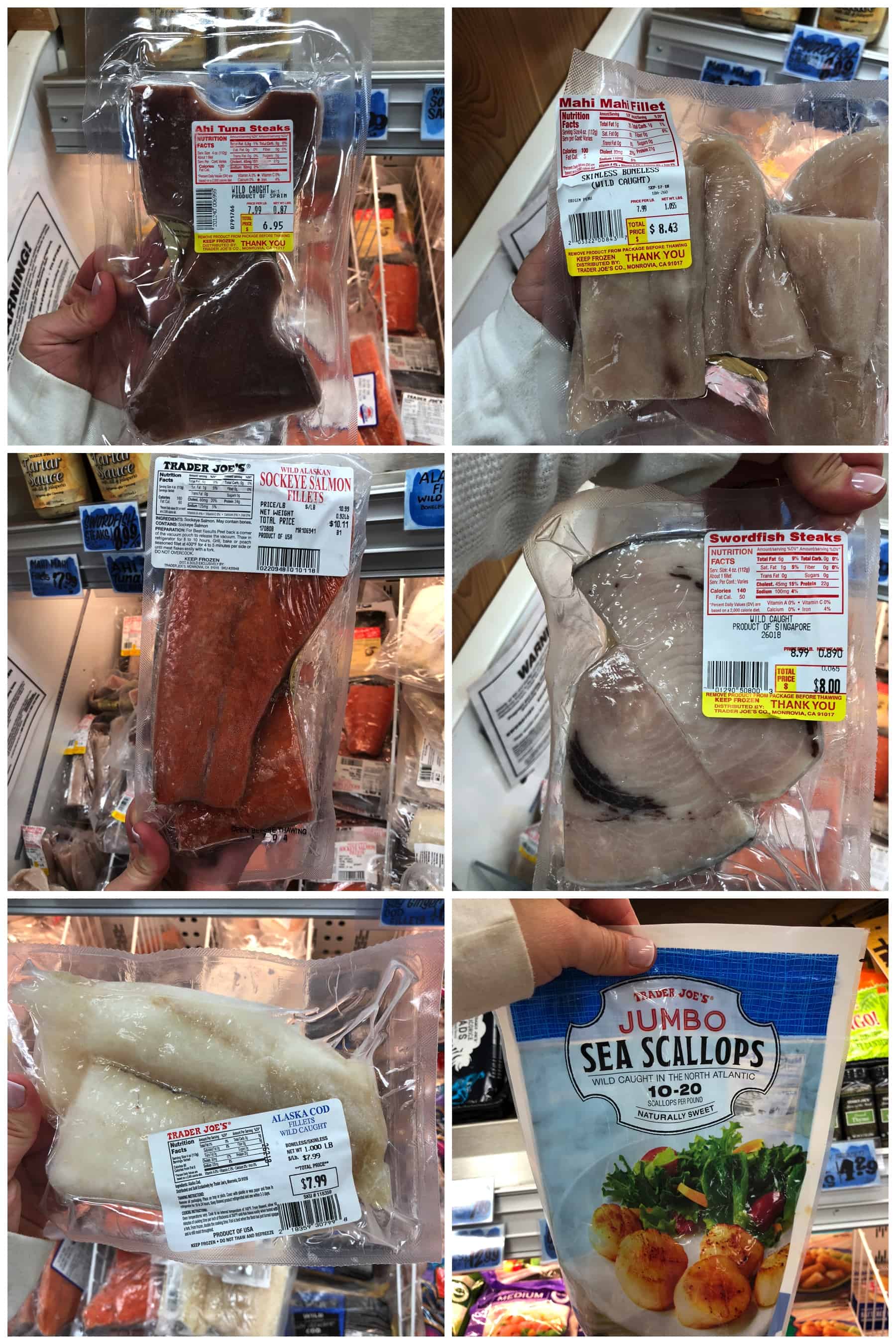 Wild ahi tuna steaks
Wild mahi mahi filets
Wild sockeye salmon filets
Wild swordfish steaks
Wild alaska cod
Wild jumbo sea scallops
Trader Joe's Whole30: Frozen Fruit + Vegetables
Frozen vegetables are great in soups and casseroles! Frozen fruit is always picked and frozen at the peak of freshness. Delicious defrosted to snack on or added to salads.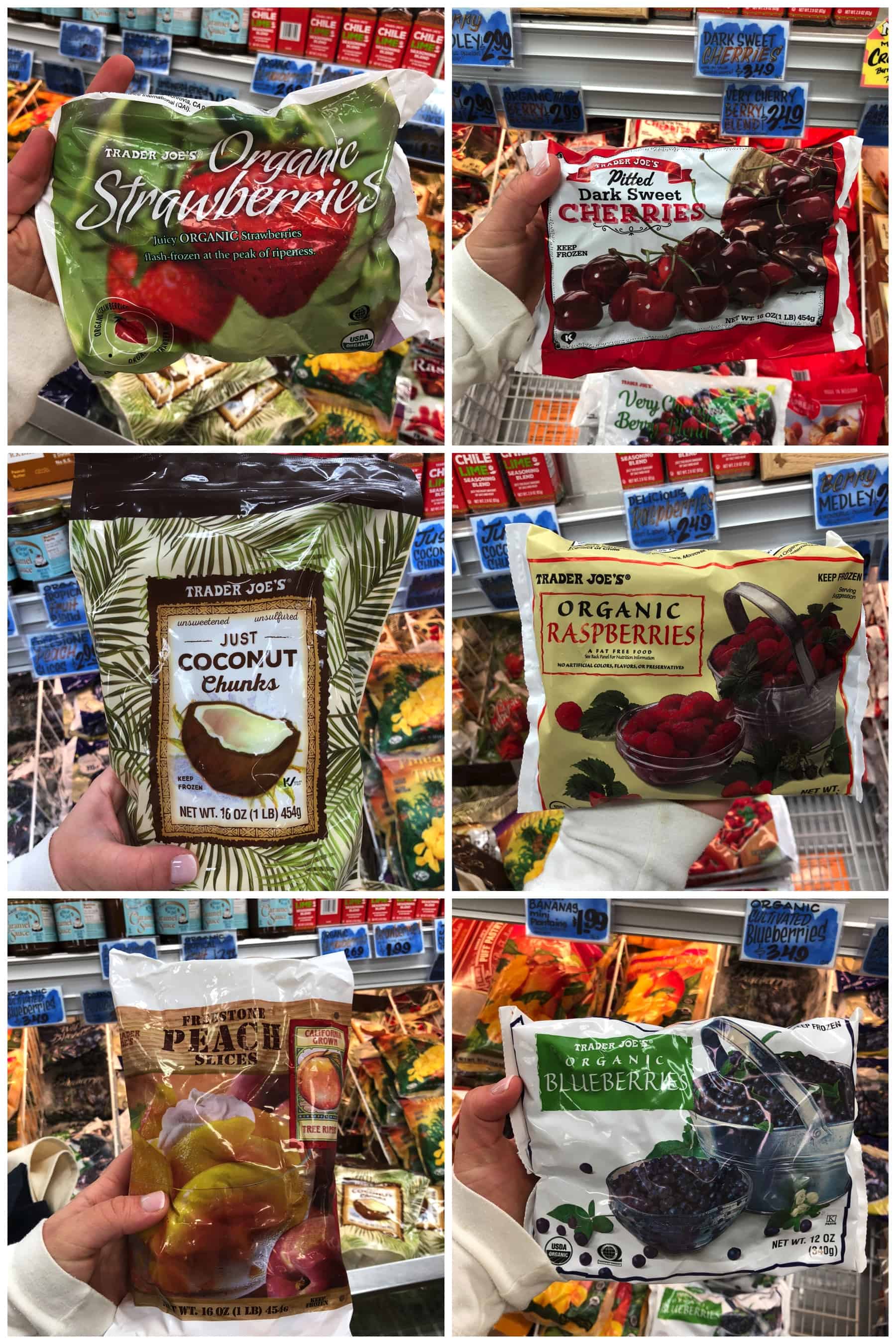 Organic strawberries
Organic cherries
Coconut chunks
Organic raspberries
Peach slices
Organic blueberries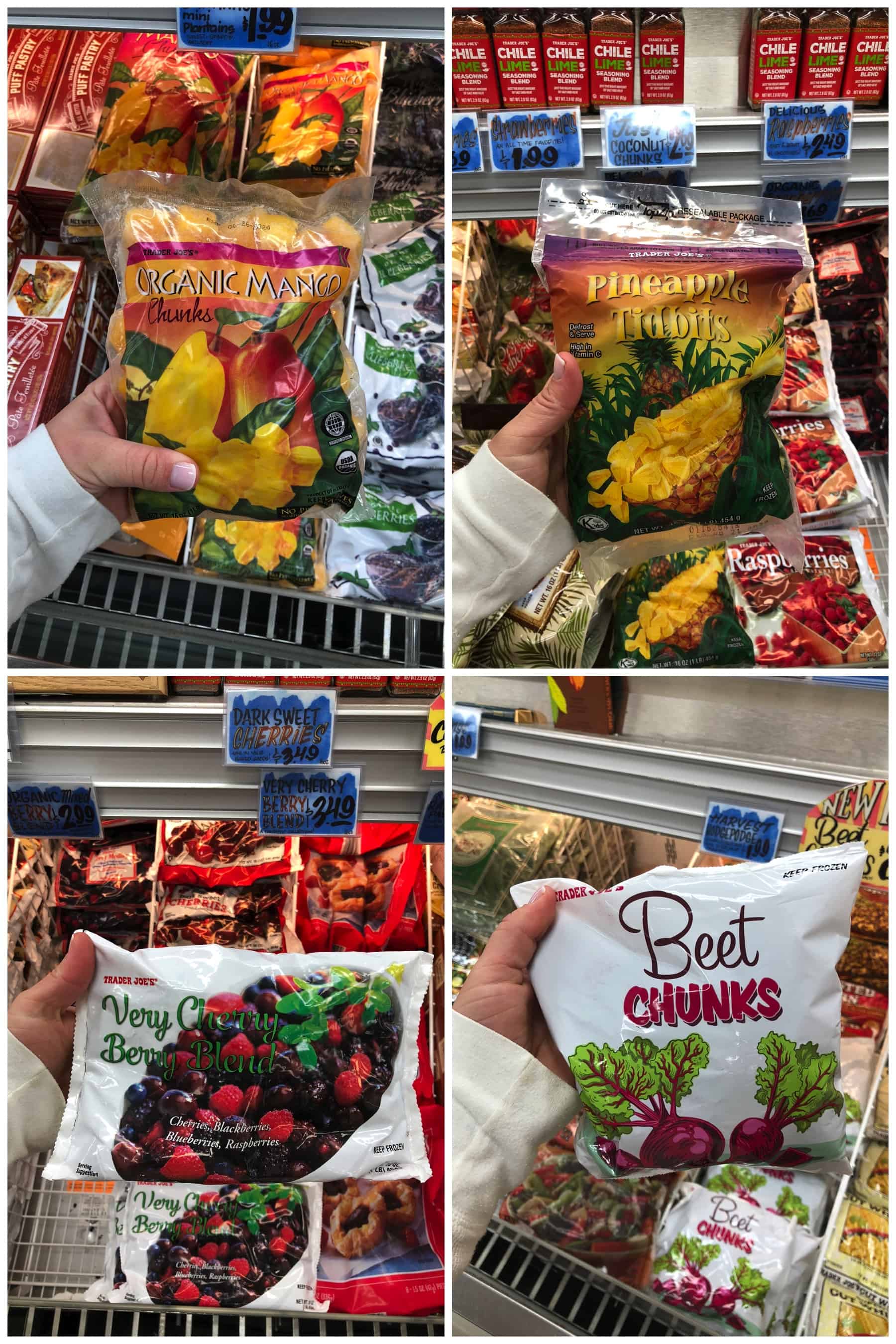 Organic mango
Pineapple tidbits
Very cherry berry blend
Beet chunks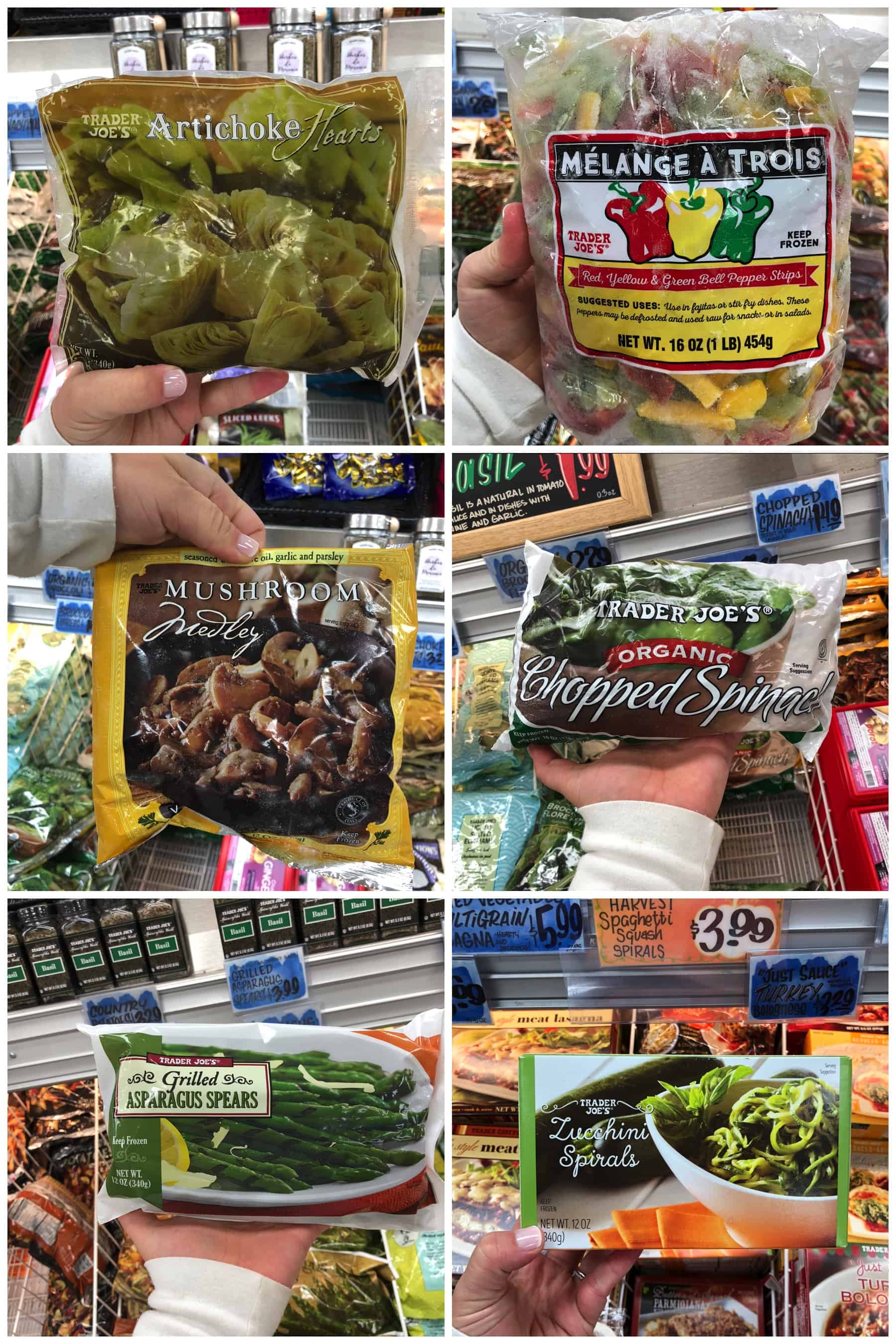 Artichoke hearts
Melange a Trois
Mushroom medley
Chopped spinach
Grilled asparagus spears
Zucchini spirals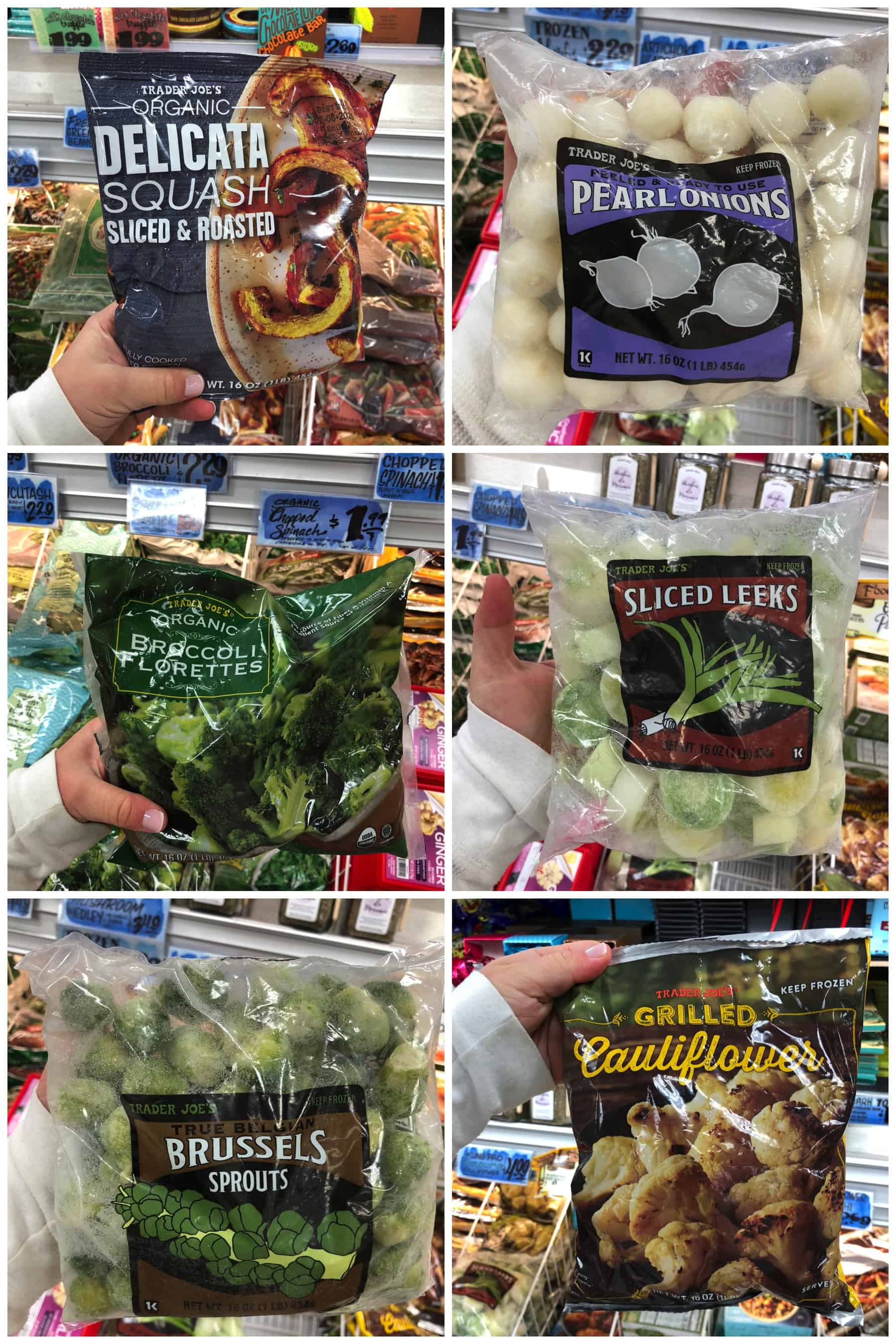 Organic delicata squash sliced and roasted
Sliced leeks
Brussels sprouts
Grilled cauliflower
Trader Joe's Whole30: Dried Goods + Pantry Staples
So many amazing items to stock in your pantry to enhance your meals! Also, there are many varieties of nut butter, canned tomatoes, pickles, olives, etc. I photographed my favorites. Always be sure to read the labels!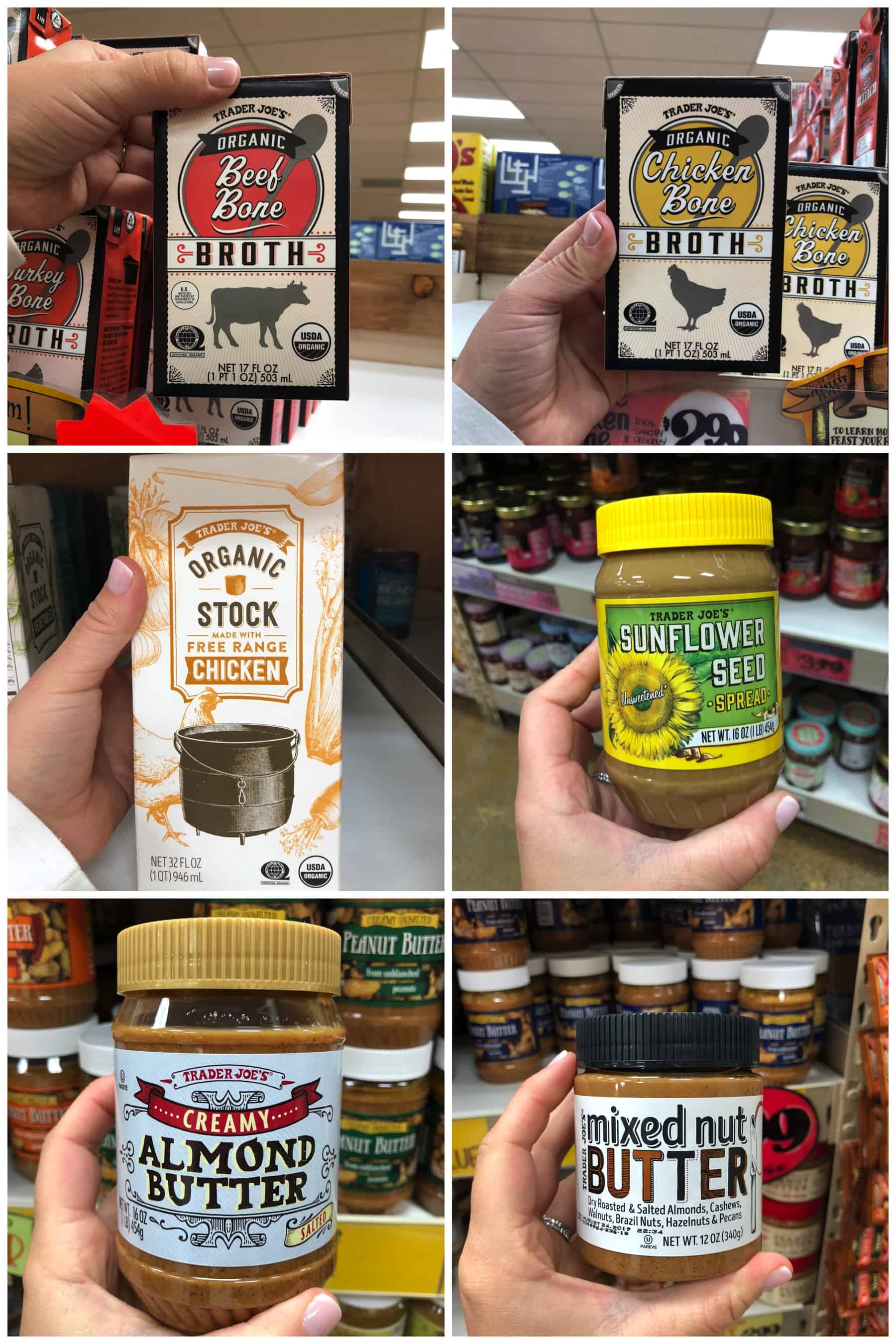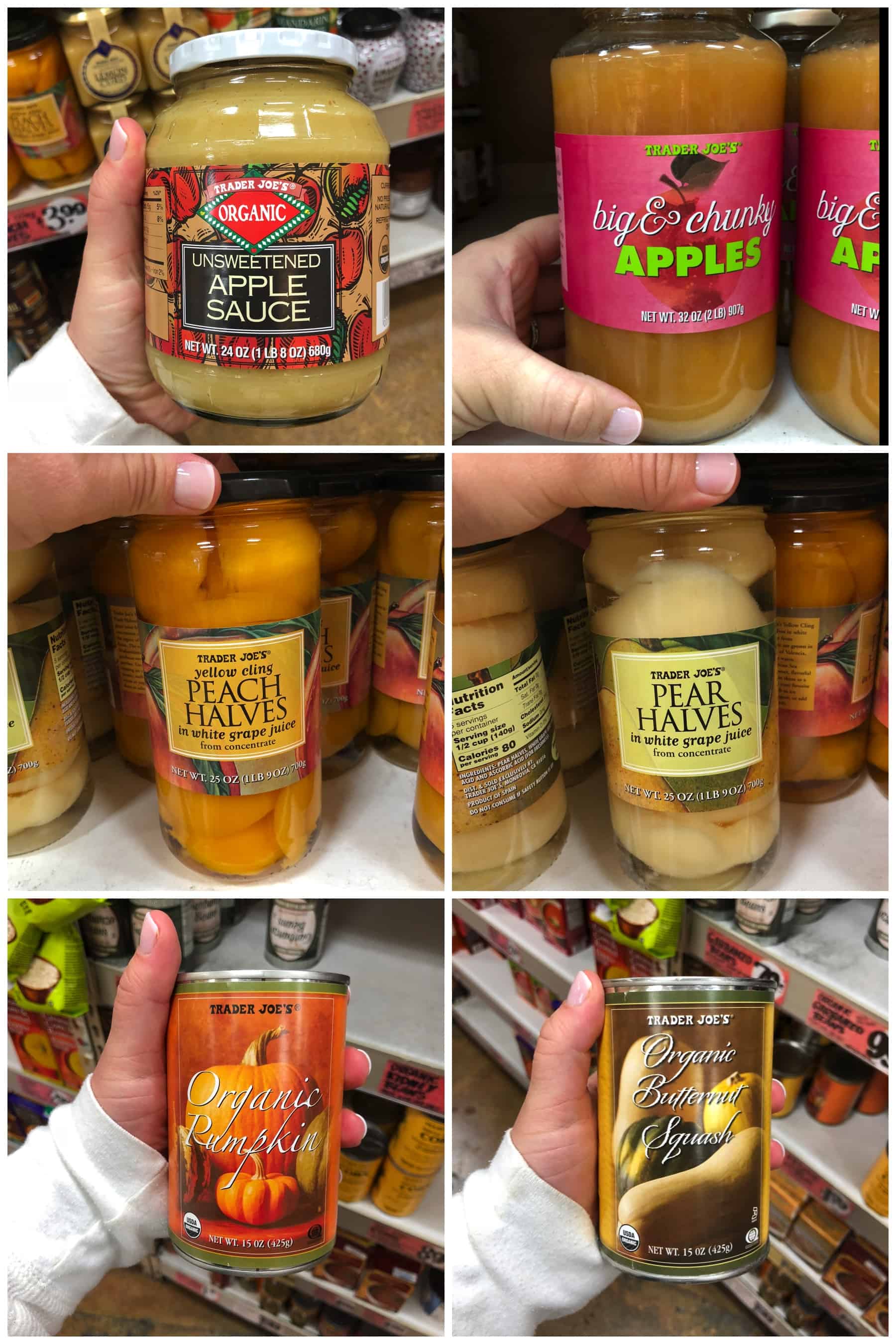 Organic unsweetened apple sauce
Big + chunky apples
Peach halves in grape juice
Pear halves in grape juice
Organic canned pumpkin
Organic canned butternut squash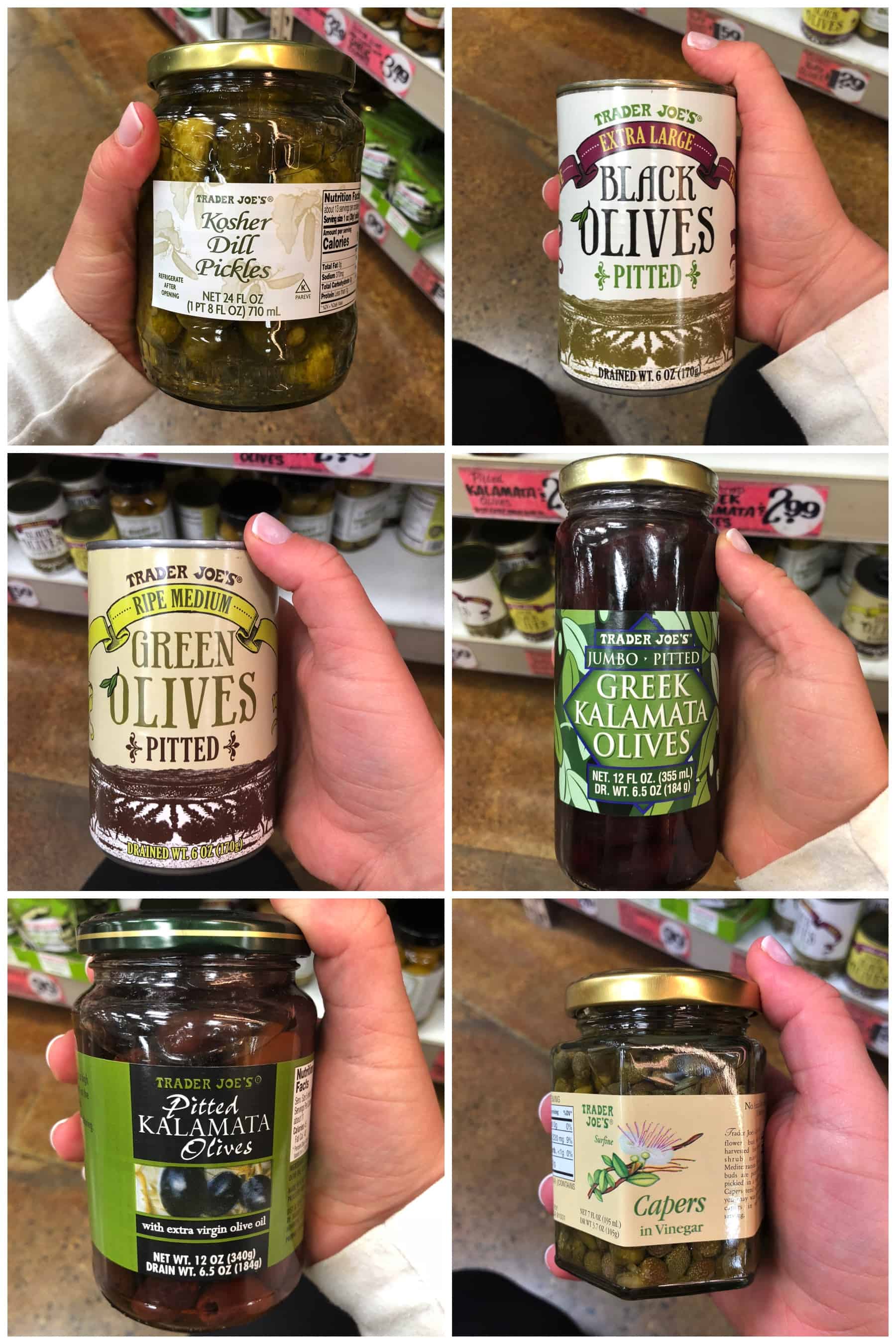 Kosher dill pickles
Pitted black olives
Pitted green olives
Pitted greek kalamata olives
Pitted kalamata olives in olive oil
Capers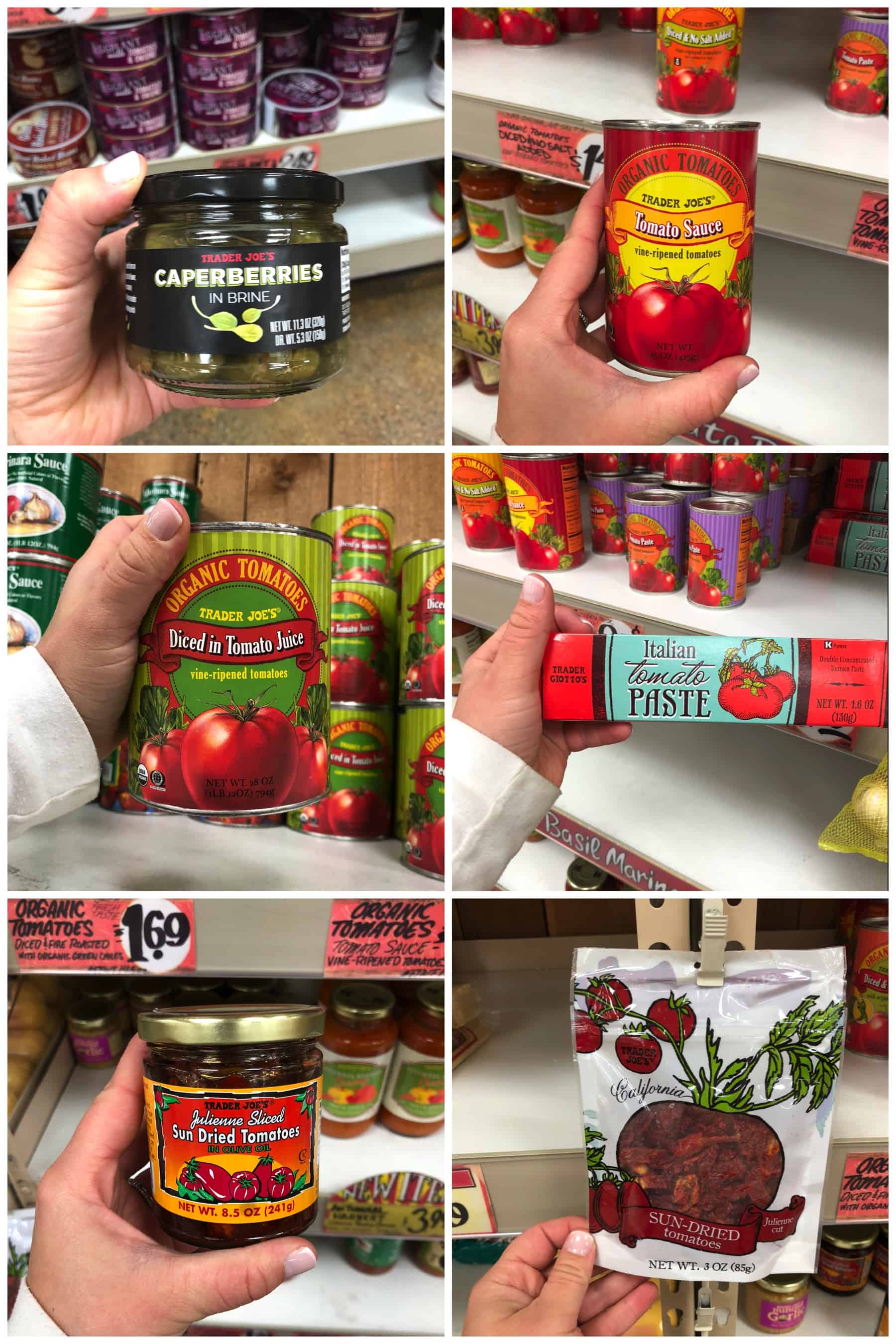 Caperberries
Organic canned tomato sauce
Organic diced tomatoes in juice
Tomato paste in a tube
Sun-dried tomatoes in olive oil
Sun-dried tomatoes
Marinated cherry tomatoes
Marinated Mediterranean vegetables
Pickled vegetables
Fire-roasted red and yellow peppers
Green jackfruit
Fire-roasted diced green chiles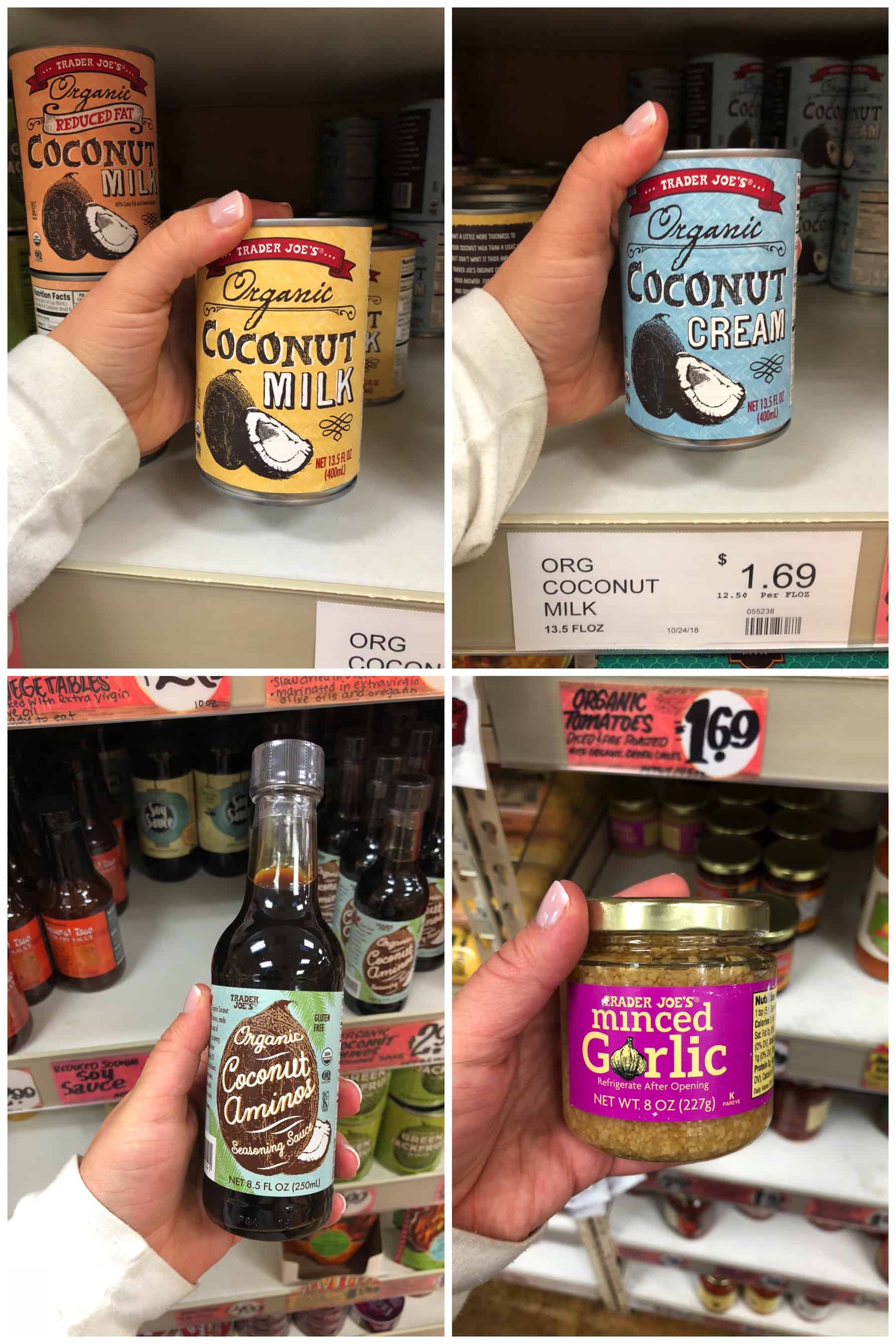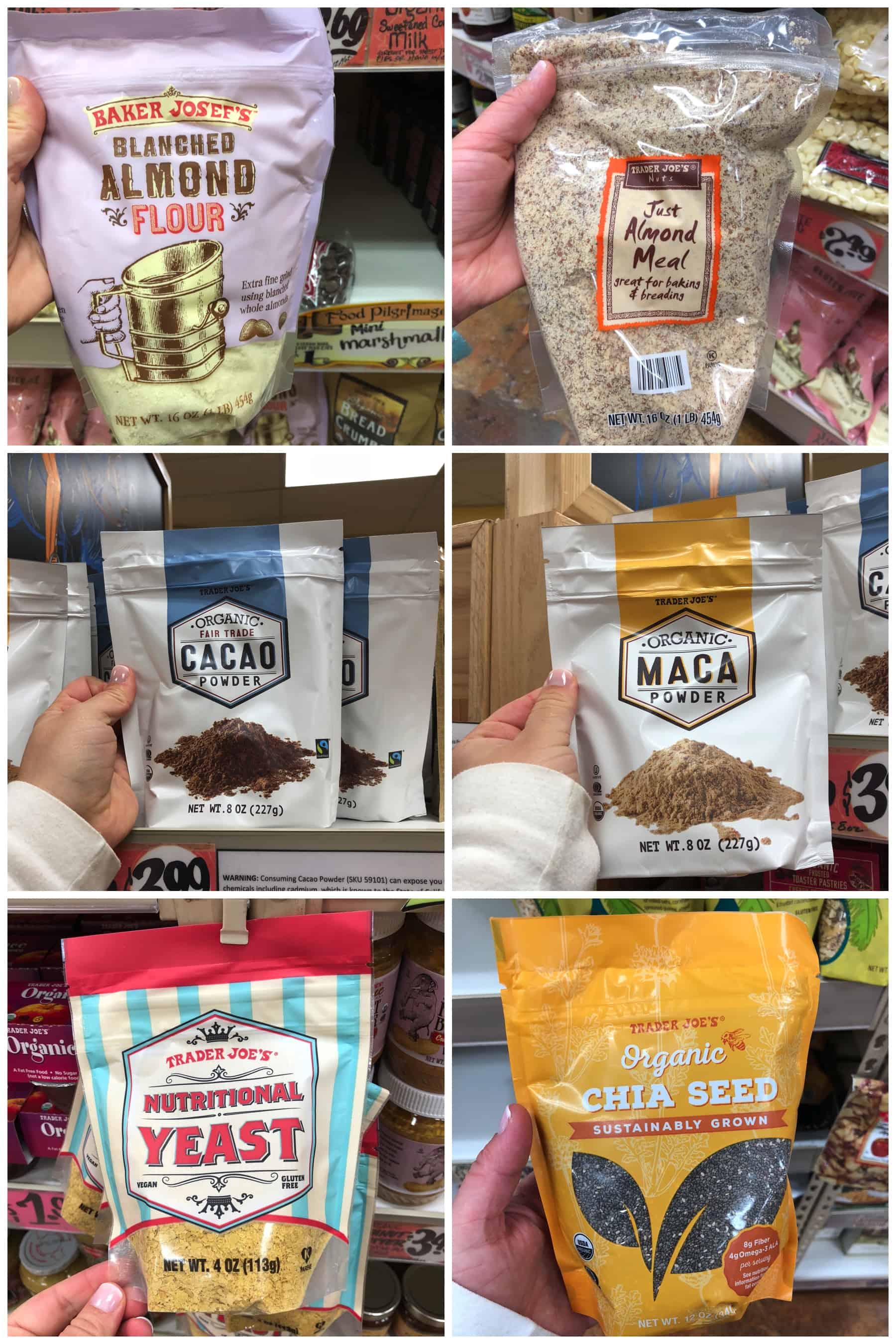 Almond flour
Almond meal
Nutritional yeast
Organic chia seeds
Trader Joe's Whole30: Dried Herbs & Spices
All dried herbs except Chile Lime which has sugar, and also avoid the vanilla flavor and get the pure vanilla extract.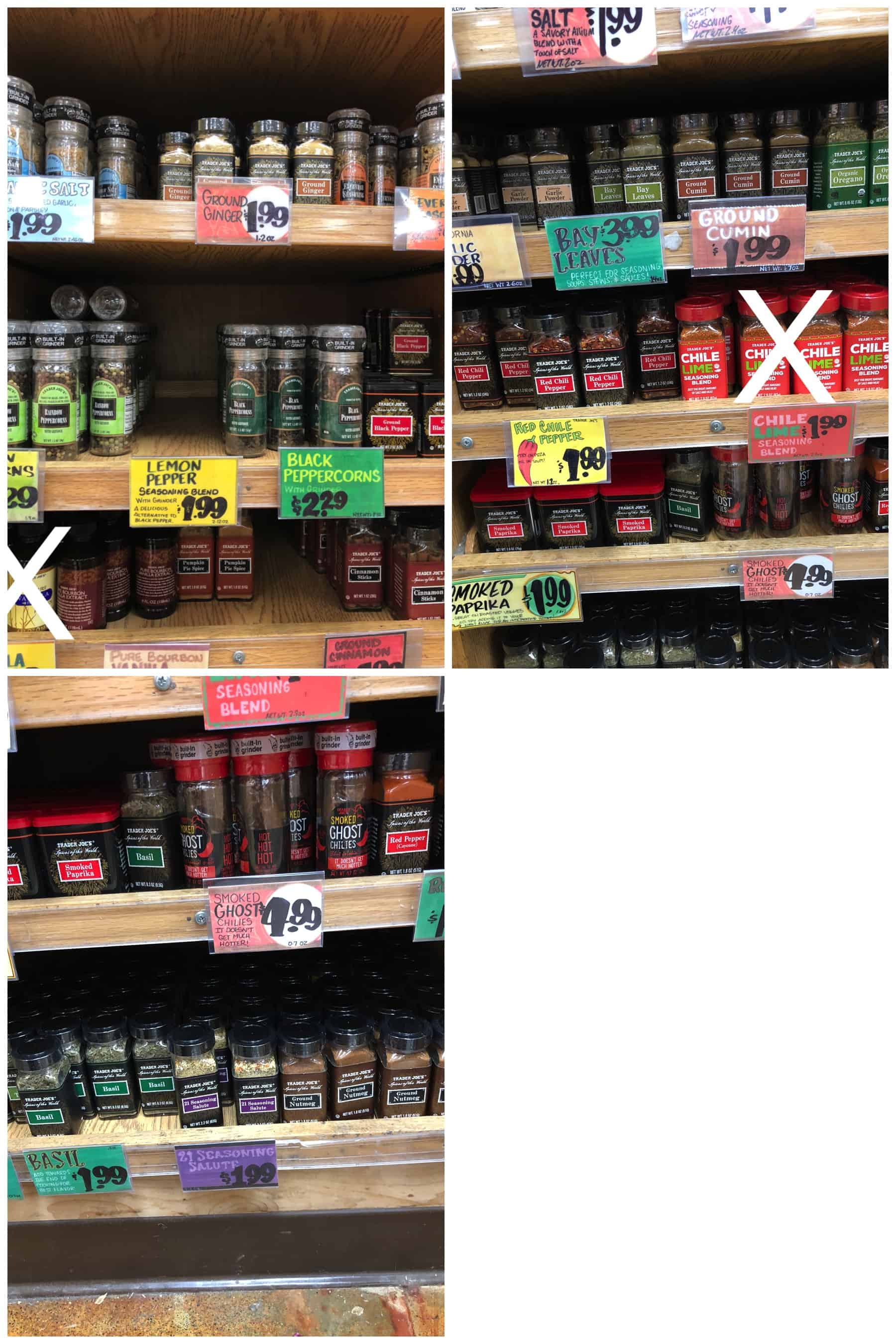 Trader Joe's Whole30 Shopping List: Condiments, Oil + Vinegar
Use in sauces, dressings, and dinner recipes. There are also many compliant olive oils and balsamic vinegar, I photographed my favorites. Always read your labels! Note, all of Trader Joe's mustards, ketchup and mayonnaise are NOT Whole30 compliant.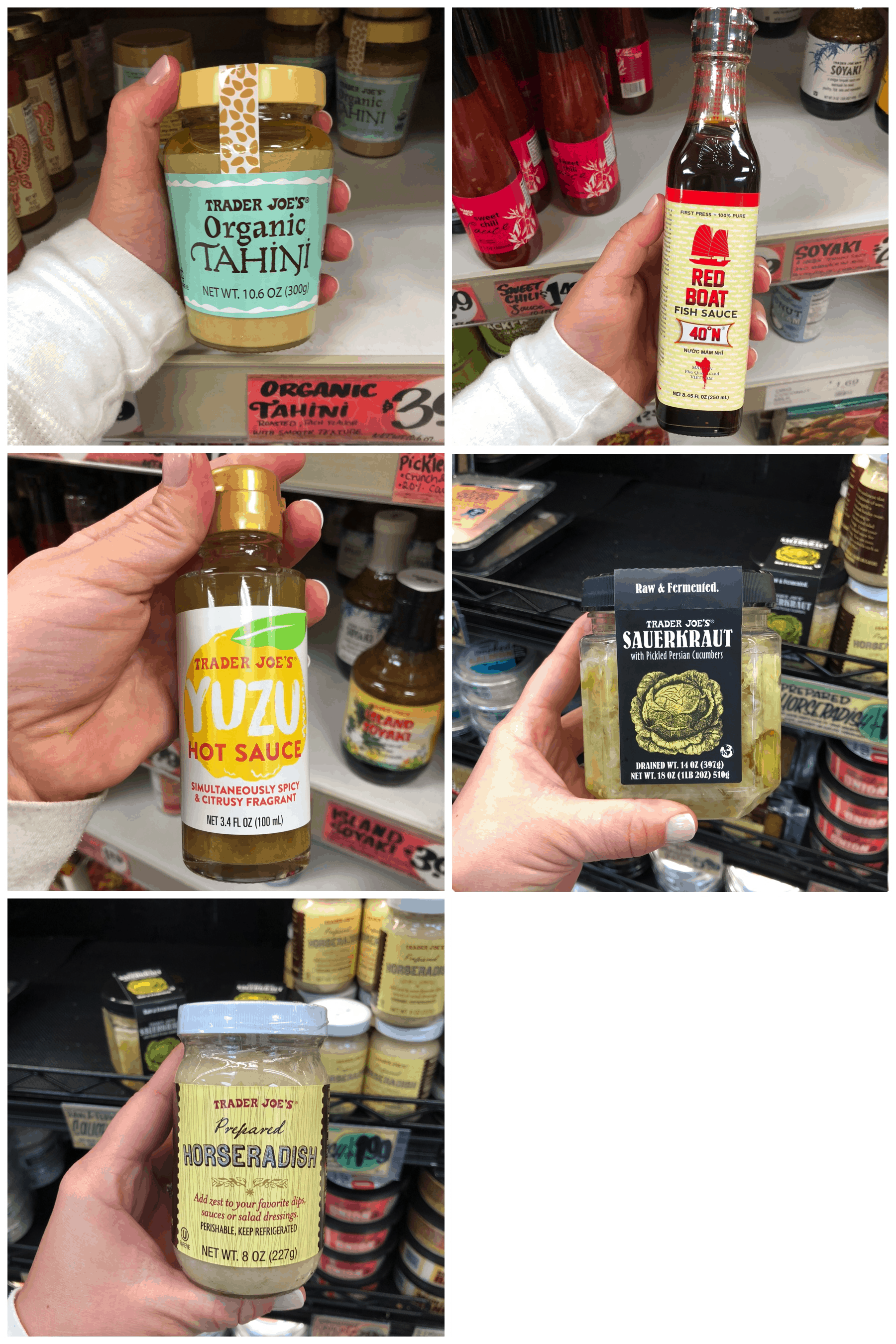 Organic tahini
Yuzu hot sauce
Sauerkraut
Horseradish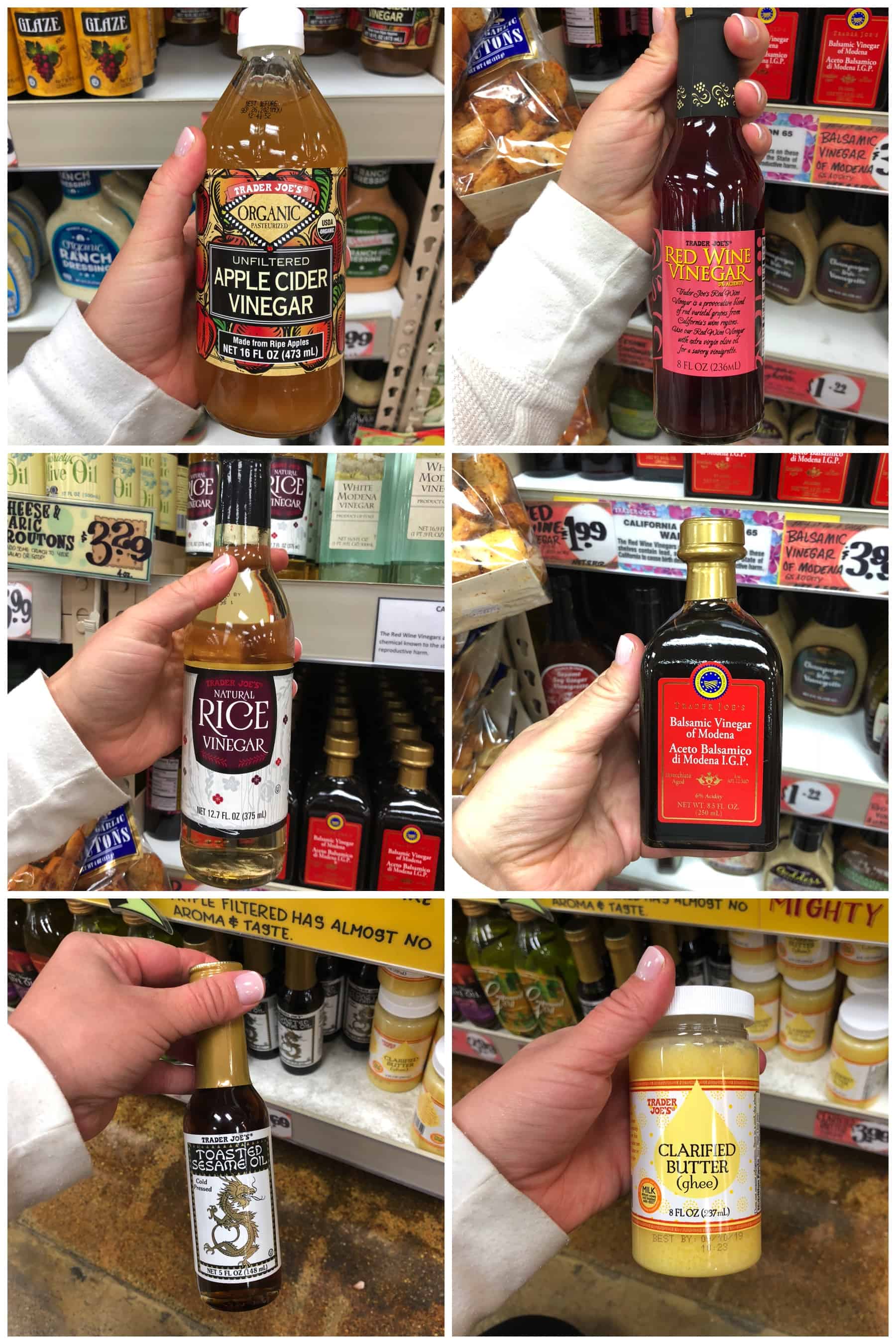 Organic apple cider vinegar
Red wine vinegar
Rice wine vinegar
Balsamic vinegar of modena
Toasted sesame seed oil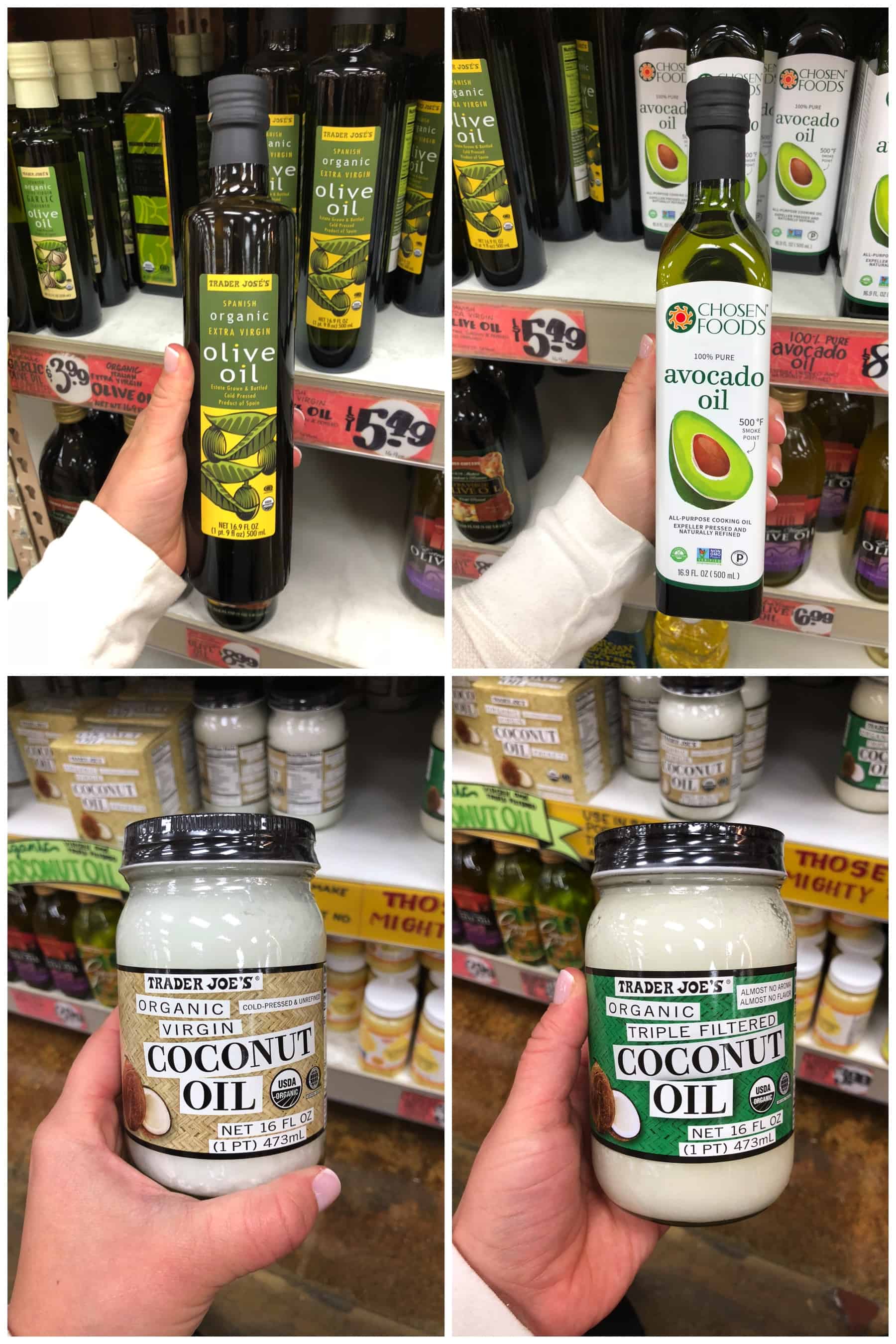 Organic extra virgin olive oil
Organic virgin coconut oil
Organic triple filtered refined coconut oil
Trader Joe's Shopping List for Whole30: Dried Fruit
Tons of dried fruit. Don't go crazy on this. Whole fruit is better than dried.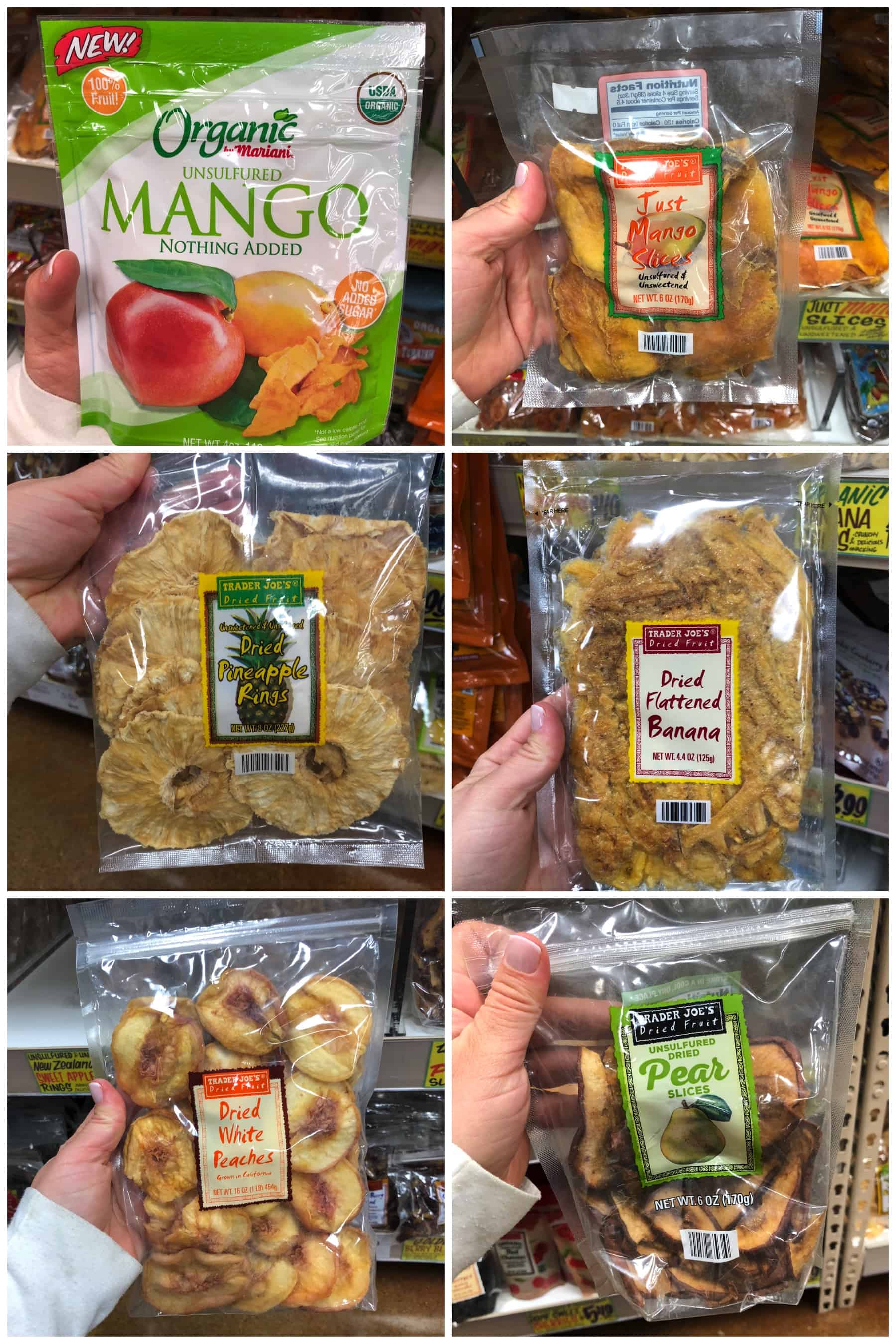 Organic mango
Just mango slices
Dried pineapple rings
Dried flattened banana
Dried white peaches
Dried pear slices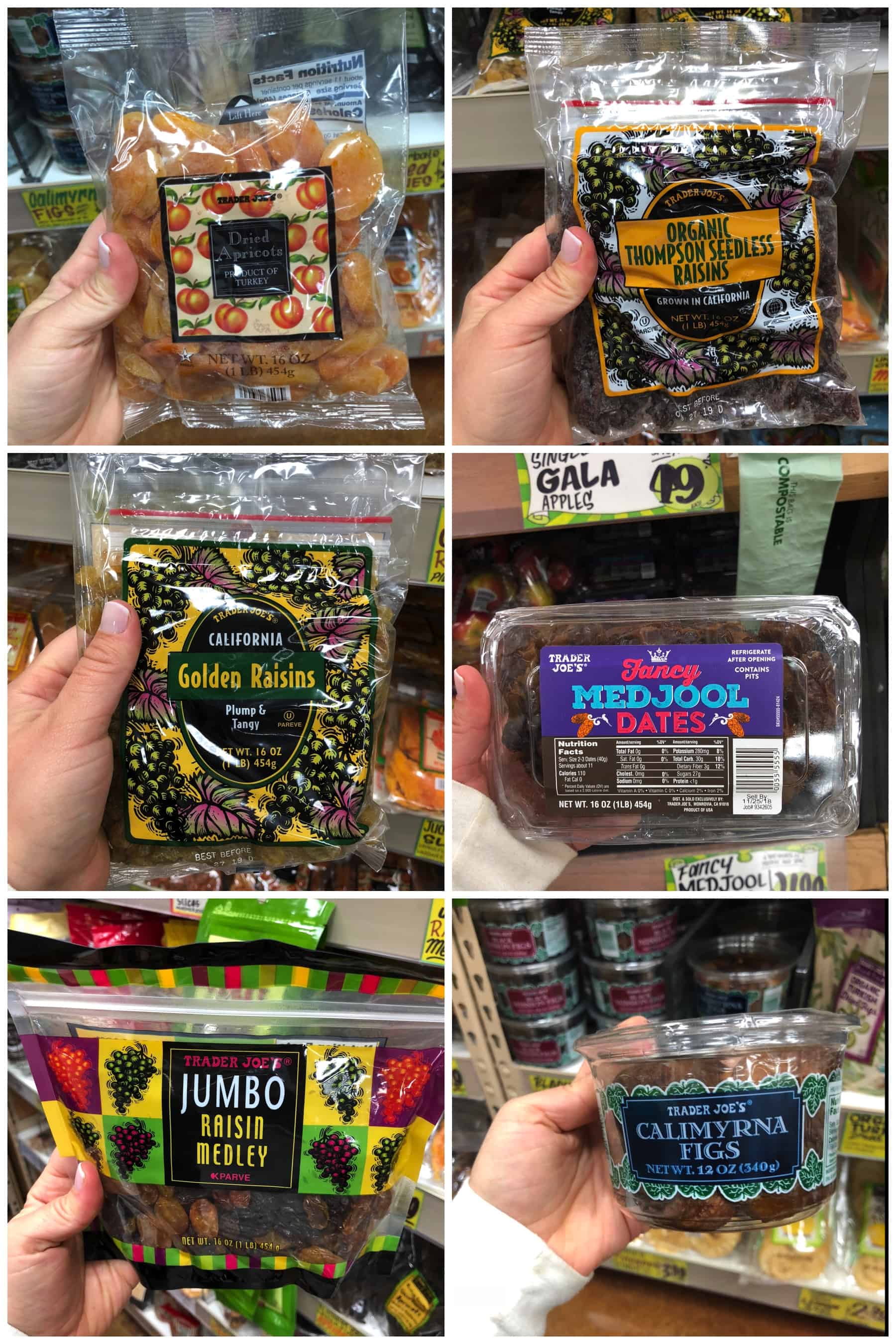 Dried apricots
Organic raisins
Organic golden raisins
Medjool dates
Jumbo raisin medley
Calimyrna figs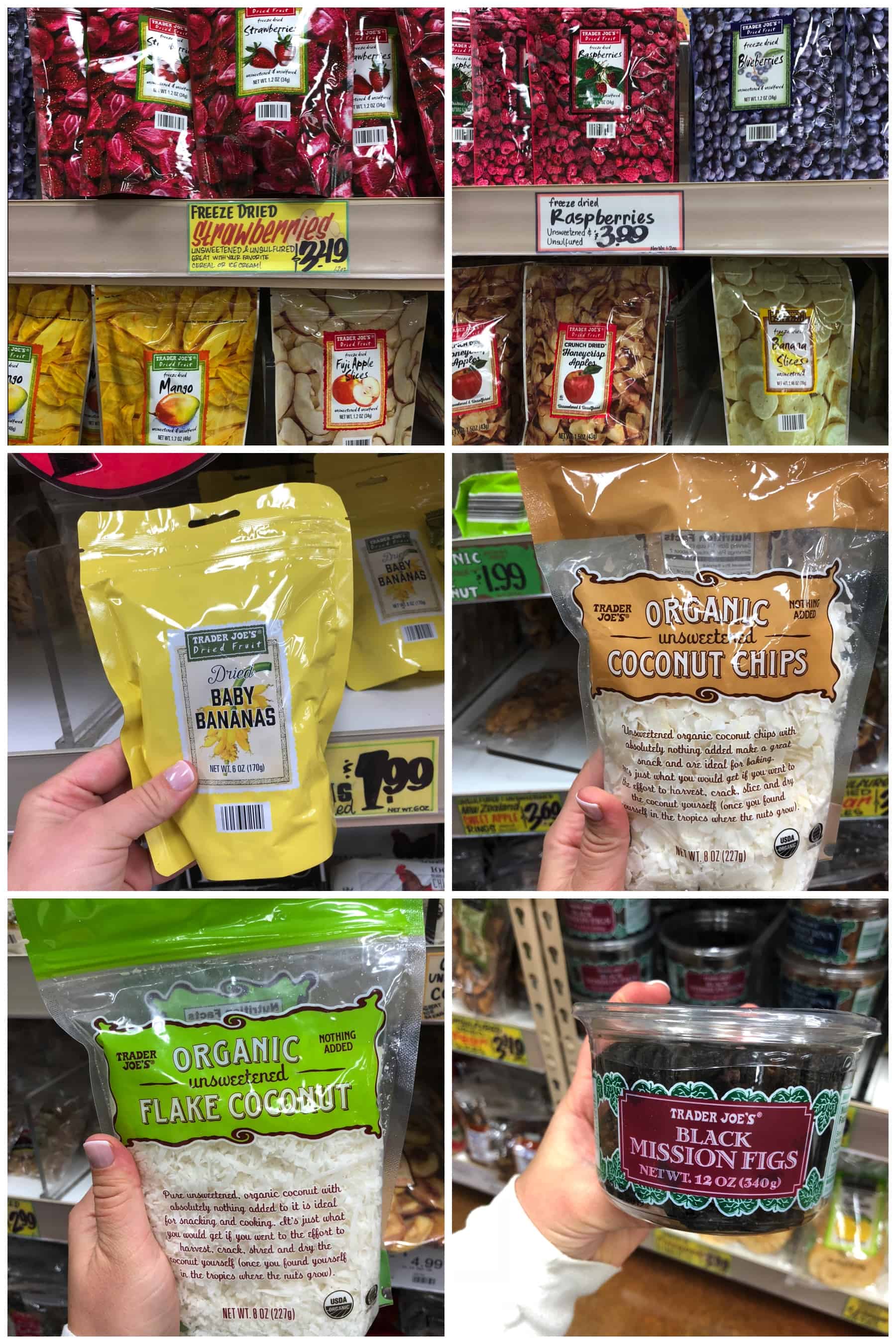 Freeze-dried strawberries, mango, and fuji apple
Freeze-dried raspberries, blueberries, Honeycrisp apple, and banana
Dried baby bananas
Organic unsweetened coconut chips
Organic unsweetened flake coconut
Black mission figs
Trader Joe's Whole30: Nuts + Seeds
So! Many! Nuts! There are tons to choose from. I photographed my favorites. Be sure to always read your label to avoid sugar/bad oils/butter/etc.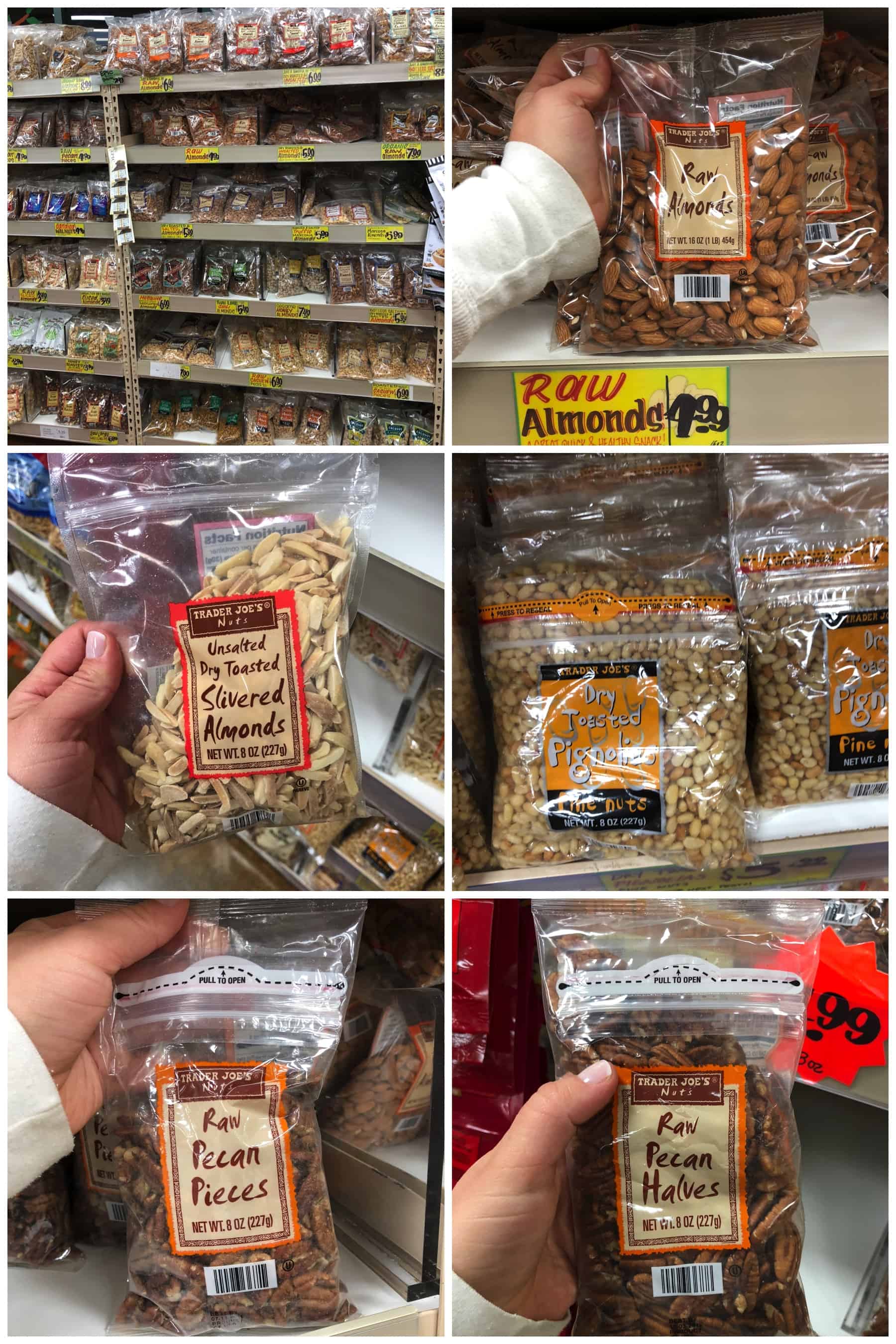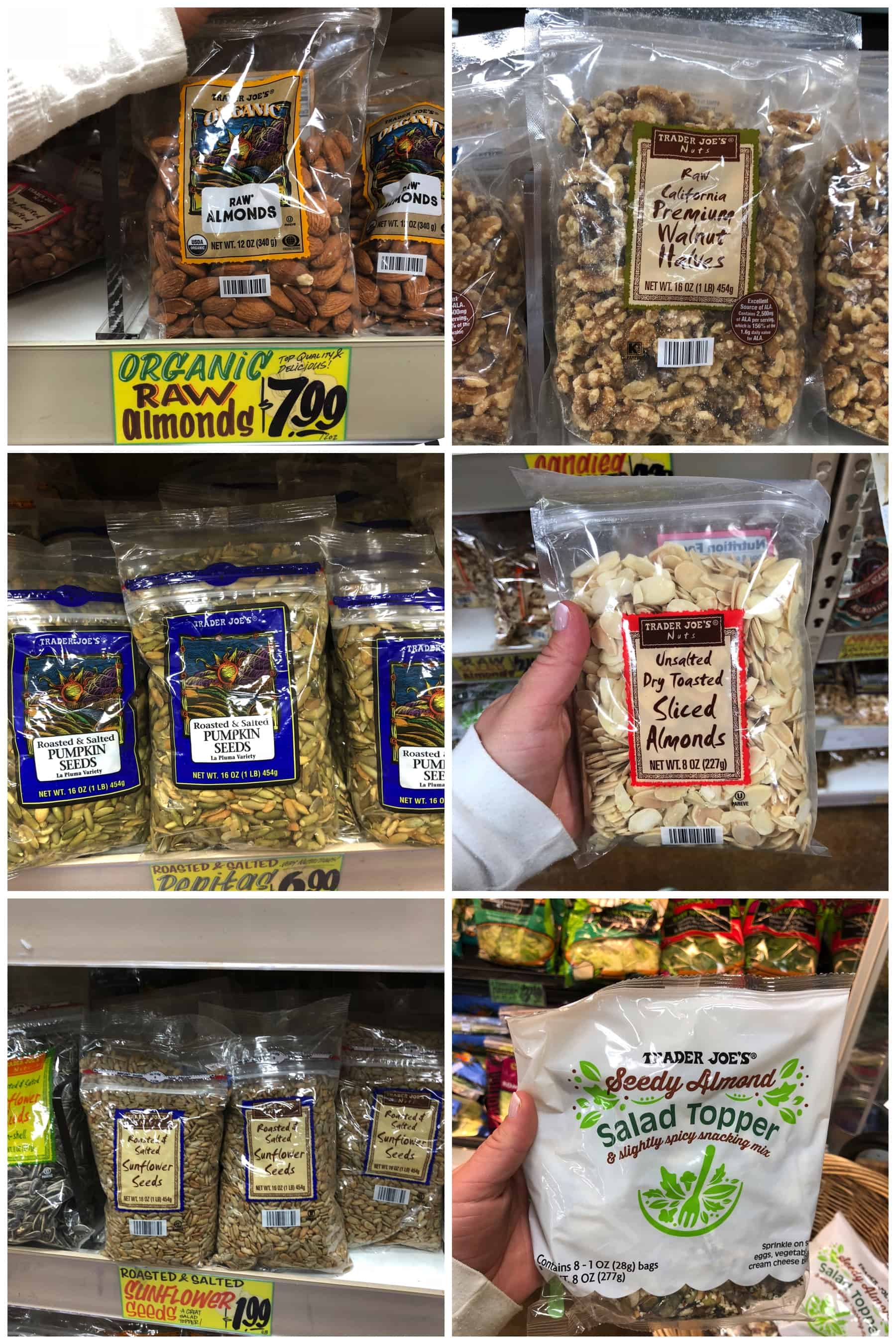 Organic raw almonds
Walnut halves
Roasted and salted pumpkin seeds
Unsalted dry toasted sliced almonds
Roasted and salted sunflower seeds
Seedy almond salad topper
Trader Joe's Whole30 Shopping List: Beverages
Some delicious drinks to enjoy along with plenty of water!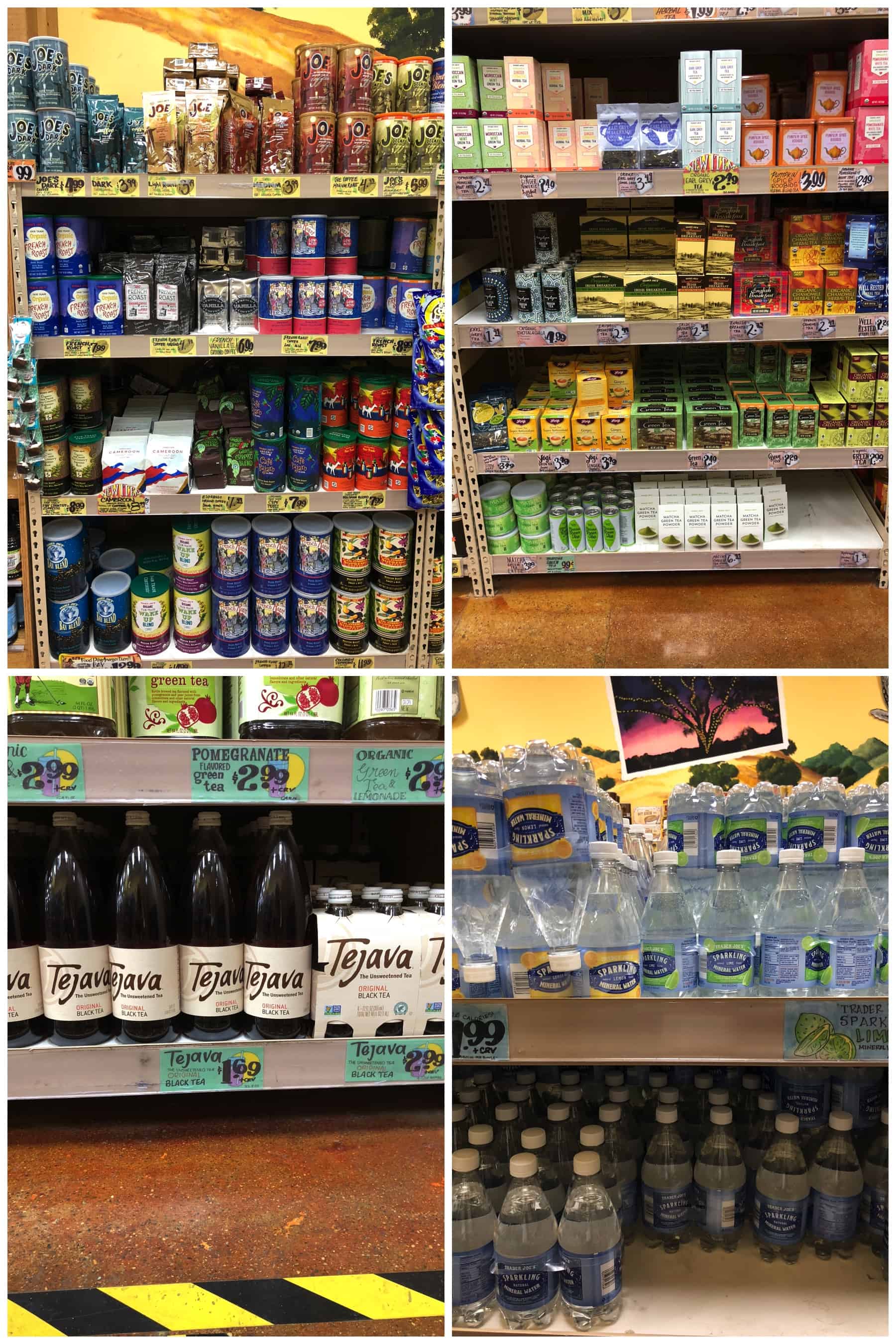 Any whole bean or ground coffee
Any tea bag
Tejava black tea
Sparkling mineral water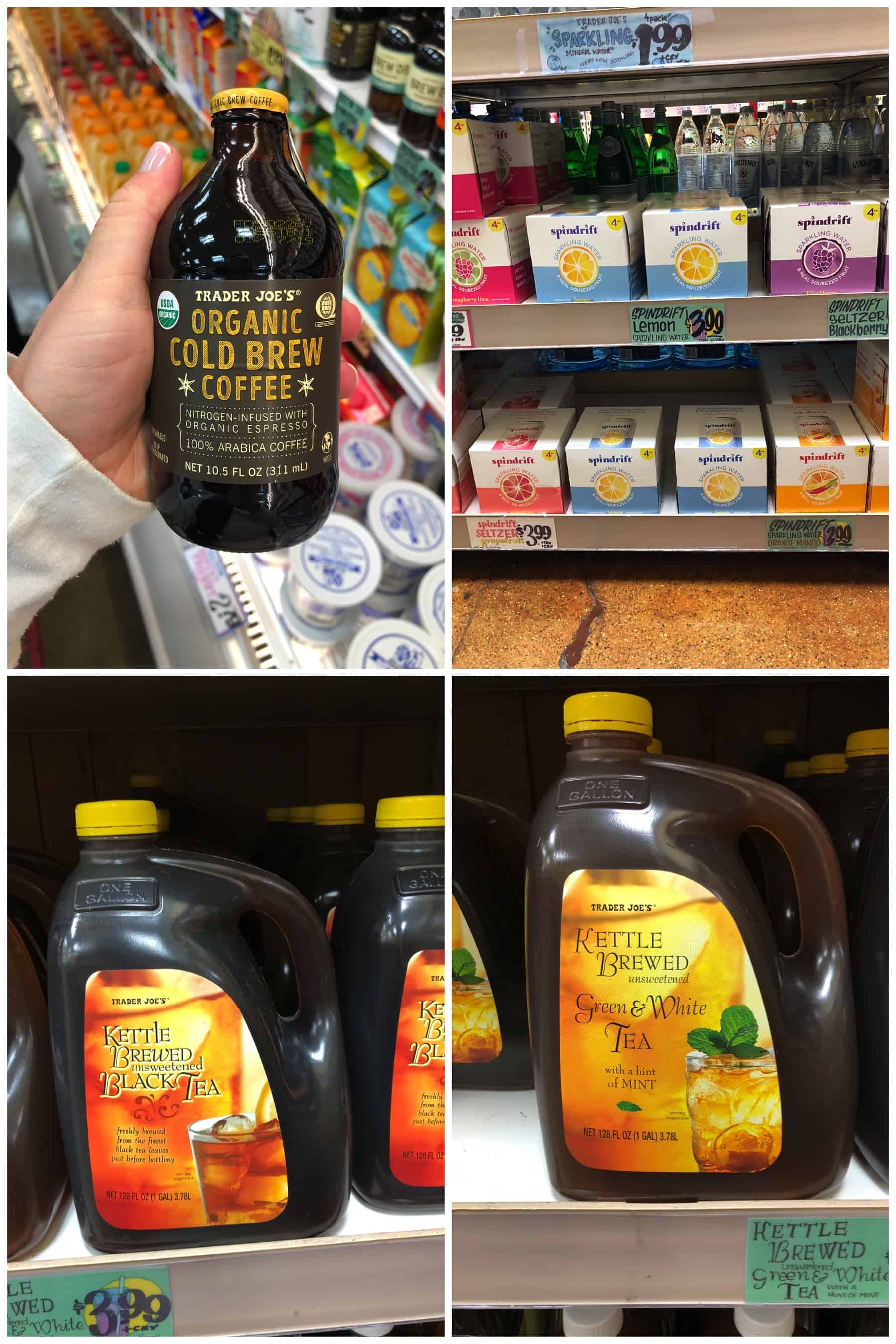 Organic cold brew coffee
Spindrift
Kettle brewed unsweetened black tea
Kettle brewed unsweetened green & white tea with a hint of mint
Trader Joe's Whole30: On The Go Healthy Snacks
Go easy on most of these. Snacking on whole fruits and vegetables is best. But there are tons of Healthy Snacks at Trader Joe's that are great for on-the-go!
Just a handful of olives pitted salted manzanilla olives
Organic apple fruit sauce crushers (there are several flavors)
Epic bar
Cashew apricot date & nut bites with coconut & citrus
Larabar cashew cookie
Larabar cherry pie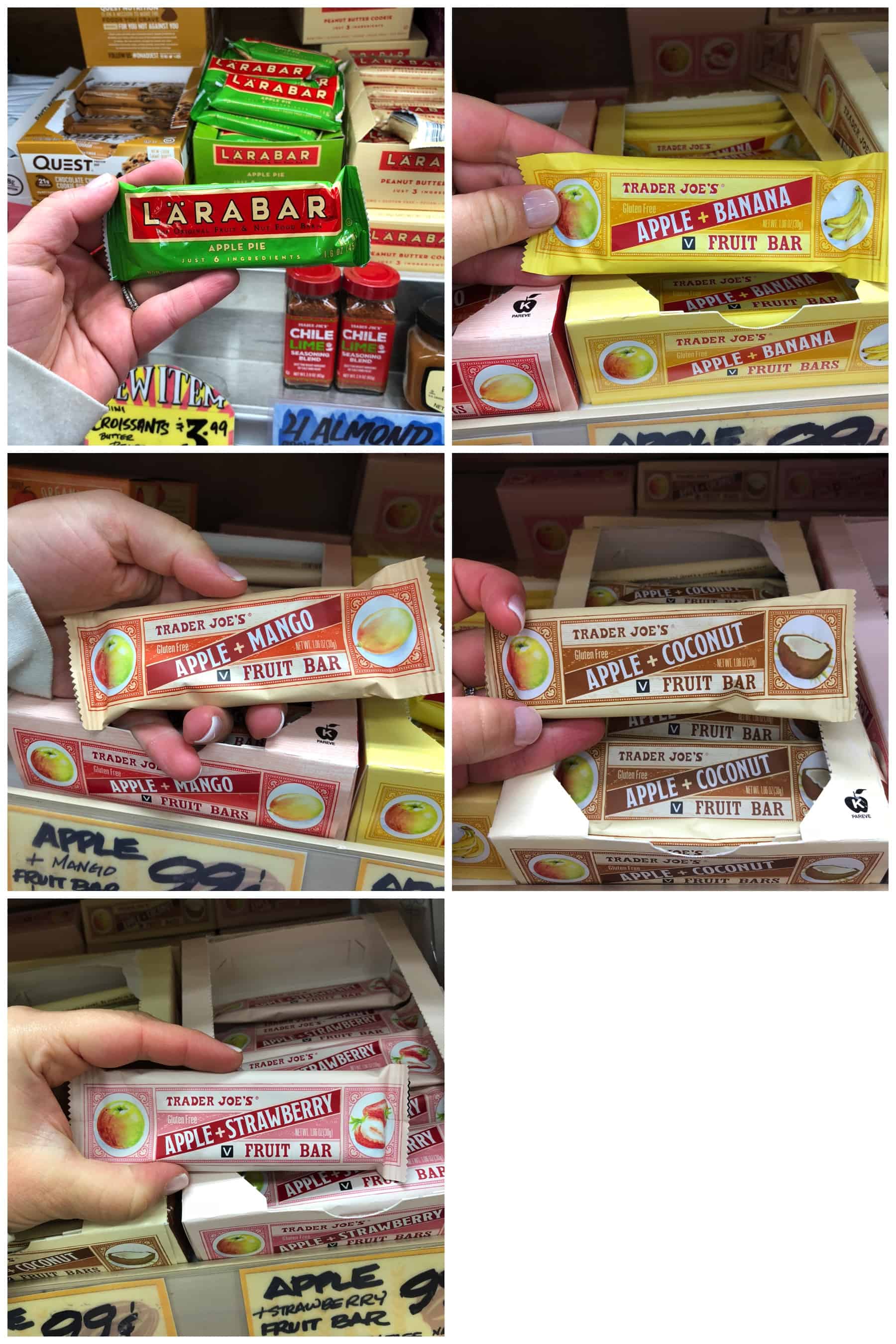 Larabar apple pie
Apple + banana fruit bar
Apple + mango fruit bar
Apple + coconut fruit bar
Apple + strawberry fruit bar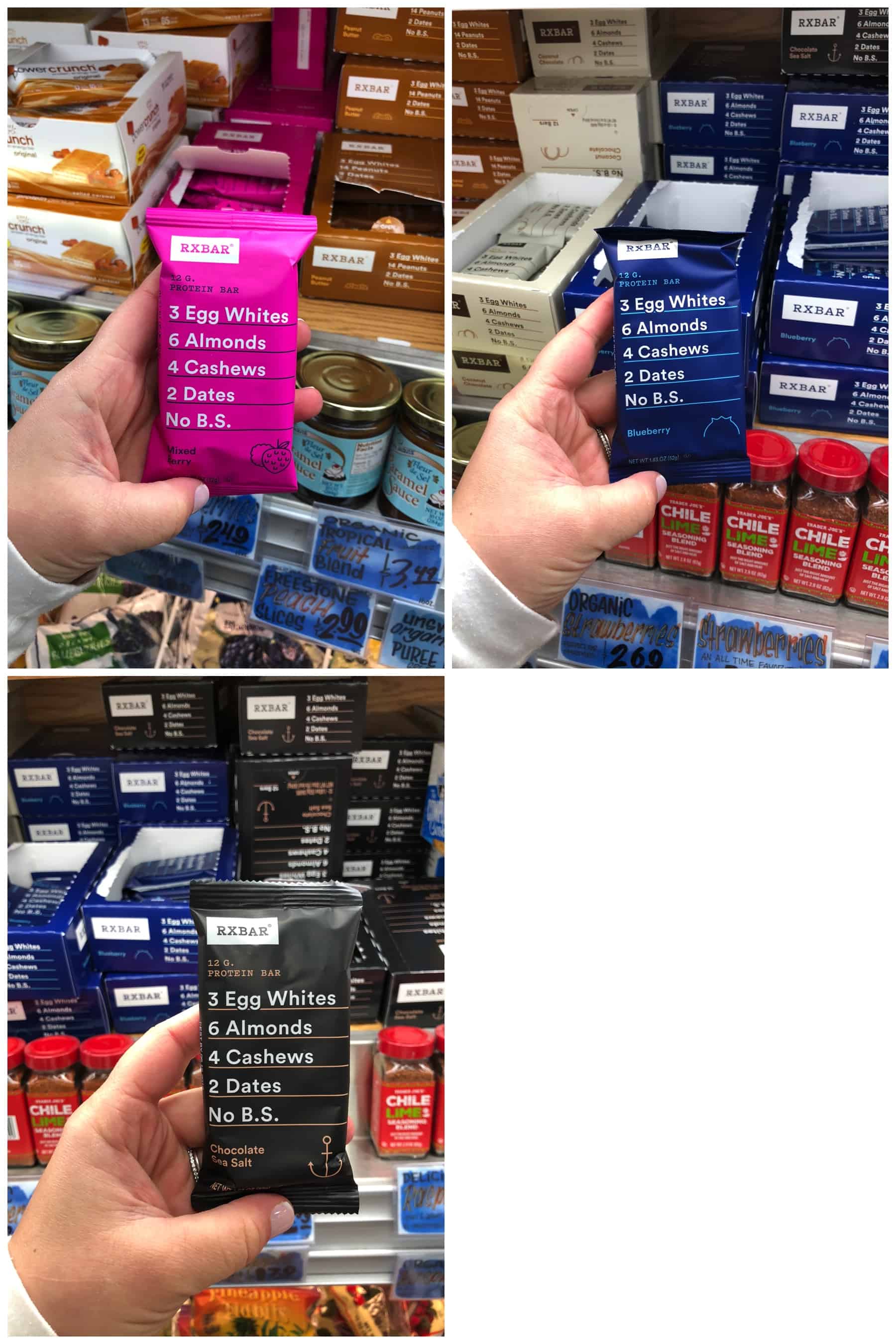 RX Bar mixed berry
RS Bar blueberry
RX Bar chocolate sea salt
Ready to Make Easy Whole30 Recipes?
Click the link below to see all of my Whole30 compliant recipes, guides, and more!