The Ultimate Whole30 Costco Shopping Guide
The Ultimate Whole30 Costco Shopping Guide – an extensive list and photos of everything that is Whole30 compliant at Costco. Updated as of January 2019.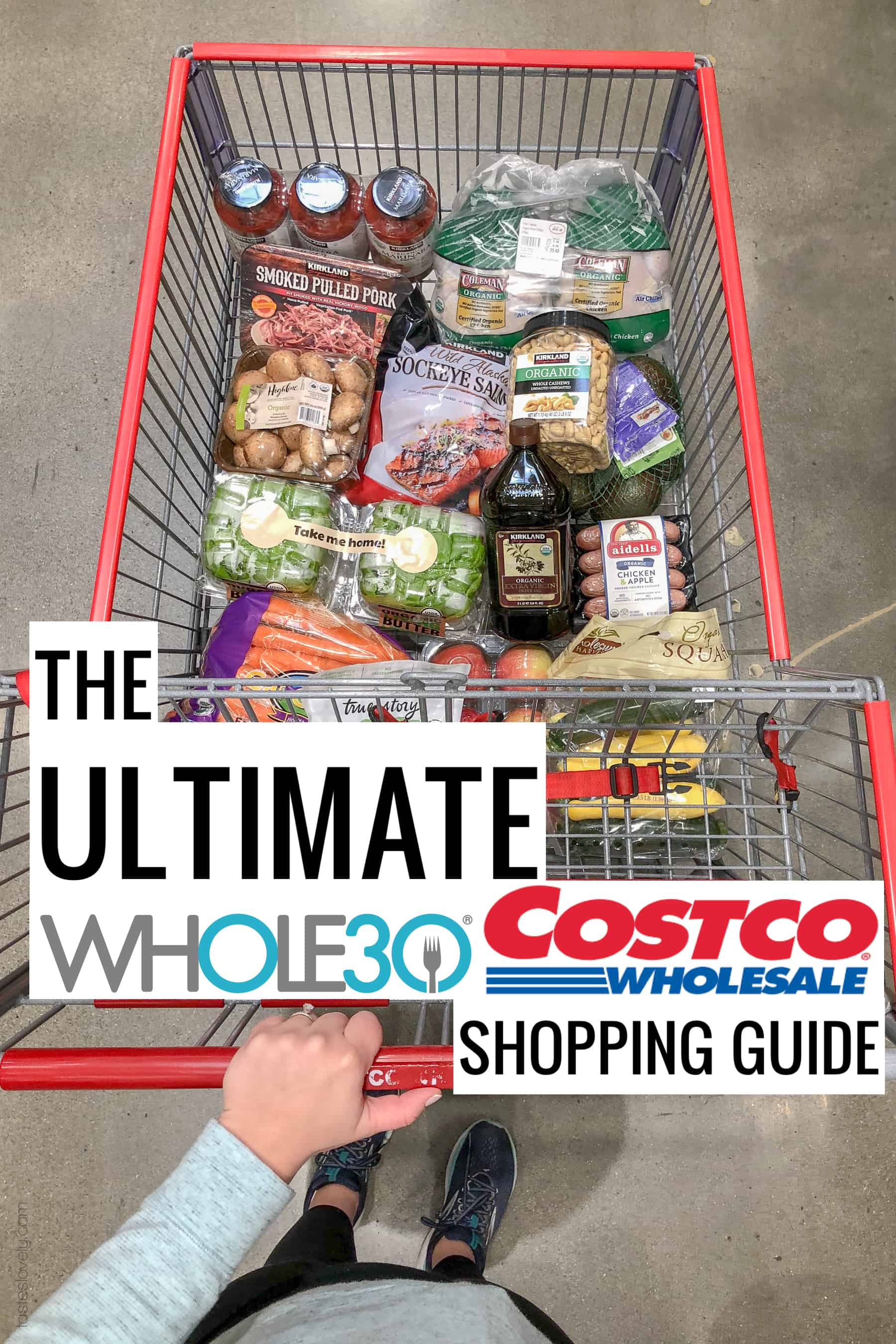 Costco is an amazing grocery store to stock up on food. You save a ton of money when buying in bulk. Ever wondered what is Whole30 approved at Costco? I've compiled the ultimate list for you, complete with photos of every item to make your shopping experience as easy possible.
And by ultimate, I mean *ultimate*. I spent almost 4 hours reading the labels of every. single. item. at Costco so you won't have to.
Before we start, a little information. First, if you're new to Whole30, I have a Whole30 beginners guide where I share everything you need to know about Whole30. Includes compliant foods, other grocery store guides, how to stock your pantry, 100's of free recipes, meal plans and more!
Second, products can vary from Costco to Costco and season to season. For example, in the summer you'll find watermelon in stock at Costco, in the winter you'll find butternut squash. I did this shopping guide in January 2019 at my Costco in Danville, California.
Third, be sure to follow me on Instagram! I share new Whole30 Costco finds and grocery store hauls weekly! You can also check out this Instagram Story Highlight on all new finds at Costco.
Fourth, a bonus tip! Costco offers free 2-day delivery on their non-perishable items! This is a great way to save time and get Whole30 Costco items delivered directly to your door. Perfect for stocking up on nuts, cooking oils, canned goods, etc. For perishable items, look in to Instacart, which does Costco same day delivery for an additional fee.
Watch My Weekly Whole30 Costco Grocery Haul (2:37 mins)
In the above video, watch me share my weekly Costco grocery haul for our clean eating, whole30 + keto family. Also sharing some of my favorite whole30 + keto Costco items that we get weekly!
Whole30 Costco Beverages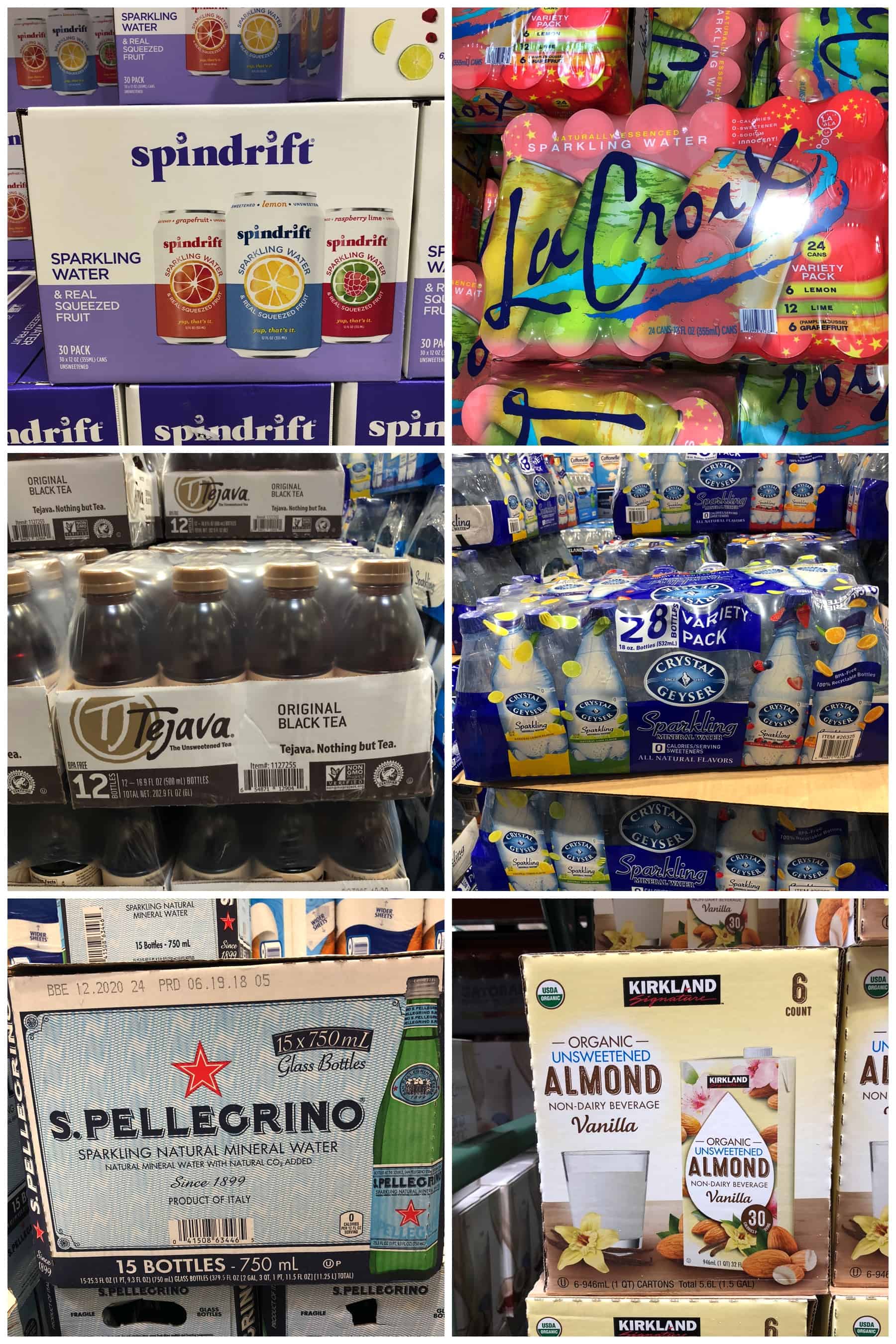 Spindrift Sparkling Water (my favorite!)
LaCroix (my husbands favorite, but I avoid because of the "natural flavors")
Tejava Black Tea
Crystal Geyser Sparkling Water
S.Pellegrino Sparkling Mineral Water
Kirkland Organic Unsweetened Vanilla Almond Milk (I avoid, I prefer homemade)
not pictured: any whole bean or ground coffee
Whole30 Costco Organic Produce
Costco has lots of non-organic produce as well, but it's best to stick to organic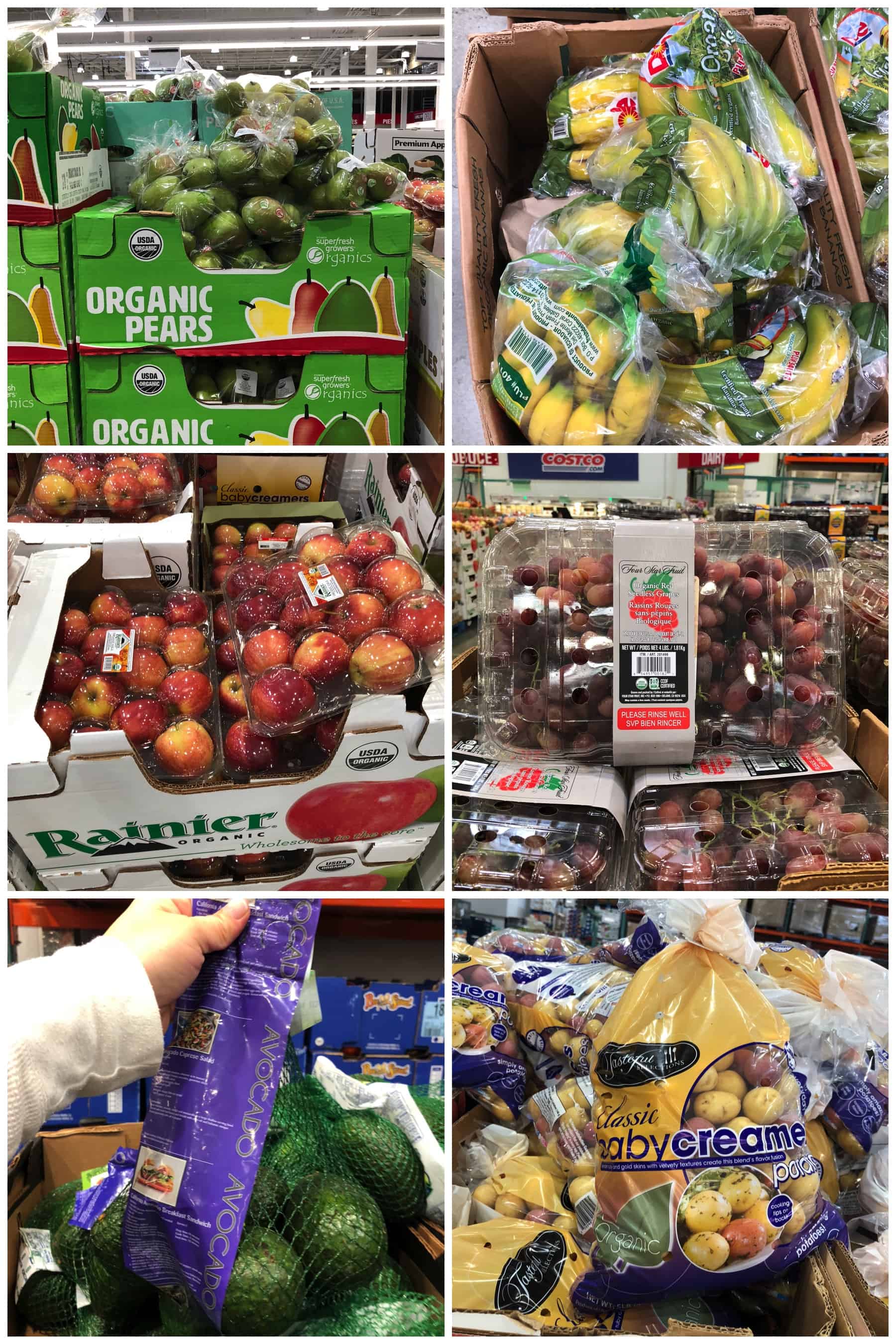 Organic pears
Organic bananas
Organic apples
Organic grapes
Organic avocados
Organic baby potatoes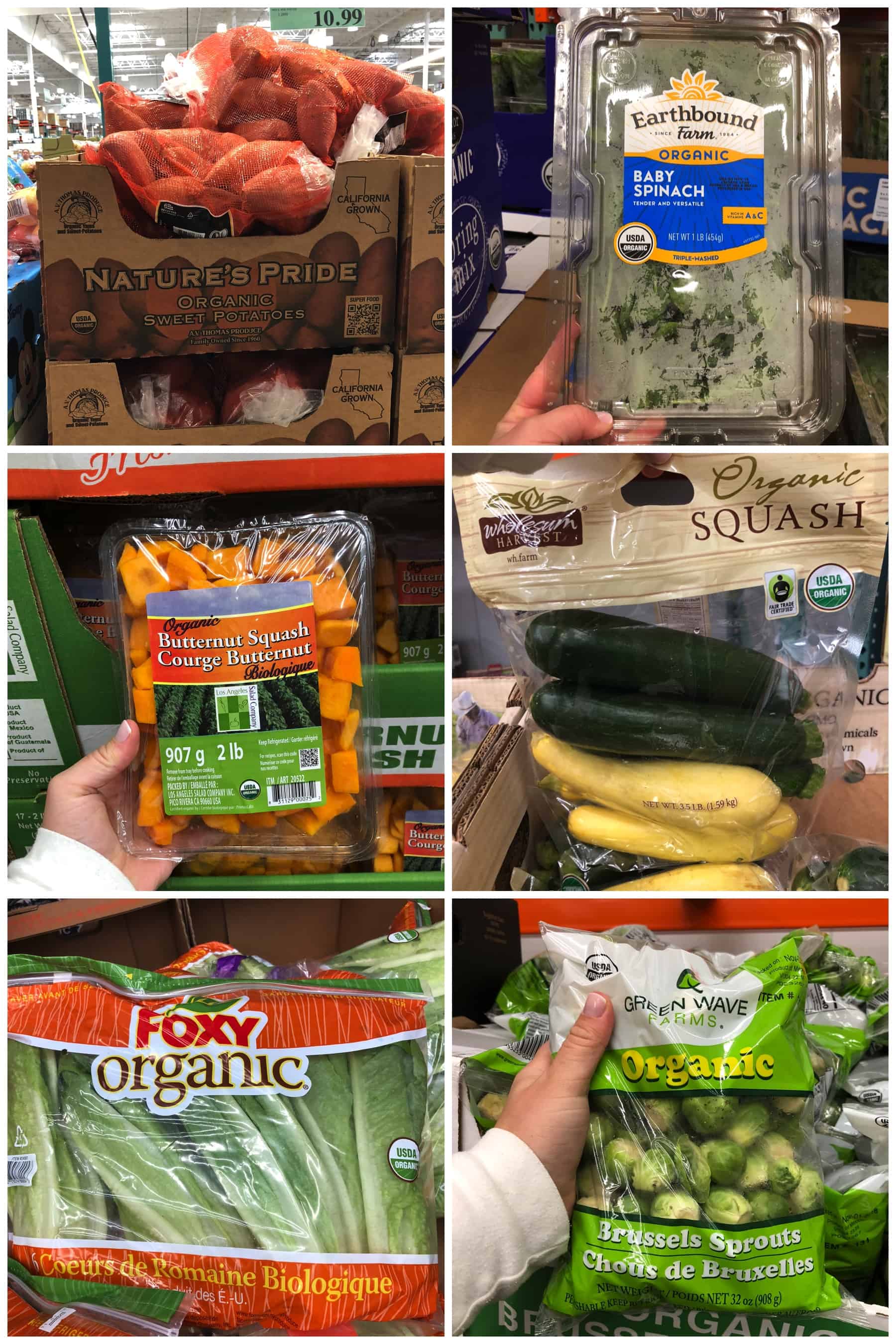 Organic sweet potatoes
Organic baby spinach
Organic butternut squash
Organic zucchini and yellow squash
Organic romaine lettuce
Organic brussels sprouts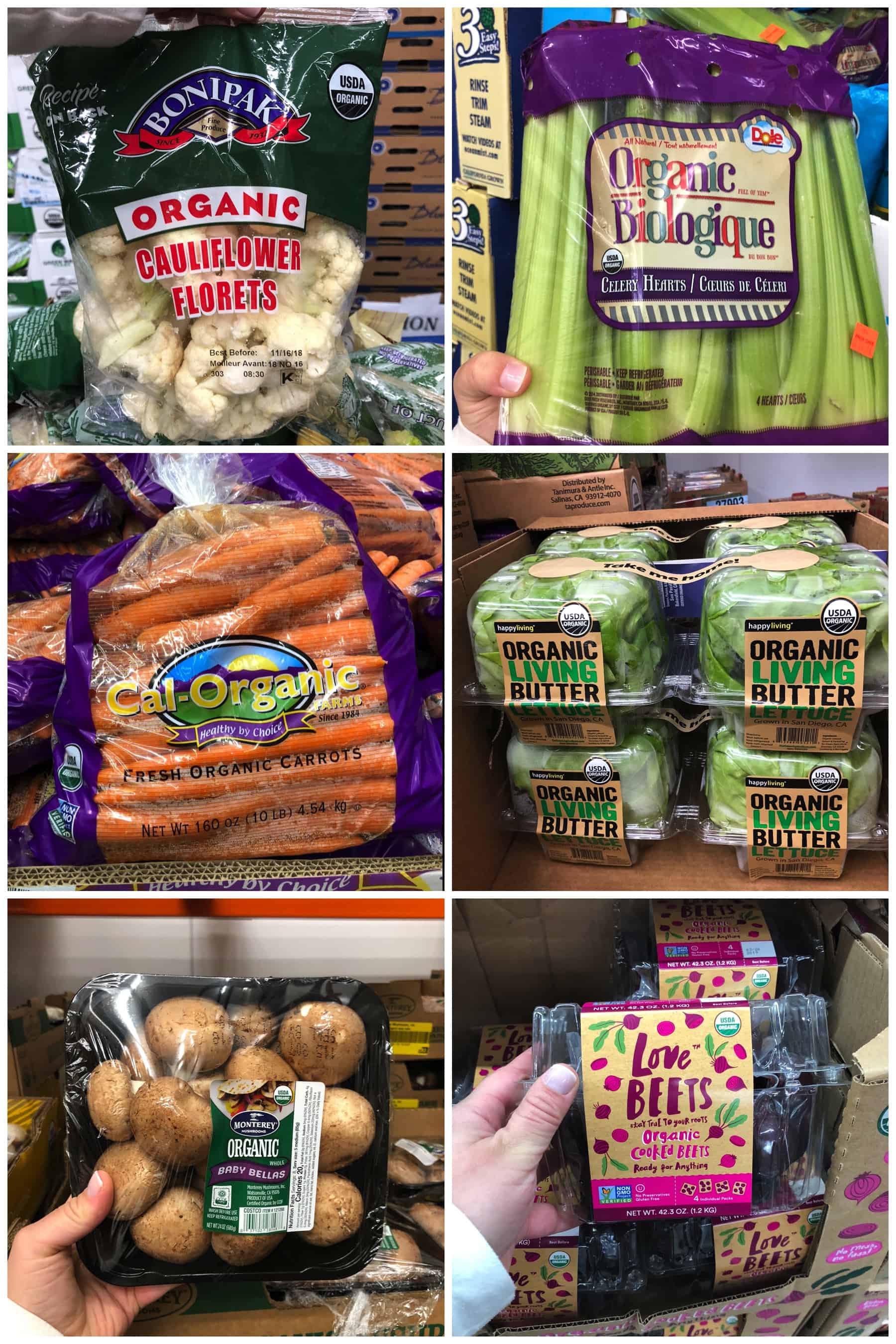 Organic cauliflower florets
Organic celery
Organic carrots
Organic butter lettuce
Organic mushrooms
Organic cooked beets
Whole30 Costco Refrigerated Dips + Salsa
Great to add on to cooked meats or roasted veggies!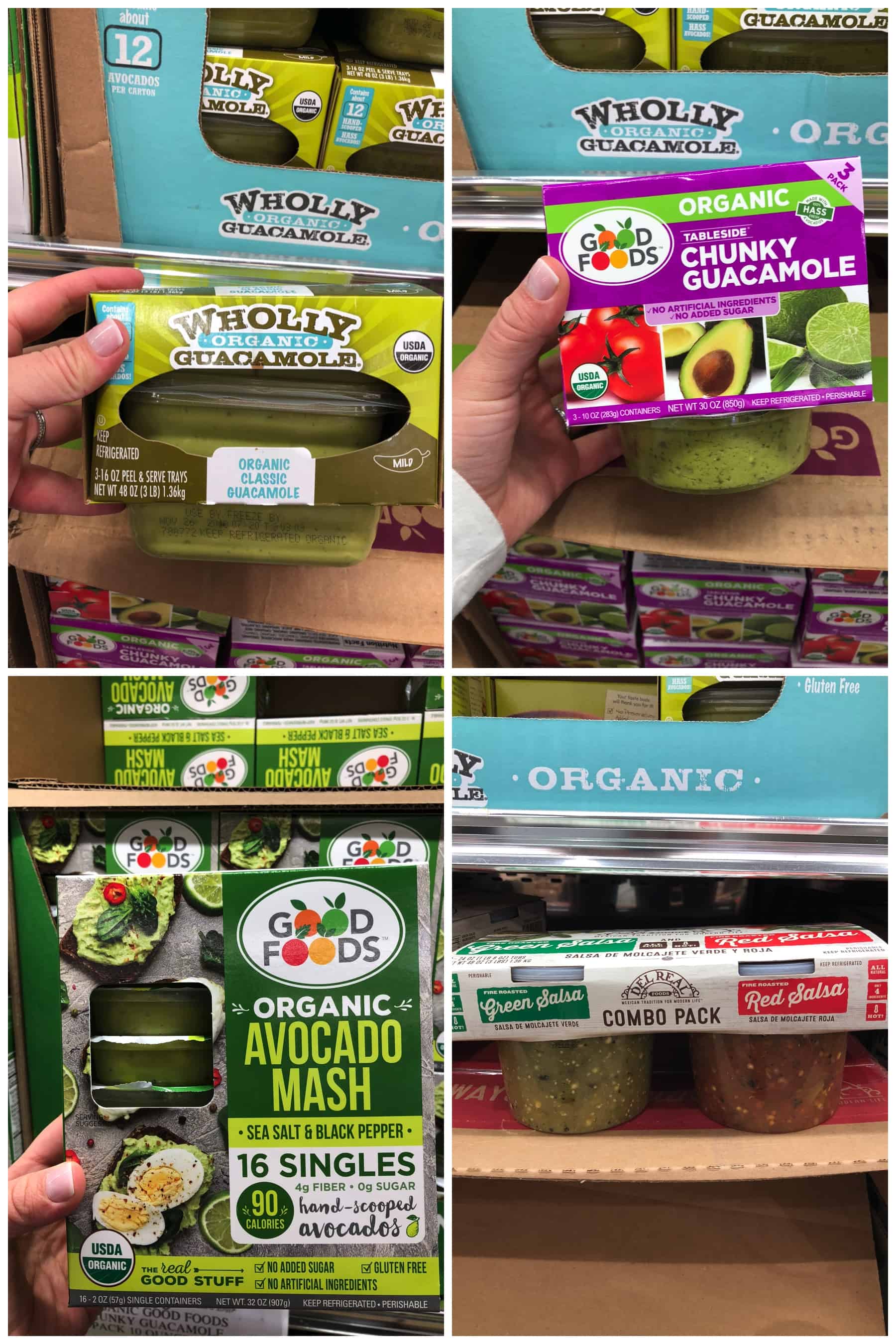 Organic Wholly Guacamole
Organic Good Foods Tableside Chunky Guacamole
Organic Good Foods Avocado Mash Singles (love this for meal prep!)
Whole30 Costco Refrigerated Meat & Eggs
I get my meat from ButcherBox, which is the highest quality and the best match for the Whole30 program. (Here's why I highly recommend it.) But Costco sells organic meats that would be my second best choice, as well as organic sausages and lunch meat that ButcherBox doesn't sell.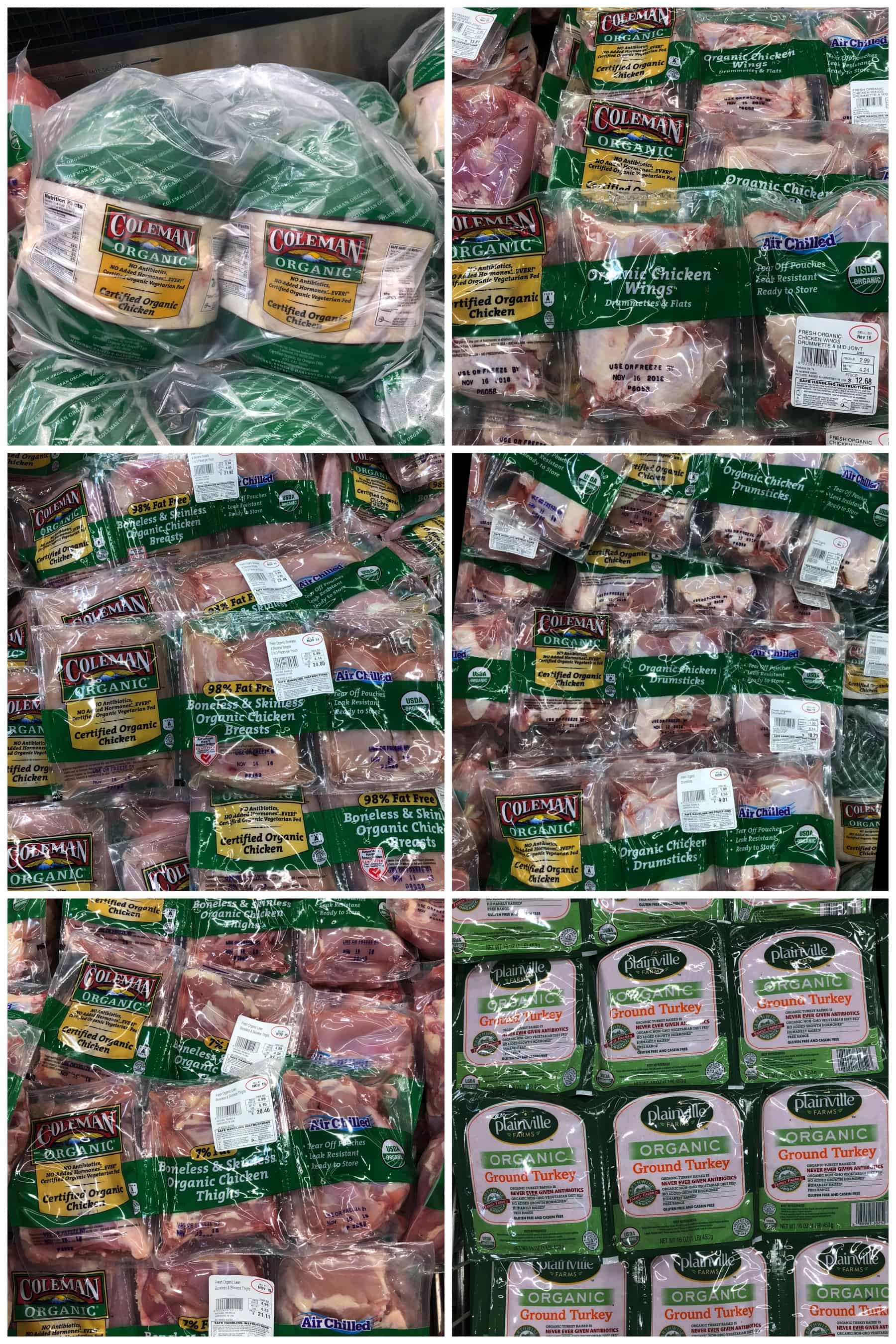 Organic whole chickens
Organic chicken wings
Organic boneless, skinless chicken breasts
Organic chicken drumsticks
Organic boneless, skinless chicken thighs
Organic ground turkey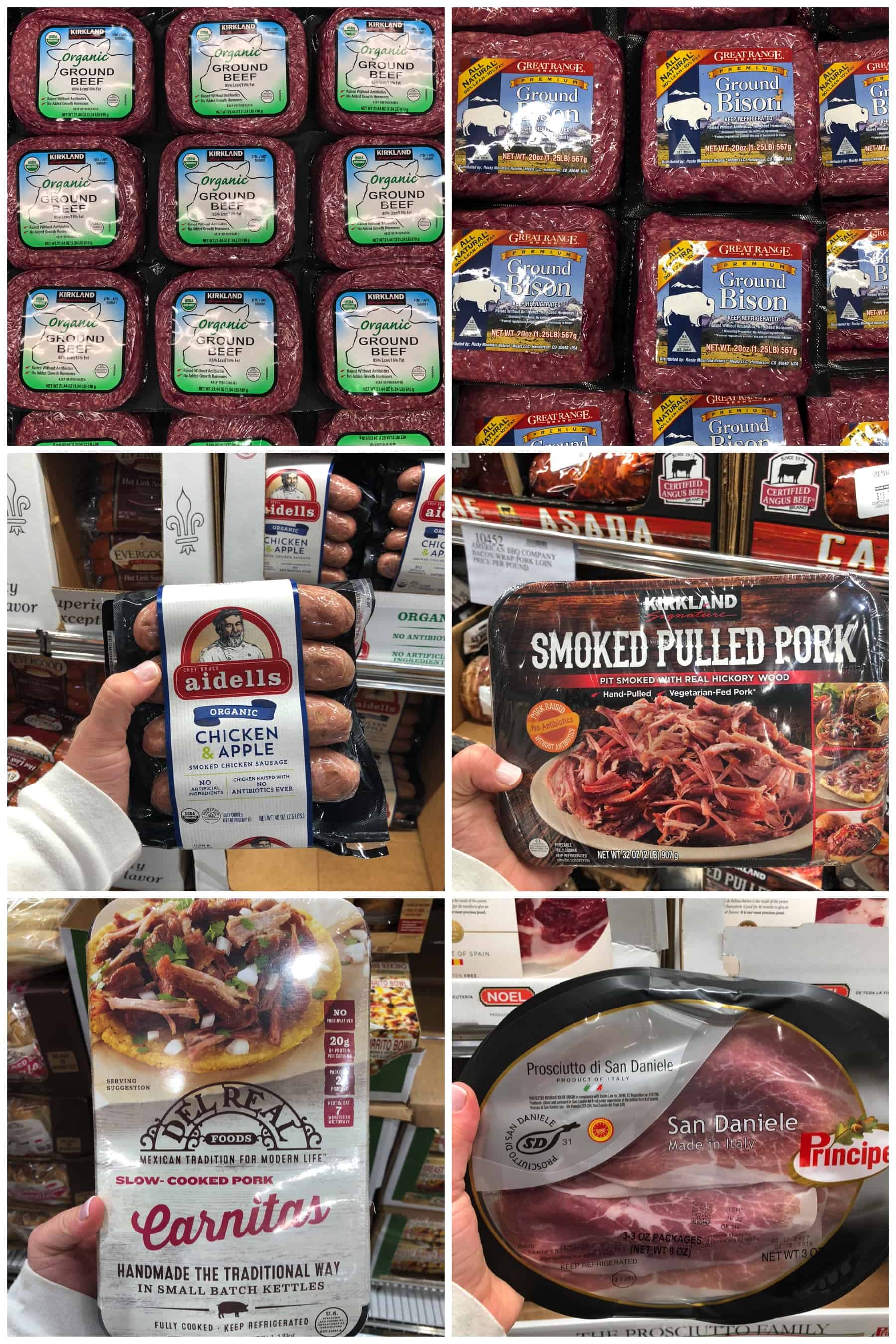 Organic ground beef
Organic ground bison
Aidells Organic Chicken Apple Sausage
Kirkland Smoked Pulled Pork
Del Real Foods Slow Cooked Pork Carnitas
Prosciutto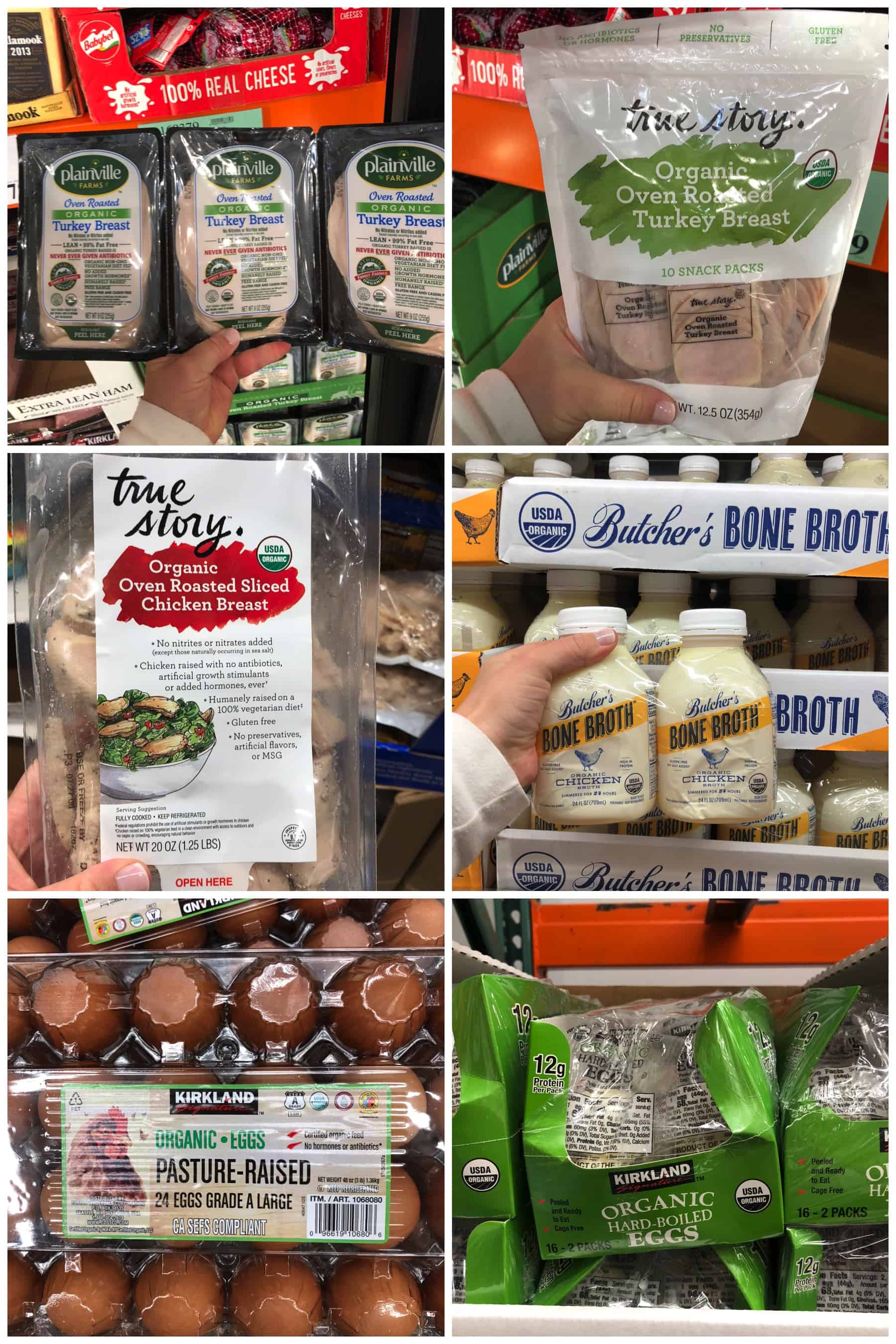 Plainville Farms Organic Turkey Breasts
True Story Organic Oven Roasted Turkey Breast
True Story Organic Oven Roasted Sliced Chicken Breast
Butcher's Bone Broth (this is in the refrigerated section by the meat!)
Kirkland Organic Eggs
Kirkland Organic Hard Boiled Eggs
Costco Whole30 Frozen Meat & Wild Seafood
I get my meat from ButcherBox, which is the highest quality and the best match for the Whole30 program. (Here's why I highly recommend it.) But Costco sells organic meats that would be my second best choice. As well as frozen seafood that ButcherBox doesn't carry.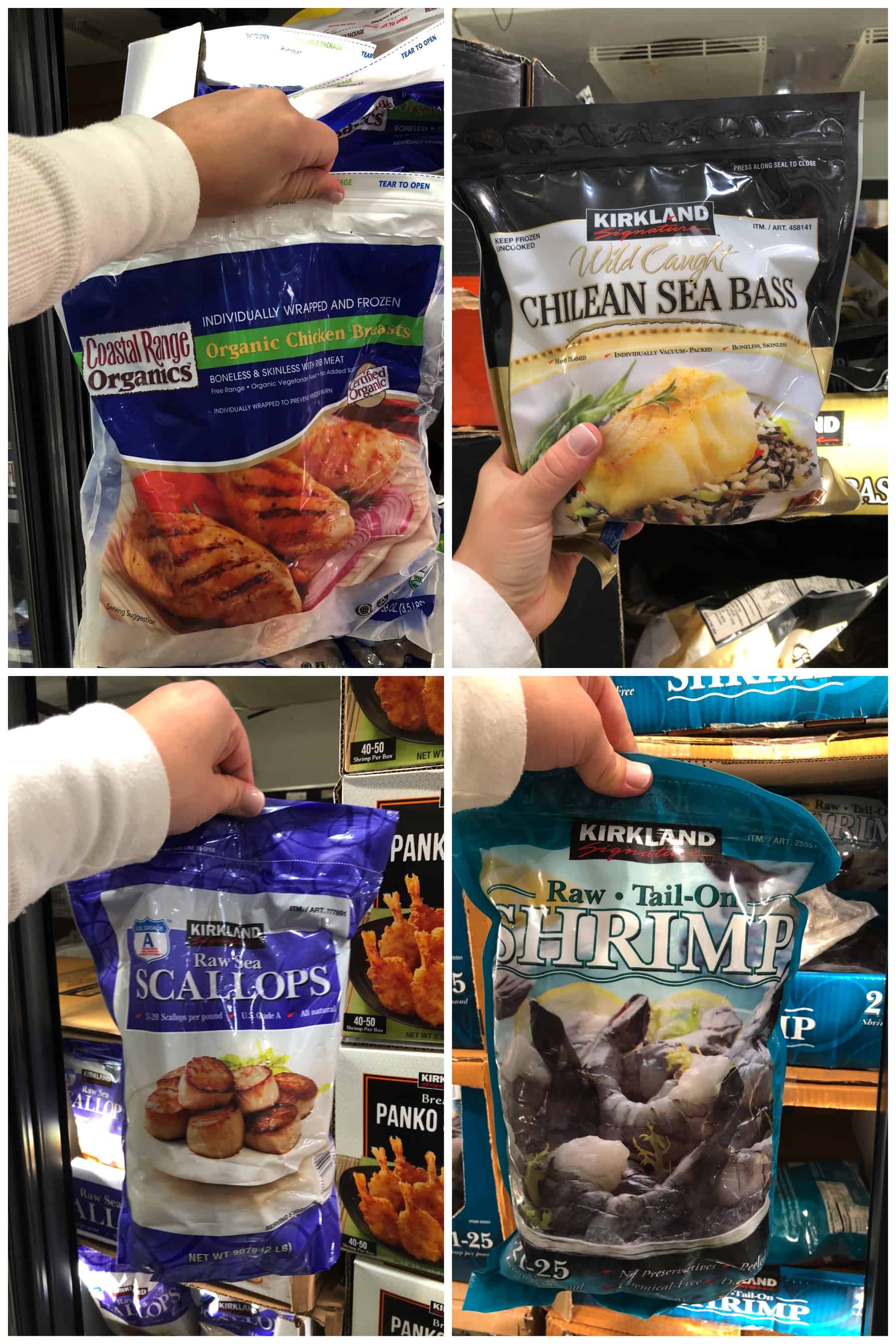 Organic frozen chicken breasts
Wild caught chilean sea bass
Wild caught scallops
Wild caught shrimp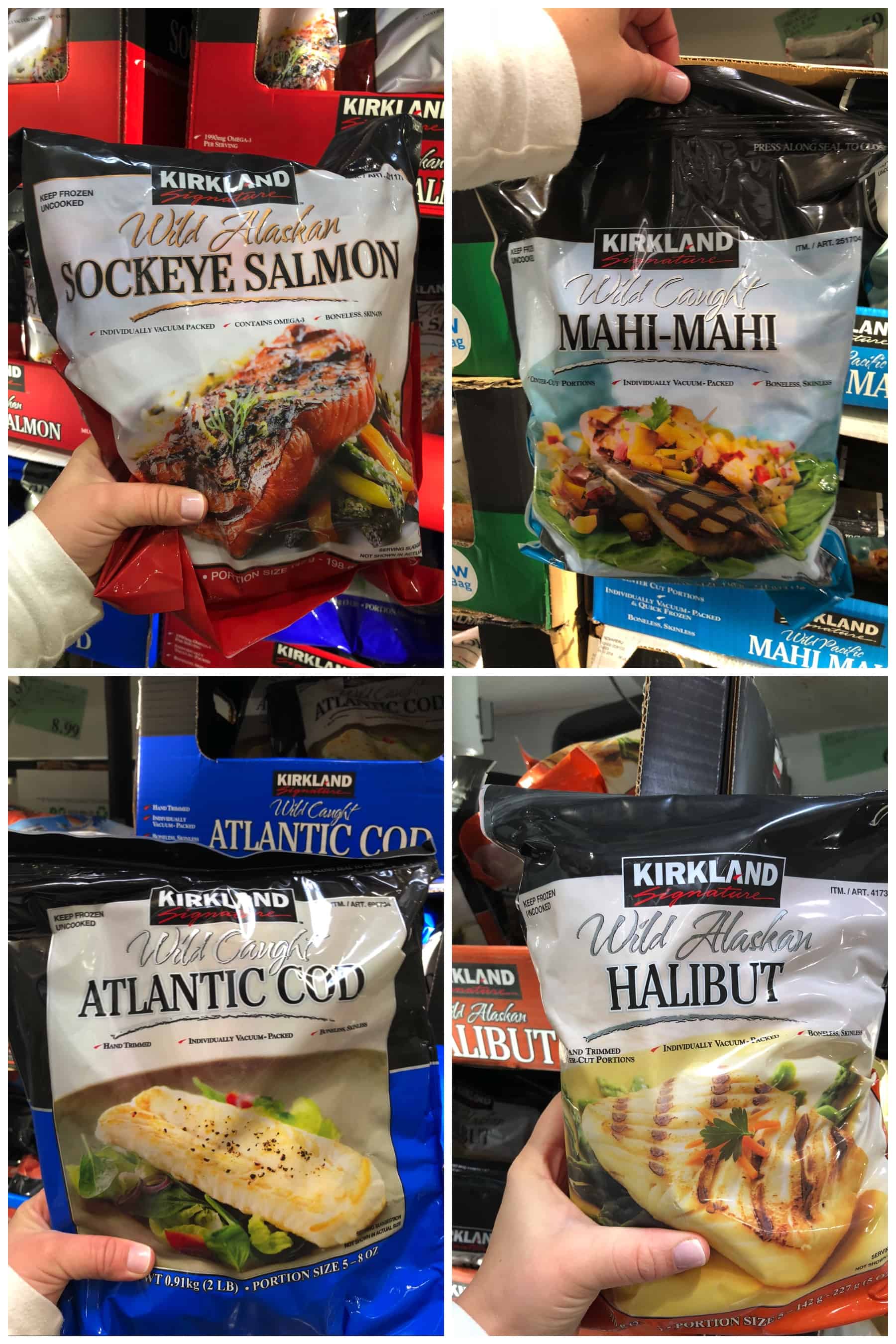 Wild caught alaskan sockeye salmon
Wild caught mahi mahi
Wild caught atlantic cod
Wild caught halibut
Whole30 Costco Nuts, Seeds + Dried Fruit
Be extra careful when buying dried fruit, a lot add in sugar. All of these are compliant.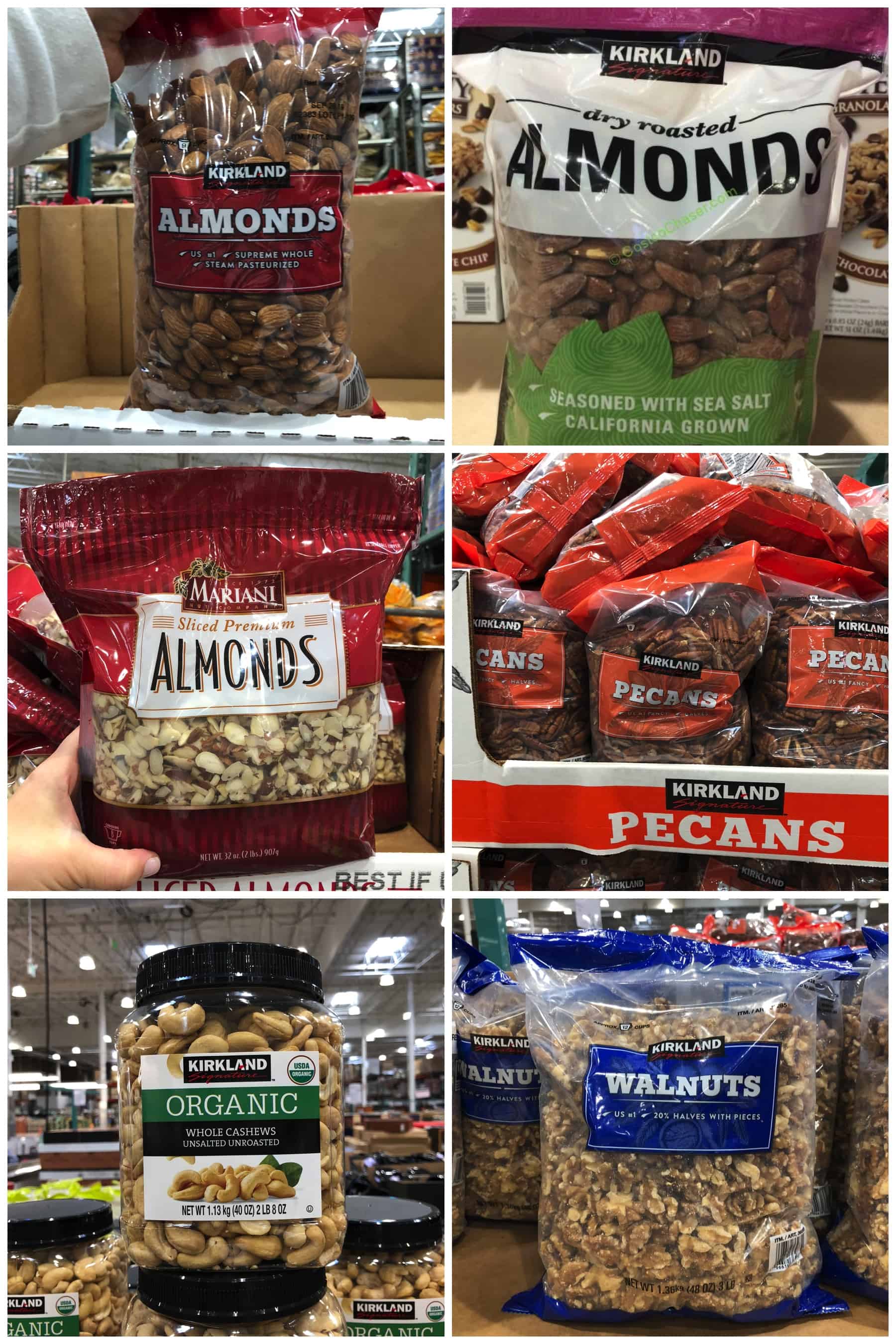 Dry roasted, salted almonds
Raw sliced almonds
Raw organic cashews
Raw walnuts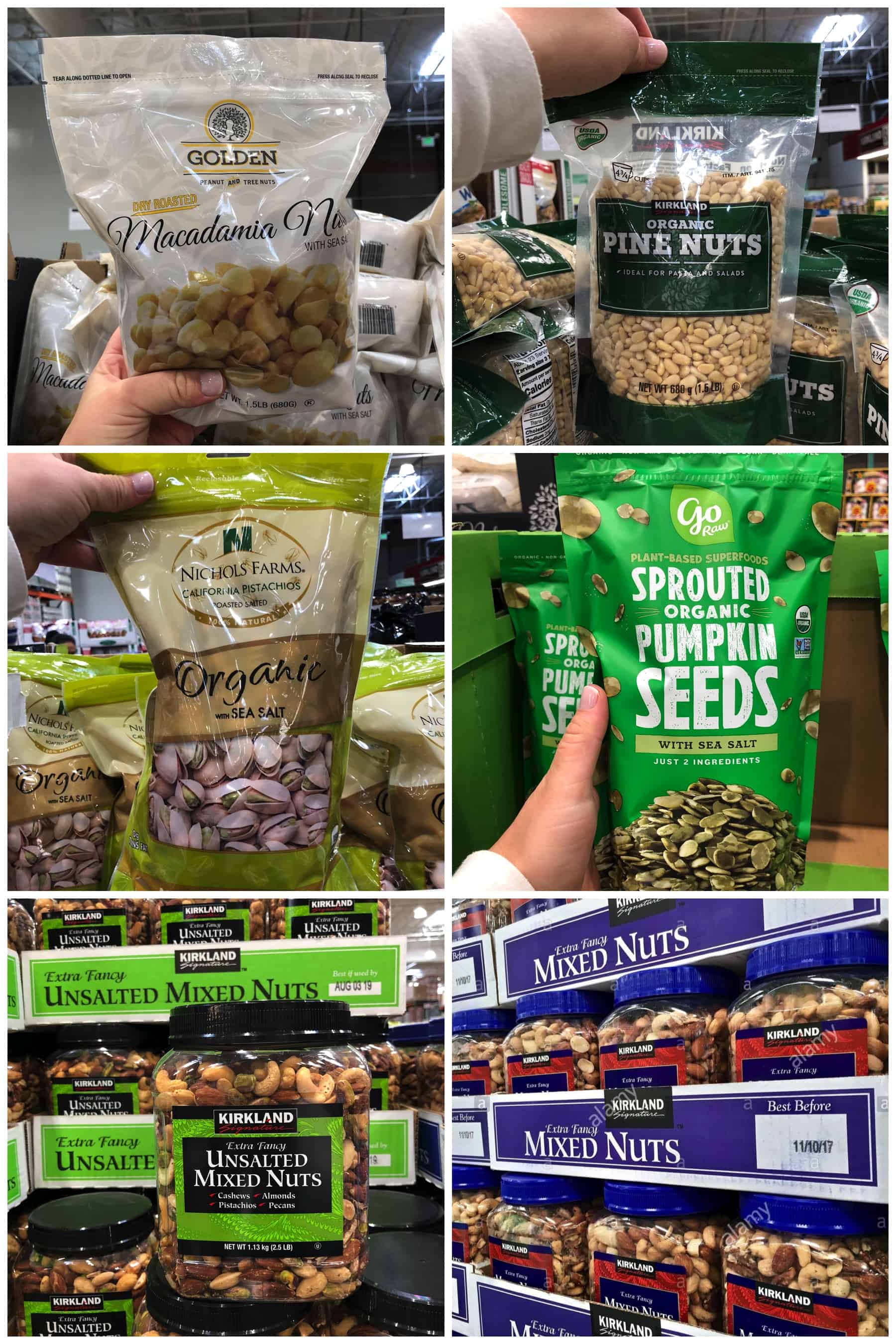 Dry roasted, salted macadamia nuts
Raw organic pine nuts
Roasted, salted organic pistachios
Organic sprouted pumpkin seeds
Roasted, unsalted mixed nuts (This is no longer Whole30 compliant since they now use peanut oil to roast them in!)
Roasted, salted mixed nuts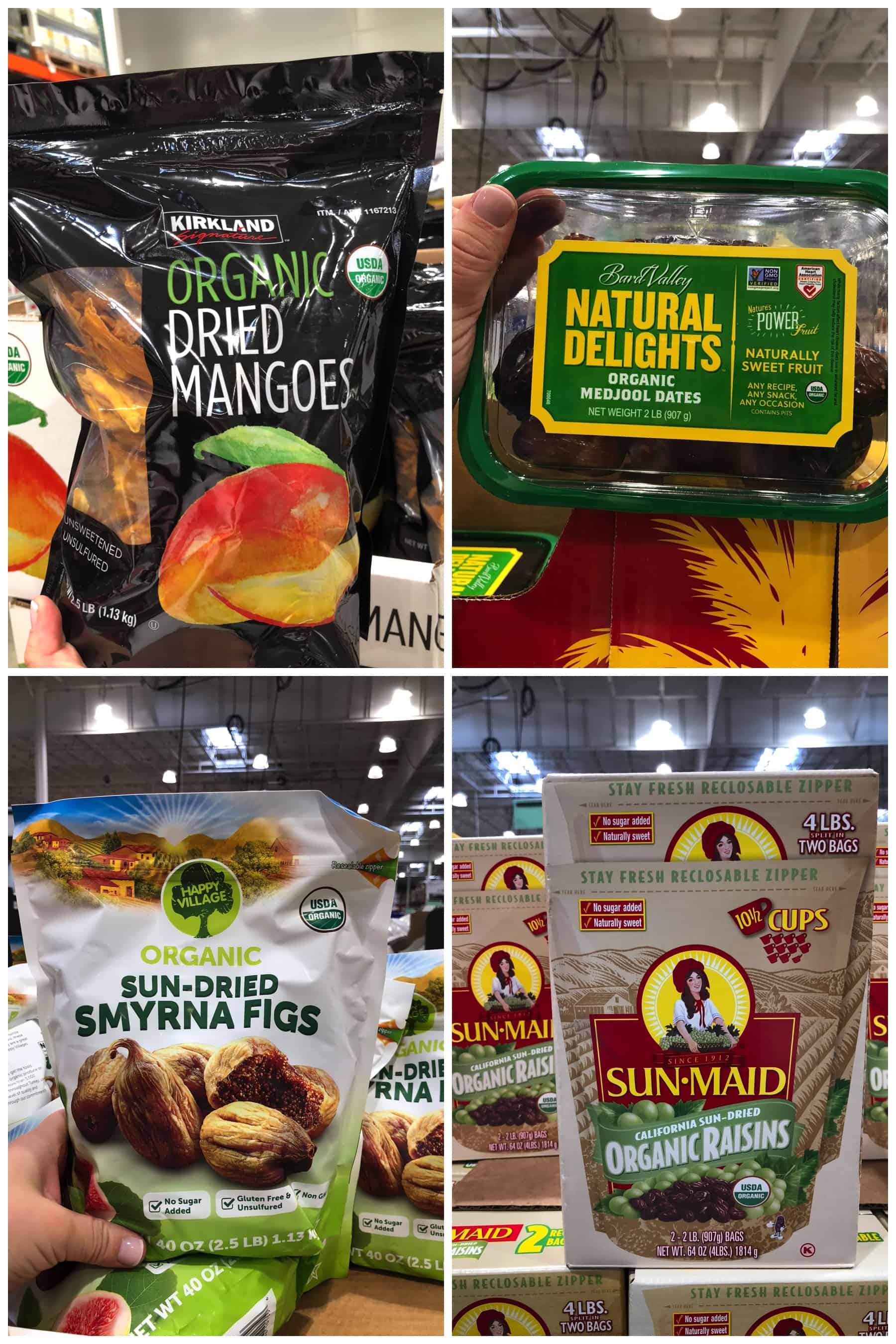 Kirkland organic dried mango
Organic medjool dates
Organic smyrna figs
Organic raisins
Whole30 Costco Frozen Vegetables & Fruit
I love frozen fruit because they're picked and frozen at the peak of freshness.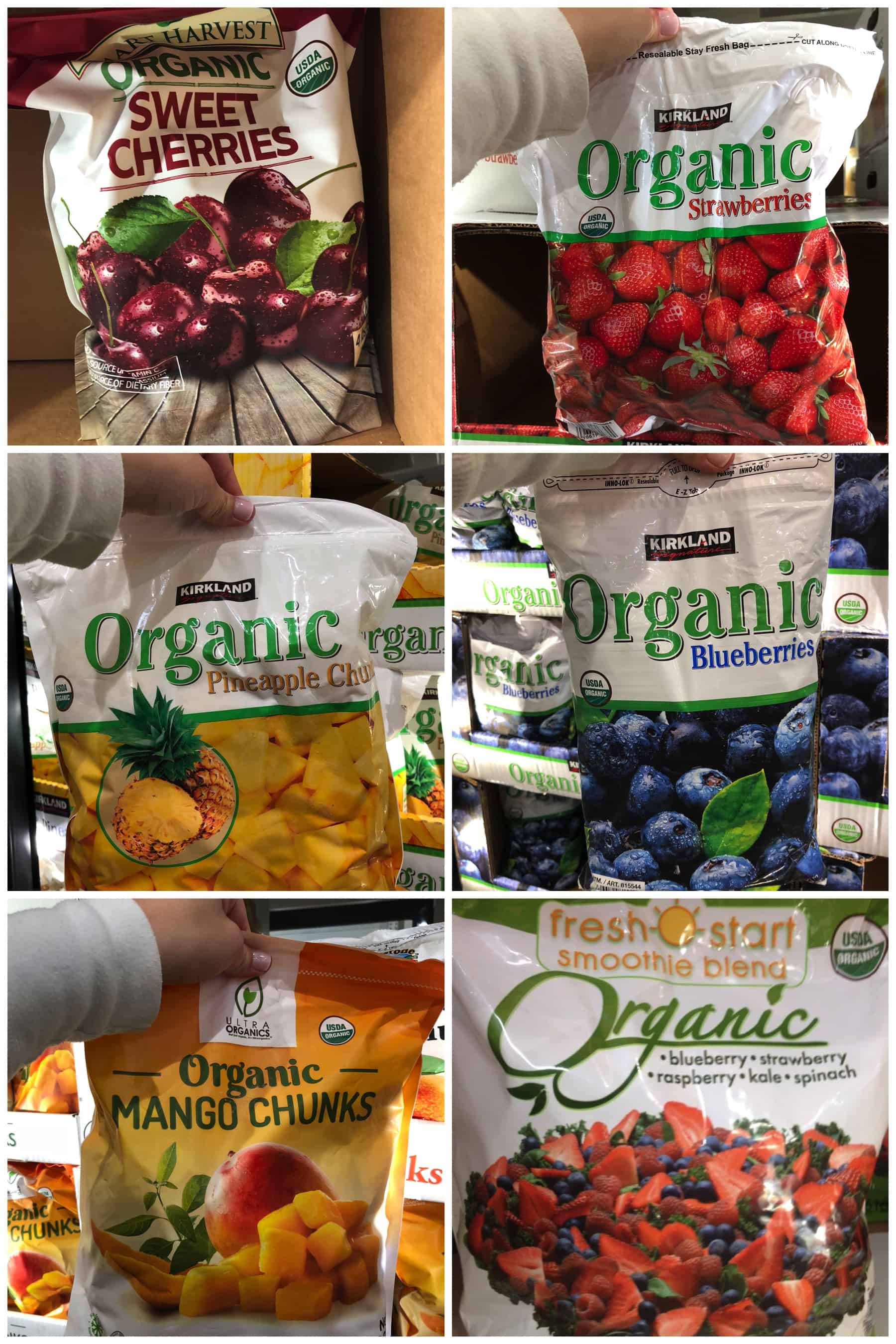 Organic frozen cherries
Organic frozen strawberries
Organic frozen pineapple
Organic frozen blueberries
Organic frozen mango
Organic frozen kale smoothie blend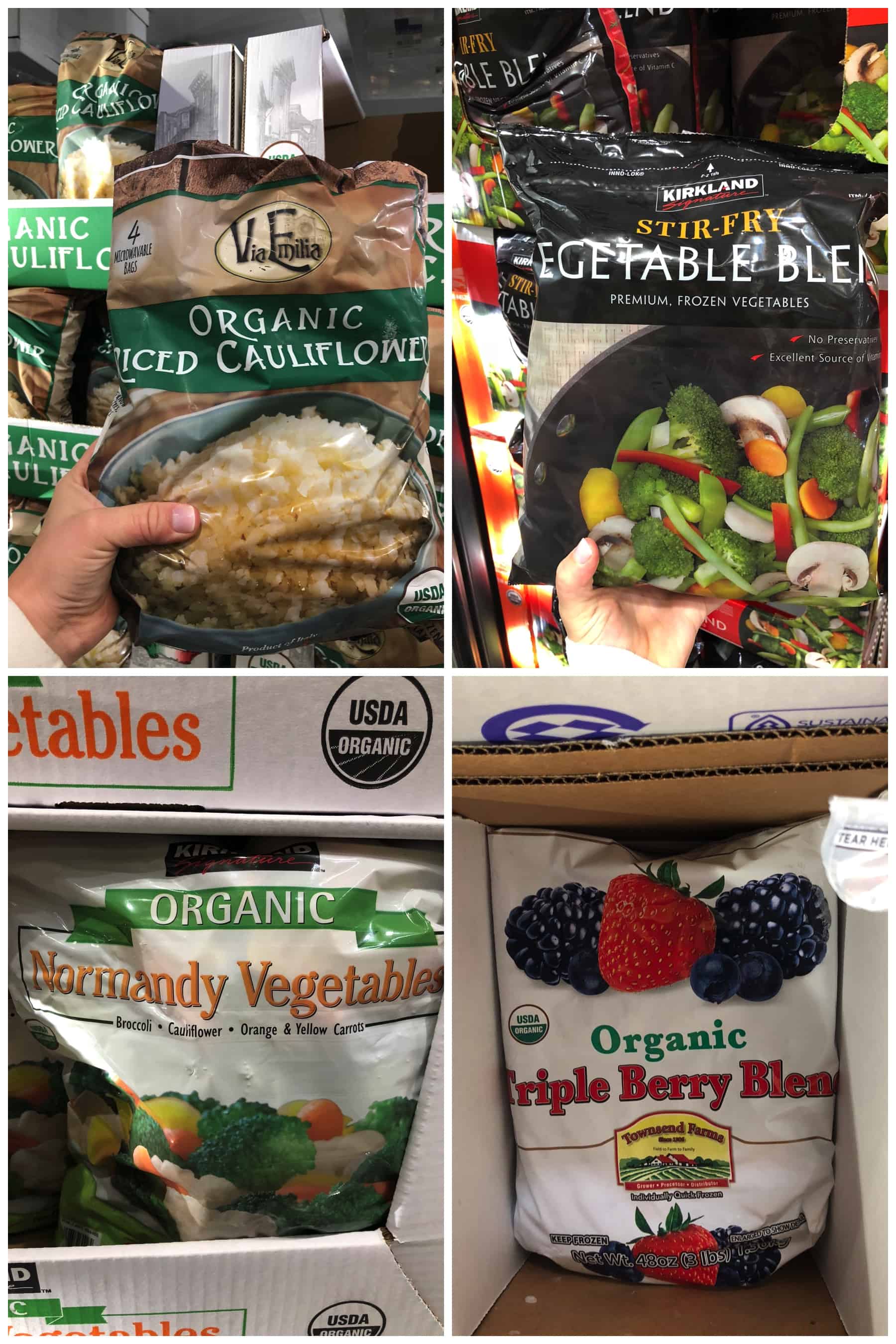 Organic frozen riced cauliflower
Organic frozen vegetable stir fry blend
Organic normandy vegetables
Organic triple berry blend
Whole30 Costco Pantry Staples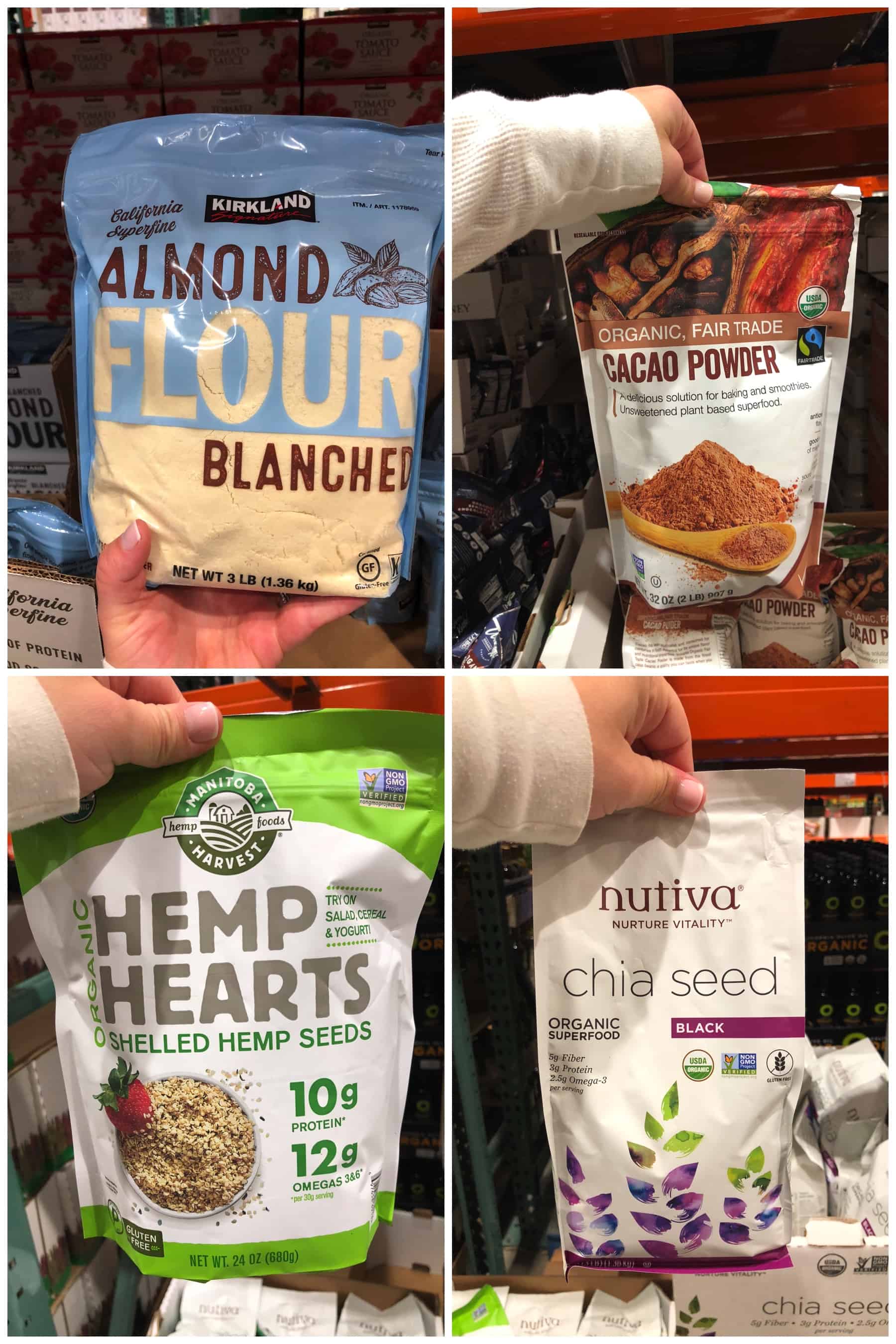 Kirkland blanched almond flour
Organic cacao powder
Organic help harts
Organic chia seeds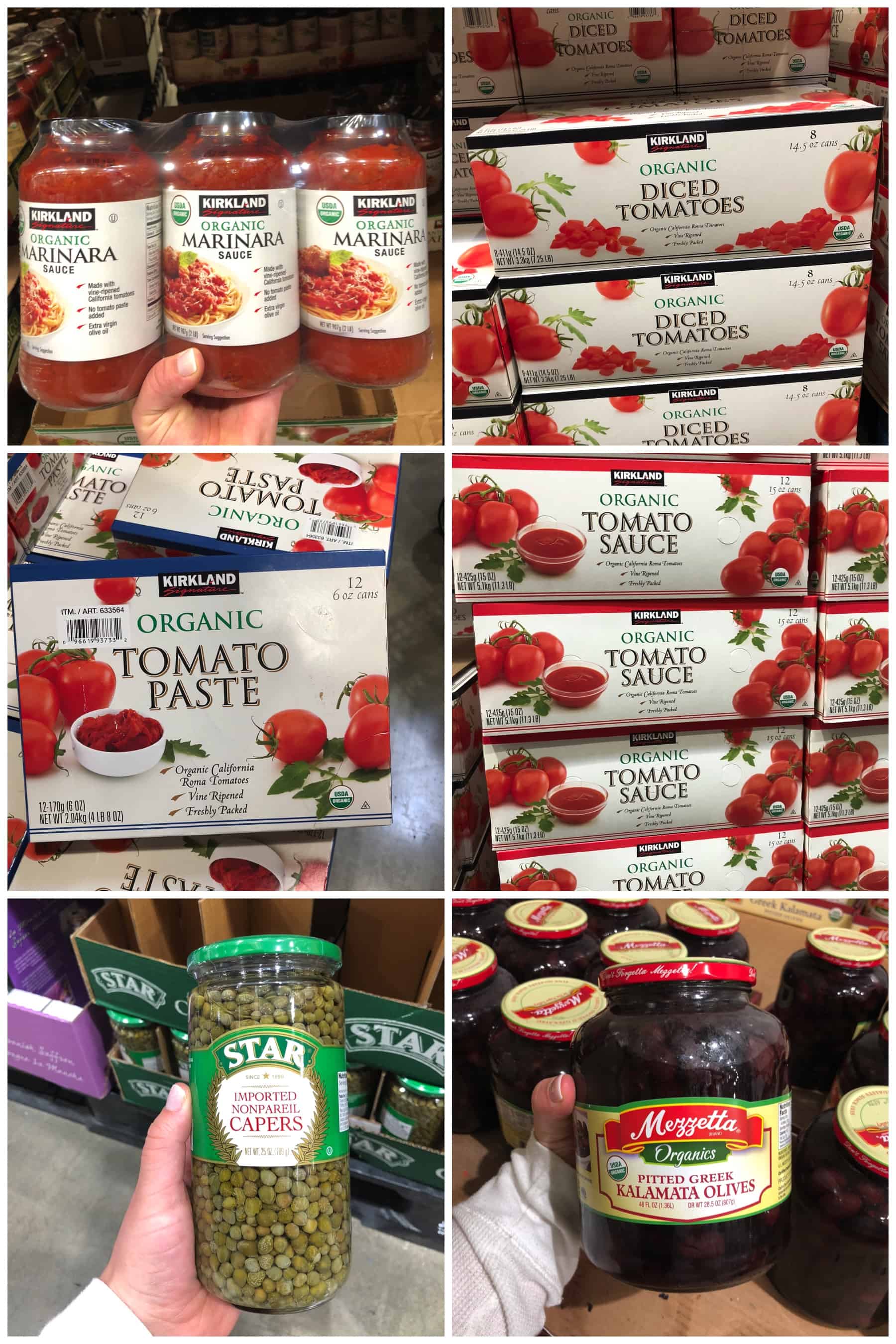 Kirkland Organic Marinara Sauce
Kirkland Organic Diced Tomatoes
Kirkland Organic Tomato Paste
Kirkland Organic Tomato Sauce
Star Capers
Mezzetta Organics Pitted Greek Kalamata Olives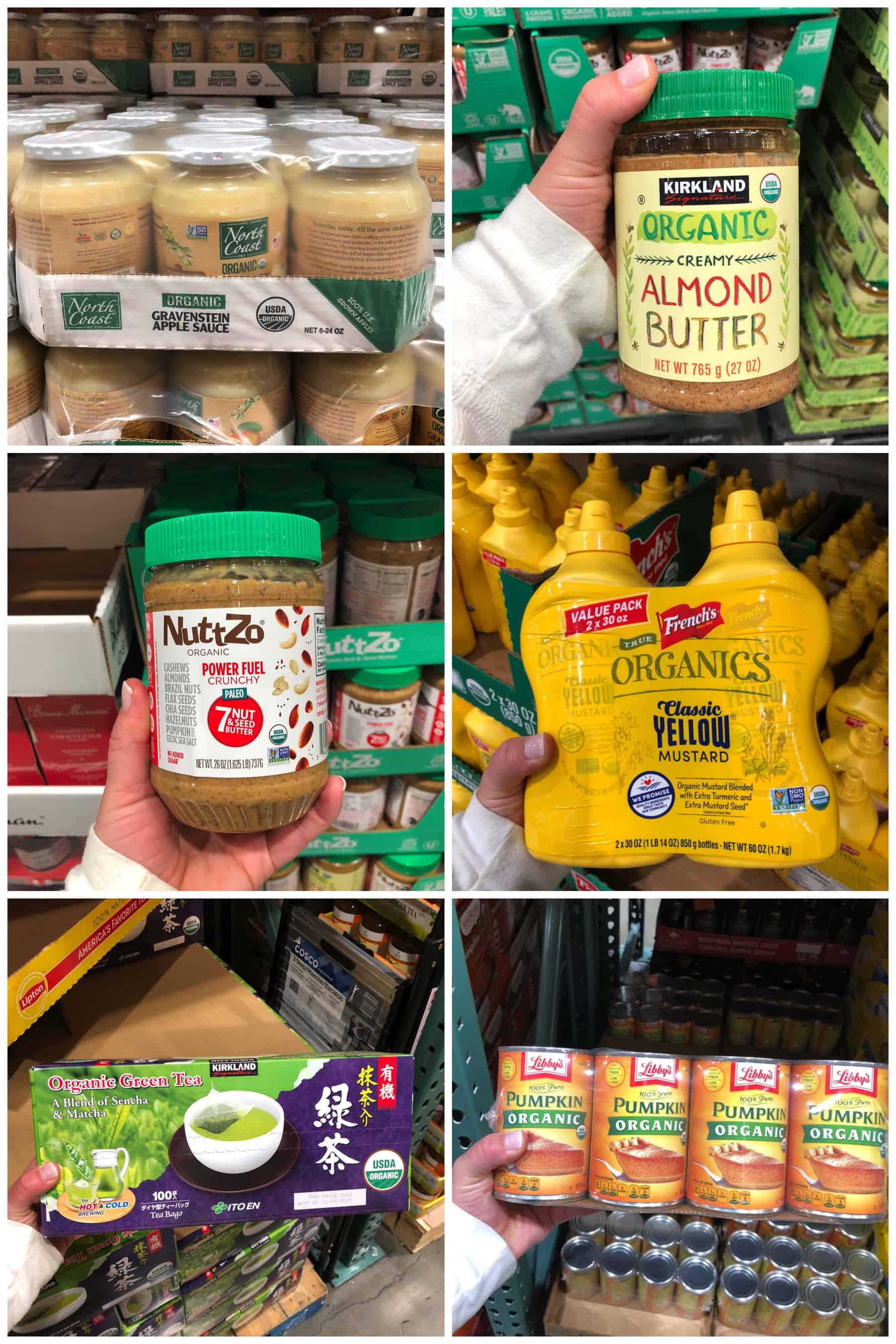 North Coast Organic Gravenstein Apple Sauce
Kirkland Organic Creamy Almond Butter
Nuttzo Organic 7 Nut & Seed Butter
French's Organic Mustard
Kirkland Organic Green Tea
Libby's Organic Pumpkin Puree (seasonal)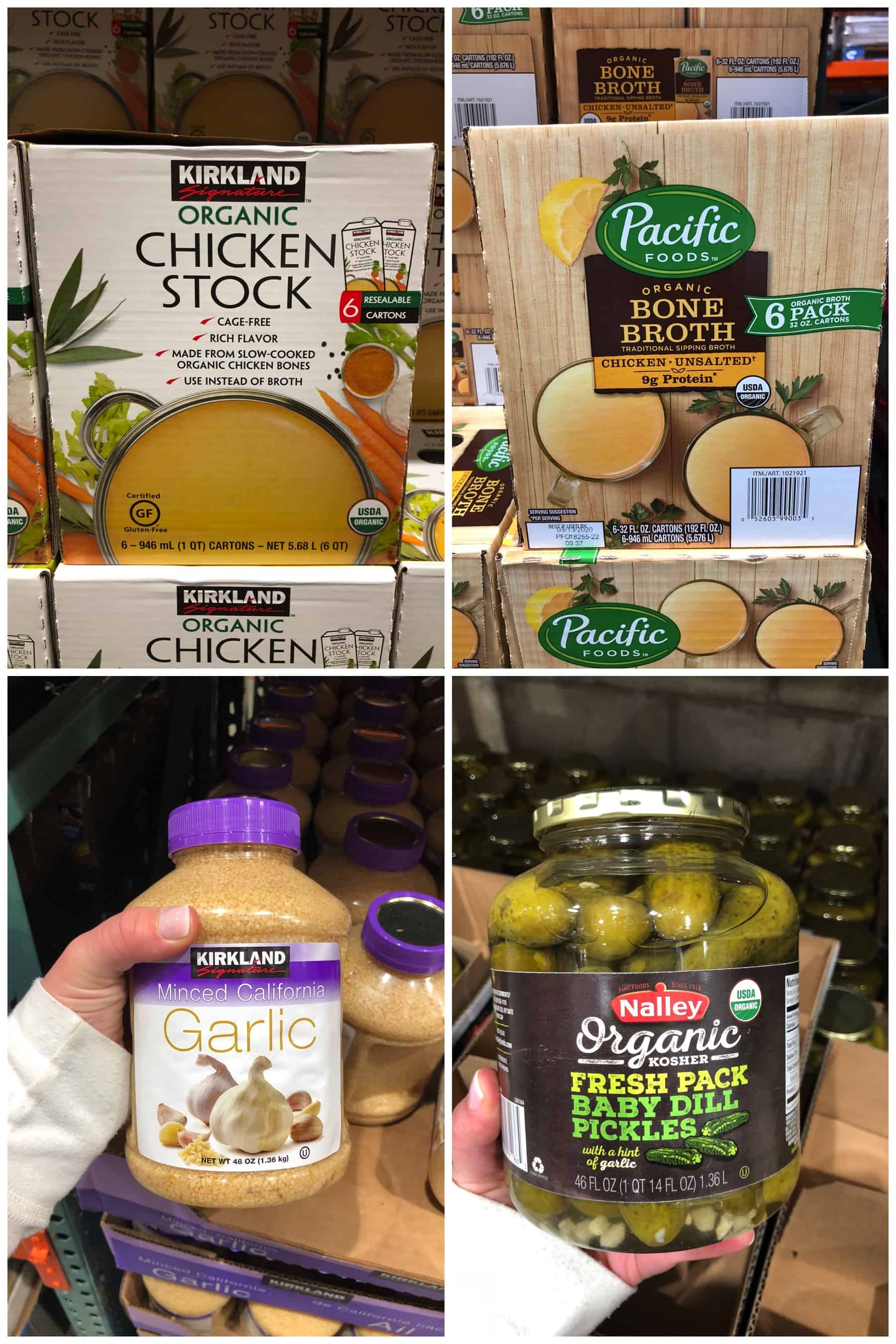 Kirkland Organic Chicken Stock
Pacific Foods Organic Bone Broth
Kirkland Minced Garlic
Nalley Organic Kosher Baby Dill Pickles
Whole30 Costco Oils & Vinegars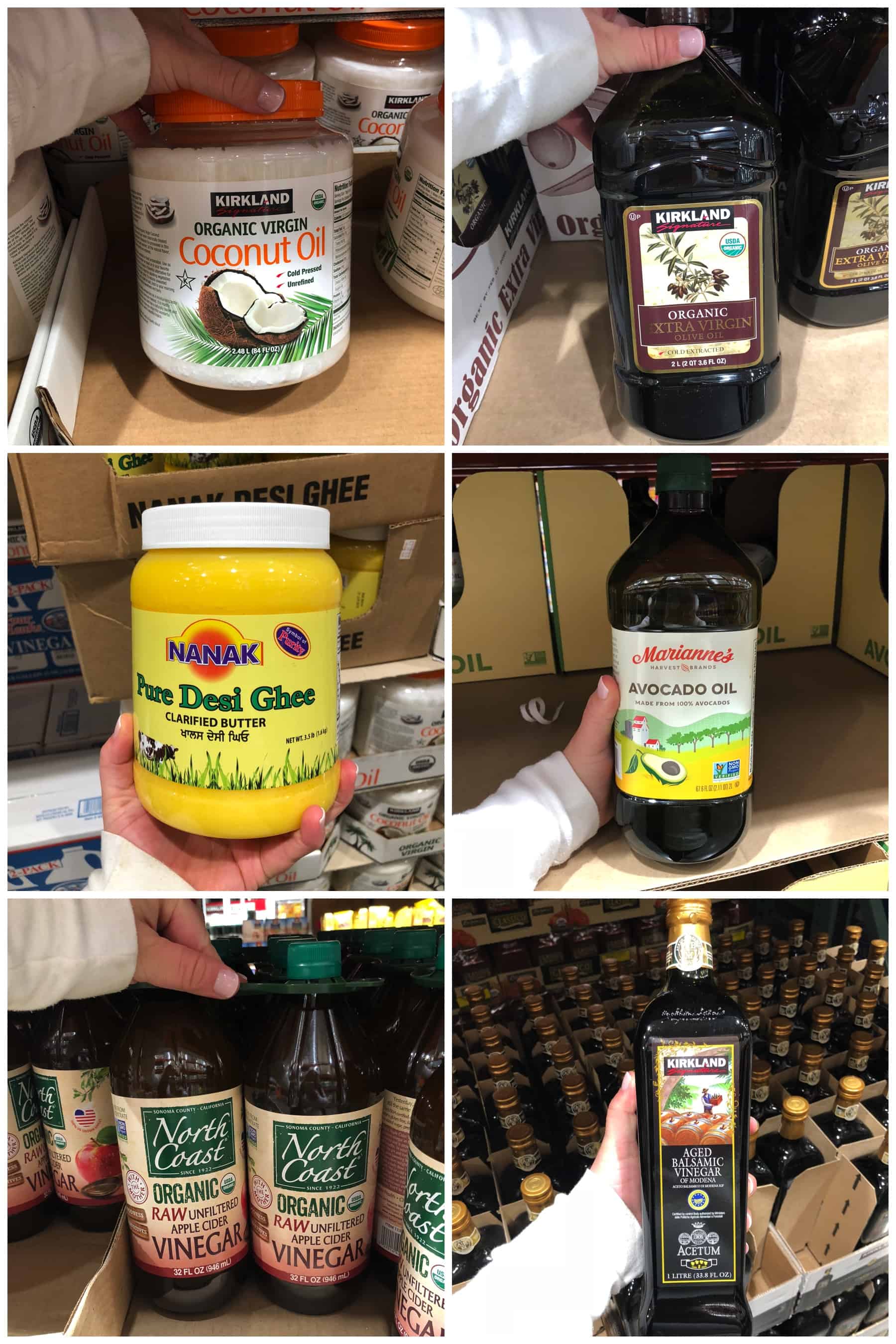 Kirkland organic virgin coconut oil
Kirkland organic extra virgin olive oil
Nanak ghee
Mariannes avocado oil
North Coast organic apple cider vinegar
Kirkland aged balsamic vinegar
Whole30 Costco Canned Seafood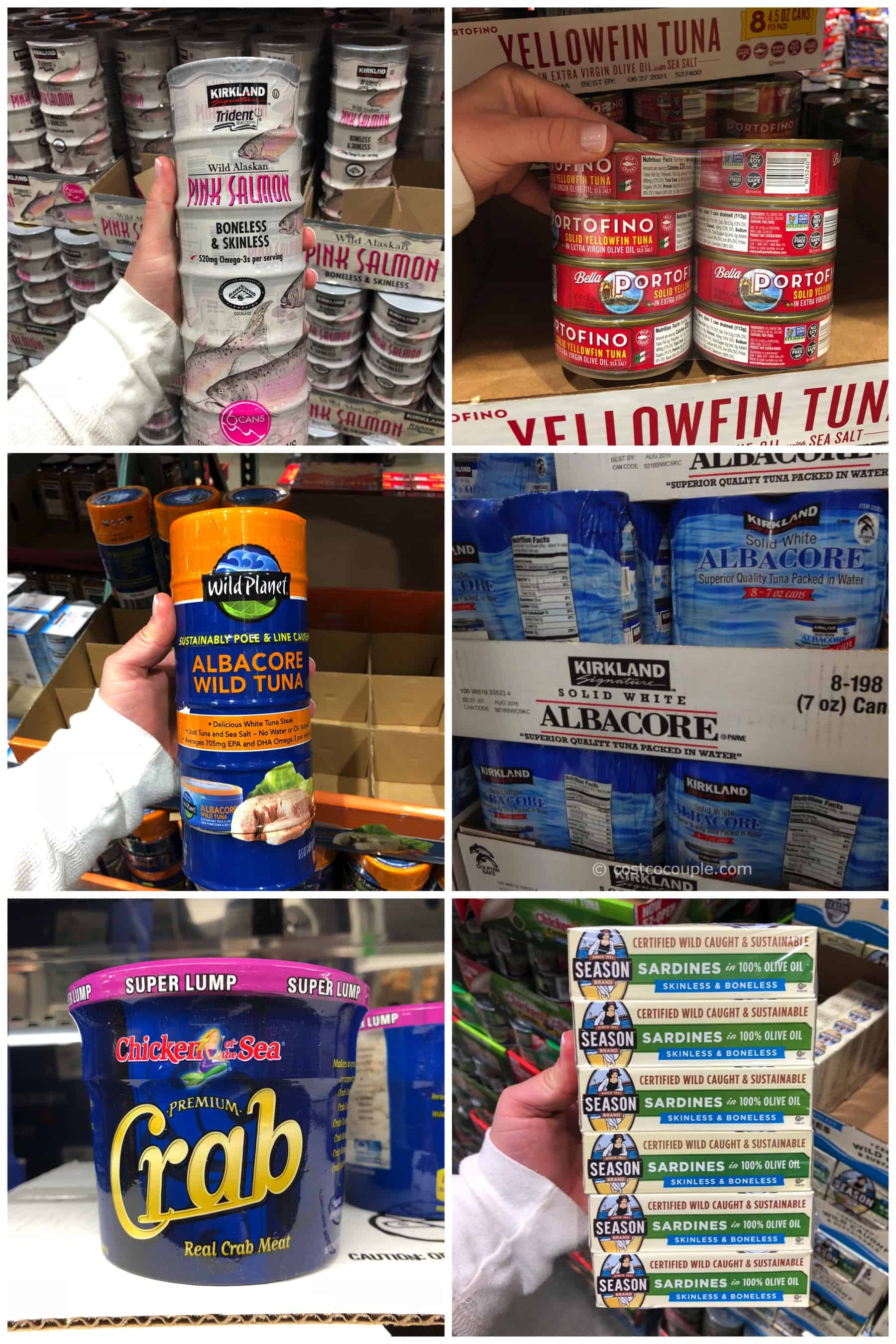 Kirkland canned wild alaskan pink salmon
Portofino yellow fin tuna
Wild Planet albacore wild tuna
Kirkland solid white albacore tuna
Chicken of the Sea crab meat
Season sardines
Whole30 Costco Dried Herbs & Spices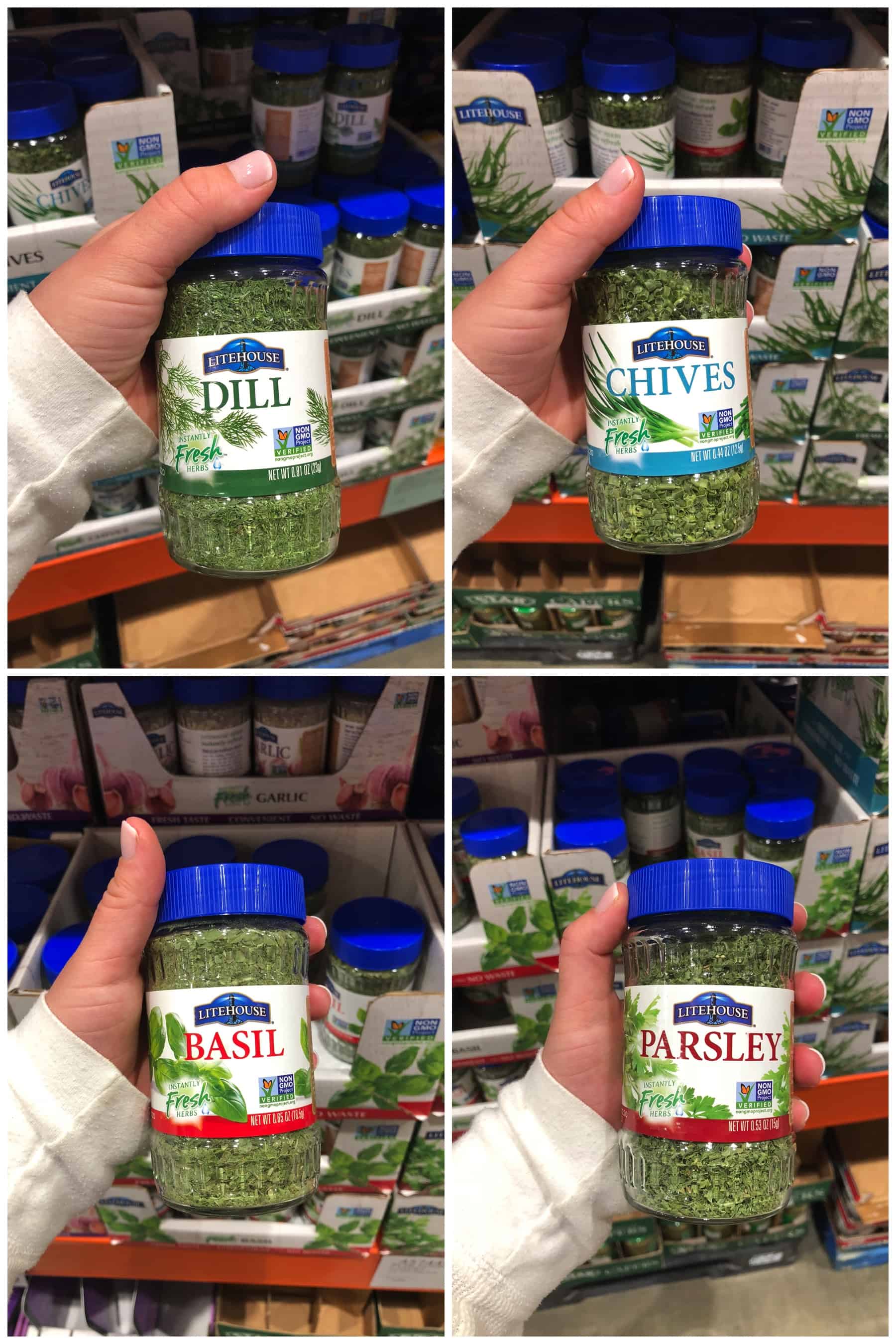 Litehouse freeze dried dill
Litehouse freeze dried chives
Litehouse freeze dried basil
Litehouse freeze dried parsley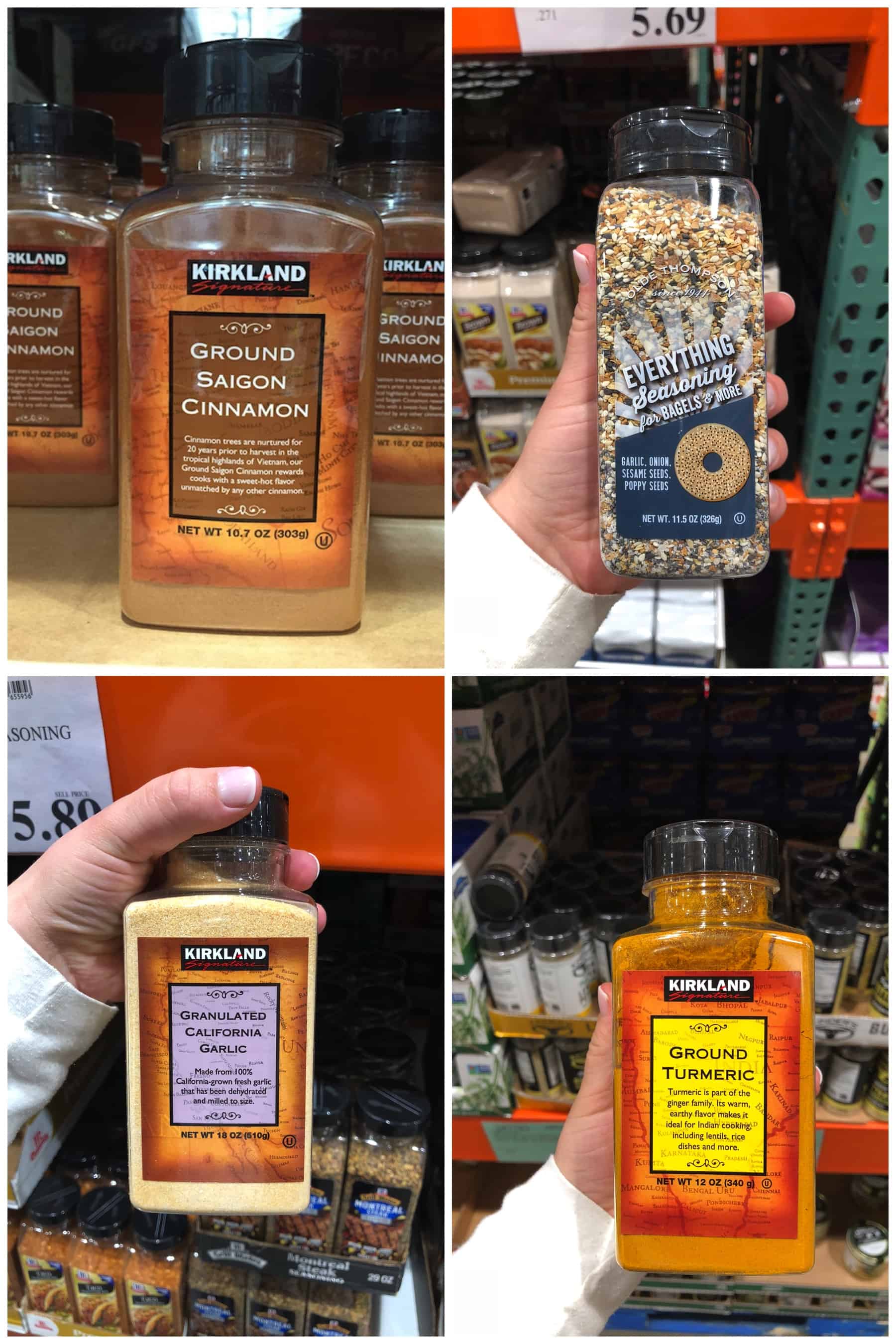 Kirkland Cinnamon
Olde Thompson Everything Seasoning
Kirkland granulated garlic
Kirkland ground turmeric
Whole30 Costco On-The-Go Snacks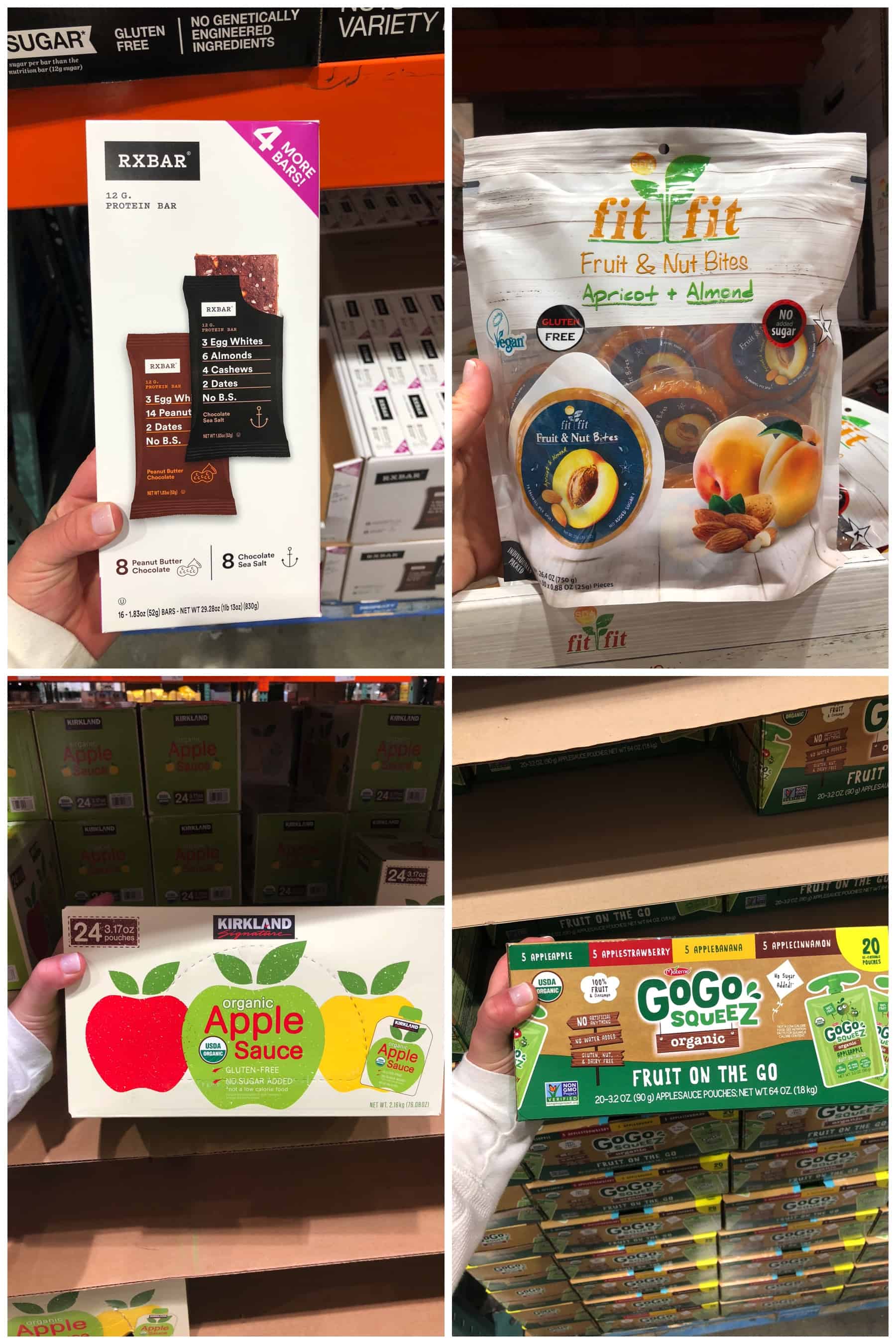 RX Bars (only the Chocolate Sea Salt flavor!)
Fit Fit Fruit and Nut Bites
Kirkland organic apple sauce packets
Go Go Squeeze organic Fruit on the Go packets
Never Miss a Recipe!
Get new posts delivered straight to your inbox! For free!