Coconut Chicken Thai Curry – a flavorful and mild spicy chicken and vegetable thai curry recipe. Ready in under 30 minutes, and healthy too! Paleo, Whole30, gluten free and low carb.
Welcome Whole30 friends! I have lots of delicious Whole30 dinner recipes that will make this 30 day cleanse easy and tasty!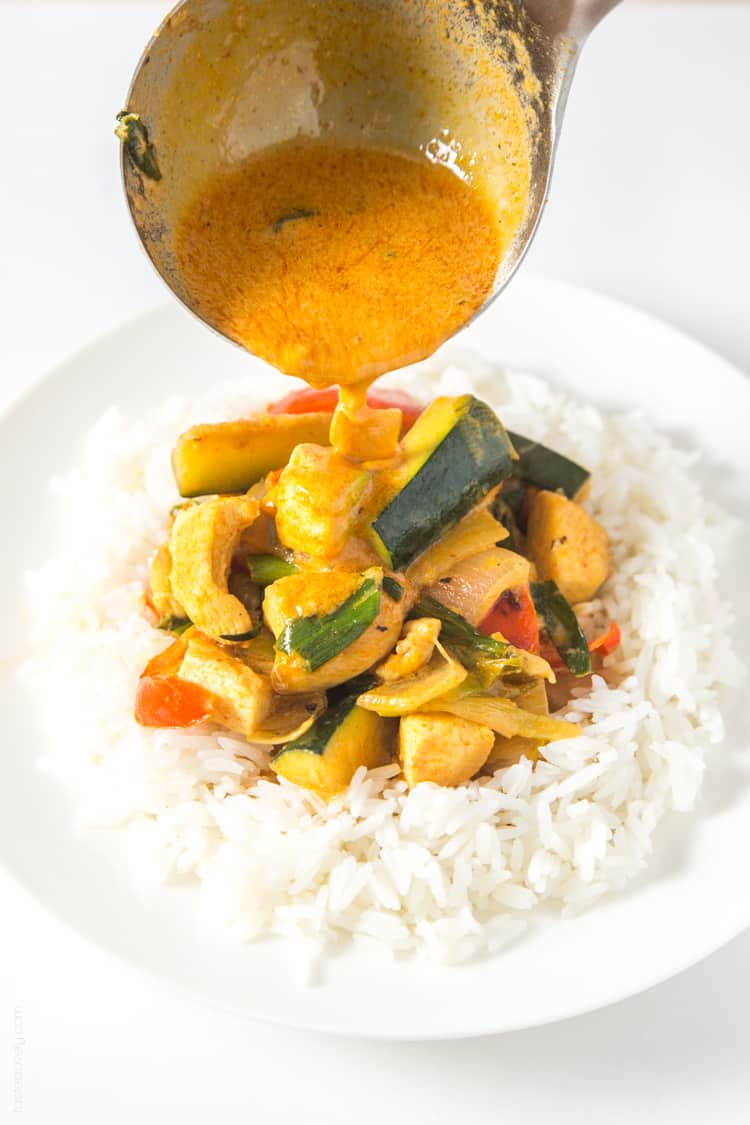 Don't you just love free food samples? A little tray of chopped up muffins at the coffee shop? Yes please. Some chopped up fruit at the Farmers Market? Why not. A cracker with some cheese at the grocery store? Don't mind if I do!
I think we can all agree that the very best free food samples are at Trader Joe's. All the food at Trader Joe's is tasty, and I love trying out their newest products at the sample table. Sometimes we'll make a quick trip to Trader Joe's where I just need 1 thing (usually wine, right?), but Shawn is conditioned to always head straight to the sample counter to pig out. That guy loves his free food.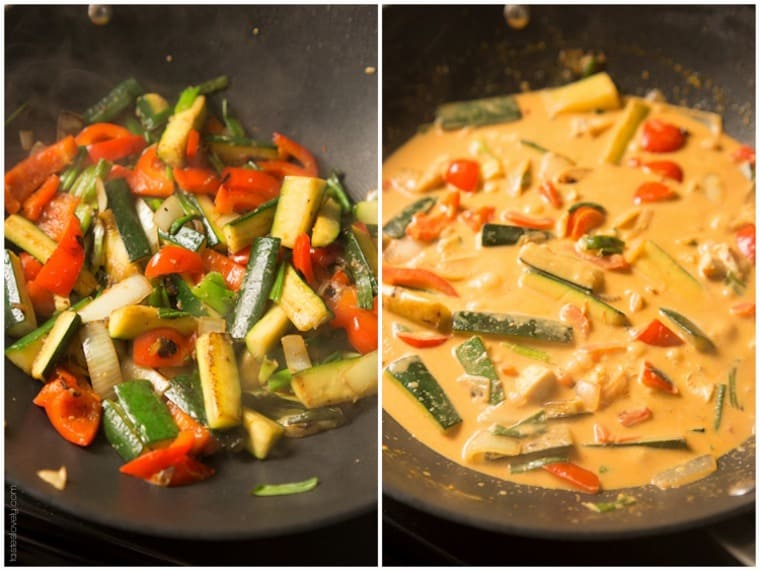 It was at a Trader Joe's sample table where I tasted curry for the first time. It was one of their frozen dinners, and I became instantly obsessed with the exotic flavors. I had to have more.
I first tried to make curry from scratch trying to recreate it from my mind, thinking it would be easy. I cooked chicken and made a sauce with heavy cream, chicken stock, and curry powder. Ick, it was just all wrong. Nothing like what I had tasted.
Ever since seeing that post, I have been hooked on coconut chicken thai curry ever since. I make it a few times a month, a definite go-to weeknight dinner recipe for me. There are just a few essential ingredients you need. This is my favorite
red thai curry paste
, which you should be able to find at all the big grocery stores in the ethnic food aisle. Unfortunately they don't carry it at Trader Joe's. But, Trader Joe's does have my favorite coconut milk, their coconut cream. It has almost all of the water strained out, so it is thick and creamy. But any coconut milk will do.
I also love my big nonstick wok that I got as a wedding present. The big size leaves plenty of room for all the veggies I throw in here.
I love my coconut chicken thai curry with tons of vegetables. My go to veggies are zucchini, bell pepper, and green onions. But I've also used all sorts of combinations of potato, carrots, cauliflower, butternut squash, anything I have on hand. So feel free to customize it to your taste.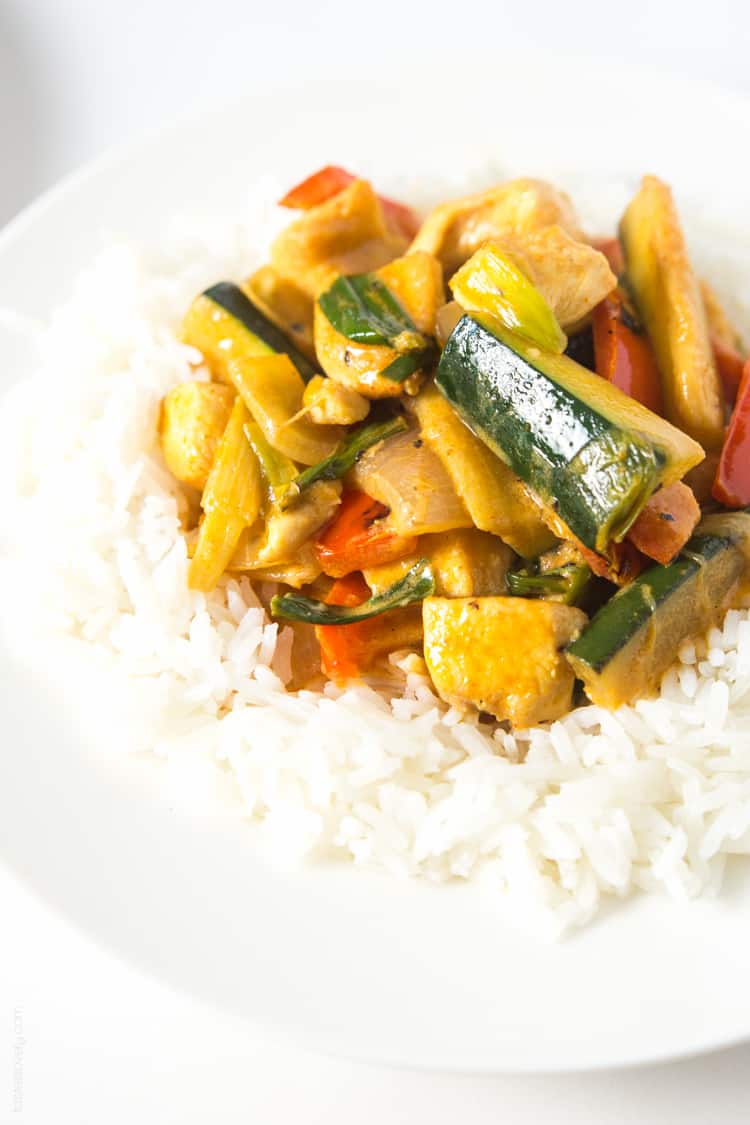 Not only is this coconut chicken thai curry easy to make (ready in under 30 minutes!), but it is really healthy too! It's gluten free, and if you serve it with cauliflower rice it is paleo, Whole30 and low carb. My favorite way to make this curry paleo / Whole30 is to serve it over a baked sweet potato. Yum! This recipe is also wonderful without the chicken to make it vegan / vegetarian. Great for meatless Monday!
This curry is only mildly spicy, which is how I like it. But if you like a lot of heat, add in some red pepper flakes, which Shawn sprinkles on top like a madman. Leftovers make a great lunch the next day too, so don't be shy to make a double batch.
Print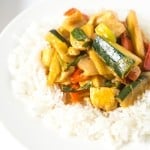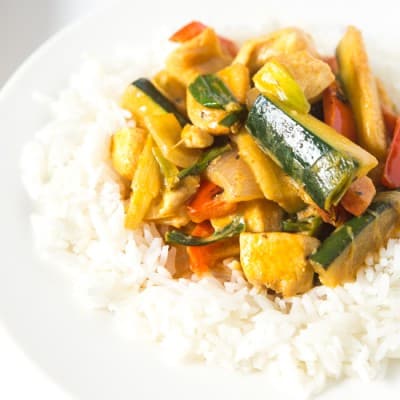 Coconut Chicken Thai Curry
---
Author:

Prep Time:

5 mins

Cook Time:

25 mins

Total Time:

30 mins

Yield:

4 servings
Ingredients
8 ounces boneless skinless chicken breast, chopped into 1″ pieces and seasoned with salt and pepper
2 tablespoons coconut oil, divided
2 zucchini, cut into 1/2″ x 2″ spears
1 red bell pepper, ribs and seeds removed, sliced
1 cup green onions, chopped (about 8 stalks)
half a yellow onion, sliced
1 teaspoon ginger paste (or 1″ piece of fresh ginger, grated)
2 cloves of garlic, grated or finely minced
2 tablespoons red thai curry paste
(1) 16 ounce can coconut cream (or canned coconut milk or canned light coconut milk. NOT coconut creamer like what you would use for you coffee or "cream of coconut" like you would use for daiquiris and has sugar as an ingredient)
salt and pepper
red pepper flakes for garnish if you like it spicy
2 cups cooked rice (or cauliflower rice or a baked sweet potato for Paleo/Whole30), for serving
---
Instructions
Heat a wok or your largest skillet over high heat. Add 1 tablespoon coconut oil and cook the chicken breast until golden brown and cooked thru, about 8 minutes, stirring occasionally. Transfer the cooked chicken to a plate.
With the heat still over high, melt another tablespoon of coconut oil in the wok. Add in all the vegetables and season with salt and pepper. Cook the vegetables until starting to brown slightly on the edges, but still crisp tender, about 6-8 minutes, stirring occasionally. Add the garlic and ginger, cook for 30 seconds until fragrant. Add in the thai curry paste and stir to combine. Add in the coconut milk and stir to combine. Add the chicken back in, and cook for another few minutes until heated thru.
Spoon the coconut chicken thai curry over rice (or cauliflower rice) and serve warm. Top with red pepper flakes if you like more spice.
Leftovers will keep in an airtight container for 3 days.
More Whole30 Dinner Recipes: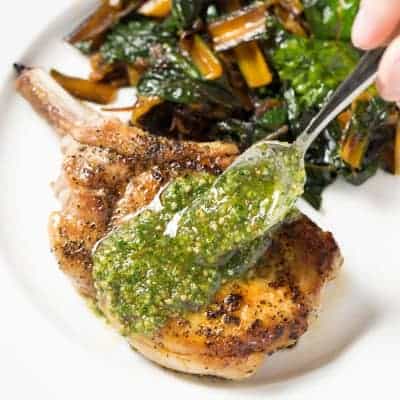 Pork Chops with Orange Pecan Pesto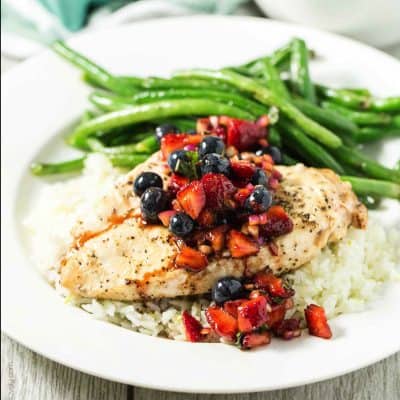 Grilled Chicken with Balsamic Berry Salsa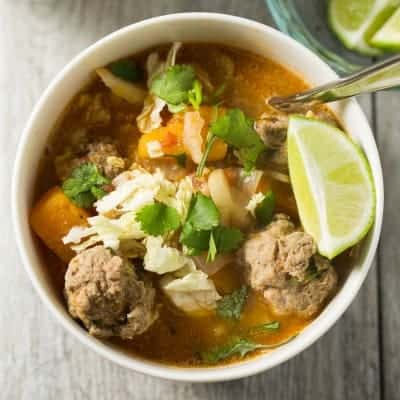 This post contains affiliate links, thanks for the love!