Whole30 + Keto Salmon Cakes
Whole30 + Keto Salmon Cakes Recipe + Video – 5g net carbs! A low carb healthy and delicious salmon cakes made from canned salmon, topped with a lemon dill aioli. Ready in 20 minutes! Paleo, gluten free, grain free, dairy free, sugar free, clean eating, real food.
Stick with me here.
You know that canned salmon that's right next to the canned tuna? It makes the absolute most delicious salmon cakes and is in no way gross! Who knew?
Watch The Recipe Video
Note: You can also watch this recipe video on YouTube. 
When I was doing my oh-so-extensive Whole30 Trader Joe's Shopping Guide, I noticed the canned salmon and challenged myself to come up with a recipe for it.
These whole30 + keto salmon cakes are life changing. It's like a crab cake, but made with salmon. Promise you're going to love.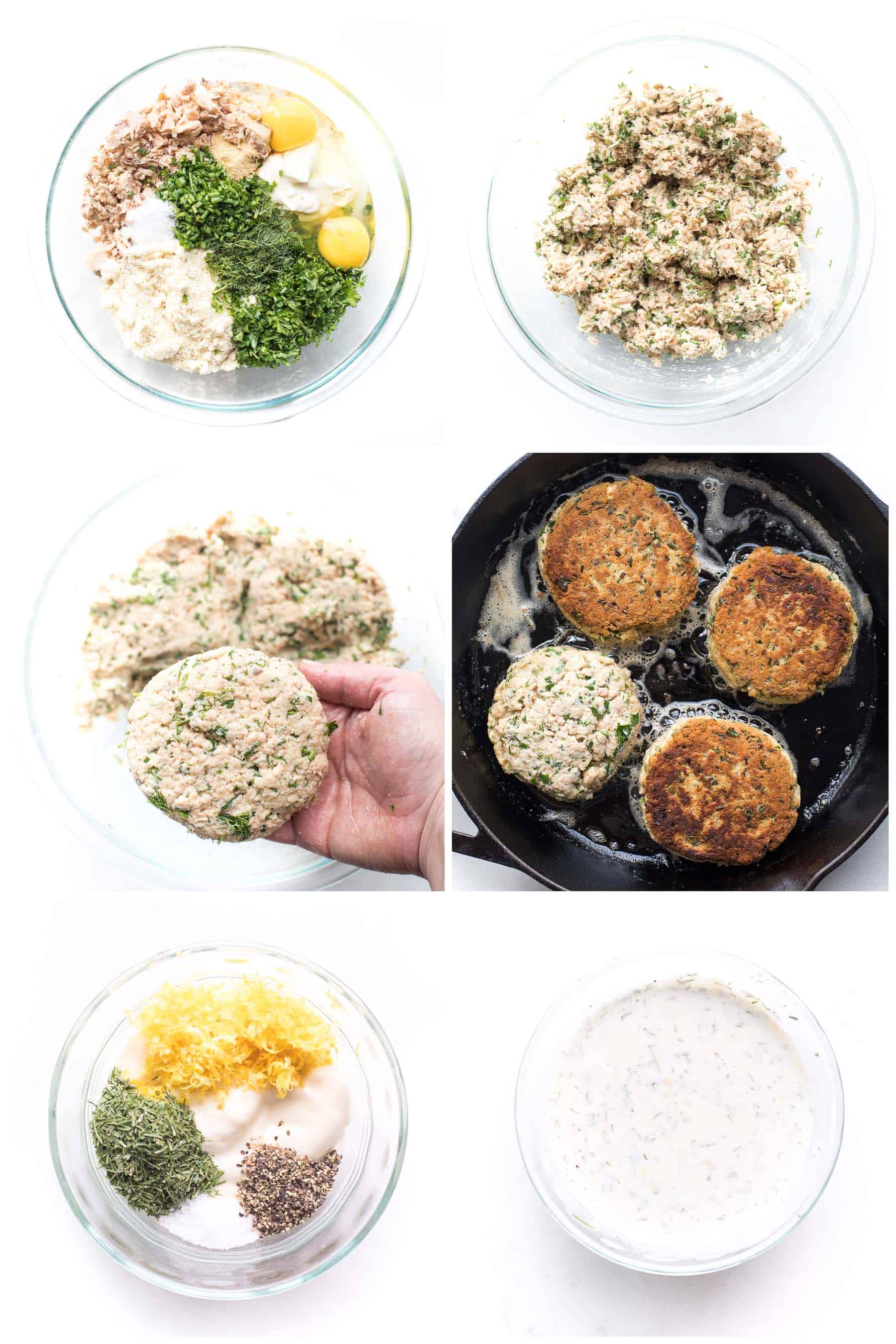 Ingredients in Whole30 + Keto Salmon Cakes
Salmon cakes are usually made with bread crumbs. But I swapped it for almond flour and it was perfect. I added in tons of fresh herbs to bring brightness to the salmon cakes, and some of my homemade mayo to keep it juicy.
While the salmon cakes are getting golden and perfect in the cast iron skillet, I whip up a fast lemon dill aioli to serve on top.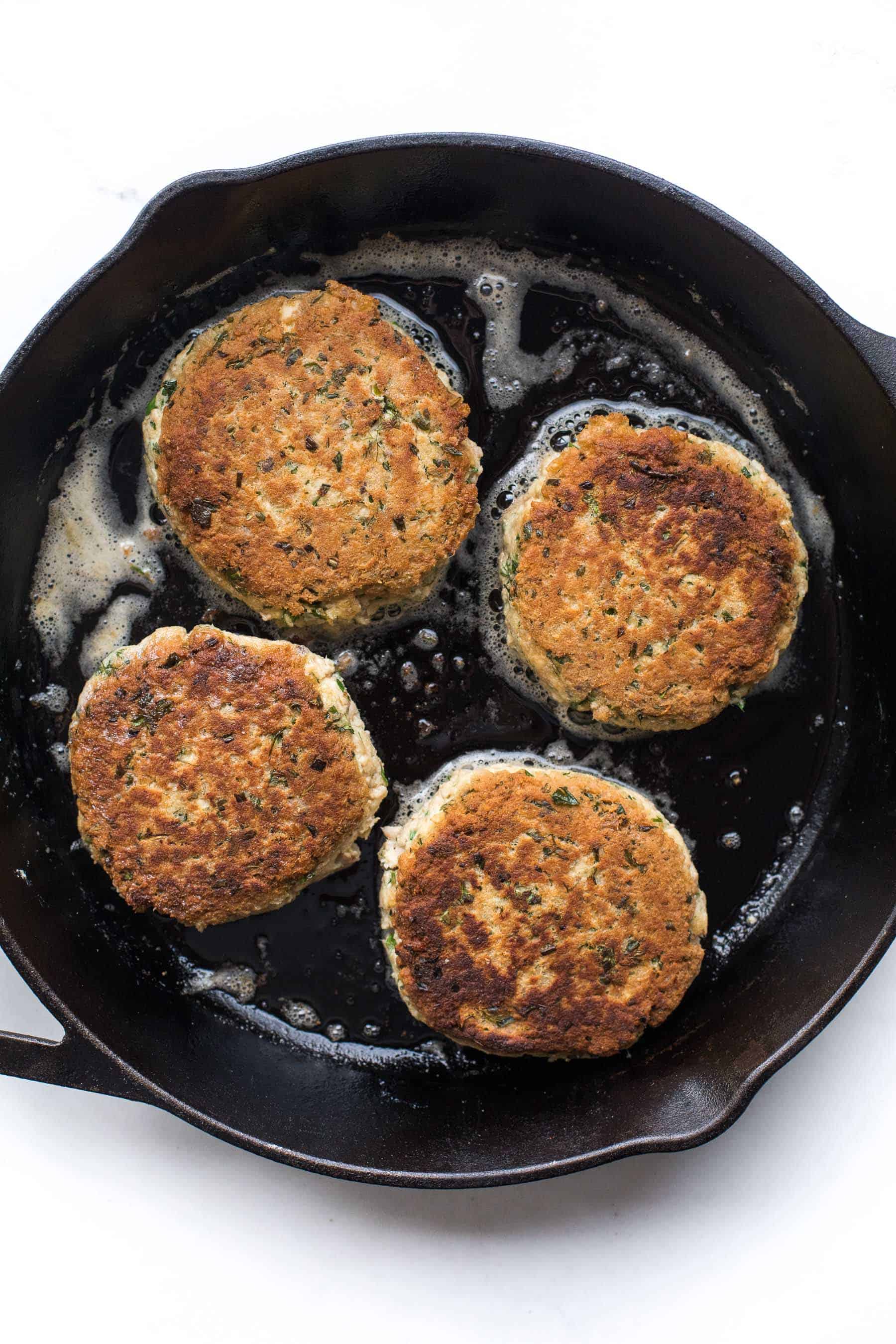 Since the salmon is already cooked, you're really just browning the cakes and warming it through.
This dinner honestly takes 20 minutes start to finish.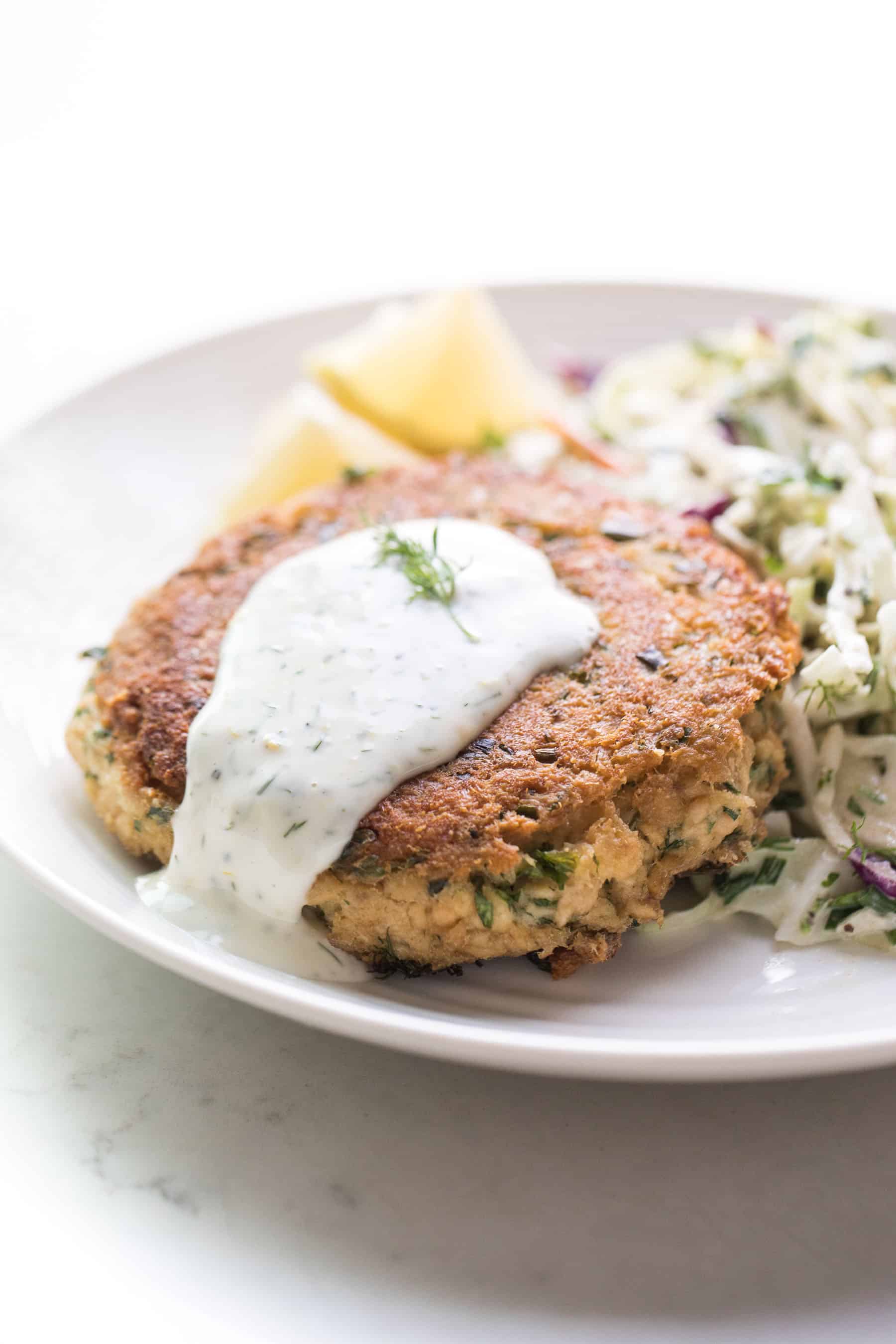 I'm going to have to insist you also make my whole30 + keto herby lemon coleslaw to go with it. It's kind of the perfect meal. You're already chopping herbs, just chop a few more for the coleslaw.
If you make the coleslaw and the salmon cakes together (which you really should), you'll need exactly 1 batch of my homemade whole30 + keto mayo for the coleslaw dressing, to use in the salmon cakes, and to make the lemon dill aioli. Don't you love when it works out like that?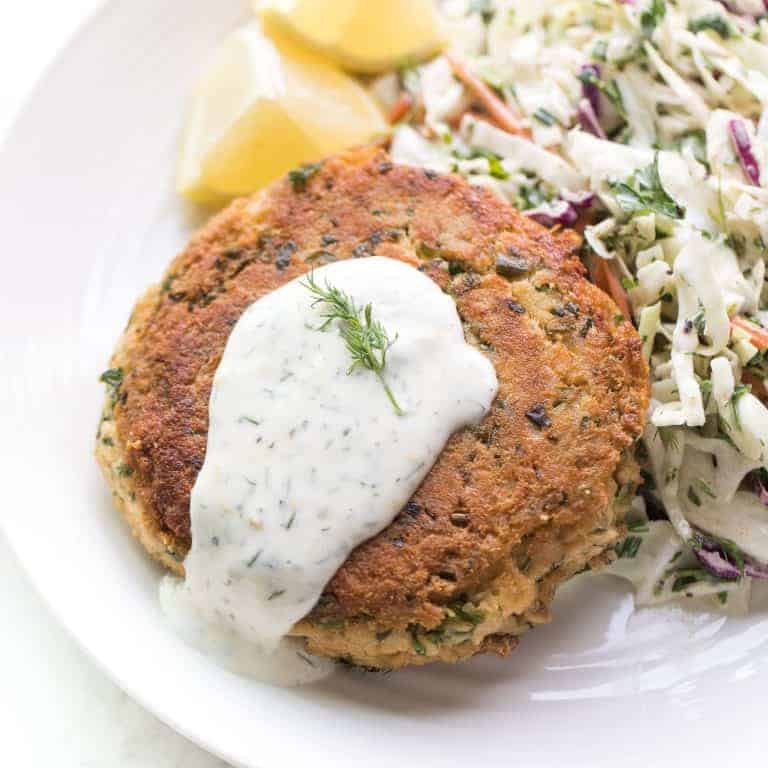 Whole30 + Keto Salmon Cakes with Lemon Dill Aioli
5g net carbs! A low carb healthy and delicious salmon cakes made from canned salmon, topped with a lemon dill aioli. Ready in 20 minutes!
Ingredients
3

6-ounce

cans wild alaskan salmon

drained and moisture squeezed out in a paper towel (see Notes)

1/2

cup

almond flour

1/4

cup

mayonnaise

2

eggs

2

tablespoons

fresh parsley

finely chopped

2

tablespoons

fresh dill

finely chopped

2

tablespoons

fresh chives

finely chopped

1

tablespoon

lemon juice

from about half a lemon

1

teaspoon

salt

1/2

teaspoon

garlic powder

1/4

cup

avocado oil
Instructions
Heat your cast iron skillet over medium heat.

In a large bowl, combine the salmon, almond flour, mayonnaise, eggs, parsley, dill, chives, lemon juice, salt and garlic powder. Stir to combine.

3 6-ounce cans wild alaskan salmon,

1/2 cup almond flour,

1/4 cup mayonnaise,

2 eggs,

2 tablespoons fresh parsley,

2 tablespoons fresh dill,

2 tablespoons fresh chives,

1 tablespoon lemon juice,

1 teaspoon salt,

1/2 teaspoon garlic powder

Divide the mixture into 4 to make larger patties, or use a large cookie scoop (3 tablespoons) to make about 12-15 smaller slider size patties. Use a moderate amount of pressure to press them together.

Add the avocado oil to your warm pan. Cook the patties over medium heat for 3-5 minutes, until crispy and golden brown. Use a spatula to gently flip the patties, and continue cooking for another 3-5 minutes until golden brown.

Remove from the heat and transfer to a wire rack to rest and cool for 3 minutes.

Leftovers will keep refrigerated in an airtight container for 5 days. These are surprisingly delicious served cold and crumbled over a salad.

See the Recipe Notes below for more tips, FAQ's and ingredient substitutions.
Jump to Video
Recipe Notes
Canned Salmon Tip: Be sure to read your can labels. Canned salmon can come with skin and bones in it, or skinless and boneless. The skin and bone is more nutritious! The skin and bones dissolve when mixed together. But it definitely doesn't look the most appetizing. Look for "skinless + boneless" canned salmon if preferred.
Substituting Canned Tuna, Crab or Chicken: You can definitely use canned tuna, crab or chicken in place of canned salmon. You'll need the same amount, 18 ounces in total drained and all moisture squeezed out.
Using Fresh Salmon: I've made this using raw salmon that I've pulsed in my food processor. It just not as good. I actually prefer using canned salmon. I think the canned salmon is juicier from being packed in water. You could for sure use leftover cooked salmon to make these. For this recipe amount, you would need 18-ounces worth. Roughly 1.5 cups cooked and finely chopped salmon. It *may* need a little more mayonnaise to keep it juicy since it wasn't packed in water.
Nut Free/Almond Flour Substitute: If you need this to be nut free, you can use pork rind panko! Or, if you don't need it to be Whole30 + Keto you can use regular or gluten free panko or bread crumbs.
Dried Herbs: In a pinch, you could use dried herbs. But I really love the fresh herbs, adds tons of brightness.
Make Ahead: You can assemble the salmon cakes batter and store in the fridge covered in an airtight container for up to 3 days. Form patties and cook when ready.
Leftovers: Store in an airtight container for up to 5 days in the refrigerator. These are delicious served cold. If you want to warm the salmon cakes either microwave until warm, about 2-3 minutes (I like to sprinkle on a little water to help it steam and prevent it from drying out). Or reheat in a 350ºF oven until warm, 8-12 minutes. But careful, because microwaved fish smells really strong.
Nutrition
Calories:
360
Total Carbs:
5.3
g
Protein:
32.2
g
Fat:
25.7
g
Fiber:
0.4
g
Net Carbs:
5
g
Nutrition facts are calculated as a courtesy and not guaranteed.
Did You Make This Recipe?
Please leave a comment and give this recipe a rating!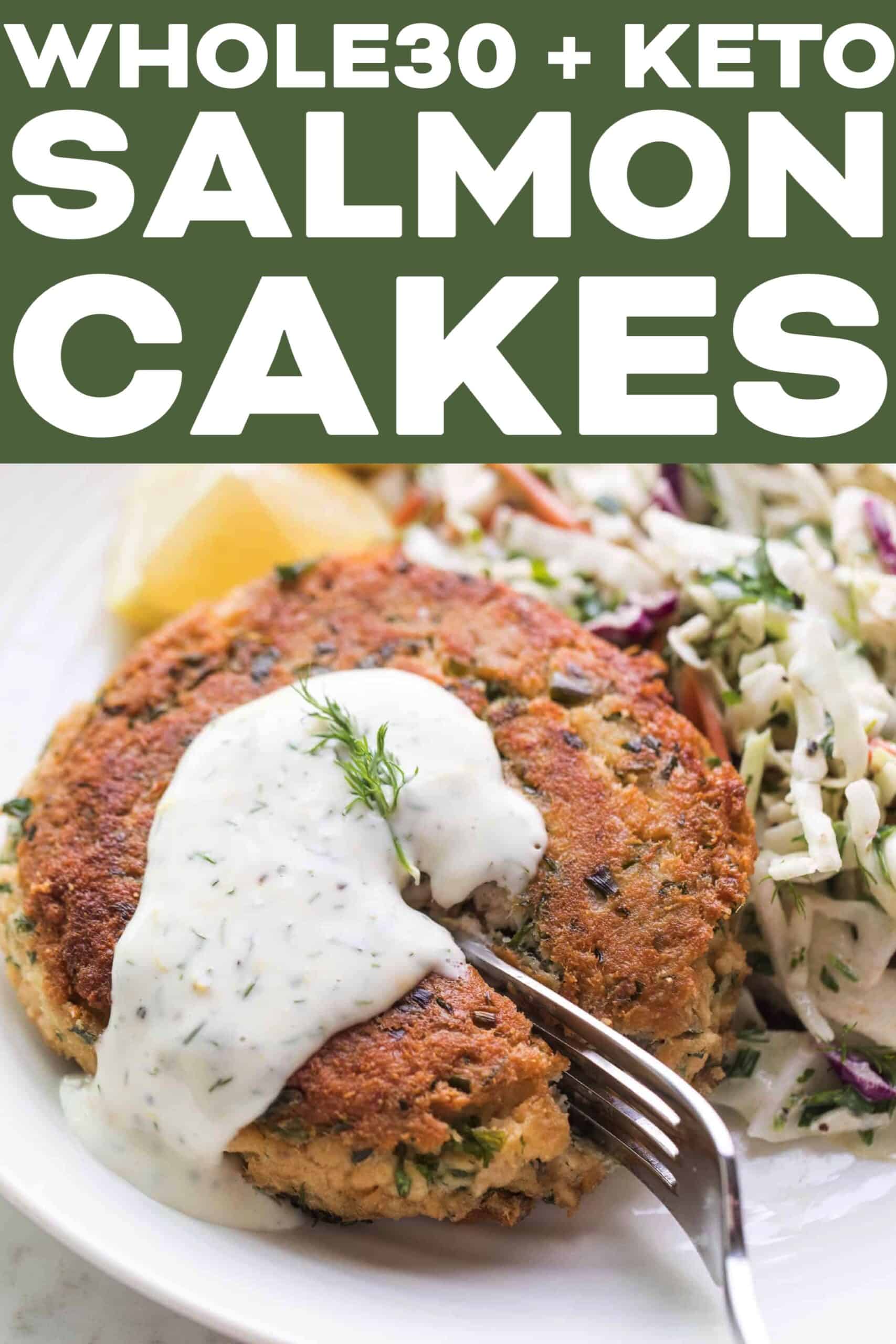 This post contains affiliate links, thanks for the love!