Crispy Baked Honey Mustard Chicken
Crispy oven baked honey mustard chicken – chicken breasts smothered in honey mustard sauce, topped with panko bread crumbs, and baked in the oven until golden and crispy. An easy and tasty 30 minute chicken dinner the whole family will love.
I never had any major food cravings when I was pregnant. Which is weird, because I love food so much I assumed I would love it even more. It was nothing like in the movies, where the girl wakes up in the middle of the night and needs to have nachos RIGHT NOW.
But there was one…incident…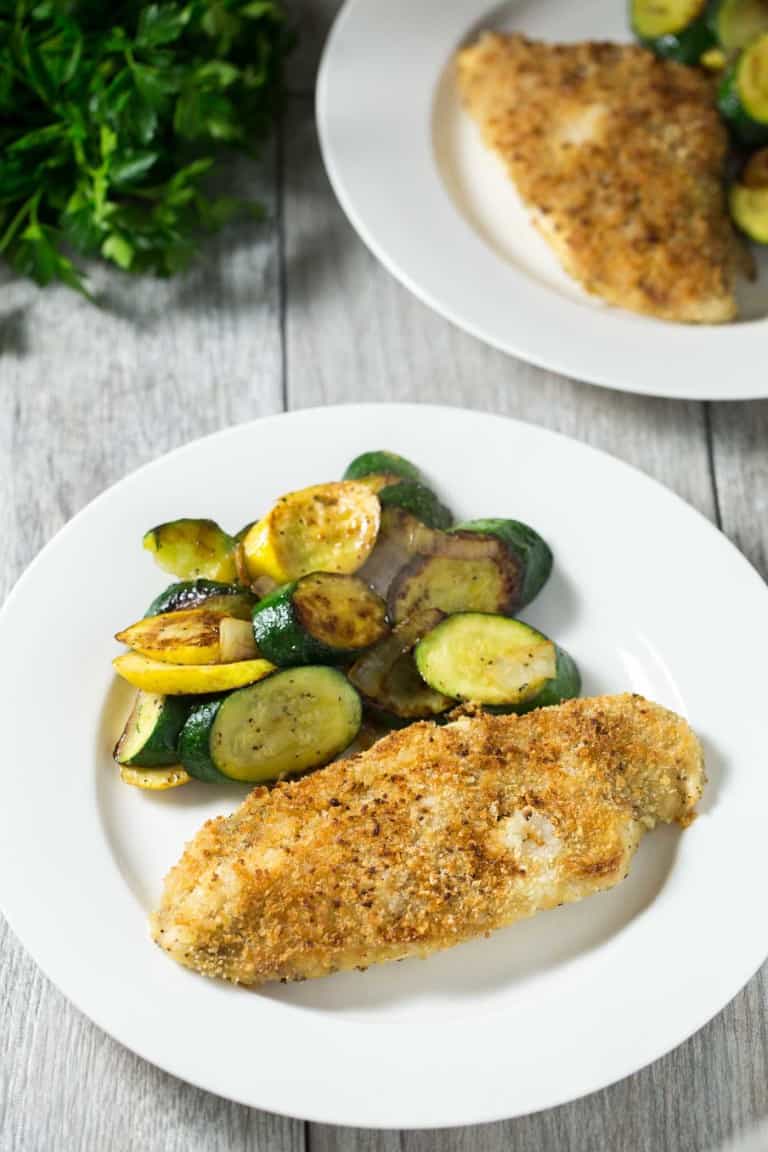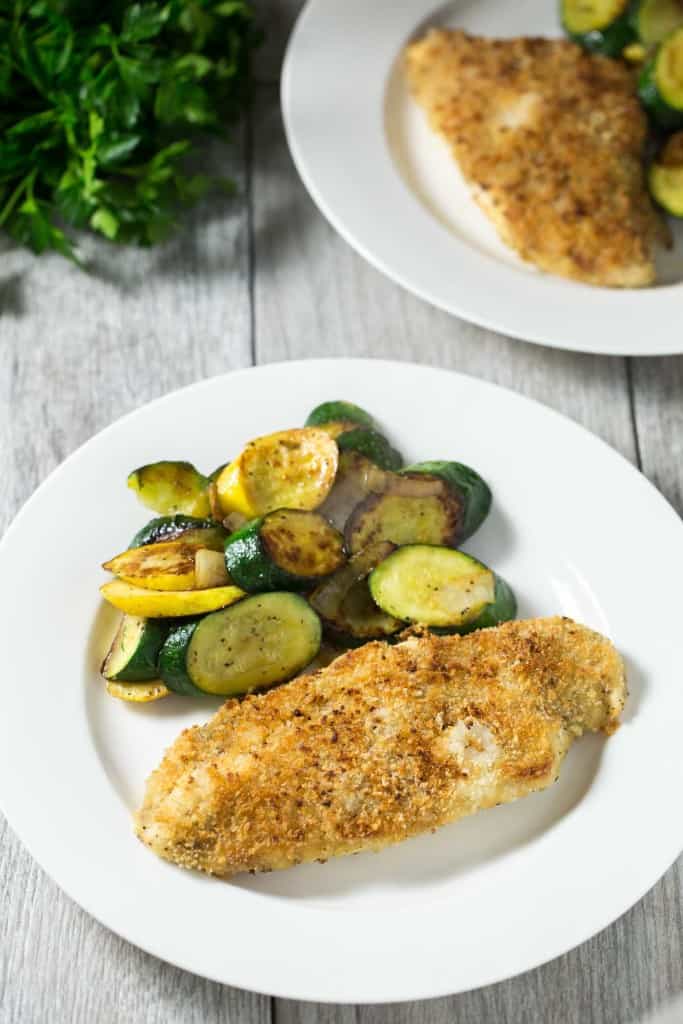 Early in my second trimester, after all my morning sickness was gone, I really wanted chicken nuggets. So after work, I went to the Wendy's drive thru and ordered a 10 piece (yes, TEN piece) chicken nugget, french fries and honey mustard sauce. Wendy's really does have the best chicken nuggets, and I love their honey mustard sauce.
I pulled over in the parking lot, and proceeded to eat the entire thing, in my car, all alone. And it was amazing.
Then I went home and cooked dinner 2 hours later, and ate all my dinner too. How it is possible that I only gained 15 pounds during my pregnancy is a mystery to me.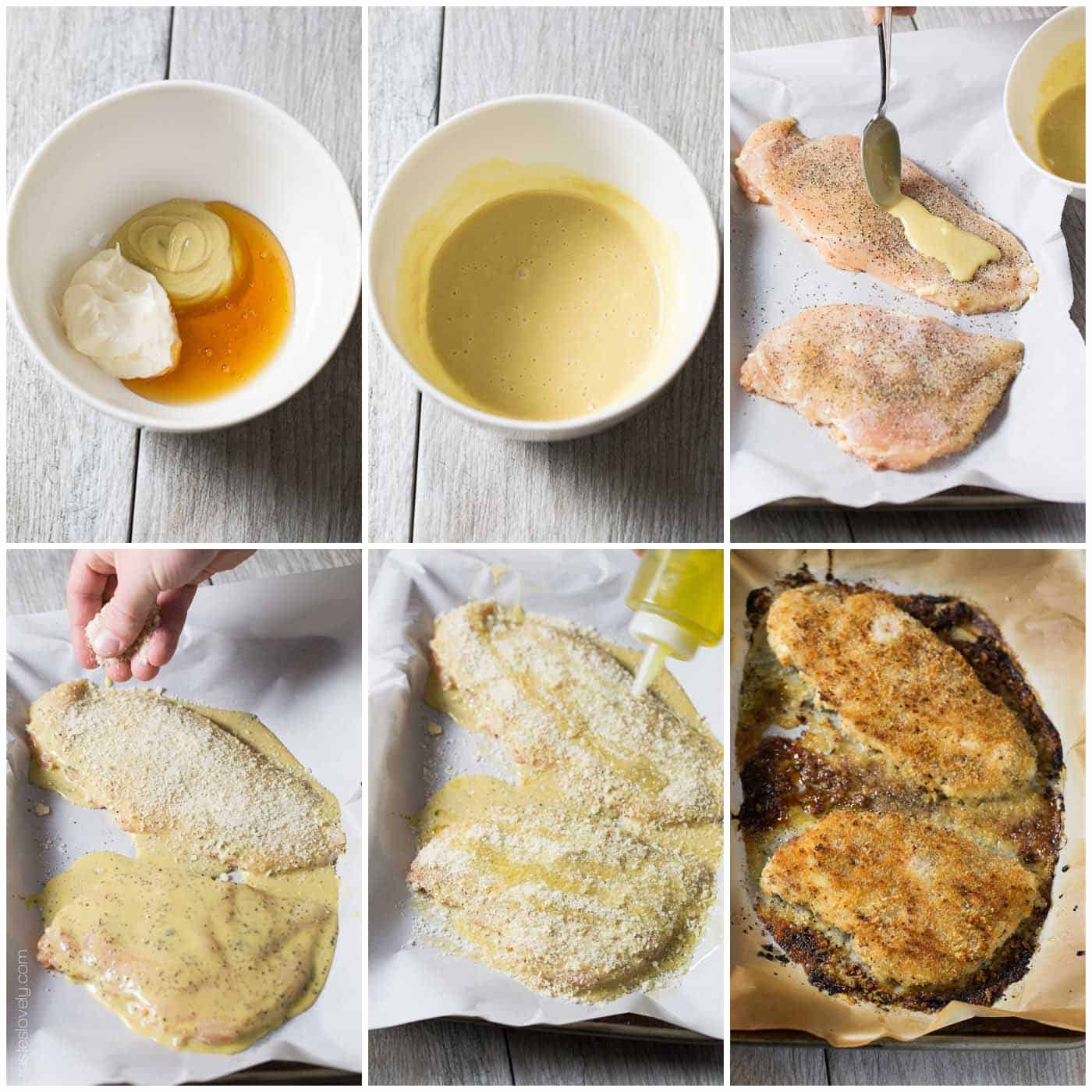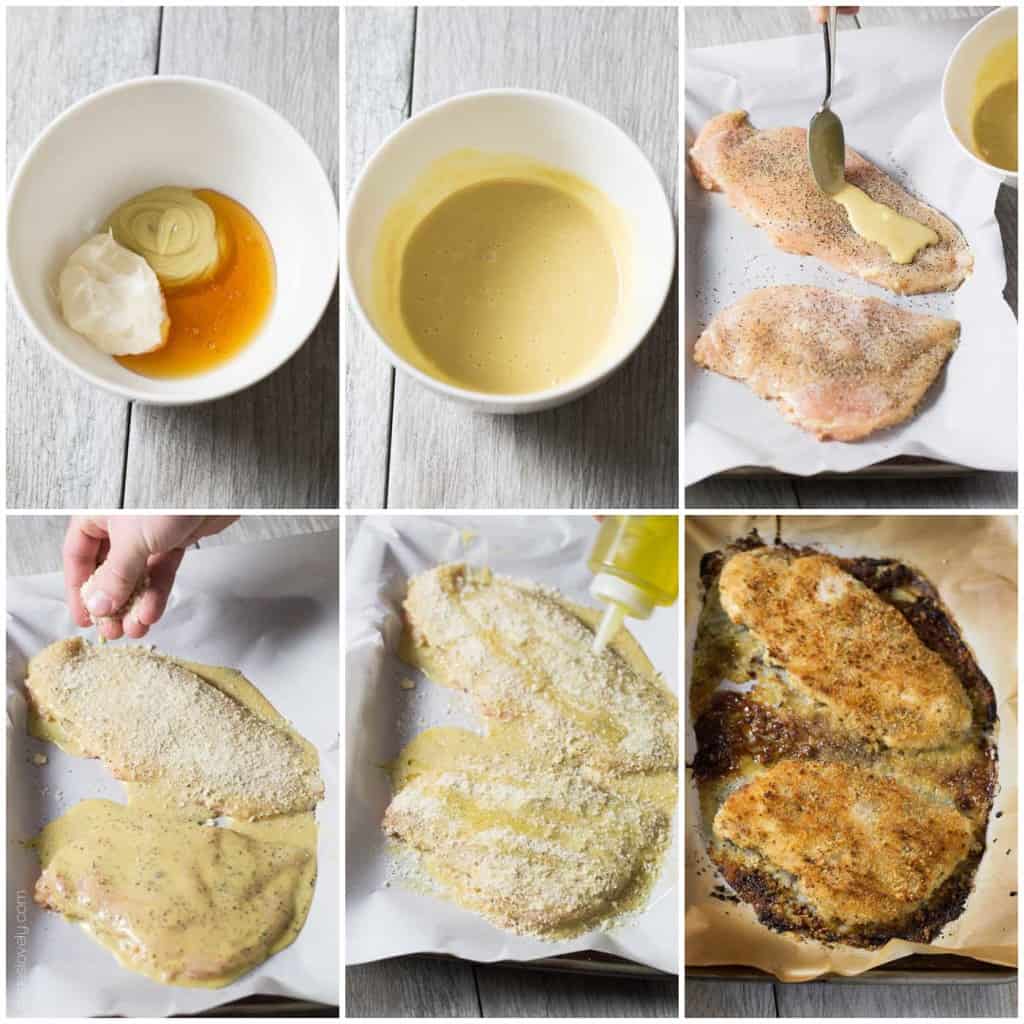 This crispy baked honey mustard chicken is my "fancy" version of those chicken nuggets and honey mustard sauce. Rather than risk being seen by someone I know eating chicken nugget after chicken nugget in the fast food parking lot, now I can make a grown up version of it at home.
The taste is amazing. Adults love this crispy baked honey mustard chicken, and kids really love it. It's like a healthier, tastier, grown up chicken nugget!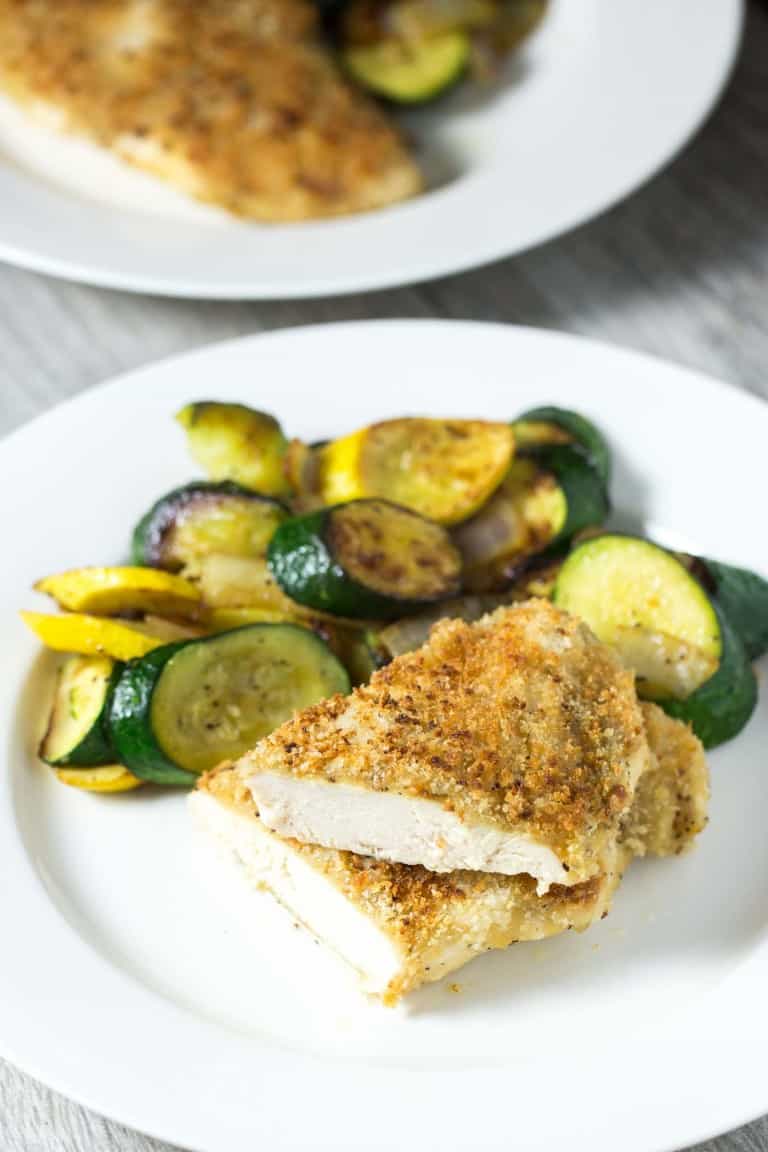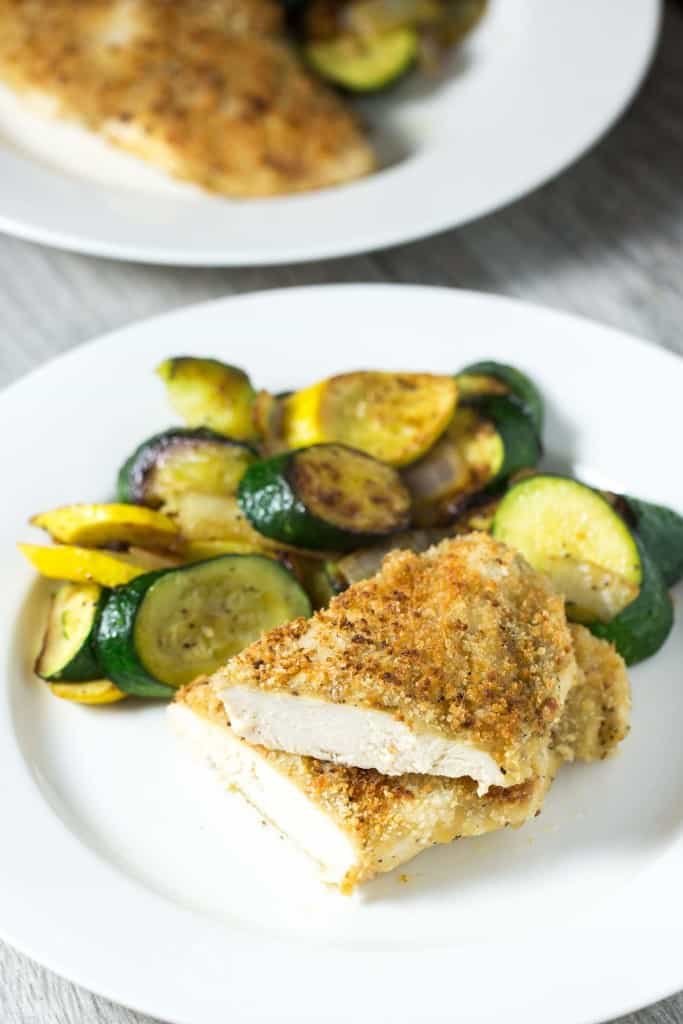 I took a lot of inspiration from my crispy baked pesto chicken when creating this recipe. It couldn't be more simple. You just smother the chicken breasts with a homemade honey mustard sauce, then top that with panko bread crumbs drizzled with olive oil, and bake it in the oven for about 20 minutes. The prep is less than 5 minutes, so the whole recipe is ready in under 30 minutes. Such an easy weeknight dinner.
You can eat this crispy baked honey mustard chicken as is. But if you're like me, and like feeling a bit child like, you can make a second batch of the homemade honey mustard sauce and serve it on the side to dip the chicken in. Delicious!
Print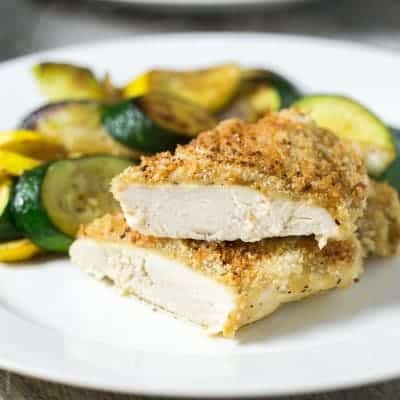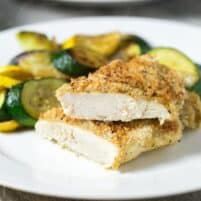 Crispy Baked Honey Mustard Chicken
---
Author:

Prep Time:

5 mins

Cook Time:

20 mins

Total Time:

25 mins

Yield:

4

1

x
4

boneless, skinless chicken breasts

2 teaspoons

salt

2 teaspoons

pepper

1/4 cup

dijon mustard

3 tablespoons

honey

2 tablespoons

mayonnaise
roughly

3/4 cup

panko bread crumbs

1 tablespoon

olive oil
---
Instructions
Preheat oven to 425 degrees with the oven rack in the upper third. Line a baking sheet with parchment paper.
In a small mixing bowl, combine the dijon mustard, honey and mayonnaise. Set aside.
Using a meat mallet (or a metal soup ladle), lightly pound the chicken until it is an even thickness. (This will make the chicken cook evenly, and help the sauce and panko topping adhere without falling off.)
Put the chicken on the parchment lined baking sheet. Season the chicken with salt and pepper, and top with the honey mustard sauce. Then top with enough panko bread crumbs to cover the top of the chicken. Drizzle the panko bread crumbs with olive oil (to help them get brown and crispy in the oven).
Bake in the oven for about 20 minutes, until the chicken reaches an internal temperature of 165 degrees. If the bread crumbs didn't get golden brown enough, you can turn the oven on broil and let it toast the topping for about 1-2 minutes. Really watch it so the chicken doesn't get burnt!
Let rest for 2 minutes, then serve warm.
Also, not necessary, but I often double the honey mustard sauce so I can serve it on the side along with the baked chicken as a dipping sauce. So good!
I use this meat thermometer and *love* it! Now I never have to worry about my meat being over or under cooked. Highly recommend!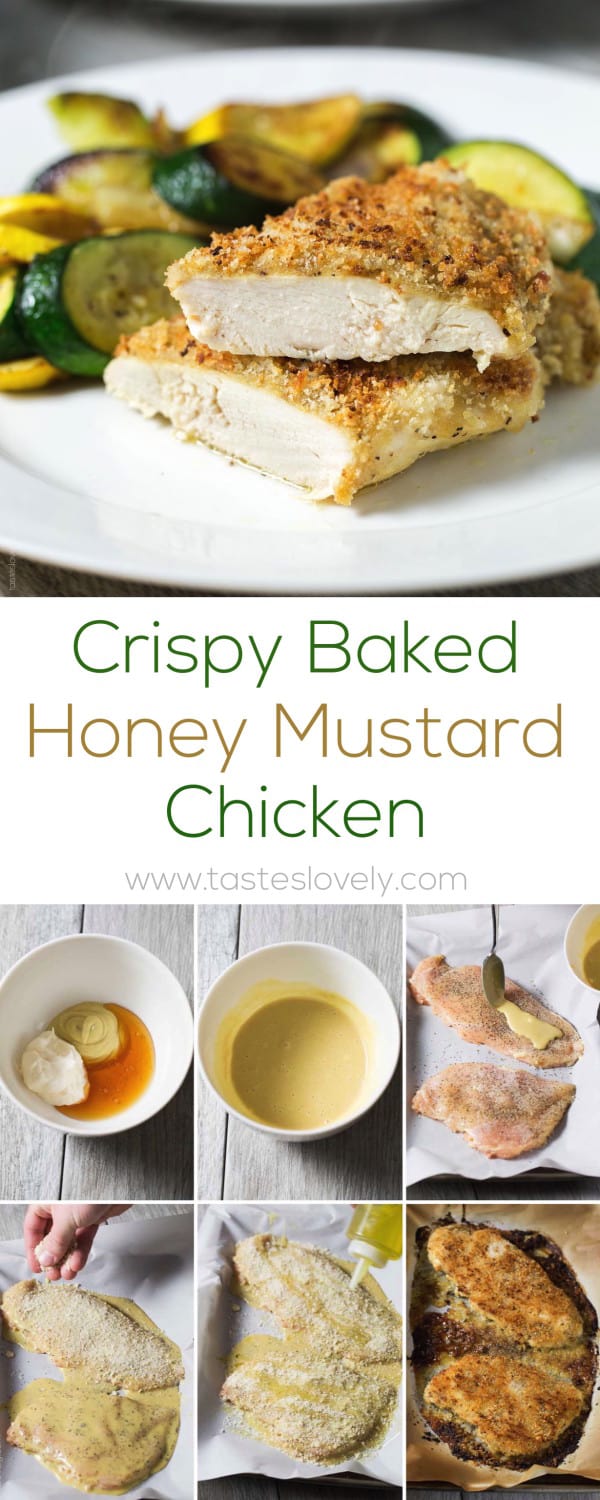 More Chicken Recipes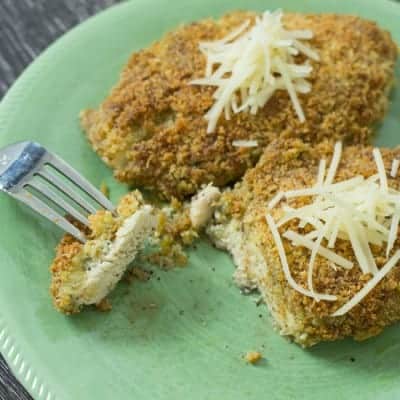 Crispy Baked Pesto Chicken Parmesan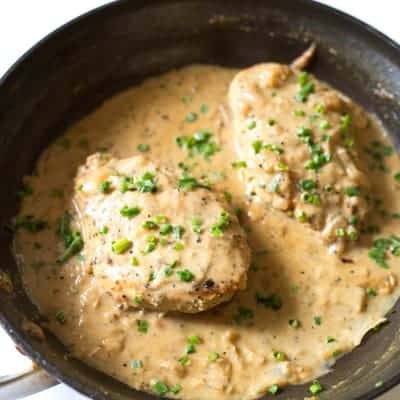 Creamy Mustard Chicken Skillet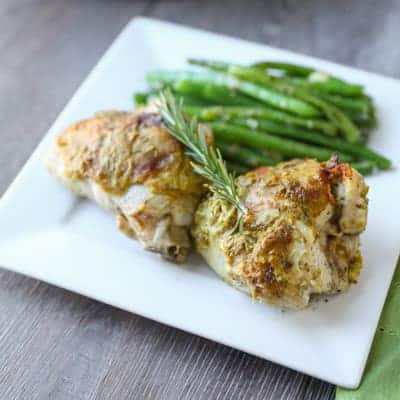 Rosemary Mustard Skillet Roasted Chicken
This post contains affiliate links. Thanks for the love!