Dairy Free Peanut Butter Cookies
The BEST dairy free peanut butter cookies! You just need 1 bowl and 6 ingredients. Couldn't be easier! Plus, these peanut butter cookies are flourless, so they're also gluten free.
***I've made an even healthier version of this cookie – Paleo Almond Butter Cookies!***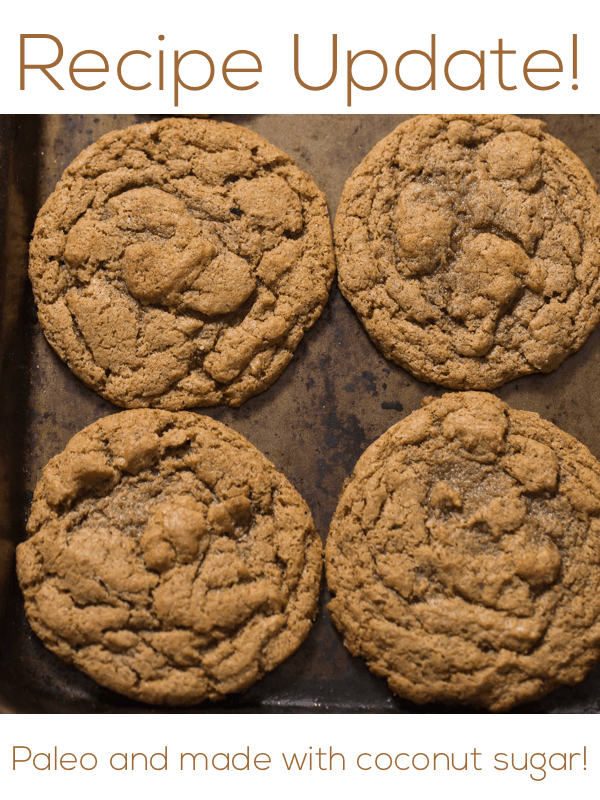 Did you all spend the last few days watching Fuller House on Netflix? Good. Me too.
Full House was my favorite show when I was little. My sister and I would watch them every Friday night.
Which is why I was SHOCKED when Shawn told me he had never seen an episode. Huh?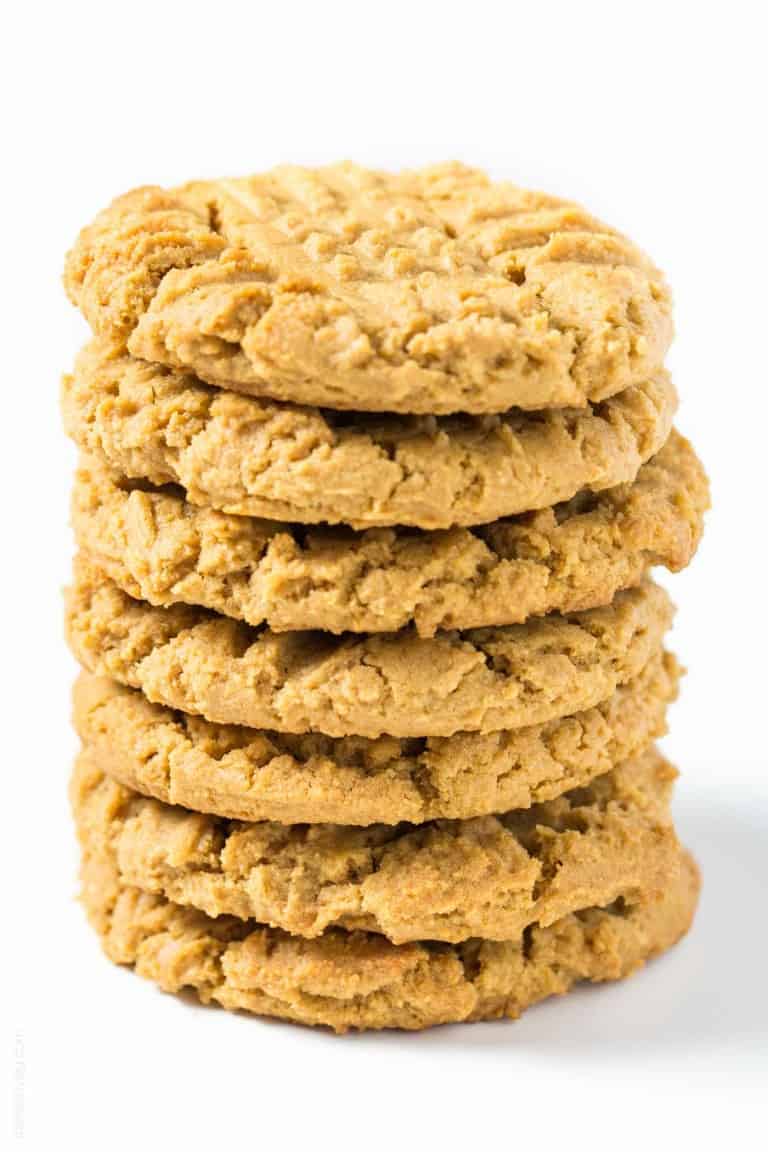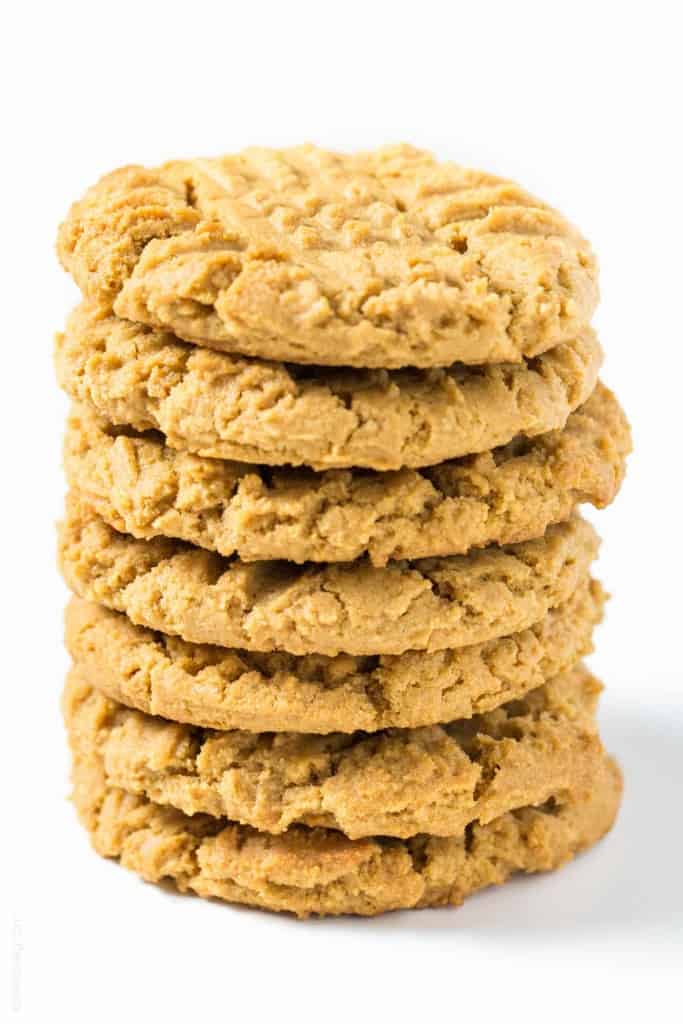 I started recording all the old episodes, which are on Nick at Nite. Followed by Friends reruns. Which makes me feel so old.
When I was little, Nick at Nite was for I Love Lucy and The Mary Tyler Moore Show. Now it's my childhood shows. But hey, I'll take it.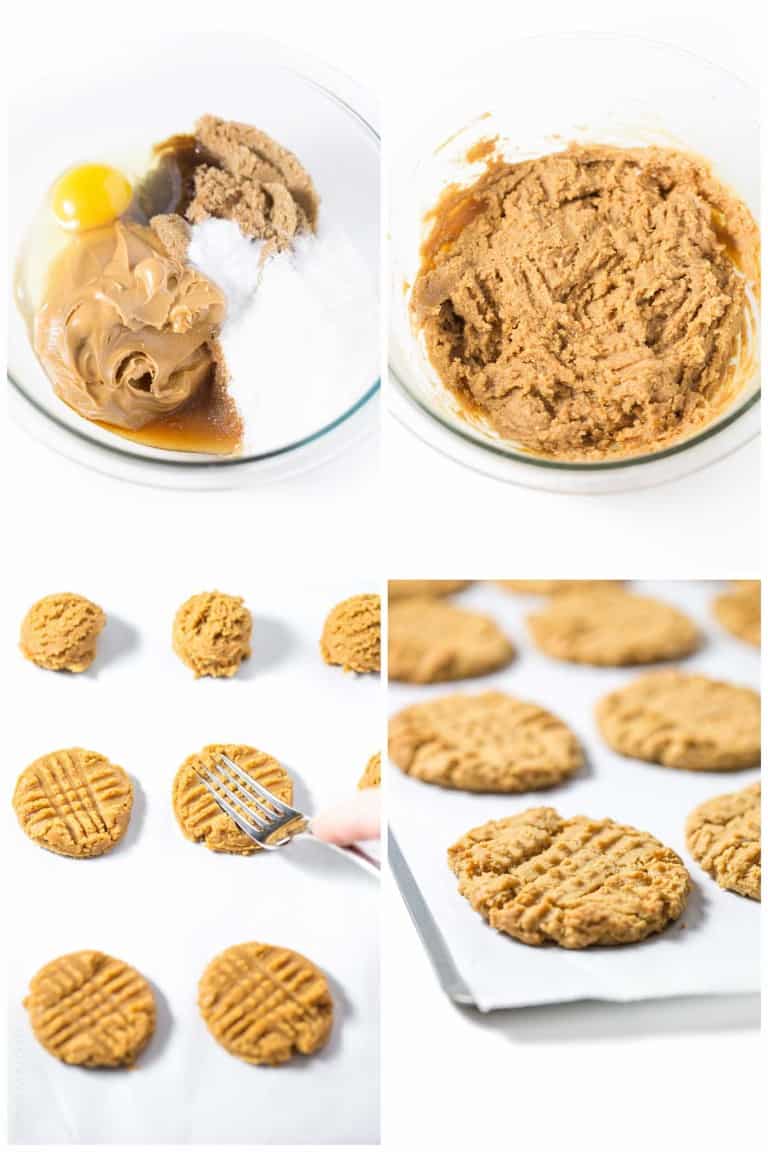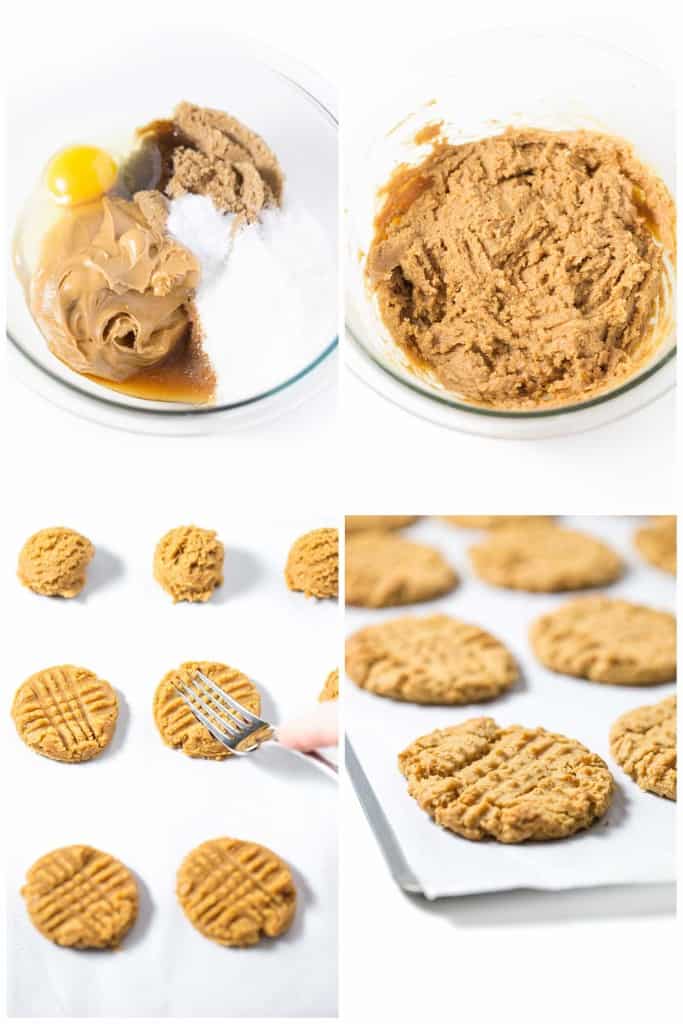 Now, when the baby goes to sleep at 8, Shawn and I will stay up and watch a few episodes together. They're just as good as I remember. It's interesting watching it back now as a grown up and a mom. Those 3 guys did a great job raising those girls.
Shawn loves them too. It's like reliving 1993 all over again.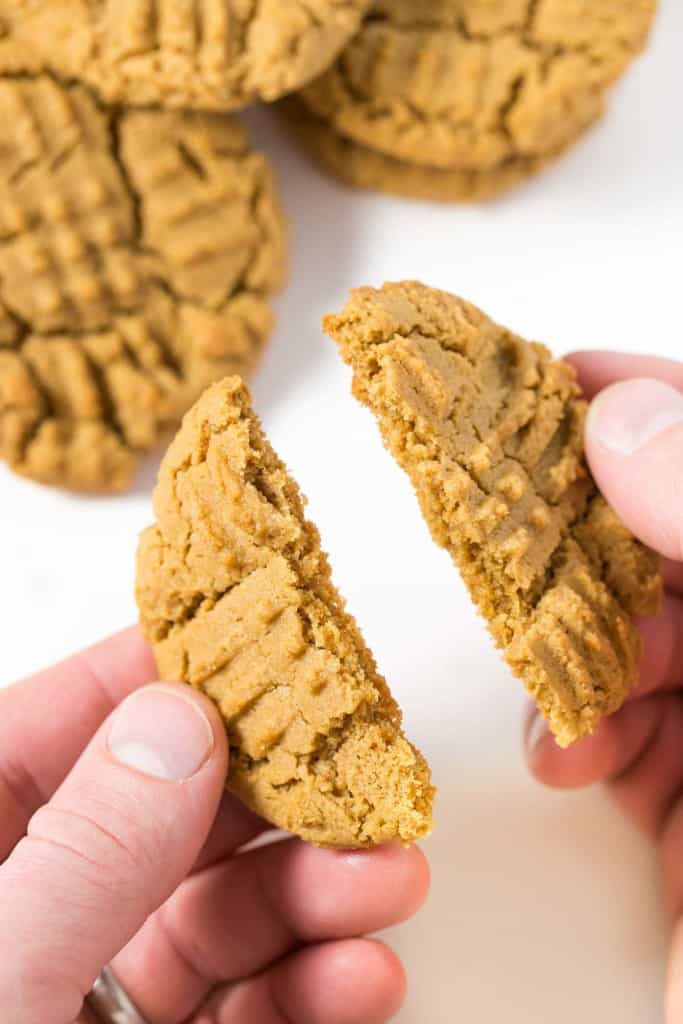 To make our TV watching even more enjoyable, I'll make us a fresh batch of these dairy free peanut butter cookies, which are currently my absolute favorite cookie to make.
They are so delicious, and couldn't be easier to make! Just 6 ingredients: peanut butter, white sugar, brown sugar, vanilla, baking soda and 1 egg. All things I am sure you have in your kitchen right now.
And yes, you read that right. No butter. No flour. The peanut butter has enough fat to do just fine without them. I was skeptical at first, but now I am a convert.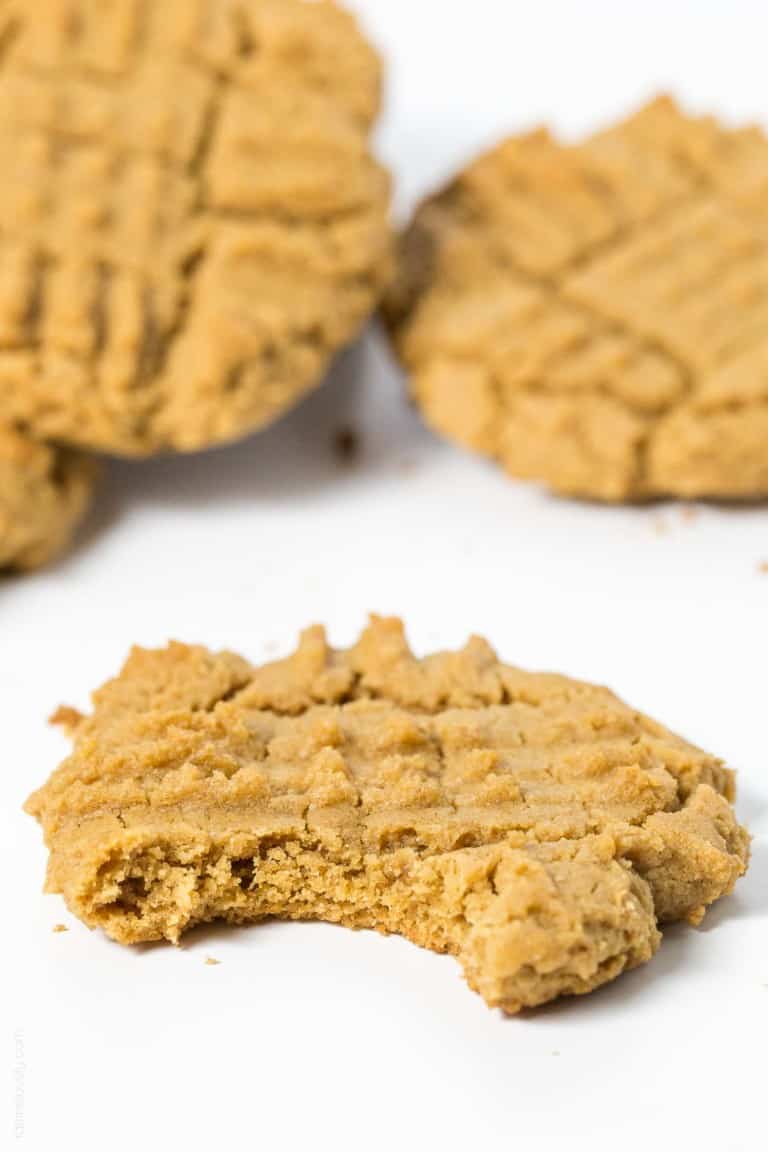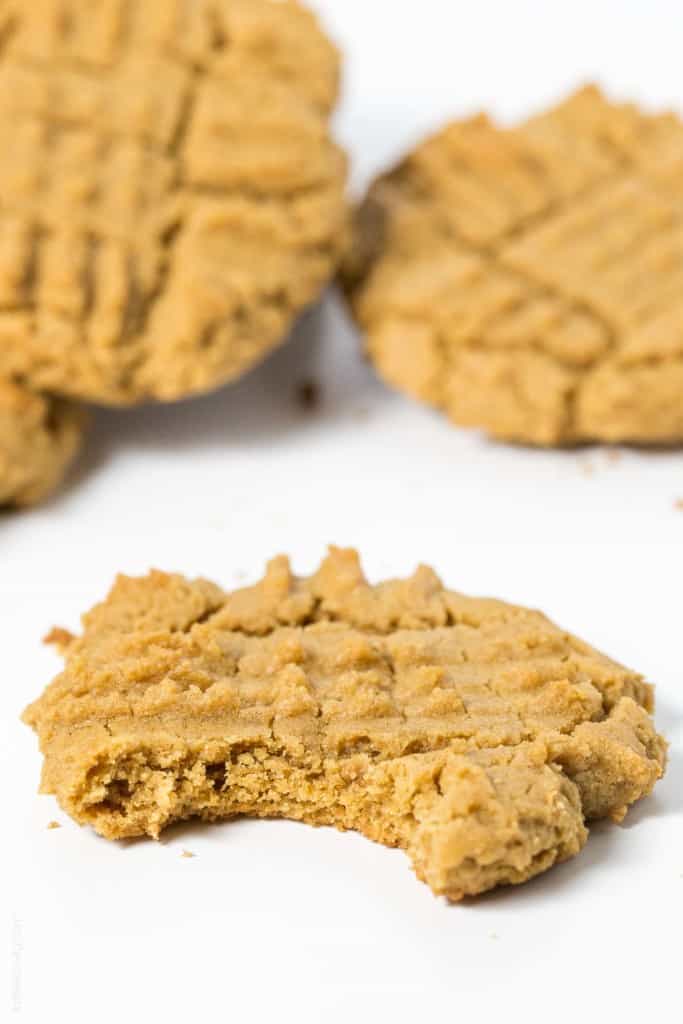 I love this cookie recipe because it really is easy and fast to make. No stand mixer, no chilling the dough, no waiting for butter to soften. At any point in the day, you are less than 30 minutes away from freshly baked dairy free peanut butter cookies. Just throw the 6 ingredients in a bowl, stir, scoop, press them with a fork to give them that signature criss-cross pattern, bake, enjoy.
It's actually TOO easy. I'm not kidding when I tell you I'm making a batch of these dairy free peanut butter cookies every other night. It's becoming a problem. We're going through 2 gigantic tubs of Skippy peanut butter I get at Costco a month.
Watch Peanut Butter Cookie Recipe Video (0:48 mins)
Print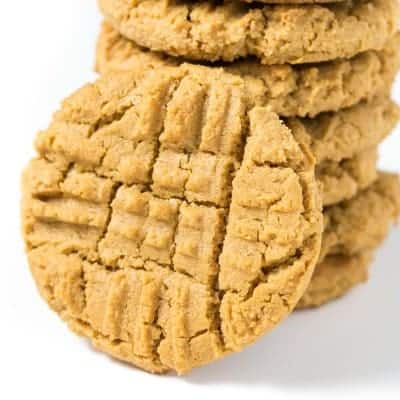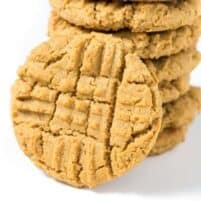 Dairy Free Peanut Butter Cookies
---
Author:

Total Time:

20 mins

Yield:

18

cookies

1

x
1 cup

creamy peanut butter (Skippy is the best!)

1/2 cup

granulated white sugar

1/2 cup

brown sugar

1 teaspoon

baking soda

1 teaspoon

vanilla

1

egg
---
Instructions
Preheat oven to 350 degrees with the oven racks in the upper and lower third. Line 2 cookie sheets with parchment paper.
Combine all ingredients in a medium size mixing bowl. Stir to combine.
Use a medium size cookie scoop to scoop out the dough (1.5 tablespoon size balls). Put 9 cookies per sheet. Use a fork to make cross hatches on top of the dough.
Bake for 8-10 minutes, until the edges are set and the centers are slightly puffed up. Rotate the cookie sheets half way thru baking. Cool on the cookie sheet for 5 minutes before eating.
Leftovers will keep in an airtight container for 1 week.
Prep Time:

10 mins

Cook Time:

10 mins