Crispy Baked Pesto Chicken Parmesan
I do a majority of my clothes shopping online. It's just easier for me. I hate schlepping all around the mall, trying on clothes in those dressing rooms with lighting from hell. Plus, I'm the queen of online promo codes. Most things I buy work great, but there are always a few things that don't work and have to go back. Yesterday, I went to return a few things at the store, and I think the Gap sales girl was being rude to me? Help me decide.
I walk up to the counter with my items, which are obviously in an "online order" shipping bag. As soon as I get to the counter she says semi sweetly, semi condescendingly, "Do you return everything you buy online?" Kind of weird, right? So I reply, "No, just the things that don't work." She answers by saying, "I never buy anything online, because I hate to be that person returning them to the store." Ummm, ok? My receipt clearly says I can return online items to the store. Not sure what the big deal is.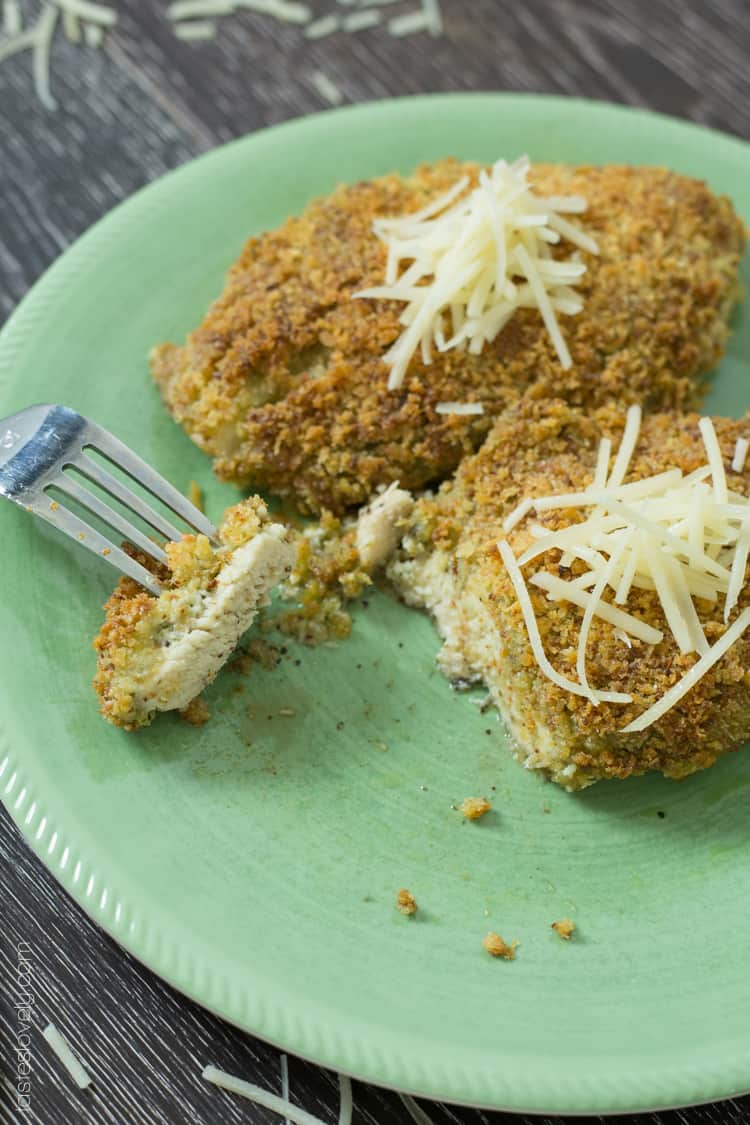 On an order invoice that was 3 pages long, I only returned 3 jeans and 2 shirts. As she's scanning them in she asks me, "So, is this what you do at work all day when you're bored? Buy things online and then return them?" Huh? I just looked at her with a raised eyebrow, confused. Is she being rude? Or is this her version of chit chat? It feels kind of rude. I think she is return shaming me! I didn't answer her. She then got really quiet, and looked down. I couldn't wait to get out of that store.
After I left, I kept thinking of things I should have said. I can always think of great comebacks after the fact. But in the end, I'm glad I just kept quiet. Not worth my time or energy to get worked up over her.
What would you have done?
After I got home, I consoled myself by making this healthy but comforting crispy baked pesto chicken parmesan. I just love this recipe! It's similar to the chicken parmesan you serve with red sauce, but with pesto. And healthy because it is baked instead of fried.
The chicken breast is smothered in a creamy pesto sauce, and then topped with a crispy, crunchy mixture of panko bread crumbs and parmesan. Throw it in the oven to bake, and it is ready for you in 20 minutes. I've had a few chicken parmesan recipes where you cut into the chicken and the whole crispy coating comes off. Not this pesto chicken parmesan. The panko and parmesan mixture stays put as you cut into it, giving you a crispy crunch with every bite.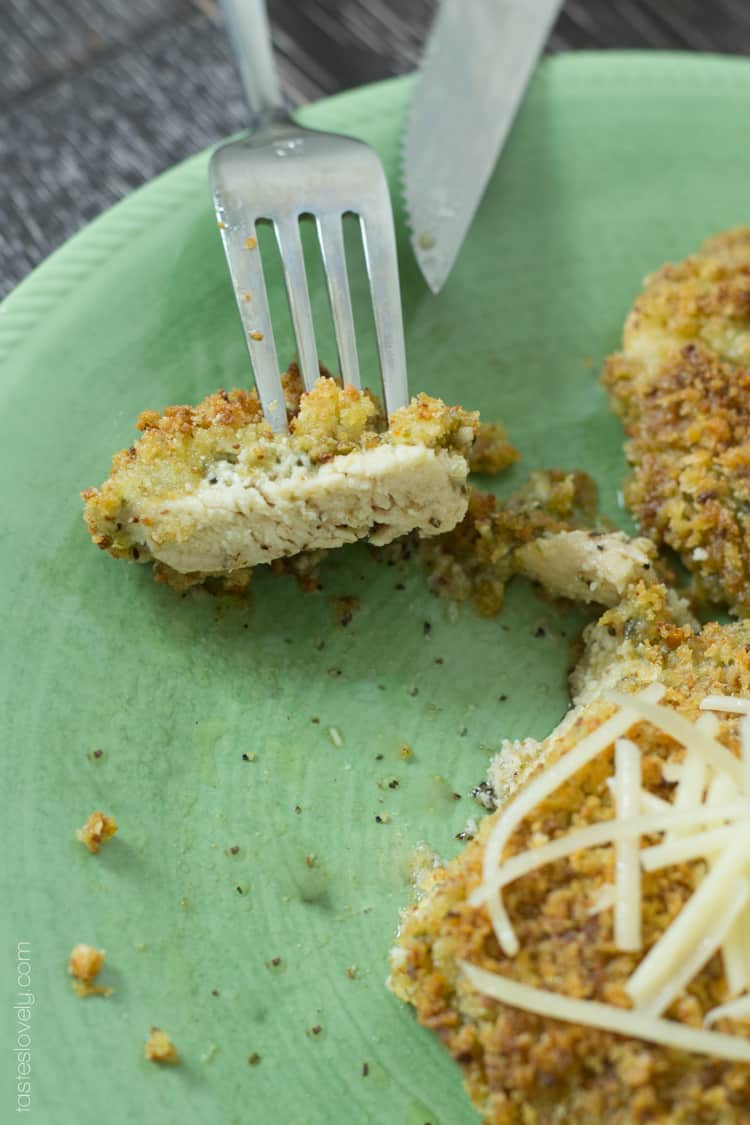 It is a great weeknight meal you can have ready in a snap. Serve it with this 15 creamy pesto pasta, and you will be in pesto heaven. Oh, it's just so good! You should probably make this for dinner soon.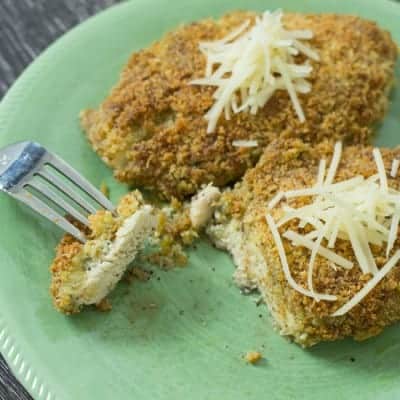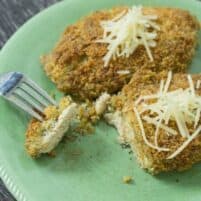 Crispy Baked Pesto Chicken Parmesan
Chicken breasts are topped with a pesto aioli and a crispy coating, then baked in the oven.
Ingredients
1/4

cup

pesto

1/4

cup

mayonnaise

1/4

cup

panko bread crumbs

1/4

cup

grated parmesan cheese

1

tablespoon

olive oil

salt and pepper
Instructions
Preheat oven to 425 degrees with the rack in the upper third.

In a small bowl, stir to combine the mayonnaise and pesto. In a separate small bowl, toss to combine the panko bread crumbs and parmesan cheese.

Using a meat mallet (or I use my metal soup ladle), lightly pound the chicken until it is an even thickness. This will make the chicken cook evenly, and help the panko parmesan topping adhere.

Season the chicken with salt and pepper. Evenly spread the pesto mixture on the top of each chicken breast, then top with panko parmesan topping. Lightly press the topping into the pesto mixture, then drizzle with olive oil. Transfer the chicken to a baking sheet, and bake for 20 minutes, or until the internal temperature** of the chicken reaches 165 degrees.
Notes
This may sound weird, but the mayonnaise makes the chicken so creamy and moist. You'll love it, I promise!
I love using my meat thermometer. It's a kitchen gadget I can't live without. Now I never worry about undercooking or overcooking meat. Highly recommend!
I get my chicken from ButcherBox, which
I highly recommend
Calories:
608
,
Total Carbs:
12.1
g
,
Protein:
32.9
g
,
Fat:
46.9
g
,
Fiber:
1.1
g
,
Net Carbs:
11
g
Did you make this recipe?
Please Leave a comment and give this recipe a rating!
This post contains affiliate links, thanks for the love!