Homemade Cauliflower Rice (Paleo, Whole30)
Paleo, Whole30, Keto Perfect Homemade Cauliflower Rice – a delicious and healthy side dish, you'll think you're eating rice! Gluten free, grain free, dairy free, sugar free, low carb, vegan, clean eating, real food.
I make this paleo cauliflower rice at least twice a week. I can't believe I've never shared it before! It is a major staple in our house.
I used to buy cauliflower rice that was pre chopped from Trader Joe's or Whole Foods, and was never crazy about it. It was too mushy, and there was no way I could pretend it was rice.
But then, I started making it myself using a food processor. Huge difference! Now it really does taste like rice! Plus, it's a whole lot cheaper.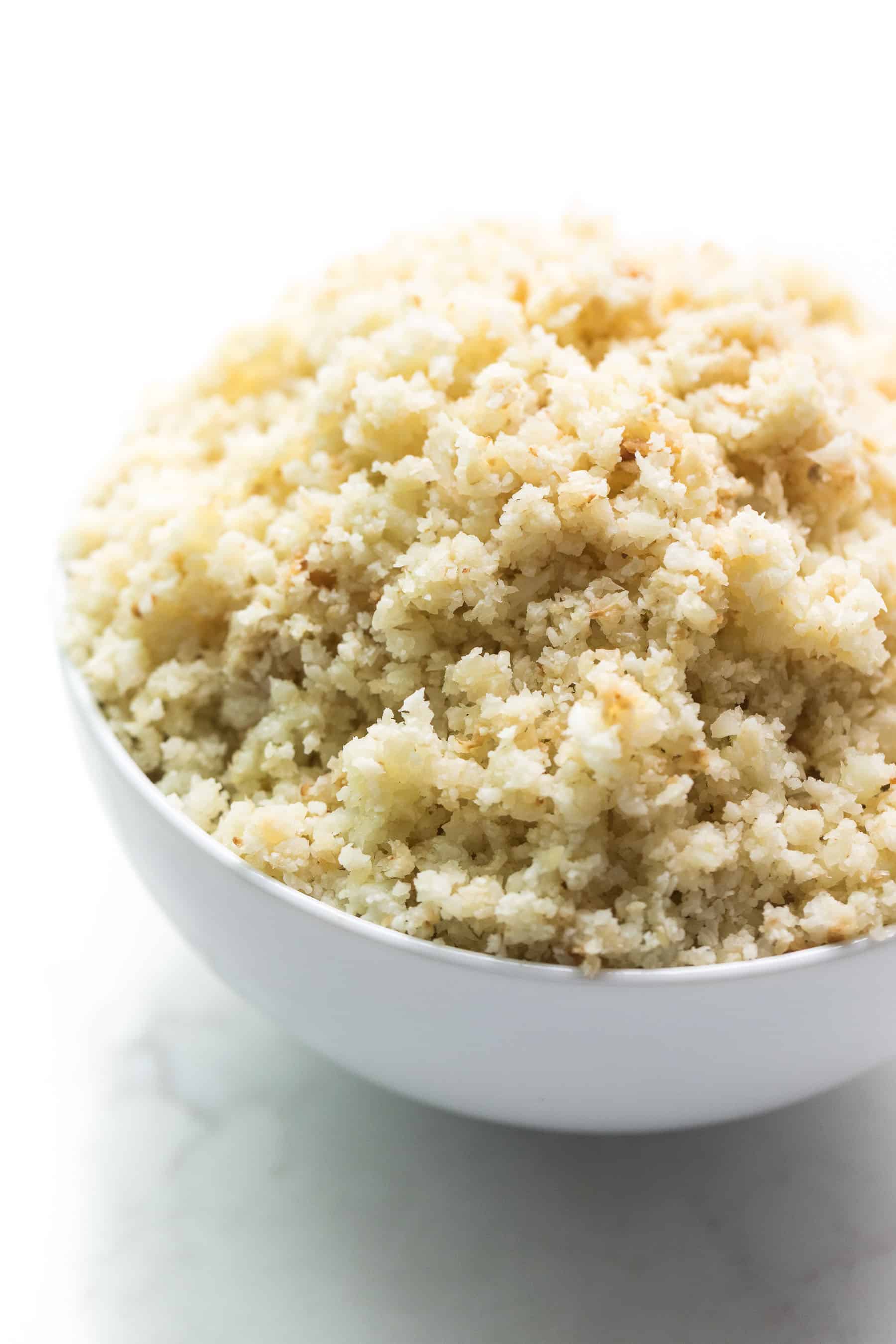 Homemade cauliflower rice is much lighter and fluffier, and even has a bit of an al dente bite to it. Just like rice.
I think the issue is when you buy it pre-chopped, the cauliflower is a lot older, and the moisture content has changed. It's also a little…stinkier.
When I chop it myself and cook it right away, I don't have any issues with excess water in the pan causing the cauliflower rice to steam and get too soft. I get perfect cauliflower rice every time.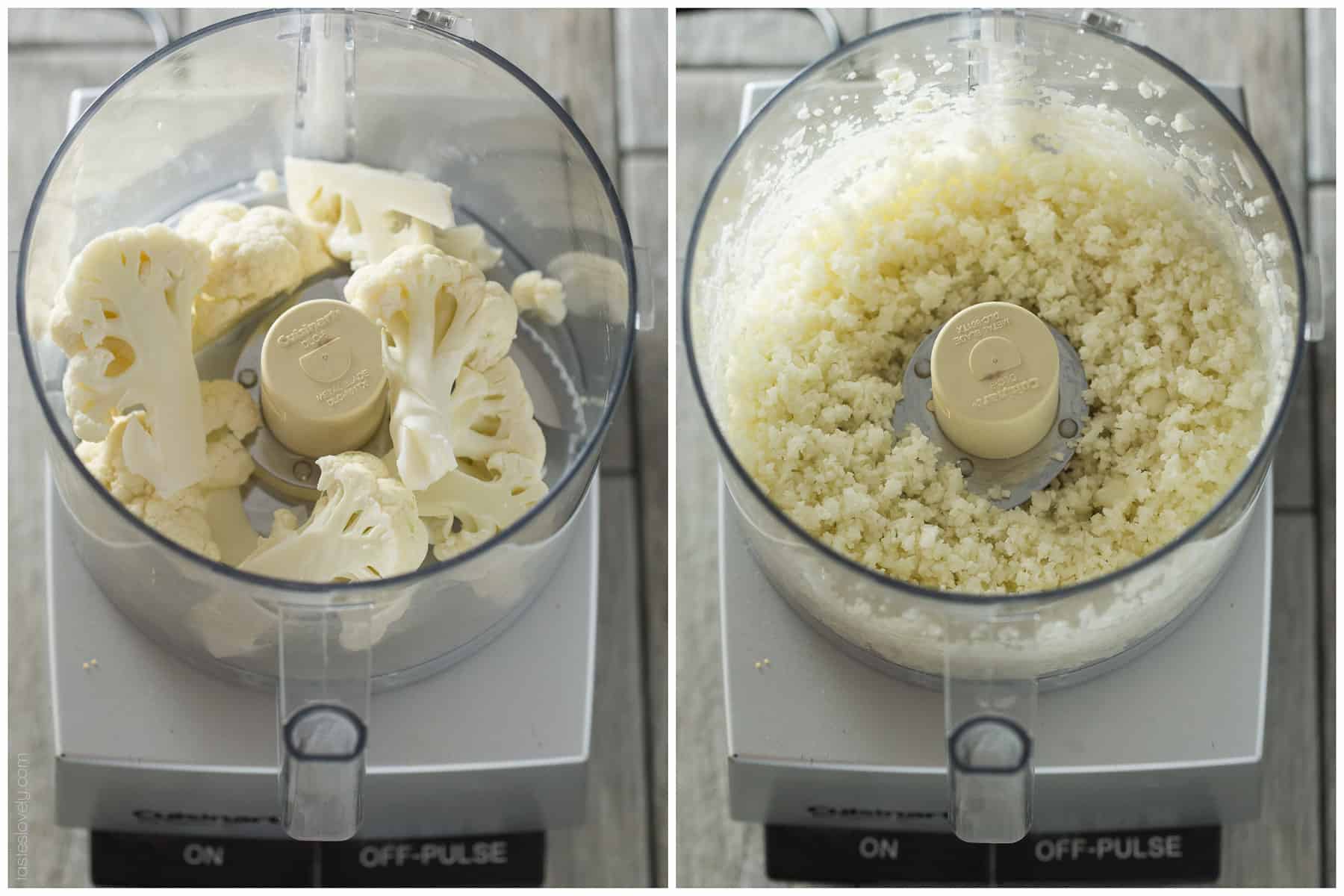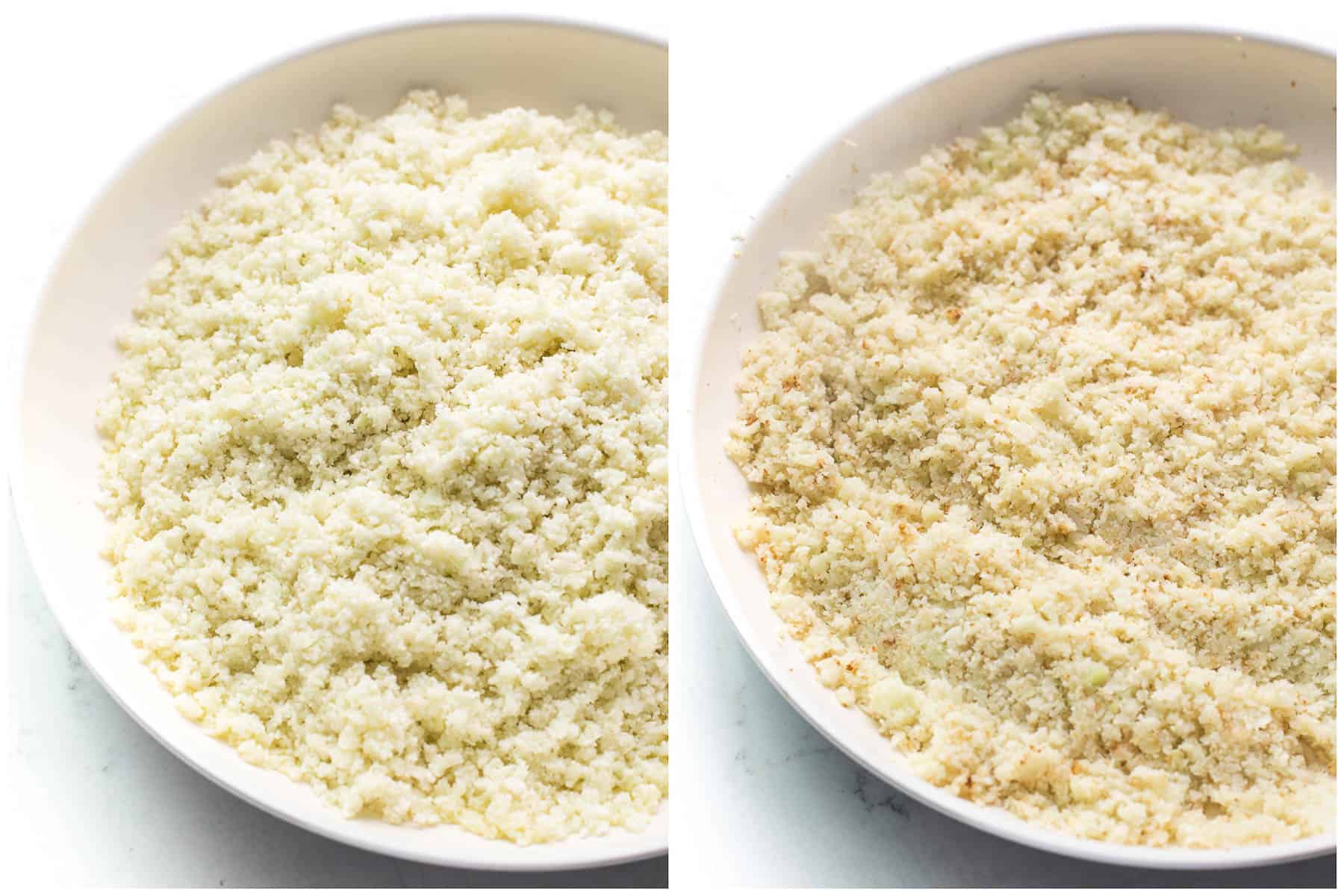 And it's so easy to chop using the food processor!
The trick is to only chop a little bit of cauliflower at a time. You don't want to put the whole head in at once, you'll get an uneven chop. Instead, put in just enough cauliflower to make 1 layer in the food processor. Just like in the picture above. Then pulse it until it is the size of rice, scrape it out in to a bowl, and continue with more cauliflower until you've chopped all you need.
I like to chop my cauliflower minutes before I cook it. It really does make a big difference. If I try to meal prep and chop it up earlier in the week, when I go to cook it the cauliflower rice has softened and I don't get it as light and fluffy.
It only takes about 5 minutes, and is worth the effort to chop it up right before you cook it.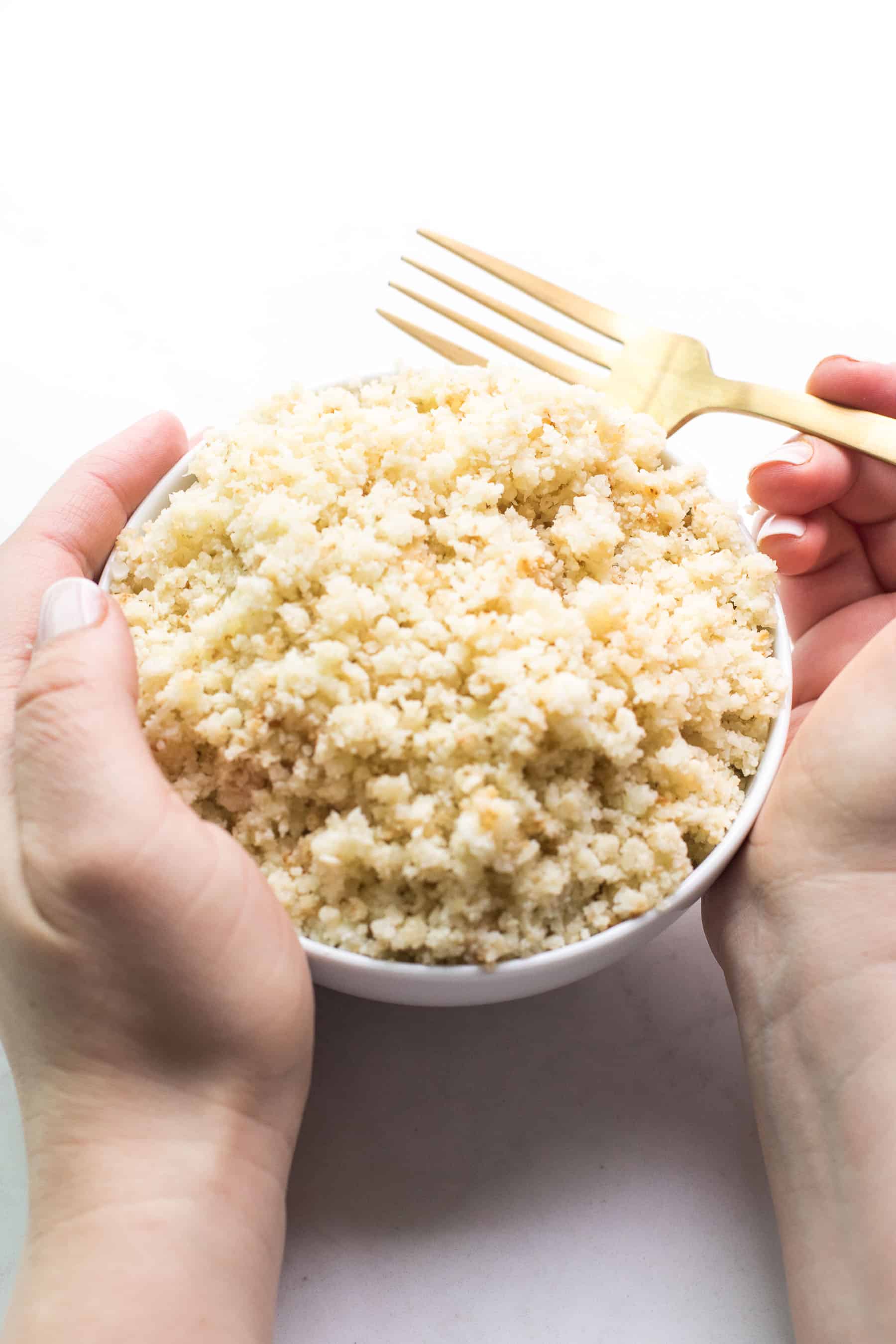 I cook my cauliflower rice in a large skillet with just olive oil, salt and pepper. I cook it over medium high heat until the cauliflower rice starts to get some brown flecks on the edges. It takes just 7-10 minutes.
Bonus? The baby loves this too! Great way to get him to eat more vegetables. It's so healthy, I love him to eat as much as he wants.
It's our favorite side dish that is paleo, whole30, gluten free, grain free, dairy free and low carb!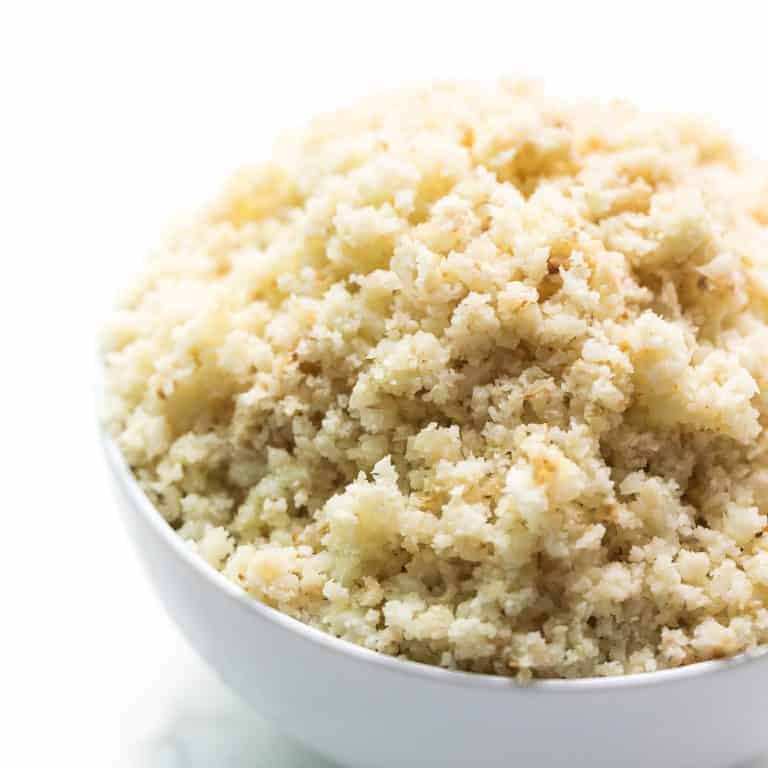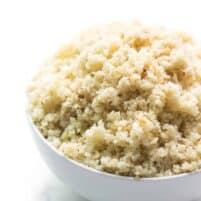 Homemade Cauliflower Rice (Paleo, Whole30)
This Paleo, Whole30, Keto Perfect Homemade Cauliflower Rice is a delicious and healthy side dish, you'll think you're eating rice! 
Ingredients
1

medium head of cauliflower

,

cored and florets chopped off

1

tablespoon

olive oil

1/4

teaspoon

salt + pepper

,

or more to taste
Instructions
In your food processor with the S blade attachment, add just enough cauliflower florets to create 1 layer. (If you add too many they will not chop evenly) Pulse until the cauliflower is rice size. Transfer to a large bowl, and continue with the rest of the cauliflower florets.

To cook, heat a large skillet over medium high heat. Add 1 tablespoon olive oil, then add the riced cauliflower and season with salt and pepper. Stir every few seconds until the cauliflower is softened and is just starting to get brown spots. About 7-10 minutes. Taste for salt and pepper, season if needed.

Serve warm. Leftovers will keep in an airtight container for 5 days.
Calories:
57
,
Total Carbs:
5.3
g
,
Protein:
2.1
g
,
Fat:
3.8
g
,
Fiber:
2.1
g
,
Net Carbs:
3
g
Did you make this recipe?
Please Leave a comment and give this recipe a rating!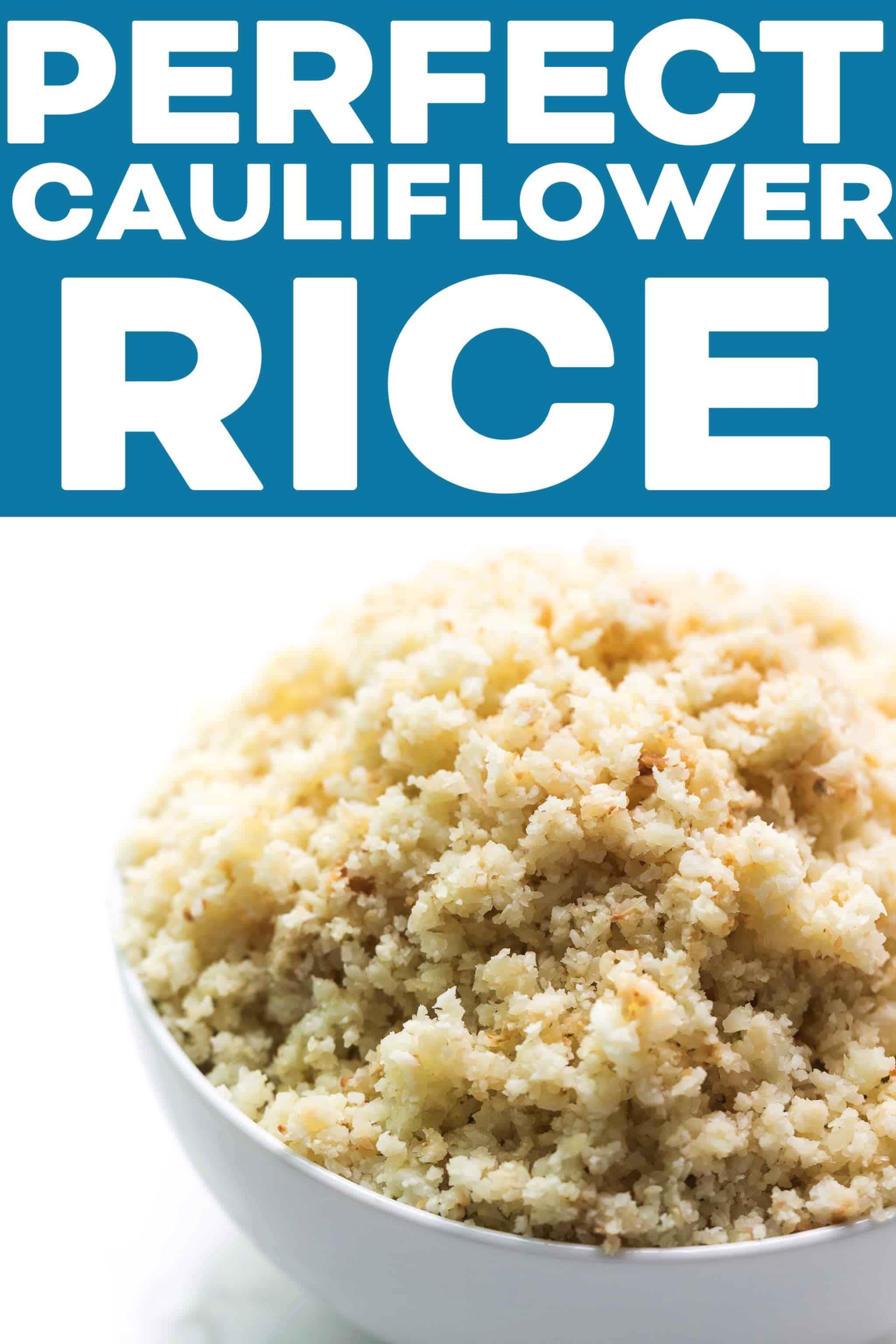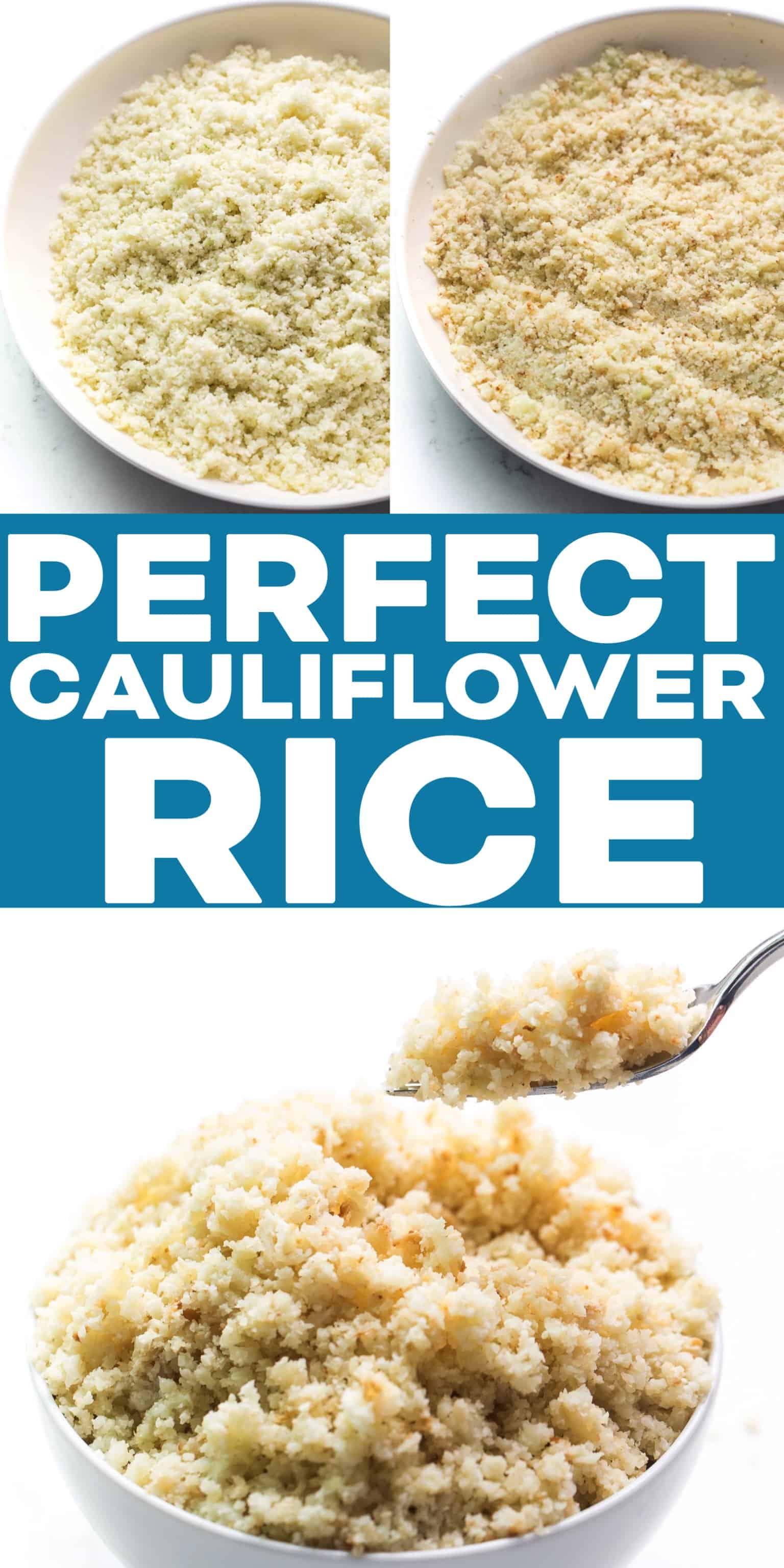 This post contains affiliate links, thanks for the love!