Lemon Shrimp & Asparagus Stir Fry
Quick and easy lemon shrimp & asparagus stir fry – tender shrimp, asparagus and onions sauteed and topped with a lemony ginger stir fry sauce. Ready in 30 minutes!
This lemon shrimp & asparagus stir fry is a very big deal. You see, this was officially the first recipe I cooked that had meat in it after my morning sickness passed!
You may have noticed a looong stretch of vegetarian recipes the past couple weeks. When I was in the midst of all day nausea, I could not eat meat. I couldn't even smell it. No no no.
I lived off cereal, fruit and toast. Occasionally I would make a veggie based pasta or taco, but only on a very good day. This meant for about 5 weeks, when it came to dinner time, Shawn was on his own.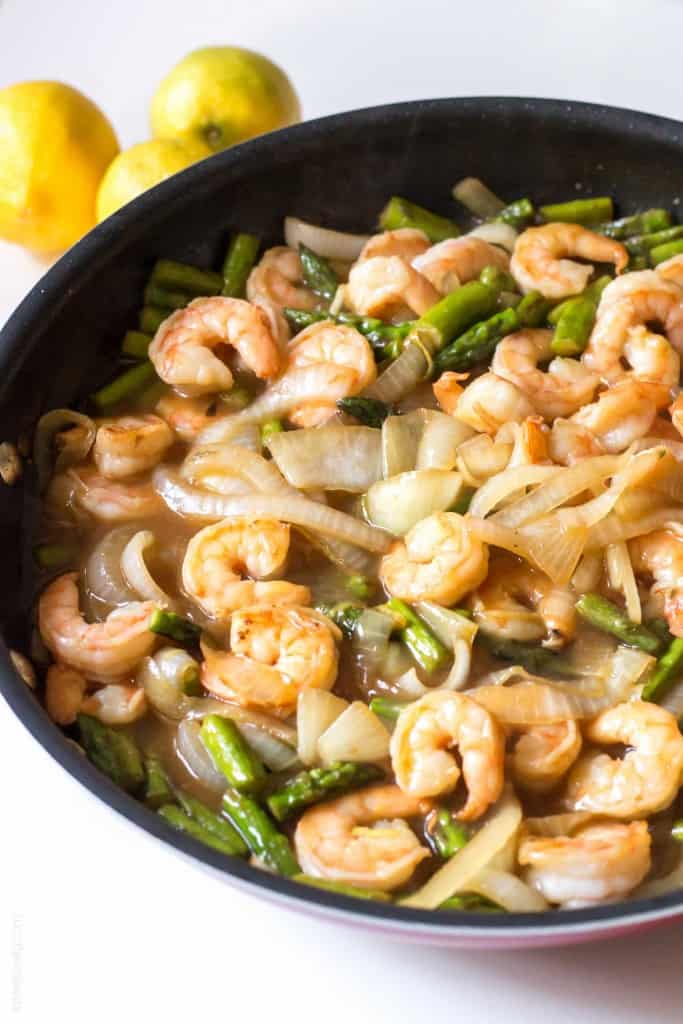 Shawn is no stranger to cooking. He is quite the grill master. So when left alone to cook dinner, he grills. Mostly chicken wings, or sausages, or other meats that have the strongest smell to a pregnant gal. Picture him in the backyard grilling, and me in the house plugging my nose so I won't smell the meat. He was sweet, and would offer to eat outside so I wouldn't have to smell it. But as long as I plugged my nose, I was fine.
After my morning sickness passed around week 13, and I didn't feel repulsed by the thought of meat, I got brave and decided to cook a dinner with seafood. I remember coming home with bags from the grocery store. Shawn unpacked the food for me, and couldn't believe his eyes.
"Nat, there's shrimp in here! Are you cooking dinner tonight?!"
"Yea, I'm making a shrimp stir fry."
"YESSSSSS! That sounds amazing!"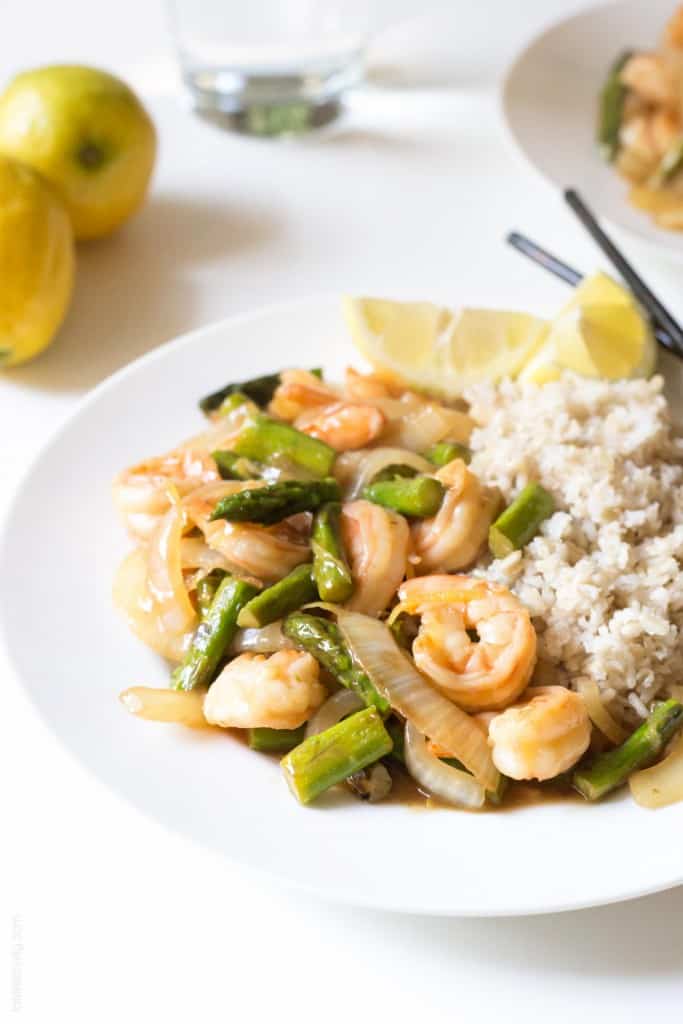 Poor guy was desperate for a home cooked meal from his lady. I think he has become a little spoiled being married to a food blogger.
While I wasn't quite ready to cook chicken or steak, shrimp seemed "safe". And just in case I couldn't handle the seafood, I wanted to make a stir fry sauce that was packed with lemon and ginger flavor. Nothing soothes an upset tummy like ginger and lemon. So lemon shrimp & asparagus stir fry was born.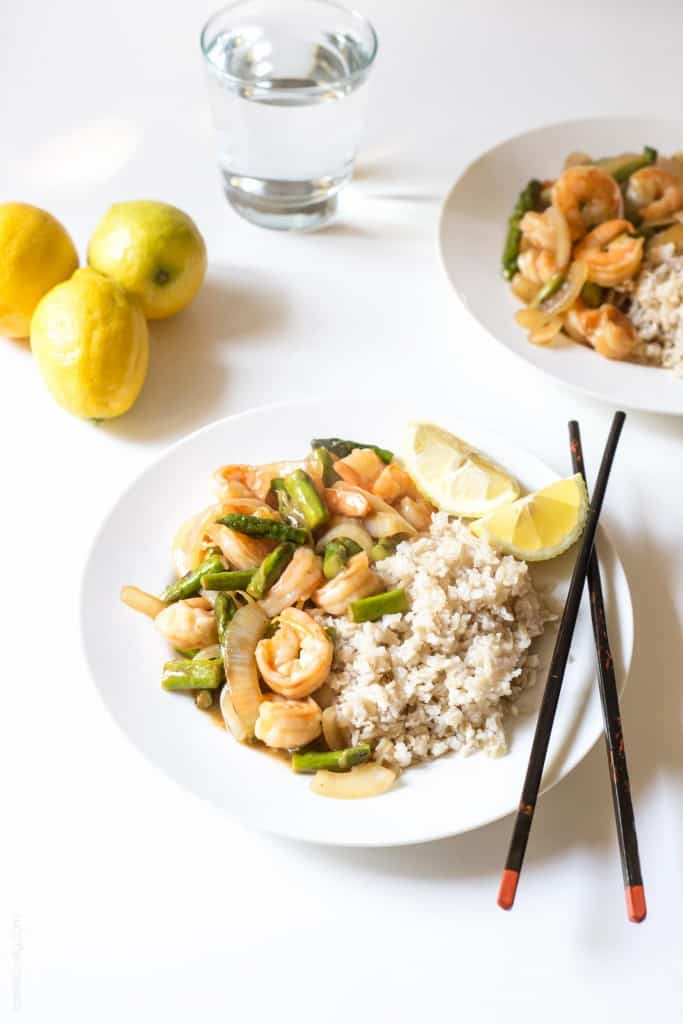 And let me tell you, it is delicious! Tender shrimp, crisp tender asparagus and softened sweet onions, all cooked in a lemony and gingery stir fry sauce.
I must say, I make a mean stir fry. One of my secrets is you don't cook everything at once. It never works. Some things will end up overcooked, some things will end up undercooked. Instead, cook each ingredient separately so it cooks to the perfect point. Once each ingredient is cooked, you throw everything back in the pan and top it with the stir fry sauce. This will heat everything back up, and give the sauce a chance to thicken.
After going so long without eating an actual dinner, stir fry has never tasted so good. We devoured the whole pan of this lemon shrimp & asparagus stir fry as if it was our first meal after being rescued from a desert island. The best part was that this meant I could eat again! And Shawn would get home cooked meals again!
Told you this dinner was a big deal : )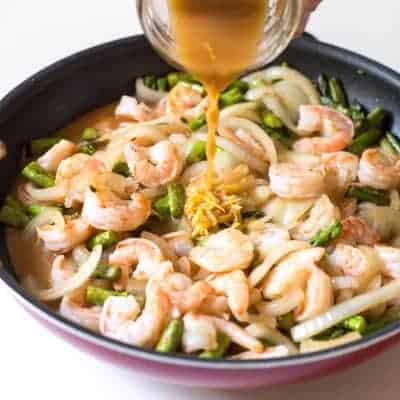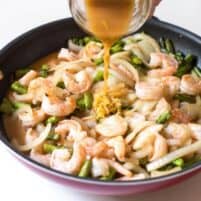 Lemon Shrimp & Asparagus Stir Fry
This quick and easy lemon shrimp & asparagus stir fry uses tender shrimp, asparagus and onions sauteed and topped with a lemony ginger stir fry sauce. Ready in 30 minutes!
Ingredients
Lemon Stir Fry Sauce
1/2

cup

chicken stock

3

tablespoons

soy sauce

1/2

teaspoon

sesame seed oil

1

teaspoon

ginger paste

,

or 1" piece of fresh ginger, grated, or 1 teaspoon ground ginger

2

teaspoons

honey

1

tablespoon

corn starch

2

cloves

of garlic

,

grated

zest of 2 lemons

,

I like using a zester that peels the lemon zest in long, thin strips

juice of 1 lemon

,

about 2 tablespoons
Stir Fry
4

teaspoons

olive oil

,

divided

1

pound

raw shrimp

,

peeled, deveined, tails pulled off and patted dry

1

medium yellow onion

,

sliced

2

bunches asparagus

,

ends trimmed off and cut into 1" pieces

1

batch of Lemon Stir Fry Sauce

2

cups

rice

,

cooked per manufacturers instruction (I love brown jasmine rice)
Instructions
Lemon Stir Fry Sauce
Combine all ingredients in a jar or small bowl and stir to combine. Set aside
Stir Fry
Preheat a large skillet over high heat. You will be cooking each ingredient separately since they each get cooked for different amounts of time.

Add 1 teaspoon olive oil, and cook half the shrimp for 1 minute per side, until they are just turning pink. Flip, and cook for 1 more minute. Remove shrimp from pan and transfer to a bowl. The shrimp will not be cooked all the way thru, they will finish cooking later. Repeat with 1 more teaspoon olive oil and the remaining half of shrimp. You want to cook the shrimp in 2 batches so you don't overcrowd the pan.

Add 1 teaspoon olive oil, and cook the onion for about 5-7 minutes, until softened and just starting to turn golden. Remove from pan and add to the same bowl as the shrimp.

Add 1 teaspoon olive oil, and cook the asparagus for 3-5 minutes, until they begin to soften and turn bright green.

When the asparagus is done cooking, add the shrimp and onion back to the skillet. Add in all the stir fry sauce, and cook for 3 minutes, or until the sauce has thickened and all vegetables and shrimp are heated thru.

Serve warm with rice.
Calories:
350
,
Total Carbs:
46.2
g
,
Protein:
29
g
,
Fat:
6.7
g
,
Fiber:
2.7
g
,
Net Carbs:
44
g
Did you make this recipe?
Please Leave a comment and give this recipe a rating!

More Stir Fry Recipes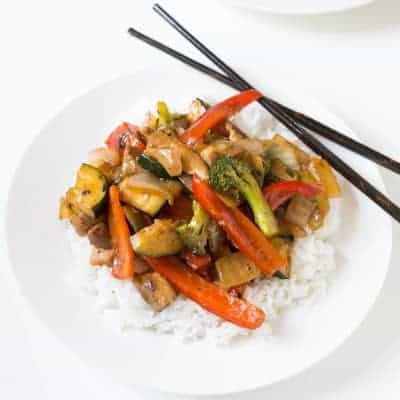 Broccoli & Bell Pepper Chicken Stir Fry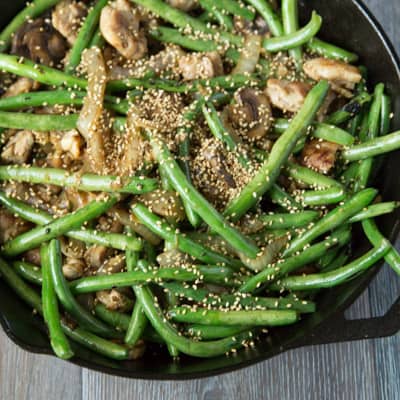 Green Bean Stir Fry with Chicken & Sesame Seeds